Made with Trader Joe's Cookie Butter these are a new twist on the traditional peanut butter ball!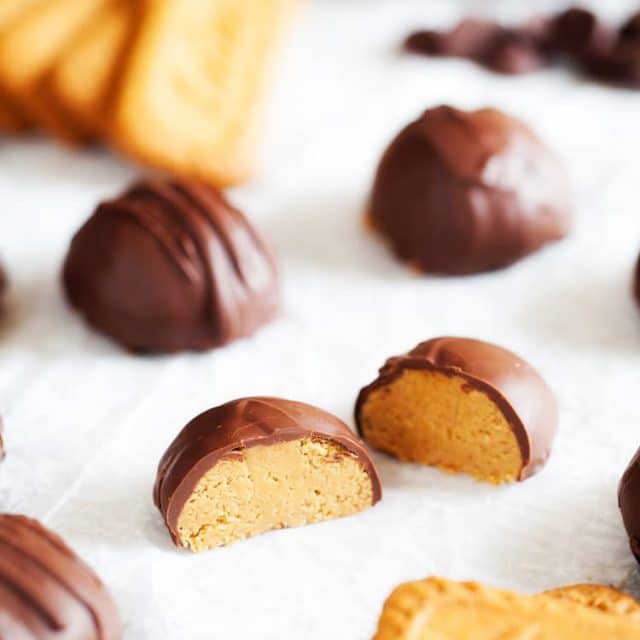 These Cookie Butter Balls are like classic peanut butter balls but made with cookie butter instead! An addition of graham crackers, sugar, and chocolate makes them a delicious holiday or everyday treat!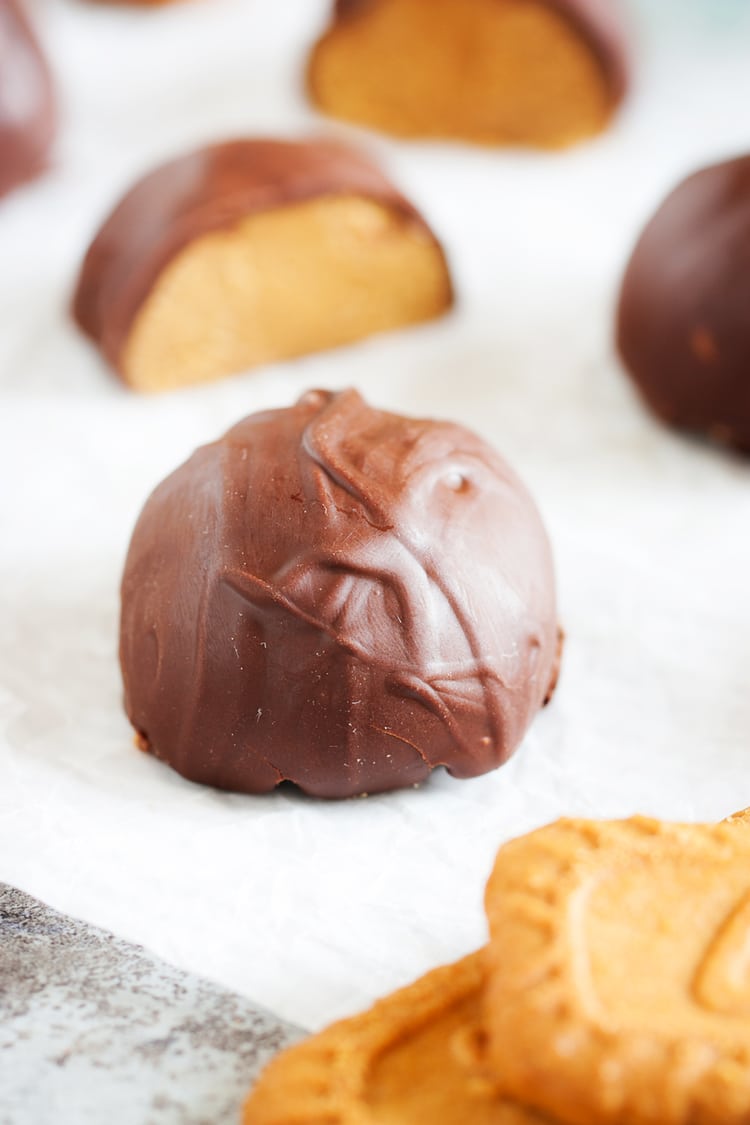 These Cookie Butter Balls will be an instant hit!
Once upon a time, there was a girl who loved cookie butter…
I know, I know… I have a serious cookie butter problem… a problem that looks like a jar a week.
Good God, what is wrong with me? Matt told me I needed to stop using cookie butter for everything, but when that's what's requested, what's a girl to do?
I'm not sure why he complains, he loves the stuff, maybe he likes it too much, and he can feel the diabetes addiction setting in.
Cookie Butter Balls
PIN IT TO YOUR RECIPES BOARD ON PINTEREST!
FOLLOW SUGAR & SOUL ON PINTEREST FOR MORE RECIPES!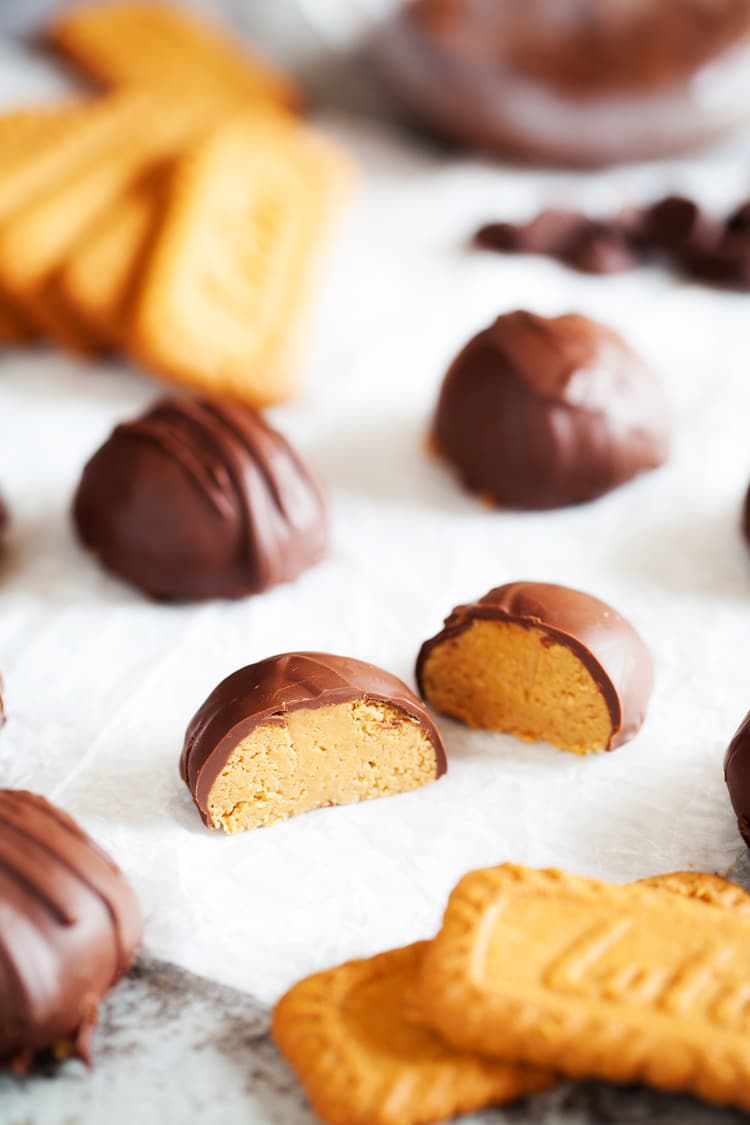 Anyways, this year is the first year we won't be spending Christmas with Matt's family as they're in Florida celebrating with his grandparents. I knew Matt was kind of bummed about not having them here and having to wait a few extra days for his mother's traditional treats. He claims that her peanut butter balls are the best, they taste more like a Reese's cup than any other he's ever had.
Apparently, it's the graham cracker she puts in them makes all the difference. I decided to try and make something similar for him to make their absence not as hard, of course, I can't compete with Mom's Peanut Butter Balls, but I can make Becca's Cookie Butter Balls! I used the base of her recipe but switched the peanut butter with Speculoos crunchy cookie butter.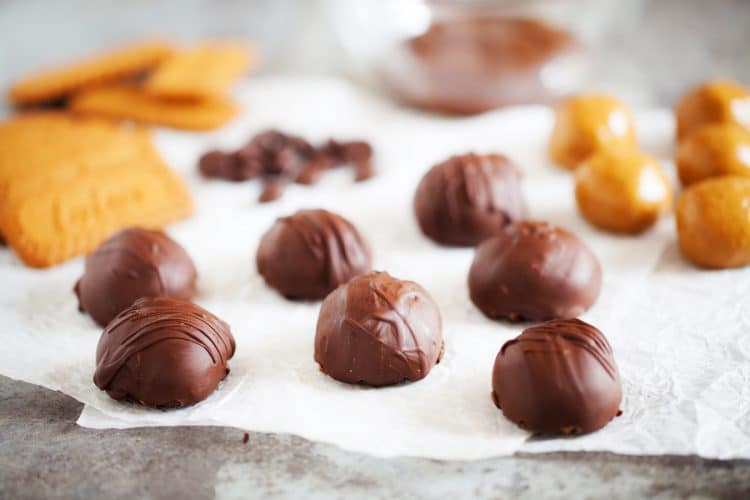 I mean what's better than cookie butter swirled up with confectioners' sugar and graham crackers and then dipped in decadent dark chocolate? Having a hard time coming up with something, aren't you? Matt even added a little sea salt to some for added goodness!
Well there you have it, an easy and delicious sweet treat to make a package up for your loved ones! These would make great little gifts for co-workers, the mailman, and neighbors.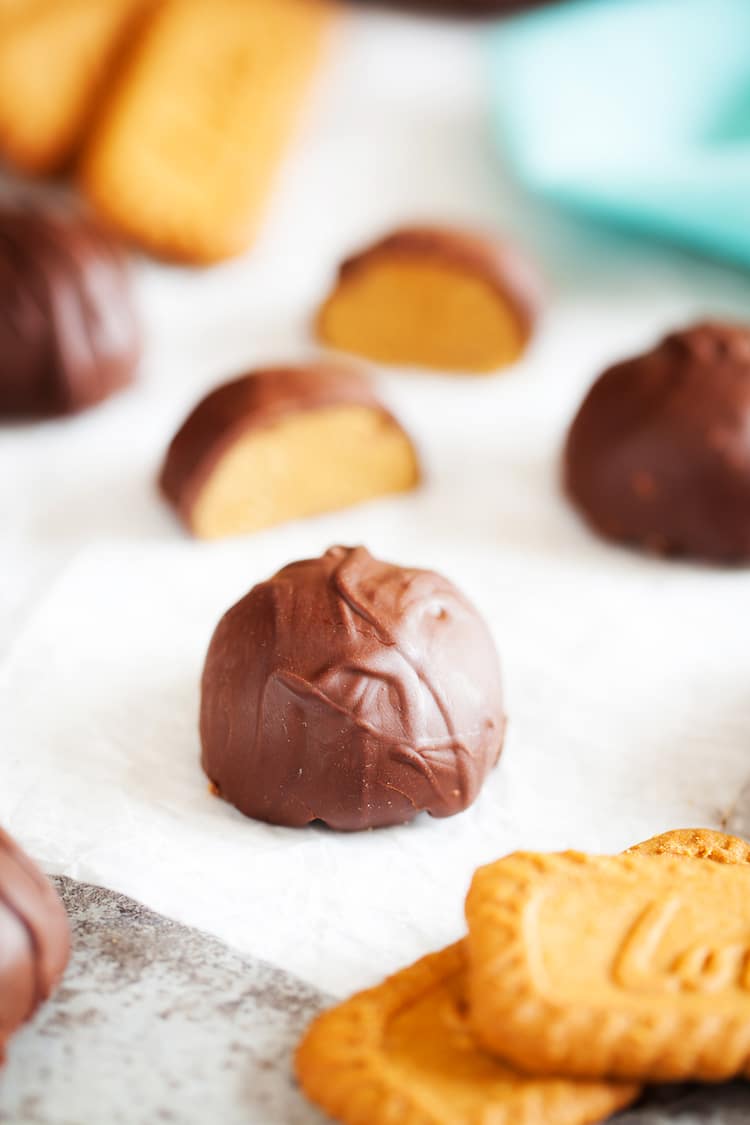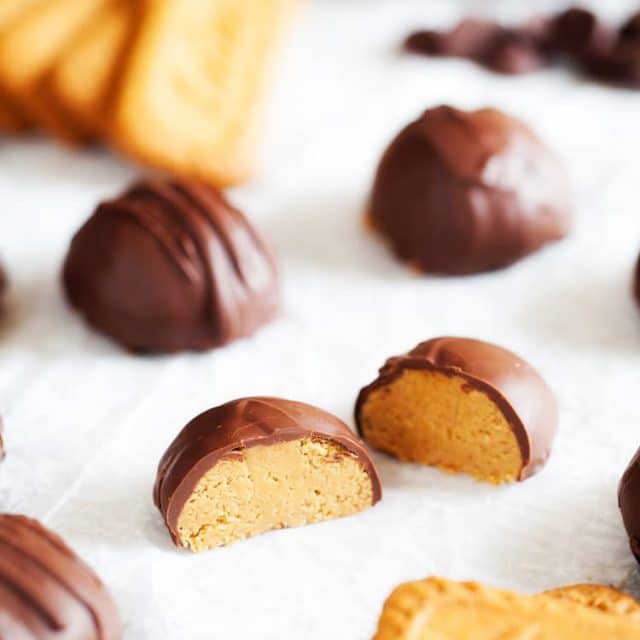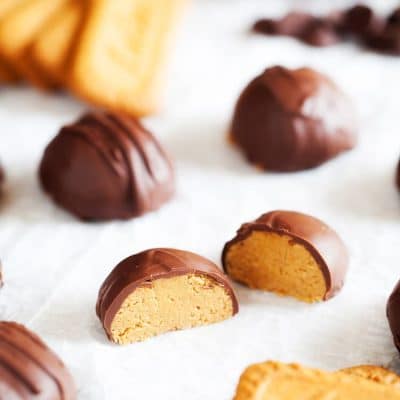 Cookie Butter Balls
Made with Trader Joe's Cookie Butter these are a new twist on the traditional peanut butter ball!
Instructions
Combine cookie butter, graham crackers, and confectioners' sugar and mix until combined, you can add a little more cookie butter if needed.

If balls are soft, you can chill them for about 10 minutes to make them easier to dip.

Melt Dark chocolate wafers in a microwave safe bowl on 30 second intervals, stirring in between, until completely melted.

Roll into 1 inch balls and dip in chocolate, place on wax paper until chocolate hardens. (about 10 minutes)

Drizzle with any remaining chocolate.
Nutrition
Calories: 143kcal | Carbohydrates: 15g | Protein: 1g | Fat: 8g | Saturated Fat: 3g | Sodium: 20mg | Potassium: 59mg | Sugar: 10g | Vitamin A: 5IU | Calcium: 8mg | Iron: 1mg
Post Updated: March 24th, 2017
New Photos Courtesy of The PKP Way
Reader Interactions
Share your thoughts!
Love this recipe? Share your thoughts with me below and leave a review! And don't forget to connect on your favorite social platform below!