Bourbon Toffee Brown Butter Chocolate Chip Cookies are soft and chewy chocolate chip cookies laced with toffee, bourbon, and nutty brown butter accents.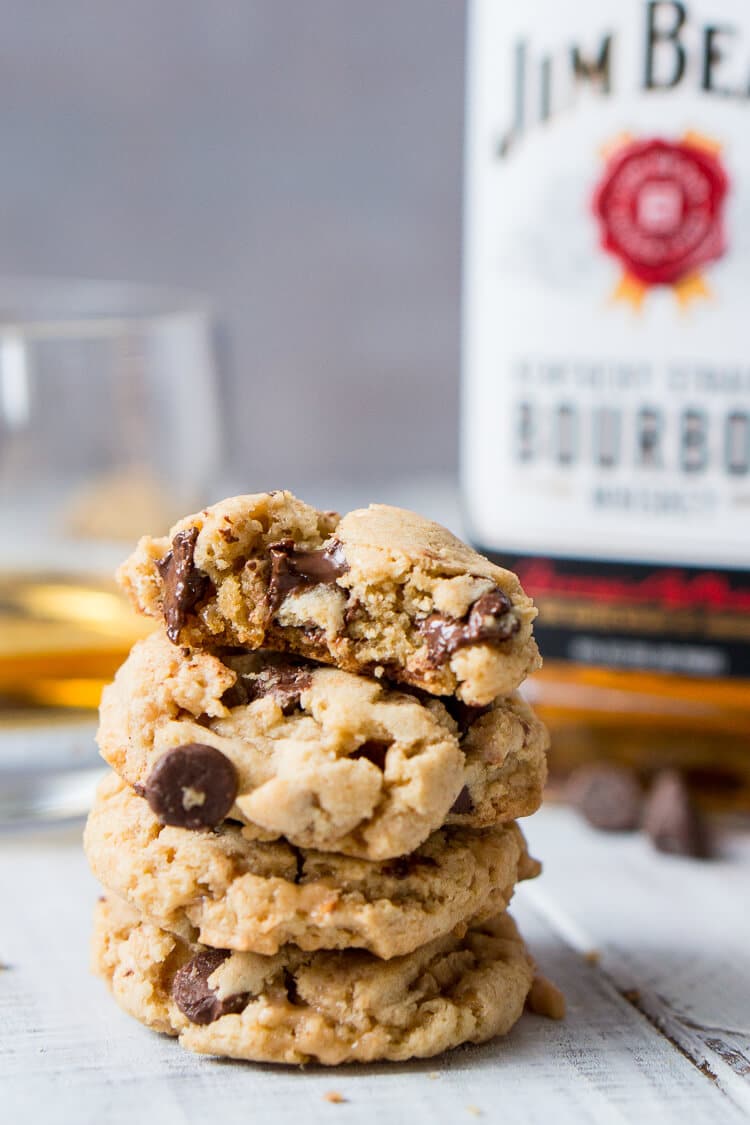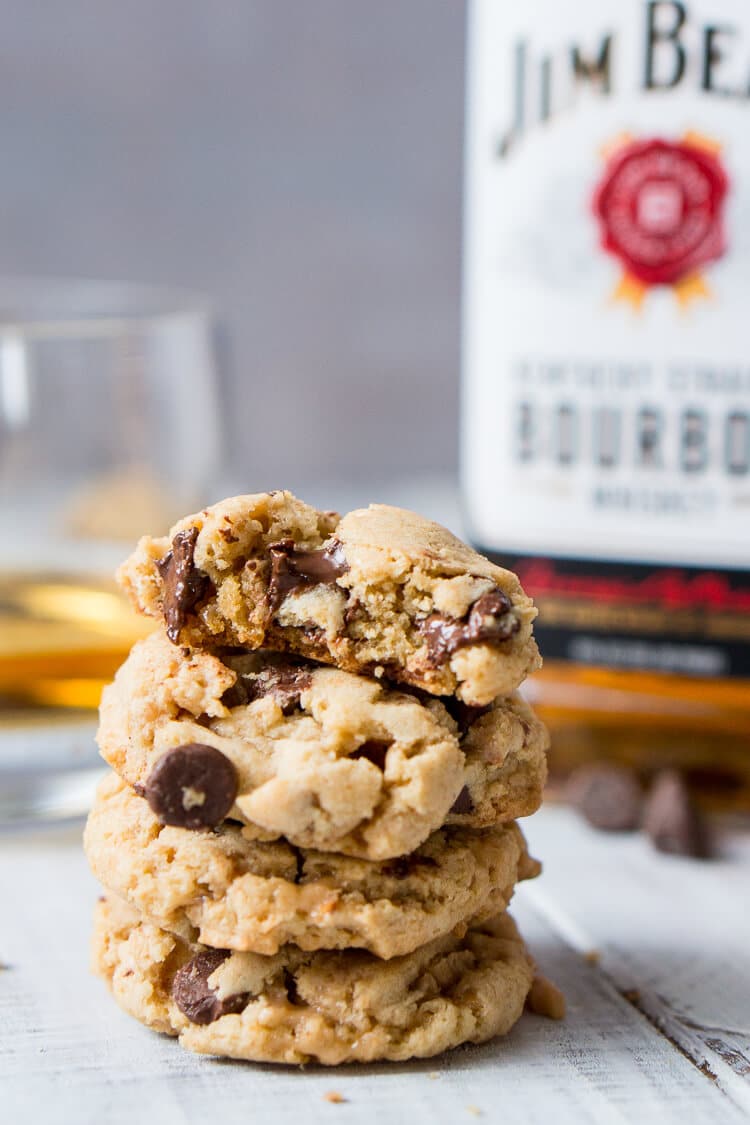 Bourbon. Toffee. Brown Butter. Chocolate. Cookies.
They're guaranteed to raise a smile, so let me introduce you to:
the best damn cookie you will ever have!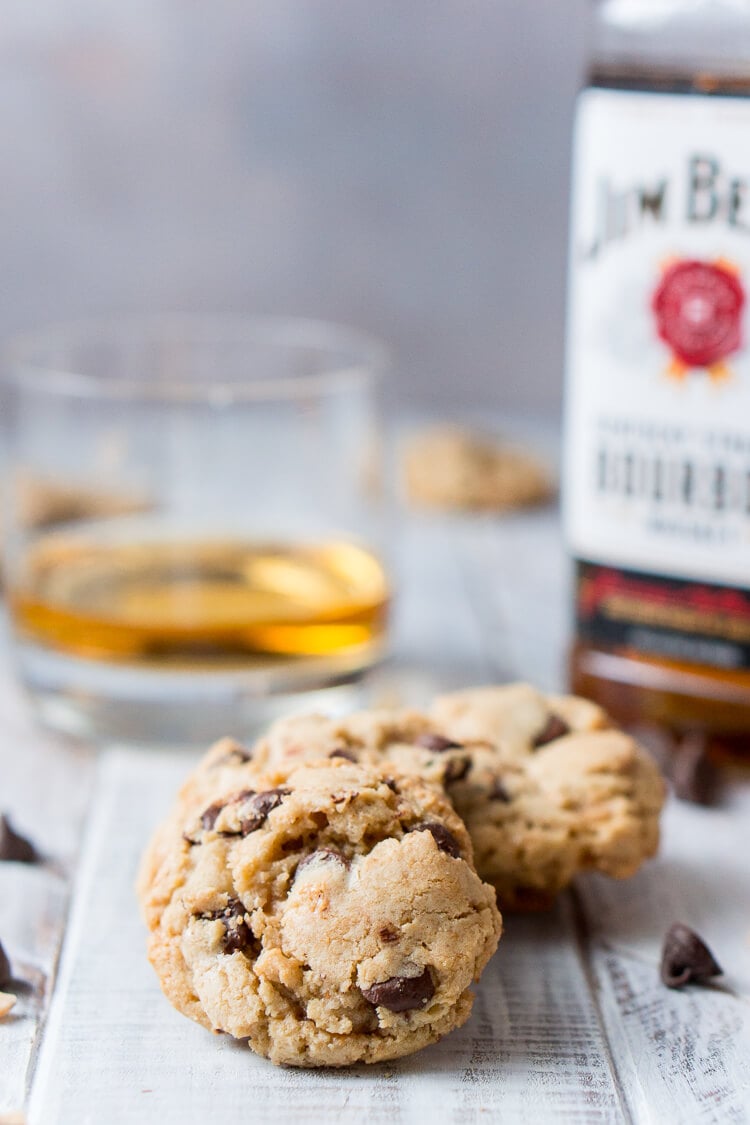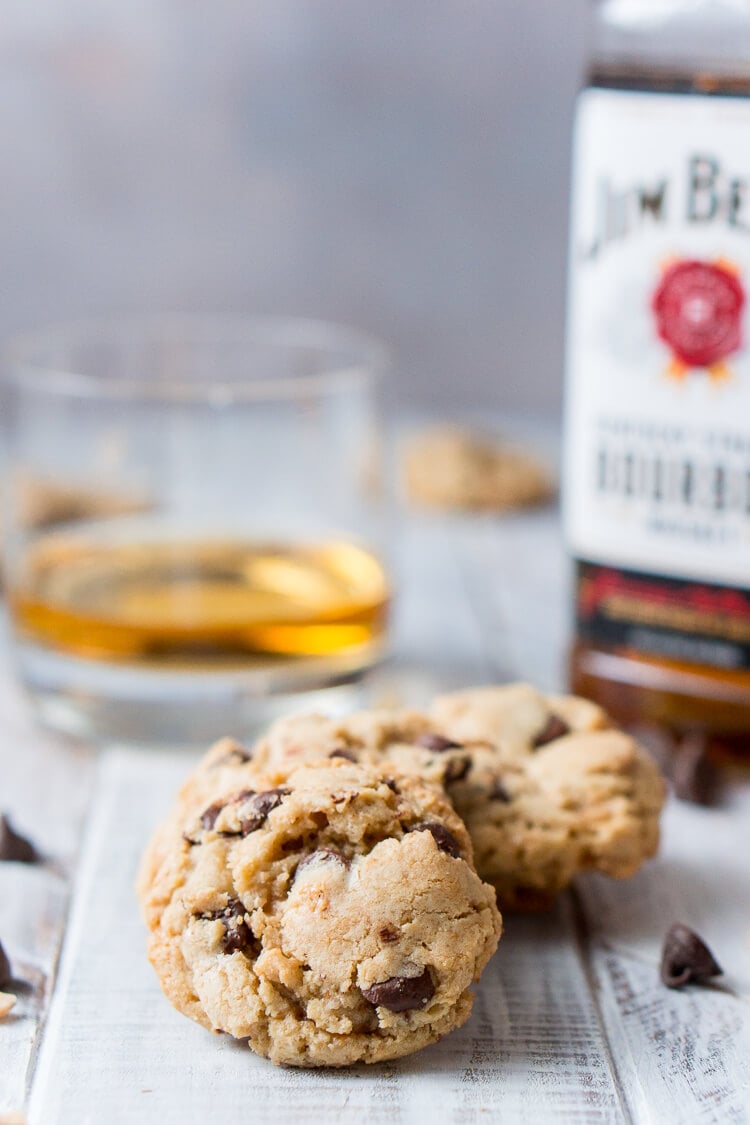 Never have I ever had a brown butter cookie and let me tell you one thing… I've been missing out. Who would have thought a simple method of cooking butter could change the very foundation of the cookie as we know it. Nutty, dark, smokey. That's what brown butter adds to the cookie. Sounds kind of like a bar in the 90's, huh? But they need something else in order for them to have the full on neon light ambiance. Bourbon.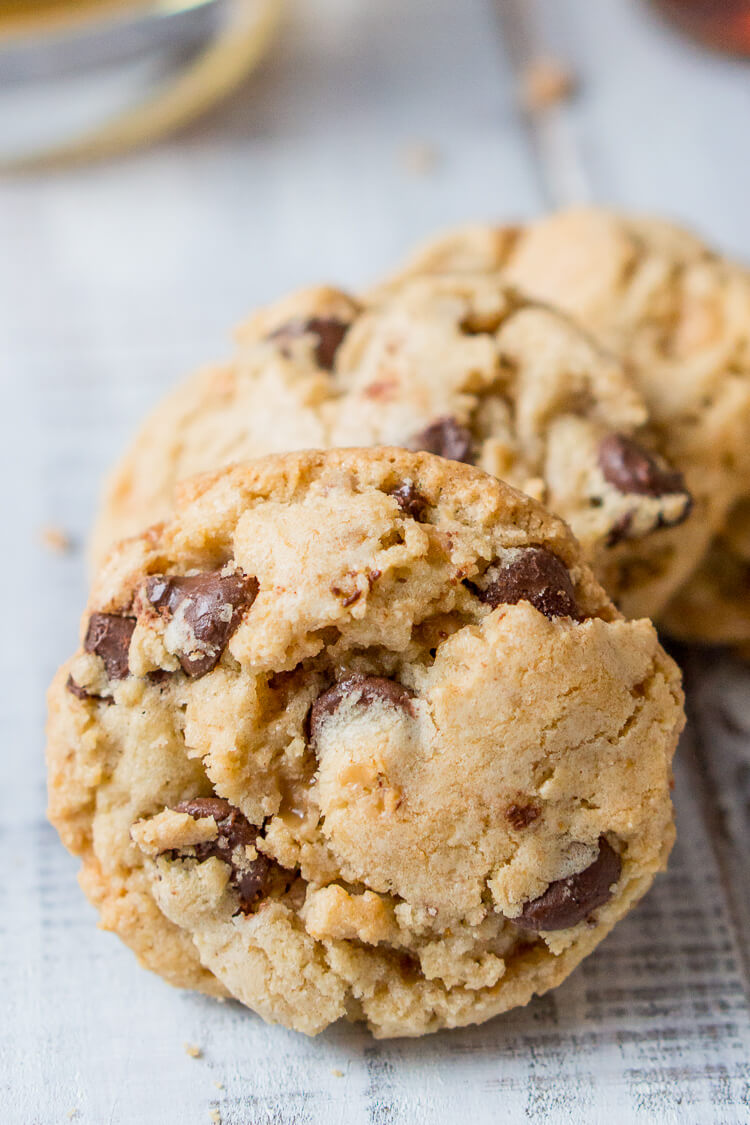 Oh and a little toffee and chocolate for good measure.
When you take a bite of these cookies you get a little punch of bourbon followed by sweet sugar and chocolate with a finish of salty toffee and nutty notes.
They're incredible, flavorful, and bold!
So, go! Be bold! Take a chance on these cookies!
You won't be sorry.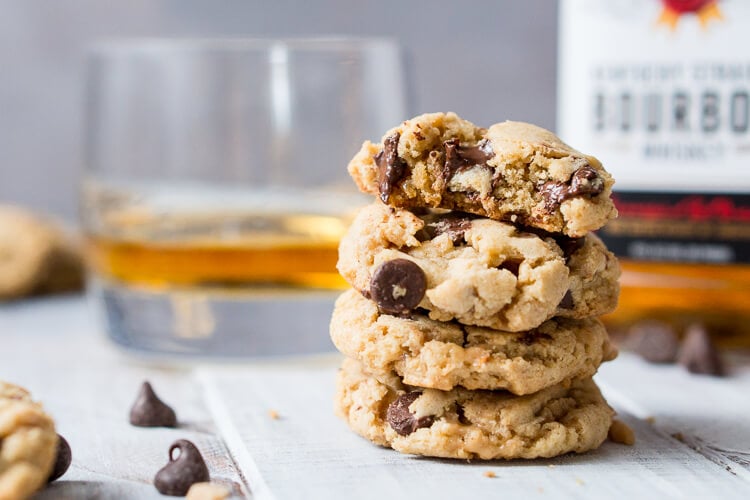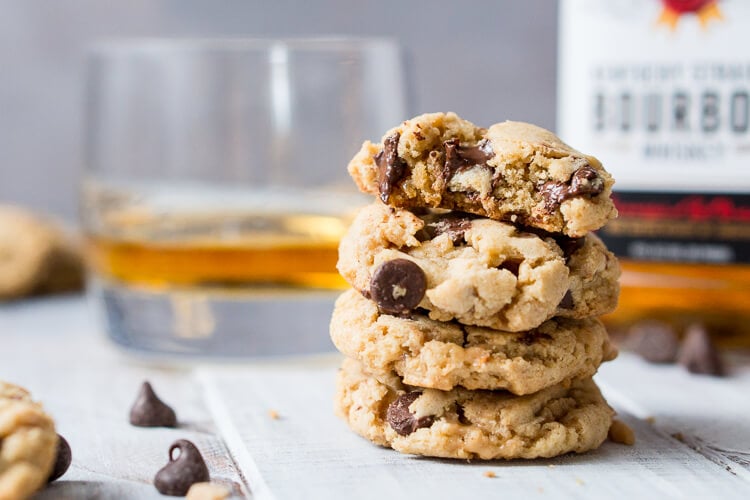 I'm pretty excited to be sharing these cookies with my family this Christmas and wanted to get the recipe out in time so you could share it with yours. After all, the holidays are about sharing and family and enjoying the simple things in life, like cookies. For most of us, Christmas means kicking your feet up for a day with a glass of your favorite spirits, playing games, and making memories with your loved ones. That is my Christmas wish for all of you.
This recipe was inspired by and in honor of my Uncle Jake, for his love of Bourbon and because I can always count on him to bail me out. So here's to you, Uncle Jake, thank you.
Rebecca Hubbell
Yields 5 dozen cookies
Bourbon & Toffee Brown Butter Chocolate Chip Cookies
Soft and chewy chocolate chip cookies laced with toffee, bourbon, and nutty brown butter accents.
3 hrPrep Time
12 minCook Time
Ingredients
1 cup (2 sticks) unsalted butter
3 1/2 cups all-purpose flour
1/2 tsp salt
1 1/2 tsp baking powder
1 1/4 tsp baking soda
1 1/2 cups light brown sugar
3/4 cup granulated sugar
2 tsp vanilla extract
1/4 cup bourbon
2 large eggs
1 1/2 cups semi-sweet chocolate chips
1 1/2 cups (8 ounce bag) Heath Brick 'o Brittle Toffee Bits
Instructions
Add the butter to a medium sized skillet and cook over medium heat. Stir continuously, butter will start to boil and foam. Stir for another minute or so until butter starts to brown, pour into a tin container (I used a bread pan). You'll be able to see what looks like amber sand in the bottom of the pan. The whole browning/cooking process took about 10 minutes. Allow butter to cool in fridge for 1 to 2 hours. Then remove from fridge and allow it to soften to room temperature.
Mix together the flour, baking soda, baking powder, and salt in a large bowl and set aside.
In a stand mixer fitted with a paddle attachment, beat together browned butter and sugars. Mixture will be a bit crumbly.
Add in eggs one at a time and mix until combined after each addition.
Add vanilla extract and bourbon and mix until smooth, mixture should resemble frosting.
Slowly add in flour mixture a half cup at a time and beat until just mixed in.
Fold in the chocolate chips and toffee bits.
Wrap dough up in plastic wrap and chill for at least 2 hours, preferably overnight. This is absolutely necessary so your cookies aren't hard.
When you're ready to bake cookies, preheat oven to 350 F.
Place rounded tablespoons of cookie dough on a parchment lined baking sheet at least 2 inches apart.
Bake for 11-13 minutes until edges are golden brown. 12 was my magic number!
Let cookies cool on baking sheet for two minutes before transferring to a cooking rack to cool completely.
7.6.4
671
https://www.sugarandsoul.co/bourbon-toffee-brown-butter-chocolate-chip-cookies/