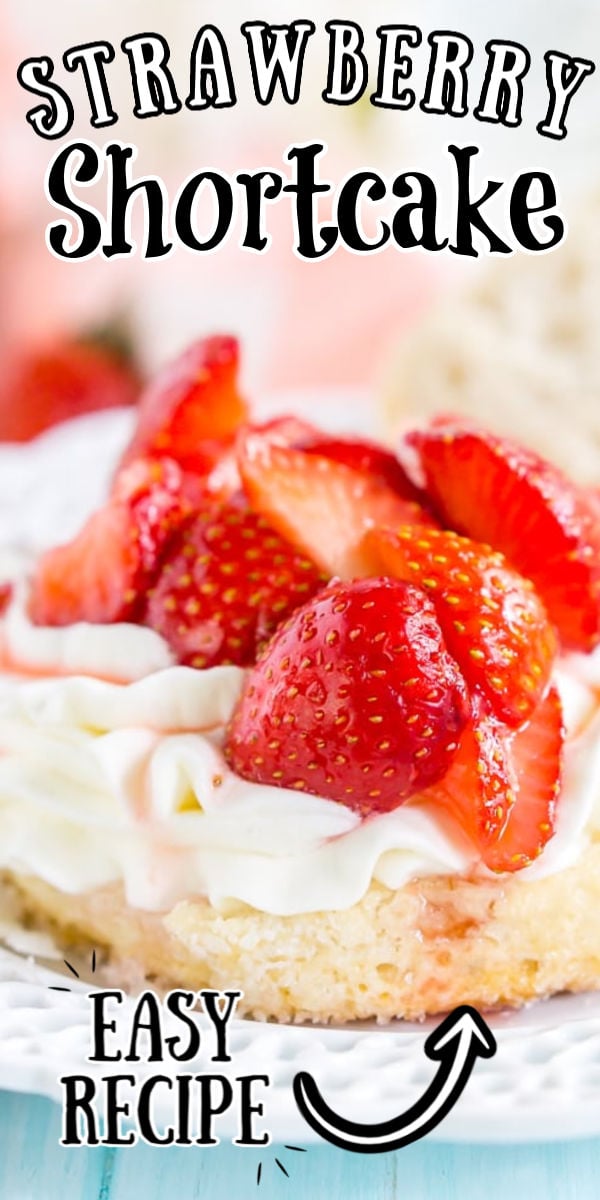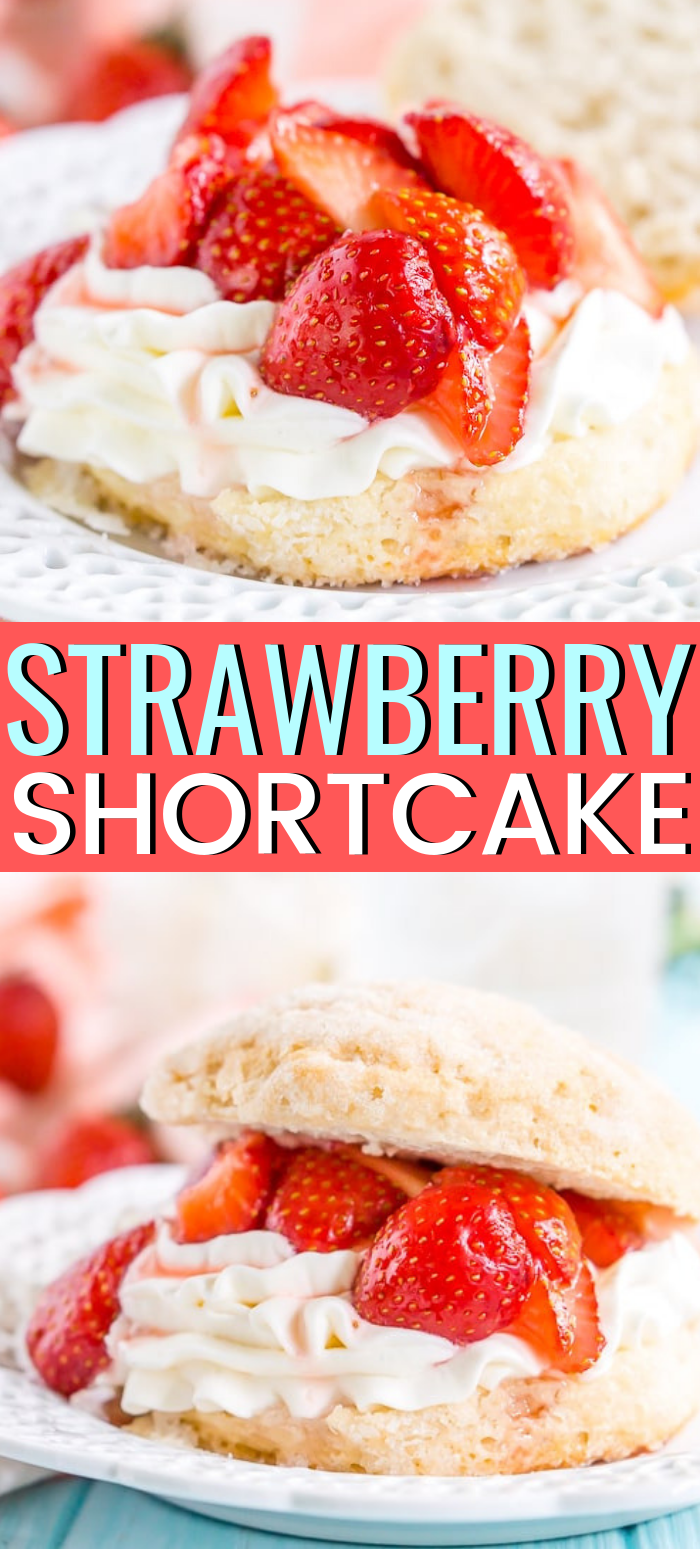 This Easy Strawberry Shortcake recipe is made with fresh strawberries, homemade whipped cream, and a delicious sugar biscuit for a classic summer dessert!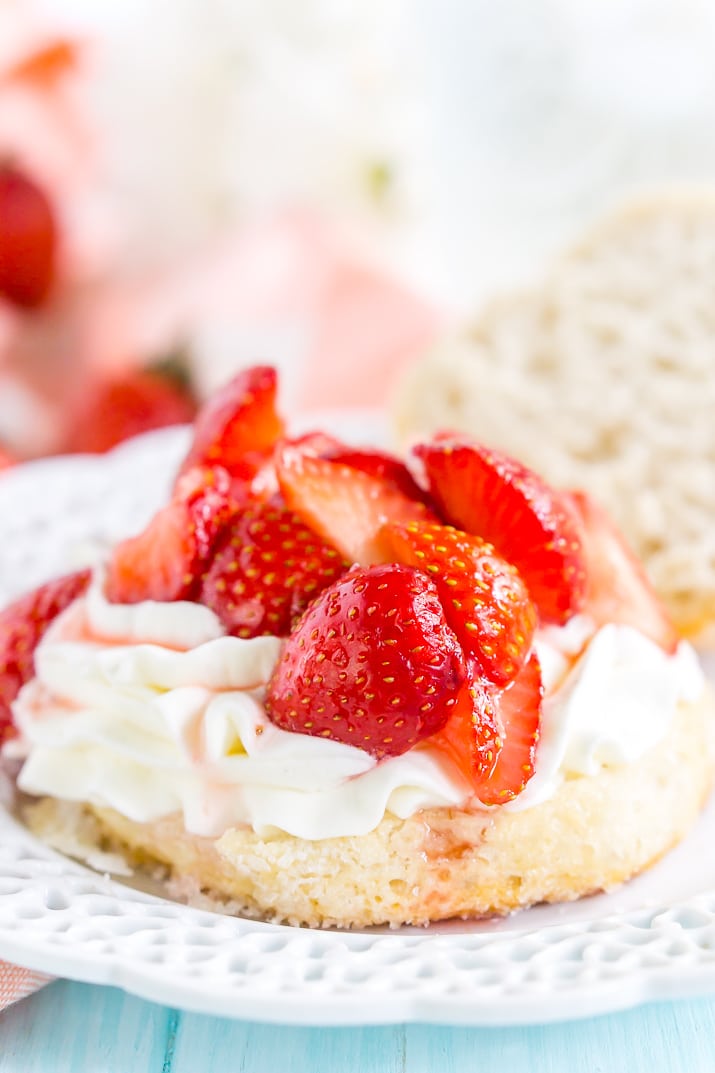 There isn't a dessert that screams summer quite like Strawberry Shortcake, is there? I mean, I guess you have s'mores and apple pie, but there's just something about syrupy sugary strawberries served over a mound of fresh homemade whipped cream and a deliciously sweet buttermilk biscuit.
Growing up, strawberry shortcake was a staple at family BBQ's. Usually, it was served up with those yellow sponge cakes, yeah, you know the ones I'm talking about.
And sometimes it was served up with my grandmother's homemade biscuits, but honestly, neither of them really worked for me.
Sorry, Grammie.
I've always found traditional shortcakes to be a little dry and flavorless, and not just my Grammie's recipe either.
Why Canned Biscuits Make The Best Shortcake!
So as I've gotten older and have spent plenty of time playing around in the kitchen, I've actually found that canned buttermilk biscuits work the best, but you have to do something to them first.
I love using canned biscuits for a few reasons. Number one, I loved that I can still add that fresh-baked, warm, out-of-the-oven cozy feeling to the dish.
Two, I love that they whip up fast so you can literally be eating these babies in less than 30 minutes.
Lastly, when you dip the biscuits in butter and sugar before baking, you get this glorious and delicious sugar crust that really brings everything together for the perfect, easy strawberry shortcake.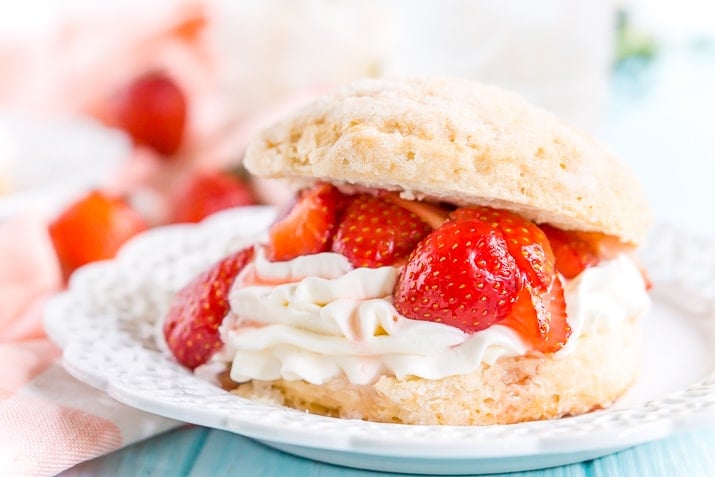 Now that other key to this delicious dessert is the whipped cream. The canned stuff just won't do, it's gotta be homemade. I know, I'm totally contradicting myself with the biscuits, but trust me, it's worth it.
For me, I love a super vanilla-y whipped cream for my strawberry shortcake, so I usually use my homemade whipped cream recipe and add some vanilla bean paste to really make it stand out.
This addition is entirely optional since I know it's a bit expensive, but the bottle will last you forever and it's an awesome ingredient to add to any baked goods. If you choose not to include it, I recommend doubling the vanilla extract.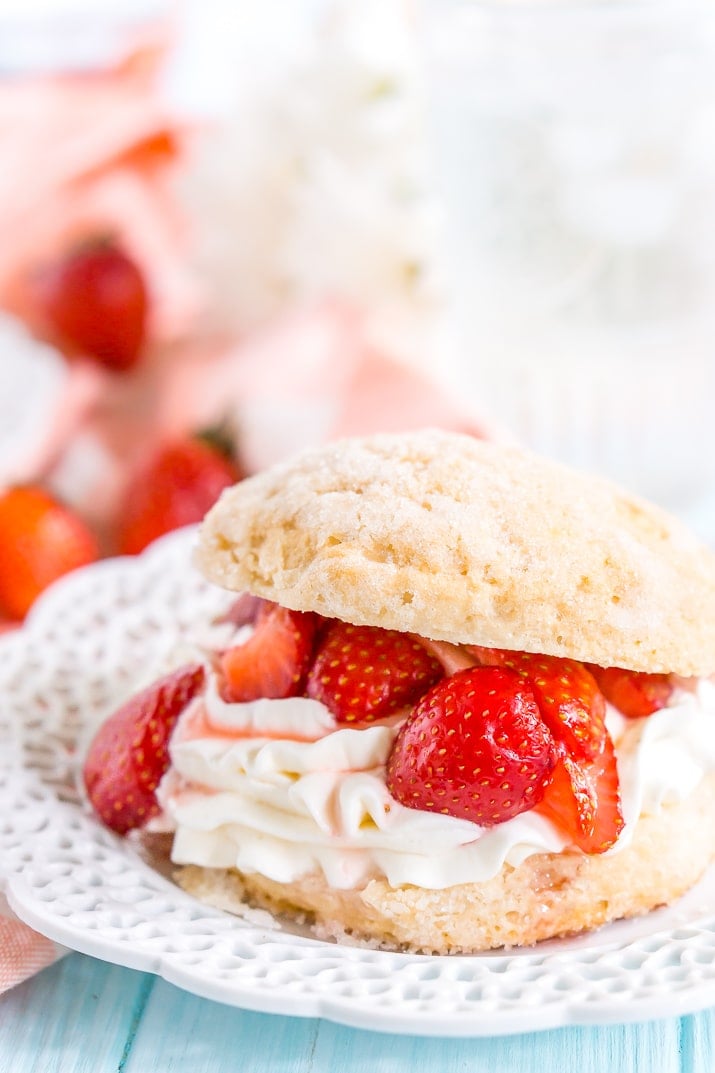 How To Make Them
Again, I know I'm starting to sound like a broken record, but this summertime dessert is SO easy to make! So let me walk you through how to make Strawberry Shortcake:
Macerate: You want the strawberries to have that delicious syrupy texture, you can macerate the berries for as little as 20 minutes but it's best if you do it overnight!
Dip: Drench each biscuit in melted butter and then coat with granulated sugar on all sides.
Bake: Cook the biscuits according to package directions, there's usually two options: one for tall biscuits and one for regular biscuits.
Whip It: In a cold large bowl or stand mixer, beat together heavy cream, powdered sugar, vanilla paste, and vanilla extract, starting on low and increasing speed until stiff peaks form.
Serve: Slice the biscuits in half and top with fresh whipped cream and macerated strawberries.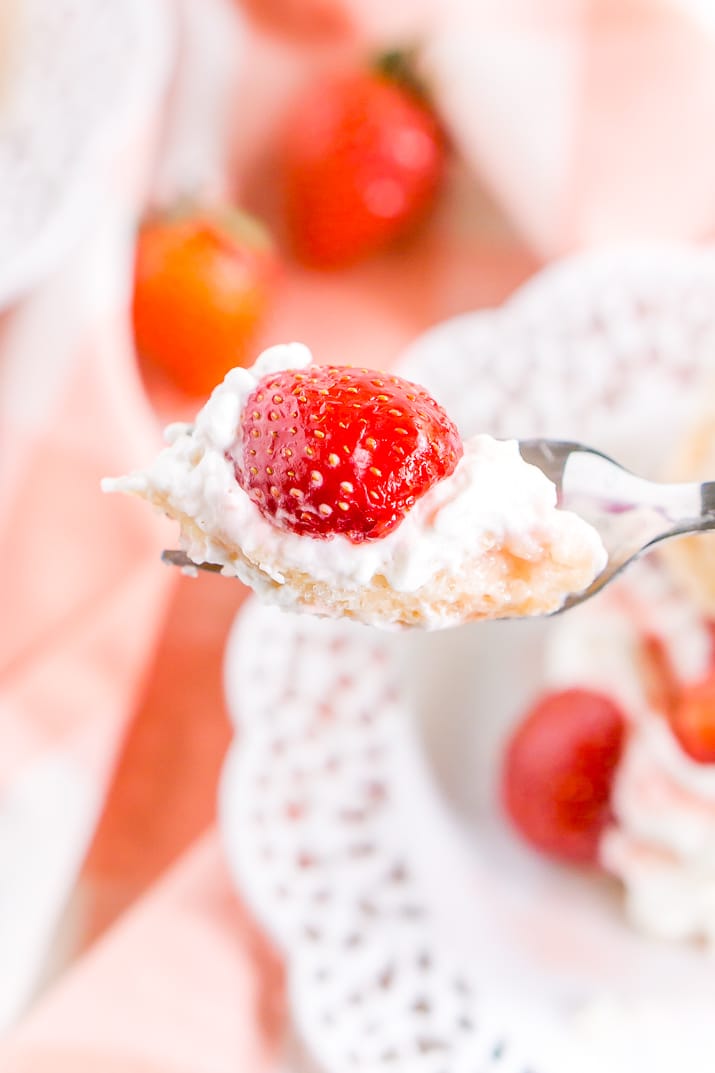 Can Strawberry Shortcake Be Made In Advance?
It certainly can! This is perfect when you want to make up a big batch for a summer weekend!
The baked biscuits can be stored in an air-tight container at room temperature for up to two days or up to 1 week in the refrigerator!
The strawberries can be made up to 4 days in advance and stored covered in the fridge.
The whipped cream can be made up to 24 hours in advance and stored covered in the refrigerator.
Can You Freeze Strawberry Shortcake?
You can freeze the baked biscuits and the macerate strawberries but you cannot freeze the whipped cream.
After baking, allow the biscuits to cool to room temperature before wrapping and placing in an air-tight container. You can store them in the freezer for up to 2 months.
Macerate the berries for at least an hour before placing in an air-tight container and freezing for up to 6 months.
Easy Strawberry Shortcake
Click the button above to save this delicious recipe to your board!
Let's Connect!
If you've tried this recipe please let me know how you liked it in the comments below, I love hearing from you! I've also created a fun group on Facebook and I'd love for you to join in! If you'd like to check it out, you can request to join HERE. You can also Subscribe to my Newsletter so you never miss a delicious recipe again!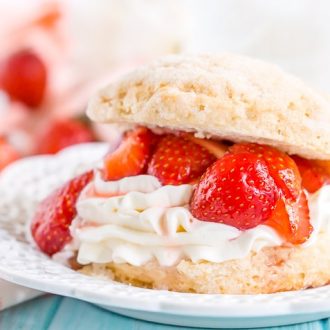 Strawberry Shortcake
This Easy Strawberry Shortcake recipe is made with fresh strawberries, homemade whipped cream, and a delicious sugar biscuit for a classic summer dessert!

Ingredients
Biscuits
8

ct can

large buttermilk biscuits

4

tablespoons

unsalted butter

melted

½

cup

granulated sugar
Whipped Cream
2

cups

heavy cream

2

teaspoons

vanilla extract

¼

teaspoon

vanilla bean paste

Optional, see notes

⅓

cup

powdered sugar
Instructions
Biscuits
Preheat oven according to package instructions and your desired bake method and line a baking sheet with parchment paper.

Dip each biscuit into the melted butter and then into the sugar to coat evenly on all sides. And bake according to package directions. Usually, there are two baking options, I like the use the one that yields bigger biscuits, which usually means a slightly longer baking time.
Strawberries
While biscuits are baking, stir together strawberries and sugar in a medium bowl and set aside. Let them macerate for at least 20 minutes or prep them the night before sy they're really syrupy.
Whipped Cream
In a large, cold bowl or stand mixer, beat together whipped cream ingredients, starting on low and increasing speed until stiff peaks form.

Slice the biscuit in half and top with whipped cream and strawberries.
Notes
If vanilla bean paste is not used, double the vanilla.
For even more flavor you can add 2 tablespoons of Grand Marnier, Triple Sec, or lemon juice and zest to the strawberry mixture.
Nutrition
Calories:
417
kcal
Carbohydrates:
35
g
Protein:
2
g
Fat:
31
g
Saturated Fat:
19
g
Cholesterol:
104
mg
Sodium:
34
mg
Potassium:
225
mg
Fiber:
2
g
Sugar:
29
g
Vitamin A:
1150
IU
Vitamin C:
69.9
mg
Calcium:
60
mg
Iron:
0.5
mg