This really is the best homemade Vanilla Icing recipe! It's perfect for slathering on cinnamon rolls and drizzling over cakes and cookies!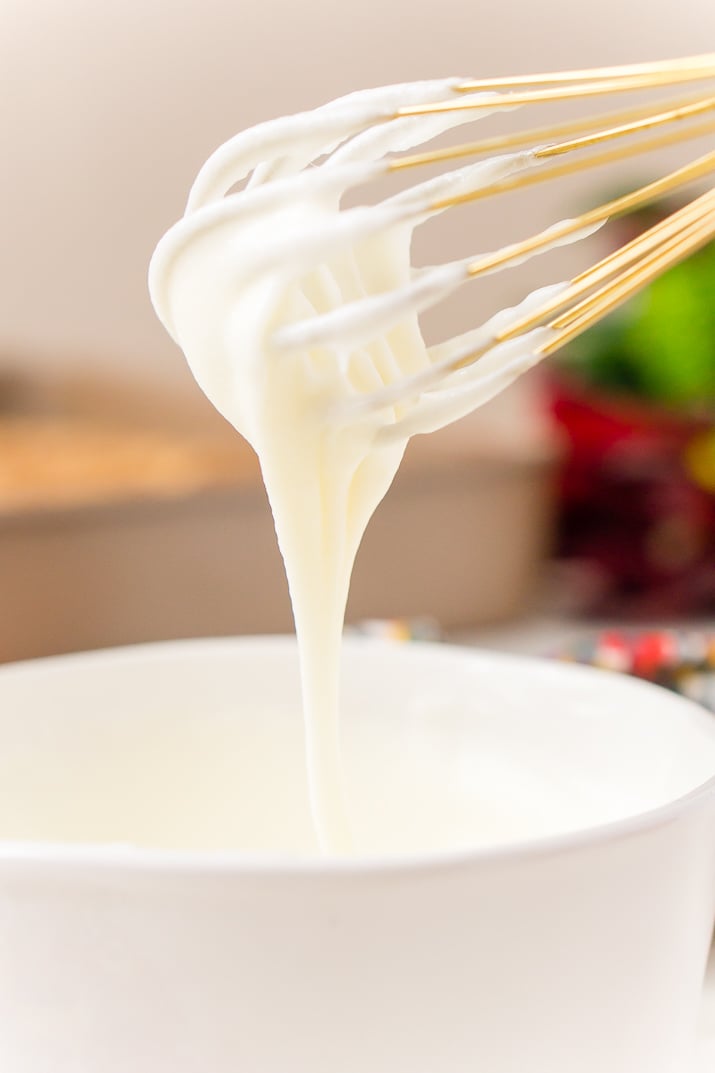 How many of you went straight for the cup of vanilla icing at the end of the cinnamon rolls packages as a kid? And how many of you were disappointed that it never seemed to be enough to adequately coat them? Yeah, I was that kid.
I mean really though, can you ever have enough icing? It's so gooey and sweet and delicious and gooey… I said that already, didn't I? Well, anyway, I truly think the center of a cinnamon roll doused in a creamy vanilla icing is one of the best bites of food in the world.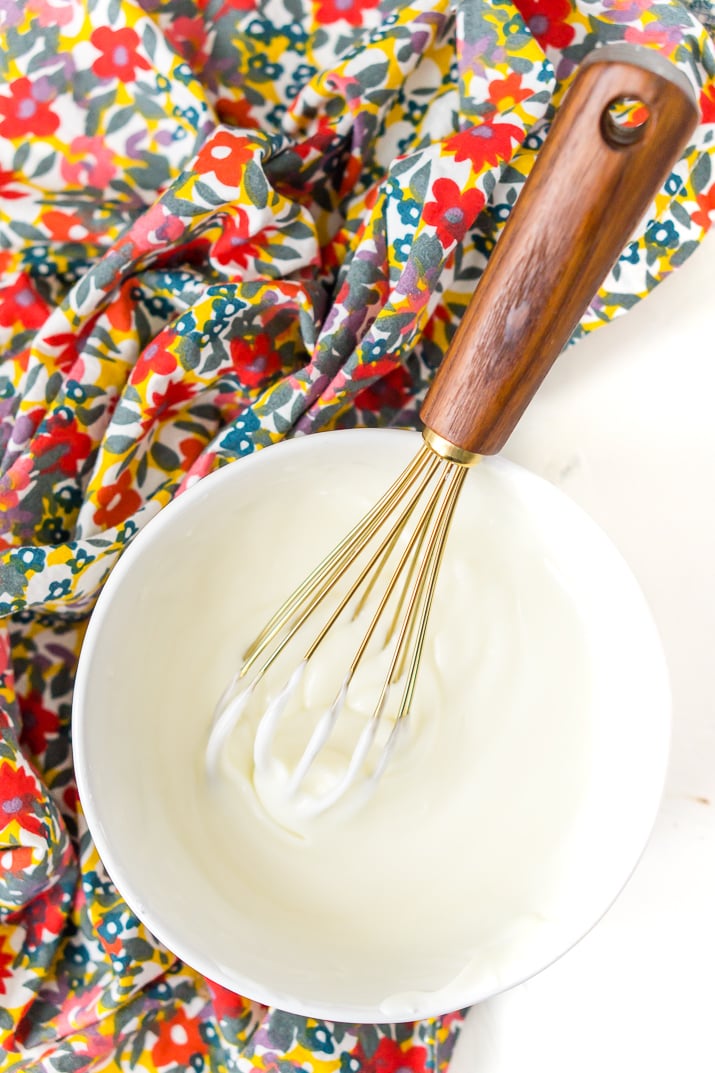 When I was growing up, I always learned how to make homemade icing with two things: powdered sugar and water. And most internet searches for a vanilla icing recipe will list those very two ingredients, but I can promise you they are doing you a HUGE disservice because there is a far better way to make it!
You see when you only add water, you basically get a sugar paste, and hey, there's really nothing wrong with that. But I know that what you really want is an out of this world icing, one that's thick and creamy and laced with notes of vanilla.
That's why my recipe is made with heavy cream and vanilla extract. That's right, not even milk will cut it, it's gotta be cream. I can't ever tell you how much of a game changer this is from a basic water and powdered sugar combo. You just have to try it for yourself!
Try This Vanilla Icing Recipe On: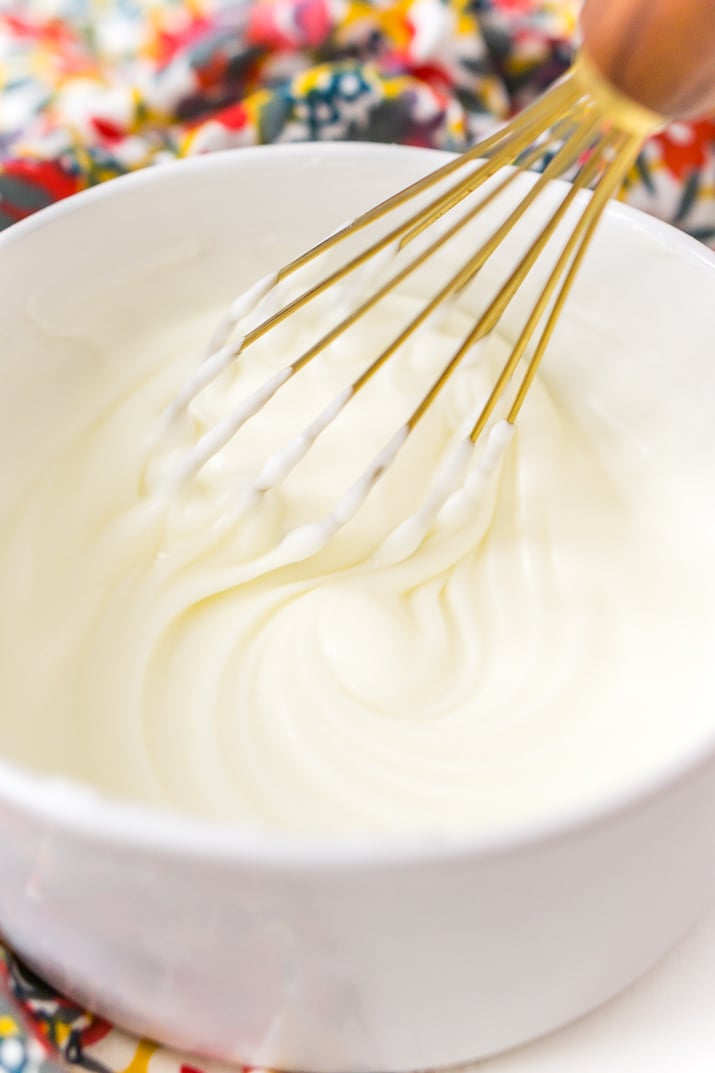 So let's talk about what this icing is and what it isn't. This icing is great for cinnamon rolls, cakes, cookies, and hot dogs (that's my husband's recommendation, you can try it if you want, but don't blame me if you don't like it, capisce?).
This icing is NOT royal icing, they are very different and made with different ingredients and methods, this icing will not maintain form like a royal icing will.
So while you can ice cookies with this recipe, it should be more of the dipped and drizzle icing method, don't try and attempt any of the crazy cookie decorating you see in those viral videos.
This icing is NOT a frosting, so while you can dress a cake with it, it's not going to be thick like a vanilla buttercream. But like a buttercream, it's very important that you don't overmix the icing because it can break.
What you'll need:
A Whisk – For best results, you should use a whisk for this recipe, it will work better than a fork or a spoon.
Powdered Sugar – Make sure that the sugar you're using is soft, powdered sugar can harden over time, so if it is hard, run it through a sifter.
Vanilla Extract – You don't want to use that imitation crap, you want the good stuff, the REAL stuff. You can make it yourself at home or buy a high-quality bottle of it.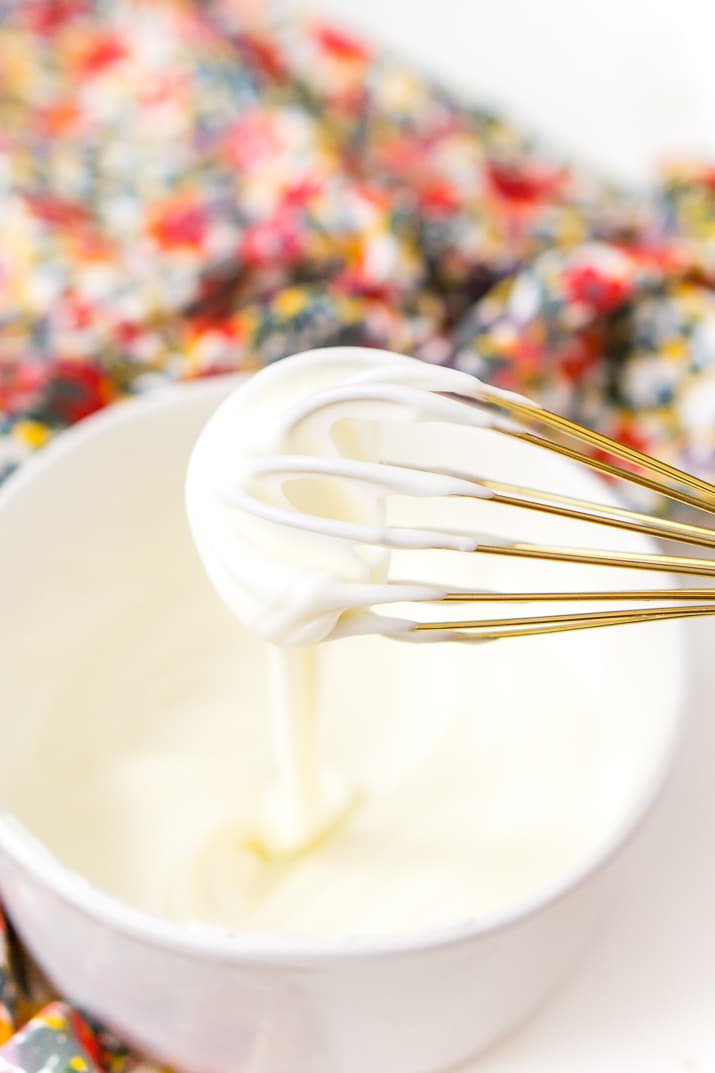 👋 Let's Connect!
If you've tried this recipe, please let me know how you liked it in the comments below and leave a review; I love hearing from you! And don't forget to tag me – @sugarandsoulco – on Instagram and Pinterest with your photos or join our Busy Family Recipes Facebook Community and share them there!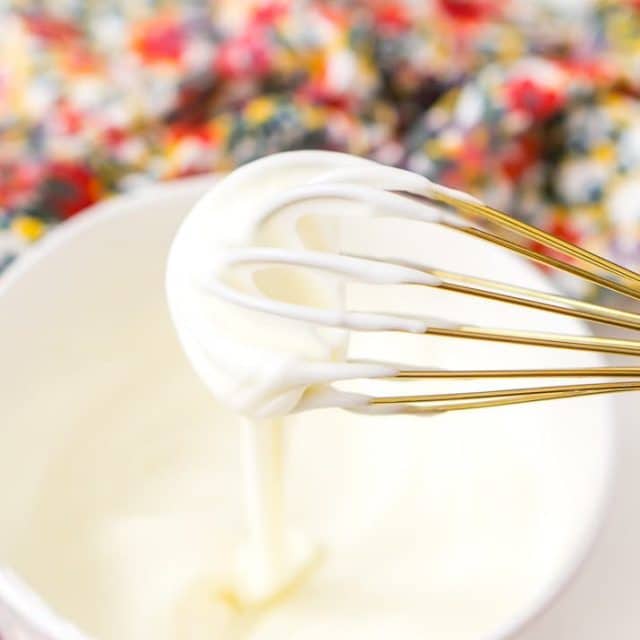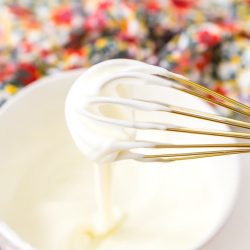 Best Homemade Vanilla Icing
This really is the best homemade vanilla icing recipe! It's perfect for slathering on cinnamon rolls and drizzling over cakes and cookies!
Ingredients
2

cups

powdered sugar

1

teaspoon

vanilla extract

6-8

tablespoons

heavy cream
Instructions
Combine ingredients in a bowl and whisk together until smooth. For a thicker icing, stick with about 6 tablespoons of heavy cream, for a thinner icing for drizzling on cakes or cookies, try 7 or 8 tablespoons. Do not overmix or icing could break.
Nutrition
Calories:
1255
kcal
Carbohydrates:
242
g
Protein:
1
g
Fat:
33
g
Saturated Fat:
20
g
Cholesterol:
123
mg
Sodium:
39
mg
Potassium:
67
mg
Sugar:
235
g
Vitamin A:
1325
IU
Calcium:
58
mg