This Downeast Maine Pumpkin Bread is extremely tender loaded with amazing spices and optional chopped walnuts, it's the perfect quick bread for fall!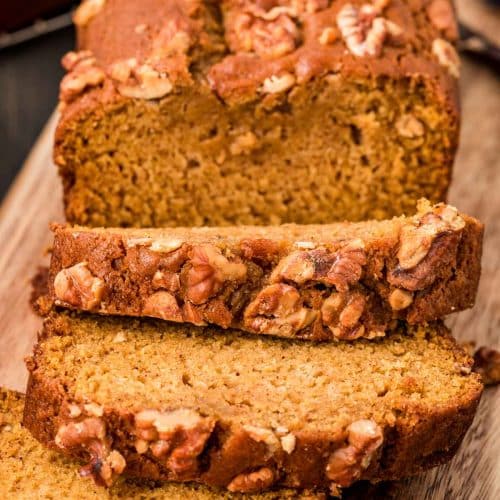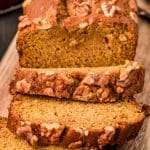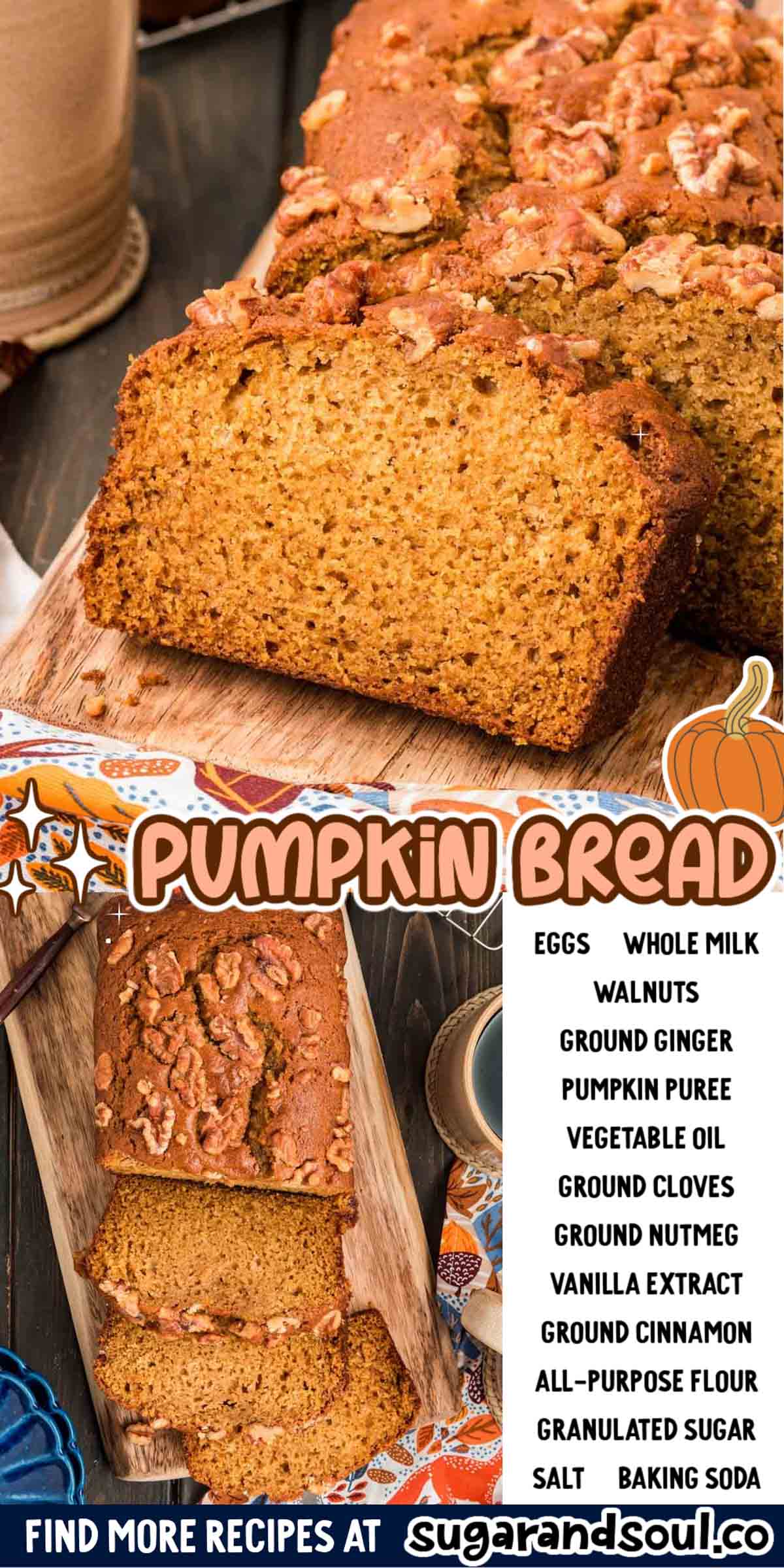 This Downeast Pumpkin Bread is an amazingly tender quick bread recipe that's made with cozy spices, making it the perfect choice for fall! Takes just 10 minutes to prep two loaves!
Enjoy your slice of bread by slathering it with homemade butter and pouring yourself a mugful of your favorite cup of coffee or tea!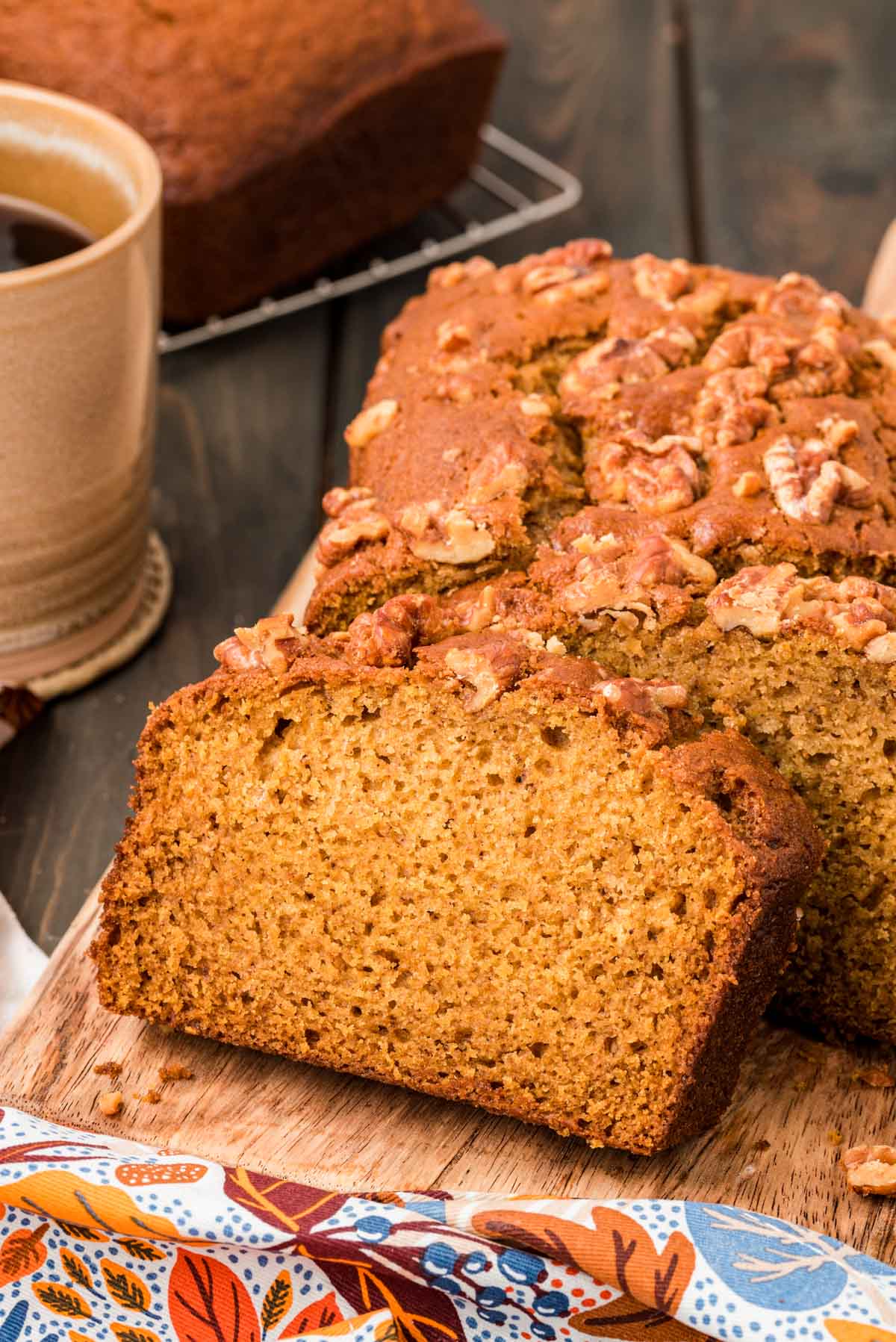 This Pumpkin Bread Is Super Delicious!
Don't let Autumn pass by without baking up this tasty Downeast Maine Pumpkin Bread Recipe! Begin your morning with a slice, enjoy it as a snack throughout the day, or bring a loaf to the family gathering!
Though you can do all of the above since this recipe yields two delicious loaves! Allowing you to save one at home while bringing the other to share at a fall gathering or even to Thanksgiving dinner!
Tasting A Slice Of This Pumpkin Bread!
Taste: To bring flavor to this bread, pumpkin puree is combined with seasonal spices such as cinnamon, nutmeg, cloves, and ginger. Making it so each bite fulfills your seasonal craving for cozy, spiced deliciousness!
Texture: This recipe may be a quick, homemade bread, but its moist and tender texture elevates it to bakery-level status! Balancing out these soft slices are crunchy chopped walnuts!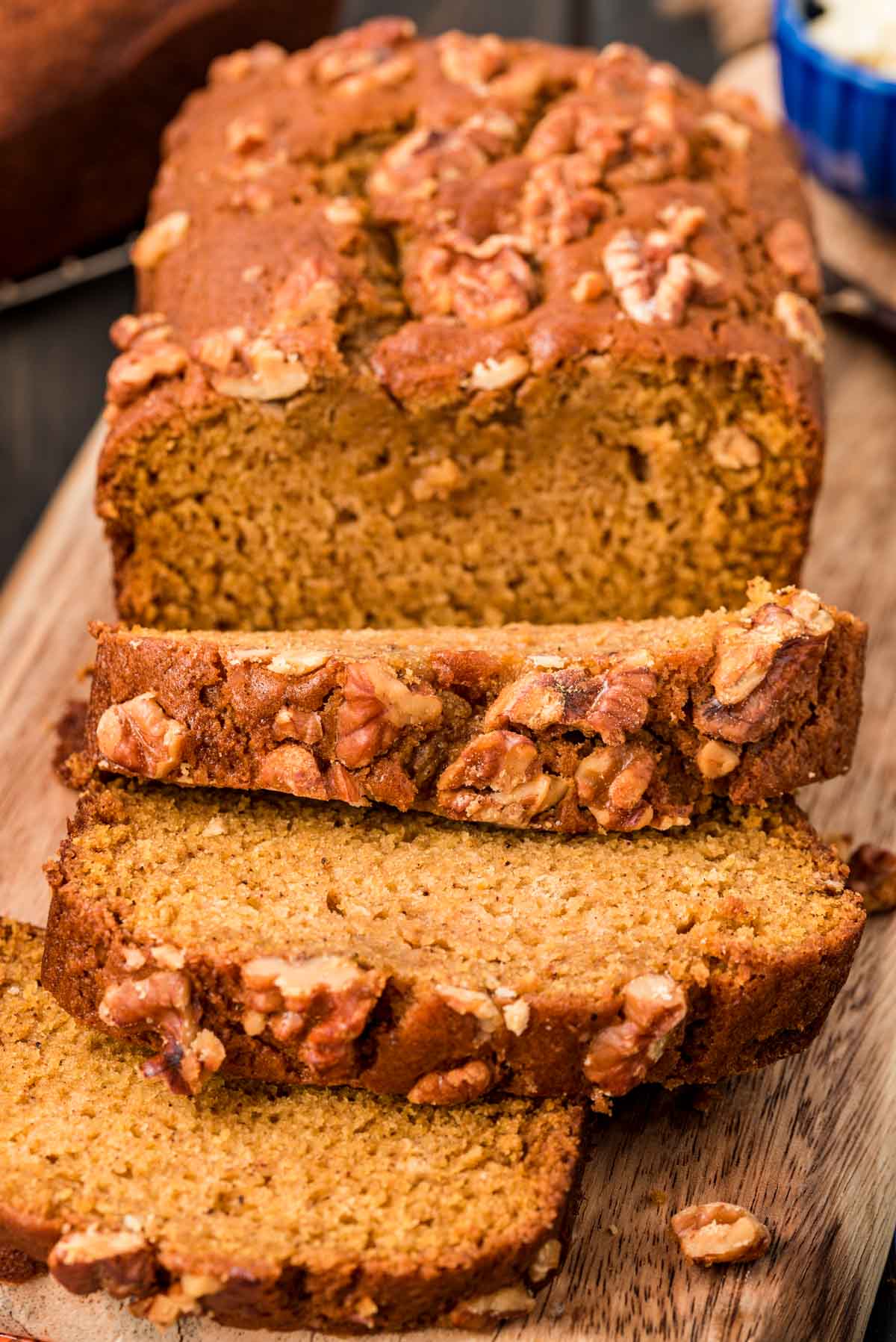 The Convenience Of Quick Breads!
Wondering what a quick bread is? Quick bread is the culinary term used for recipes that produce a bread-like good without using yeast to leaven it.
Instead of yeast to leaven the bread, baking soda or baking powder is used to do so. This particular recipe uses baking soda!
The baked result of a quick bread has a moist, muffin-like texture. Whereas bread leavened with yeast, like my Homemade Bread, has an airy, fluffy texture! Try my Pumpkin Dinner Rolls if that's what you're looking for!
Both types of bread are absolutely delicious and have their place! But I really appreciate tasty, flavored quick bread recipes that take very little hands-on time.
Allowing me to skip out the time it takes for yeast doughs to rise and get straight to eating a slice of baked bread!
Pumpkin Bread Ingredients
100% pumpkin puree
large eggs
vegetable oil
vanilla extract
whole milk or water
granulated sugar
all-purpose flour
baking soda
salt
ground cinnamon
ground nutmeg
ground cloves
ground ginger
chopped walnuts
Pumpkin Puree – You'll want to use 100% pure pumpkin, not pumpkin pie filling. I prefer the Farmer's Market Organic Pumpkin brand!
Walnuts – I love the added crunch that the walnuts give to this pumpkin bread! You can mix the chopped walnuts into the batter or sprinkle them over the top before baking. Feel free to leave them out altogether if you're just not a fan of walnuts!
Spices – What makes this bread so great is all the spices! I do know that those can rack up the grocery bill rather quickly, though. So, if you don't want to buy a ton of different spices, feel free to swap whichever ones you don't have on hand for an equal amount of Pumpkin Pie Spice.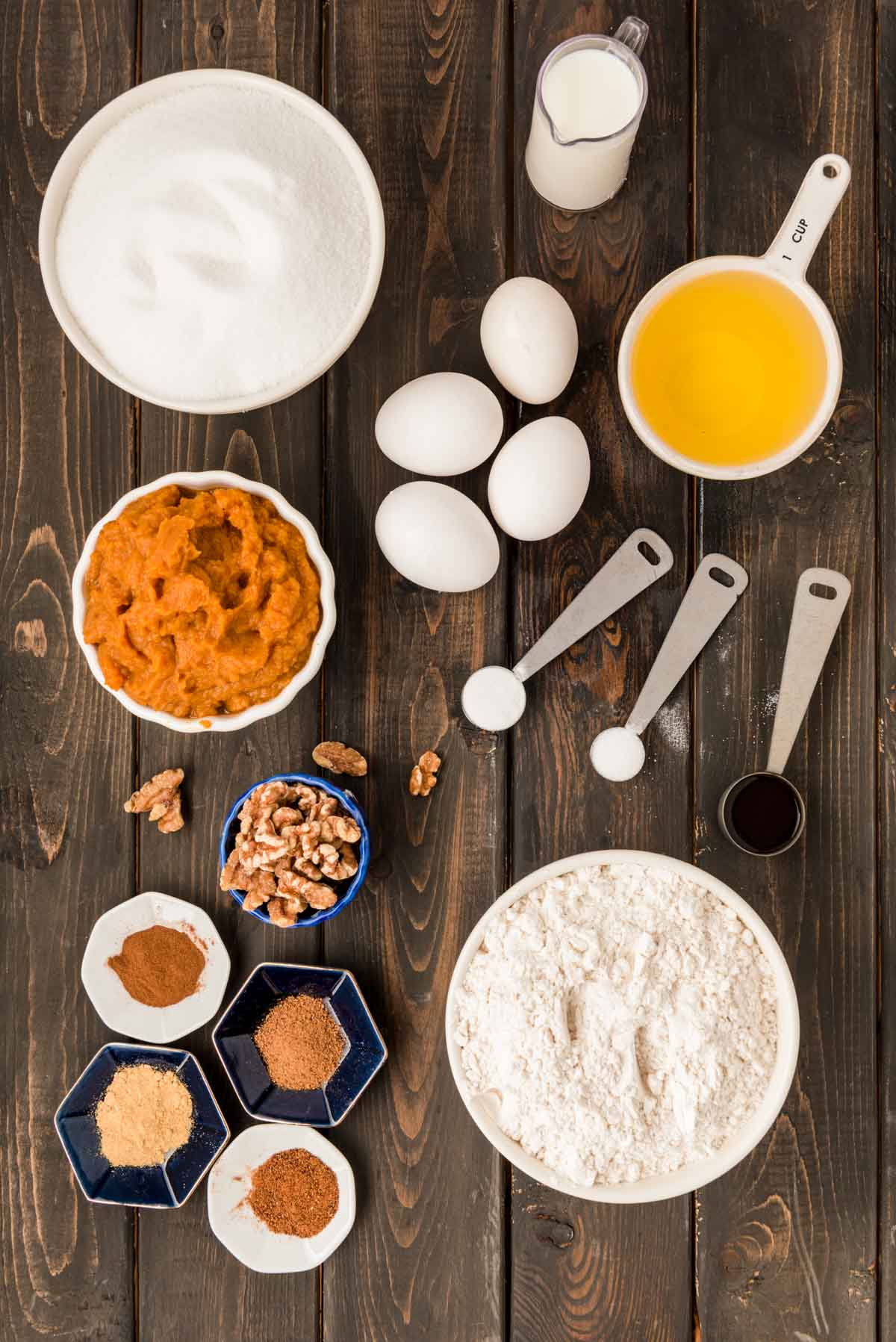 How To Make Homemade Pumpkin Bread
Step 1: Preheat the oven, grease two 9×5-inch loaf pans (I like using my Cake Goop recipe for greasing), and set aside. Then, in a large bowl, beat together the pumpkin puree, eggs, vegetable oil, vanilla, milk, and sugar.
Step 2: In a separate mixing bowl, whisk together the dry ingredients.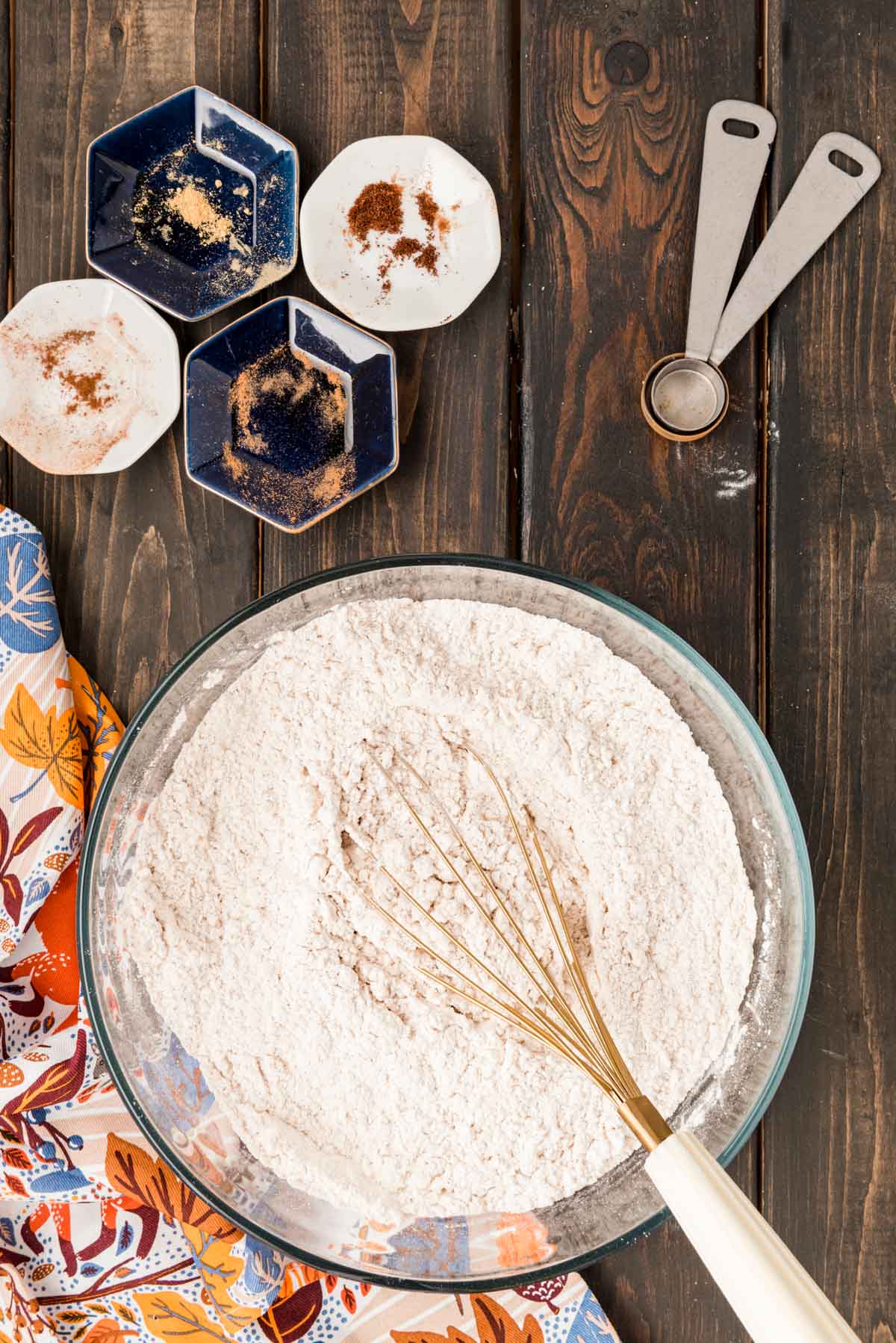 Step 3: Add the dry ingredients to the wet ingredients and mix just until combined.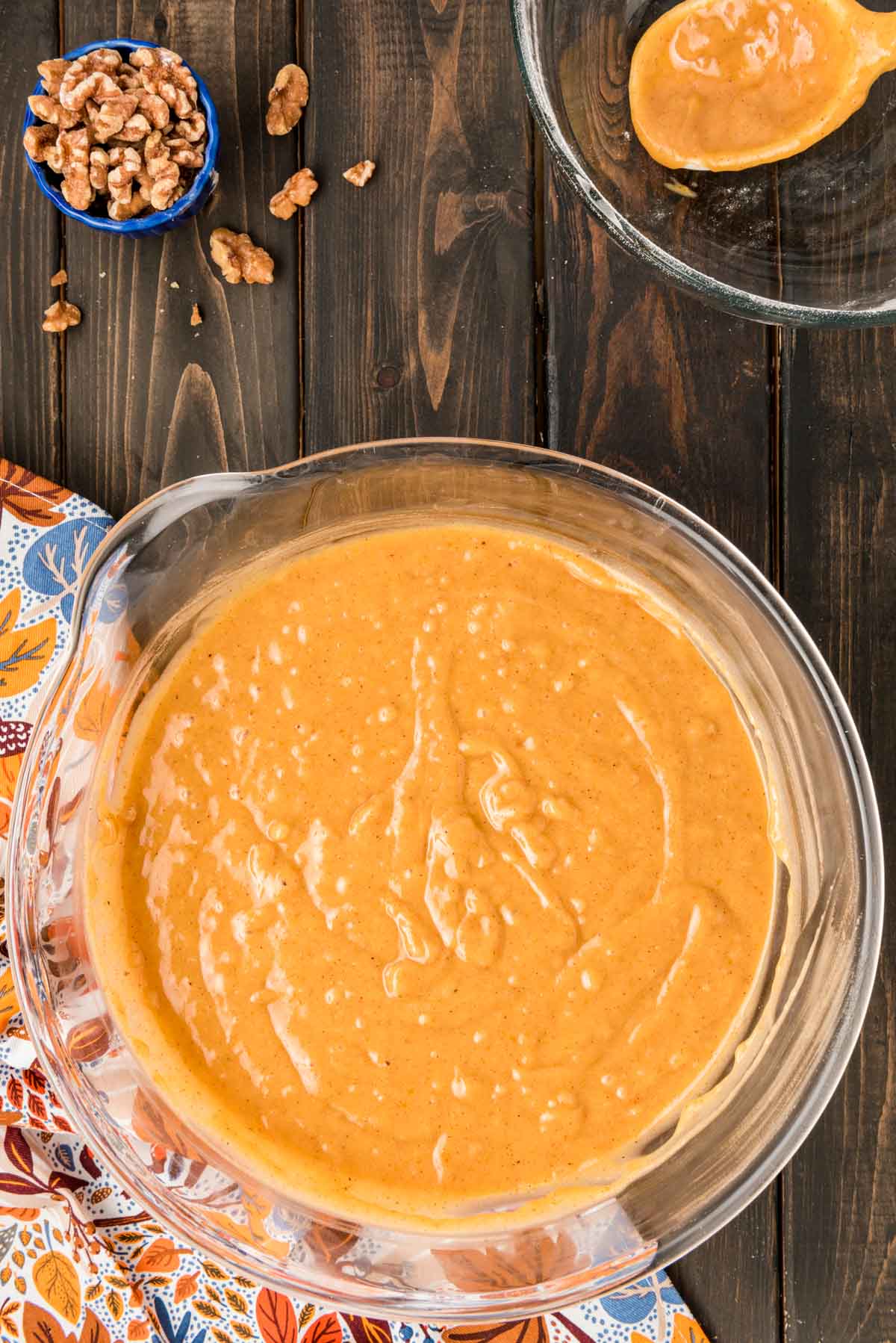 Step 4: Divide the batter between the two prepared pans, then sprinkle the tops with chopped walnuts if desired.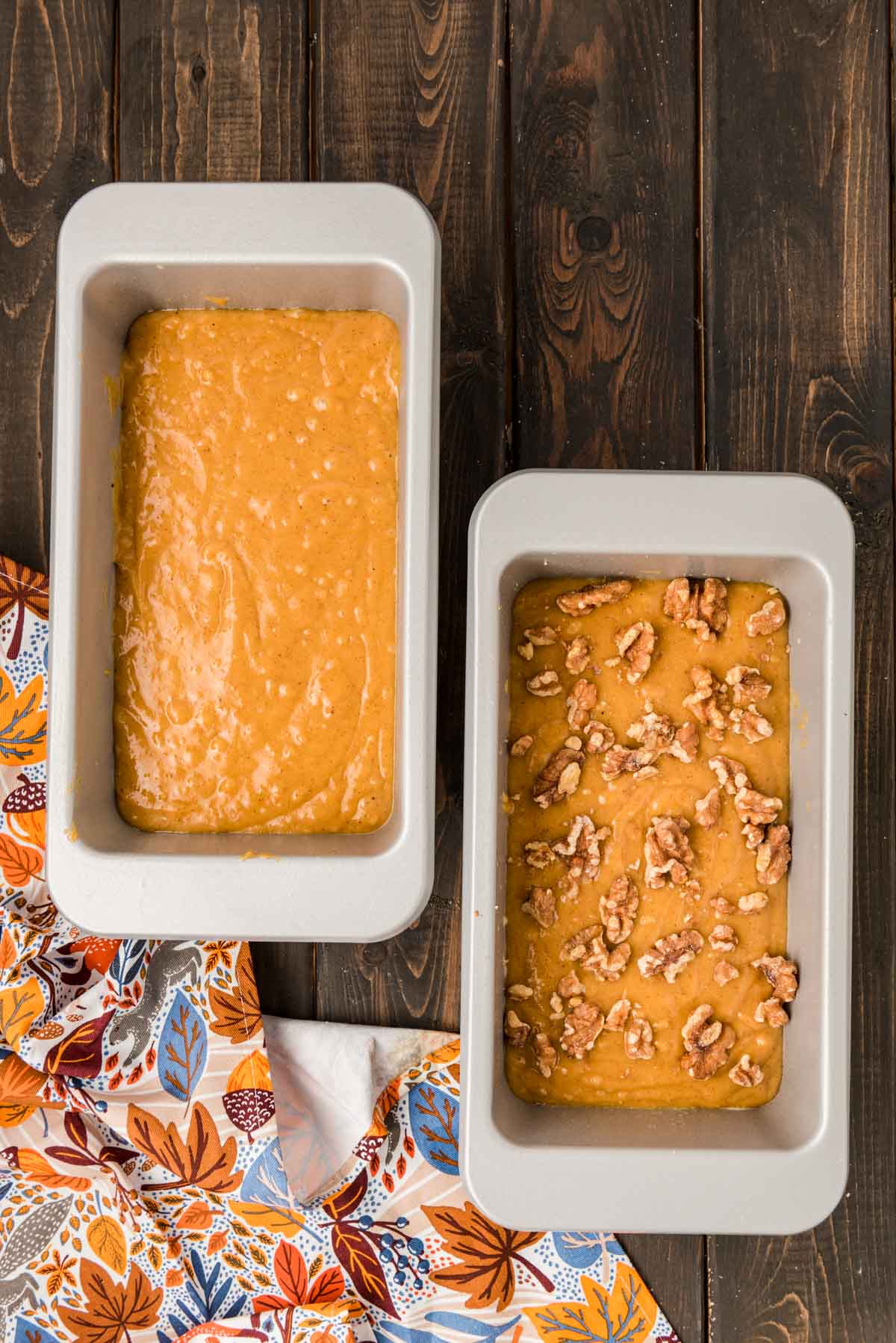 Step 5: Bake the loaves until done, and a cake tester or toothpick comes clean from the center. Let the pumpkin loaves cool int he pan for a few minutes before transferring to a wire rack to cool completely before cutting.
There's always room in the day to enjoy a slice of pumpkin bread like this one! Though I'm also a big fan of Pumpkin Cream Cheese Bread since it has a creamy swirl of caramel cream cheese filling!
And there's always Pumpkin Banana Bread when I need to use up those overripe bananas! Luckily, that recipe also makes two loaves as well, just like this Downeast one!
My other favorite quick breads include Cranberry Bread With Crumble Topping and this Zucchini Bread!
How To Store Pumpkin Loaf
Tightly wrap your loaves with plastic wrap or place them in an airtight container. Then, store the bread at room temperature and enjoy it for up to 3 days.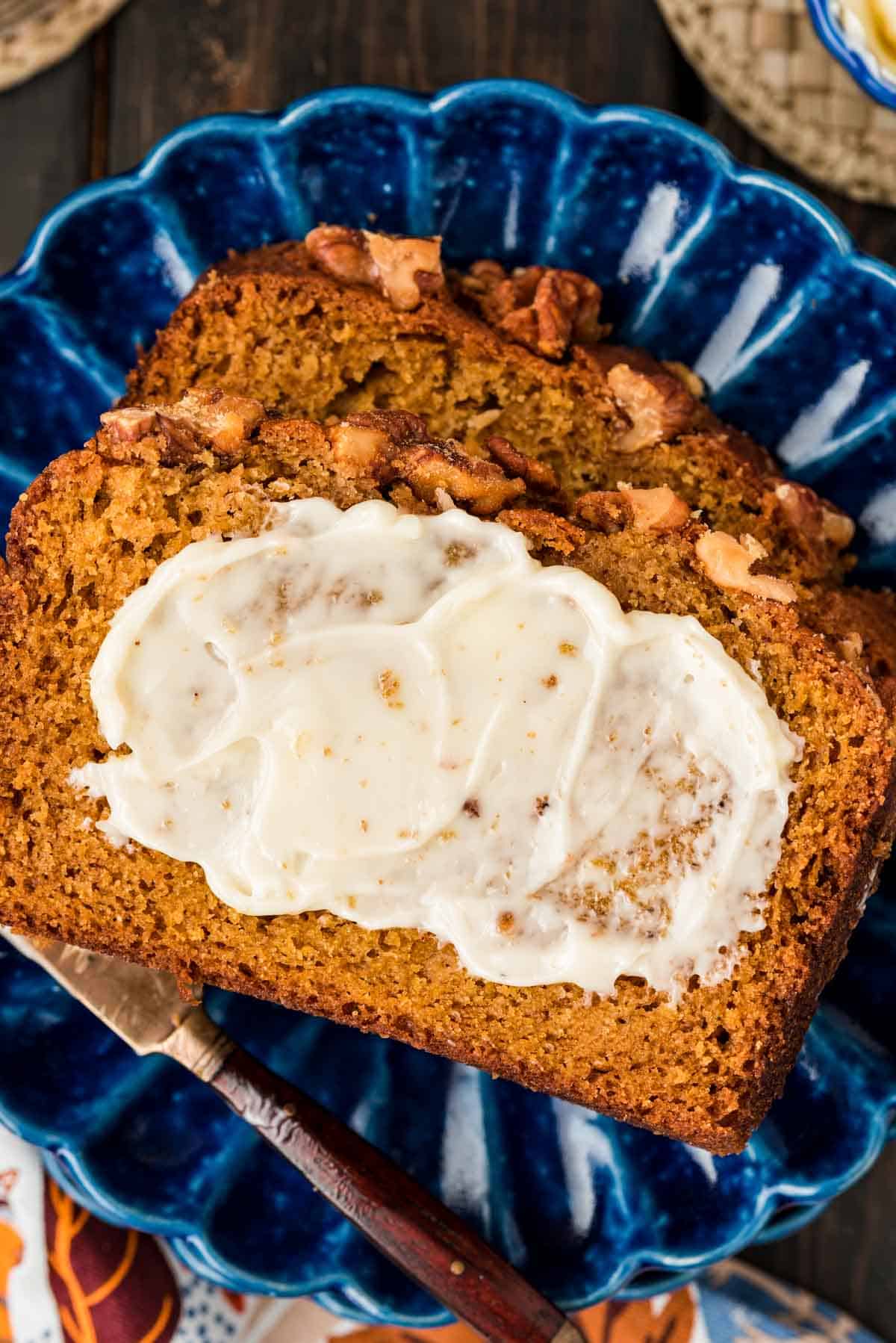 Pumpkin Bread FAQs
Could This Downeast Pumpkin Bread Be Made Dairy-Free?
Yes, to make this recipe dairy-free, simply omit the milk and replace it with water. The bread will still turn out yummy!
Can Chocolate Chips Be Added To This Recipe?
Of course, chocolate chips are always a good idea! I'd recommend using 1 1/2 cups of chocolate chips for this recipe!
Can I Freeze The Second Loaf To Enjoy Later?
Yes, this bread freezes really well! Freeze each loaf individually by tightly wrapping it with plastic wrap and then with a layer of tinfoil.
Then, place the double-wrapped loaf in a freezer bag and squeeze out the excess air. Place it in the freezer and enjoy it for up to 3 months.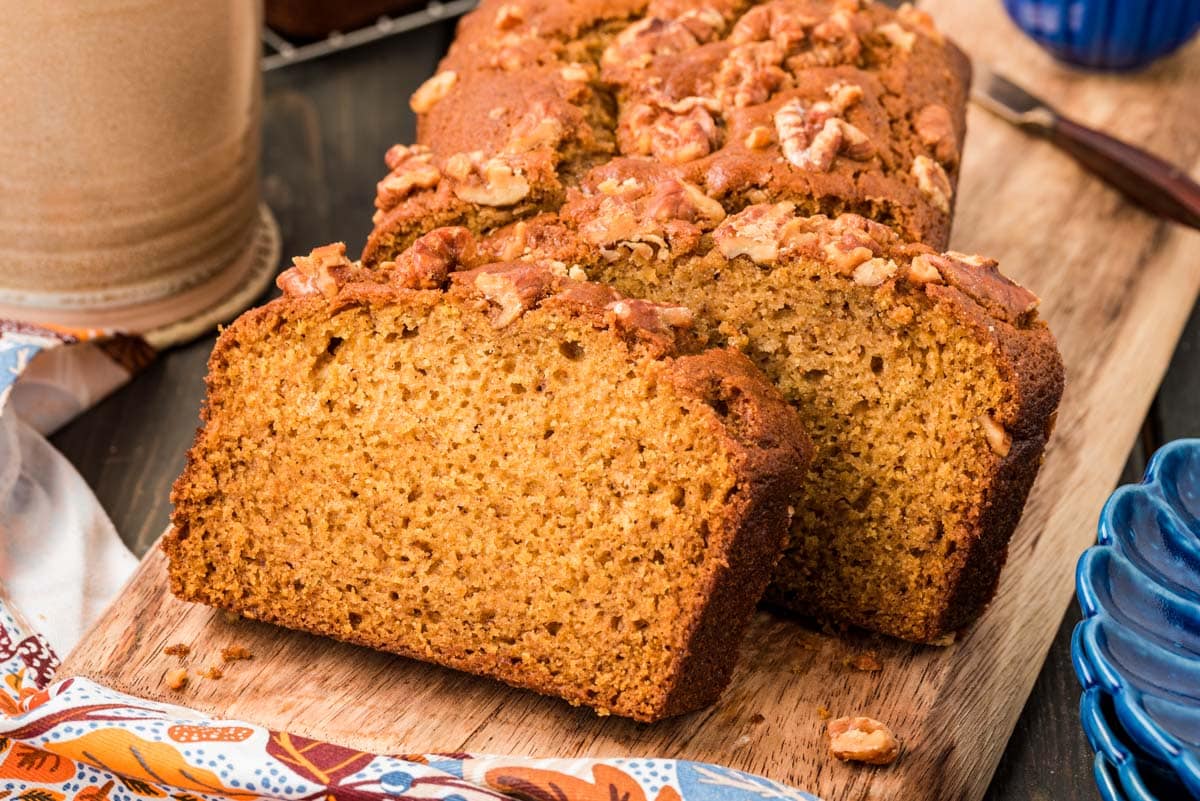 👋 Let's Connect!
If you've tried this recipe, please let me know how you liked it in the comments below and leave a review; I love hearing from you! And don't forget to tag me – @sugarandsoulco – on Instagram and Pinterest with your photos or join our Sugar & Soul Show-offs Community and share them there, where you can join our recipe challenges and win prizes!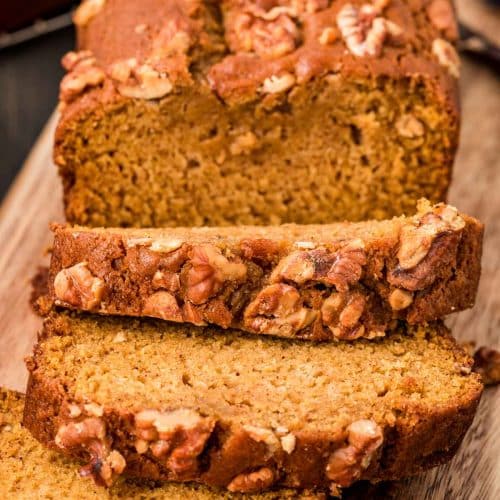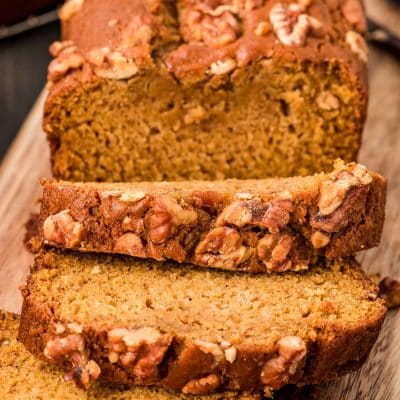 Downeast Maine Spiced Pumpkin Bread
This Downeast Maine Pumpkin Bread is extremely tender loaded with amazing spices and optional chopped walnuts, it's the perfect quick bread for fall!
Instructions
Preheat oven to 350°F and spray two 5×9-inch loaf pans with cooking spray and set aside.

In a large bowl, combine pumpkin, eggs, vegetable oil, vanilla, milk, and sugar.

1 (15oz.) can 100% pumpkin puree, 4 large eggs, 1 cup vegetable oil, 1 tablespoon vanilla extract, ⅔ cup whole milk, 3 cups granulated sugar

In a separate bowl, whisk together flour, baking soda, salt, and spices.

3½ cup all-purpose flour, 2 teaspoons baking soda, 1½ teaspoons salt, 1 teaspoon ground cinnamon, 1 teaspoon ground nutmeg, ½ teaspoon ground cloves, ¼ teaspoon ground ginger

Add the dry ingredients to the wet ingredients and mix until combined.

If using, fold in 2 cups of nuts to the batter.

3 cup chopped walnuts

Pour batter evenly into the two loaf pans and top the loaves evenly with the remaining nuts, if desired. Bake for 50 to 60 minutes until a cake tester comes clean from center.
Notes
Nutritional information is an estimate per loaf with milk and nuts.
Omit the milk to make this recipe dairy-free.
Nutrition
Calories: 3309kcal | Carbohydrates: 496g | Protein: 63g | Fat: 132g | Saturated Fat: 17g | Polyunsaturated Fat: 86g | Monounsaturated Fat: 20g | Trans Fat: 0.04g | Cholesterol: 346mg | Sodium: 3009mg | Potassium: 1282mg | Fiber: 19g | Sugar: 309g | Vitamin A: 835IU | Vitamin C: 2mg | Calcium: 379mg | Iron: 17mg
Adapted from All Recipes.