These Turkey Cupcakes are an easy-to-make treat for the kids and a fun way to celebrate the Thanksgiving season!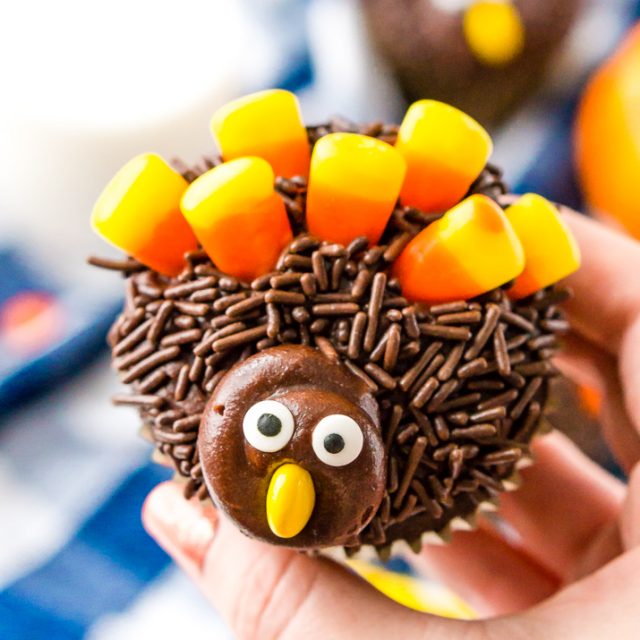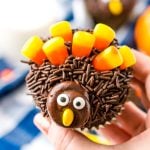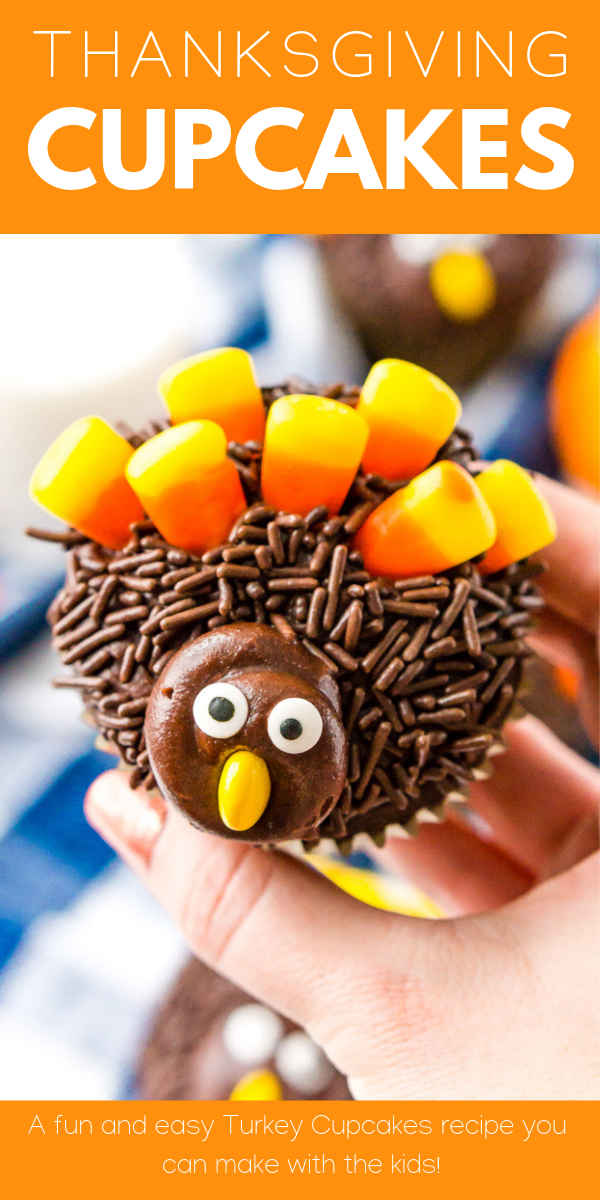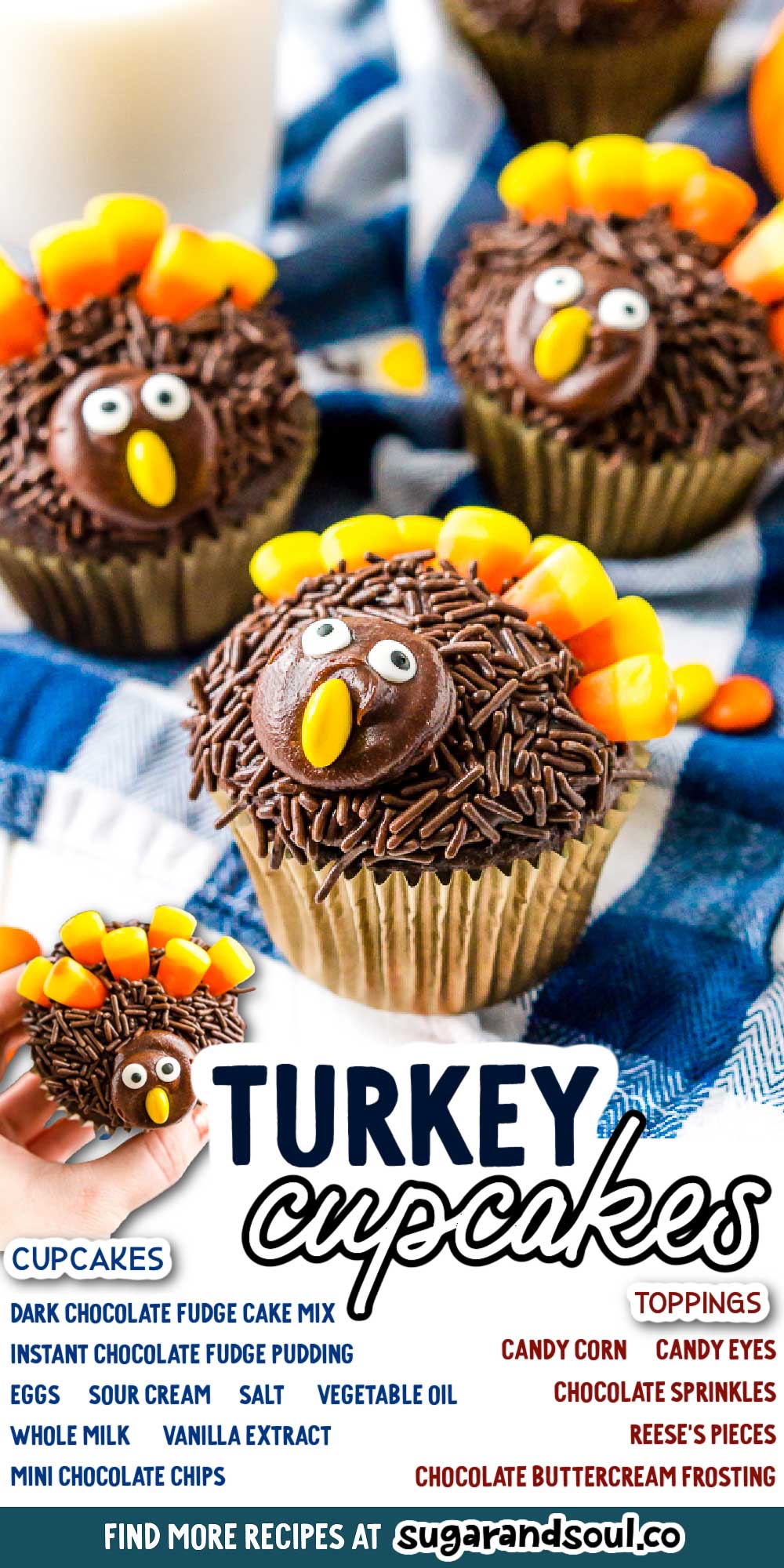 These Turkey Cupcakes are an easy-to-make treat for the kids and a fun way to celebrate the Thanksgiving season!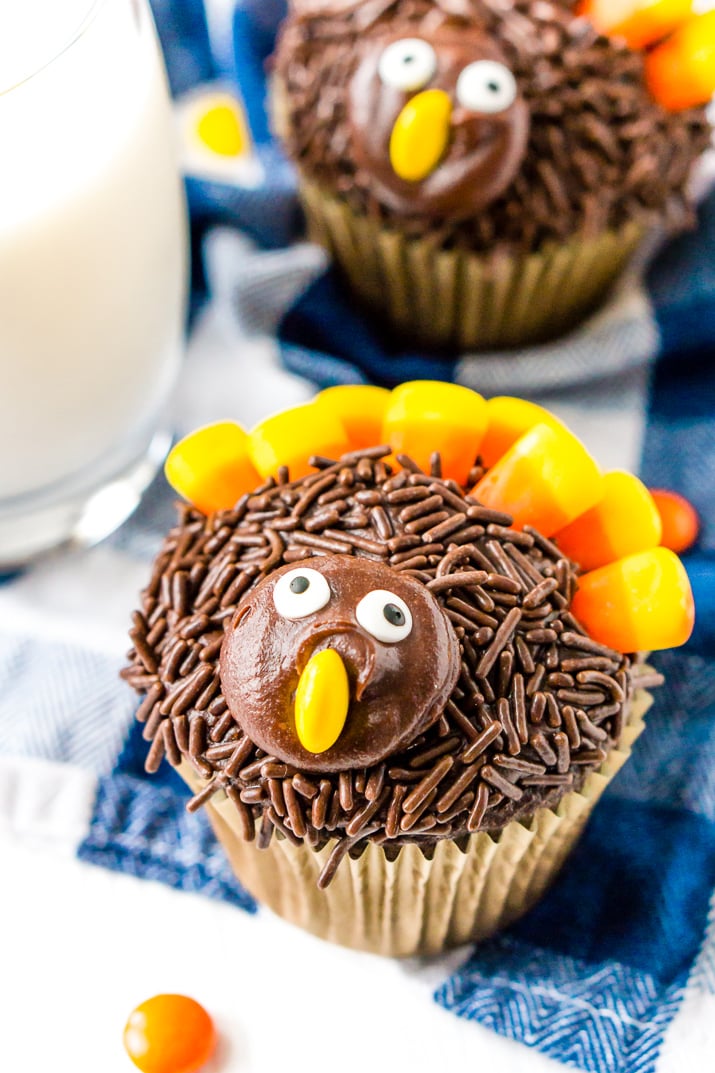 Turkey Cupcakes are super fun to make and eat as we enter the holiday season!
These Turkey Cupcakes are fun, yummy, and totally kid-friendly. They encourage creativity and bonding in a different way than sitting around the table for dinner (although, that's good, too!).
These Thanksgiving Cupcakes are holiday-themed, but you don't have to wait until the big day to enjoy them. Get in the spirit now … then make another batch for Turkey Day!
What's In Turkey Cupcakes?
These adorable treats consist of chocolate cupcakes, chocolate frosting, and candy. Roll the top of the cupcakes in sprinkles, add candy corn "feathers," then attach a cookie head and candy faces.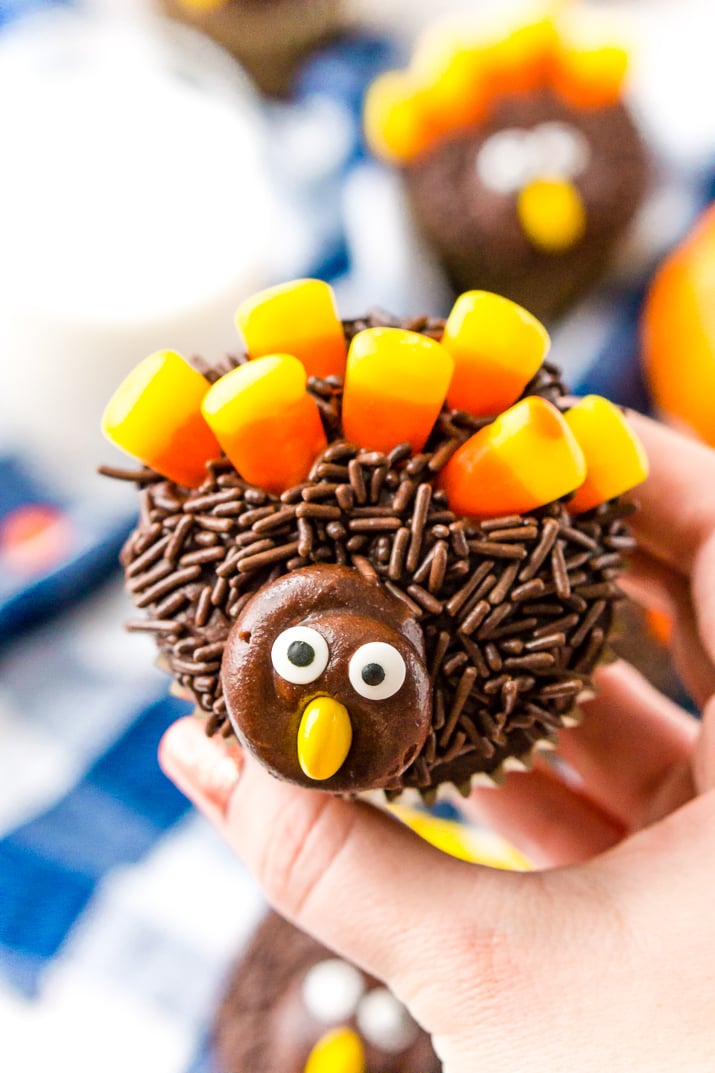 These Thanksgiving Cupcakes are the perfect dessert to put on the kid's table, especially if there are some picky eaters. Just make sure to make enough for the grown-ups too, because no one can resist a cute chocolate cupcake.
The best part is that you can enlist your youngsters to help put these critters together before the feast. Or, you can just make them for fun on a rainy November day.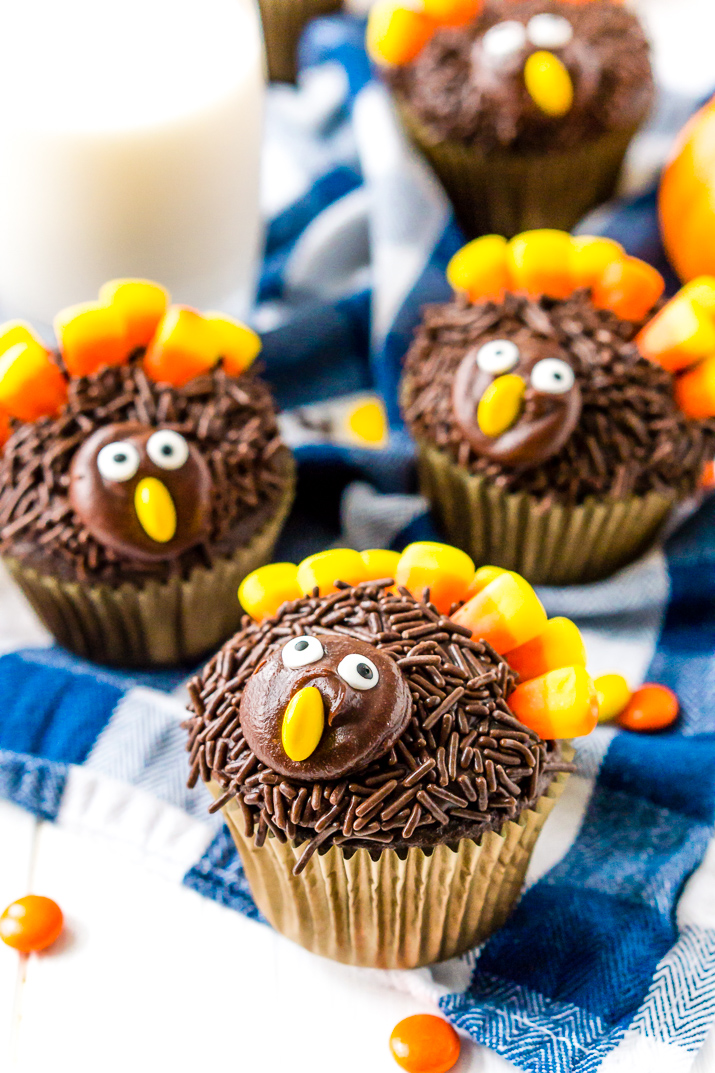 How To Make Turkey Cupcakes
Step 1: Begin by baking up your chocolate cupcakes – you can use my chocolate cupcake recipe included below, or your favorite recipe or box mix. You'll also want to prep your frosting or use a storebought kind – you'll likely need 2 or 3 tubs.
Step 2: To assemble your cupcakes, pipe a simple swirl of chocolate frosting onto your cupcakes, it doesn't need to be perfect, you won't be able to see it.
Step 3: Next, dip your frosting cupcake into a bowl of chocolate sprinkles to coat.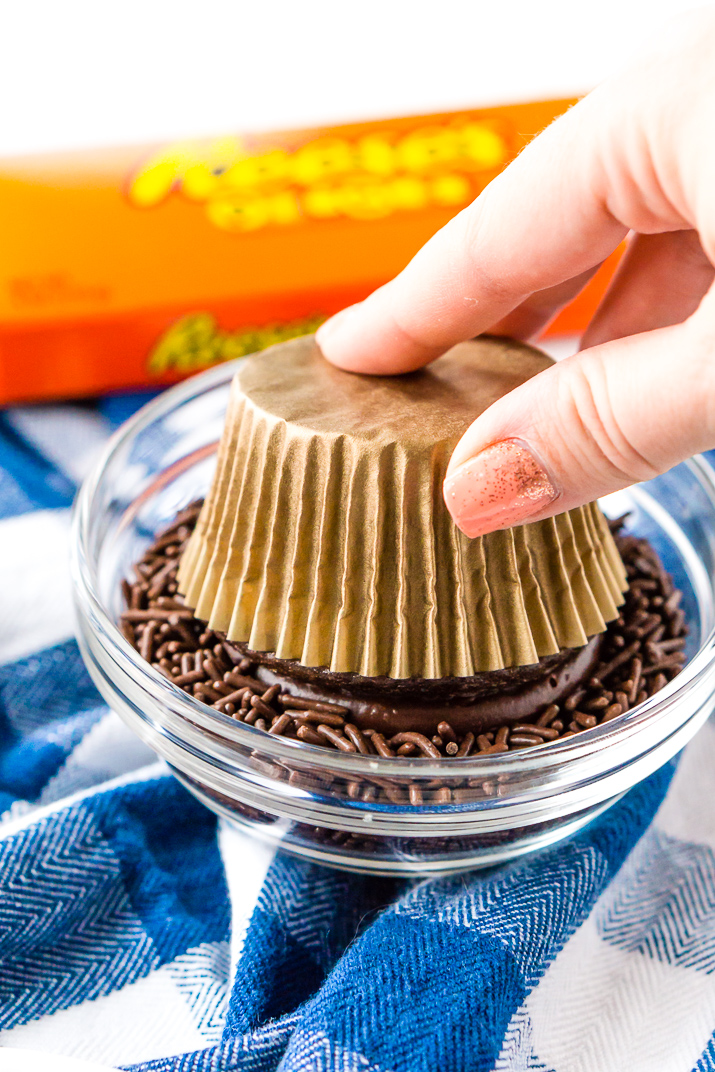 Step 4: Then pipe on a dollop of chocolate frosting to create the head of the turkey.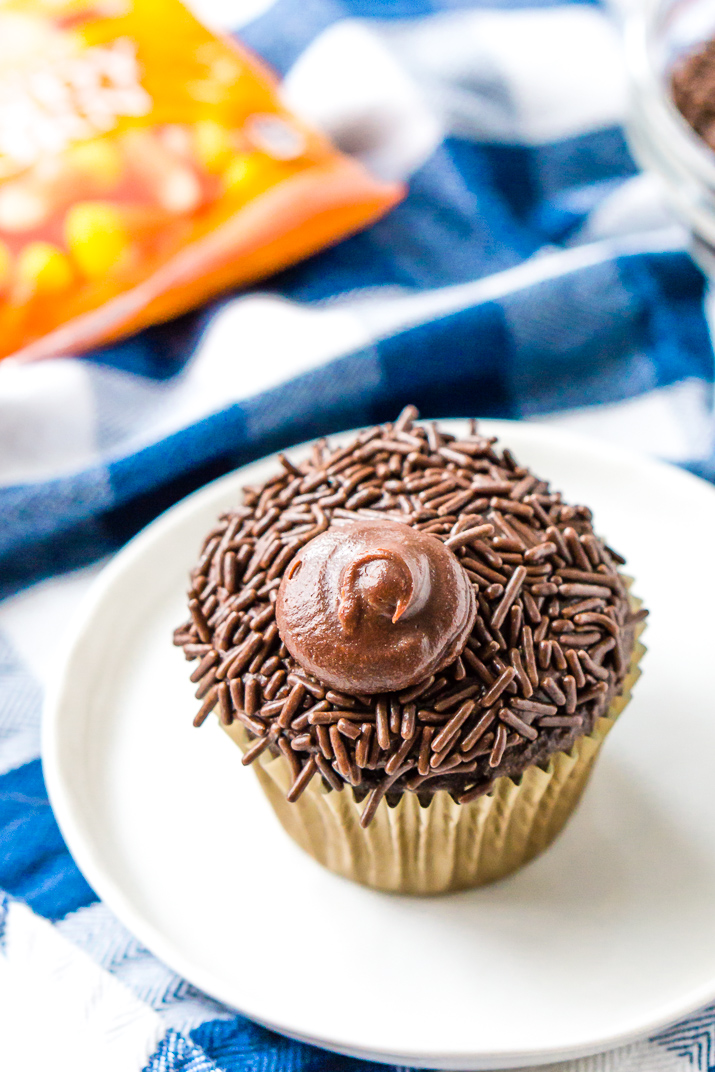 Step 5: Add the eyes and a Reese's Pieces for the beak.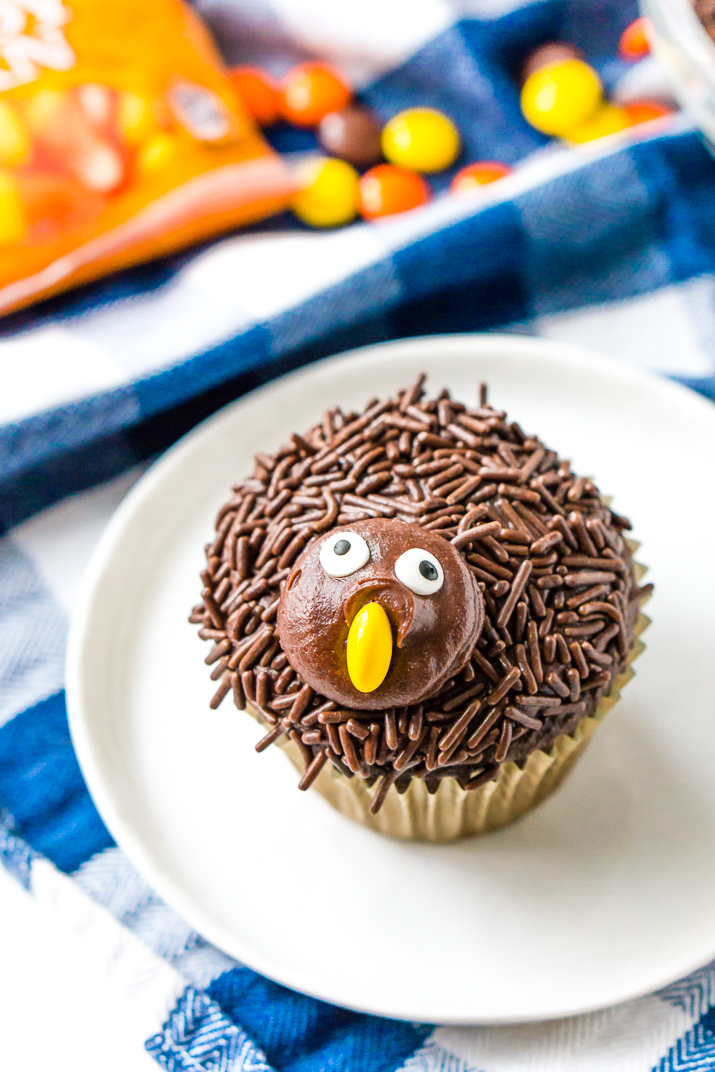 Step 6: Finally, add the candy corn to make the feathers. I do seven or eight candy corn per cupcake, but you can add more.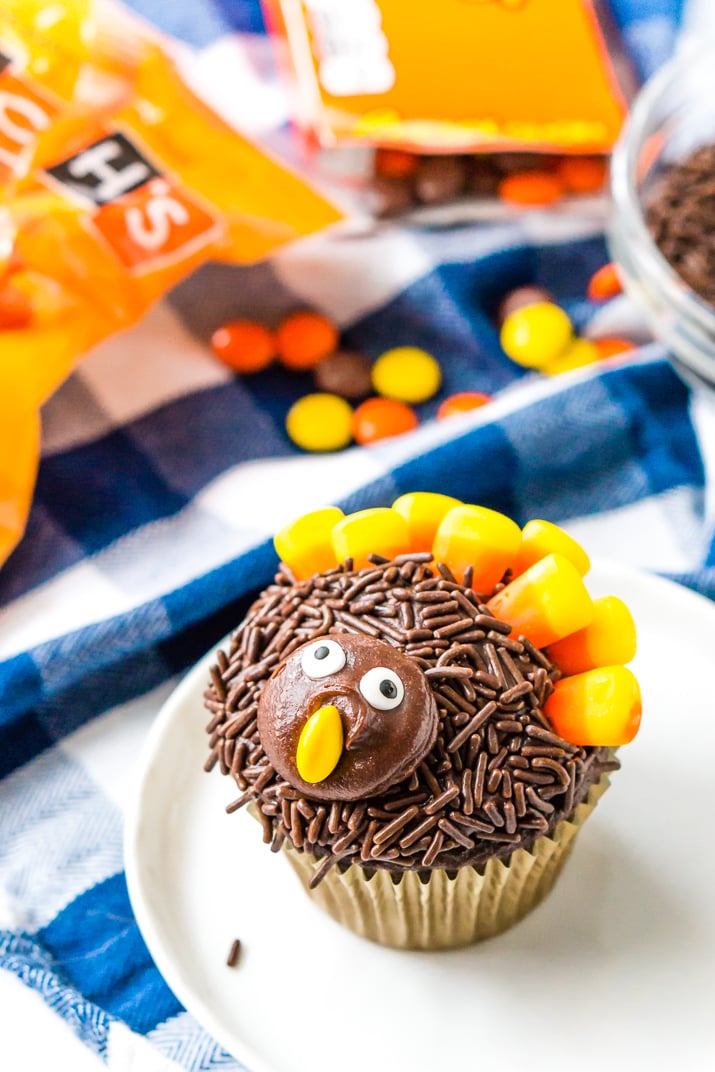 Looking for more Thanksgiving Cupcake Ideas? These sophisticated White Chocolate Cranberry Cupcakes are festive, delicious, and surprisingly easy to make.
Turkey Cupcakes are the perfect Thanksgiving dessert to make and share with loved ones of all ages. Don't forget, memories aren't only made at the table — they're made in preparing it, too!
Other Fun Holiday Recipes:
Let's Connect!
If you've tried this recipe, please let me know how you liked it in the comments below and leave a review. I love hearing from you!
Don't forget to tag me – @sugarandsoulco – on Instagram and Pinterest with your photos or join our Sugar & Soul Show-offs Community and share them there, where you can join our recipe challenges!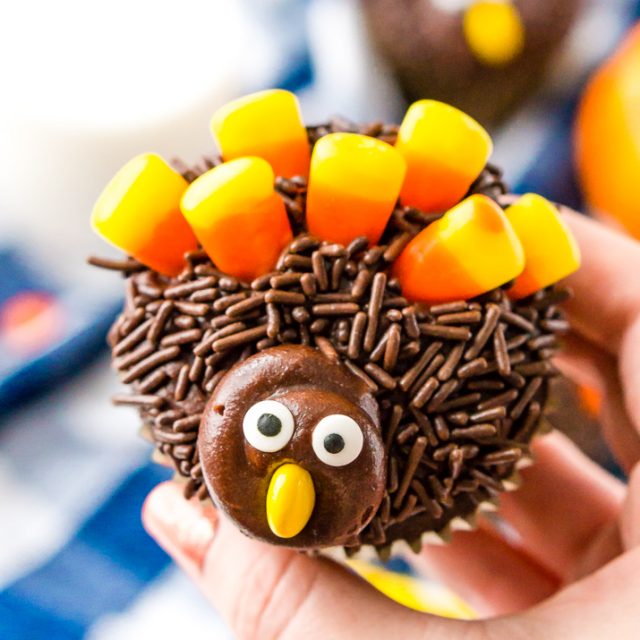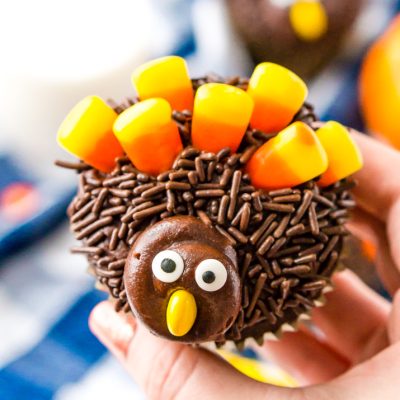 Turkey Cupcakes
These Turkey Cupcakes are an easy-to-make treat for the kids and a fun way to celebrate the Thanksgiving season!
Instructions
Preheat oven to 375 degrees F. Line cupcake pan with liners.

Combine all cupcakes ingredients in a stand mixer and beat until combined.

Fill cupcake liners with 1/4 cup of batter each.

Reduce heat to 350 degrees F.

Bake for 18-22 minutes until toothpick comes clean after being inserted into the center of the cupcakes.

Remove from oven and move cupcakes to cooling racks to finish cooling.

While the cupcakes are cooling, prepare the chocolate buttercream according to recipe directions. A store-bought frosting may also be used.

Pipe a swirl of frosting onto cooled cupcakes, pour the sprinkles into a small bowl and dunk the frosted cupcakes in them. Pipe on another small dollop of frosting to make the head.

Add 2 eyes to each head as well as 1 Reese's Piece sideways to make the beak. Use 7 candy corn per cupcake to make the feathers.
Nutrition
Calories: 327kcal | Carbohydrates: 44g | Protein: 3g | Fat: 15g | Saturated Fat: 9g | Cholesterol: 35mg | Sodium: 305mg | Potassium: 103mg | Sugar: 35g | Vitamin A: 140IU | Vitamin C: 0.2mg | Calcium: 62mg | Iron: 1.2mg