There's just something about those Classic Sugar Cookie recipe made from scratch just like grandma used to make. This simple recipe is perfect for decorating for the holidays!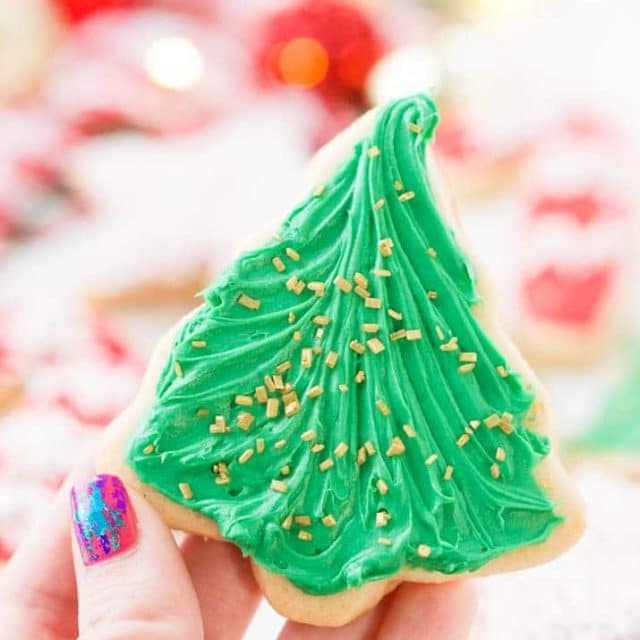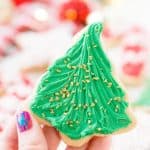 These Classic Christmas Sugar Cookies are the perfect cut-out cookie to decorate with friends and family throughout the holiday season! Prep the dough in just 15 minutes by using pantry staple ingredients!
Check out more great sugar cookies like these Peppermint Sugar Cookies or Soft Sugar Cookies! Both recipes prep in just 20 minutes and don't call for chilling the dough!
There's just something about those Classic Christmas Sugar Cookies from scratch just like grandma used to make. This easy recipe will remind you of hers with its simple ingredients yet classic flavor!
Grab your kids, favorite cookie cutters, and gather up all the sprinkles! It's time to decorate a batch of sugar cookies using this tried-and-true recipe that bakes up perfectly soft, buttery cookies!
Enjoy them with your family or make a batch to gift away! I love bringing them undecorated to the holiday gatherings so all the cousins can frost and sprinkle their own!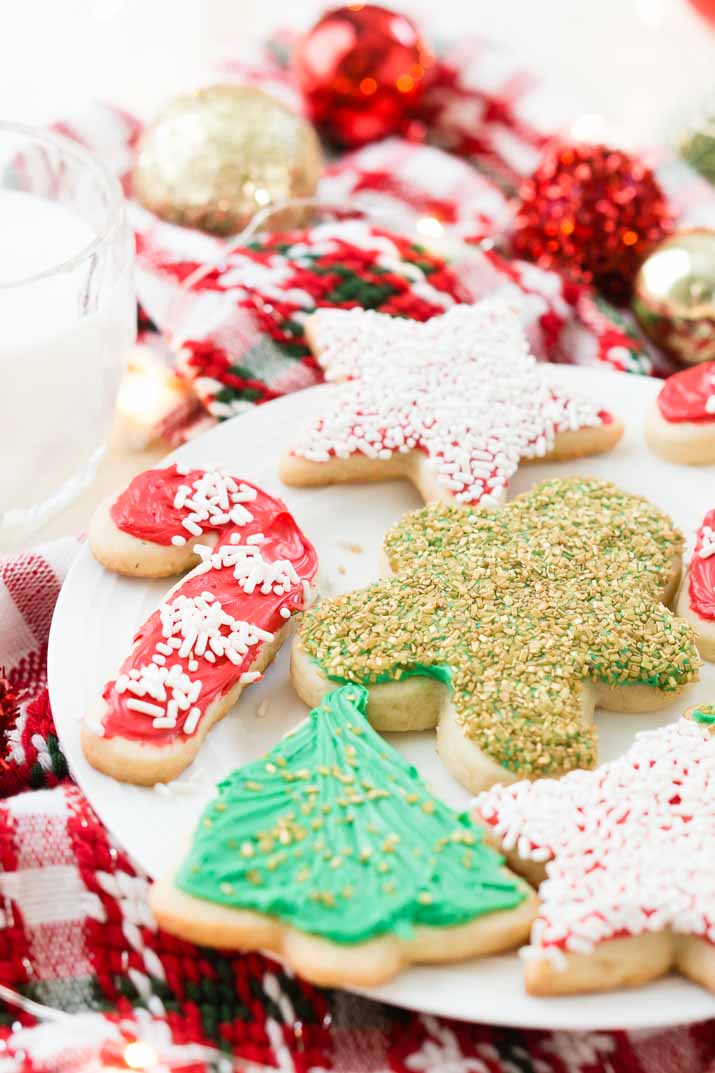 Tasting Cookies That Are Good Enough For Santa!
Taste: These Classic Christmas Sugar Cookies are a buttery, sweet treat! When topped with your favorite frosting the result is a sugary cookie that Santa himself would say are his favorites!
Texture: Each bite is soft, tender, and perfectly chewy! With edges that are very lightly crisp and golden to deliver the classic sugar cookie texture and taste!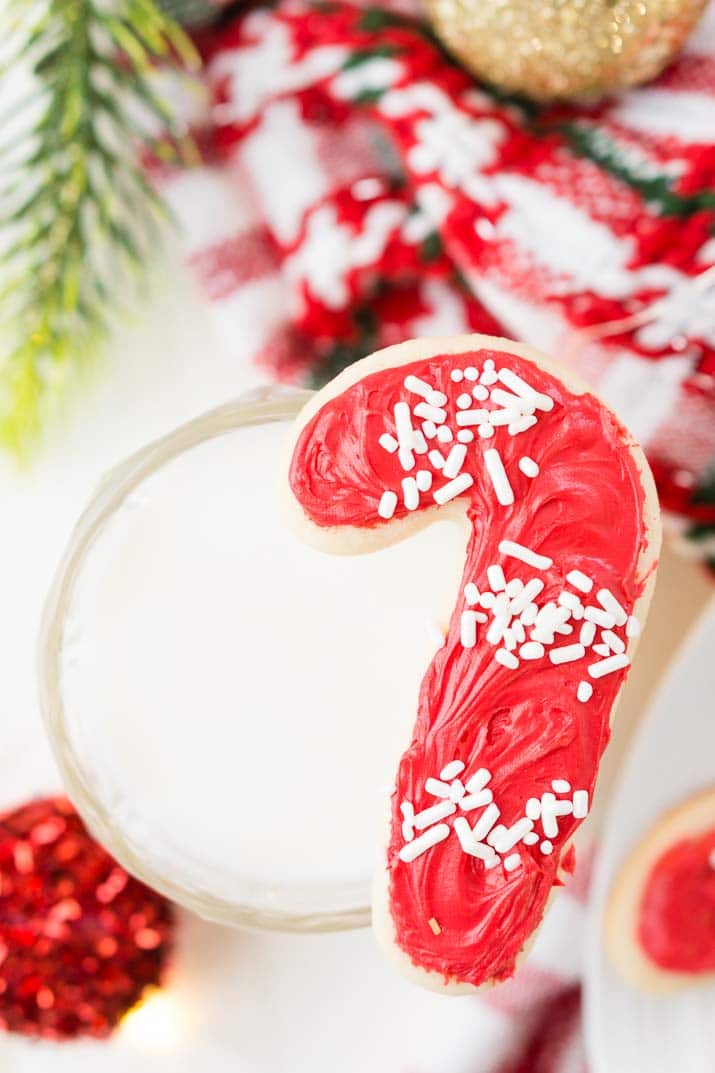 Choose Your Frosting!
I didn't attach a frosting recipe to this classic Christmas sugar cookies recipe. I just find that everyone prefers to use their favorite frosting!
I prefer mine with this simple American Buttercream Frosting recipe that's made with 5 ingredients in only 10 minutes. I then add gel food coloring to give us an assortment of colors to decorate these sugar cookies with.
Others may prefer using royal icing on their sugar cookies! While some head to the store for a can of store-bought frosting to keep things quick and simple.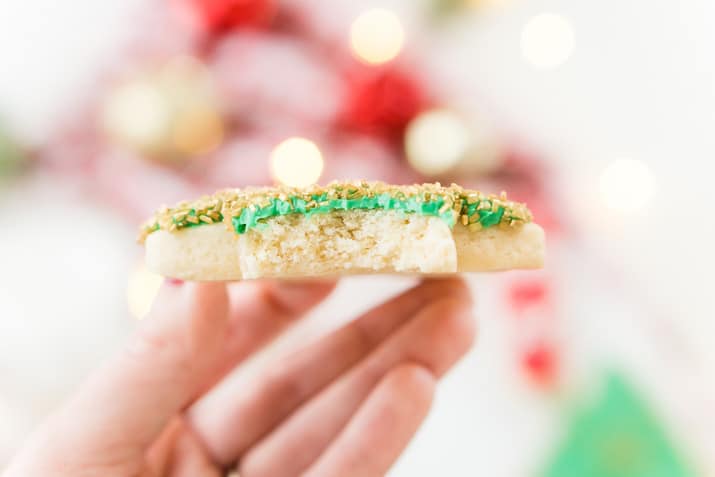 Helpful Tips & Tricks For Making Classic Christmas Sugar Cookies
Portioning – Once the cookie dough is completed it gets divided in half. Each half is then shaped into a disc and wrapped in cling wrap. The wrapped disks are then chilled in the refrigerator. This method of dividing and wrapping allows the chilling process to be sped up. It also makes for a more manageable size to roll out and cut!
Chilling – You can't skip chilling the dough if you plan to use this recipe for cut out cookies! The chilled dough is what allows for them to be easily cut out with cookie cutters.
Rolling – I find that the perfect thickness of the dough is to roll it out to be 1/4 inch thick.
Cookie Cutters – To prevent the dough from sticking to your cookie cutters spray them with cooking spray or sprinkle them with flour. That way the cookie cutting goes flawlessly without a sticky mess!
These Cut Out Sugar Cookies are such a classic treat to look forward to every year! These Christmas Crack Cookies that are made with toffee bits and saltine crackers are also worth adding into your holiday baking!
If you're on the hunt for Christmas tin worthy cookies then consider these Linzer Cookies, Peanut Butter Blossoms, or White Chocolate Cranberry Cookies!
However, for another fun cookie recipe to make with the kids take a look at these Stained Glass Cookies! Made with cookie cutters and jolly ranchers candies!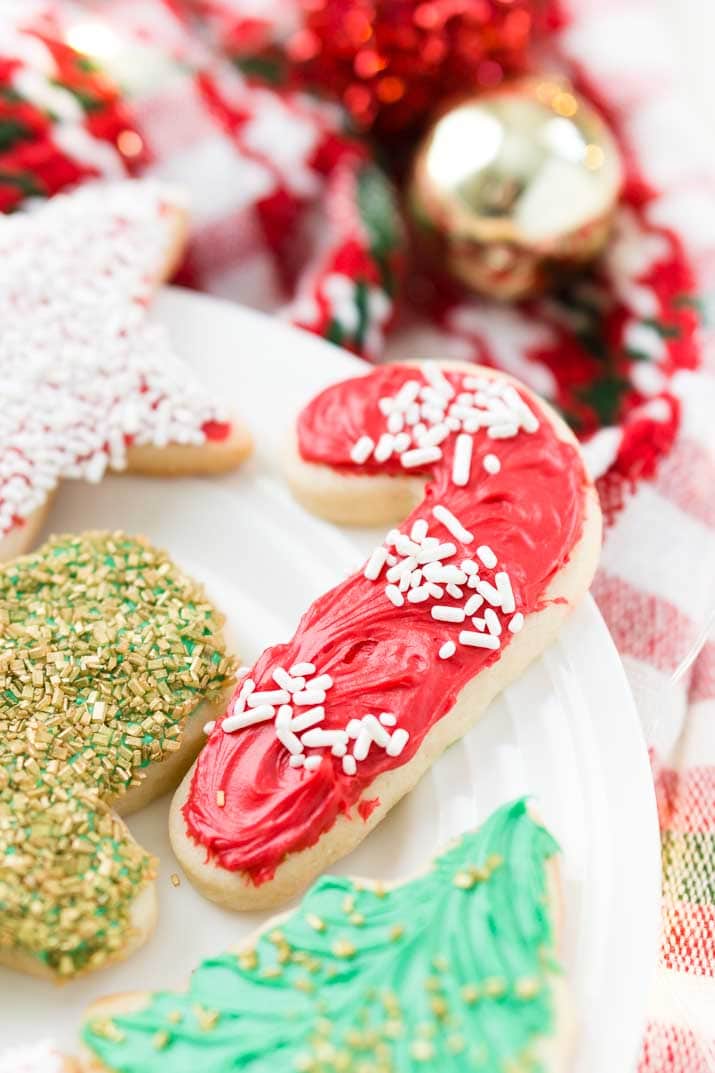 Storage Instructions For These Classic Christmas Sugar Cookies
Place the cookies in an airtight container. Separate the layers with parchment or wax paper to prevent the frosted cookies from sticking together.
Store the cookies at room temperature for up to one week.
Can I Bake The Cut Out Cookies And Then Store Them In The Freezer To Decorate Later?
Yes, that would work great! I'd recommend placing the unfrosted cookies on a baking sheet and flash freezing them.
Afterward, transfer the frozen cookies into a Ziploc bag or an airtight container. This way the cookies don't all freeze together in one big lump.
The frozen cookies will last for up to 3 months!
Can This Cookie Dough Just Be Baked Without Using Cookie Cutters?
Yes, this dough can be used as soon as it's mixed to make drop sugar cookies. Just use a cookie scoop to drop them on a parchment lined cookie sheet.
Afterward, bake them for 10 to 13 minutes until the edges are golden brown. You'll be left with buttery, pillowy, chewy sugar cookies!
How Do I Keep Sugar Cookies Soft?
A trick my mother and Grandmother taught me was to put a piece of bread in the bag or container with the unfrosted cookies. This trick allows you to make them a couple of days in advance, and yet they'll still be just as soft as the day they came out of the oven.
Can I Just Use Salted Butter In This Recipe?
Yes, you can omit the additional salt in this recipe and instead just use salted butter. Using unsalted butter with the addition of salt allows more taste control in recipes.
However, I totally understand only having salted butter on hand!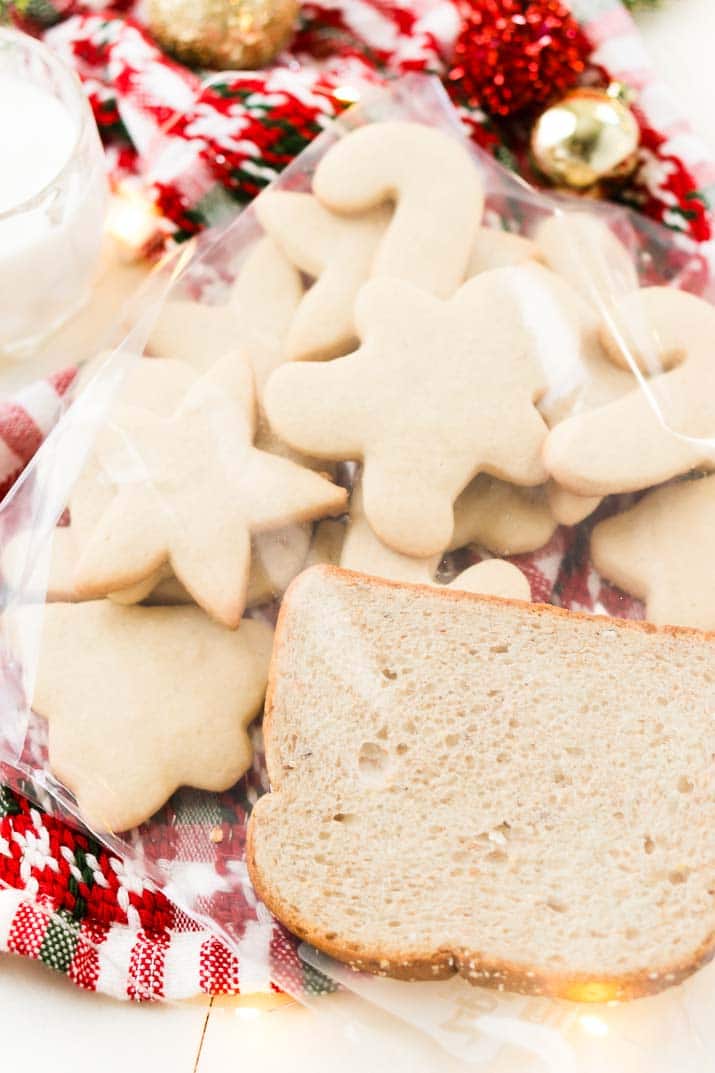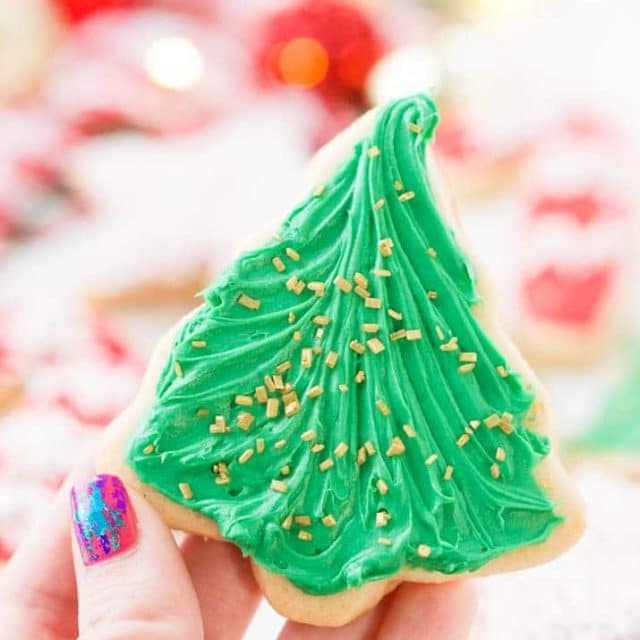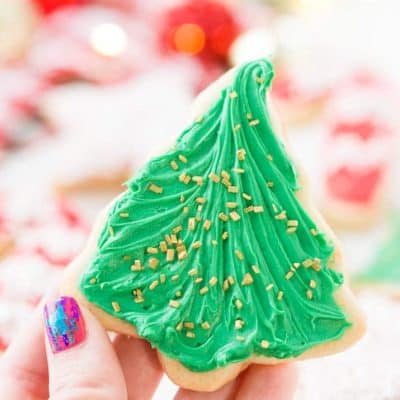 Classic Sugar Cookie Recipe
There's just something about those Classic Sugar Cookie recipe made from scratch just like grandma used to make. This simple recipe is perfect for decorating for the holidays!
Ingredients
1 cup unsalted butter softened
1 cup granulated sugar
1 large egg
1 tbsp vanilla extract
3 cups all-purpose flour
1½ tsp baking powder
½ tsp salt
Instructions
In a large bowl or stand mixer fitted with a paddle attachment, cream together butter and sugar on high until light and fluffy.

Add egg and vanilla and beat until well combined.

In a separate bowl, sift together flour, baking powder, and salt.

Slowly add the flour mixture to the butter mixture, lightly mixing between each addition until flour in completely incorporated.

Roll into a ball, divide in half, then shape each half into a disc and wrap them in cling wrap and chill for 2 hours.

Preheat oven to 375°F.

Roll dough out to ¼ inch thickness on a lightly floured board.

Flour or spray cutter with cooking spray.

Place cookies on a parchment-lined baking sheet and bake for 8-10 minutes.

Let cool completely before icing.
Nutrition
Calories: 107kcal | Carbohydrates: 13g | Protein: 1g | Fat: 5g | Saturated Fat: 3g | Cholesterol: 18mg | Sodium: 35mg | Potassium: 35mg | Sugar: 5g | Vitamin A: 165IU | Calcium: 13mg | Iron: 0.5mg