These simple Jurassic Park Dinosaur Cookies are so easy to make and are perfect for the Jurassic World release or a birthday party!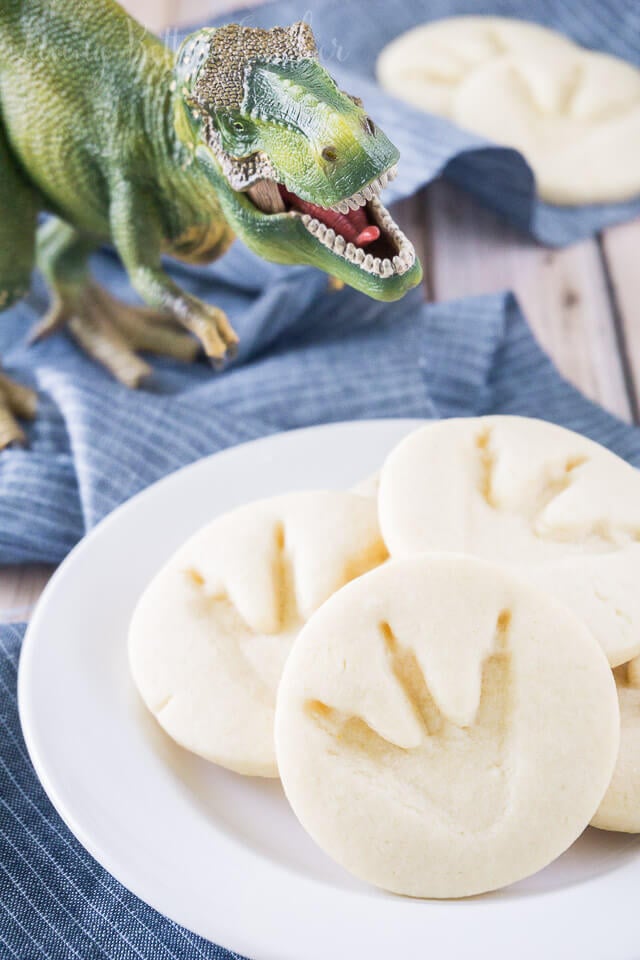 GUYS! I can't even begin to tell you how excited I am for Jurassic World to come out on Friday! As a kid I loved the Jurassic Park movies and all things dinosaurs. I still love them and it's just a plus that Chris Pratt is joining the action! Okay, Chris Pratt leading a raptor army on a motorcycle is a serious plus (even if a bit absurd)!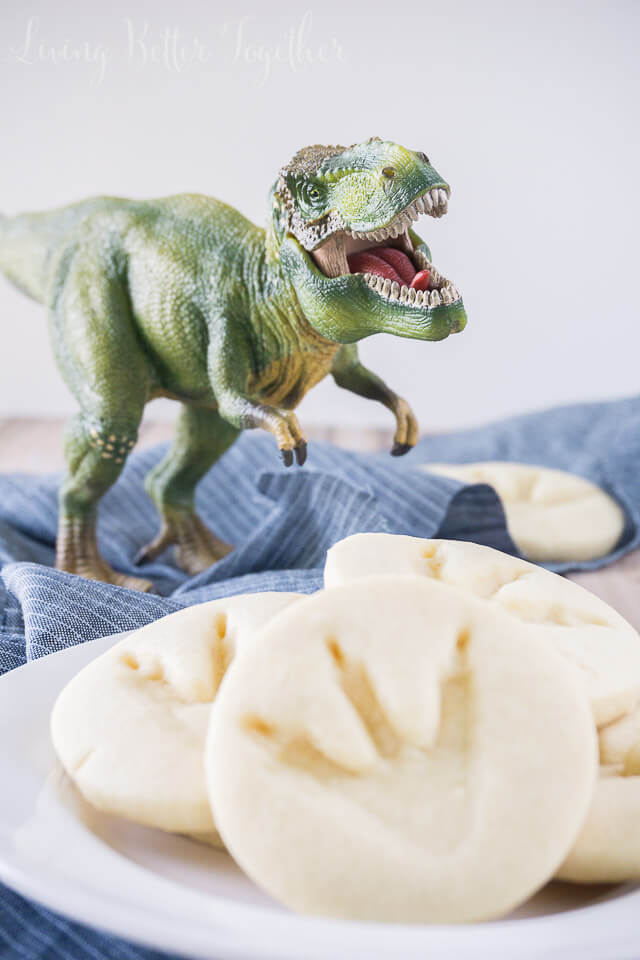 So I was pawing through a magazine the other night, I think it was Family Circle, and it had a "Things to Check Out this Month" page. Well, right smack dab in the middle was a T. Rex with a mention of Jurassic Park's 22nd Anniversary.
Wait! Hold up! 22 years? That can't be accurate. They have to be talking about the book, right?
Well, my friend IMDB assured me that they were in fact talking about the movie.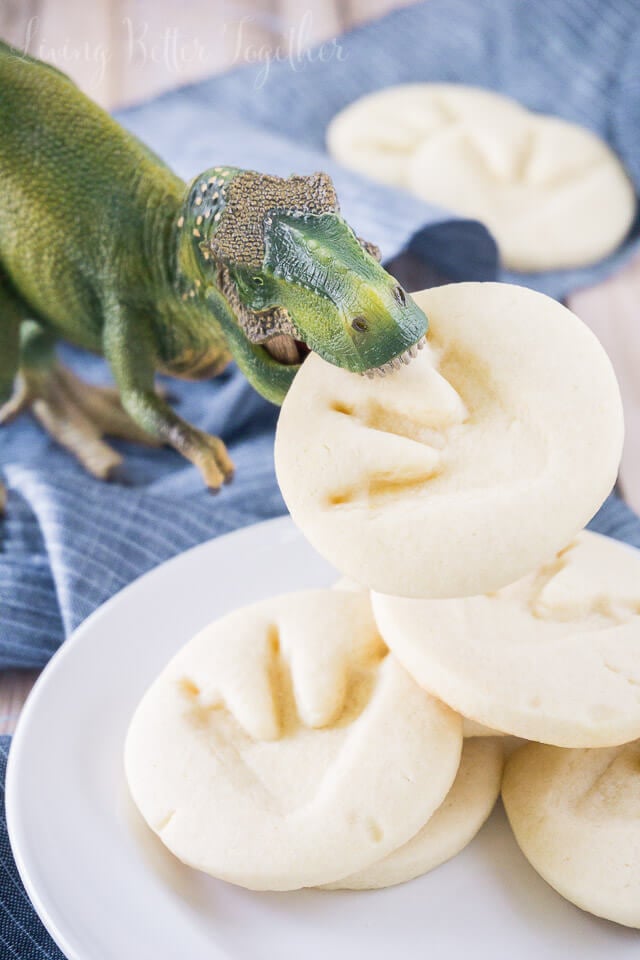 So here's the thing, not 24 hours earlier I was telling Matt about how fun it had been to go see Jurassic Park in theaters with my parents. If Jurassic Park came out in the summer of 1993, that would have made me 3 1/2 years old, I must be imagining the whole thing. So I text my mom and ask her. Sure enough, my parents took me to watch some pretty intense dinosaurs in the theaters when I could barely put together a full sentence. What parent does that? Cool parents, that's who. It's really weird that I remember going like it was yesterday when I was just so young. I guess the park just made a lasting impression.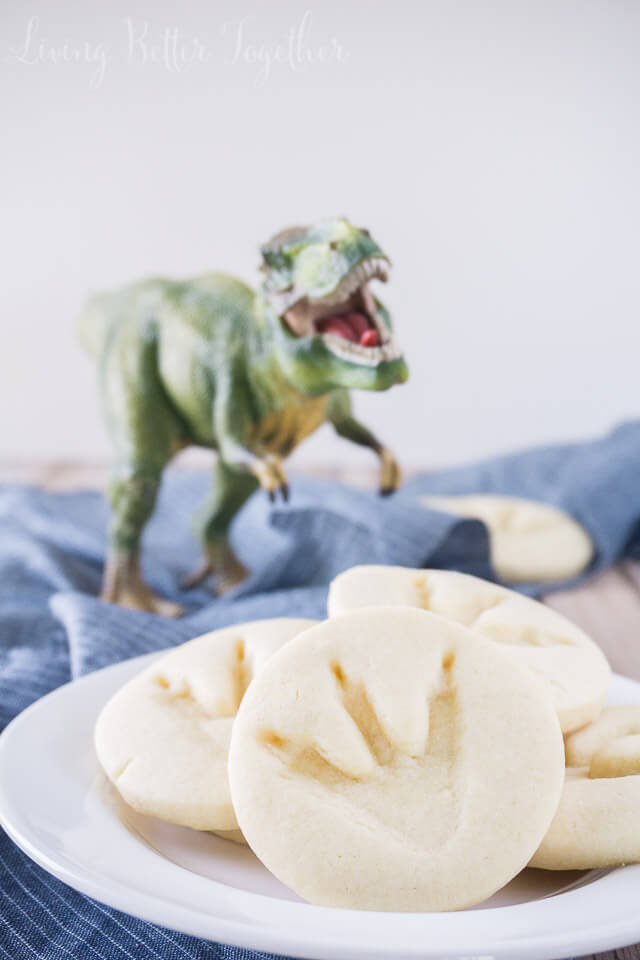 The other night, Matt and I decided to watch Jurassic park for the first time in more than a decade. You know, just to see if it holds up. Well, sure enough, 22 years later and Spielberg's work still looks masterful. Anyways, I'm excited. Like super excited about the movie on Friday and of course I couldn't let the opportunity to make something for the release pass me by! So I bought a T. Rex action figure and made you these really fun dinosaur footprint sugar cookies. They're a classic recipe with just 7 ingredients, making them super easy and perfect for baking with the kiddos!
So who's going to see the movie this weekend? Are you as excited as I am? Whip up a batch of these cookies and enjoy them with your Jurassic Park marathon leading up to Jurassic World! Plus, my friends Britni and Maggie are sharing a couple other fun Jurassic Park ideas below so be sure to check them out!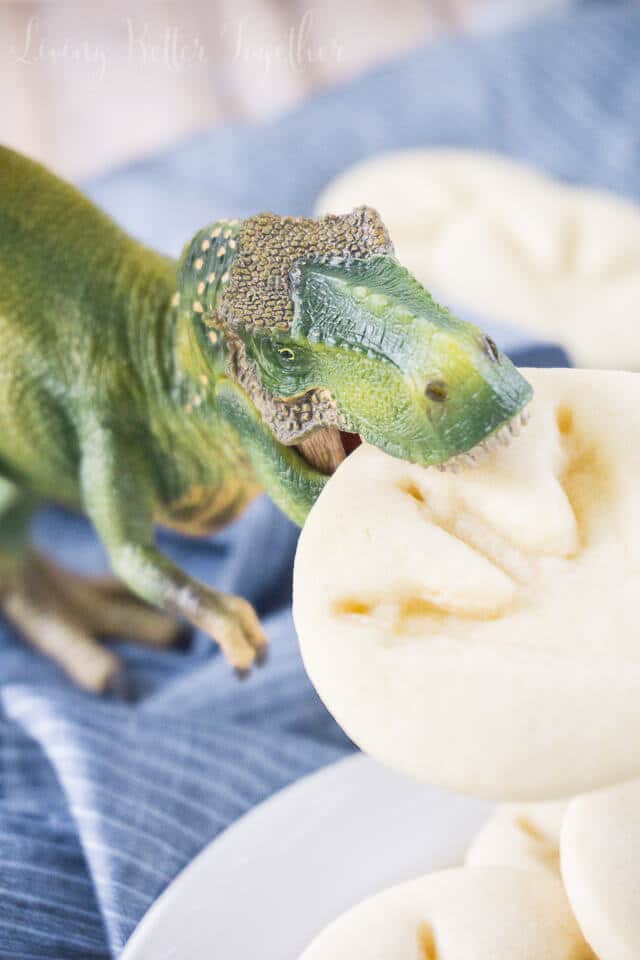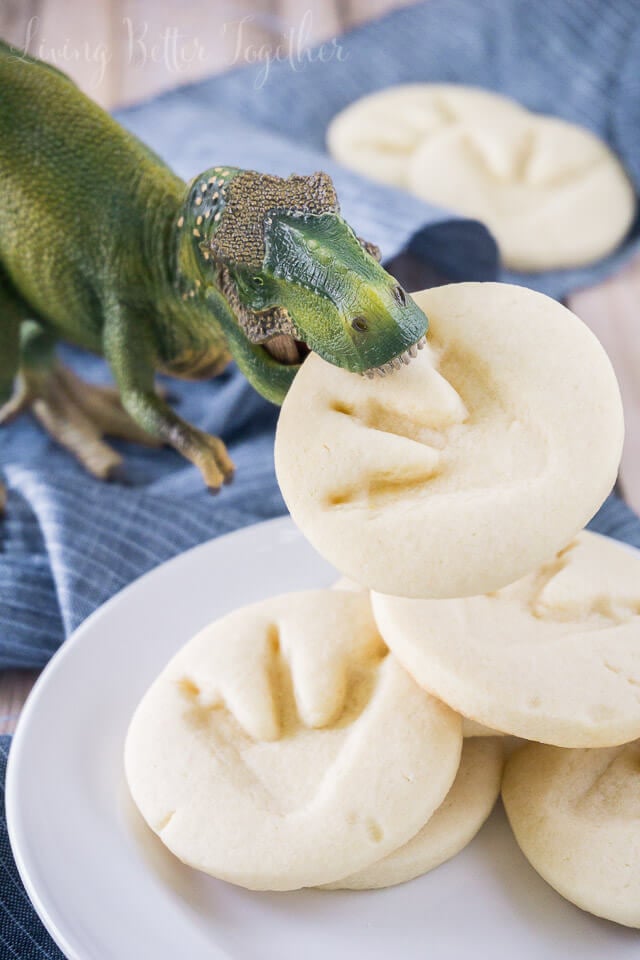 Jurassic Park Dinosaur Cookies
These simple Jurassic Park Dinosaur Cookies are so easy to make and are perfect for the Jurassic World release or a birthday party!
Ingredients
Tools:
Round Cookie Cutter

Dinosaur Toy
Instructions
In a large bowl or stand mixer fitted with a paddle attachment, cream together butter and sugar on high until light and fluffy.

Add in egg and vanilla and beat until well combined.

In a separate bowl, sift together flour, baking powder, and salt.

Slowly add the flour mixture to the butter mixture, lightly mixing between each addition until flour in completely incorporated.

Roll into a ball, wrap in cling wrap and chill for 1-2 hours.

Preheat oven to 350 F and line baking sheet with parchment paper.

Roll dough out evenly with a lightly floured roller onto a lightly floured flat surface until it's a 1/4 inch thick.

Use the round cookie cutter to cut out cookies.

Use the foot of the dinosaur toy to make a footprint in the cookies.

Transfer to baking sheet and bake for 8-10 minutes, just until edges begin to brown.
Nutrition
Calories:
80
kcal
Carbohydrates:
10
g
Fat:
4
g
Saturated Fat:
2
g
Cholesterol:
13
mg
Sodium:
26
mg
Potassium:
26
mg
Sugar:
4
g
Vitamin A:
125
IU
Calcium:
10
mg
Iron:
0.4
mg
More Jurassic Ideas!