This Fish Tacos Recipe is an easy dinner recipe made with frozen tilapia, flour tortillas, pickled cabbage, avocado, mango, cilantro, and lime juice. It's a simple and light and only takes about 30 minutes to make!
Fish Tacos Recipe
There's nothing like a colorful plate of fish tacos to bring the vibrant taste of the tropics to a dreary winter day. On my recent visit to the Yucatan Peninsula, I enjoyed some freshly made fish tacos at a real-life tiki bar, and it was a highlight of my trip. Every now and then, I'll get a hankering for this flavorful dish, and luckily, I've found an easy way to recreate it without traveling all the way to the Caribbean (not that I'd mind going back!).
The first time my fish taco craving hit, I knew the meal's success would depend on the star ingredient: the fish! Cooking seafood at home isn't really my strong suit since I don't do it that often. In fact, I'm not a huge fish fan in general, except when it's battered and crispy. But I try to save this for special occasions since it's usually full of calories.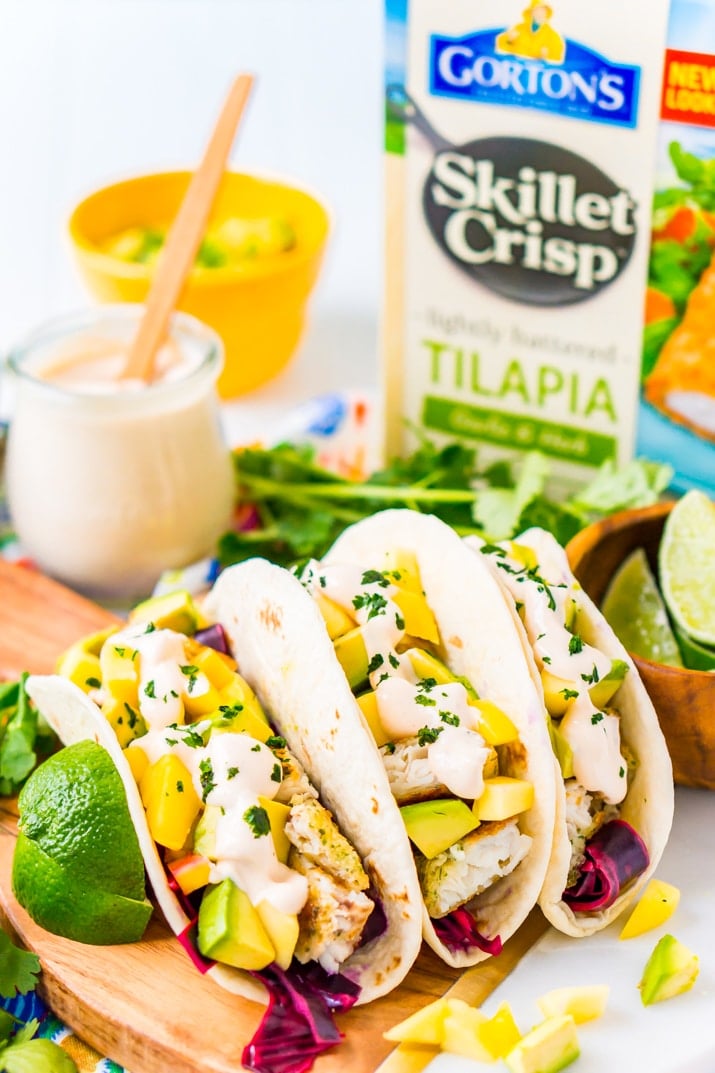 When I saw Gorton's Skillet Crisp Tilapia at the grocery store, I recognized the iconic fisherman donning his yellow rain slicker on the corner of the box. It reminded me of the boxes of fish sticks that used to fill the freezer when I was a kid. As I continued examining the box, I was surprised to note that each serving size had way fewer calories than I expected. This battered, seasoned tilapia was definitely worth trying with my easy Fish Taco recipe!
When I brought home my groceries, I couldn't wait to start experimenting with the creation of my new dish. The first step was preparing the fish, and it certainly didn't disappoint! The breaded tilapia turned golden and crisp in the skillet, and the aroma of garlic and herb spices started filling the kitchen.
In just a few minutes, I had cooked up a hearty piece of flavorful, seasoned fish that was ready to be stuffed into tortillas. Using Gorton's as a recipe hack, I can throw together this mouthwatering meal anytime, since it only takes about 30 minutes or so.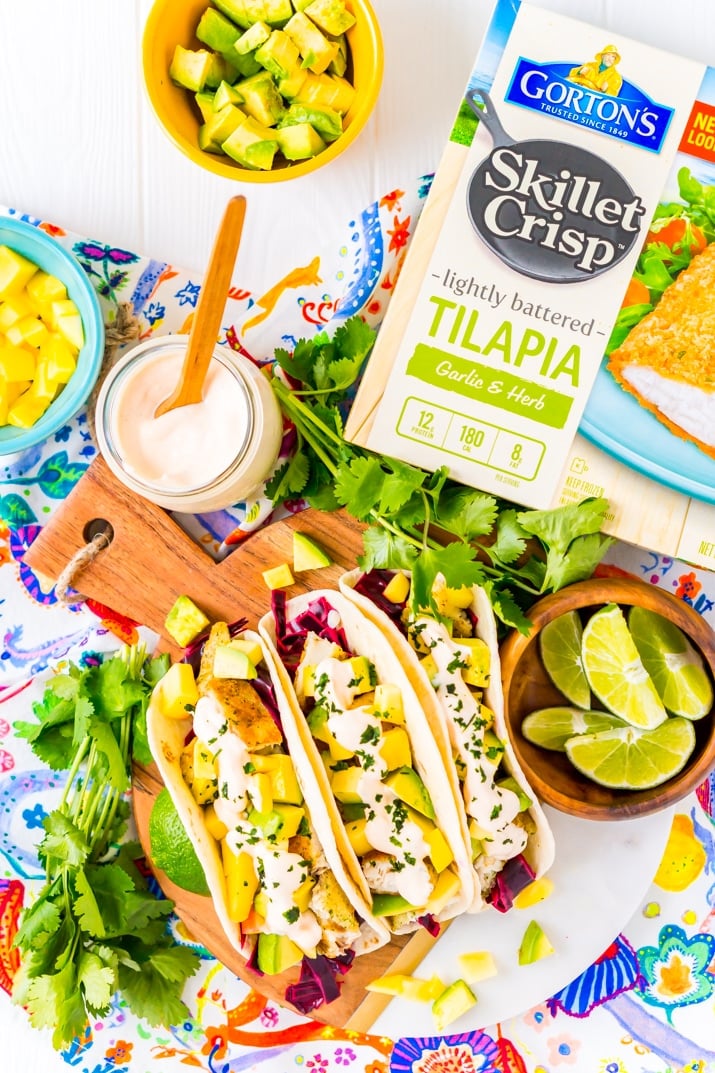 No fish taco would be complete without a few accents to enhance those bright, exotic flavors. After slicing the tilapia into thin strips and placing them in warm flour tortillas, they're topped with some cool avocado slices, pickled purple cabbage, a sprinkling of fresh cilantro, and a squeeze from a lime wedge. To really make that tropical taste pop, I toss in a few pieces of juicy mango or tangy pineapple — whichever fruit is in season.
These tasty tilapia Fish Tacos are made extra scrumptious with a drizzle of my favorite homemade Fish Taco Sauce. This creamy dressing is as simple to make as the rest of the meal, combining sour cream, mayonnaise, Sriracha, lime juice, and a blend of zesty spices.
When these easy Fish Tacos are assembled, the result is a wholesome and crave-worthy dish that's oh-so-satisfying. Spicy, sweet, crunchy, and creamy flavors and textures, wrapped in a soft flour tortilla, will transport you to palm trees and white sandy beaches… even in the middle January.
Another thing I love about this simple recipe is that it's totally customizable. You can add or leave out any garnishes you want, and building your own tacos means that everyone in the family can make the version they enjoy most. If you're trying to lighten up your meal, you can opt out of the Fish Taco Sauce to reduce calories.
What's more, I was thrilled to discover that Gorton's Lightly Battered Tilapia is a great Weight Watchers option, as a fillet is only 5 Smart Points and will fill two tacos. But even if you're not counting points, this yummy meal-builder is a healthy choice for anyone who's trying to eat light without sacrificing convenience and taste (and really, aren't we all?).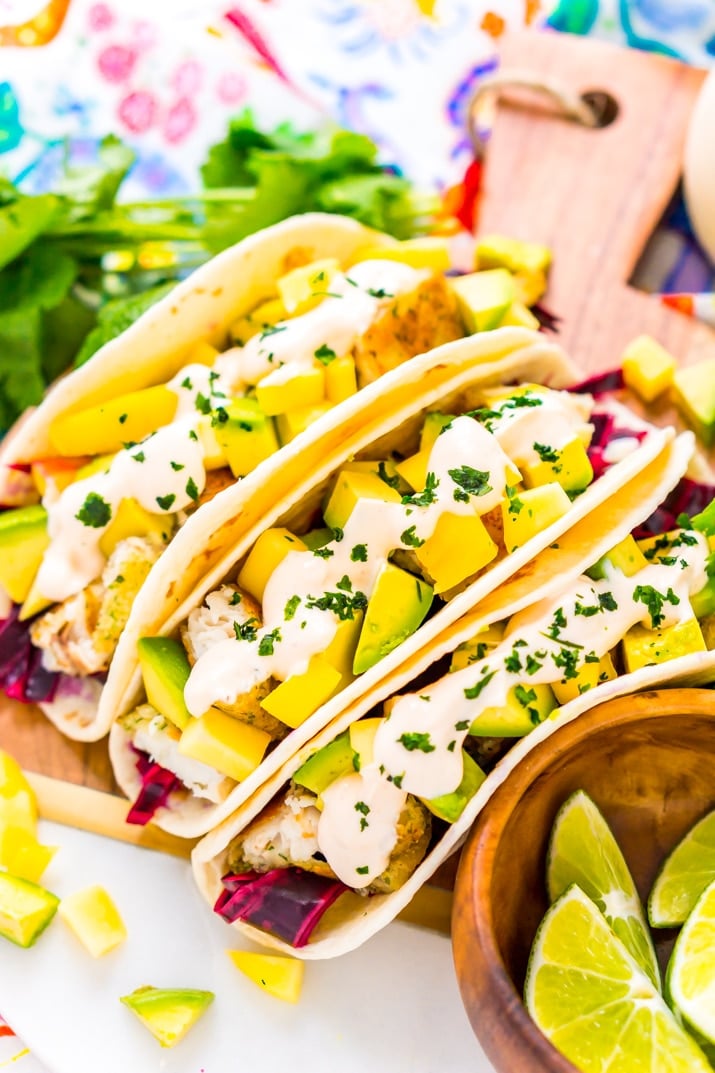 While there are lots of seafood companies that provide wholesome options, most of them can't say that they've stood the test of time. Gorton's has had an impressive 167-year run, a success that can only come from providing quality options for busy, hungry families.
After experiencing the flavorful, fresh-caught taste of Gorton's Skillet Crisp Tilapia for myself — and realizing it's also a Weight Watchers-friendly option — I can't wait to see how the company's other products can serve as "hacks" in other easy and healthy recipes.
If you're looking for quick dinner option that's wholesome but totally crave-worthy, serve up a taste of the tropics with these easy, addictive Fish Tacos. Serve them up alongside this yummy Mojito Water!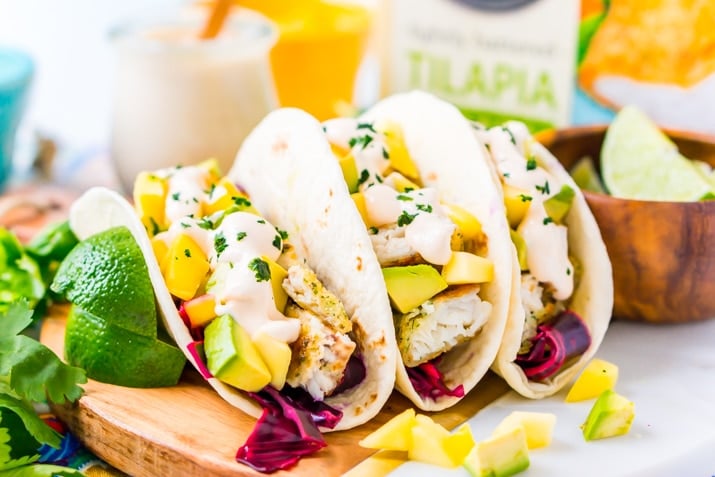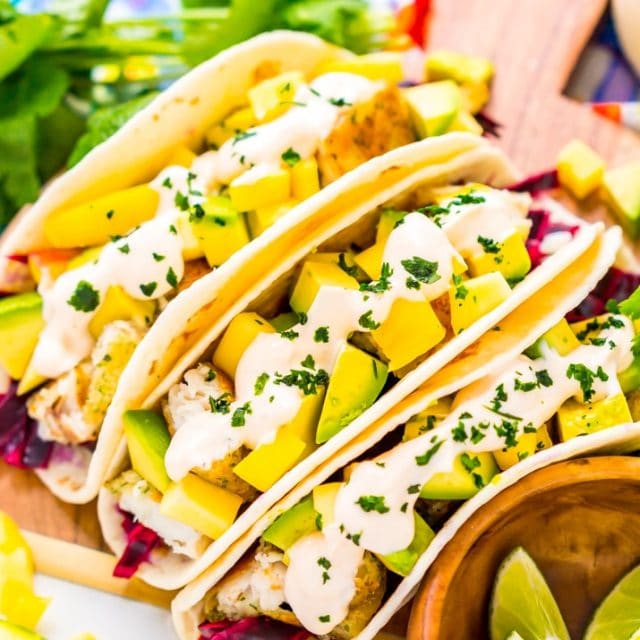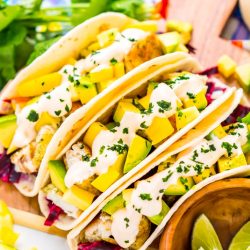 Easy Fish Tacos Recipe
This Fish Tacos Recipe is an easy dinner recipe made with frozen tilapia, flour tortillas, pickled cabbage, avocado, mango, cilantro, and lime juice. It's a simple and light and only takes about 30 minutes to make!
Ingredients
1

cup

purple cabbage

shredded

1

tablespoon

granulated sugar

1

teaspoon

lime juice

4

6-inch flour tortillas

1/2

avocado

diced

1/2

cup

fresh mango

diced

Fish Taco Sauce

optional
Instructions
Combine shredded cabbage, sugar, and lime juice in a bowl to pickle. I recommend doing this the night before if possible for even more flavor.

Cook the Gorton's Skillet Crisp Tilapia according to package directions, once cooked, cut the fish into chunks.

Add layers of pickled cabbage, tilapia, avocado, mango, and fish taco sauce on the flour tortillas and enjoy. If skipping the sauce, you can also use a fresh pico de gallo.
Nutrition
Calories:
486
kcal
Carbohydrates:
50
g
Protein:
40
g
Fat:
14
g
Saturated Fat:
3
g
Cholesterol:
85
mg
Sodium:
516
mg
Potassium:
1026
mg
Fiber:
6
g
Sugar:
16
g
Vitamin A:
1015
IU
Vitamin C:
46.1
mg
Calcium:
107
mg
Iron:
3.6
mg
Pin this Fish Tacos Recipe for Later!