Make a Skinny Margarita with fresh lime and orange juice, tequila, and an optional sweetener and fizzy finish! Shake it up and serve it over ice in just a few minutes!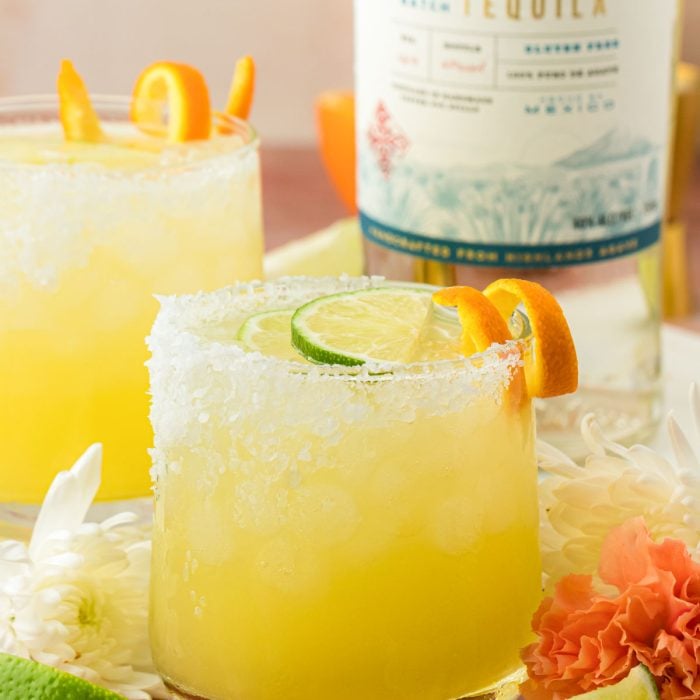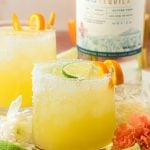 This Skinny Margarita is perfect when you're craving that fresh mix of limes and tequila but trying to save on calories! Mix it up and serve it on the rocks in just 5 minutes!
Get ready for Cinco de Mayo with the Best Skinny Margarita Recipe that lets you save on calories so you can enjoy more chips and guac or another round of tacos! This low-calorie cocktail combines freshly squeezed juices with tequila and agave to create a light drink that doesn't skimp on taste!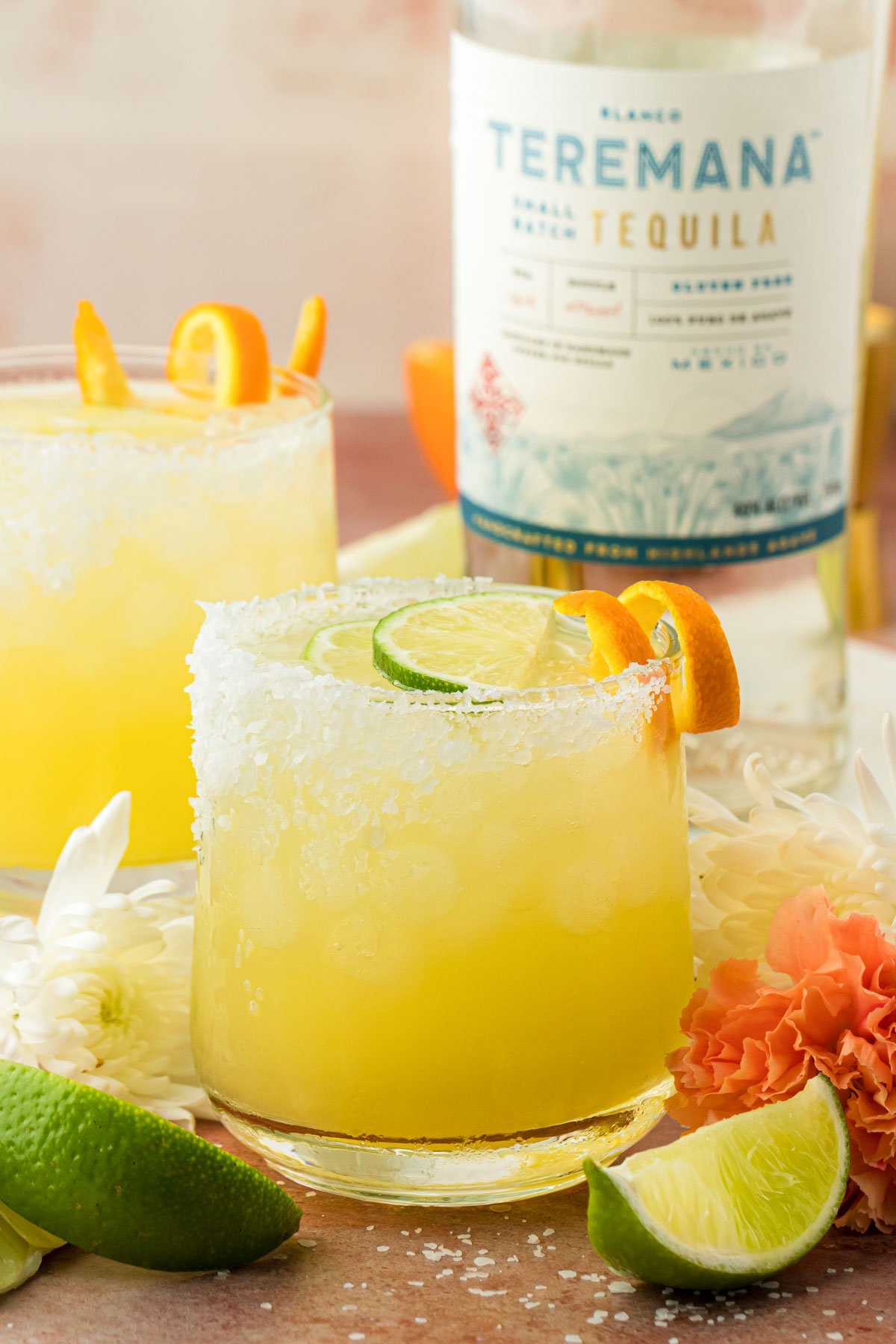 This Skinny Margarita is the low-calorie drink you've been looking for!
Going to parties or gatherings doesn't mean you and your commitment to a diet are left alone in the corner without a fun cocktail! Instead, this low-calorie Skinny Margarita puts a tasty drink in your hand to sip while you continue to socialize.
All while staying loyal to your healthy diet and lifestyle choices!
The Skinny Margarita Tasting Experience
Taste: Freshly squeezed orange and lime juice combine with tequila for a burst of crisp citrus flavor! The addition of honey or agave sweetens this skinny marg up while continuing to keep it a low-calorie cocktail!
Shaken: To thoroughly mix up and create an ice-cold drink, this margarita gets shaken in a cocktail glass. The chilled cocktail is then strained out into a glass with fresh ice to continue chilling the margarita while reducing the risk of diluting the drink.
Garnishes: A salted rim, lemon wheel, and orange peel spiral had a vibrant pop of color, giving it a dressed-up appearance! You'll now be able to smell the refreshing, uplifting scent of the citrus, along with tasting it in your drink!
Oh, and the optional finish of club soda provides for a fizzy cocktail experience!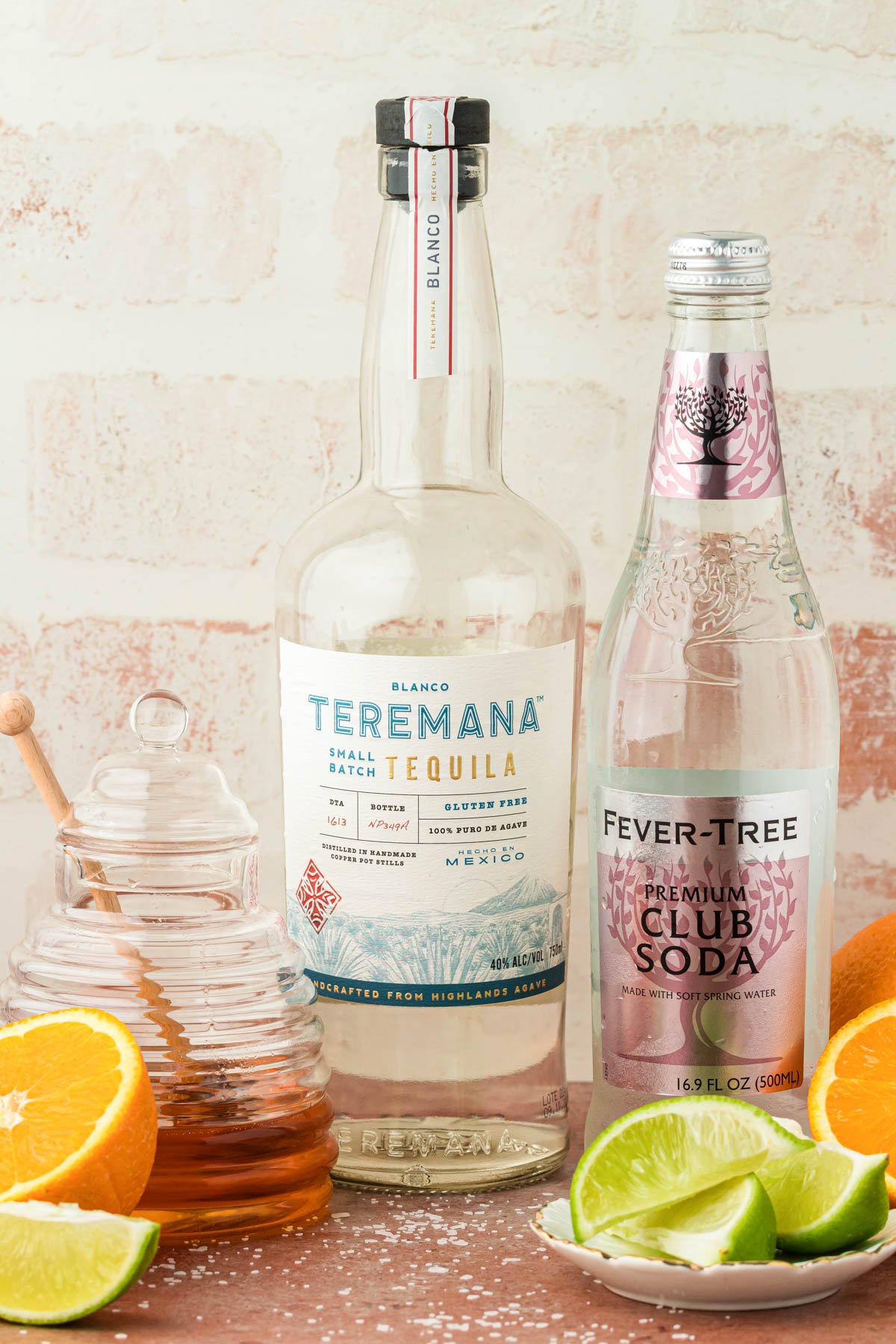 Skinny Margarita Ingredients
Lime Wedge
Coarse Salt
Ice
Tequila
Fresh Lime Juice
Fresh Orange Juice
Agave Or Honey
Club Soda
This skinny version of a margarita is made by combining tequila, fresh orange juice, and fresh lime juice over ice. From there, a light sweetener such as honey or agave is optionally added to sweeten it up.
The addition of club soda keeps things interesting by giving it fizzy fun! Yes, club soda is calorie-free, so the fun doesn't come at a cost!
What's The Best Tequila To Use?
Choose a tequila that's low in calories to keep this margarita as skinny as possible. We have really been loving Teremana, which was founded by Dwayne "The Rock" Johnson; it's smoother than many higher-end tequilas we've tried but at a budget-friendly price. Here are some low-calorie options to choose from:
Pure agave tequila – 69 calories per ounce
Silver or blanco tequila – 65 calories per ounce
Reposado tequila – 69 calories per ounce
Is Honey Or Agave The Better Sweetener?
This largely comes down to personal preference and whether sweetness, flavor, or calories are more important to you.
While both are healthier than refined sugar or simple syrup, honey is slightly higher in calories and carbs. The flavor of honey stands out a bit more, whereas agave is more neutral and a bit more authentic to a Margarita but less sweet.
How To Make A Skinny Margarita Step-By-Step
Step 1: Run a lime wedge around the edge of your glass and then roll the wet rim on a small plate with coarse salt.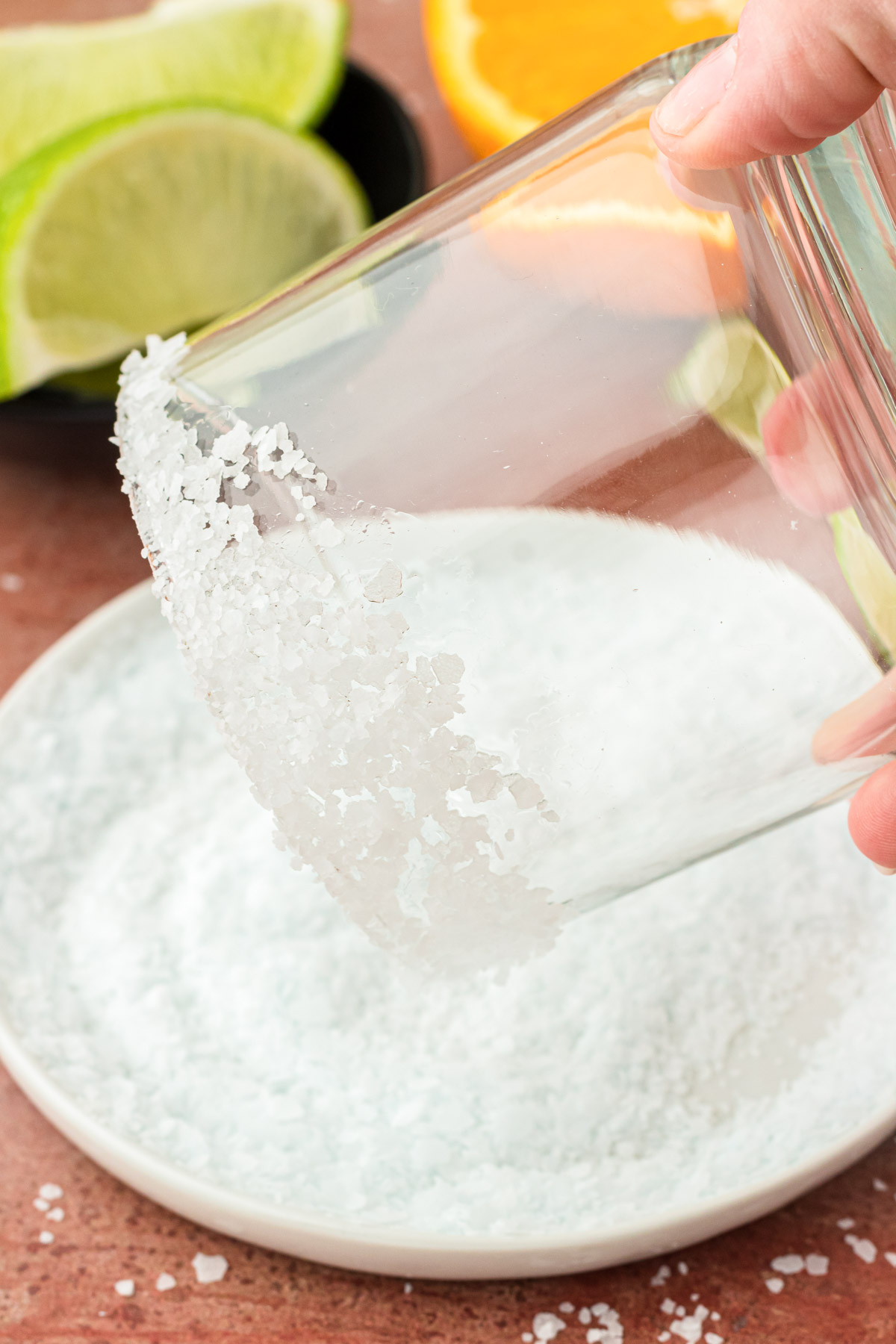 Step 2: Pour the tequila, fresh lime juice, fresh orange juice, and agave or honey into a cocktail shaker with ice. Shake vigorously for 15 seconds.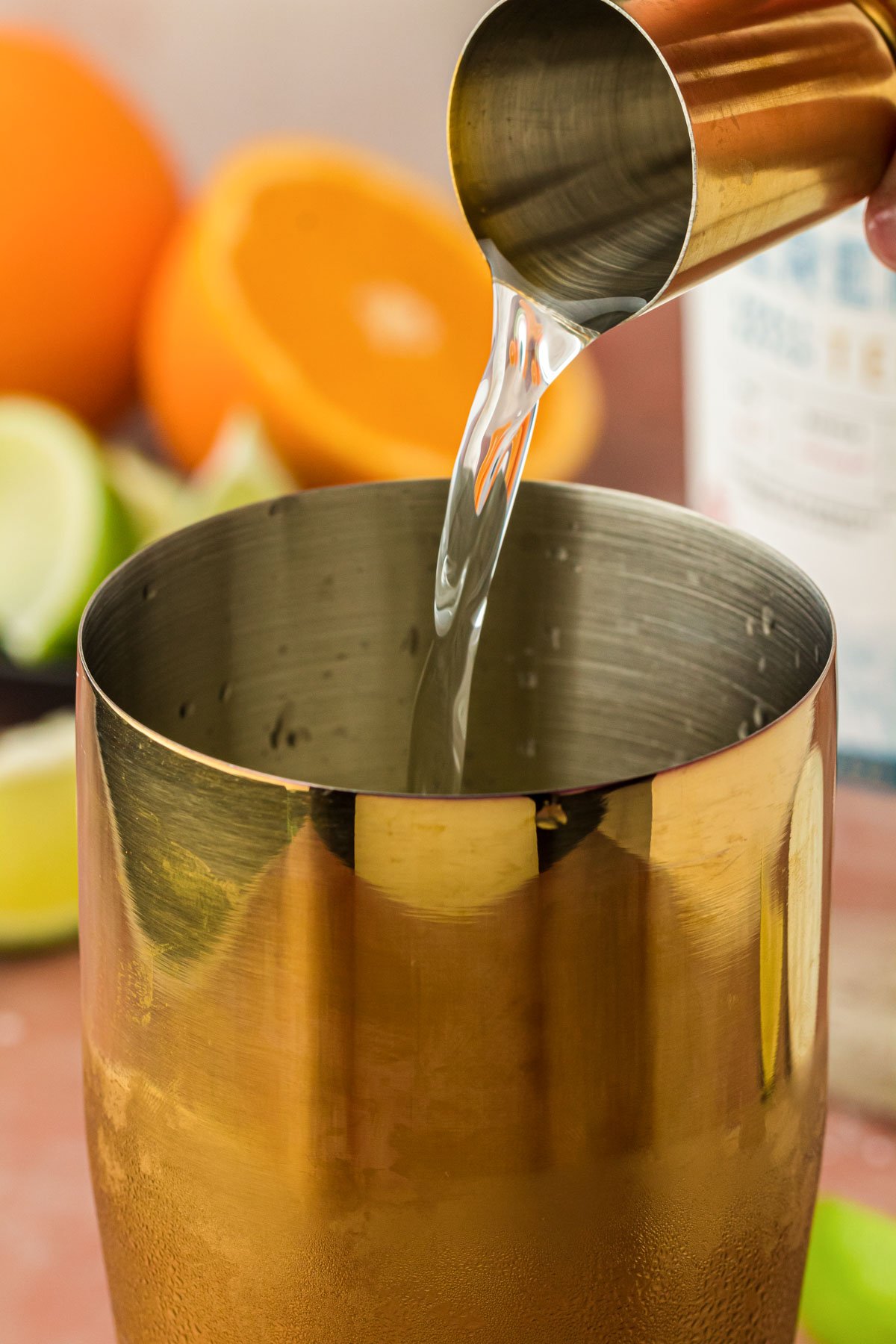 Step 3: Strain the Skinny Margarita from the cocktail shaker into the salted rim glass that's filled halfway with fresh ice. Top with club soda if desired, and finish with optional garnishes.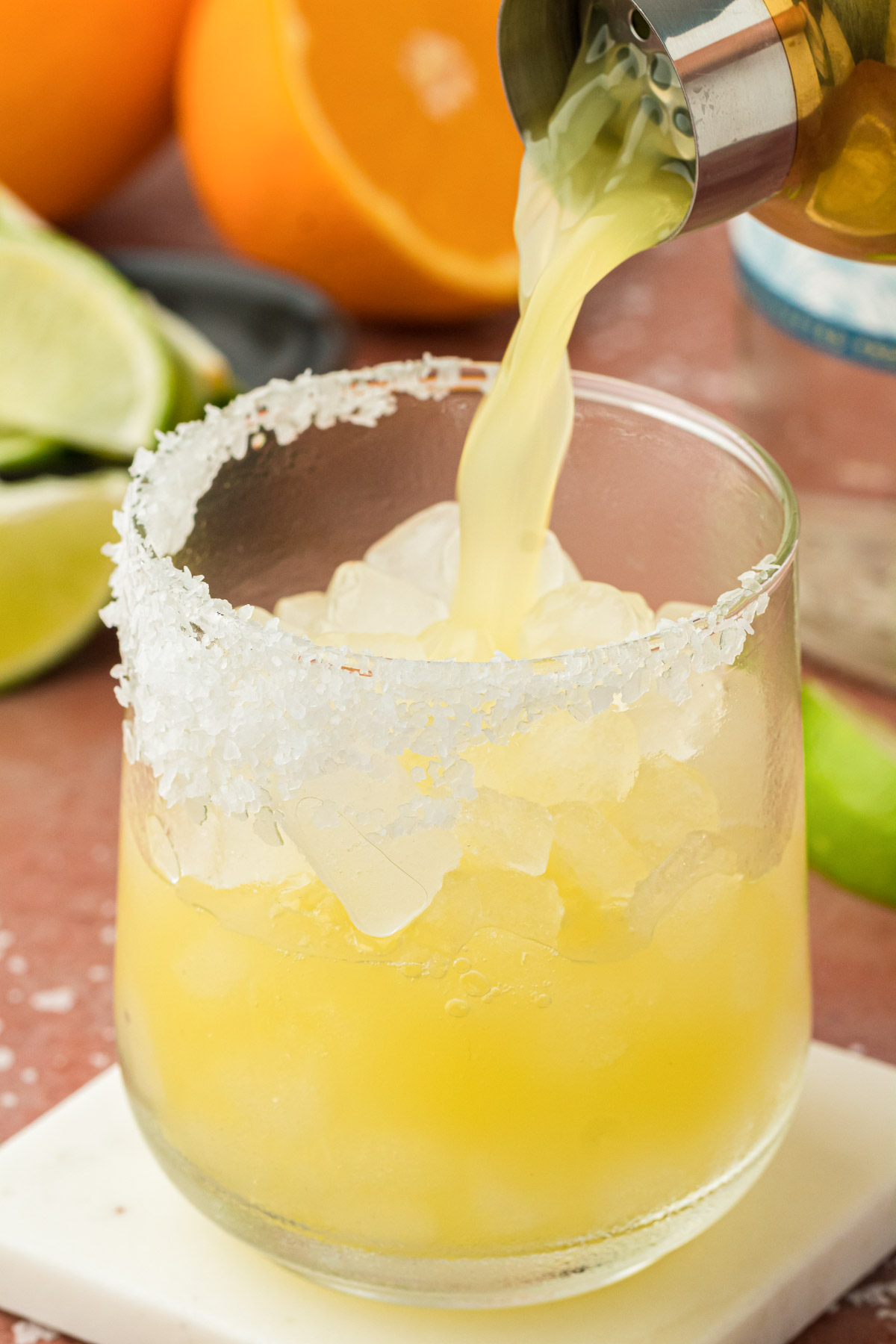 How To Serve The Best Skinny Margaritas
Fresh Juices – Freshly squeezed lime and orange juice will take this margarita over the top, giving it the best citrusy pop of flavor!
Salted Rim – To enhance this cocktail's sweet and sour aspects, you'll definitely want to add salt to the rim of the glass!
Garnishes – Margaritas are best enjoyed when they're finished off with fun garnishes! Garnish margaritas with a spiraled orange peel, lime wedge, or slice.
Ice Cold – If you love for your margs to be served ice cold! Chill your glasses, citrus, and liqueur to ensure they come out perfectly chilled. But I find usually shaking and serving over ice is enough.
Skinny Pitcher Margaritas
Make a large batch of skinny margaritas to have on hand when hosting friends and family! To do so, combine the following in a large pitcher or drink dispenser:
1.5 cups of tequila
2 cups of fresh lime juice
1 cup of fresh orange juice
2.5 tablespoons of agave nectar or honey (optional)
Stir to combine and store in the fridge to allow the drink mix to chill. Serve over ice and top each glass with club soda if desired.
Easy Skinny Margarita Variations
Spice It Up – Grab some fresh jalapenos for a Skinny Spicy Margarita! Add a few slices of jalapeno into the shaker with ice and use a muddler to crush the pepper up to release more of its spice. Pour in the juices, tequila, and shake.
Sweeter Side – Add a splash of Simple Syrup to your margarita to give it a sweeter side! Just be cautious of your splash size if you're watching your calories.
Frozen Margarita – For an icy, frozen marg, toss ice into a blender and pour in the orange juice, lime juice, tequila, and agave or honey if you're using it. Blend and add ice until the margarita reaches your preferred icy consistency. Afterward, gently stir in club soda if you want the fizzy effect!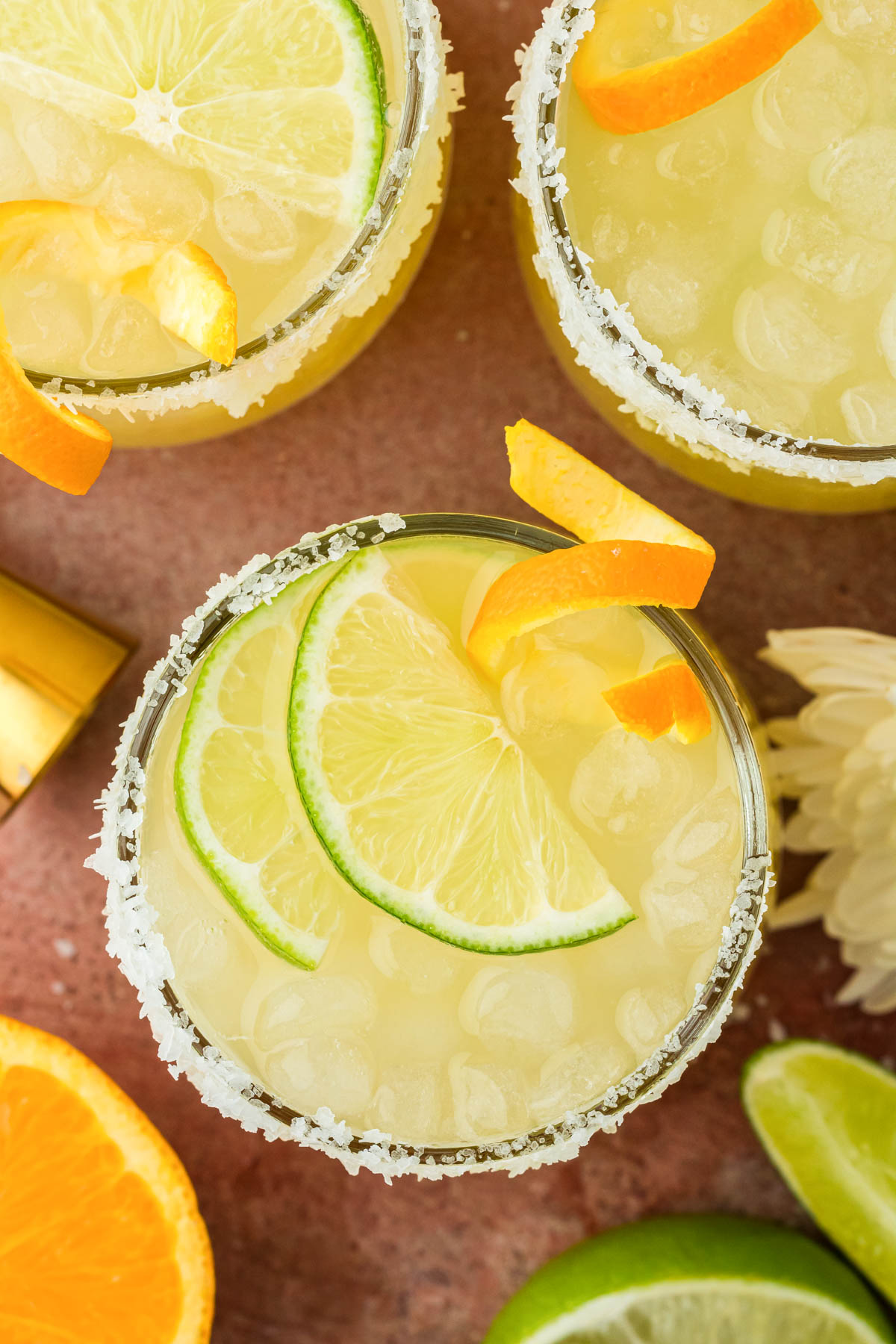 Skinny Margarita FAQs
What Is A Skinny Margarita?
Skinny margaritas are a lower-calorie version of traditional Margaritas! Don't worry, though; this lighter version still hits the spot yet doesn't throw you off your summer diet!
To keep this cocktail low-calorie, the Cointreau or Triple Sec is traded out for fresh orange juice. This healthy swap eliminates about 80 calories!
I also add a little less tequila than a traditional margarita. Usually, they have about 1.5 ounces of tequila; however, I make this skinny marg with just 1 ounce.
Though if you feel the calories are worth it, you can make this skinny margarita stronger by using 2 ounces of tequila. This will add about 40 calories.
Are Skinny Margaritas Sugar-Free?
No, this Skinny Margarita is not sugar-free. Though the tequila itself has zero sugar, there is sugar found in the freshly squeezed orange juice and agave.
What's The Nutritional Information For This Skinny Margarita Recipe?
This skinny marg has just 156 calories, 15 grams of carbs, and 10 grams of sugar. Though if you don't require sweetener in your margarita, you can skip the agave and save about 30 calories.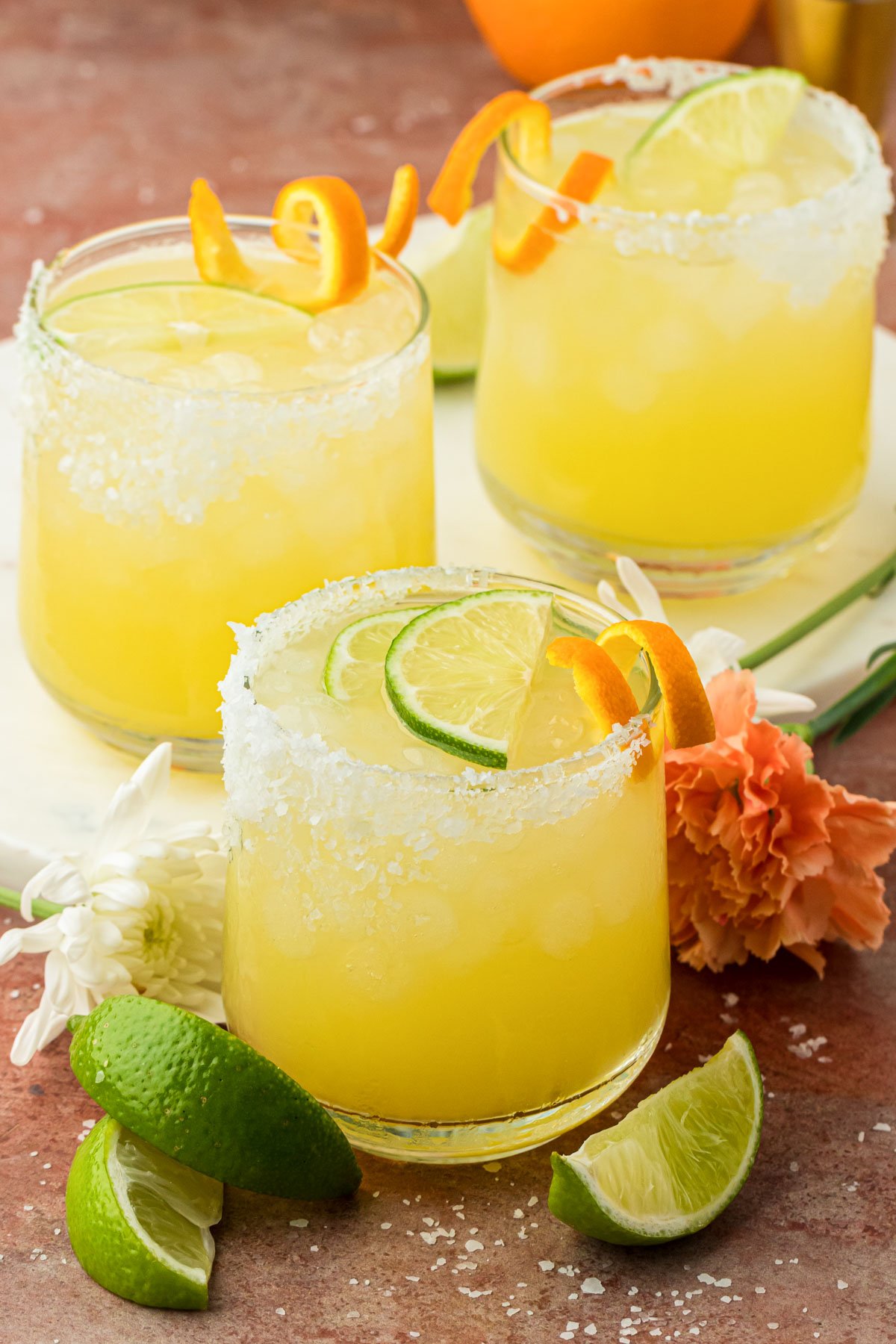 More Low-Calorie Cocktail Recipes
👋 Let's Connect!
If you've tried this recipe, please let me know how you liked it in the comments below and leave a review. I love hearing from you!
Don't forget to tag me – @sugarandsoulco – on Instagram and Pinterest with your photos or join our Sugar & Soul Show-offs Community and share them there, where you can join our recipe challenges!
This recipe was originally published in April 2018 and was updated in May 2023 with fresh photos and content.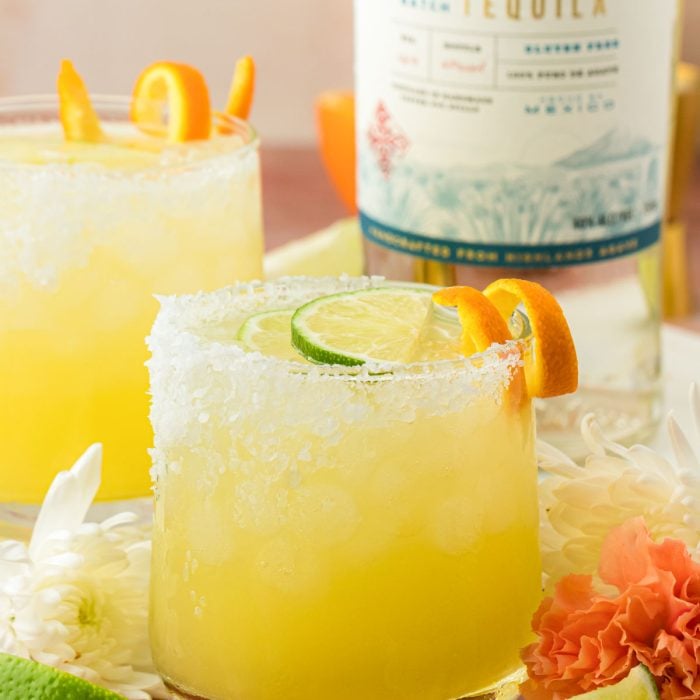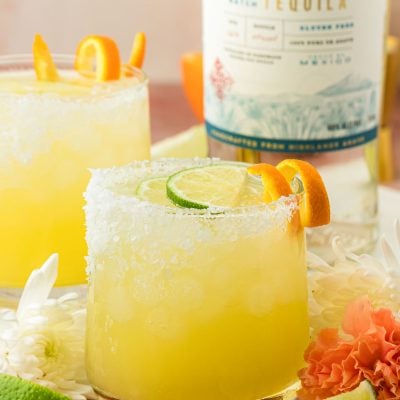 Skinny Margarita
Make a Skinny Margarita with fresh lime and orange juice, tequila, and an optional sweetener and fizzy finish! Shake it up and serve it over ice in just a few minutes!
Ingredients
lime wedge for rim and garnish
coarse salt
ice
1½ ounces tequila see notes
2 ounces fresh lime juice
1 ounce fresh orange juice
1 teaspoon agave or honey optional
club soda optional
Instructions
Run a lime wedge halfway around the edge and about 1 inch down the side of a glass and then dip in coarse salt.

Fill the glass most of the way with ice.

Add 1½ ounces tequila, 2 ounces fresh lime juice, 1 ounce fresh orange juice, and 1 teaspoon agave or honey to a cocktail shaker with ice and shake vigorously for 15 seconds.

Pour into the prepared glass and top off with club soda if desired.
Notes
If you want a stronger drink, this can be made with 2 ounces of tequila, adding about 40 calories.
Agave can be omitted if you don't require sweetener, which will save you about 30 calories.
Nutrition
Calories: 156kcal | Carbohydrates: 15g | Protein: 0.5g | Fat: 0.2g | Saturated Fat: 0.01g | Polyunsaturated Fat: 0.02g | Monounsaturated Fat: 0.01g | Sodium: 2mg | Potassium: 124mg | Fiber: 0.3g | Sugar: 10g | Vitamin A: 85IU | Vitamin C: 33mg | Calcium: 11mg | Iron: 0.1mg