Raspberry Margaritas are a fresh and sweet, tequila cocktail made with homemade raspberry simple syrup!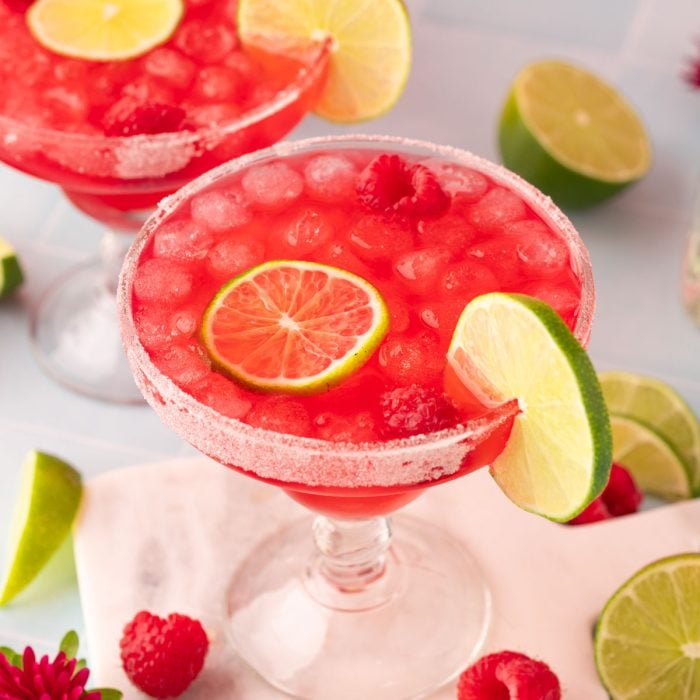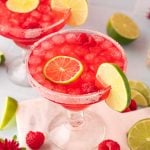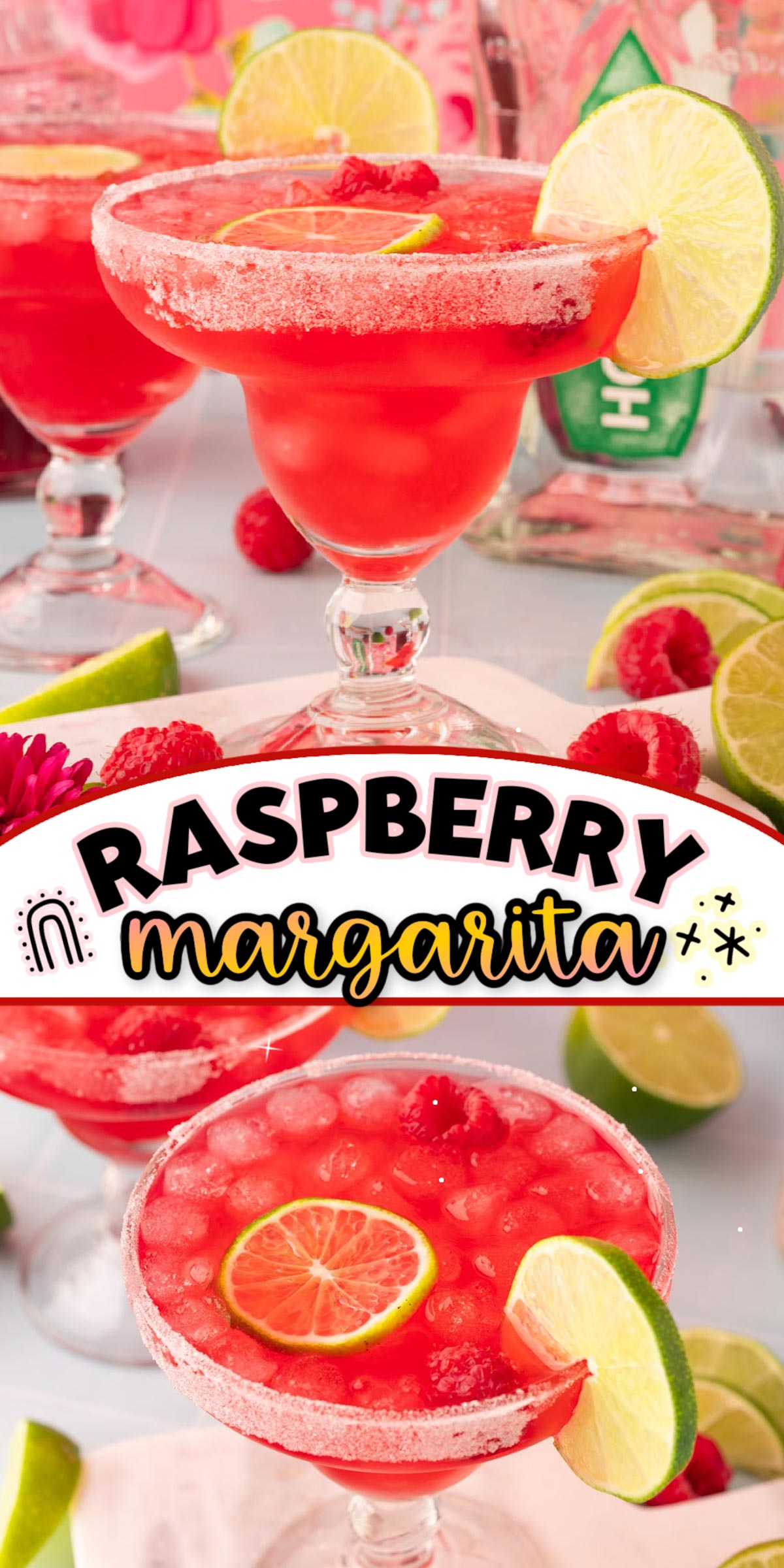 This Raspberry Margarita has a beautiful pop of color while bringing a sweet, refreshing taste to your mouth by using homemade raspberry simple syrup! The perfect ice-cold tequila cocktail to cool down with all summer long!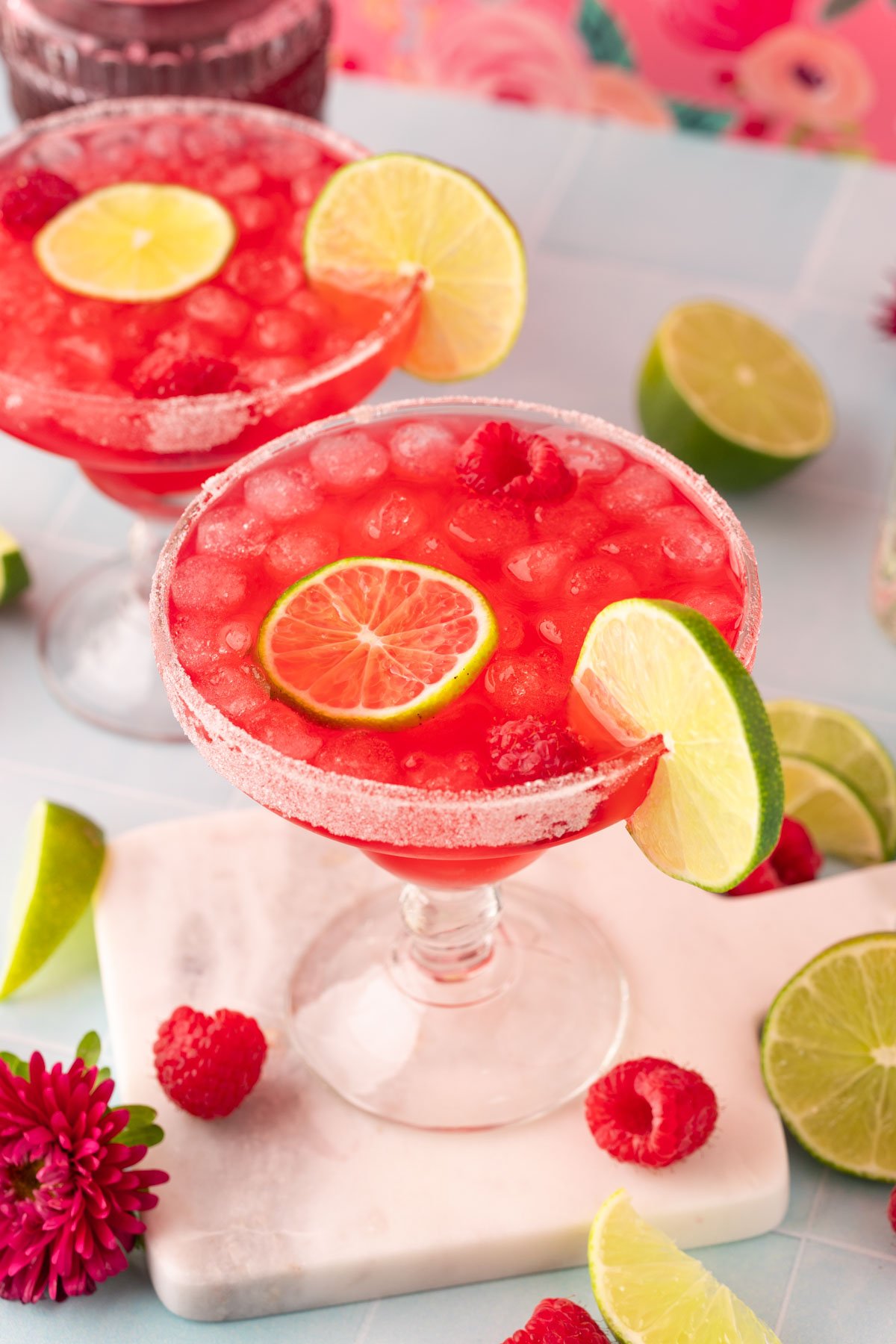 All it takes is just one sip of this Raspberry Margarita to know that you just found your new favorite cocktail! The fresh, sweet flavor is perfect for sipping on in the heat of the day when celebrating Cinco De Mayo or as you're enjoying Taco Tuesday! Or maybe Margarita Mondays, anyone? Is that a thing? if not, it should be!
This easy margarita recipe allows you to make just one drink, two, or even a large pitcher serving eight people. And if you like your margaritas frozen, this recipe can also serve that up as well!
Enjoying A Delicious Raspberry Margarita
Taste: Sip this raspberry margarita to enjoy the sweet, tart burst of raspberry flavor and a bright pop of citrus! Tucked beneath all that fresh flavor are tequila and orange liqueur, which makes for a smooth cocktail!
Texture: The ingredients in this margarita create a refreshingly light drink that won't weigh you down! It goes down incredibly smoothly while cooling you down in the process!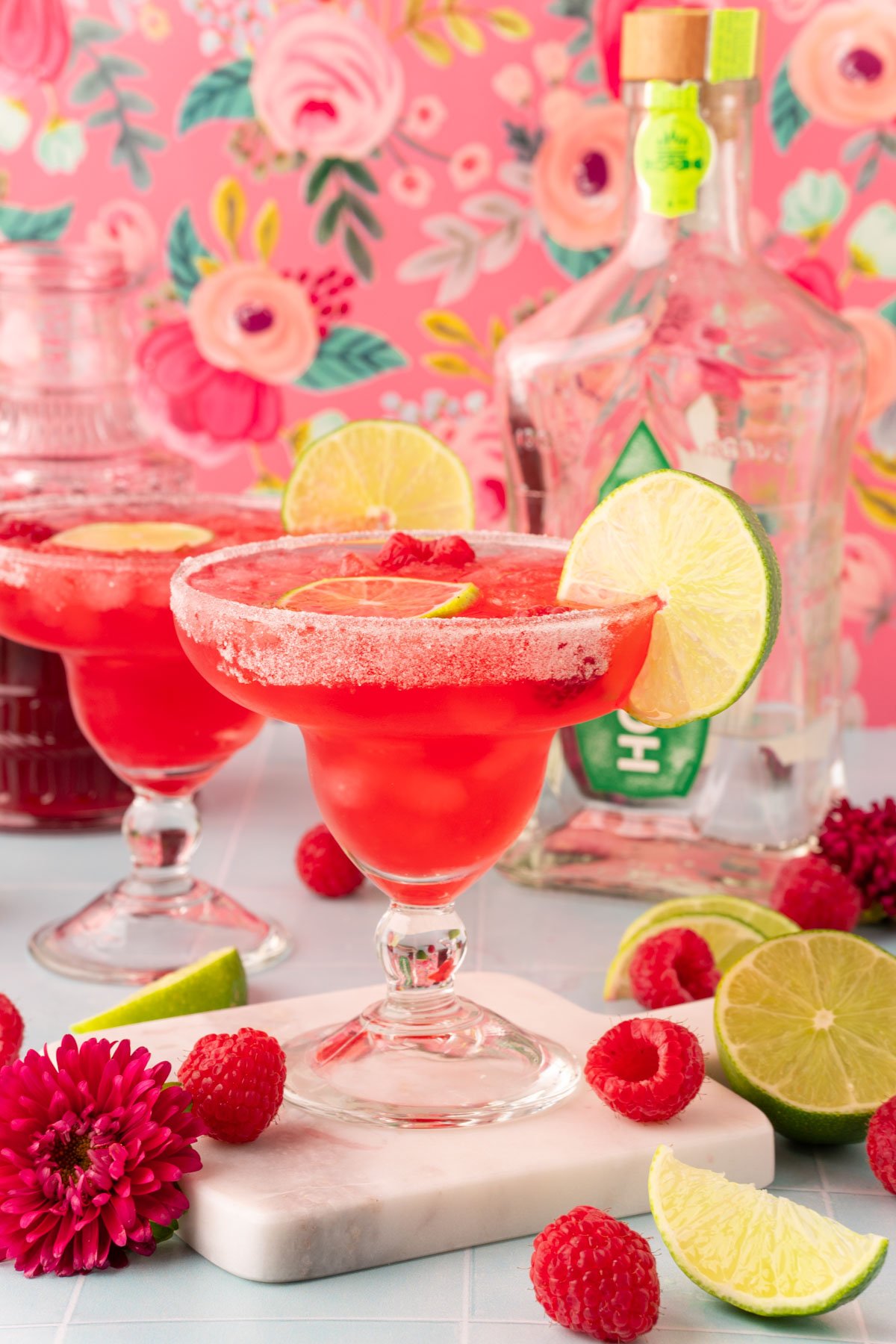 Raspberry Margarita Ingredients
Silver Tequila
Orange Liqueur
Lime Juice
Raspberry Simple Syrup
The root of the raspberry flavor that's bursting in this margarita is provided with homemade raspberry simple syrup. This ingredient is made on the stovetop by simmering raspberries and granulated sugar in water.
It does take 30 minutes to make, but the results are absolutely delicious, and it really takes this recipe over the top with flavor. Though you can grab store-bought (I recommend Torani brand), the fresh flavor of homemade just can't be topped!
The same goes for the lime juice in this margarita! The fresh lime juice will give this cocktail its bright, citrusy pop of flavor. If you don't have a juicer, I've found the quickest and easiest way to get the juice out of limes and lemons is first to roll them on the countertop for a few seconds.
Then, pop them in the microwave for 15 to 20 seconds. Then slice them in half and squeeze them; the juice should easily come right out with a few squeezes! You can also use a fork to help assist you.
Fresh Raspberries vs. Frozen
Whole raspberries come into play in this recipe when making the Raspberry Simple Syrup and again when adding garnishes for serving. When making homemade simple syrup, you can use fresh or frozen raspberries.
Since raspberries are harvested at peak ripeness before freezing, I find the flavor in the syrup to be just as good with frozen and sometimes even better than using fresh berries.
When garnishing the drink, I like to use frozen raspberries to keep the drink extra cold without diluting the margarita. However, you can use fresh berries if you prefer!
How To Make A Raspberry Margarita Step-By-Step
Step 1: Fill the cocktail shaker with ice. Then pour in the silver tequila, orange liqueur, fresh lime juice, and raspberry simple syrup.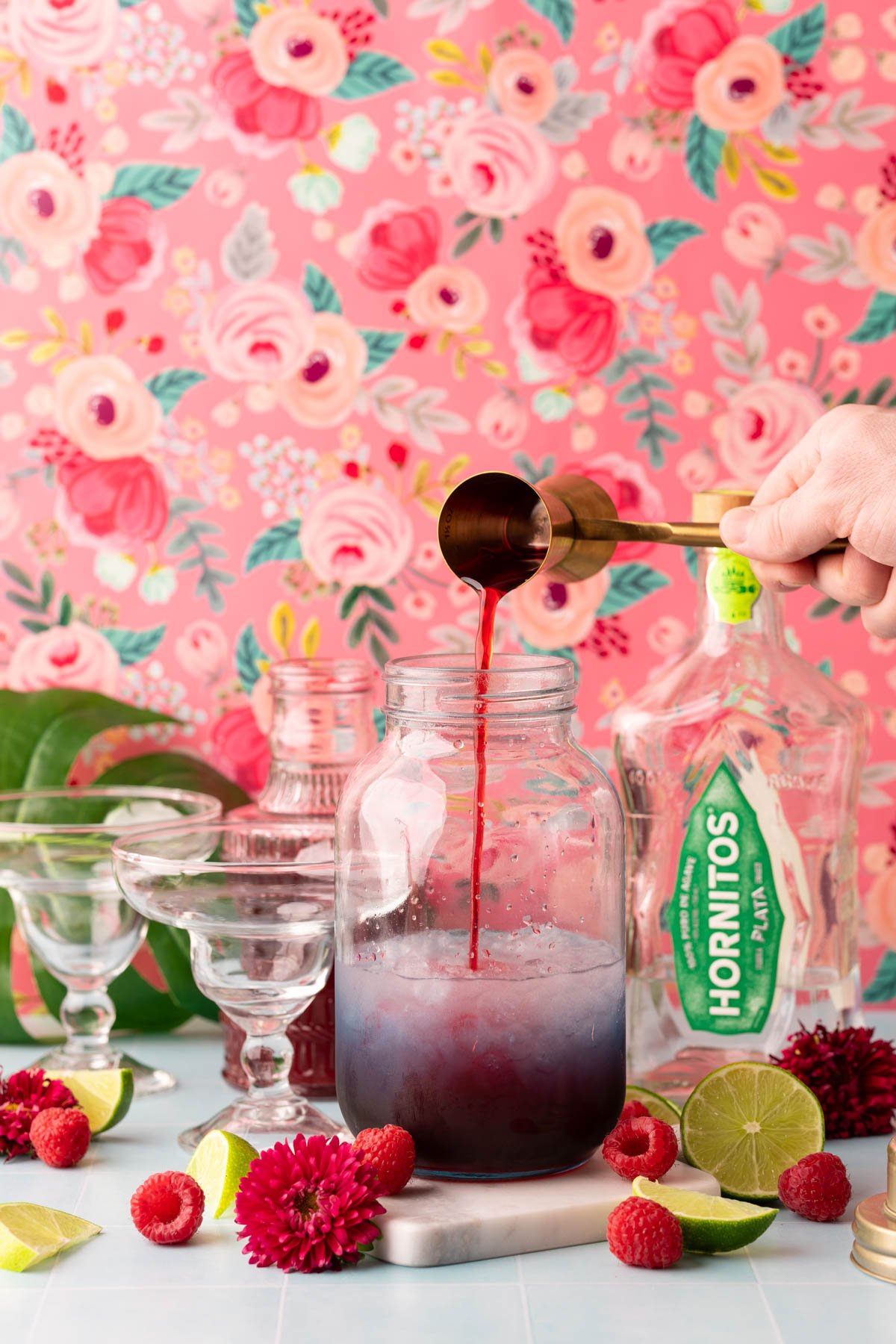 Step 2: Shake the cocktail shaker vigorously for 10 to 15 seconds. Afterward, strain the margarita into a glass that's filled halfway with ice.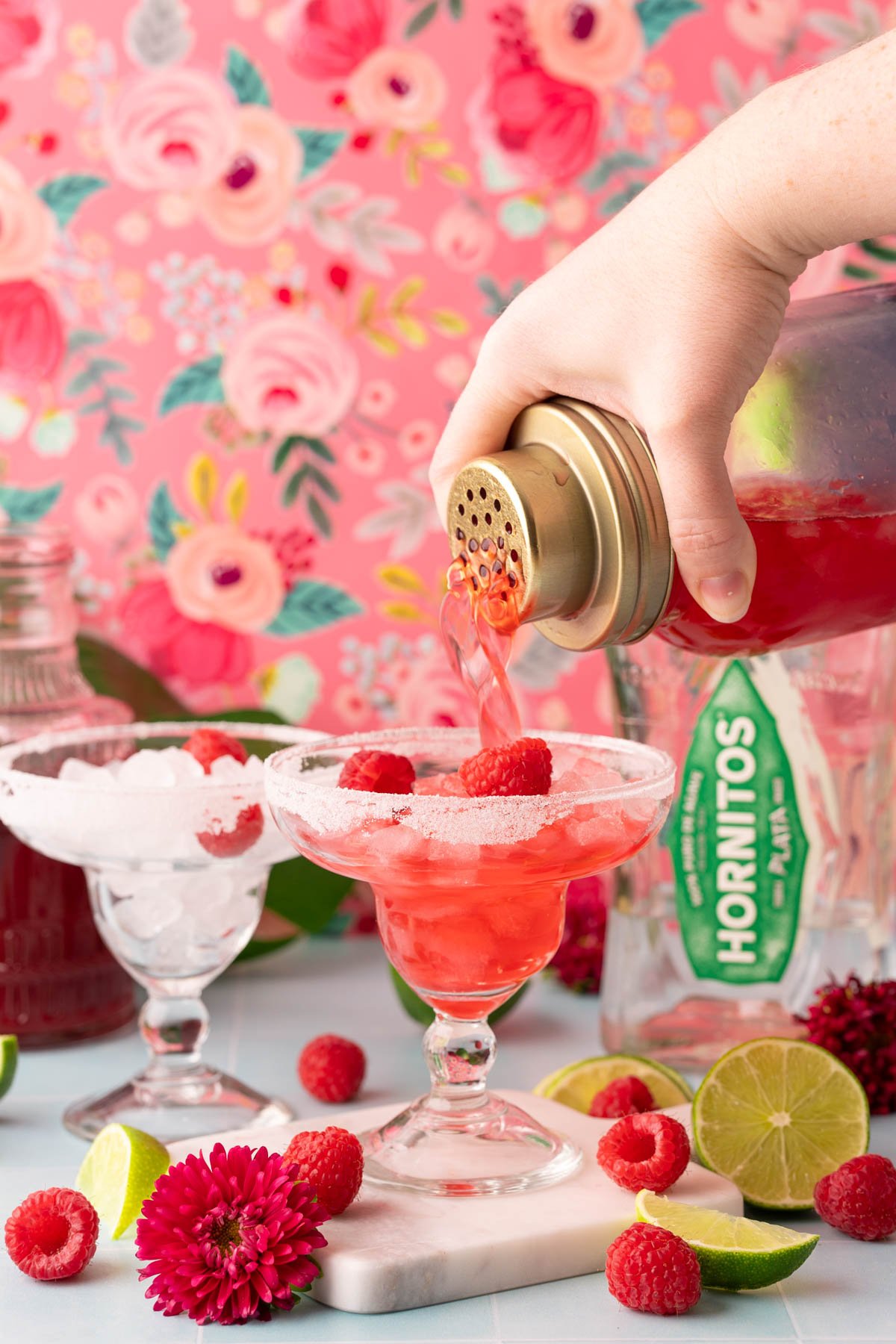 How To Serve The Best Raspberry Margarita
Rim – Like any margarita, these taste best with a sugared or salted rim! To create a tasty rim, add salt or sugar to a flat plate. Then, dip the rim of your margarita glass in water or run a lime wedge around the rim. Then dip the wet rim into your choice of sugar or salt.
Garnishes – Finish these raspberry margaritas off with fun garnishes! I like to use whole fresh berries, lime wedges, or use a muddle to mash up raspberries to add to the cocktail.
Increase Raspberry Flavor – To increase sweetness in this raspberry margarita recipe, feel free to add more raspberry simple syrup to your taste preferences.
Making Margarita Mix Ahead Of Time
When hosting parties, it's nice to get ahead with party prep! Therefore, you may want to make the margarita mix beforehand so all you have to do is pour and serve.
To do so, simply shake up the ingredients and pour them into an airtight container. Store the margarita mixture in the fridge to enjoy within three days.
This can be done for a single margarita, two, or even a large batch serving eight people!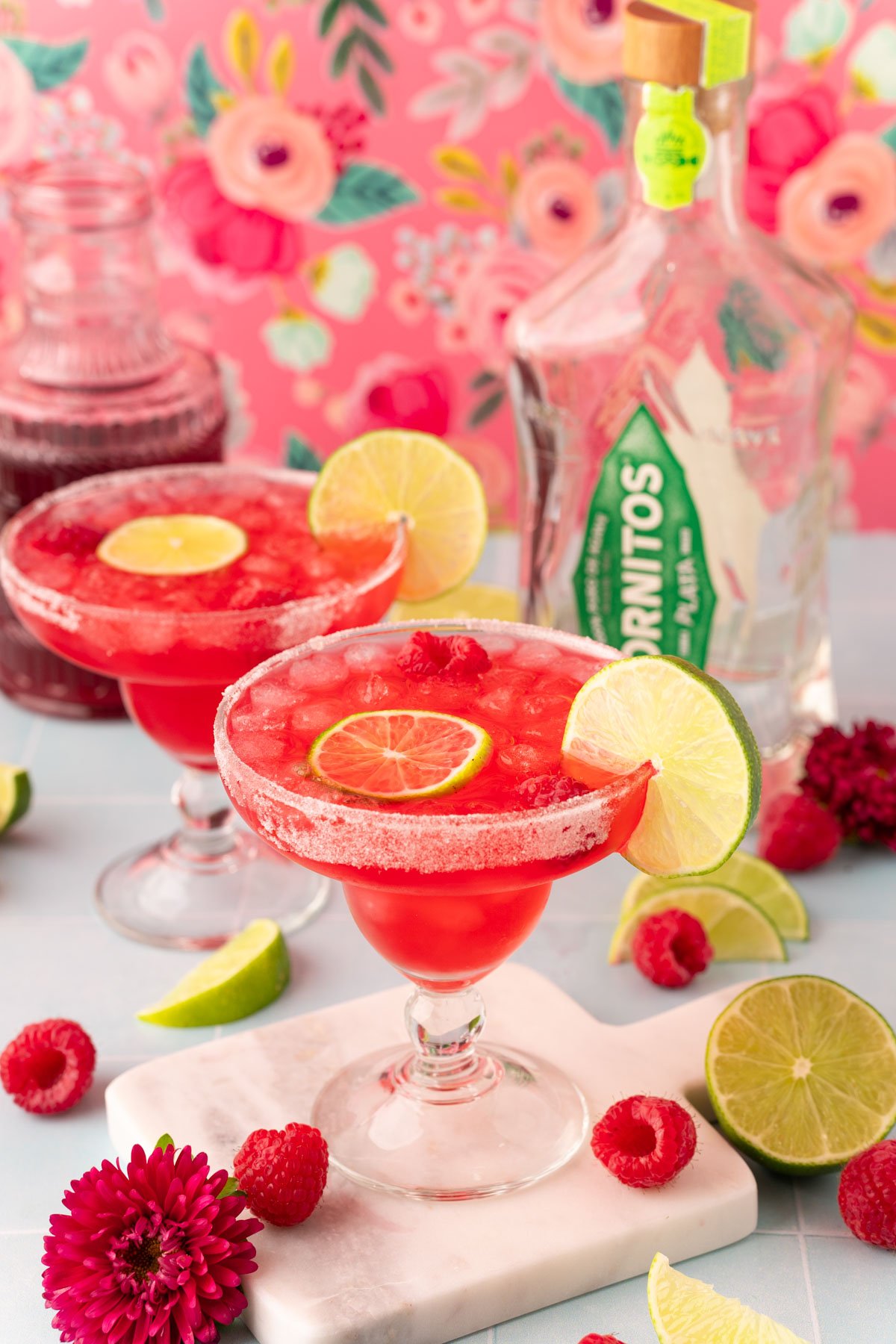 Frozen Raspberry Margarita Variation
Treat yourself to a frozen raspberry margarita on those exceptionally hot summer days! A frozen variation of these margaritas is easy to make in just minutes.
Just add ice and the rest of the ingredients into a blender and pulse. Afterward, pour the blended margarita into a glass with a sugar or salted rim, garnish, and enjoy with a straw!
To build a frozen margarita with an even more intense raspberry flavor, skip the ice and instead use frozen raspberries! To do so, use 1 cup of frozen raspberries per serving and then blend until smooth.
Raspberry Pitcher Margaritas
If your patio or poolside is crowded with friends and family, you'll want to make Raspberry Pitcher Margaritas that can easily serve your crowd of favorite people. To make a large batch, combine:
12 ounces of tequila
8 ounces of orange liqueur
8 ounces of lime juice
8 ounces of raspberry simple syrup
in a large pitcher and stir thoroughly to combine. I'd suggest storing the pitcher in the fridge for a bit to allow the margaritas to chill. I wouldn't recommend adding ice to the pitcher as doing so would cause the margaritas to be diluted if the entire pitcher isn't enjoyed right away.
Instead, serve the margaritas over ice to enjoy!
Raspberry Margarita FAQs
Should I Use Triple Sec Or Cointreau When Making A Margarita?
This decision comes down to personal preference. Cointreau does carry a more balanced, rounded flavor that has a smooth finish. Whereas triple sec tends to have a stronger taste of sweet oranges.
Though they're both orange liqueurs, they're each made with different types of orange peel. Triple sec is made with a sweeter orange peel, and Cointreau is made with a bitter one. Both options make for a great margarita!
Do I Have To Use Orange-flavored Liqueur?
If you feel like mixing it up a bit, you could make this Raspberry Margarita with Chambord, a rich and syrupy raspberry liqueur, instead.
Can Two Drinks Fit In A Cocktail Shaker?
Yes, typically, two drinks should be able to fit into most standard-sized cocktail shakers. Therefore, feel free to double this recipe to share with a friend!
How Many Carbs Are In This Margarita?
Using this recipe, one Raspberry Margarita has 12 grams of carbs. While margaritas are known for being high-calorie, high-carb cocktails, a standard margarita actually has 16 carbs. So, the carb count in this raspberry margarita actually comes in low compared to other margarita recipes!
Can I Make This Into A Blended Margarita?
Yes, add the ingredients to a blender with ice or frozen raspberries and blend. Add more ice as needed to reach the desired consistency.
Why Do You Salt The Rim Of A Margarita?
Adding salt to the rim of the margarita helps enhance the sweet and sour aspects of the drink. However, a sugar rim is a delicious option for those who prefer it – I do!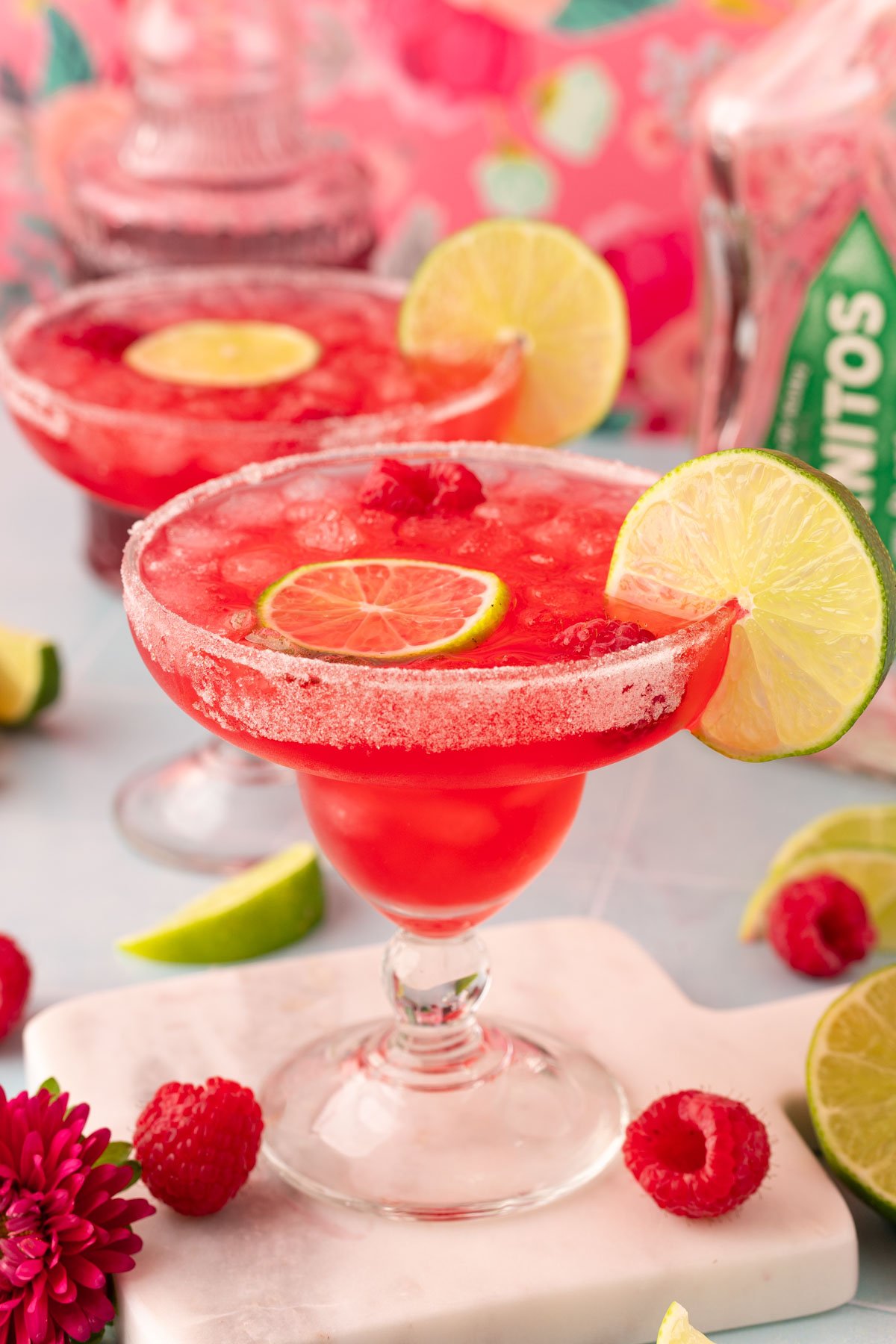 More Great Fruity Margarita Recipes
👋 Let's Connect!
If you've tried this recipe, please let me know how you liked it in the comments below and leave a review; I love hearing from you! And don't forget to tag me – @sugarandsoulco – on Instagram and Pinterest with your photos or join our Sugar & Soul Show-offs Community and share them there, where you can join our recipe challenges and win prizes!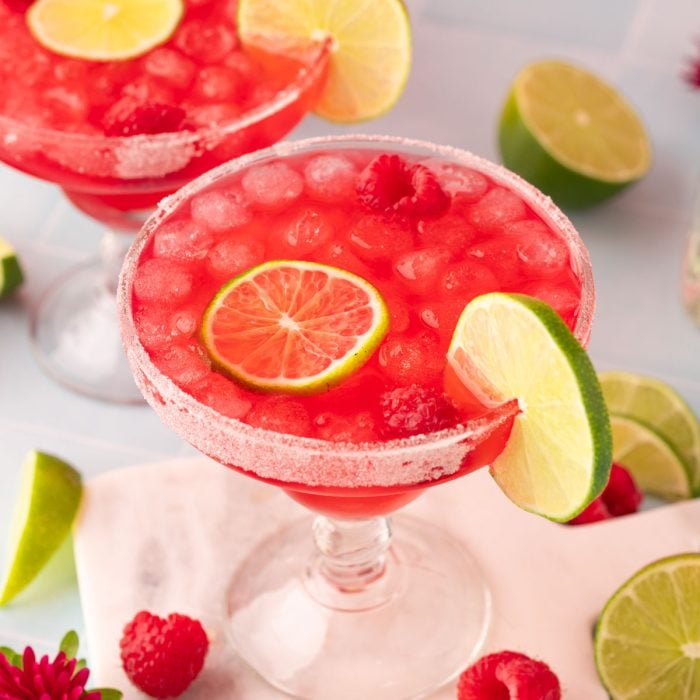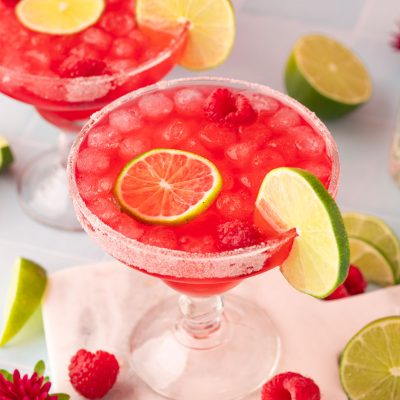 Raspberry Margarita
Raspberry Margaritas are a fresh and sweet, tequila cocktail made with homemade raspberry simple syrup!
Instructions
Dip rim of glass in water or run a lime wedge around the rim and then in either salt or sugar to coat and set aside.

Add 1½ ounces silver tequila, 1 ounce orange liqueur, 1 ounce fresh lime juice, and 1 ounce Raspberry Simple Syrup to a cocktail shaker filled with ice.

Shake vigorously for 10 to 15 seconds and pour into a glass filled halfway with nugget or crushed ice.

Garnish with Raspberries and lime wedges and serve.
Notes
Two drinks should fit in most standard cocktail shakers, so feel free to double the recipe!
More raspberry syrup can be added if you prefer.
It can be made in advance. Just combine in an airtight container without ice and enjoy within 3 days.
Large Batch Recipe – Serves 8:

12 ounces of tequila
8 ounces of orange liqueur
8 ounces of lime juice
8 ounces of raspberry simple syrup
Nutrition
Calories: 193kcal | Carbohydrates: 12g | Protein: 1g | Fat: 1g | Saturated Fat: 1g | Sodium: 3mg | Sugar: 10g | Vitamin C: 9mg