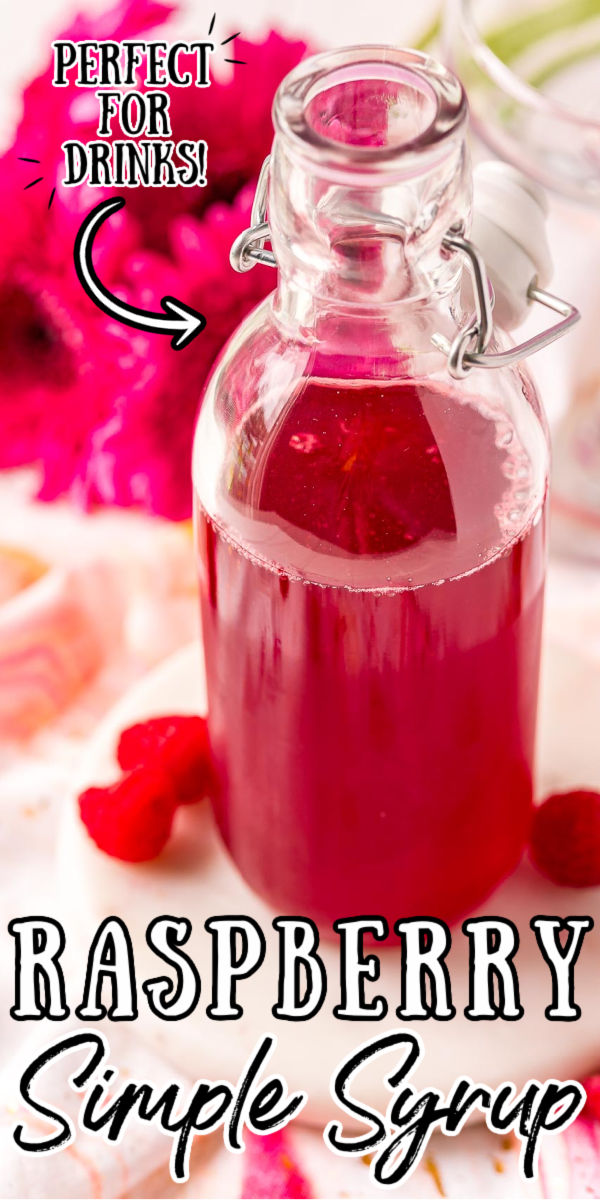 Raspberry Simple Syrup is a sweet and tasty mix-in for all your favorite drinks! Made with raspberries, water, and sugar, this easy recipe is bursting with flavor.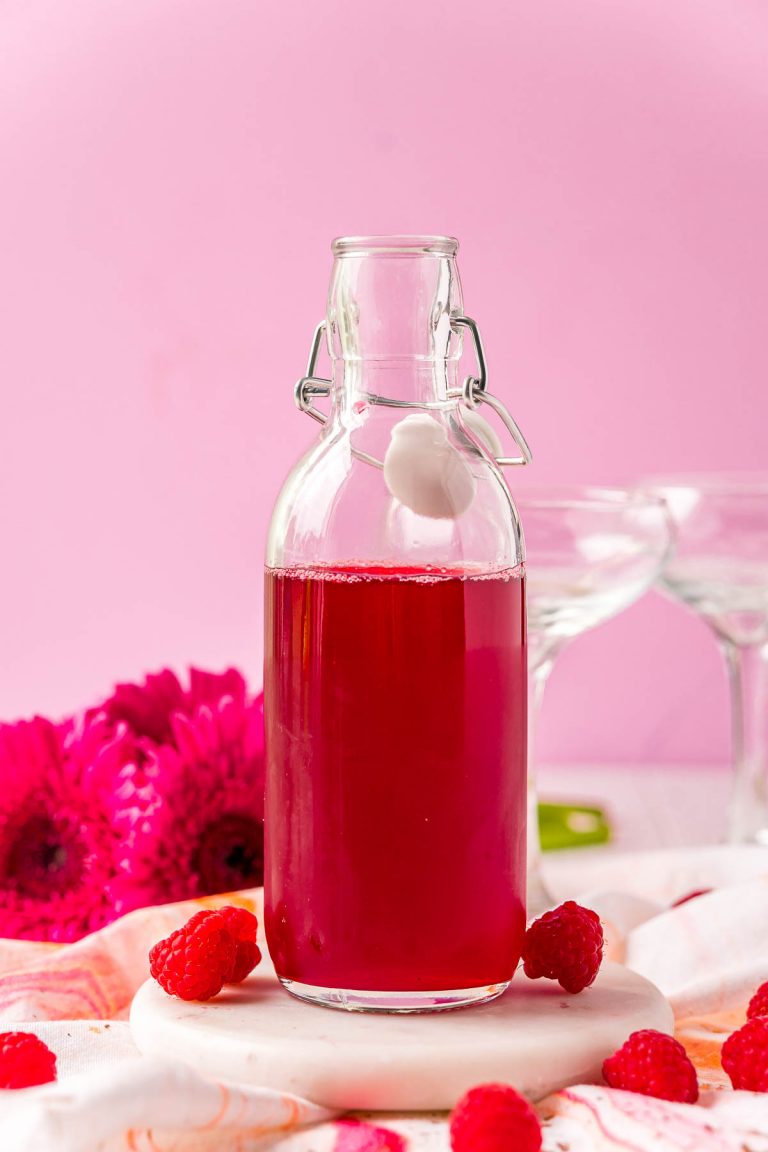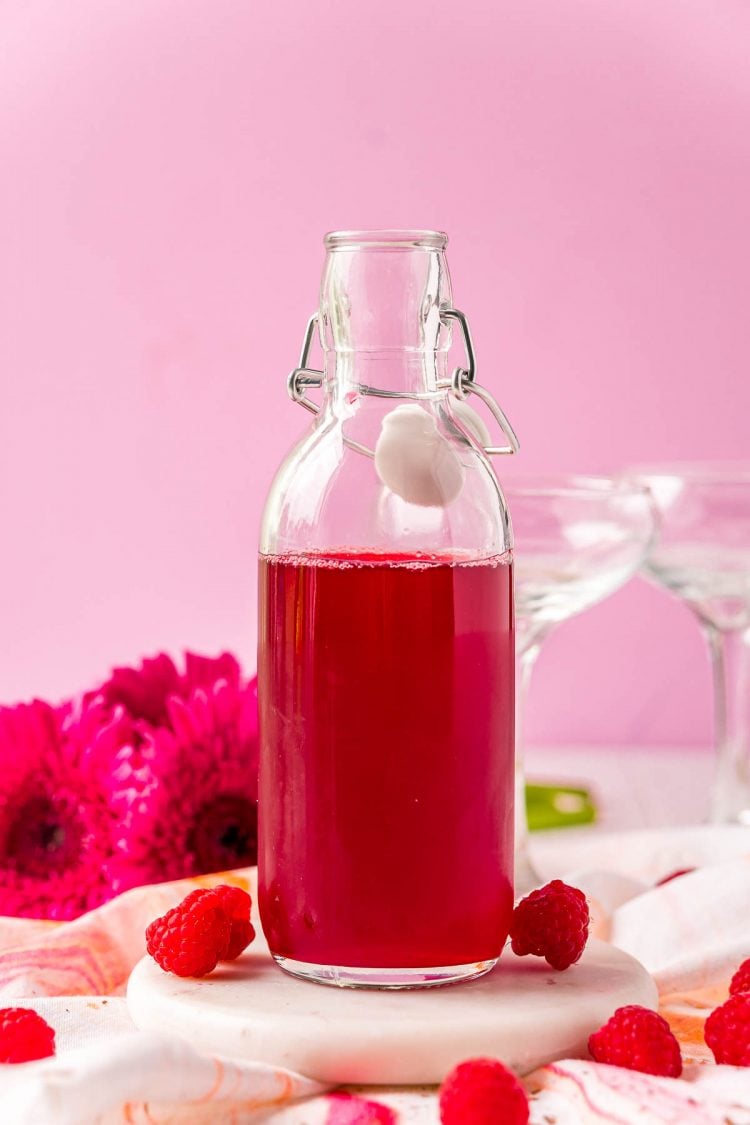 Why spend a small fortune on a craft cocktail or fancy coffeehouse beverage when you can make it at home? All you need is the right ingredients, like this Raspberry Drink Syrup!
Just like regular simple syrup but made with fresh raspberries! You'll enjoy adding sweet-tart flavor to your favorite drinks all year long. Plus, it's the perfect addition for mixing up my Clover Club Cocktail or Raspberry Lime Rickey!
Hosting a party? Equip your bar with this raspberry, strawberry, rhubarb, and blackberry simple syrups, and some homemade grenadine, too!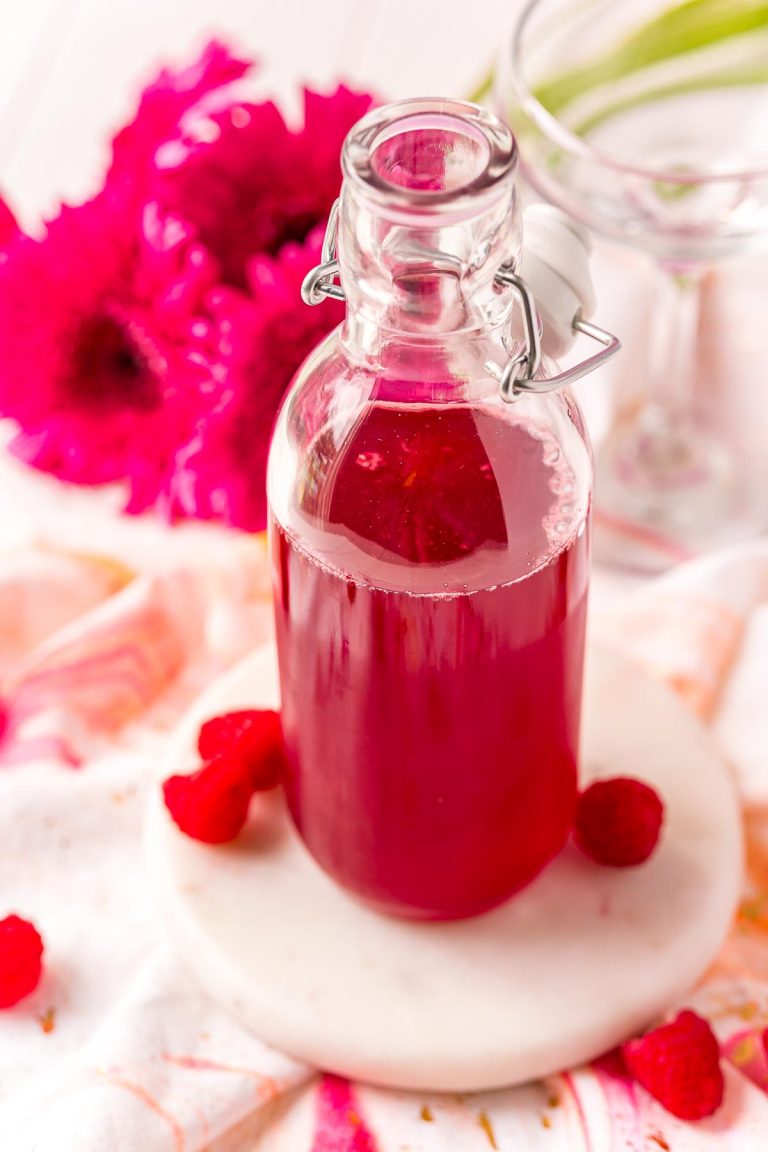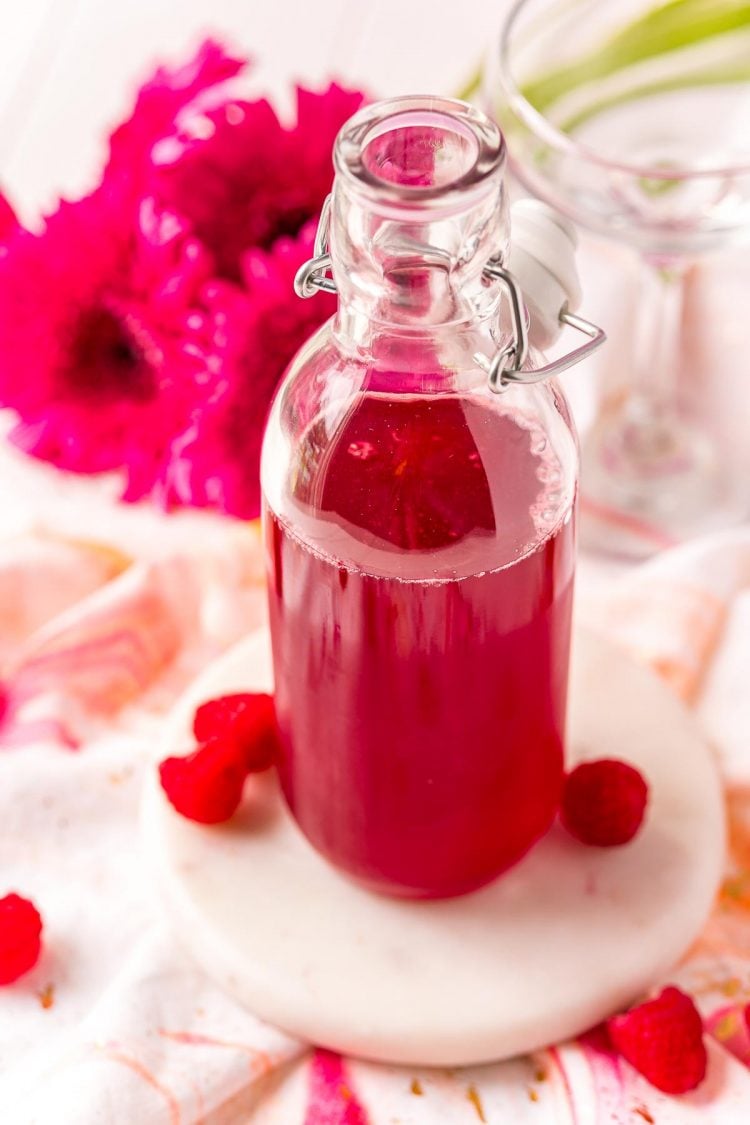 Ingredients
Granulated sugar – It provides sweetness and the base for a syrupy texture.
Water – A little more liquid for a pourable, easy-to-stir consistency.
Raspberries – You'll love how this recipe tastes with fresh raspberries! However, you can use frozen raspberries, too.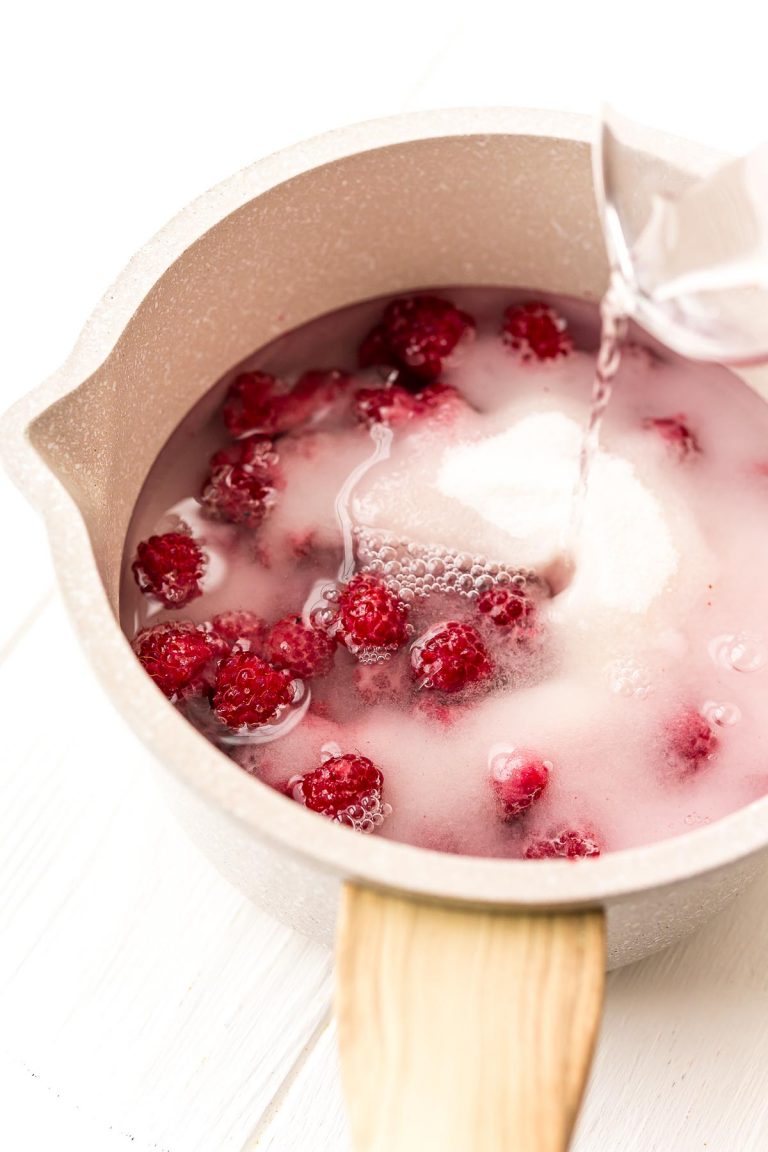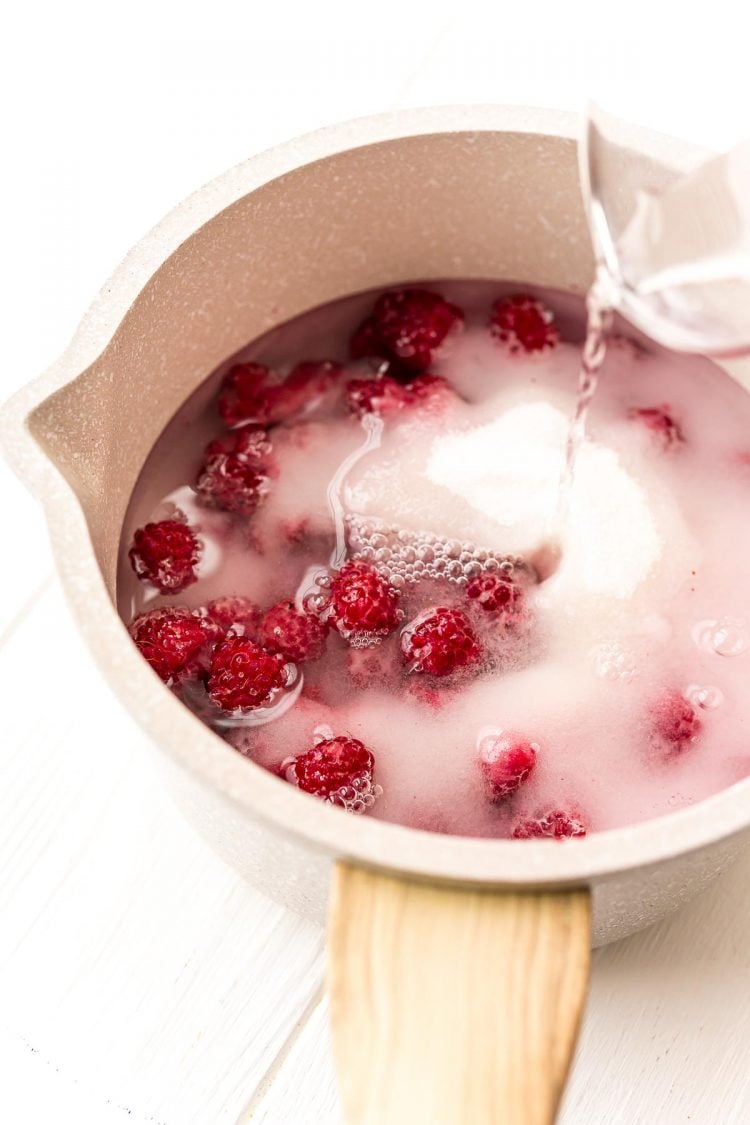 How To Make Raspberry Simple Syrup:
Simmer: Add the raspberries, water, and sugar to a small saucepan and bring to a boil over medium-high heat. Reduce heat and continue to simmer over medium heat for about 10 minutes.
Sit: Remove the from heat and allow it to cool to room temperature for about 1 hour.
Separate: Run the mixture through a fine mesh strainer to separate the syrup from the barriers. Discard the extra berries (or serve them over ice cream – YUM!) and bottle up the simple syrup.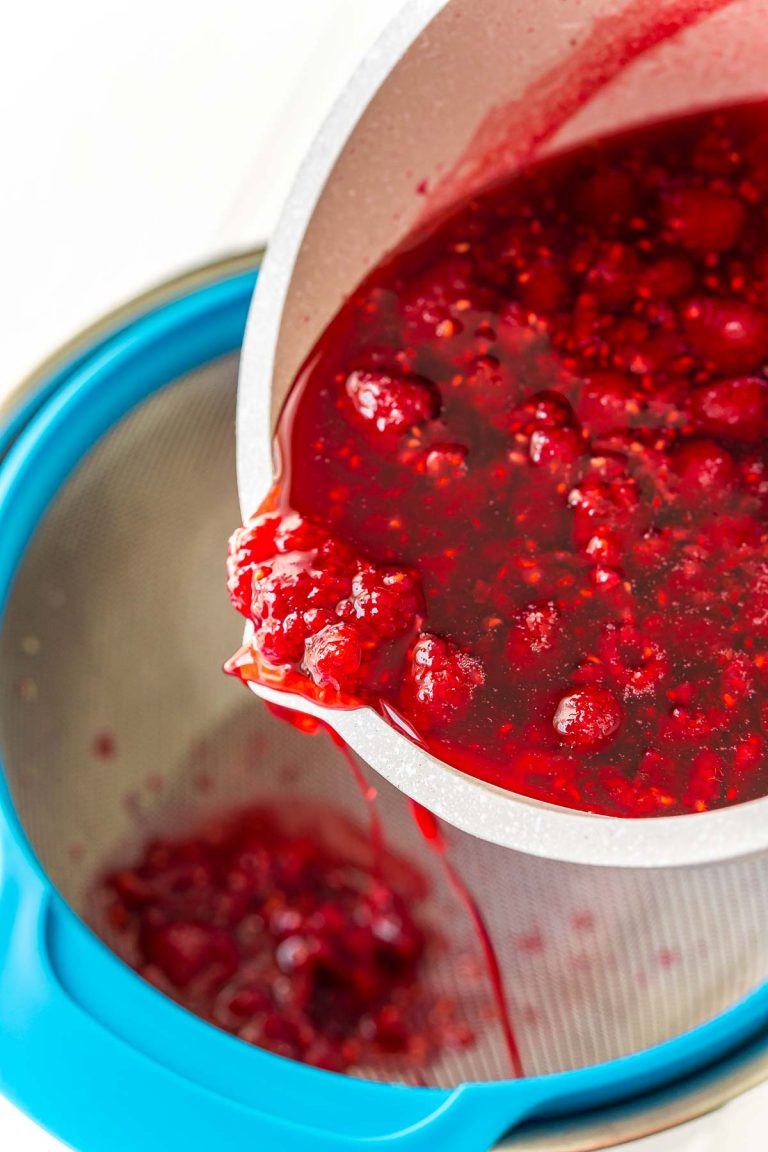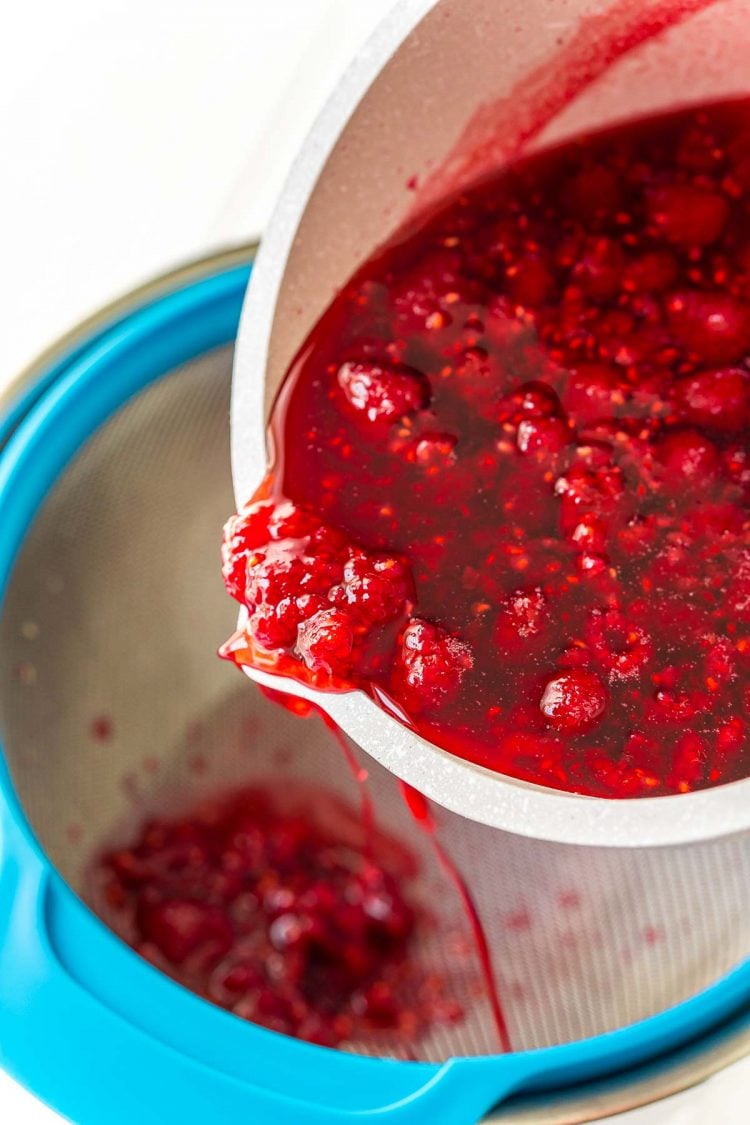 Frequently Asked Questions:
What is raspberry simple syrup made of?
Raspberries, sugar, and water. Just bring to a simmer, cool, and strain. Simple!
What can I make with it?
Use this recipe to flavor cocktails, iced tea, lemonade, milkshakes, coffee drinks, and even cakes (brush it over the sponge to make cakes tastier and help keep them moist)!
How long does it last?
For about 2 weeks in the fridge, stored in an airtight container.
Can you freeze flavored syrup?
Yes, and it's great to have on hand for company! Freeze it in a plastic bag or container for up to a year.
What raspberry syrup does Starbucks use?
While Starbucks has its own line of syrups, I guarantee this one tastes better – and it's way cheaper, too! This syrup would be perfect for making a Raspberry Mocha right at home!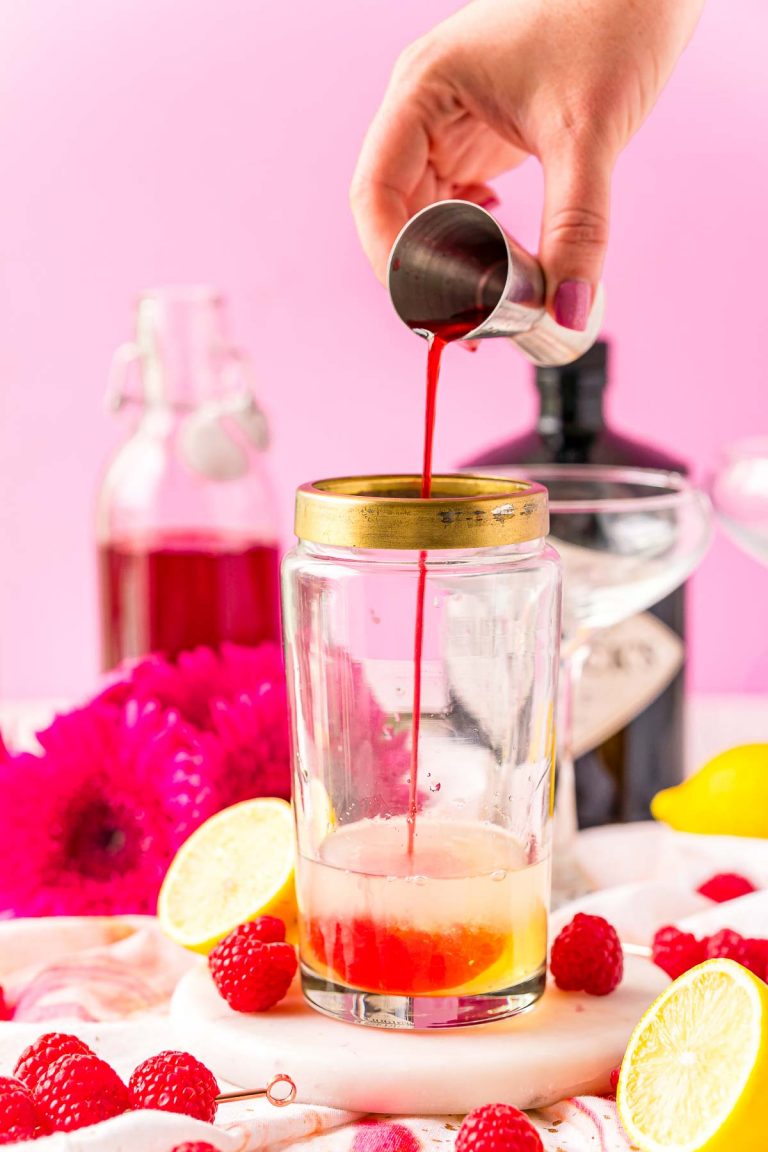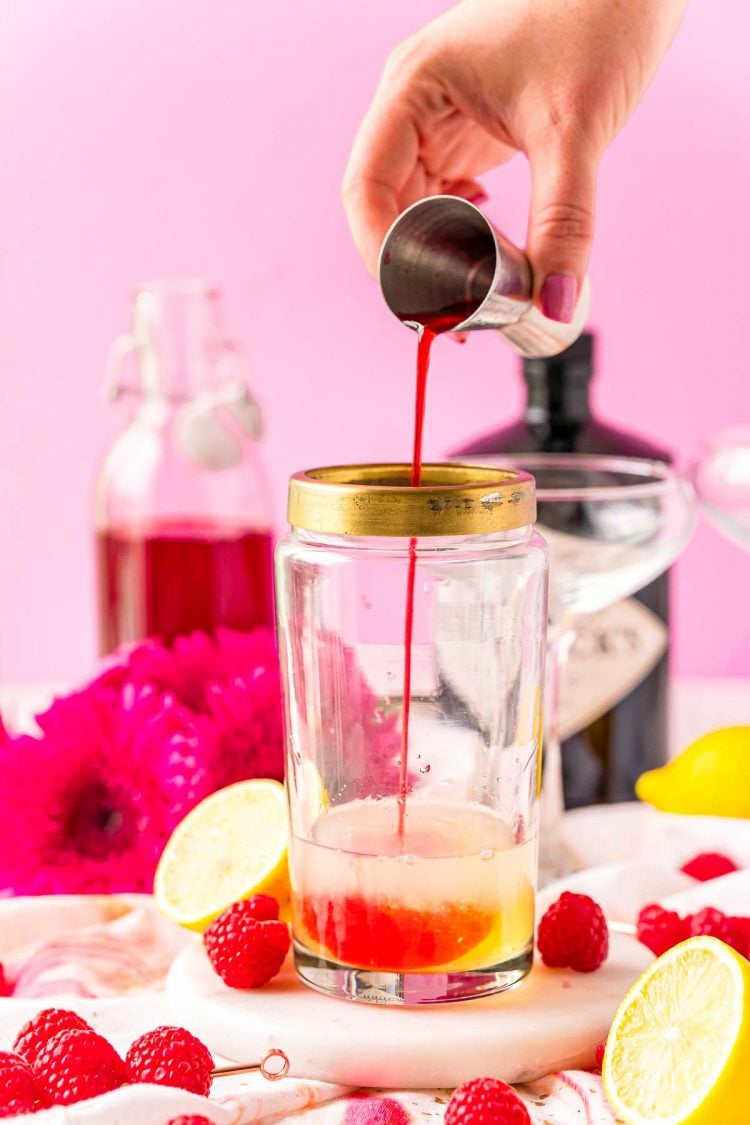 Note: If you're looking for ice cream or pancake topping, try my Strawberry Sauce recipe instead. It's thicker and can be made with any kind of berry!
More Raspberry Recipes
Raspberry Simple Syrup
Pin It For Later
Click the button above to save this delicious recipe to your board!
👋 Let's Connect!
If you've tried this recipe please let me know how you liked it in the comments below and leave a review, I love hearing from you! And don't forget to tag me – @sugarandsoulco – on Instagram and Pinterest with your photos! You can also Subscribe to my Newsletter so you never miss a delicious recipe again!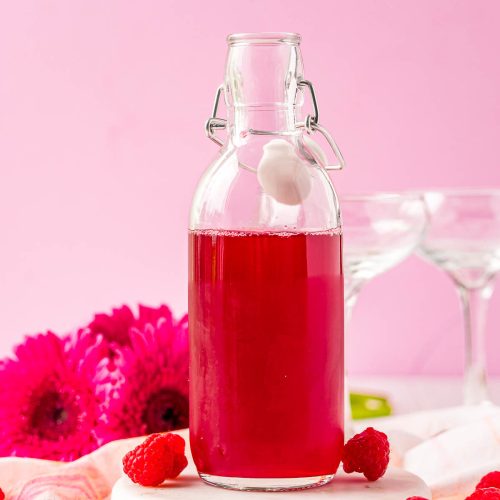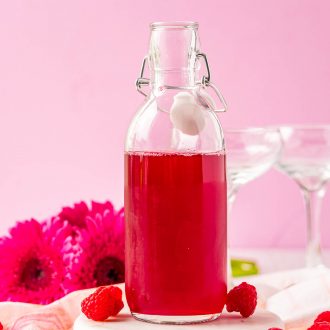 Raspberry Simple Syrup
Raspberry Simple Syrup is a tasty mix-in for all your favorite drinks! Made with raspberries, water, and sugar, this easy recipe is bursting with flavor.
Instructions
Add all of the ingredients to a medium pot and bring to a boil over medium heat. Let the raspberries simmer until the sugar has dissolved and berries are soft and breaking up – about 10 minutes.

Remove the pot from heat and let it cool completely. About 1 hour.

Strain the mixture through a fine mesh strainer making sure to squeeze any excess juice from the raspberries. Transfer the syrup into a bottle or jar, using a funnel if needed.
Notes
Store in an airtight bottle or jar in the refrigerator for up to 2 weeks.
Nutrition
Calories:
449
kcal
Carbohydrates:
114
g
Protein:
1
g
Fat:
1
g
Saturated Fat:
1
g
Sodium:
8
mg
Potassium:
181
mg
Fiber:
8
g
Sugar:
105
g
Vitamin A:
40
IU
Vitamin C:
31
mg
Calcium:
30
mg
Iron:
1
mg