Texas Twinkies are an easy recipe of jalapenos stuffed with a cheesy brisket filling, wrapped in salty bacon, and brushed with BBQ sauce! A great way to use leftover brisket and the perfect appetizer for game days!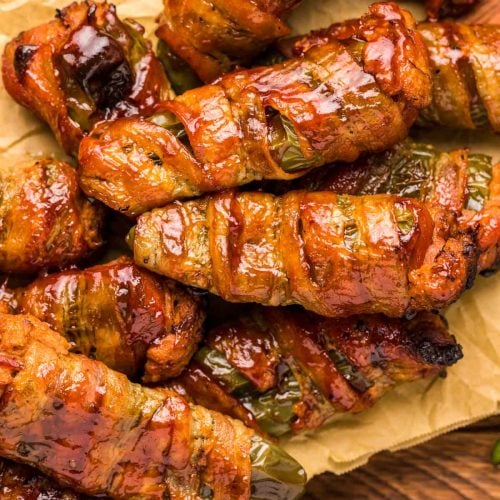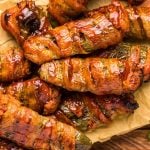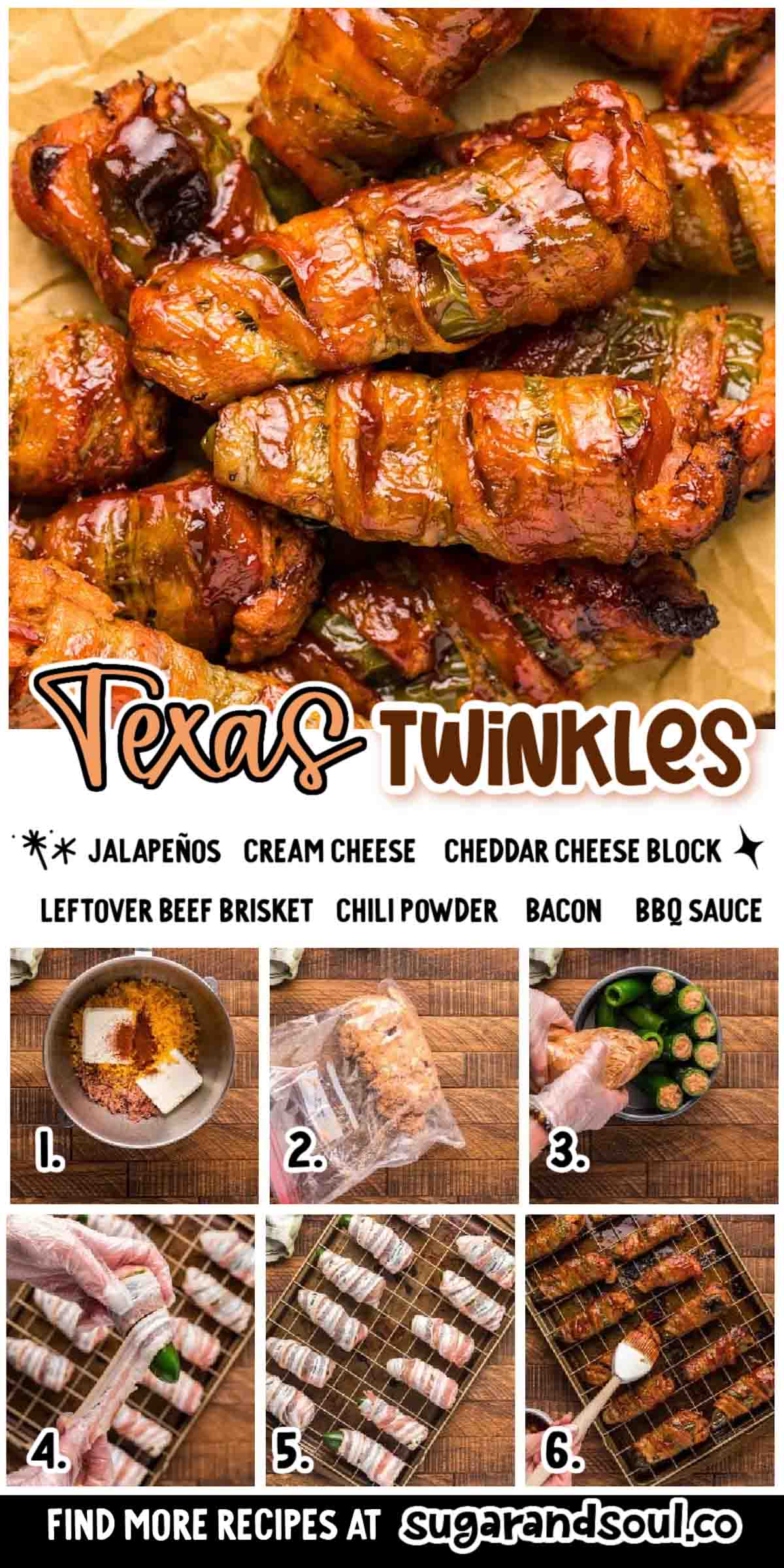 Texas Twinkies are an easy recipe of jalapenos stuffed with a cheesy brisket filling, wrapped in salty bacon, and brushed with BBQ sauce! A great way to use leftover brisket and the perfect appetizer for game days!
For another flavor-packed appetizer, check out these Air Fryer Chicken Wings that are covered in a homemade sweet and spicy sauce!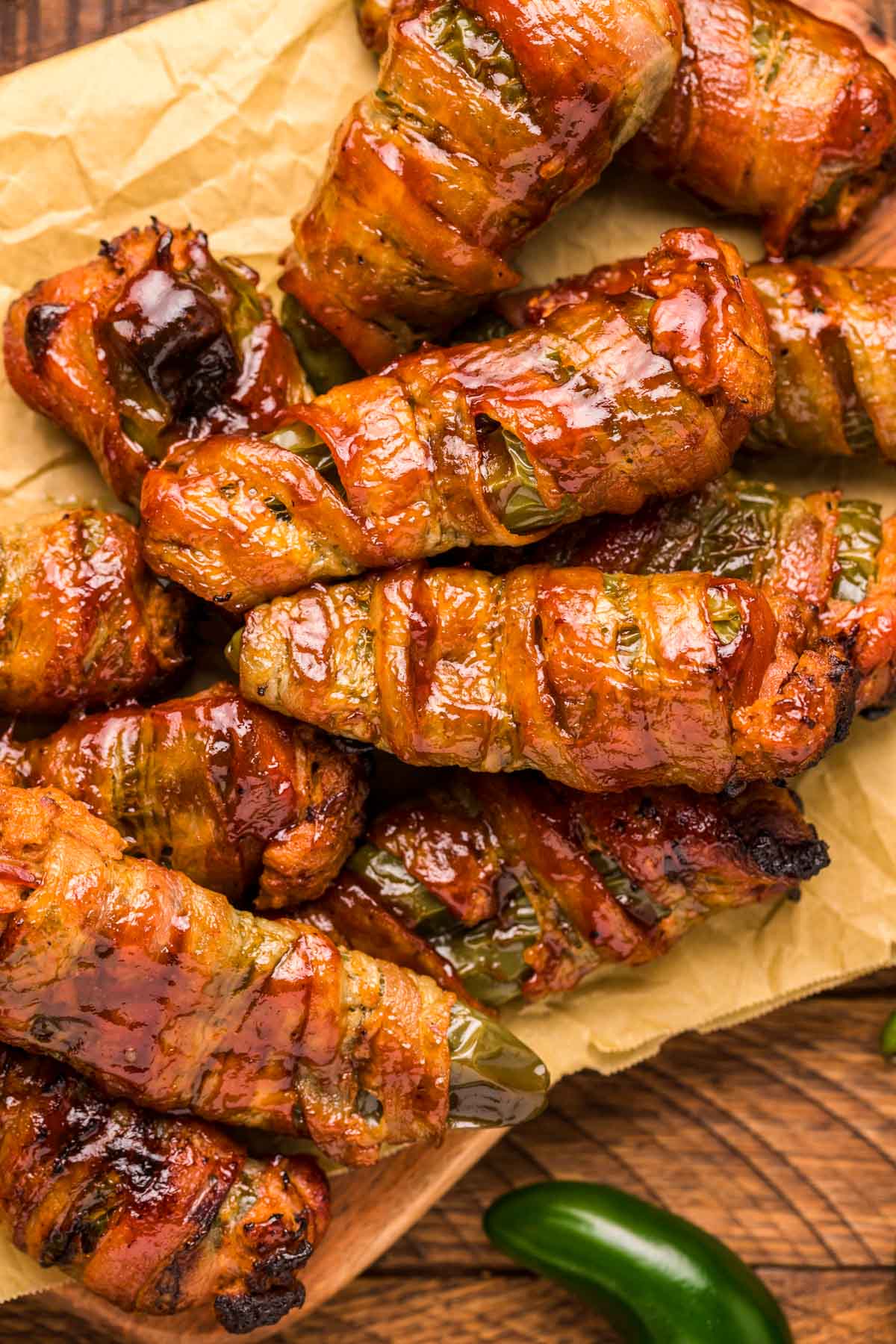 Bring the flavor to game day by making these mouthwatering Texas Twinkies recipe! Made with bacon, jalapeños, and an easy 4-ingredient filling!
Cheering on your favorite team is way more fun when you're eating delicious snacks like these stuffed peppers! Don't have a favorite team? Not to worry, these are also great for weekend snacking while watching a movie or playing board games!
All About These Texas Twinkies
Taste: The salty bacon, spicy peppers, and cheesy filling make this appetizer the perfect game-day snack! Since each pepper is brushed with BBQ sauce before broiling, you can choose to use your favorite sauce. That way, you can really count on them being exactly what you and your taste buds want!
Texture: Each bite begins with crispy bacon brushed with sticky BBQ sauce that leads to a tender pepper! Waiting for you inside the tender pepper is a cheesy, warm filling studded with chopped brisket!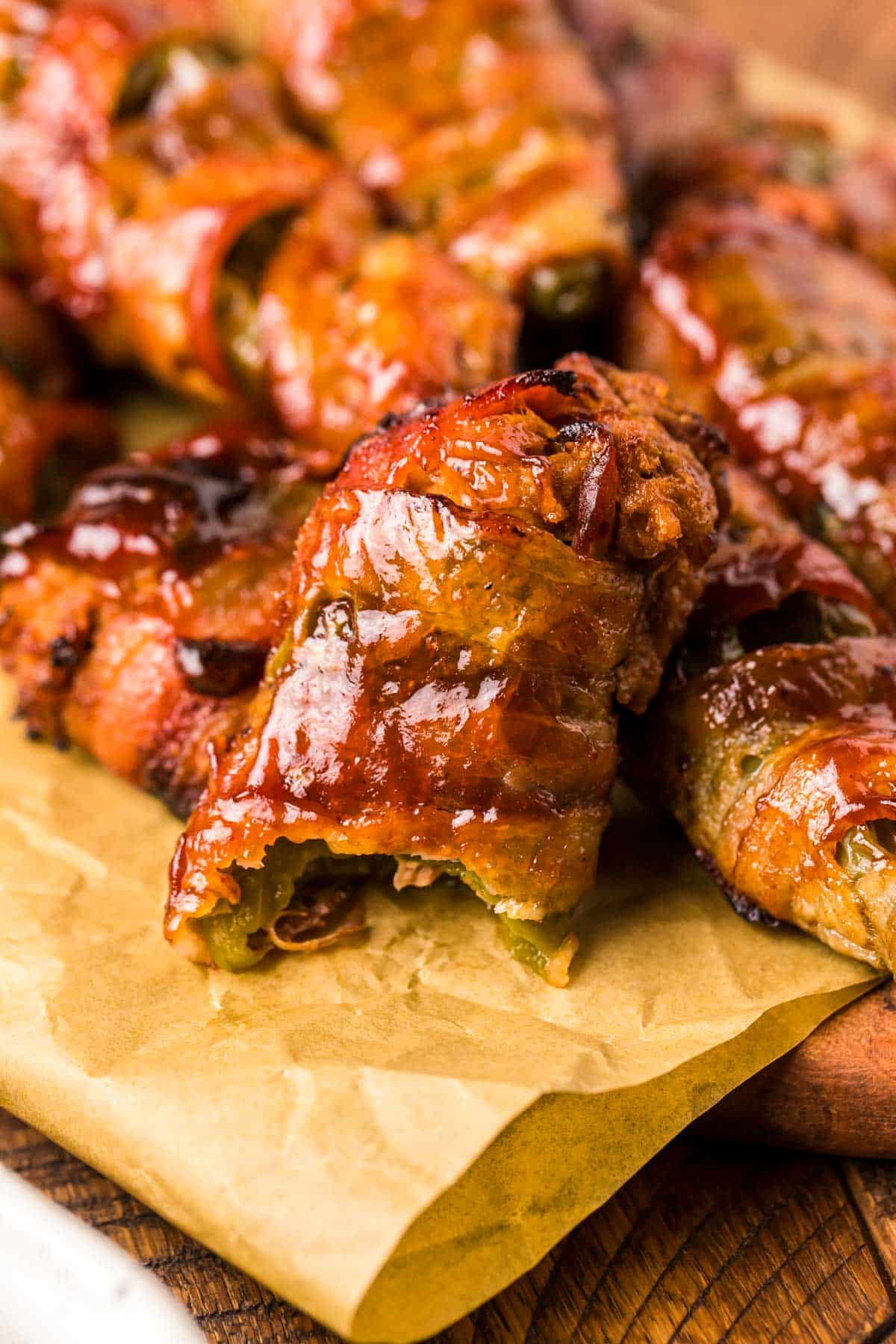 Why Are These Called Texas Twinkies?
This famous appetizer was born in McKinney, Texas, at Hutchins BBQ. They were named after the popular snack cake for having a similar shape to them, while Texas comes from the state they originated from!
These Smoked Texas Twinkies will be the most talked about appetizer at your game day party! They're basically souped-up jalapeno poppers! And since they're guaranteed to disappear quickly, you'll want to fill your snack table with more delicious apps for backup!
For more snacks wrapped in bacon flavor, try these Bacon Wrapped Little Smokies or Bacon Wrapped Dates With Feta! For easier hosting, try a crockpot recipe like these incredible Slow Cooker Grape Jelly Meatballs!
And it can't be a party without some type of sweet dessert! Therefore, follow this simple step-by-step tutorial to bake up this Easy Football Cake!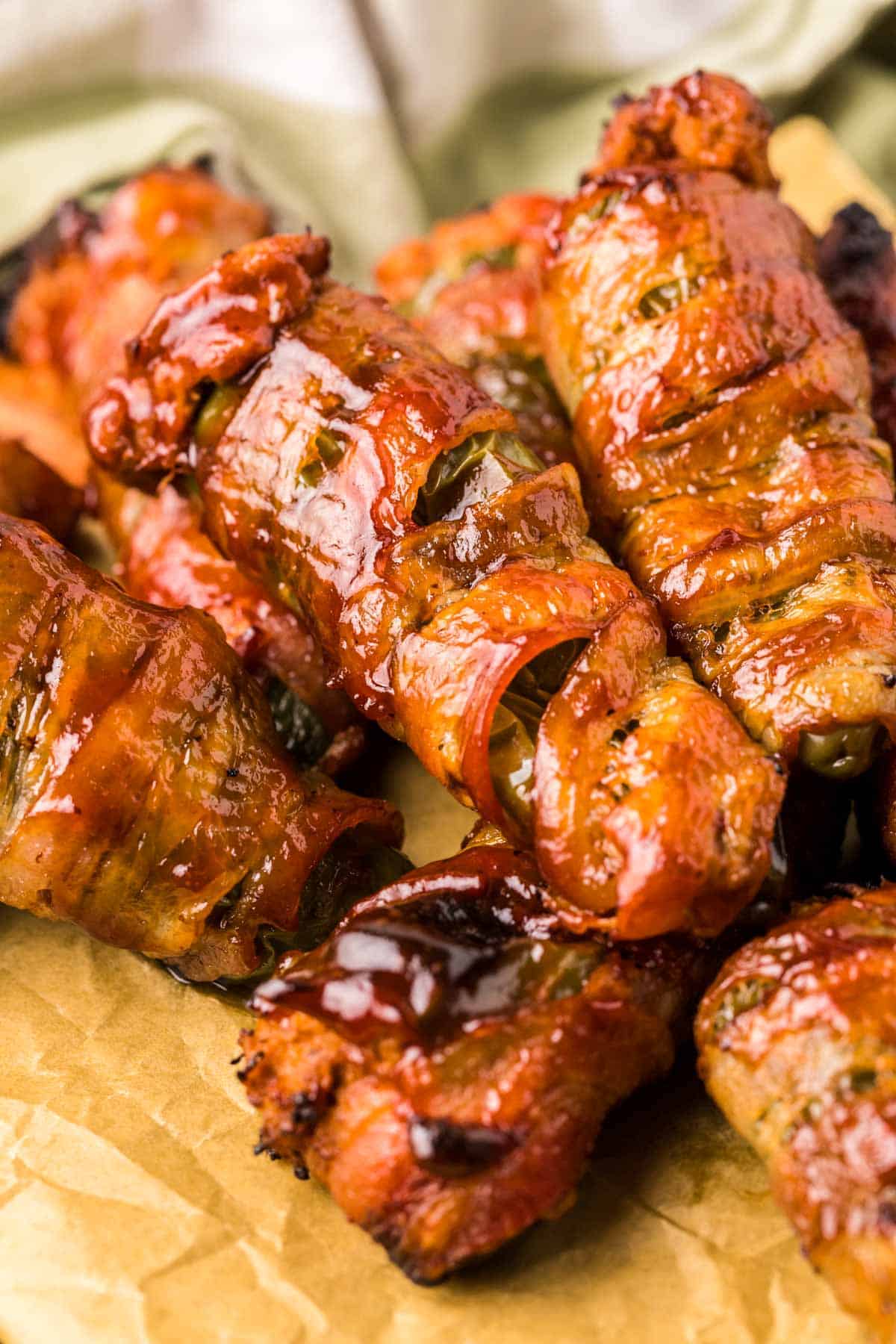 The Mouthwatering Filling
One of the biggest components of this stuffed pepper filling is beef brisket! When I make this recipe, I always use up leftover meat from making Smoked Beef Brisket or a Corned Beef and Cabbage meal.
It's a great way to prevent leftovers from going to waste while also getting two delicious recipes out of one meat! The meat is then chopped up and mixed with two types of cheese, cream cheese, and cheddar cheese.
I prefer to get a cheddar cheese block to shred myself (this is my favorite cheese grater – affiliate link). I find the cheese just melts and combines a lot nicer than store-bought pre-shredded cheddar cheese.
Finishing off the filling mixture is chili powder. This gives more flavoring and a slight kick of heat, depending on which chili powder you use!
How To Make Texas Twinkies
Use Gloves – When handling the jalapeno peppers, I'd strongly suggest wearing gloves! Doing so ensures that you won't accidentally get spicy juice in your eyes or other sensitive areas of your body.
Prepare Peppers – To prepare the peppers, their tops need to be cut off, and their seeds need to be scooped out. Afterward, rinse the peppers to ensure any loose seeds come out!
Piping Bag – I find that using a piping bag to fill the peppers with the cream cheese mixture worked best! This method contained the mess while ensuring that the peppers had plenty of filling!
Wrapping – Wrap each prepared pepper in a slice of bacon. Make sure to use bacon that is a decent thickness, and you can use toothpicks to secure it if necessary.
Brushing & Broiling – After the peppers have finished baking, they'll get a broiled finish. To do so, brush them with your choice of barbecue sauce. Next, place them back in the oven about 6 inches under the broiler. Since broiling happens fast, keep a close eye on the peppers during this step so you don't end up with burnt peppers!
How To Store Leftovers
Yes, these stuffed peppers can be stored in an airtight container in the refrigerator for 2 to 3 days.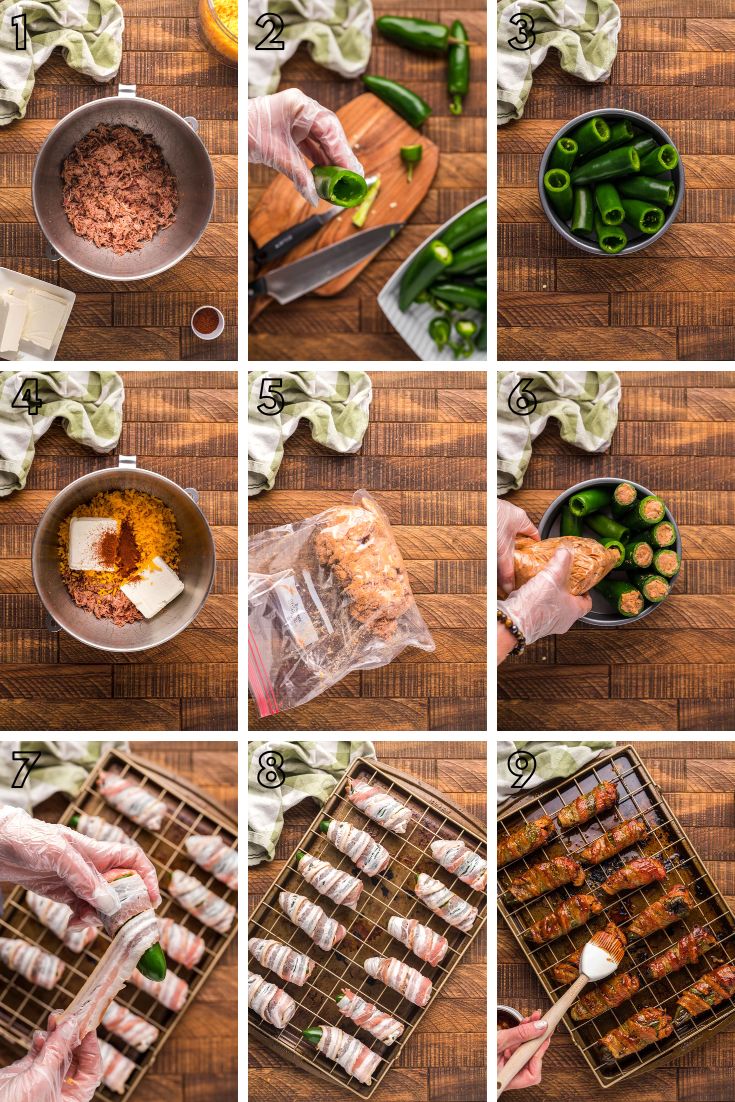 What Should I Do If I Can Get The Bacon To Stay Wrapped Around The Pepper?
If the bacon isn't staying wrapped around the peppers, you can secure it with a toothpick.
Can These Be Cooked On A Grill Or Smoker Instead Of The Oven?
Yes, they can! Cooking these Texas Twinkies on a smoker would infuse them with even more delicious flavor!
Is There A Way To Tame The Heat Of Jalapeno Peppers?
To try taming the heat of jalapenos, you'll first need to clean and deseed them. Afterward, place them in a container to soak in either water and vinegar or lemon-lime soda such as sprite or 7-UP.
It could take an hour or two of soaking to remove enough capsaicin to bring the heat of your peppers down to your liking. Capsaicin is just the chemical that makes the peppers spicy!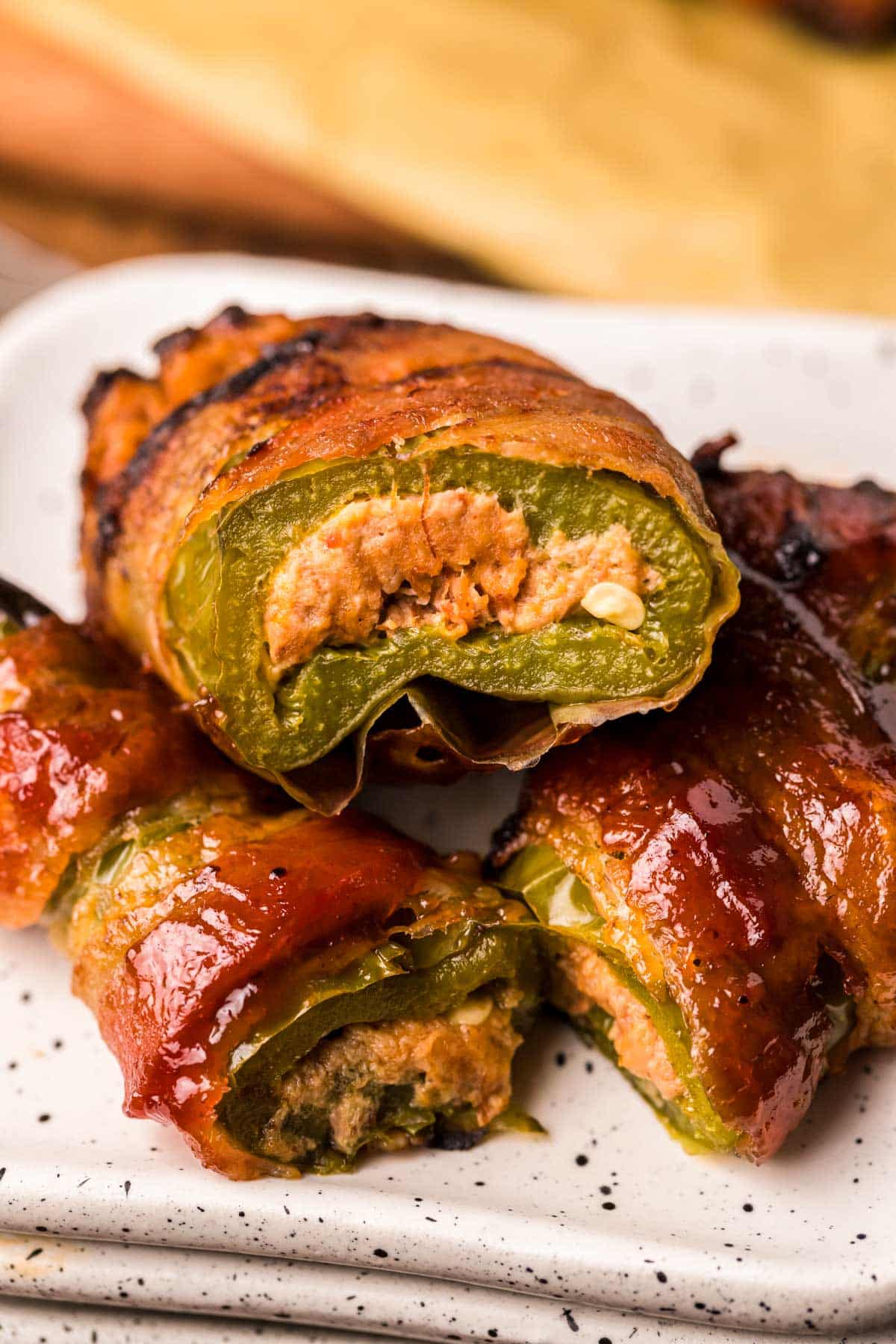 👋 Let's Connect!
If you've tried this recipe, please let me know how you liked it in the comments below and leave a review; I love hearing from you! And don't forget to tag me – @sugarandsoulco – on Instagram and Pinterest with your photos or join our Sugar & Soul Show-offs Community and share them there, where you can join our recipe challenges and win prizes!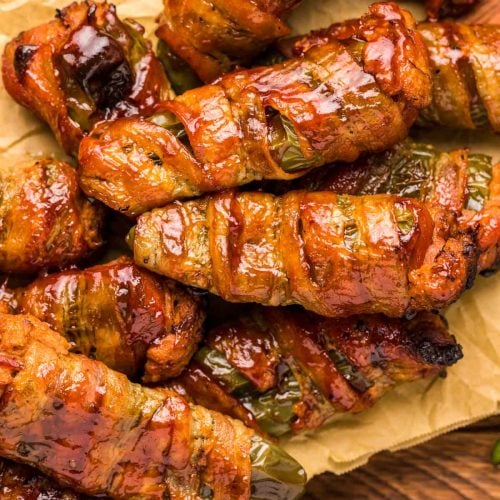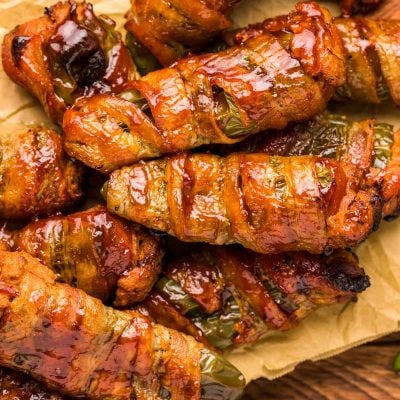 Texas Twinkies
Texas Twinkies are an easy recipe of jalapenos stuffed with a cheesy brisket filling, wrapped in salty bacon, and brushed with BBQ sauce! A great way to use leftover brisket and the perfect appetizer for game days!
Instructions
Preheat the oven to 400°F and place a wire rack on top of a rimmed baking sheet and spray with nonstick spray and set aside.

Slice the top off of the jalapeños and carefully remove the seeds inside. Be sure to use gloves when working with jalapeños.

12 large jalapeños

Combine the softened cream cheese with shredded cheddar cheese, brisket, and chili powder. Mix thoroughly.

8 ounces cream cheese, 4 ounces cheddar cheese block, 2 cups finely chopped leftover beef brisket, ½ tablespoon chili powder

Add to a gallon-sized ziplock bag and cut off the corner to make a piping bag. Fill each jalapeño with the mixture.

Wrap each jalapeno with a strip of bacon.

12 slices bacon

Place onto the prepared wire rack-lined baking sheet and bake for 10 minutes on the center rack.

Turn over and bake for another 10 minutes.

Remove jalapenos from the oven and brush with bbq sauce. Turn the broiler on low.

¼ cup bbq sauce

Place the jalapenos 6" under the broiler for 2 minutes, keeping a close eye on them to make sure they don't burn.

Remove from the oven and let cool before serving.
Notes
Make sure to pick out good-sized peppers for this recipe so they can hold a lot of the filling.
This recipe is made with leftover brisket, you can use our Smoked Beef Brisket recipe, or you can purchase some from your local BBQ restaurant.
Ground chorizo is a great alternative to use in this recipe, along with pork butt.
Nutrition
Calories: 273kcal | Carbohydrates: 5g | Protein: 15g | Fat: 21g | Saturated Fat: 10g | Polyunsaturated Fat: 2g | Monounsaturated Fat: 8g | Trans Fat: 0.03g | Cholesterol: 68mg | Sodium: 365mg | Potassium: 261mg | Fiber: 1g | Sugar: 3g | Vitamin A: 620IU | Vitamin C: 17mg | Calcium: 93mg | Iron: 1mg