This Baby Guinness Shot is a shooter cocktail made with Kahlua Coffee Liqueur and Bailey's Irish Cream to create a delicious shot that looks like a teeny tiny pint of Guinness! It's perfect for parties and St. Patrick's Day!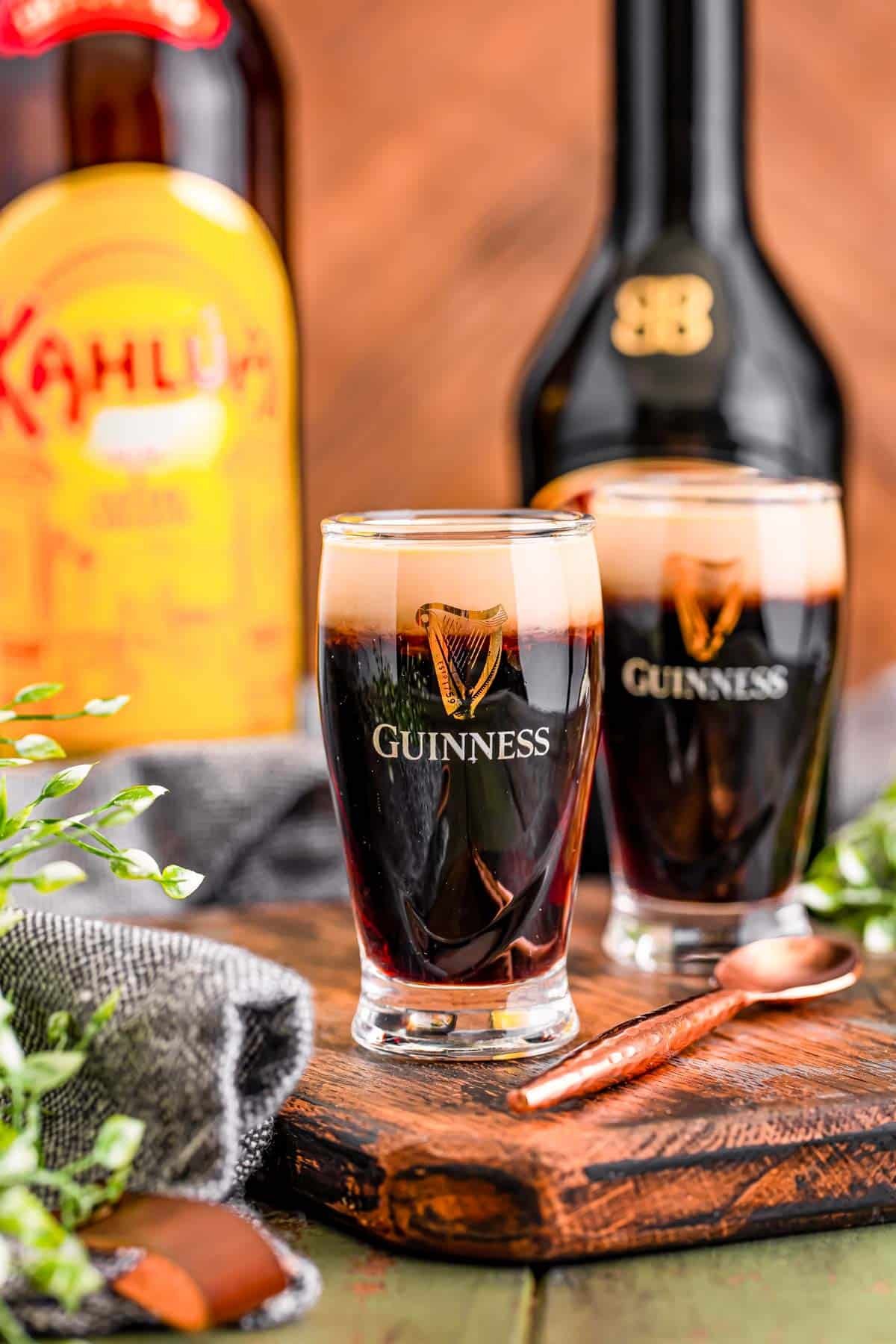 This Baby Guinness Shots recipe is a delicious shooter that's perfect for those who love coffee liqueur and Irish cream.
I saw this Mini Guinness Shot on TikTok a few months ago when a bartender made hundreds of them for an event. Many bartenders commented that they dread making them because floaters can be tricky and time-consuming, but if you're making one or a few for you and your friends, this is pretty easy for drinks.
Made with just those two ingredients, a shot glass, and a bar spoon, this drink recipe is simple to make! Make sure you pay attention to the tips and tricks for making them right, and you'll be a pro in no time!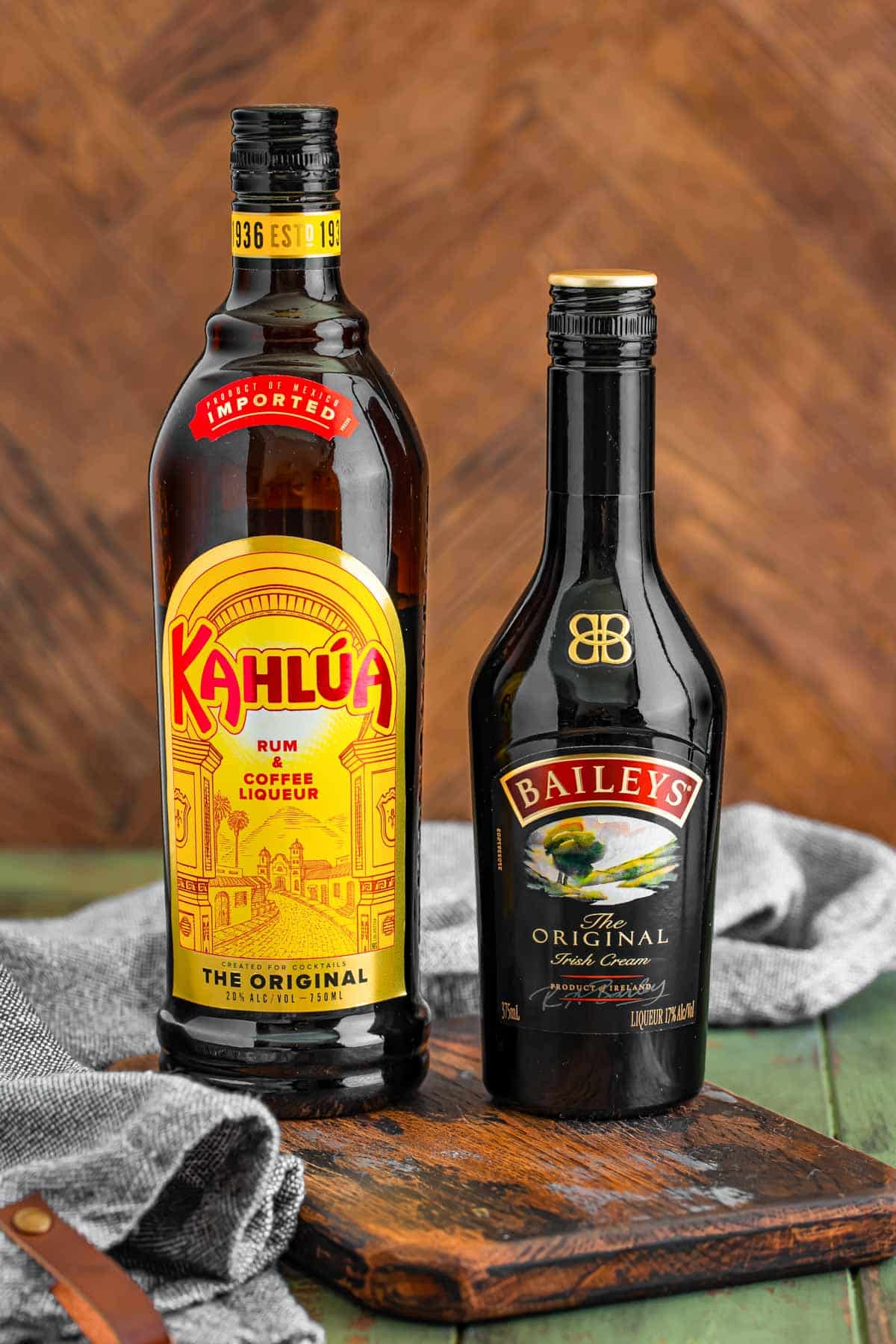 Baby Guinness Cocktail Ingredients
While I used Kahlua and Bailey's, you can actually use any coffee liqueur and Irish cream you'd like. And if you really want to mix things up, go ahead and try some of the fun flavors those two brands have to offer, such as vanilla coffee or salted caramel.
How To Make A Baby Guinness Shot
You're going to start by filling a double shot glass 3/4 of the way with coffee liqueur.
Then invert a bar spoon into the shot glass just above the liquid and pour the Irish cream very slowly over the back of the bar spoon to create a floater.
If planning to serve these at a Saint Patrick's Day party, I recommend making up all the shots in advance and placing them on a tray in the refrigerator to chill until ready to serve.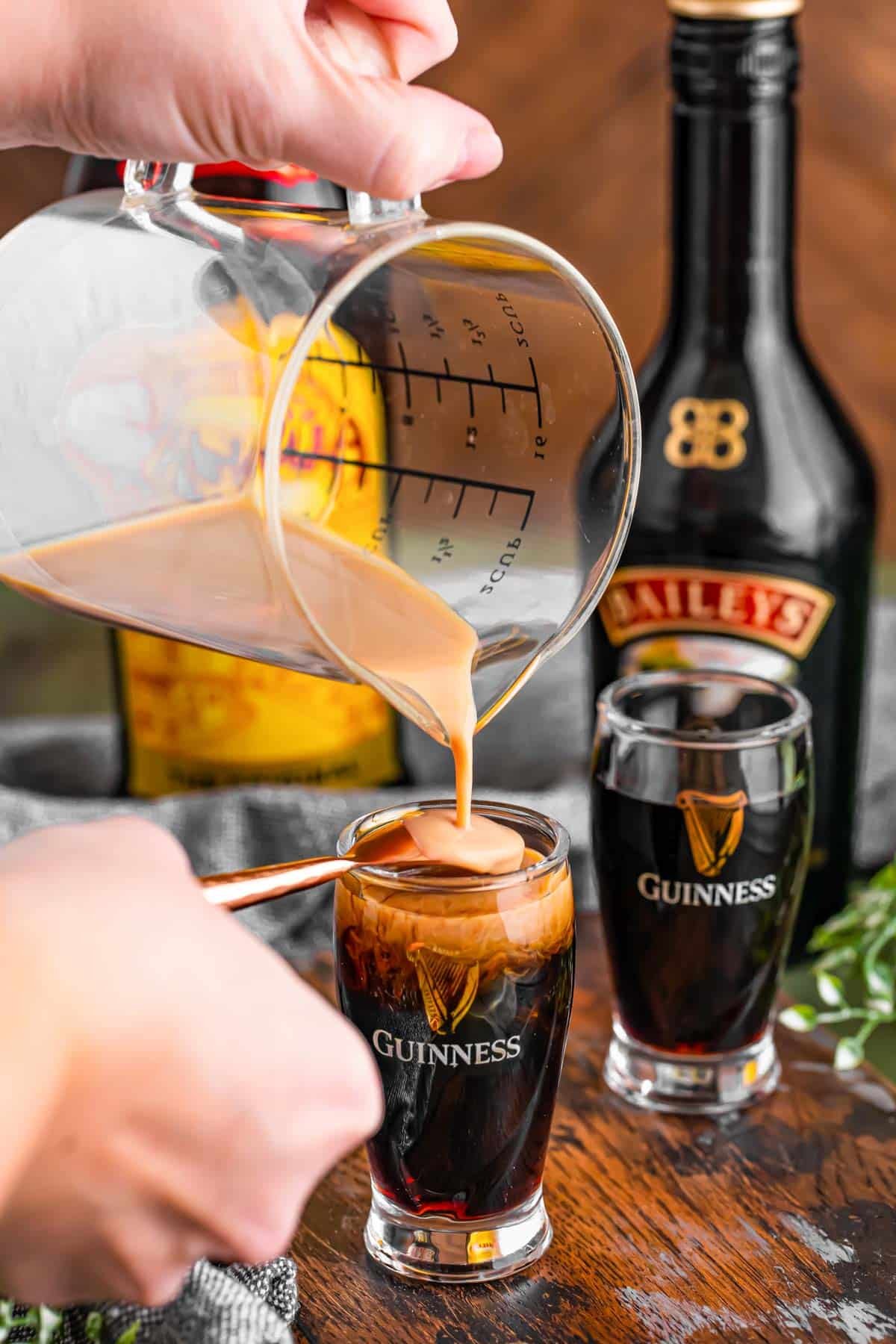 Mini Guinness Recipe Tips
Here are some of my tips for ensuring that you get a perfectly layered shot!
Chill – This shot is best served with chilled ingredients. Just pop the ingredients in the refrigerator for about 1 hour before preparing. You can make it at room temperature if desired tough.
Shot Glass – It's best to use 2-ounce shot glasses (affiliate link), but if you don't have any on hand, just use 3 parts Kahlua and 1 part Bailey's. These are the Guinness Miniature Pint Glasses I used.
Spoon – Make sure to use a bar spoon or small dessert spoon that fits in the shot glass. You want the spoon to be just over the liqueur's surface as you pour.
More Guinness Recipes: Guinness Beef Stew | Guinness Chocolate Cake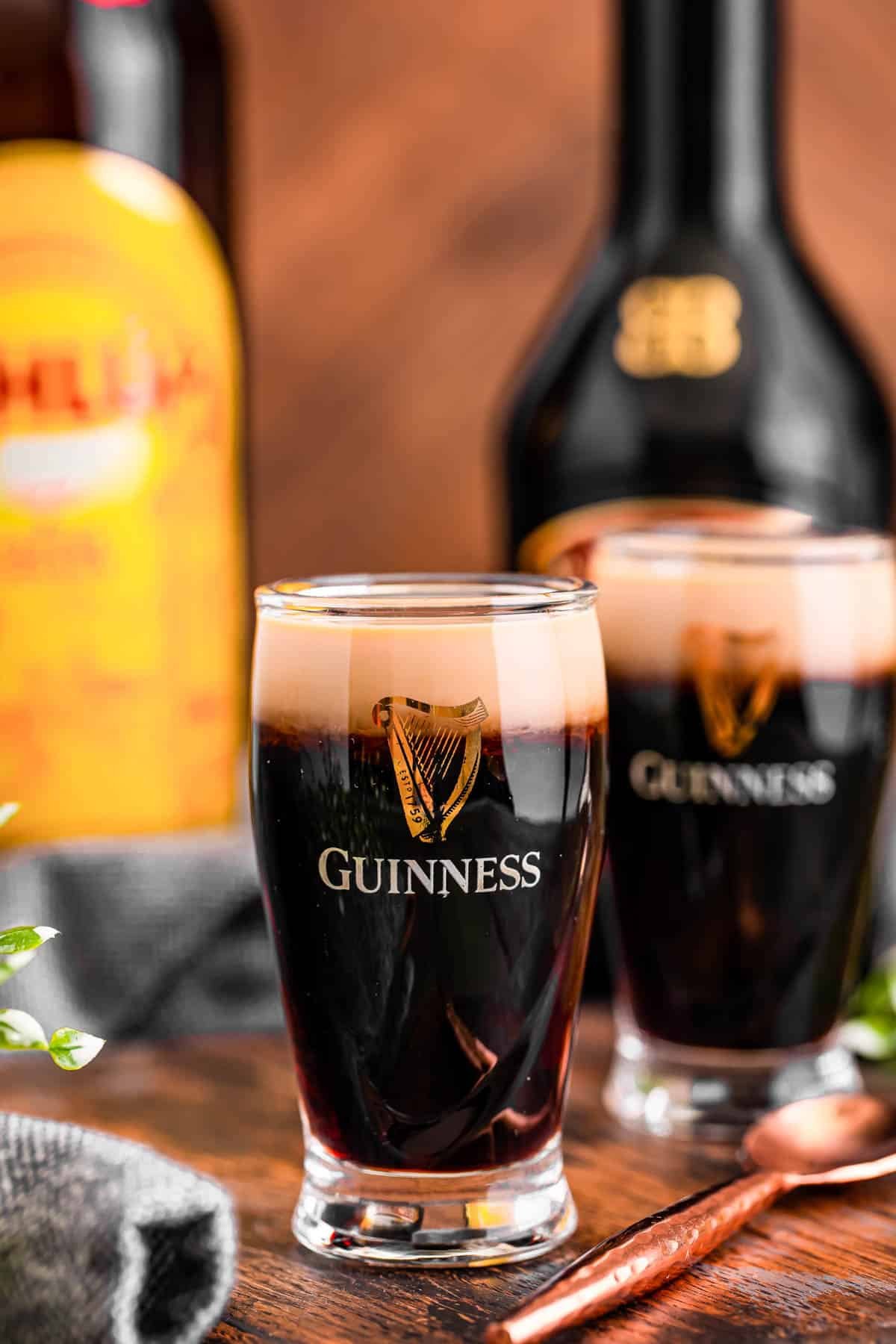 Baby Guinness FAQs
Does Baby Guinness Taste Like Guinness?
No, it does not. Guinness is a world-famous Irish dry stout that is rich and smooth with caramel notes but definitely still tastes like a beer. This shot is actually a slightly sweet and pleasant shot that tastes nothing like the stout it's named after but more like a quick sip of boozy coffee. It gets its name from its appearance because it looks like a pint of Guinness with a dense, creamy beer head.
How Strong Is A Baby Guinness?
Not overly strong compared to most shots. Kahlua is only 20% alcohol by volume, and Bailey's is even less at 17%.
Do You Have To Use Kahlua and Bailey's?
No, you don't. You can really use any coffee liqueur or coffee-flavored alcohol. Tia Maria is a popular substitution for Kahlua, and you can see some other variations of a Baby Guinness in this video. However, as you'll see in the video, Kahlua is the one that makes the drink look most like a pint of Guinness (or the black stuff). Irish cream is an essential ingredient, but you can use whichever brand you'd like.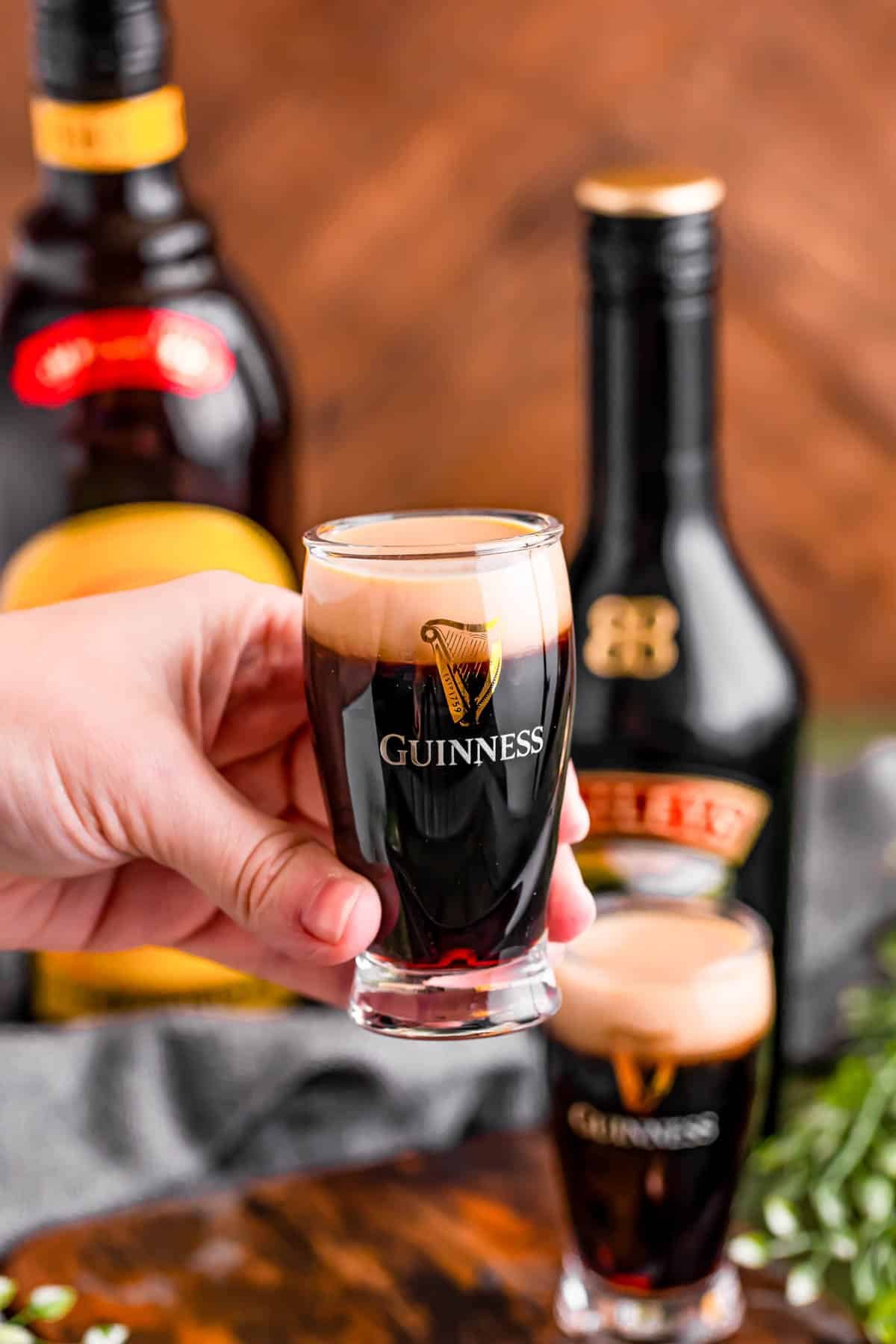 👋 Let's Connect!
If you've tried this recipe, please let me know how you liked it in the comments below and leave a review; I love hearing from you! And don't forget to tag me – @sugarandsoulco – on Instagram and Pinterest with your photos or join our Busy Family Recipes Facebook Community and share them there!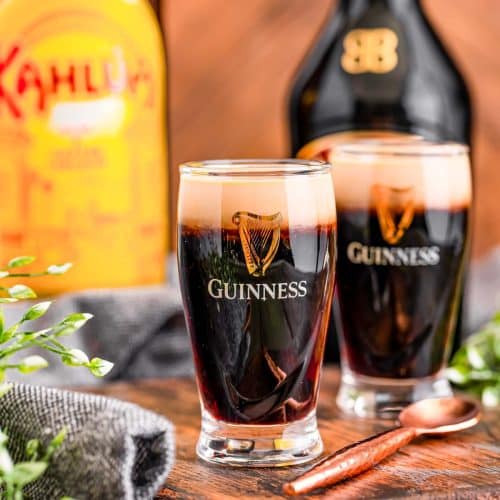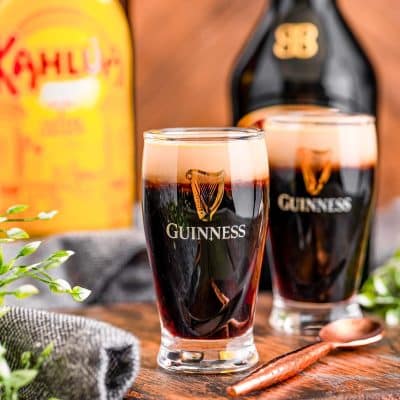 Baby Guinness Shots
This Baby Guinness Shot is a shooter cocktail made with Kahlua Coffee Liqueur and Bailey's Irish Cream to create a delicious shot that looks like a teeny tiny pint of Guinness! It's perfect for parties and St. Patrick's Day!
Ingredients
1½

ounces

chilled Kahlua

½

ounce

chilled Bailey's Irish Cream
Instructions
Add the Kahlua to a double shot glass, it should be ¾ of the way full.

Hold a bar spoon right over the Kahlua in the glass and very slowly, pour the Irish cream over the back of the spoon to float on top of the Kahlua. Serve immediately.

½ ounce chilled Bailey's Irish Cream
Notes
Make sure you think ahead and have your Kahlua and Bailey's in the fridge before your guests arrive.
You have to do the spoon trick, or else pouring the Baileys right into the shot glass will force it to mix with the Kahlua. Then you will not have the separation, and it won't look like a Guinness pint.
It really depends on the size of the shot glasses you are using on how much ingredients to add. If you are using a standard shot glass, then you would use 1.75 ounces of Kahlua to .25 ounces of Baileys.
These shots are sooo good, I like to sip them because they just taste so good instead of throwing them back!
This is not an original recipe, there is no inspiration since this is a classic cocktail.
Nutrition
Calories:
192
kcal
Carbohydrates:
23
g
Protein:
0.5
g
Fat:
2
g
Saturated Fat:
1
g
Polyunsaturated Fat:
0.04
g
Cholesterol:
0.01
mg
Sodium:
3
mg
Sugar:
23
g