Chocolate Cherry Cordial Cookies are a delicious, fun Valentine's Day treat that wraps homemade chocolate cookie dough around cordial cherries! Ready in under an hour using mostly pantry staple ingredients!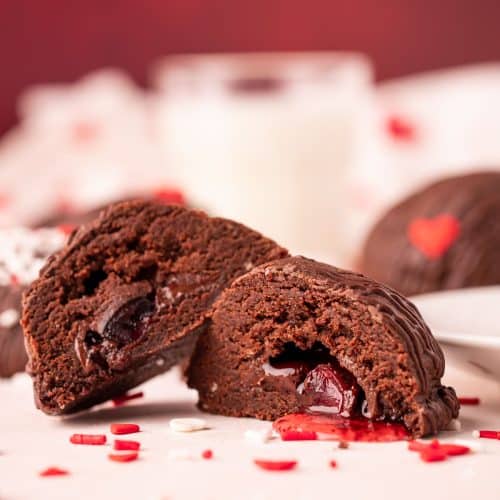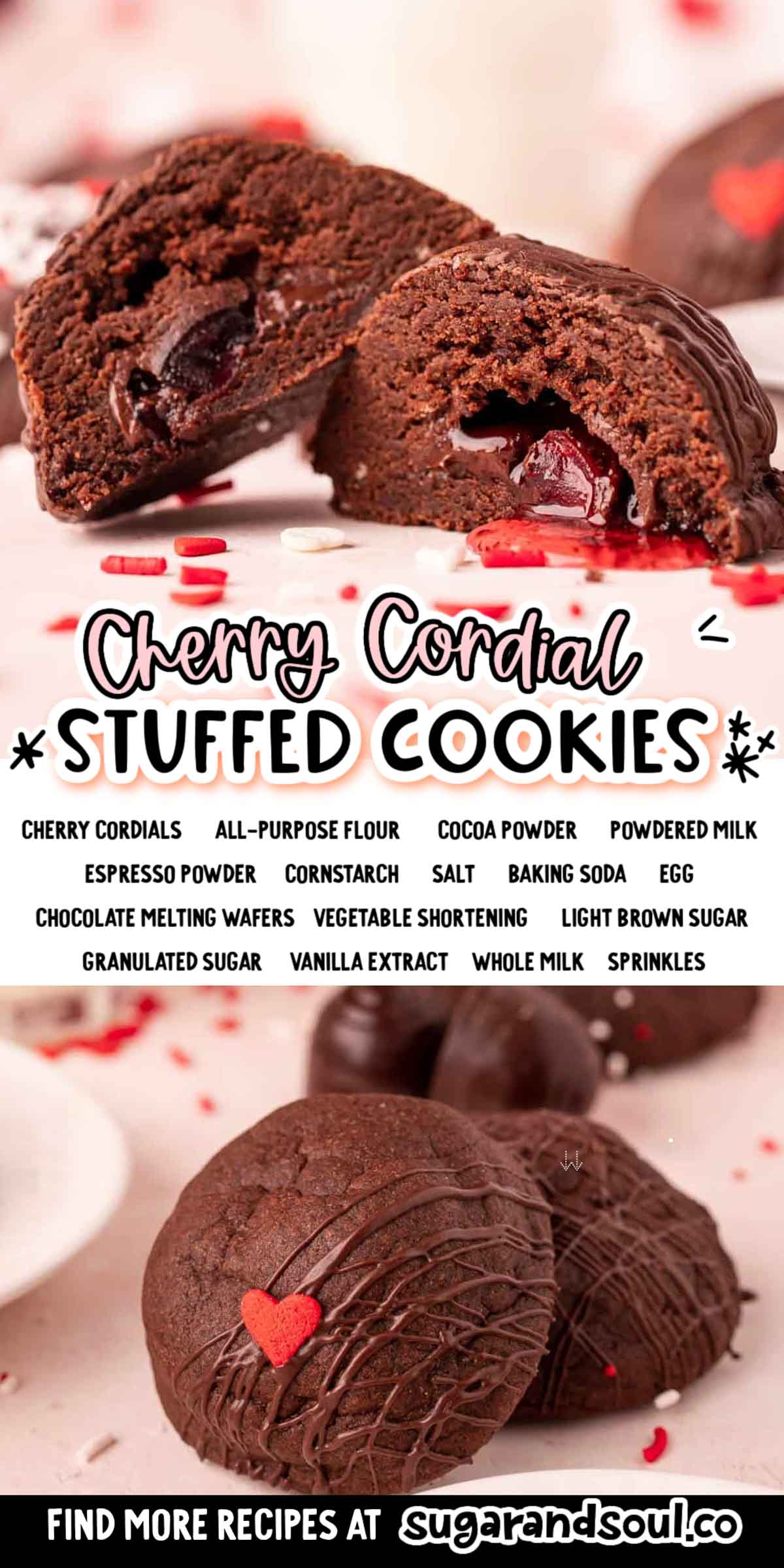 Chocolate Cherry Cordial Cookies are a delicious, fun Valentine's Day treat that wraps homemade chocolate cookie dough around cordial cherries! Ready in under an hour using mostly pantry staple ingredients!
For another cherry-filled sweet treat, check out my 5-ingredient Cherry Cheesecake Cookies or these 35-minute Easy Cherry Hand Pies!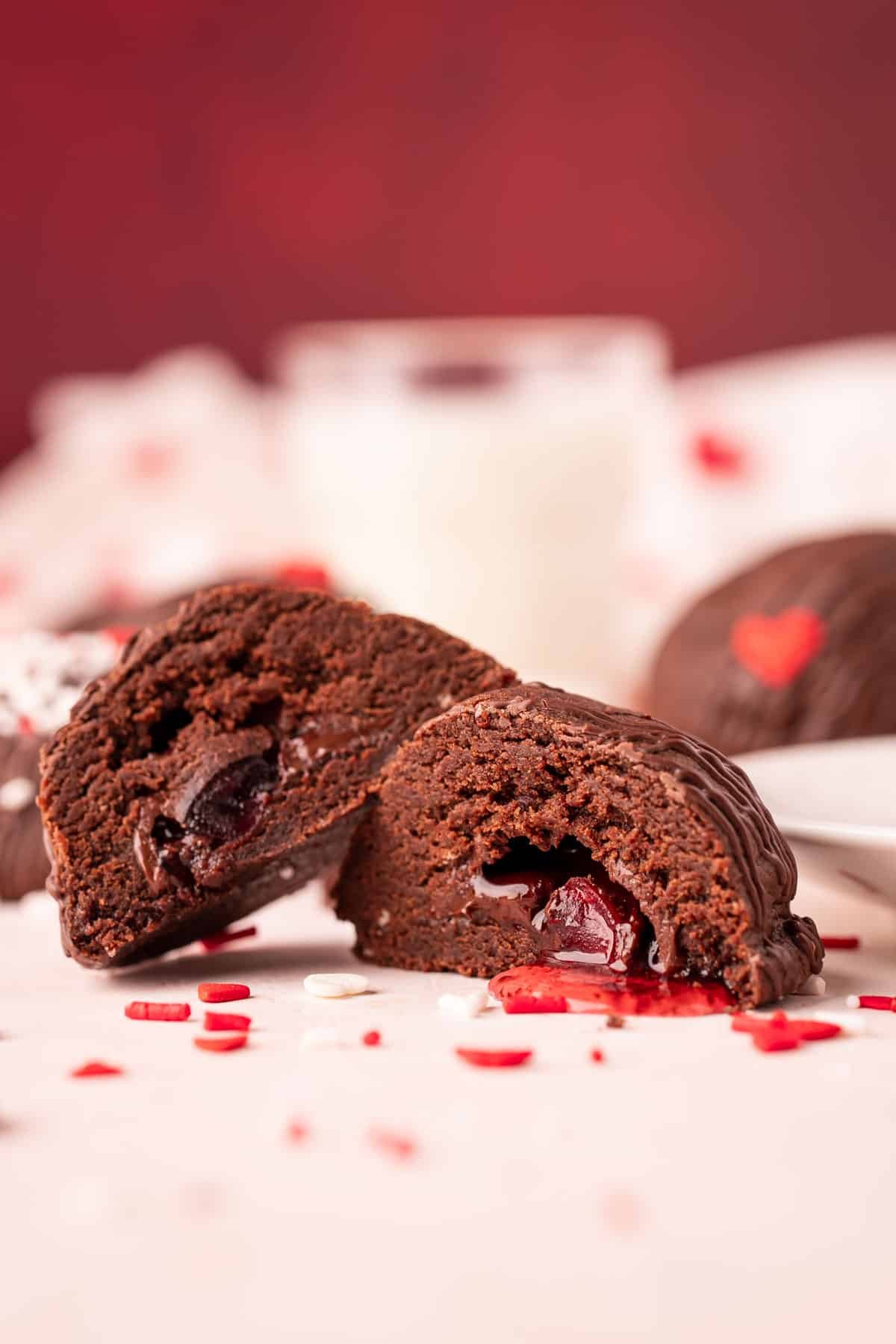 These Chocolate Cherry Cordial Cookies are a chocolaty cherry cookie that fills Valentine's Day with lots of flavor! Topped with a chocolate drizzle and festive sprinkles to dress them up for the occasion!
Though these are great for February 14th, the chocolate cookies with cherry cordial kisses would also be phenomenal around Christmas time too!
All About These Cherry Cordial Chocolate Cookies
Taste: Thanks to the added espresso powder in this cookie recipe, these treats have the BEST elevated chocolate flavor! Pair that with their sweet, tart cordial cherry center, and your taste buds will be thoroughly amazed!
Texture: Wonderfully moist, tender cookies are wrapped around a gooey, filled center! Together they make for an overall texture that's just as pleasing as the flavor of these treats!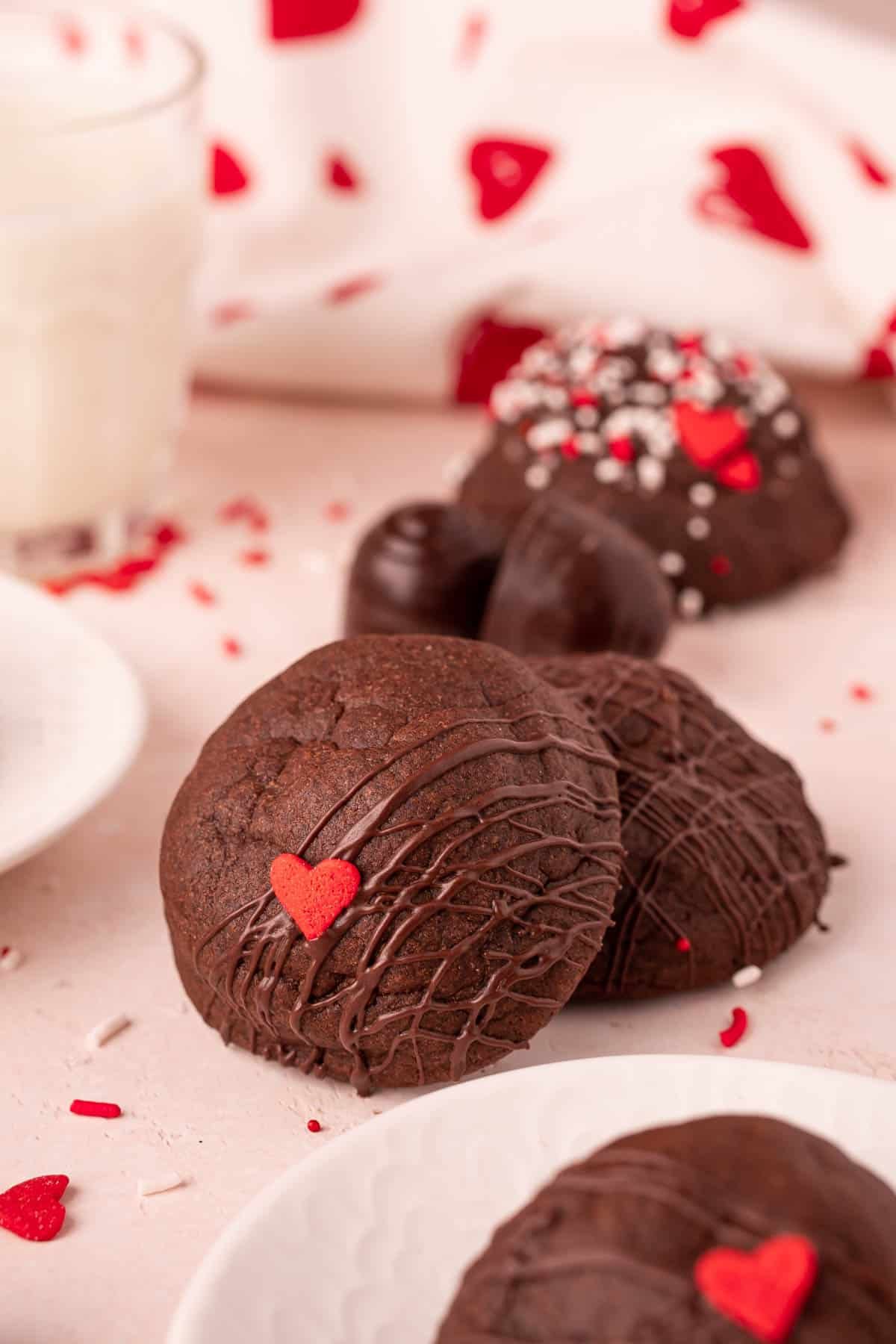 Cookies With A Yummy Cherry Center!
These decadent cookies have the easiest cherry center! No need to mix up a homemade filling, instead you just need store-bought cordial cherries!
If you've never had a cordial cherry, they're cherries surrounded by sticky, sweet liquid and dipped in chocolate. When paired with this homemade chocolate cookie, it tastes like you're biting into a specialty cookie from your favorite bakery!
If you're not a fan of cherries, these chocolate cookies can be made with other fillings. Simply swap the cordial cherries out for Brailey's truffles or Lindt's Raspberry Cheesecake Truffles (the kind purchased individually in the Lindt store, not the round ones in the bags)!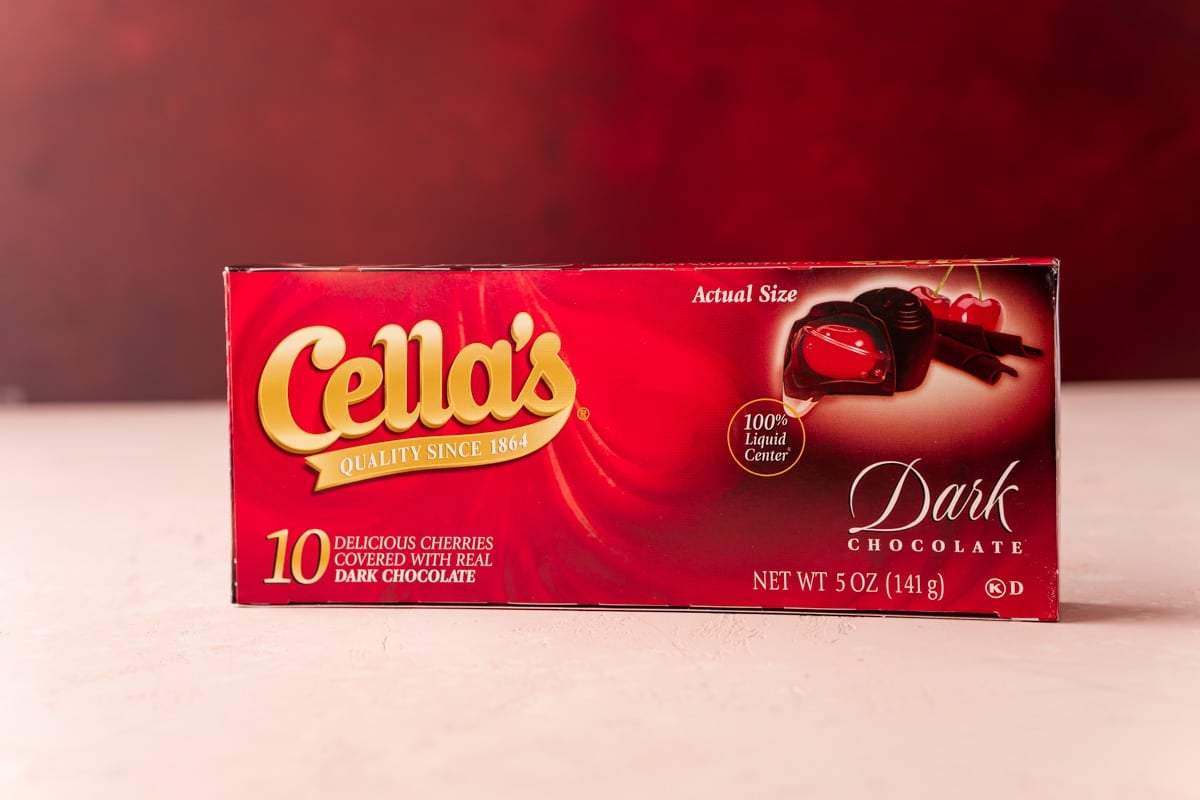 Kitchen Tips & Trick To Make The Best Chocolate Cherry Cookies
Accurately Measure The Flour – An important factor in baking moist, delicious cookies is measuring the flour correctly! Too much flour and the cookies will turn out dry and crumbly. Therefore, you'll notice the recipe card shows how much flour is in grams. While it is best to use a kitchen scale, there are other ways to give you a more accurate flour measure!
Portion Out The Dough – For the perfect cordial cherry-to-cookie ratio, I suggest portioning the cookie dough out into 10 equal amounts. This will also ensure there's enough cookie dough to wrap around each cherry. If you do have a kitchen scale, then each ball of dough will be about 2.3oz.
Sealing The Cookies – Make sure that each cookie has a good seal around the Cordial cherry! I like to work the dough up around the filling and then pinch it to seal. Afterward, I roll it in the palms of my hand to smooth it out and seal it all in. If the cookie doesn't get a good seal, the filling could leak out!
Sweeten Them Up – Since these cookies do have a deep chocolate flavor, you can sweeten them up if you'd like! To do so, roll each cookie dough ball in granulated sugar before placing it on the baking sheet.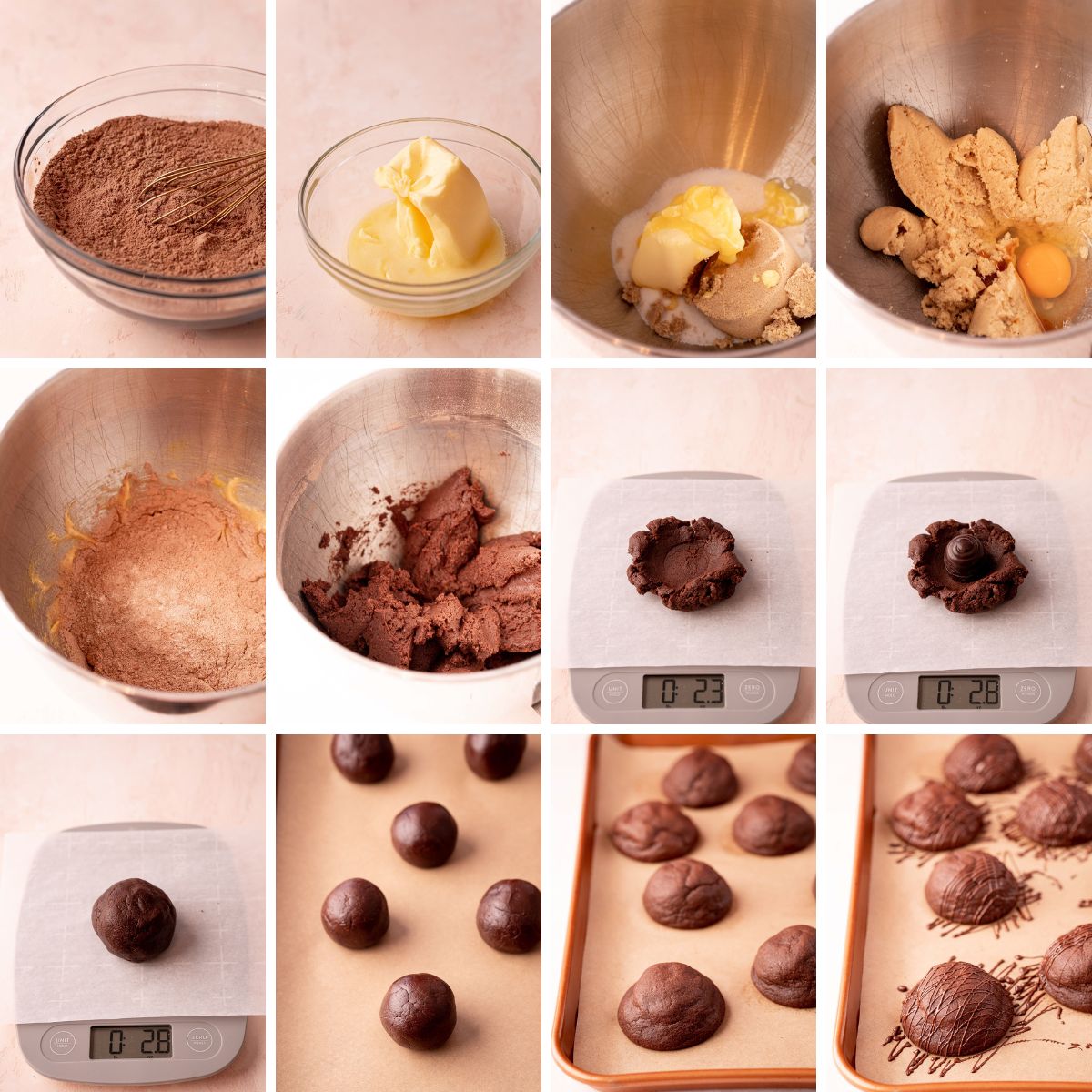 Cherry recipes like these cookies make for such a wonderfully sweet, tart dessert! I also enjoy their classic flavor in dips like this Cherry Cheesecake Dip that's made with only five ingredients and my Cherry Pie Dip!
My Black Forest Cake and Black Forest Cupcakes will both please cherry lovers as well!
Storage Instructions For These Chocolate Cherry Cookies
Store these cookies for 3 to 4 days in an airtight container at room temperature. Any longer, and I find that these cherry cookies start to dry out.
Does Brach's Still Make Chocolate-Covered Cherries?
I don't believe they do. I used Cella's Chocolate Covered Cherries, but you could also make this recipe with Queen Ann Cordial Cherries. Both brands are typically found in Walmart or Target.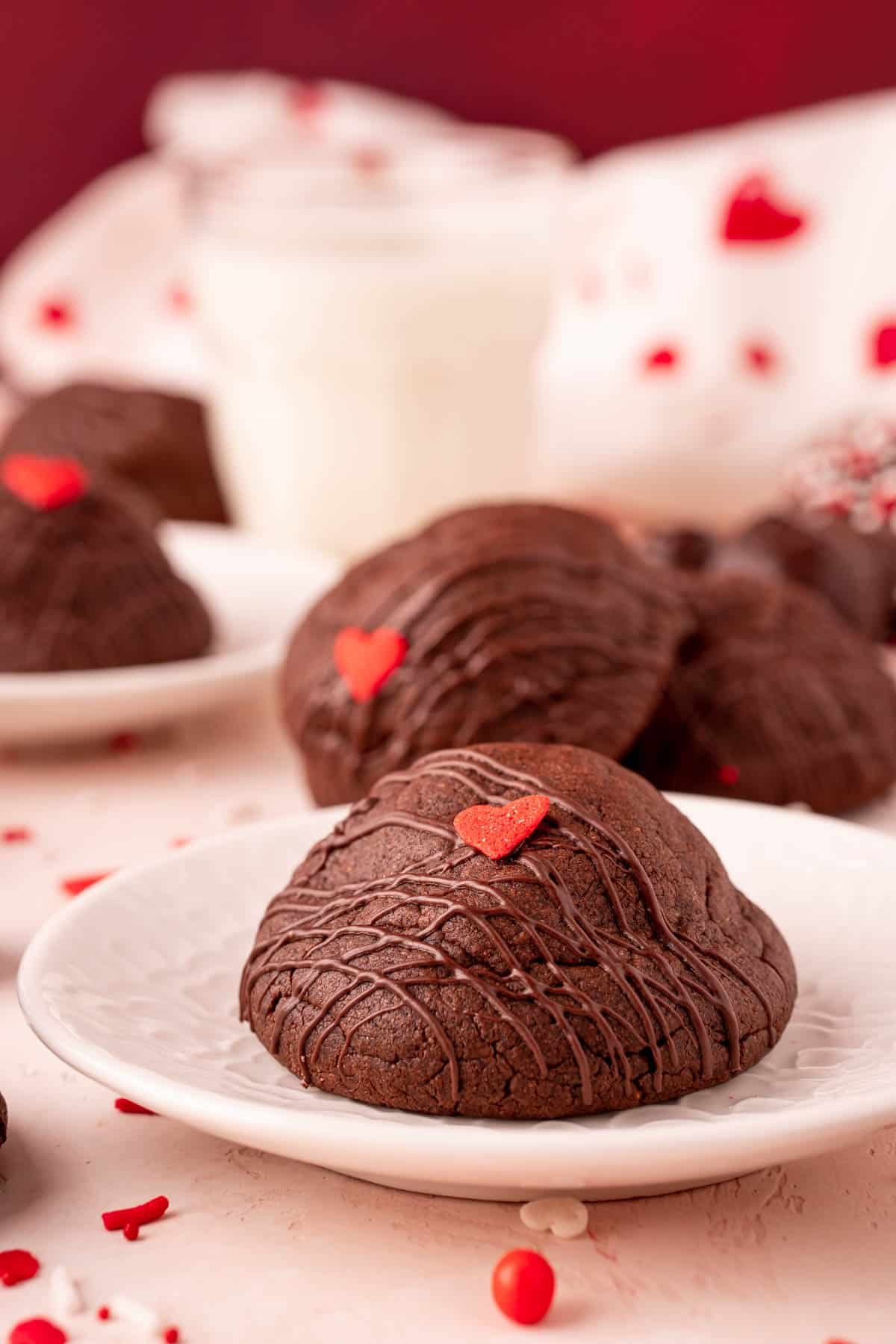 Why Do My Cookies Look Undercooked When They Come Out Of The Oven?
It's normal for these cookies to come out of the oven looking slightly underdone. This is because they only bake for 8 to 10 minutes since they cook just until the edges are set.
Once they come out of the oven, they will set on the hot baking pan for an additional 15 minutes. During this time, the cookies continue to firm up!
Can I Use Butter Instead Of Shortening In This Chocolate Cherry Cordial Cookie Recipe?
Yes, butter can be used in place of the shortening. Just be sure to follow the same measurement and steps. When softening my butter, I take it straight from my fridge and put it in the microwave for 45 seconds.
Do I Have To Make These Cookies With Espresso Powder?
Though the espresso powder does intensify the chocolate flavor, it can be omitted if needed.
What Does The Powdered Milk Do In This Cookie Recipe?
The powdered milk gives these cookies an added depth of flavor that makes them absolutely delicious! Even though the recipe only calls for 1 tablespoon, it greatly impacts these cookies! If you can't find powdered milk, go ahead and use powdered coffee creamer instead.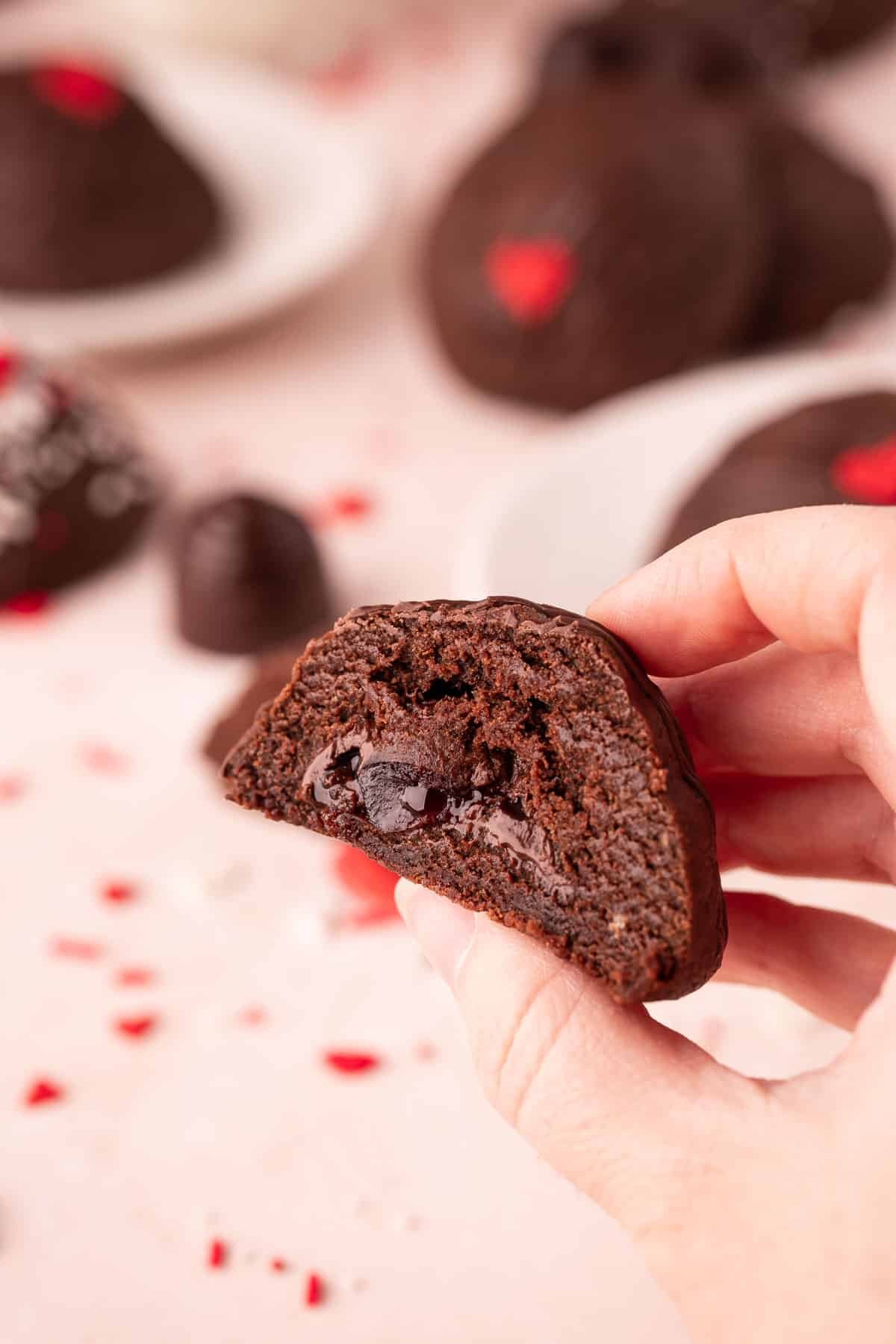 👋 Let's Connect!
If you've tried this recipe, please let me know how you liked it in the comments below and leave a review. I love hearing from you!
Don't forget to tag me – @sugarandsoulco – on Instagram and Pinterest with your photos or join our Sugar & Soul Show-offs Community and share them there, where you can join our recipe challenges!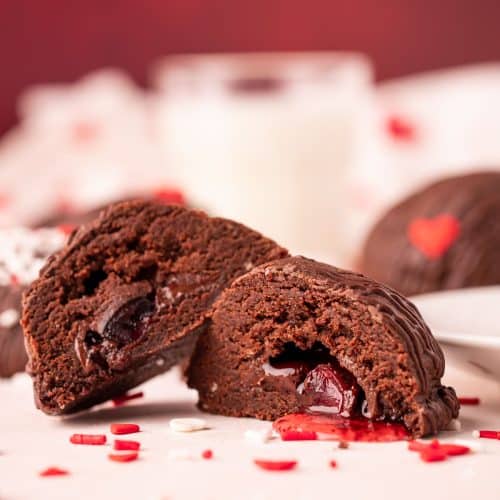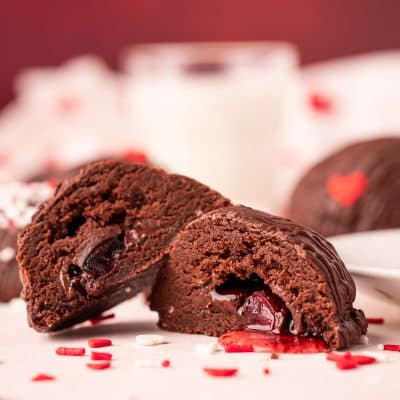 Chocolate Cherry Cordial Cookies
Chocolate Cherry Cordial Cookies are a delicious, fun Valentine's Day treat that wraps homemade chocolate cookie dough around cordial cherries! Ready in under an hour using mostly pantry staple ingredients!
Instructions
Cookies
Preheat the oven to 350°F and line a large baking sheet with parchment paper and set aside. If you only have a 9×13-inch baking sheet, you'll want to use two baking sheets.

In a medium bowl, whisk together the flour, cocoa powder, powdered milk, espresso powder, corn starch, salt, and baking soda. Set aside.

1½ cup all-purpose flour, ½ cup unsweetened cocoa powder, 1 teaspoon espresso powder, 2 teaspoons cornstarch, ¾ teaspoon salt, ¼ teaspoon baking soda, 1 tablespoon powdered milk

Partially melt the shortening in a microwave-safe bowl. I melt mine for 45 seconds, you want it to just be pooling a bit but still have a decent amount of stick left.

½ cup vegetable shortening

Add the butter and sugars to a large bowl or stand mixer fitted with a paddle attachment and cream just until smooth.

½ cup light brown sugar, ½ cup granulated sugar

Add in the egg and vanilla extract and beat until fully incorporated.

1 large egg, 1 teaspoon pure vanilla extract

Add half of the dry ingredients to the wet ingredients and beat just until incorporated. Then add the remaining dry ingredients and the milk and mix until thoroughly combined.

2 tablespoons whole milk

Portion the dough into 10 even portions (about 2.3oz. each) and gently press your thumb into the middle of the ball to create a well. Place a cherry cordial in each well and gently use your hands to work the dough up and around the sides and top of the cordial and pinch and roll to seal.

10 Cherry Cordials

Place the cookies on the baking sheet, trying to keep the cordial upright. Place cookie dough at least 2 inches apart on the prepared baking sheet (they don't spread a ton). Bake for 8 to 9 minutes until the edges are just set. The cookies will look slightly underdone; this is normal as they will continue to cook and firm up as they cool.

Allow the cookies to cool on the pan for 15 minutes before transferring them to a wire rack with a spatula to cool completely. These cookies are very soft right after baking and will firm up while they cool.

Once cooled, melt the chocolate melting wafers in the microwave at 30-second intervals, stirring between each one until fully melted. Transfer to a piping or ziploc bag and cut the corner off and drizzle over the tops of the cookies and then top with sprinkles if desired.

¼ cup chocolate melting wafers, 1 tablespoon sprinkles
Notes
Use gram measurements and a kitchen scale for best results.
How To Store: These cookies are best stored in an airtight container at room temperature. They can then be enjoyed for up to 3 to 4 days. Any longer, and I find that the cookie starts to dry out a bit.
Variations – These cookies will work with other candy fillings too. We love using Bailey's truffles (seasonal) and Lindt's Raspberry Cheesecake Truffles (the ones with flat bottoms only sold in stores).
Espresso Powder – This can be omitted, but I highly recommend using it because it intensifies the chocolate flavor, and you really can't taste the espresso.
Powdered Milk – A little goes a long way, and this ingredient, while not necessary for the cookie's structure, definitely gives the cookies an added depth of flavor.
Butter – You can use butter instead of shortening in this recipe, simply follow the same measurement and steps. I microwave my butter for 45 seconds straight from the fridge for the right amount of pooling.
Assembling The Cookies – Portion the dough out into 10 even amounts. Then use your thumb to make a well in each of them, placing a peppermint patty in each and topping it with a marshmallow – make sure it is on its side.
Sealing The Dough – Gently work the cookie dough up around the sides to cover the filling and pinch it to seal. Then roll it between your balms to smooth it out!
Checking For Doneness – These cookies get baked only until the edges are just set. This usually takes around 8 to 10 minutes. They will still look slightly underdone, but that's normal for these cookies!
Sweeten Them Up – This treat does have a deep chocolate flavor. Therefore, if you prefer a sweeter cookie, you may want to consider rolling the dough in granulated sugar before baking.
Dressing The Cookies Up – After the cookies have finished cooling, it's time to dress their tops up! Make sure to add the sprinkles as soon as you drizzle on the chocolate. That way, the sprinkles stick nicely to the cookies.
Nutrition
Calories: 301kcal | Carbohydrates: 44g | Protein: 4g | Fat: 14g | Saturated Fat: 4g | Polyunsaturated Fat: 3g | Monounsaturated Fat: 5g | Trans Fat: 1g | Cholesterol: 17mg | Sodium: 218mg | Potassium: 138mg | Fiber: 2g | Sugar: 26g | Vitamin A: 36IU | Vitamin C: 0.1mg | Calcium: 32mg | Iron: 2mg