Sip on this Apple Cider Martini that combines cider and vodka in a glass with a caramel-coated rim that's dipped in brown sugar!
Pair this easy-to-make martini with apple cider-flavored snacks such as my Apple Cider Donut Cake or Apple Cider Whoopie Pies! After all, you can never have too much yummy fall flavor!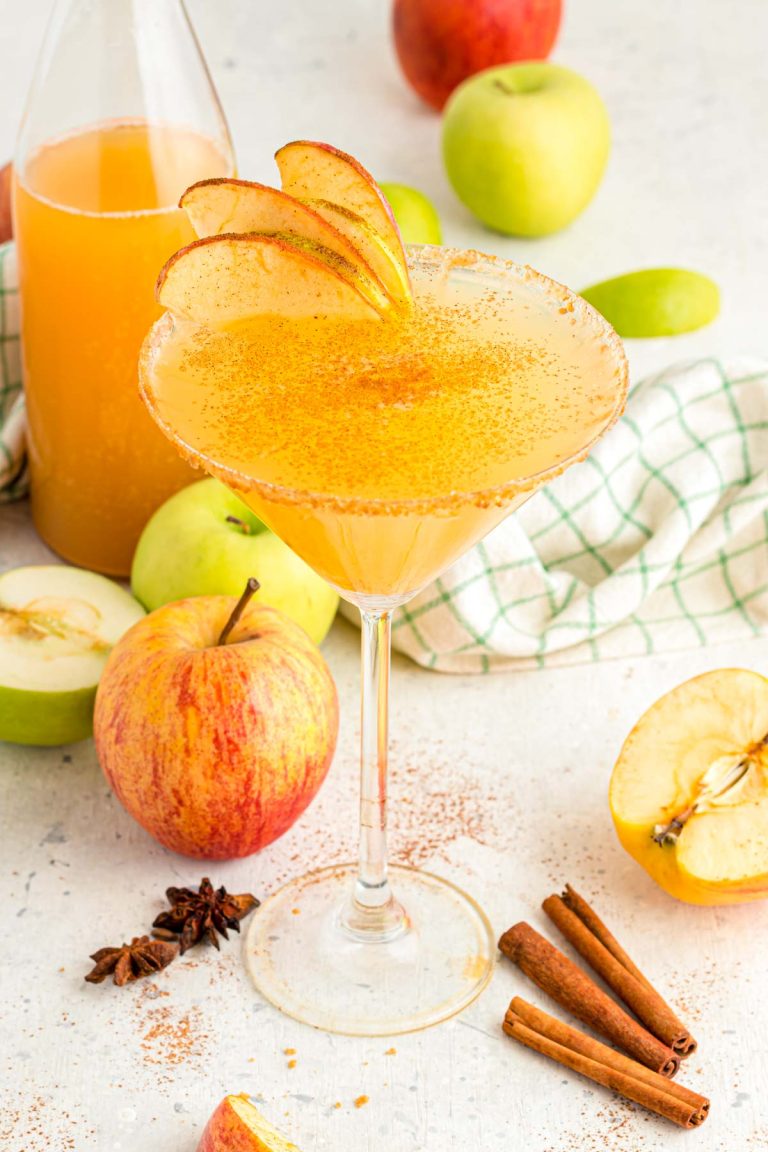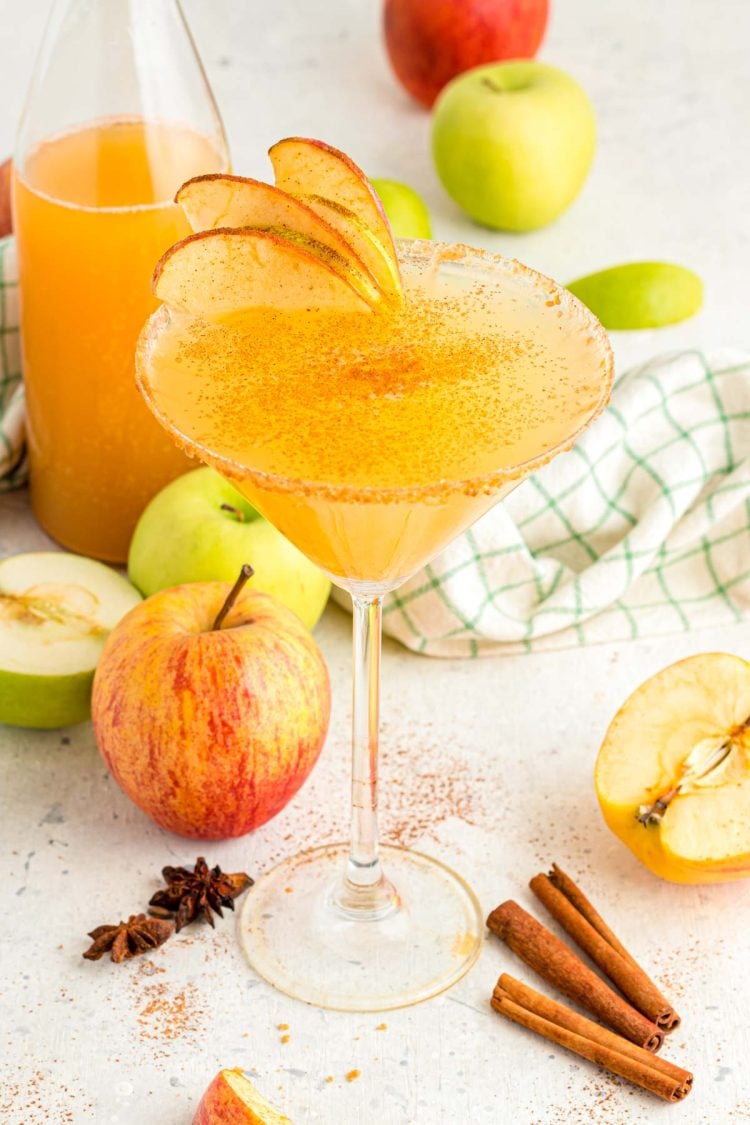 This Apple Cider Martini has all the delicious flavors of fall in one cup! It's sweet, tangy, and spicy while remaining incredibly simple to make!
The cocktail not only tastes amazing but is also dressed up with garnishes to look beautiful as well! Apple slices, star anise, cinnamon sticks, and a sprinkle of ground cinnamon finish off each drink!
Making it the perfect festive cocktail to sip on at Thanksgiving! Or at an end-of-season party before everyone hibernates for the winter!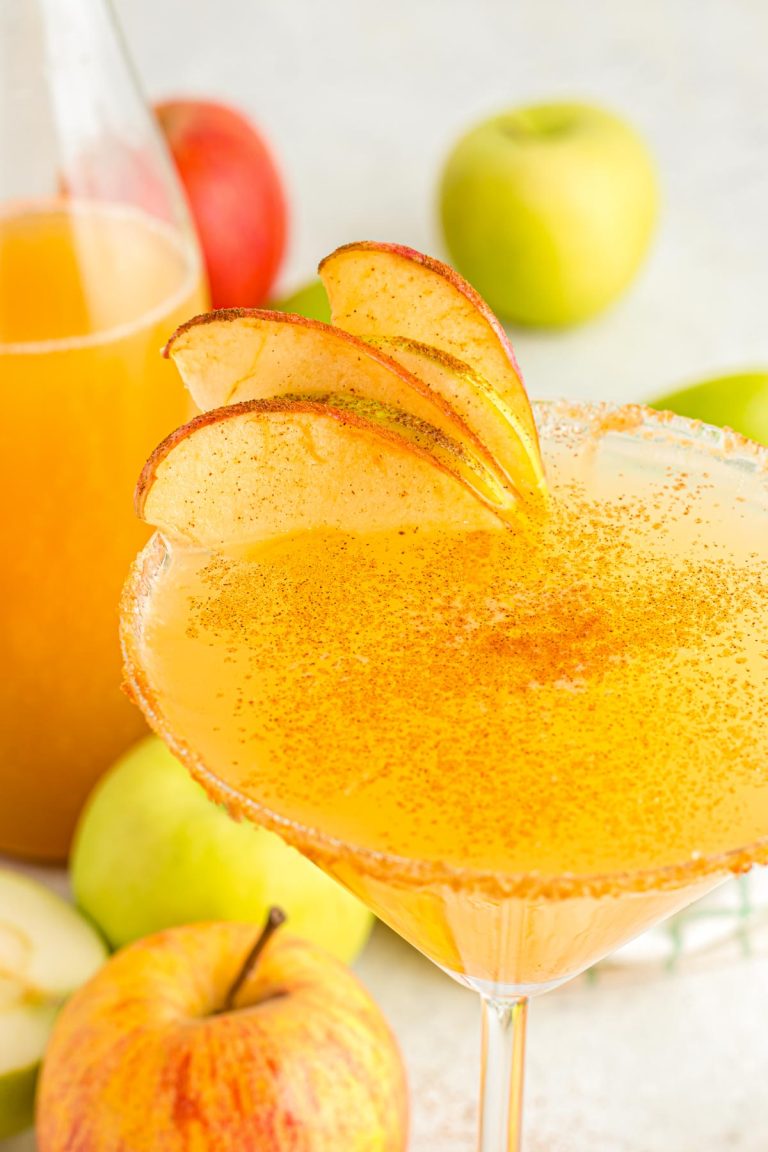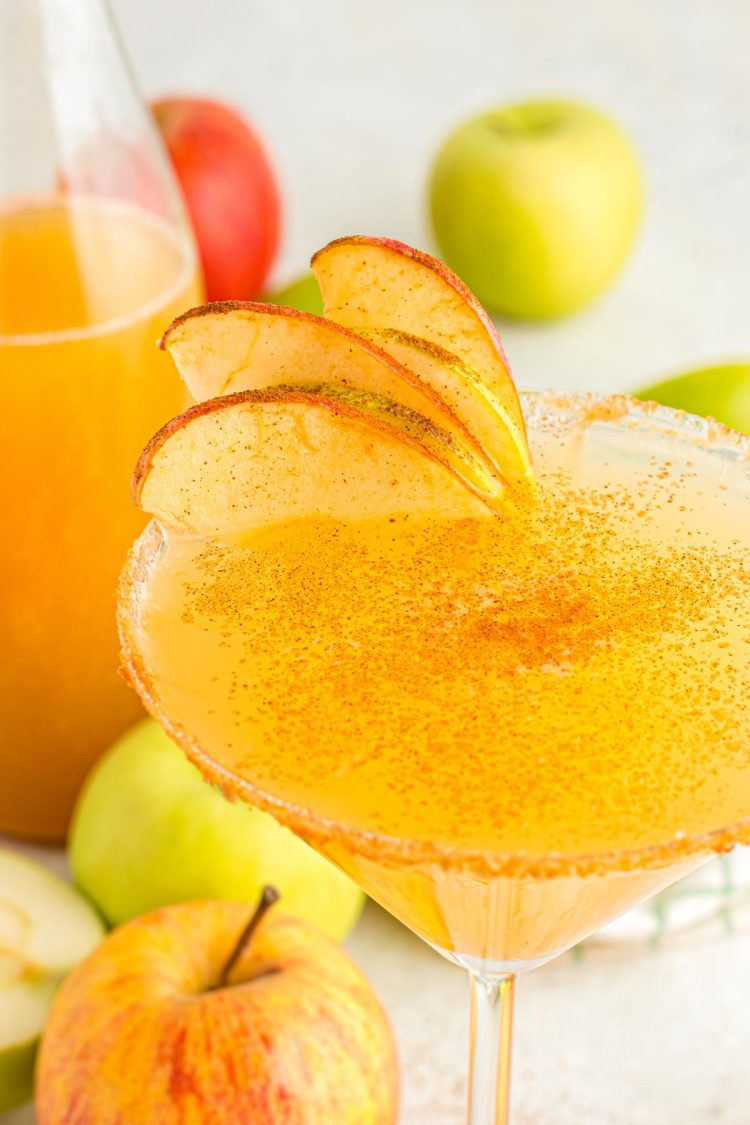 Choosing Your Cider!
Often times I try to tuck away some cider from our family's annual apple cider-making party! But more times than not, we all drink it as we go so the fruits of our labor tend to disappear quickly!
In that case, I'll just grab a jug of fresh apple cider from our local orchard to use in this Spiced Apple Cider Martini recipe!
If you don't have access to fresh cider, store-bought will do just fine! And if you can't get your hands on apple cider you can grab apple juice instead.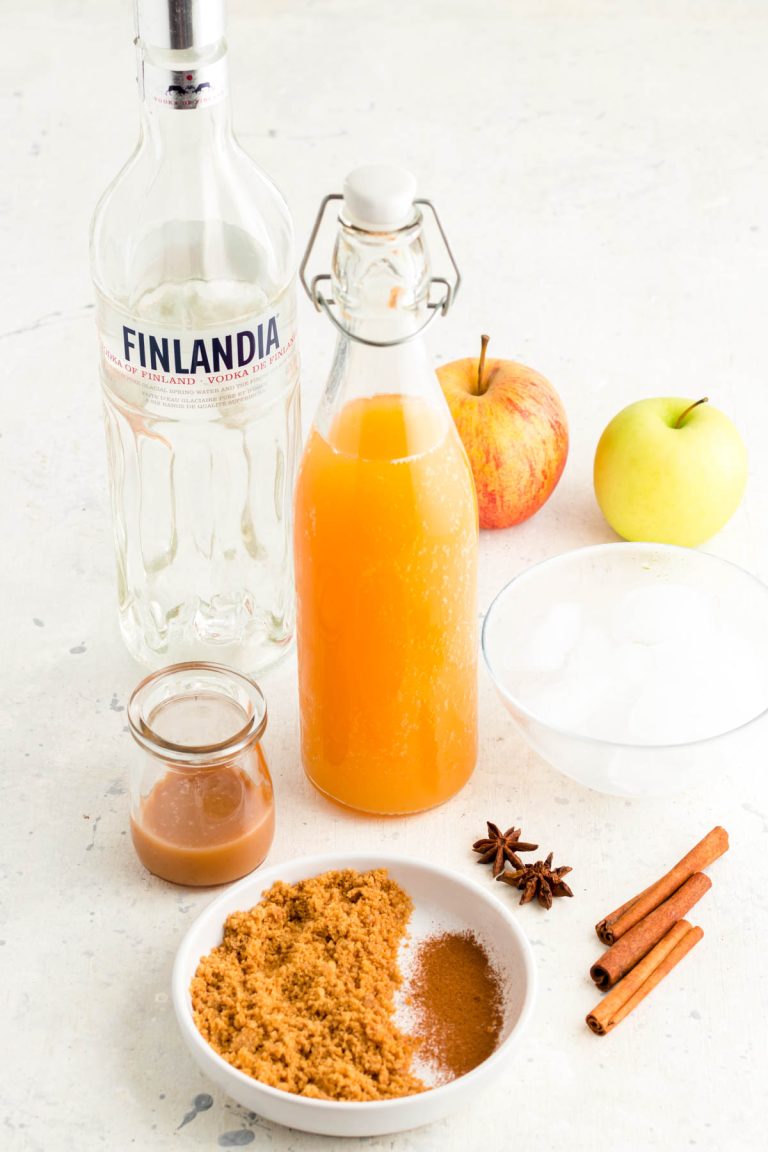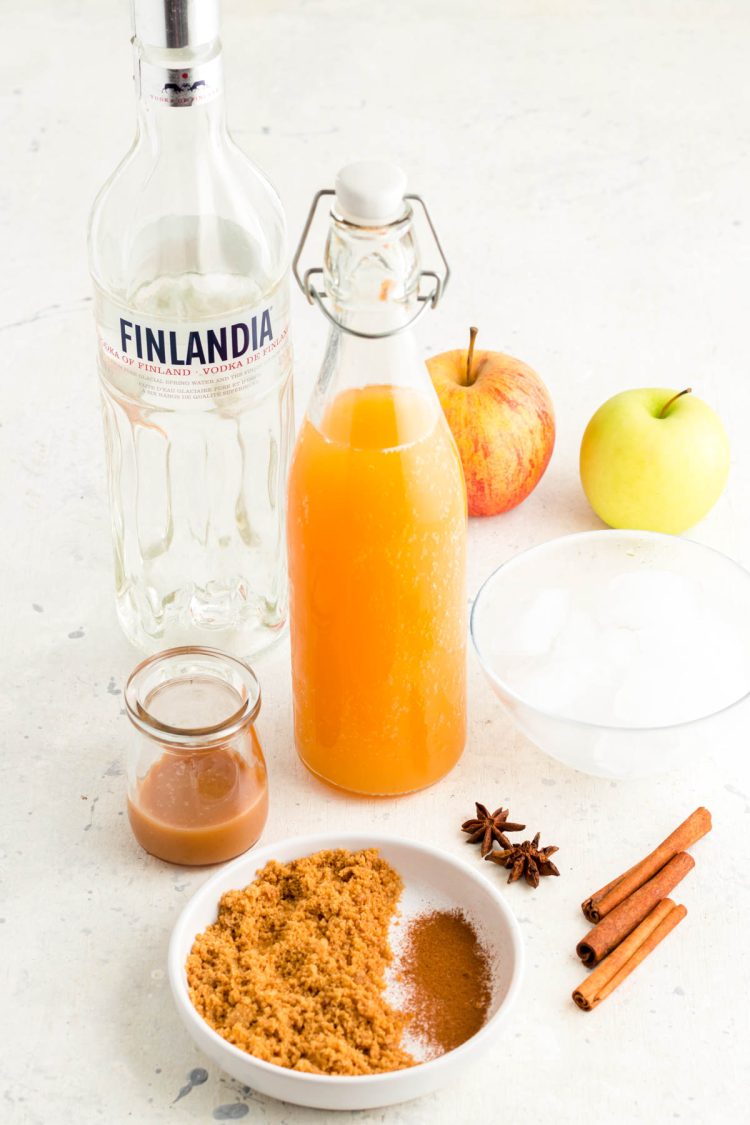 This Apple Cider Martini recipe calls for just 3 ounces of apple cider per batch, which means you'll have lots of leftover cider. Unless of course, you're serving a big crowd!
If you do luck out and have leftover cider, then use them up in more cocktails! My Caramel Apple Cider Mimosas or Apple Cider Mojitos are both known to be crowd-pleasers!
For a large batch drink that's non-alcoholic check out, my Cranberry Apple Cider Punch and Slow Cooker Mulled Apple Cider! Either make great family-friendly options for everyone to be able to enjoy!
See, plenty of delicious drink recipes to use up that leftover cider to cut back on waste!
Tips & Tricks for Serving And Enjoying This Martini
Chill the martini glasses ahead of time! This ensures the drinks stay colder for longer.
Squeeze fresh lemon juice onto the apple slices to prevent them from browning! Allowing the garnishes to look their best!
Use a cocktail shaker with ice to mix the vodka and cider. Ensuring the ingredients are as chilled as possible while thoroughly mixing them together.
Prepare your martini station ahead of time for an easier and quicker turnaround! To do so, prepare 2 shallow plates. One with caramel sauce spread out to dip the rim of your glass in. The second with brown sugar.
If you're hosting a fall party, I'd suggest setting up a self-service bar for guests to make their own drinks! Set out a pitcher of apple cider and a vodka bottle with a jigger for measurement. Then place an assortment of garnishes out so everyone can make their martini exactly how they'd like!
Feel free to substitute vanilla-flavored or caramel vodka for even more flavor!
Add a splash of club soda to turn this into a Sparkling Apple Cider Martini!
These martinis would be great to serve at any holiday party! Whether it's Halloween, Thanksgiving, or even Christmas!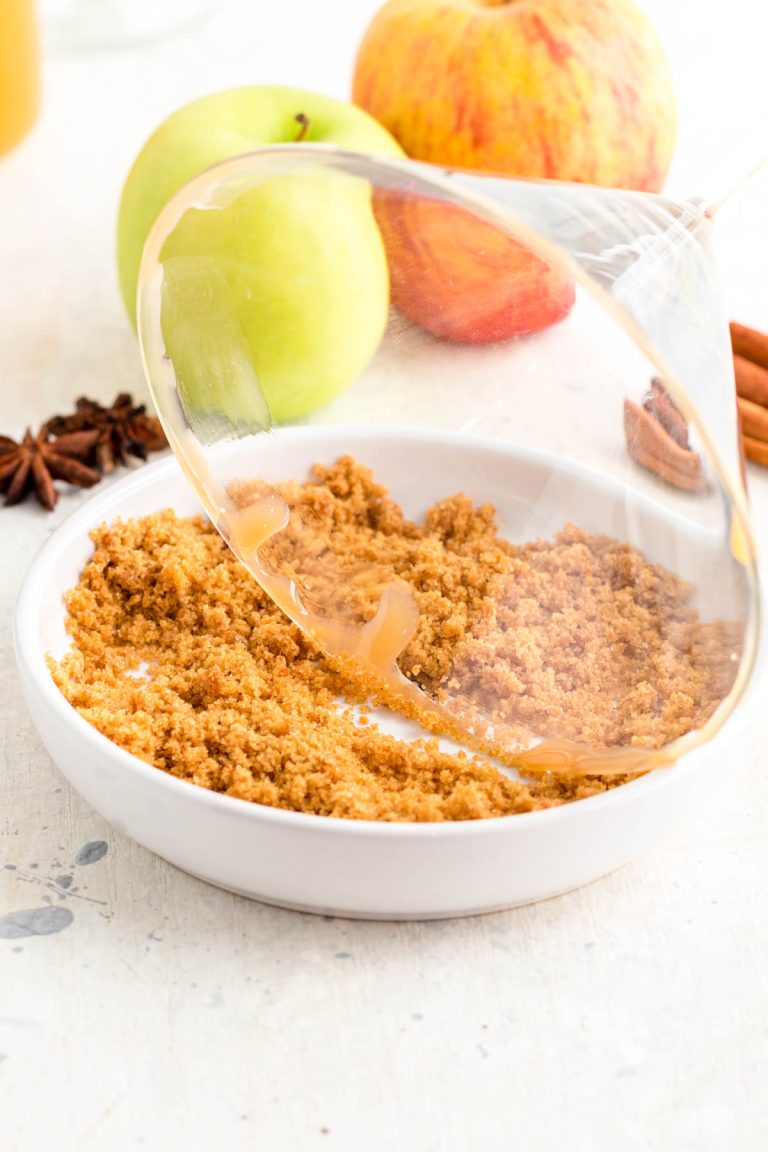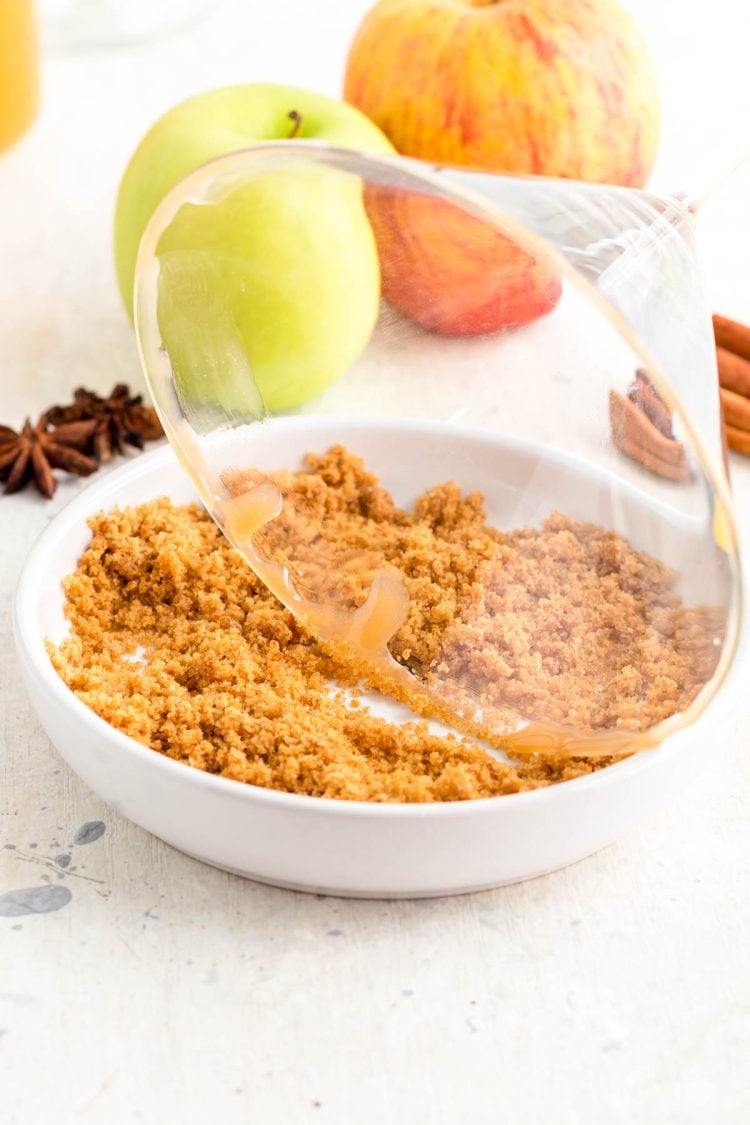 How Many Martinis Does This Recipe Make?
This recipe will fill one traditional martini glass. However, if you use a smaller martini glass like a coupe glass, it will yield 2 smaller cocktails.
Can I Sweeten Up This Cocktail A Bit?
Of course, I encourage you to make this recipe to fit your taste buds! For a sweeter Apple Cider Vodka Martini add simple syrup to taste!
How Can I Make This Recipe Without A Cocktail Shaker?
A mason jar with a lid, blender bottle, protein shaker, or a travel coffee cup will all get the job done! Even if you have to stir them together, the martini will still taste just as good!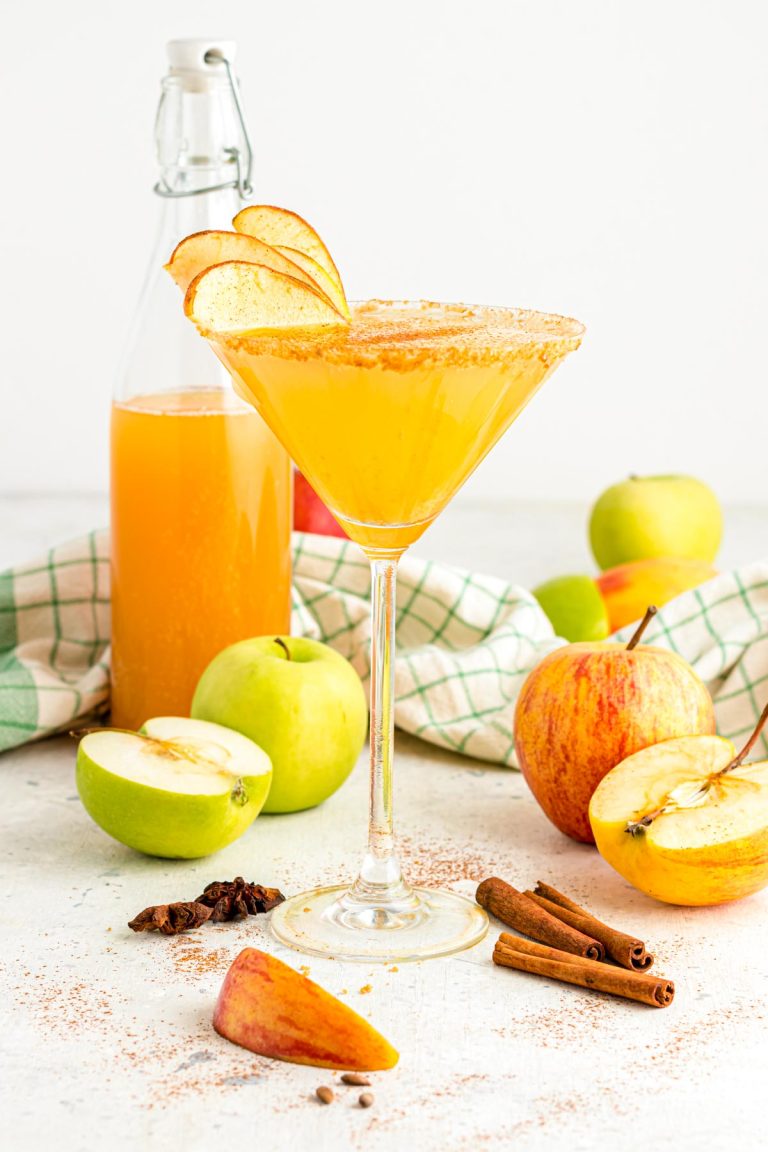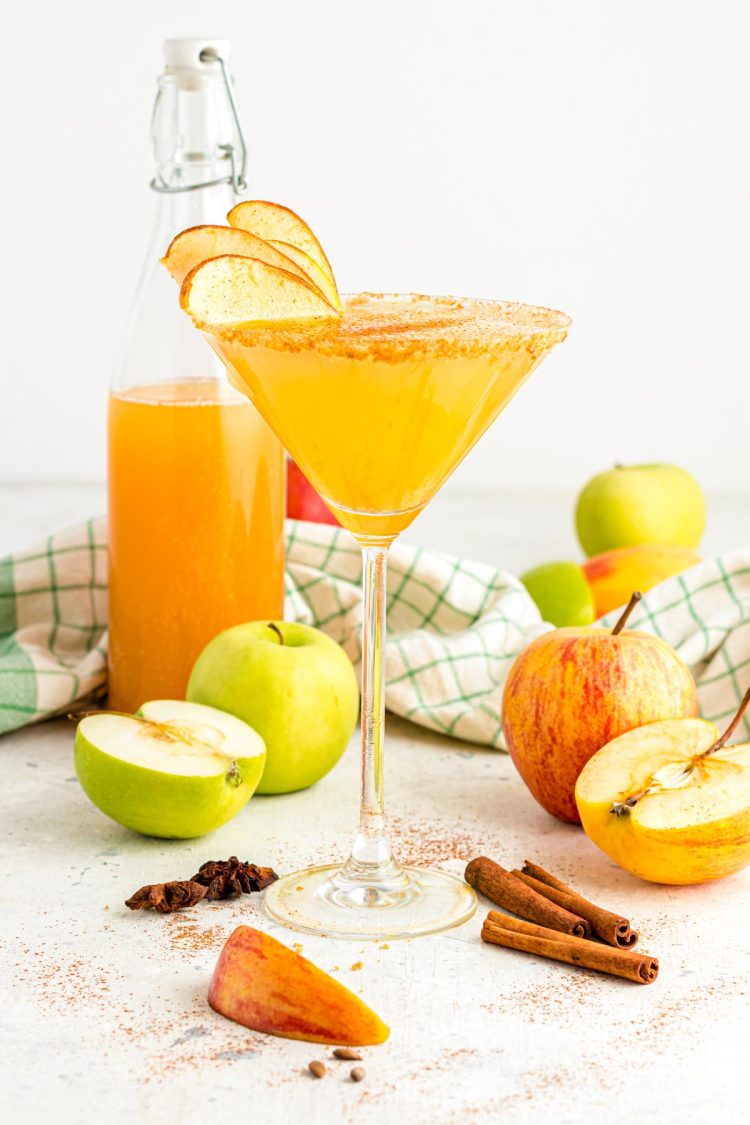 Best Apple Cider Martini
Pin For Later
CLICK THE BUTTON ABOVE TO SAVE THIS DELICIOUS RECIPE TO YOUR BOARD!
👋 Let's Connect!
If you've tried this recipe, please let me know how you liked it in the comments below and leave a review; I love hearing from you! And don't forget to tag me – @sugarandsoulco – on Instagram and Pinterest with your photos or join our Busy Family Recipes Facebook Community and share them there!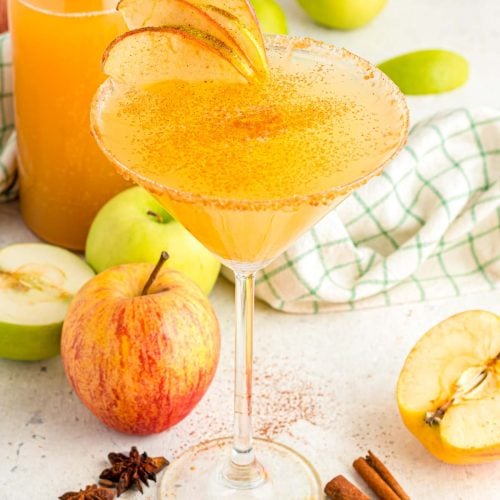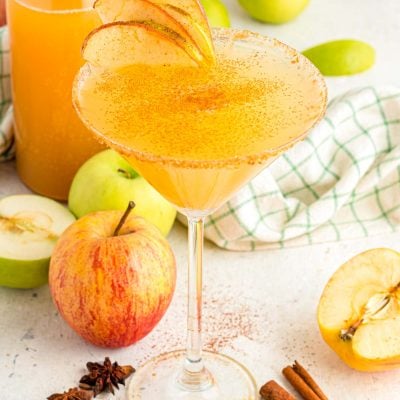 Apple Cider Martini
This Apple Cider Martini is sweet, tangy, and spicy with all the flavors of Fall. This cocktail is so easy to make with simple ingredients like vodka, spiced apple cider, and a delicious rim of caramel and brown sugar! Apple slices and star anise make lovely simple garnishes for this beautiful and festive drink!
Equipment
1 Cocktail Shaker

1 jigger or measuring cup

1 martini glass

2 small plates
Instructions
Chill Martini glasses while preparing the other ingredients.

Prepare 2 shallow plates, 1 with the caramel sauce spread out and the other with the brown sugar and cinnamon mixed together.

1 tablespoon caramel sauce,

1 tablespoon light brown sugar,

½ teaspoon ground cinnamon

Slice some thin apple slices and squeeze some fresh lemon juice on them to prevent browning. This is an optional step as these will be placed on a cocktail stick and used for garnish.

apple slices,

1 teaspoon lemon juice

Fill a cocktail shaker 3/4 full with ice.

Add the vodka and the spiced apple cider and shake vigorously for 15 seconds.

3 ounces vodka,

3 ounces apple cider

Dip the chilled martini glass in caramel and then the brown sugar mixture.

Strain the apple cider martini into the prepared martini glass.

Garnish with the prepped apple slices, cinnamon sticks, and star anise, if desired.

cinnamon sticks,

star anise
Notes
Setting up your station in advance makes this cocktail a breeze to prepare.
Caramel or vanilla-flavored vodka would make great variations in this cocktail.
If you enjoy a sweeter cocktail, add a tablespoon of simple syrup before shaking.
This recipe will fill a traditional martini glass, if you use a smaller martini glass like a coupe you will have 2 smaller cocktails.
Nutrition
Calories:
328
kcal
Carbohydrates:
34
g
Protein:
0.4
g
Fat:
0.1
g
Saturated Fat:
0.02
g
Polyunsaturated Fat:
0.03
g
Monounsaturated Fat:
0.01
g
Sodium:
76
mg
Potassium:
125
mg
Fiber:
1
g
Sugar:
31
g
Vitamin A:
22
IU
Vitamin C:
3
mg
Calcium:
37
mg
Iron:
0.3
mg