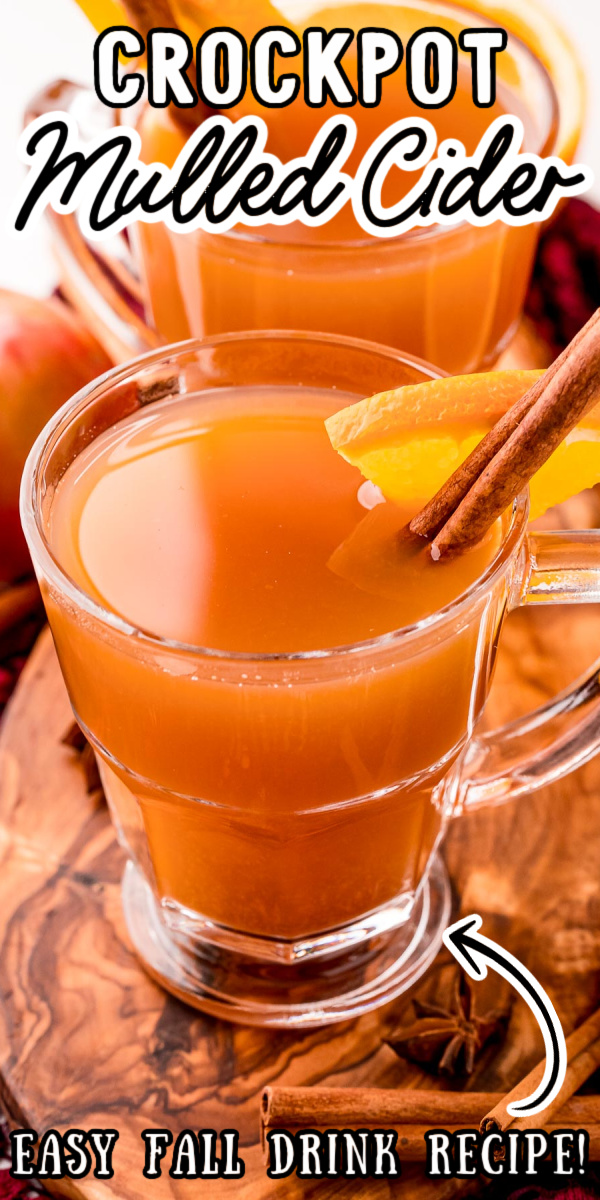 This Slow Cooker Mulled Apple Cider is a warm spiced drink that's filled with the best flavors of the season! Prep this cider in only 5 minutes and then let your crockpot do the rest!
Pour yourself another homemade apple cider-based drink such as this Easy Homemade Pomegranate Cider that you can sip on in just 15 minutes or this Cranberry Apple Cider Punch that's perfect for the holidays!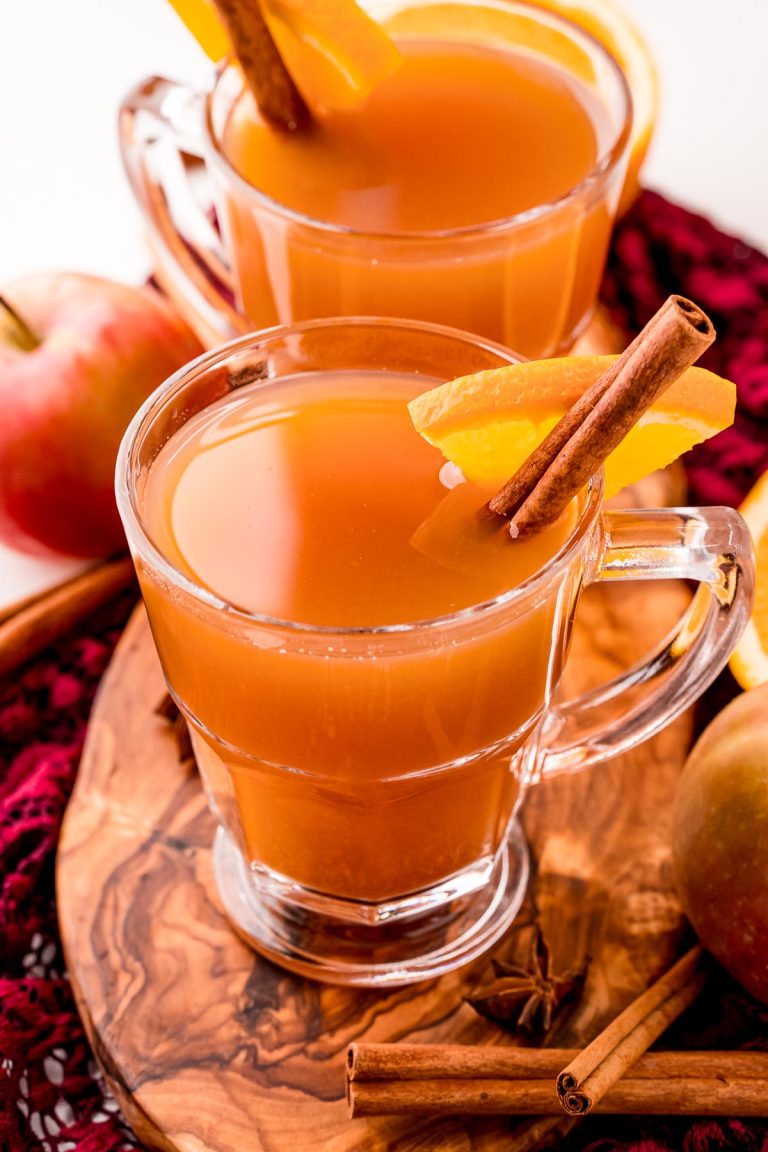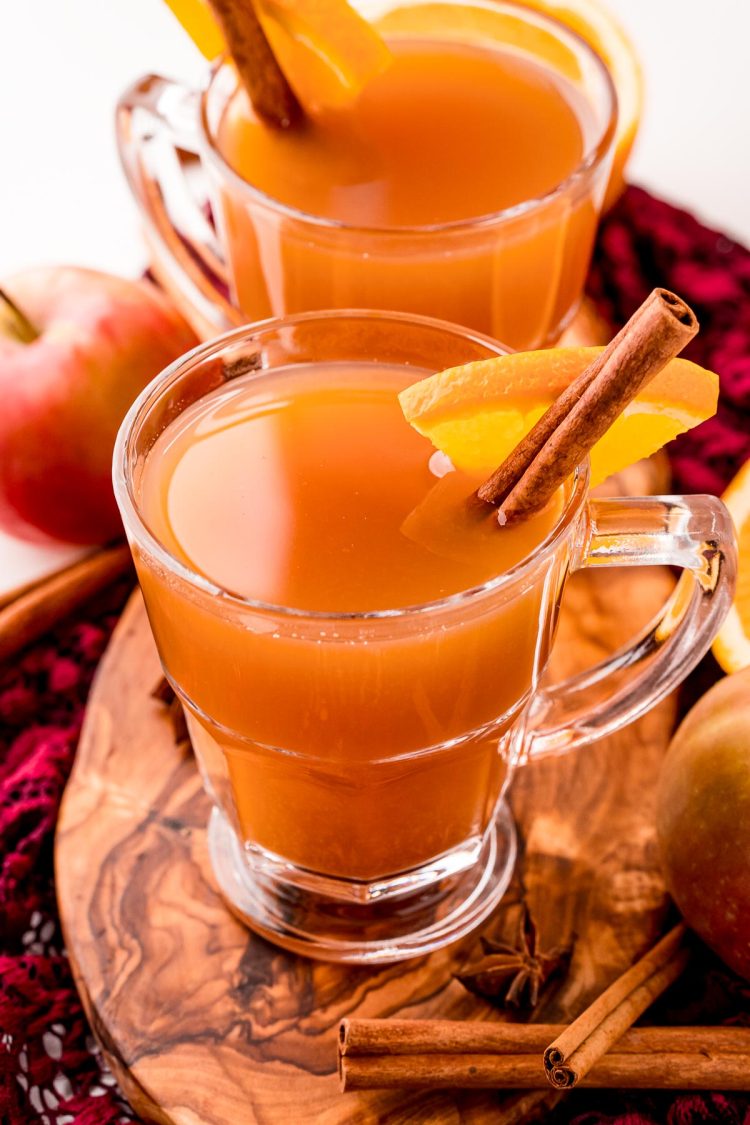 Cozy up to a mugful of this Hot Mulled Cider on those cloudy, breezy, sometimes even rainy, cool fall days! The seasonal blend of spices, apple cider, and citrus is sure to warm you right up from the inside out!
Wondering what the difference is between classic Apple Cider and Mulled Cider? Apple Cider is just raw unfiltered apple juice that is normally enjoyed as a cold drink without any additional flavorings. Mulled Cider uses Mulling spices and fruit to bring a new, spiced flavor with a hint of citrus to heated cider.
Both are absolutely delicious! But when the weather turns chilly I love taking just 5 minutes to toss the ingredients into the crockpot to slow cook all day. It not only leaves us with a warm drink to sip on for the entire day but it also makes the house smell absolutely wonderful as well!
Making this easy-to-make drink a treat for your taste buds AND nose!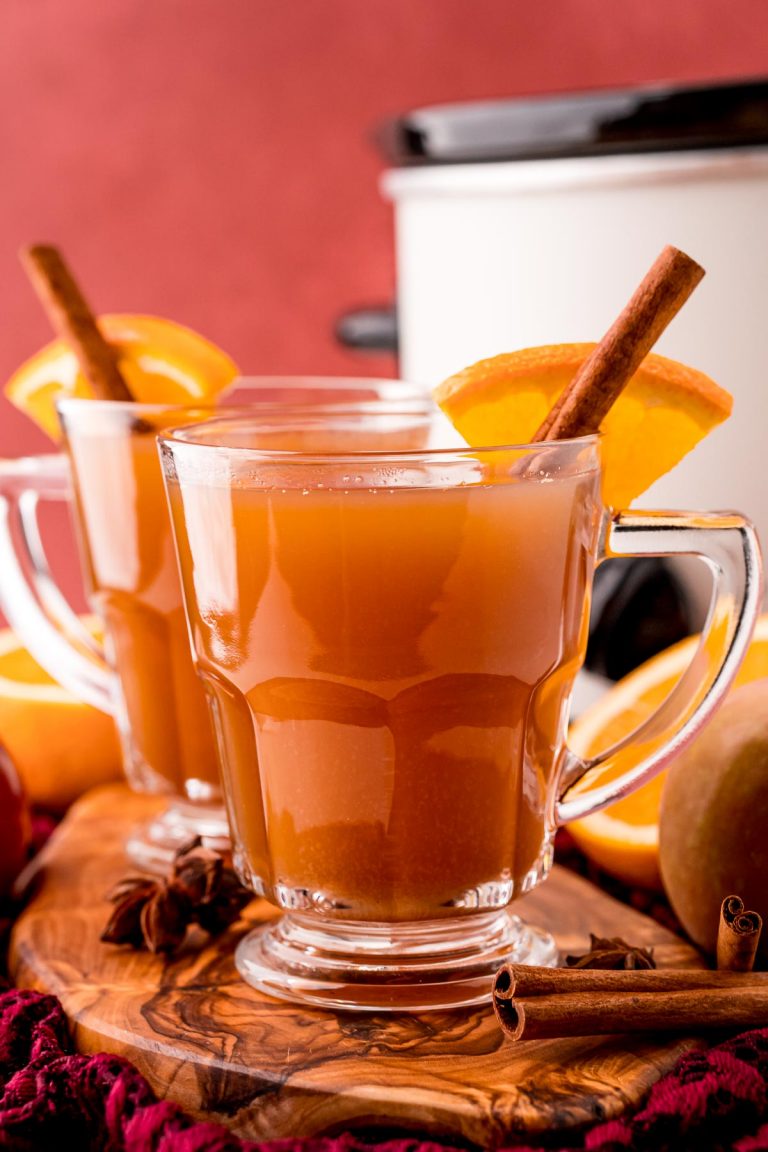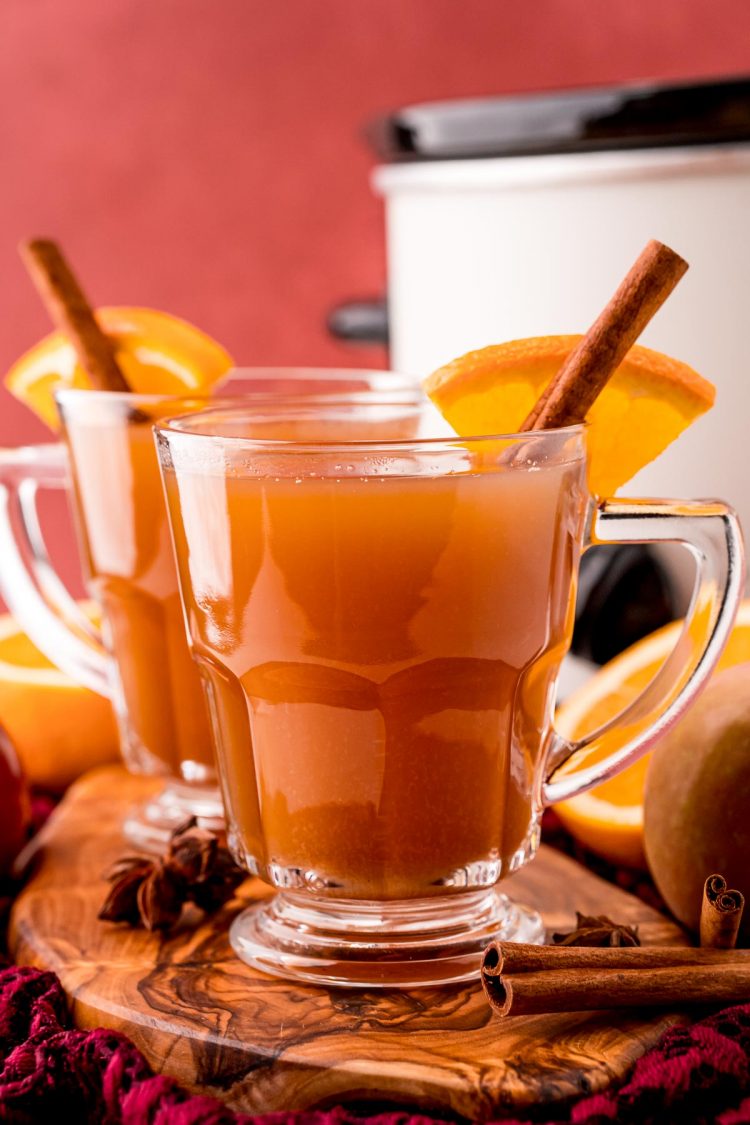 Ingredient Notes
The foundation of this Mulled Cider Recipe is pretty obvious, it's apple cider! Go ahead and grab some from your local apple orchard or if you'd like you can even use your own homemade apple cider.
Once you've made your cider selection it combines with cinnamon sticks, whole cloves, star anise, and slices of navel orange in a slow cooker. That's it! Then your work is done, the crockpot will take care of the rest!
When it's ready to enjoy simply ladle it into your favorite mug and garnish with an orange slice and cinnamon stick!
You could even try branching out a bit and mixing up a tasty variation of this Mulled Cider! Try using a combination of allspice, berries, and fresh ginger for a fresh take on this recipe!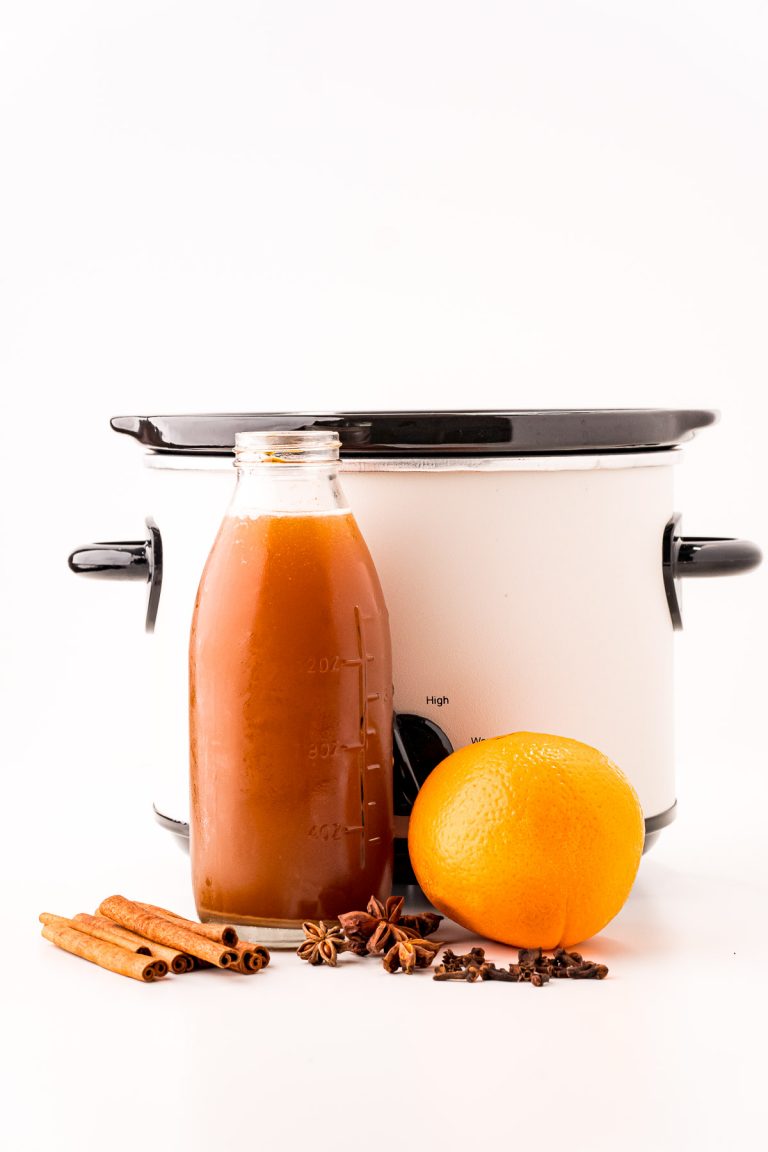 How To Make Mulled Apple Cider
Combine all of the ingredinets in a small slow cooker.
Cook on high.
Reduce heat and enjoy over a long period of time!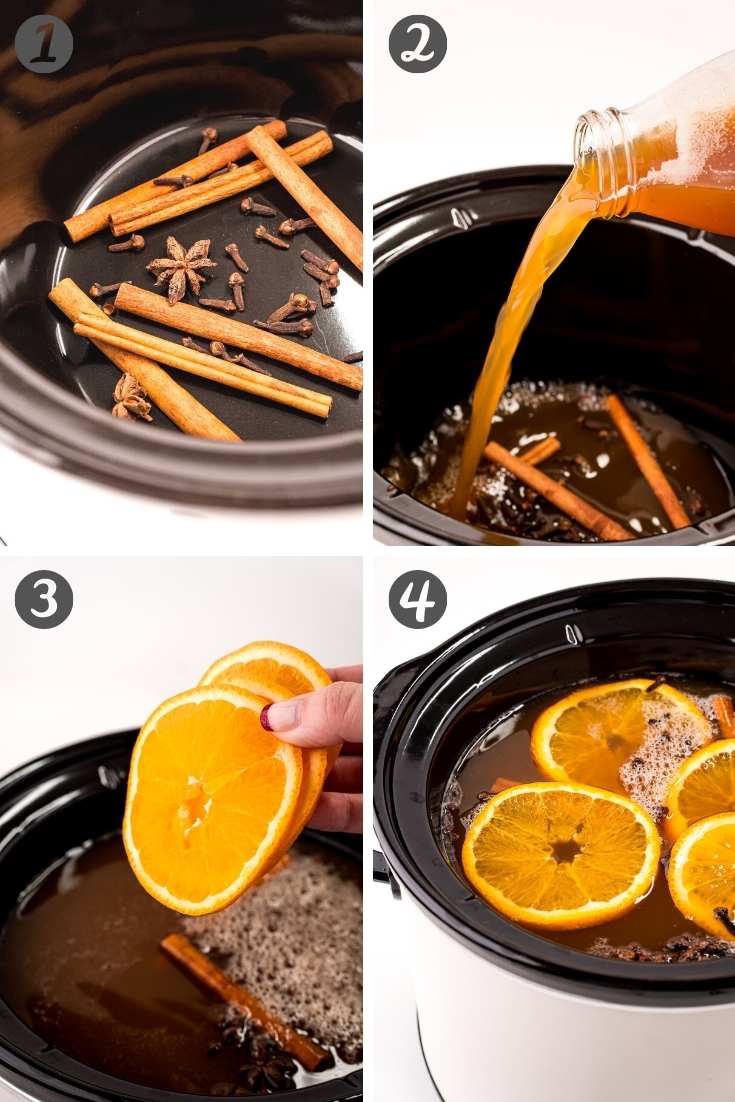 Frequently Asked Questions
How To Store
If you find yourself with a crockpot of leftovers you can store them in an airtight container in the refrigerator. Drink them up within 3-4 days!
Can I Make This Hot Mulled Cider On The Stovetop Instead Of The Crockpot?
You sure can! Simply add the ingredients to a pot and bring them to a low simmer then just reduce the heat to keep the cider warm.
Can I Double This Recipe To Serve More People?
Yes! This does produce a smaller batch of cider so if you'll be serving a crowd I'd recommend doubling the recipe using a large crockpot. Doing so will result in about a gallon of cider which will easily serve 16 people.
Do I Have To Use Star Anise In This Cider?
Star anise does have a strong flavor that not everyone may enjoy but I do find that it adds a lot of flavor to this drink. If you'd prefer to leave it out or if you just don't have any on hand the cider will still turn out delicious.
How Do I Prevent The Cloves From Find Their Way Into My Drink?
The whole cloves can be pressed into the orange slices before putting them in the crockpot.
Can I Add Alcohol To This Mulled Cider?
Of course! I'd recommend adding rum or bourbon to individual mugs for serving.
You could also try out my Hard Apple Cider Sangria or Crock Pot Ginger Rum Apple Cider!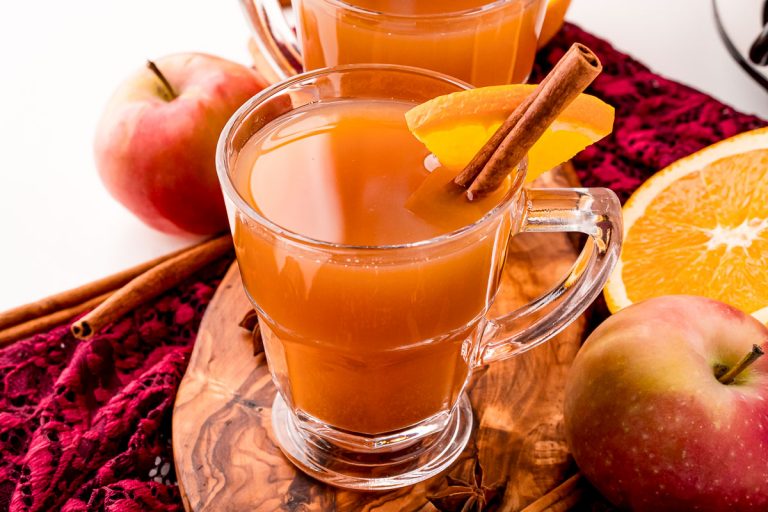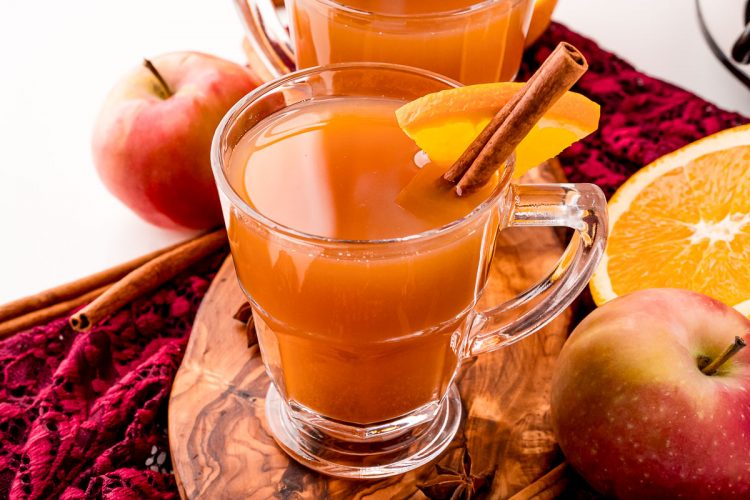 Hot Mulled Cider is a delicious way to enjoy the seasonal flavors in the form of a cozy beverage! Here are more recipes that deliver another taste of Fall that will be as pleasing to your stomach as this one is!
Slow Cooker Mulled Apple Cider
Pin For Later
CLICK THE BUTTON ABOVE TO SAVE THIS DELICIOUS RECIPE TO YOUR BOARD!
👋 Let's Connect!
If you've tried this recipe, please let me know how you liked it in the comments below and leave a review; I love hearing from you! And don't forget to tag me – @sugarandsoulco – on Instagram and Pinterest with your photos or join our Busy Family Recipes Facebook Community and share them there!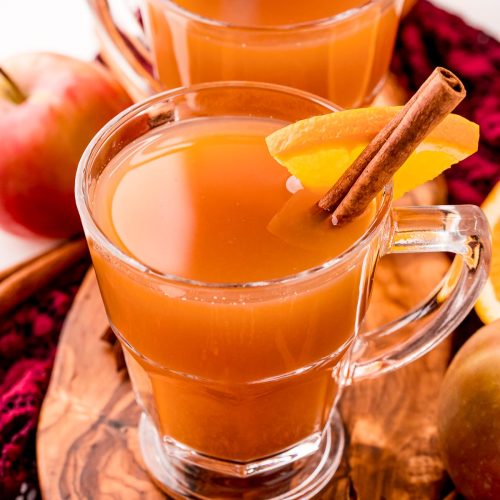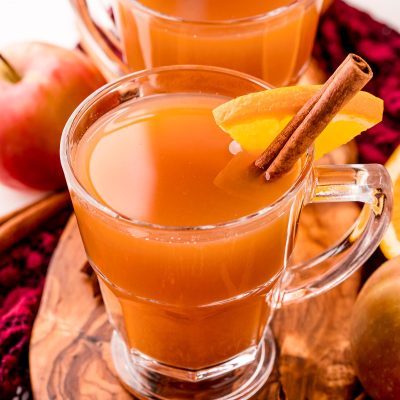 Crockpot Mulled Apple Cider
This Slow Cooker Mulled Apple Cider is a warm spiced drink that's filled with the best flavors of the season! Prep this cider in only 5 minutes and then let your crockpot do the rest!
Instructions
Add all ingredients to a small slow cooker.

Cook on high for at least 2 hours or low for at least 4 before enjoying.

Reduce heat to warm if enjoying over a long period of time.
Notes
This is a smaller batch of cider. You can easily double this recipe to make a gallon of cider that will serve 16 people in a large crockpot.
Star anise has a strong flavor that not everyone likes, but I think it adds a lot to this drink. If you don't like it or don't have any on hand, it is fine to omit it.
Nutrition
Calories:
123
kcal
Carbohydrates:
31
g
Protein:
1
g
Fat:
1
g
Saturated Fat:
1
g
Polyunsaturated Fat:
1
g
Monounsaturated Fat:
1
g
Trans Fat:
1
g
Sodium:
11
mg
Potassium:
274
mg
Fiber:
3
g
Sugar:
24
g
Vitamin A:
35
IU
Vitamin C:
7
mg
Calcium:
61
mg
Iron:
1
mg