Apple Crisp is a classic dessert recipe that's perfect for summer and fall. Tender and spicy apples are topped with a sweet and crisp oatmeal topping.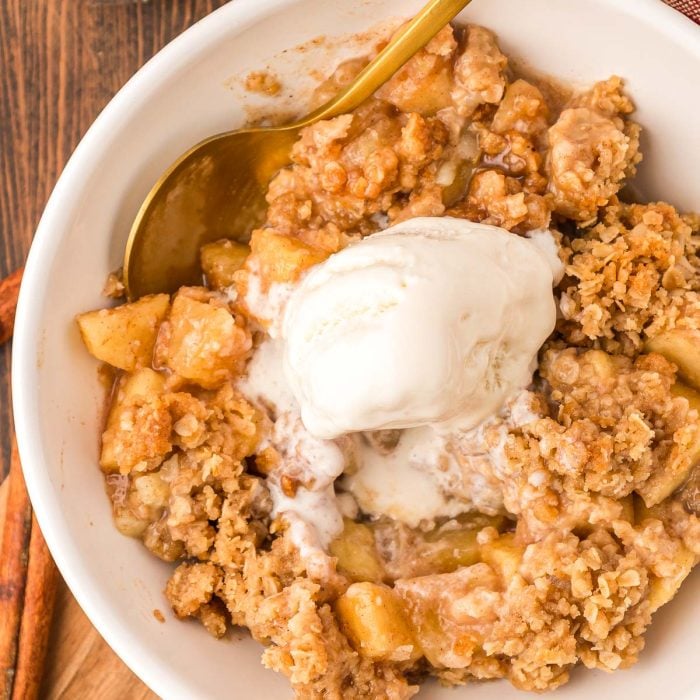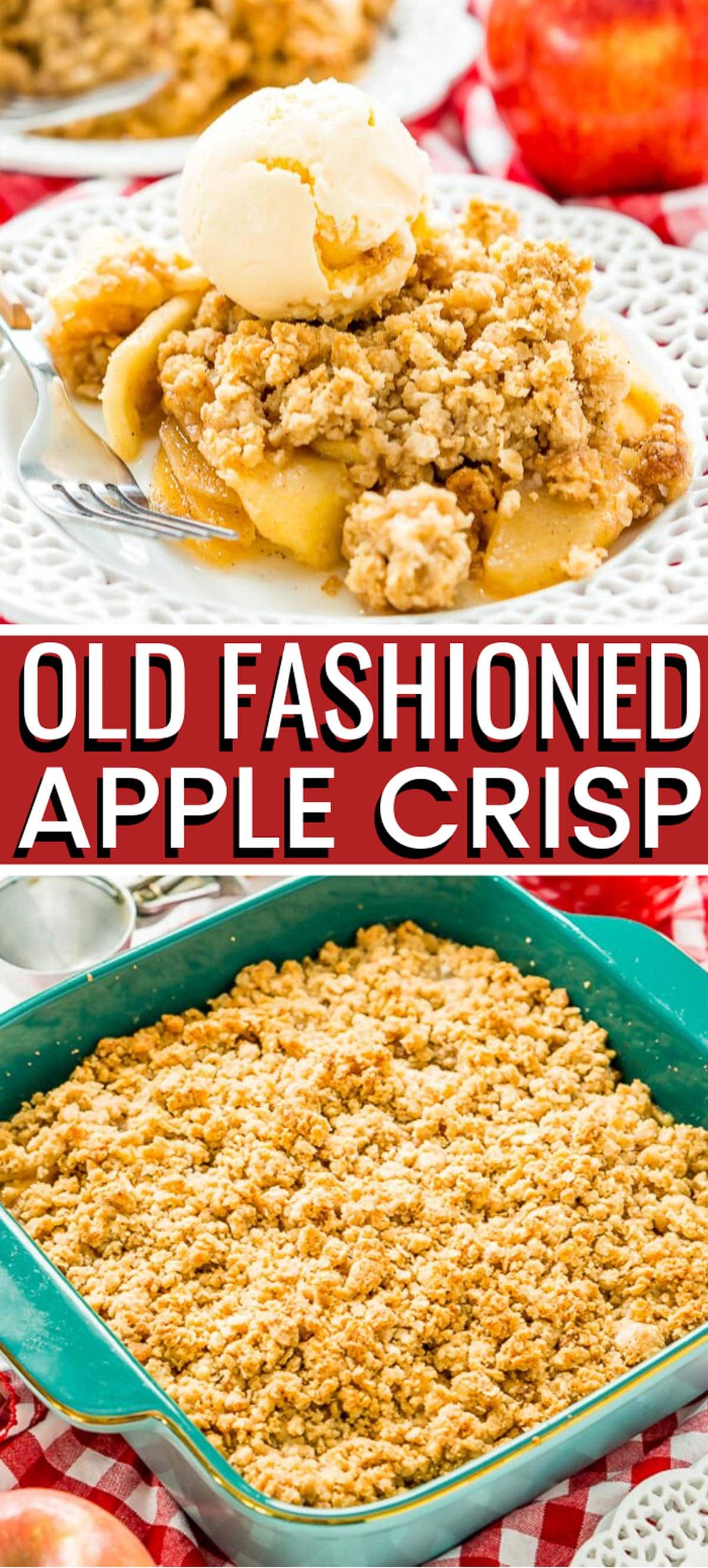 This Homemade Apple Crisp is a classic dessert recipe that's perfect for summer and fall. Tender and spicy apples are topped with a sweet and hearty oat topping.
Serve this easy apple crisp recipe with Vanilla Ice Cream and Cream Cheese Whipped Cream.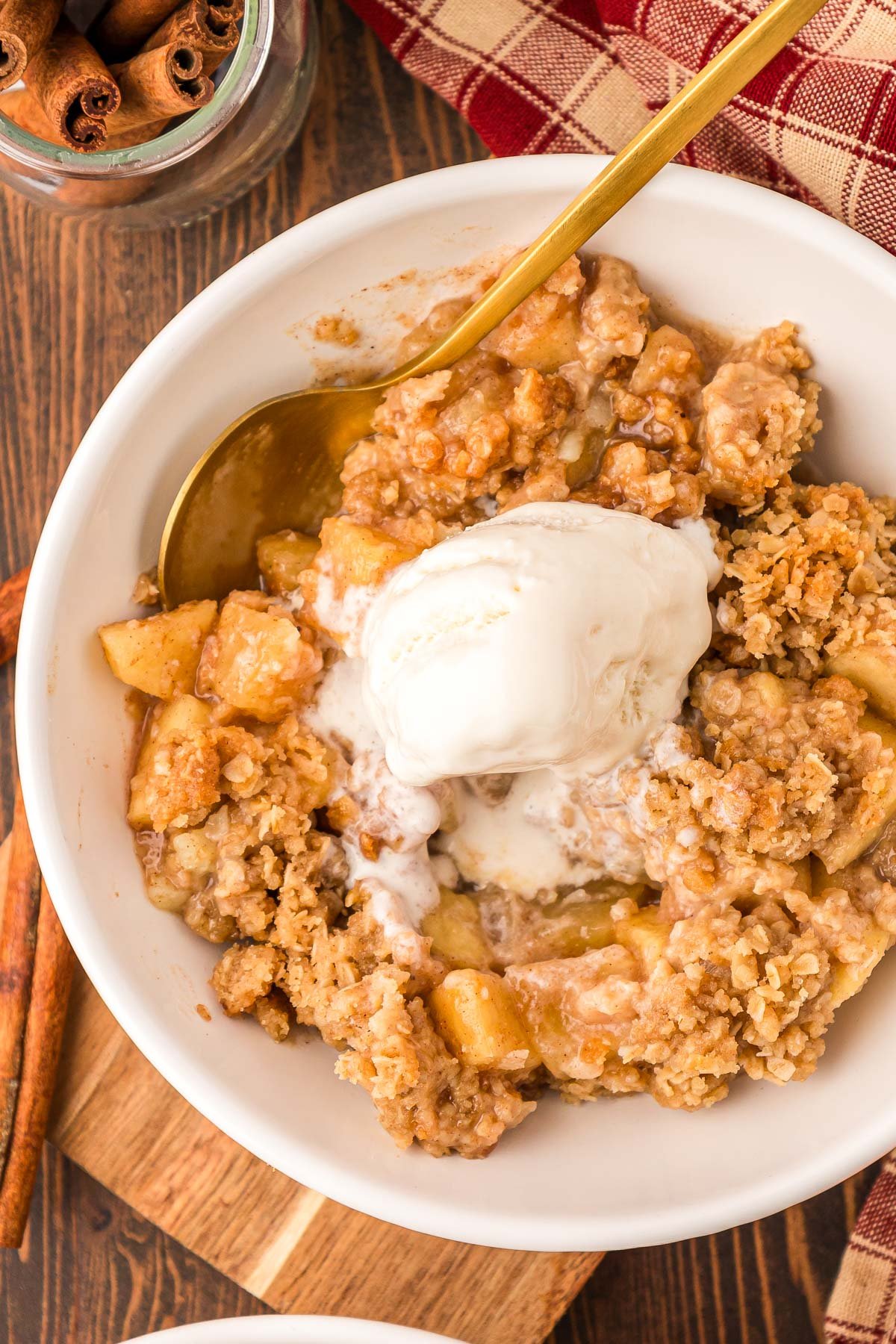 What Makes This The BEST Apple Crisp Recipe
Although apple picking season is still a few months away, it's never a bad time to enjoy a crumby, ice cream-topped square of Apple Crisp, amirite? As a matter of fact, I love making Apple Crisp all year round, even in the summer!
For one, this fruit-filled dessert doesn't sit too heavy, and topped with a scoop of ice cream — or eaten straight from the fridge — it's irresistibly delicious, even on a warm day.
Second, this nostalgic dessert is super easy to make and share with all your friends and family.
And third, whoever said you could only enjoy this spice-filled treat at a certain time of year?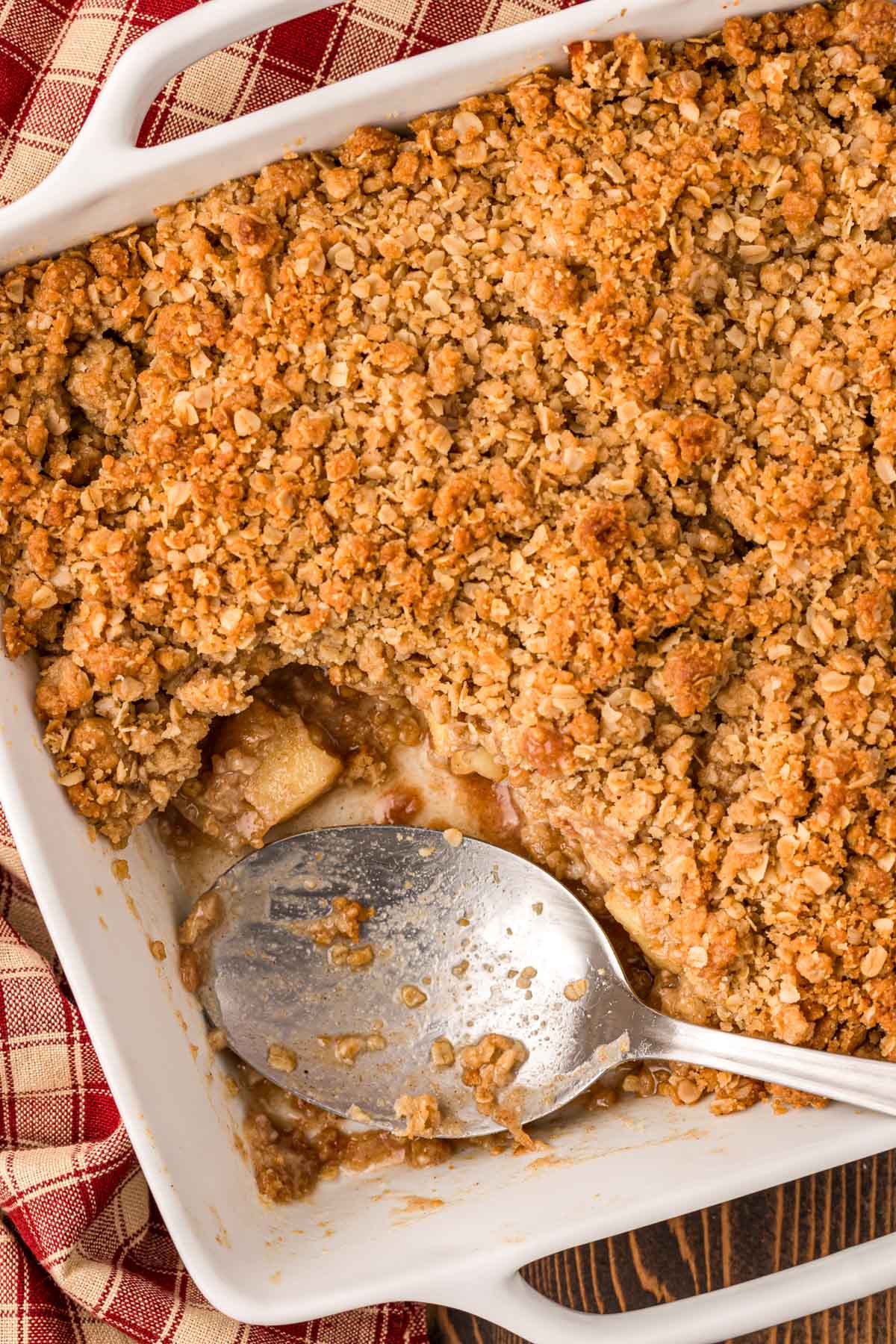 Best Apple Crisp ingredients
In this easy dessert recipe, the apples are baked with butter, sugar, and spices to create a luscious bottom layer. The topping, which combines oatmeal and flour with butter, flour, sugar, and cinnamon, creates a crumbly top layer that turns golden brown in the oven.
That buttery, brown sugar-laced topping is what makes Apple Crisp totally irresistible. While there are a lot of versions out there, I prefer this recipe because it includes oatmeal, making the crumble dense and hearty.
What Are The Best Apples For Apple Crisp?
This might be the most important question to ask when making this recipe. Honestly, though, it comes down to personal preference, but here are my top recommendations for this recipe!
Honeycrisp – This is my personal favorite for baked apple dishes like this crisp, Apple Brown Betty, and Apple Pie. They bake up great, I can almost always find them, and they add a slight touch of honey to the recipe.
McIntosh – Not my first choice, but they are very common here in Maine in the fall and are usually more affordable. They actually work REALLY well in this recipe since we use flour to coat the apples, and this helps thicken the juice. They are really soft and juicy and break down quite a bit when cooked, so flour is necessary.
Granny Smith – This tends to be the go-to apple for most bakers because tart apples add some zing to baked dishes, which prevents them from being too sweet; they also hold their shape the best during baking.
Cortland – This apple tends to bake up a little softer, but it doesn't turn to mush. Its flavor profile is a mix of sweet and tart.
Braeburn – Another great choice with a mixture of sweet and tart flavors. This is a great one to pair with Granny Smith apples for a bit of contrast in the recipe. This is a drier apple, so if you use it, your filling will be less juicy.
Empire – This is a cross between a McIntosh apple and a Red Delicious. It stays firm during baking and has a sweet flavor.
Jonathan – This apple isn't as common across the country, but if you can find them, it's a great choice. They have a tart and spicy profile that lends well to baking.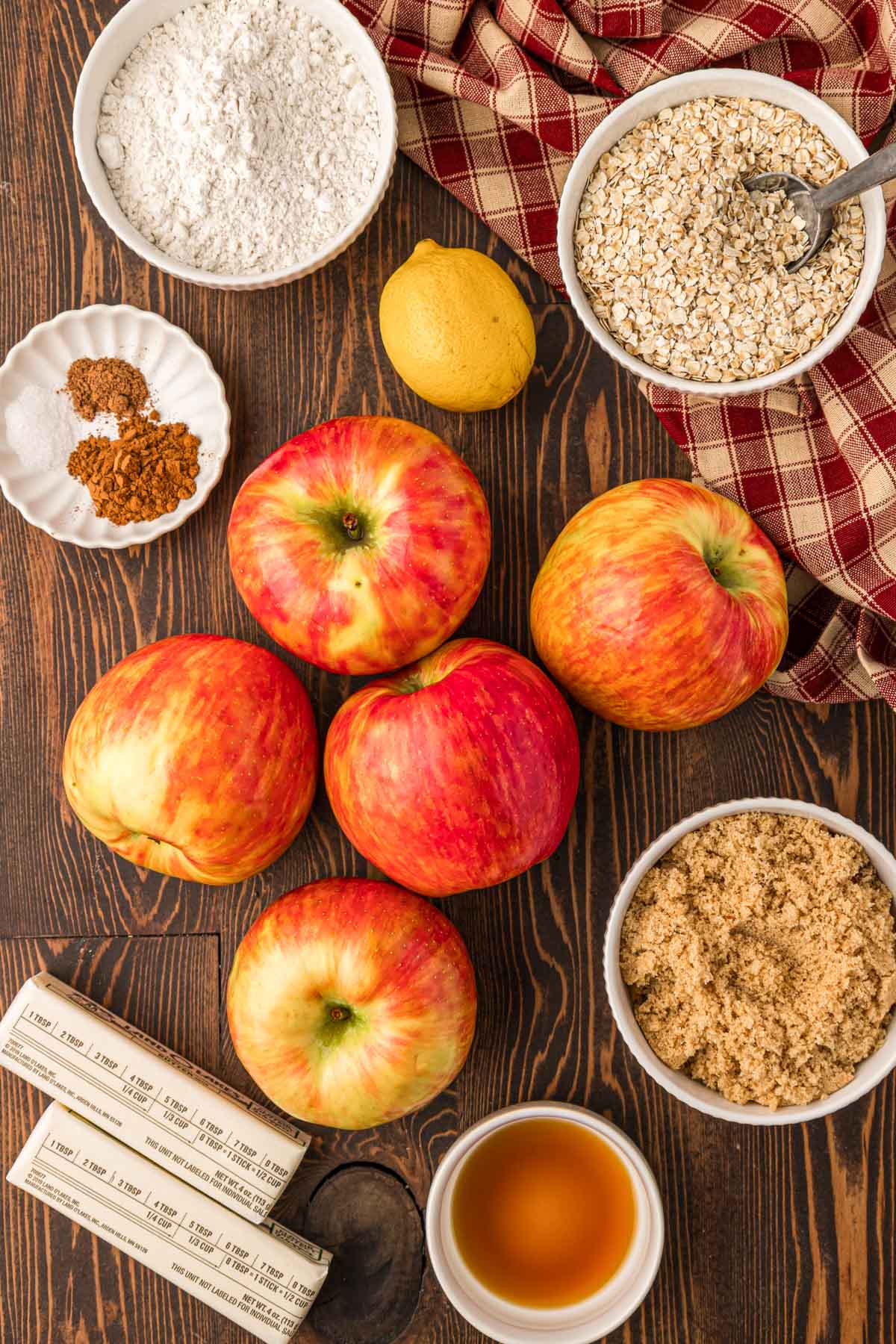 Everyone loves a tried-and-true classic, plus it's hard to mess up this easy dessert! This great recipe can be made and enjoyed during any season! It's cozy in the cooler months, but a scoop of ice cream, and you can cool it down and enjoy it all summer long.
How To Make Apple Crisp With Oats
Step 1: Preheat oven to 350 degrees F and grease a 9×9-inch baking dish.
Step 2: Peel, core, and chop the apples.
Step 3: Add the chopped apples to a large bowl with the flour, sugar, and spices and stir them until coated.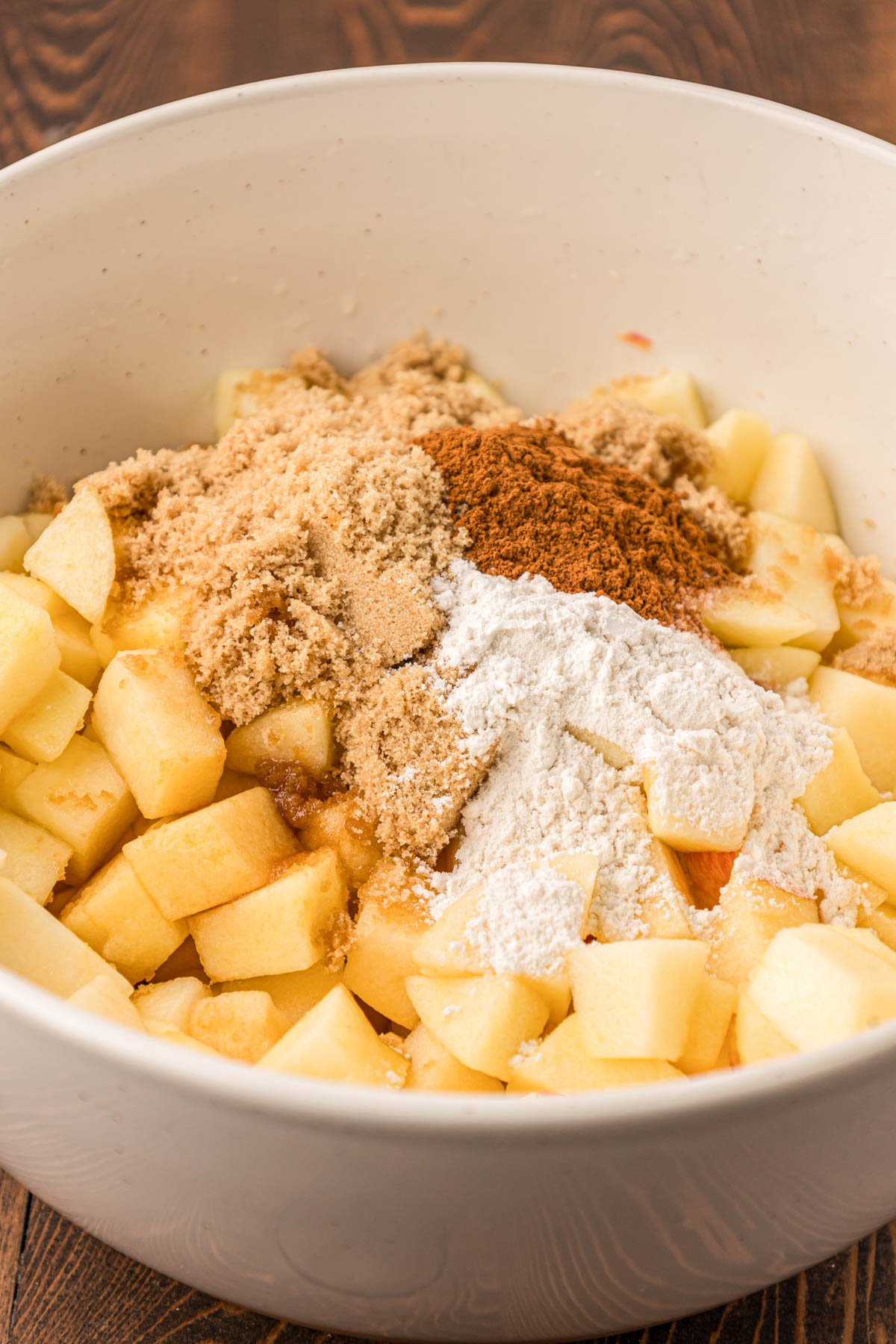 Step 4: Transfer the mixture to the prepared baking dish and top with slices of butter.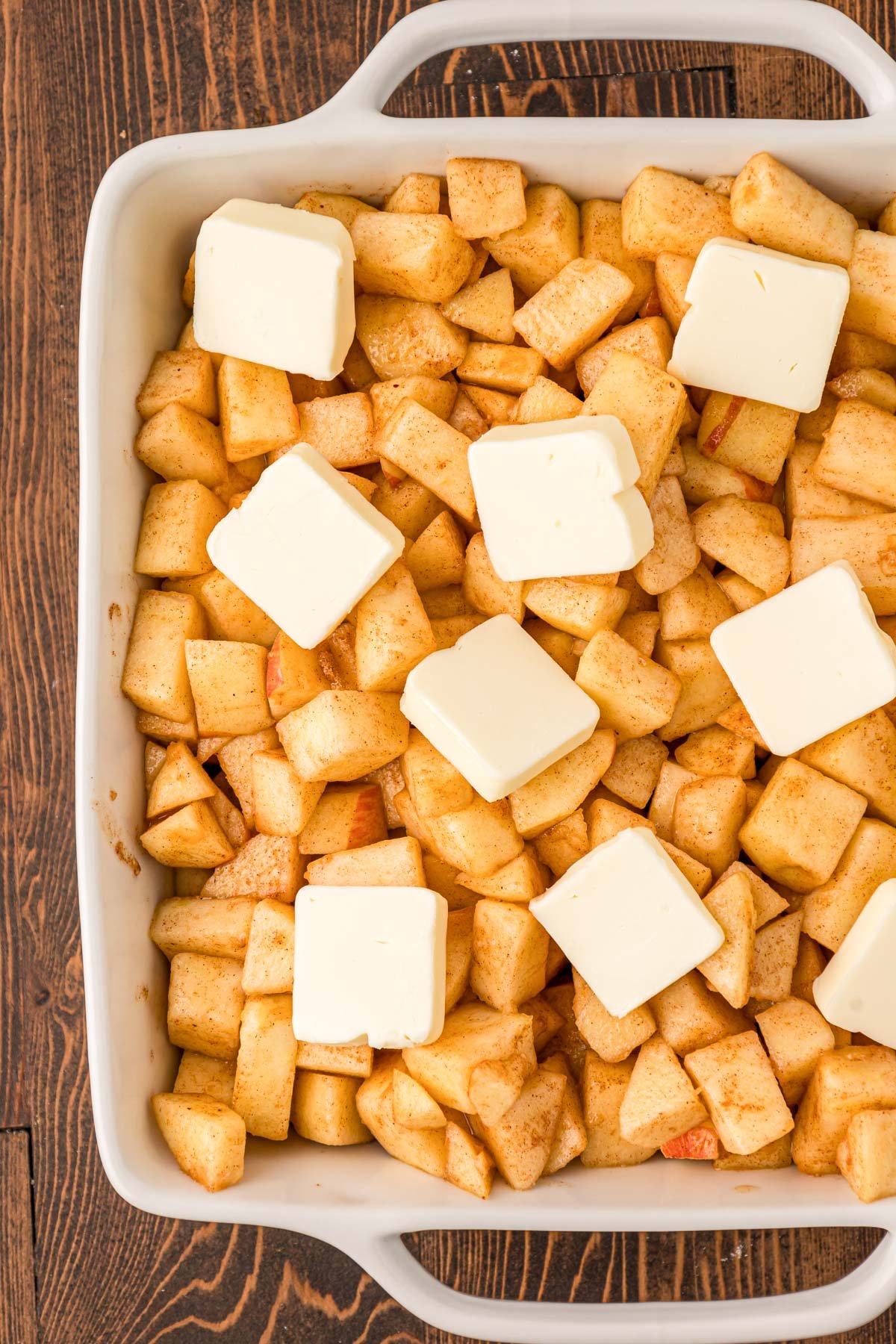 Step 5: Mix together the remaining cold butter with the other topping ingredients in a mixing bowl until a thick crumble forms.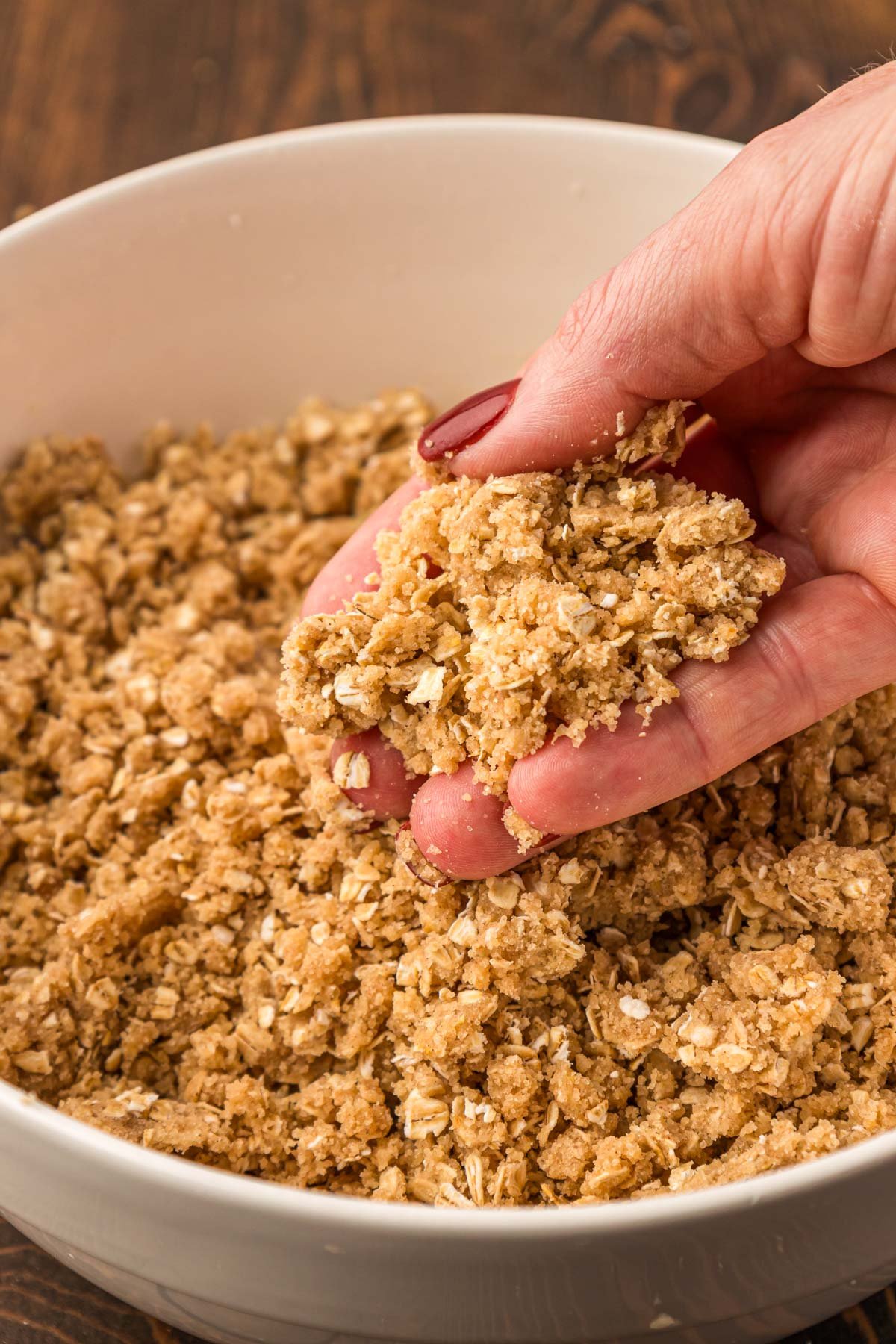 Step 6: Spoon the topping over the apple mixture and gently press to cover.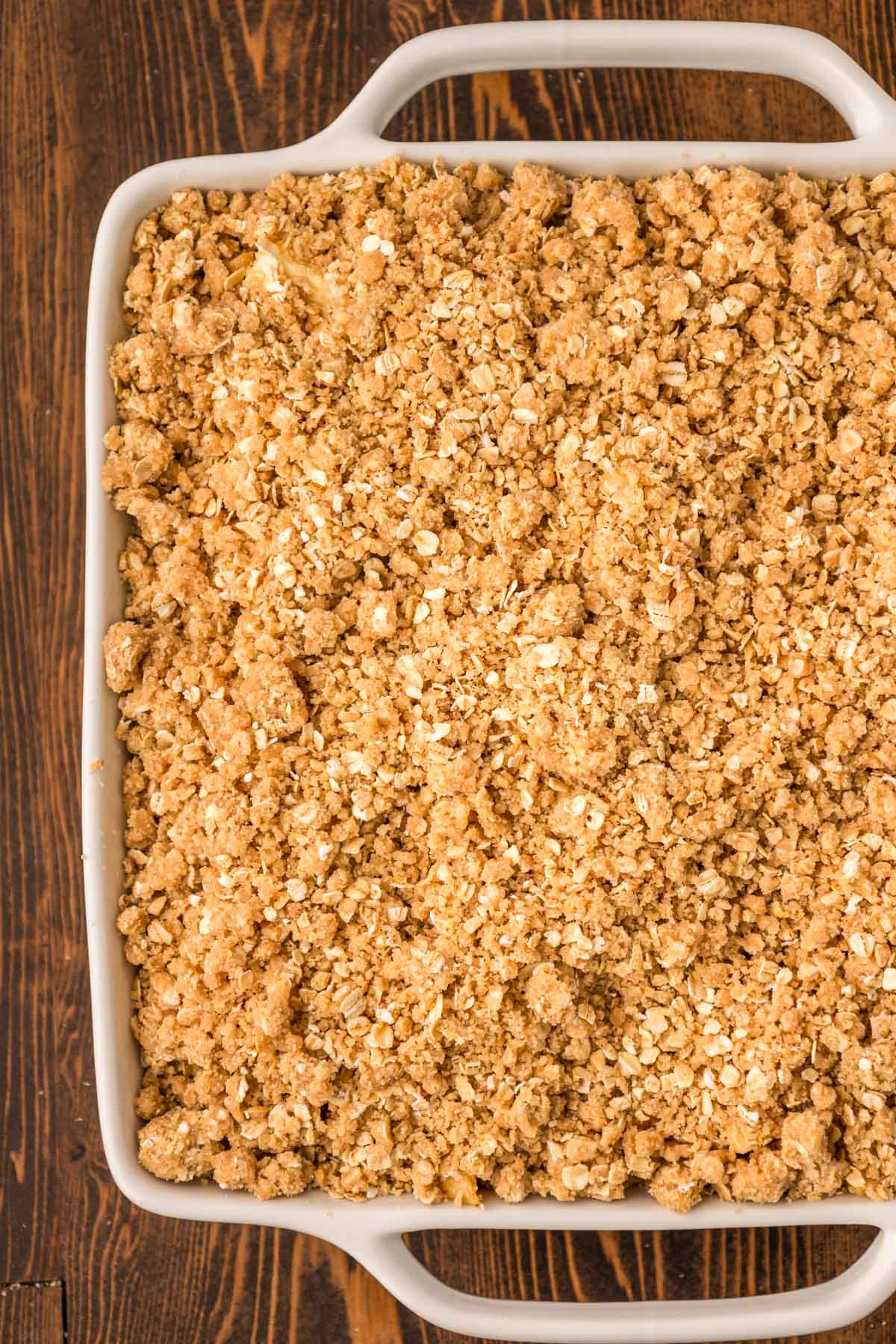 Step 7: Bake for 35 to 40 minutes until the apples are tender and the top is golden brown. Then, remove from oven and serve warm or at room temperature with ice cream and whipped cream, if desired.
How To Store Apple Crisp With Oatmeal
Do You Have To Keep Apple Crisp In The Fridge?
Yes and no. When it first comes out of the oven, it should be left on the counter to come to room temperature, although you can indulge right away if you'd like (those apples will be very hot)!
Once it comes to room temperature, it can usually stay there for the day but should be refrigerated overnight.
How To Make Apple Crisp Ahead Of Time
If you want to prep this in advance, mix apple mixture in one bowl and crisp topping in another, cover each, and store in the fridge until ready to bake. Add butter sliced between the layers when assembling.
How to freeze this Recipe for Apple Crisp
If making this to freeze, I recommend using aluminum foil pans, then prepare the apple crisp all the way until the baking point.
Wrap the pan in two layers of aluminum foil and place in a Ziploc bag, squeeze out any excess air, and store for up to 3 months.
To bake from frozen, remove the dish from the freezer and unwrap it. Place the pan on a baking sheet and tent it with aluminum foil and bake for 20 minutes, then remove the aluminum foil and bake until the apples are bubbly and the topping is golden brown.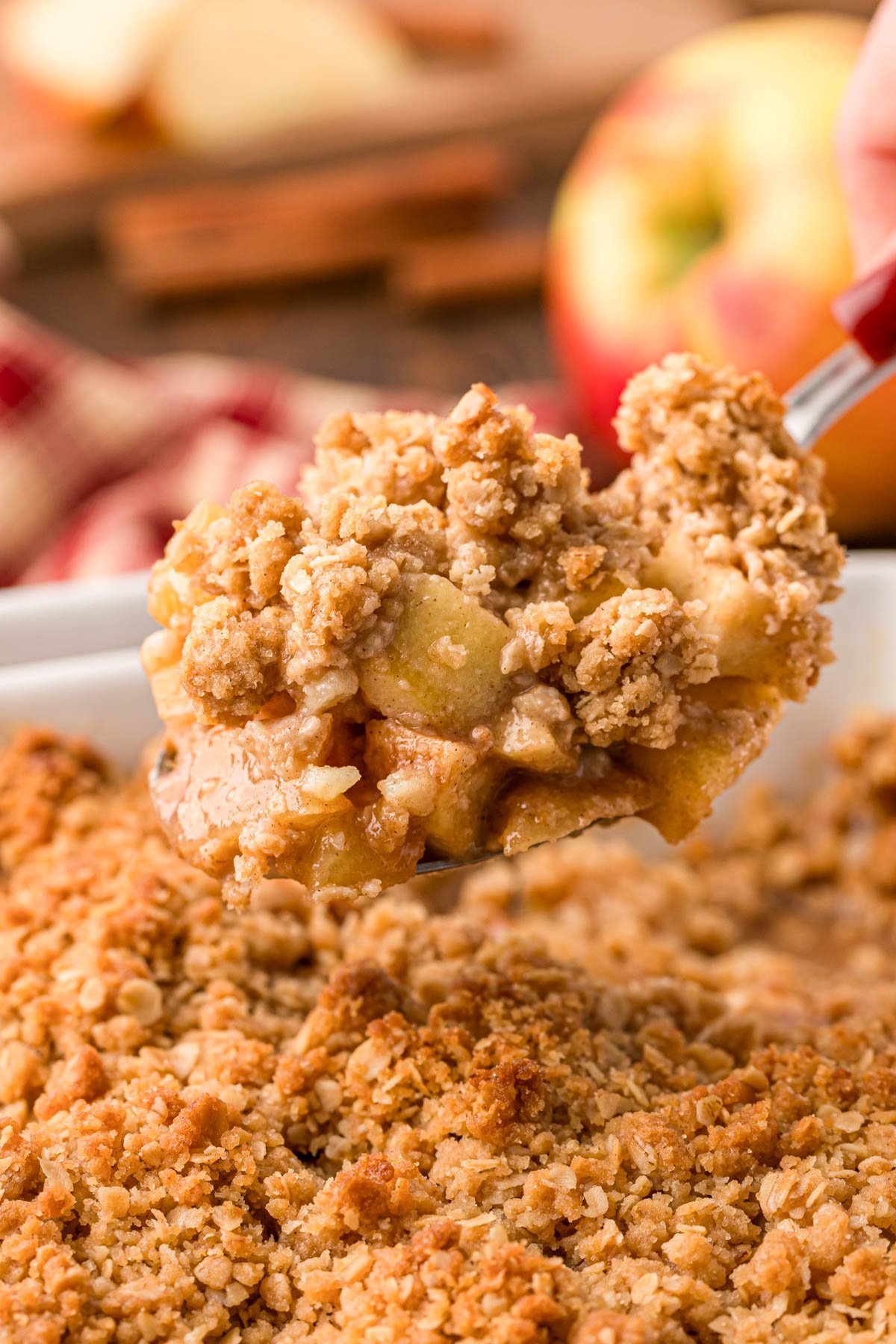 Apple Crisp Recipe with Oats FAQs
Is Apple Crisp the same as Apple Crumble?
It's also almost always made with cinnamon, and sometimes nuts are added to it as well. Crisps and crumbles are pretty much the same, but technically, the topping on a crisp is supposed to be a bit finer, so it's crunchier.
A crumble, which is a common dessert in the UK, is apples baked with a topping of flour, butter, and sugar. In North America, we have crisp, which is basically the same thing, but the topping is made primarily with rolled oats rather than flour.
Do I Have To Use Flour In Apple Crisp?
Yes, flour is essential for giving the apples that gooey and saucy coating instead of being watery. It's also essential in the crumble structure. However, if looking for a gluten-free option, 1 to 1 flour should work instead.
Should Apple Crisp Be Covered While Baking?
This recipe doesn't require or recommend covering your apple crisp while baking, but some recipes may.
How Do You Make Apple Crisp Not Watery?
This recipe uses a couple of tablespoons of all-purpose flour in the apple layer to help absorb and thicken the juices from the apples as it bakes. Some recipes use a cornstarch slurry to thicken, but that method has not been tested with this recipe.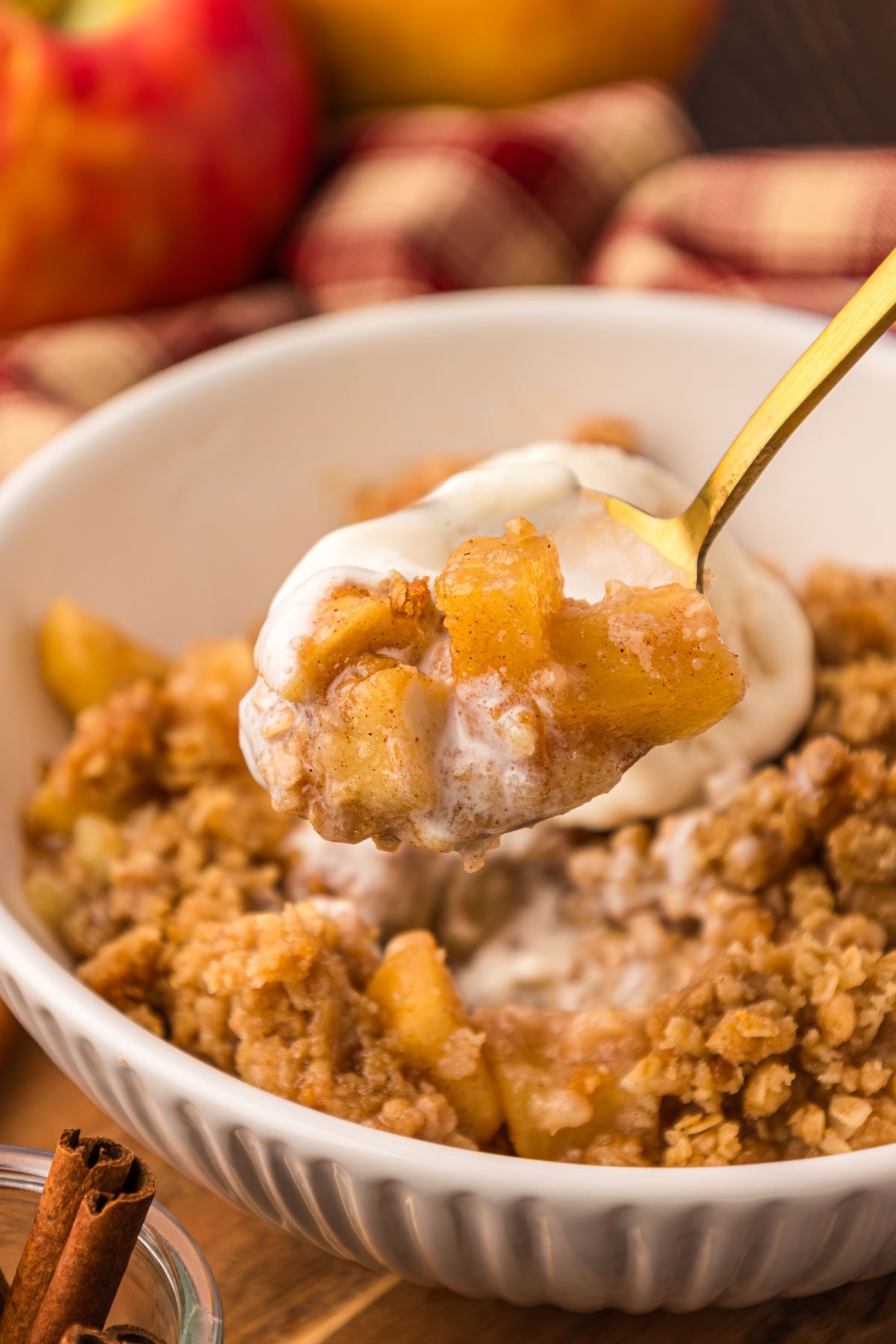 More Delicious Apple Recipes:
👋 Let's Connect!
If you've tried this recipe, please let me know how you liked it in the comments below and leave a review. I love hearing from you!
Don't forget to tag me – @sugarandsoulco – on Instagram and Pinterest with your photos or join our Sugar & Soul Show-offs Community and share them there, where you can join our recipe challenges!
This recipe was originally published in June 2018 but was retested and updated with modifications and new photos in October 2022 and September 2023.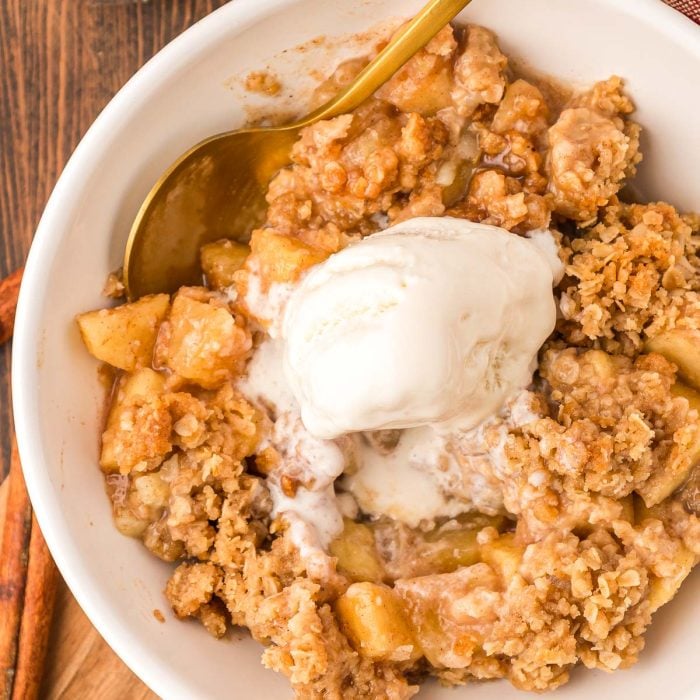 Best Apple Crisp Recipe
Apple Crisp is a classic dessert recipe that's perfect for summer and fall. Tender and spicy apples are topped with a sweet and crisp oatmeal topping.
Instructions
Preheat oven to 350°F.

Add 5 cups chopped apples, ½ cup light brown sugar, 2 tablespoons all-purpose flour, 1 tablespoon lemon juice, 1 teaspoon vanilla extract, 1 teaspoon ground cinnamon, ¼ teaspoon ground nutmeg, and ¼ teaspoon salt to a large bowl and stir until evenly coated. Transfer the mixture to a 9×9-inch baking dish.

Place the slices of ½ cup cold butter on top of the apple mixture.

Mix together the 1 cup 1-minute oats, 1 cup light brown sugar, 1 cup all-purpose flour, ½ teaspoon ground cinnamon, and ½ cup cold butter until a crumble forms. You can use a pastry cutter or I prefer to work with my hands. Spread the topping out over the apple mixture.

Bake for 35 to 40 minutes until the crisp is browning and the apple mixture is bubbling around the edges.

Remove from oven and serve warm or at room temperature with ice cream and whip cream.
Notes
You can slice your apples as thick or thin as you want, I prefer to chop mine.
I recommend using Honeycrisp, MacIntosh, or Granny Smith apples.
If you want to prep this ahead of time, mix apple mixture in one bowl and crisp topping in another, cover each, and store in the fridge until ready to bake. Add butter sliced between the layers when assembling.
Originally published recipe ingredients:

Apple Filling (mix everything together):

5 apples, peeled, cored, sliced
1/2 cup granulated sugar
1 teaspoon ground cinnamon
1/4 teaspoon ground nutmeg
1/2 cup cold unsalted butter, cubed

Crisp Topping (mix everything together):

1 cup 1-minute oats
1 cup light brown sugar, packed
1 cup all-purpose flour
1/2 teaspoon ground cinnamon
1/2 cup unsalted butter, melted
Nutrition
Calories: 433kcal | Carbohydrates: 61g | Protein: 3g | Fat: 21g | Saturated Fat: 13g | Polyunsaturated Fat: 1g | Monounsaturated Fat: 5g | Trans Fat: 1g | Cholesterol: 54mg | Sodium: 80mg | Potassium: 167mg | Fiber: 3g | Sugar: 43g | Vitamin A: 669IU | Vitamin C: 4mg | Calcium: 49mg | Iron: 1mg