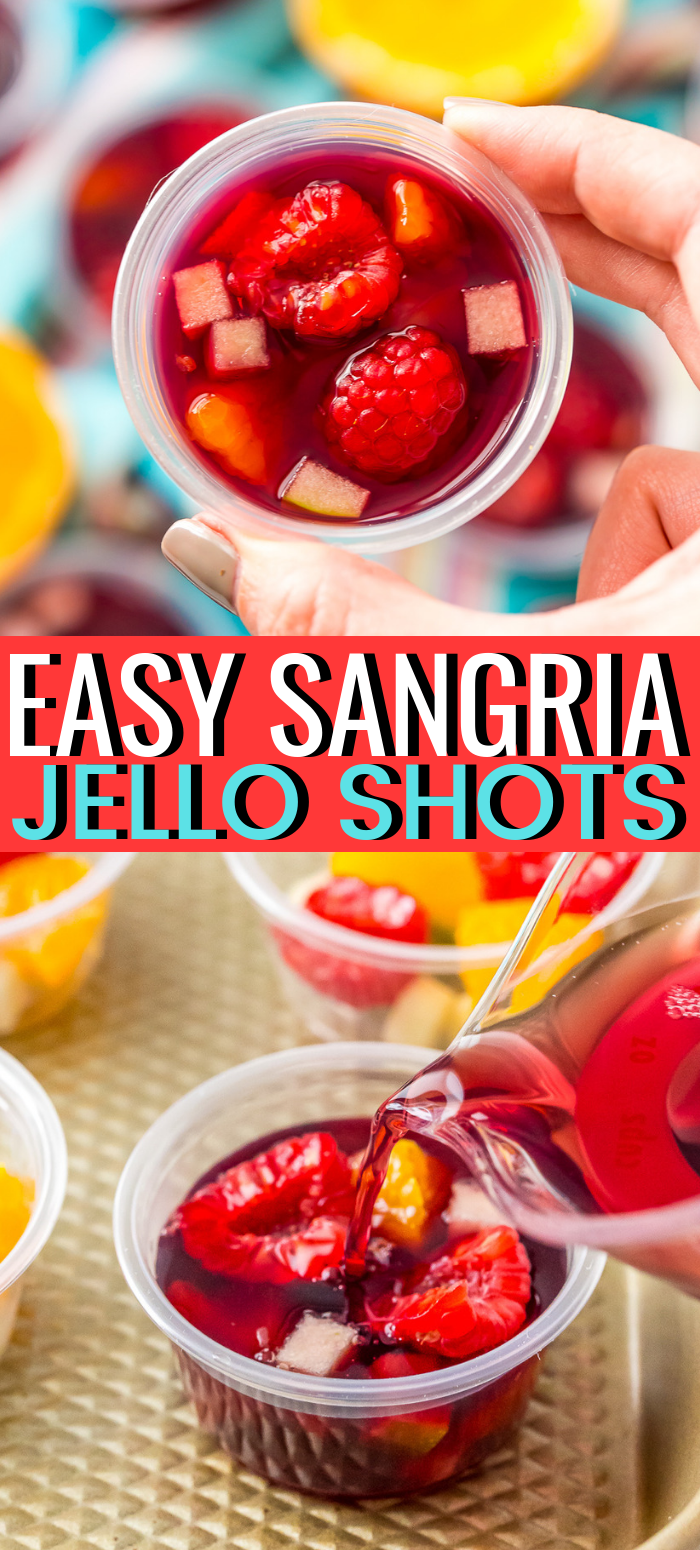 Sangria Jello Shots recipe turn a classic wine punch into a fun party shot! These cocktails are great for all your get-togethers and are made ahead of time for easy entertaining!
Sangria Jello Shots use methods from my How To Make Jello Shots Guide to make delicious and easy wine jello shots!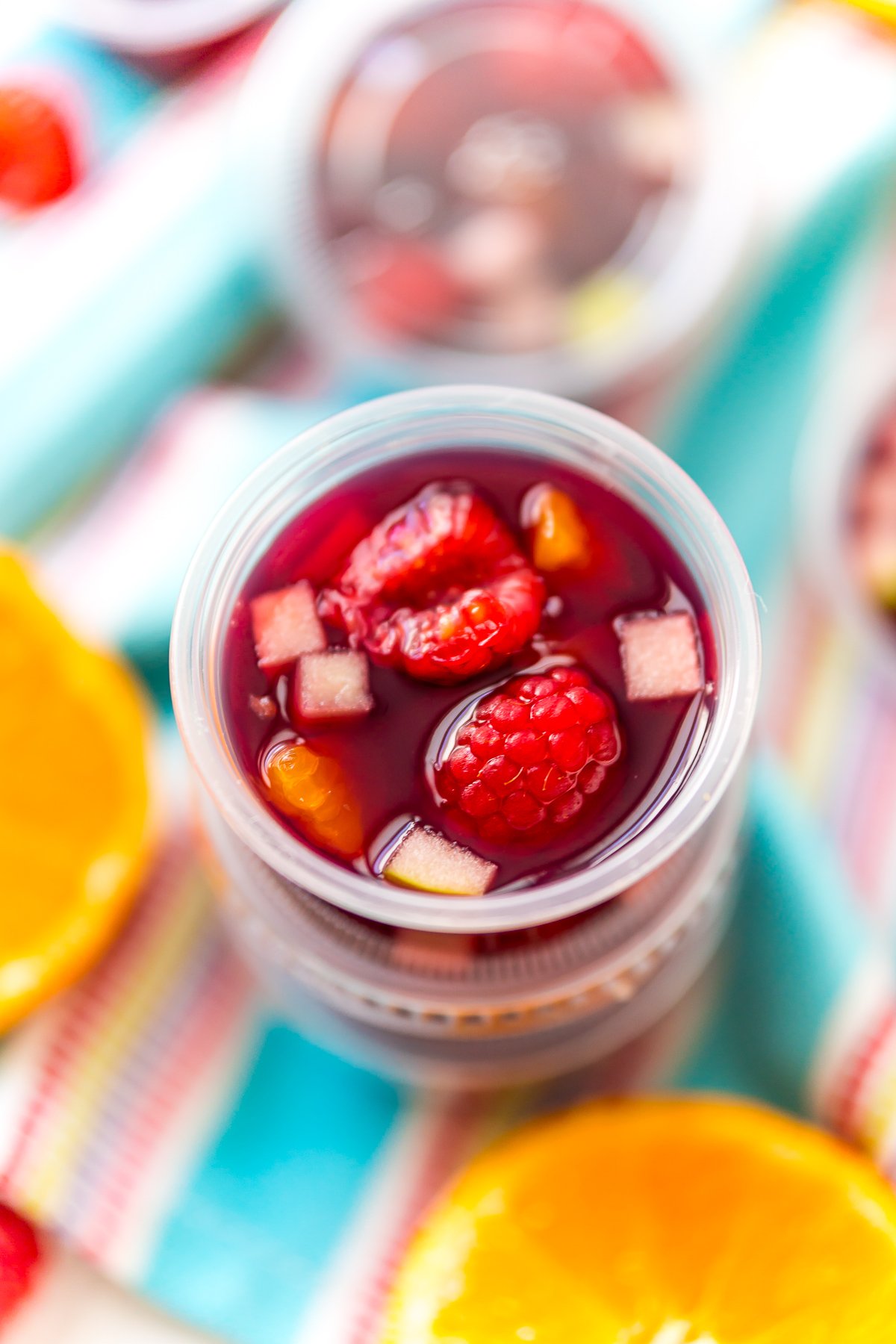 These Sangria Jello Shots are bound to be an instant hit with friends! Do you love cocktails for a crowd? I do! They're one of my favorite drinks when I'm having friends and family over.
I love being able to make a big batch (usually ahead of time) and letting everyone serve themselves. I don't have to play bartender all day and everyone gets a perfectly mixed drink.
As much as I love pitcher drinks, unique jello shots are my other go-to premade cocktail for parties. There's something totally fun and delicious about a little cup that takes you back to your childhood but is loaded with booze. Adults only. Sorry kiddos.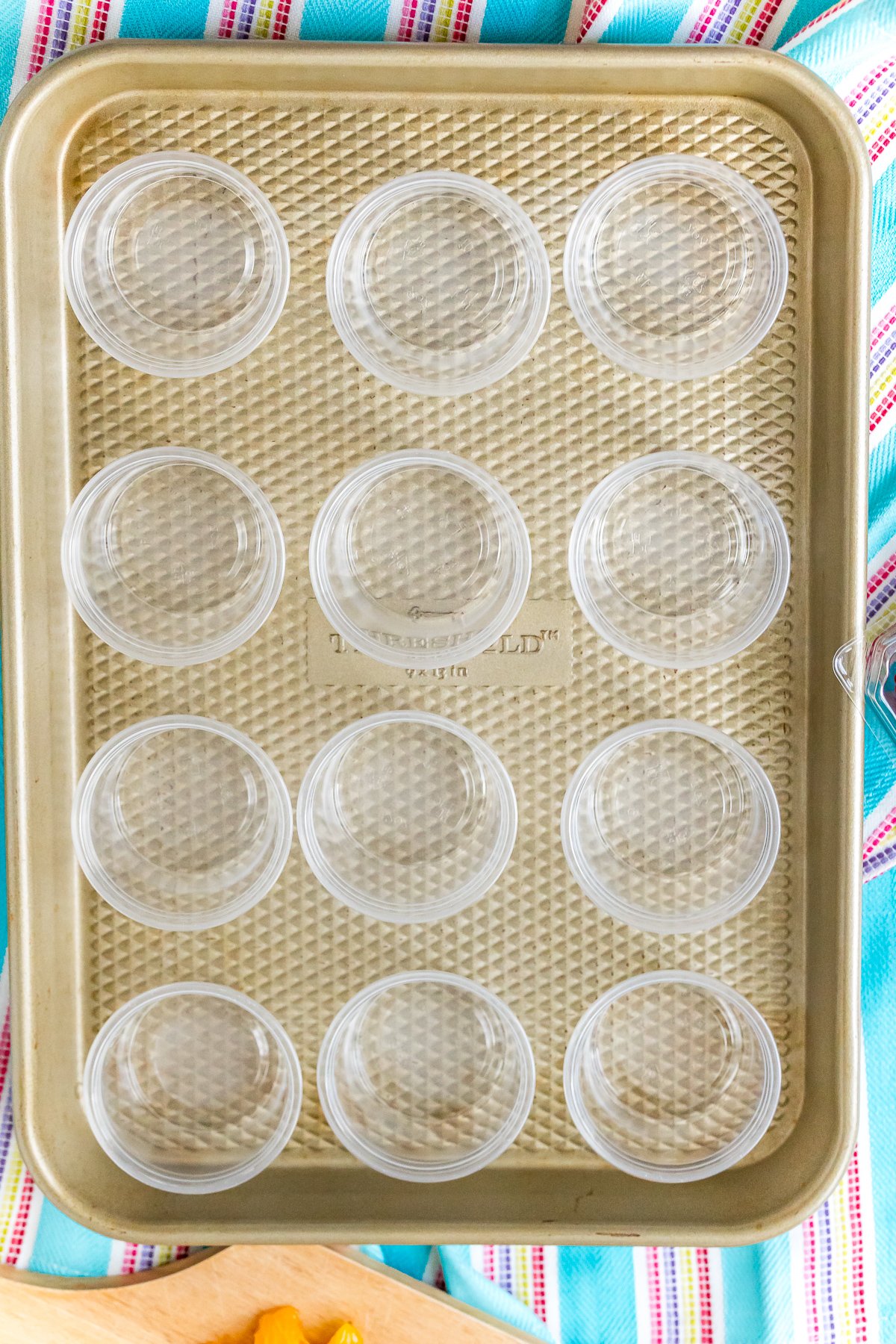 After bartending for years, I developed a fondness for sangria. We'd make white and red sangria at work and always run out mid-shift because once you serve one glass, everyone wants one.
When I decided it was time for a new jello shot, sangria jumped to the front of the line.
As much as I love whiskey, sweet and fruity jello shots have a special place in my heart…especially these Pina Colada Jello Shots. So I grabbed a yummy bottle of wine, some juice, and fruit and voila! Sangria jello shots!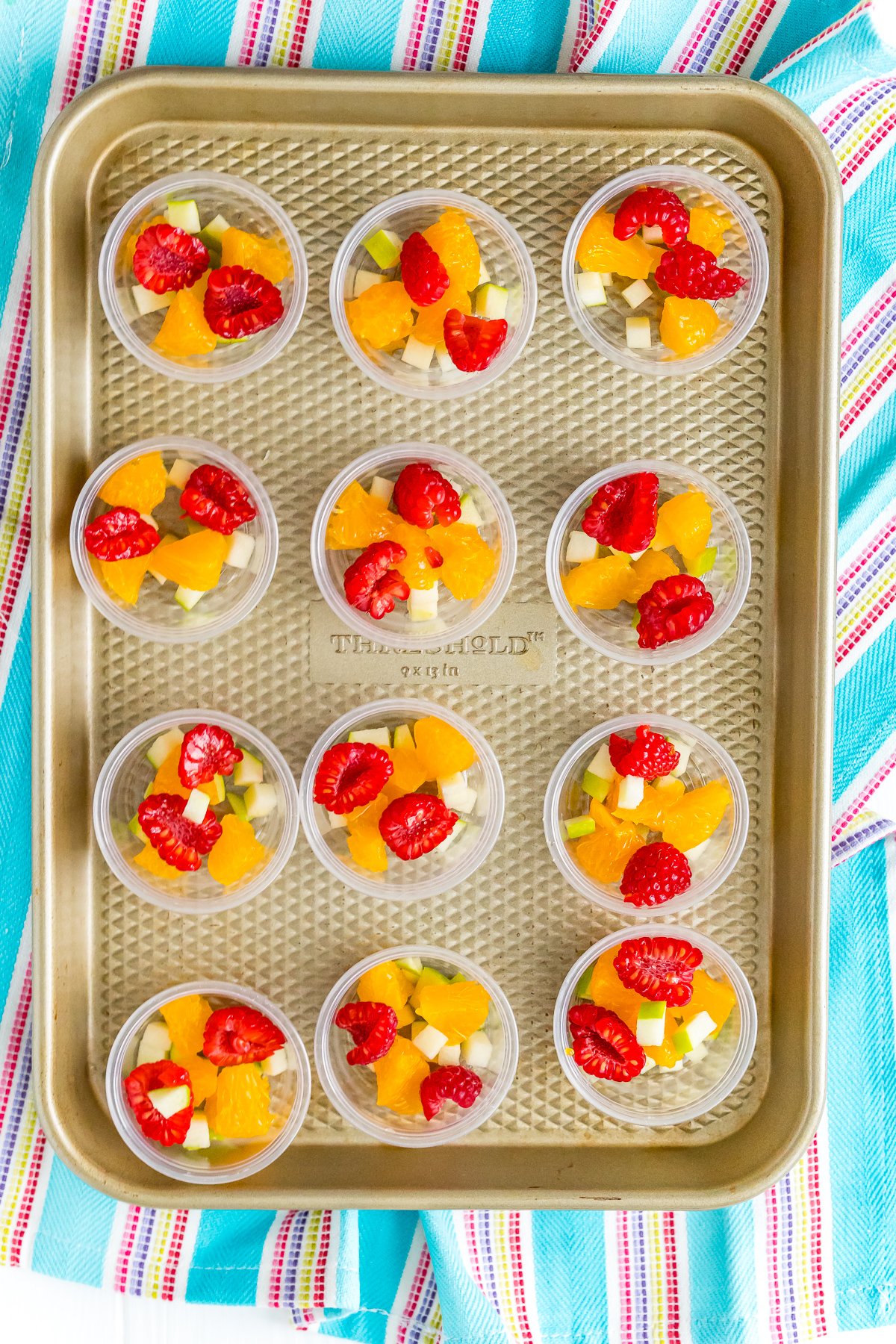 These shots are a little sweet, they have some texture from the fruit pieces, and go down WAY too easily if you ask me.
What You'll Need to Make these Jello Shots:
Gelatin: You can't make jello without gelatin! In this case, you want to use unflavored gelatin which you can buy at grocery stores near the flavored Jello or on Amazon.
Plastic Containers: For easy transportation, packaging, and consumption, I find these containers to work the best! I love that they come with lids and in a package of 100 so I can use them for several batches of jello shots throughout the holiday season.
Wine: You'll want to use red wine for this recipe, pick your favorite but make sure it pairs well with fruit!
Fresh Fruit: You can't have sangria without fresh fruit! Don't use frozen because the extra water in the fruit could change the outcome of the recipe.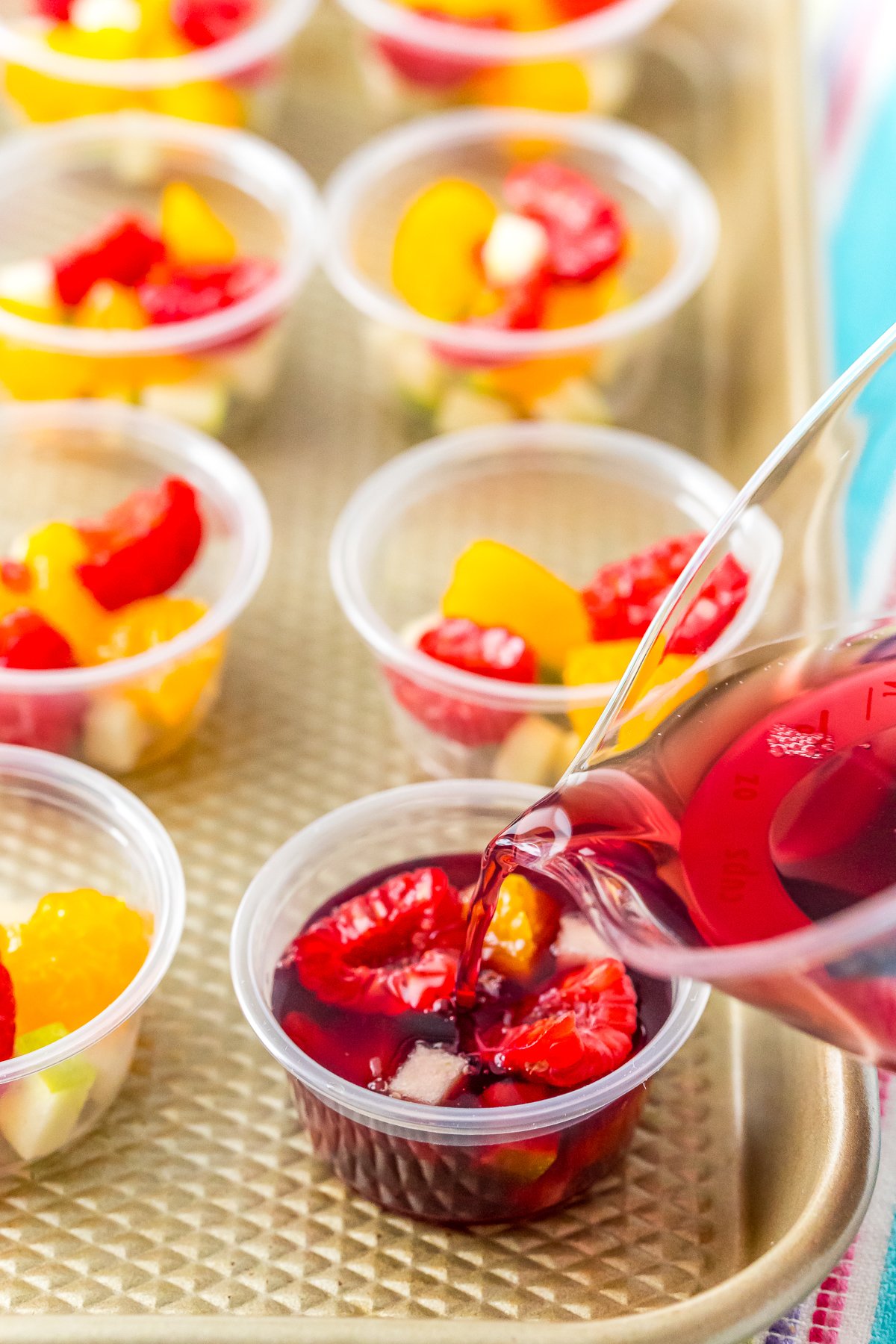 Any red blend, cabernet, or zinfandel you like should work just fine with the cherry and cranberry juice. I love wines that have fruit and spice notes, it really adds a lot to the shots.
If you're not a big fan of red wine, I would recommend making my Champagne Jello Shots instead!
Apples and oranges are a sangria staple and raspberries go great with the juices and red wine profile. And they're pretty too!
But if you're not feeling the fruit in the shots, they can be omitted and you'll still have a delish wine jello shot!
Normally sangria needs to hang out and merry together for a few hours before serving, but since the jello shots need time to set up anyway everything worked out perfectly.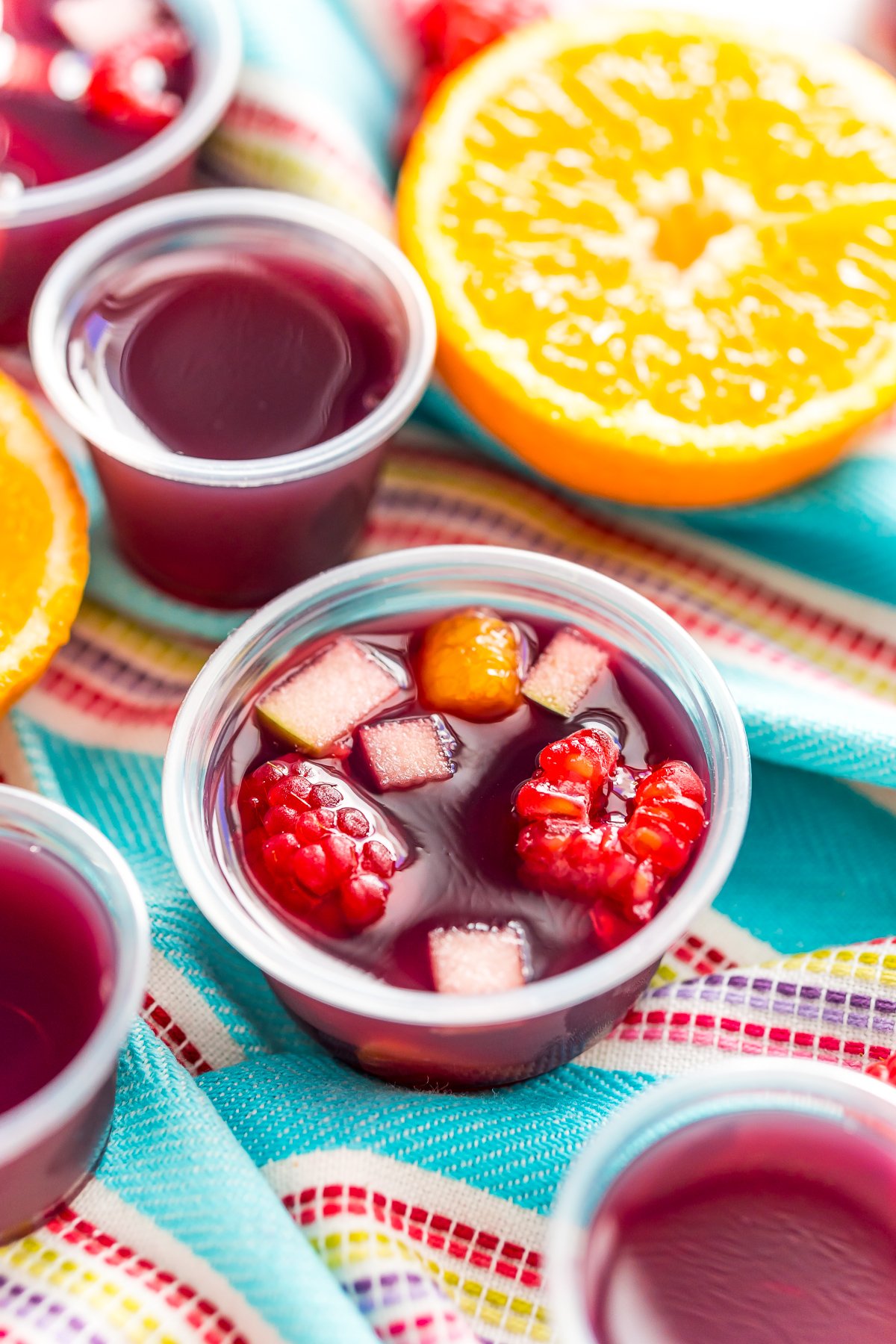 Sangria Jello Shots
Click the button above to save this delicious recipe to your board!
Let's Connect!
If you've tried this recipe please let me know how you liked it in the comments below and leave a review, I love hearing from you! And don't forget to tag me – @sugarandsoulco – on Instagram and Pinterest with your photos!
This post was originally published in October 2017 and was updated in July 2019 with new photos.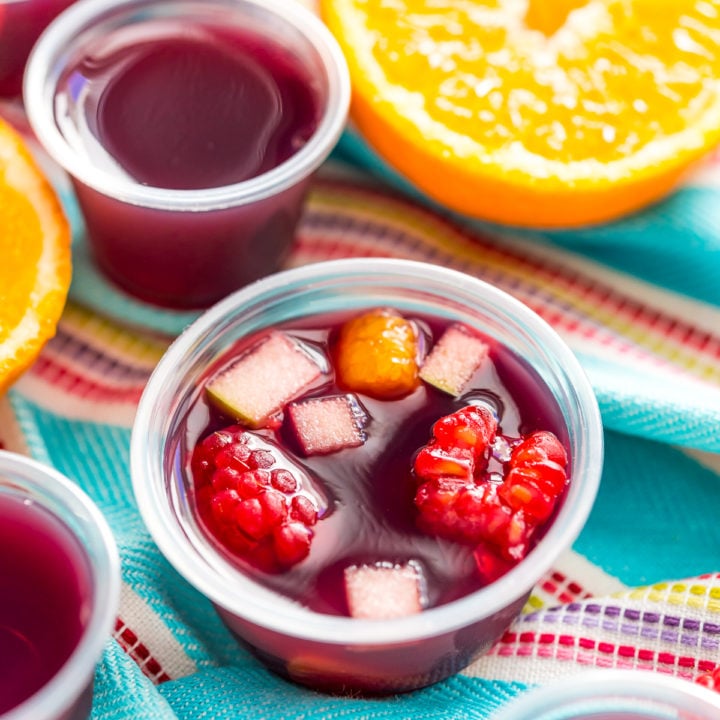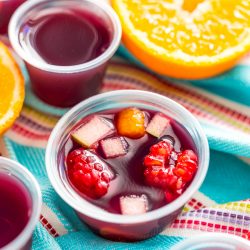 Sangria Jello Shots
Turn a classic wine punch into a fun party shot with this easy Sangria Jello Shots recipe! These cocktails are great for all your get togethers and are made ahead of time for easy entertaining!

Ingredients
2

tablespoons

unflavored gelatin

(2 packets)

2

cups

red wine (red blend, cabernet, zinfandel)

divided

1/2

cup

cherry juice

1/2

cup

cranberry juice

1/2

granny smith apple

cored and finely diced

18

mandarin oranges slices

chopped into thirds

18

fresh raspberries

halved

18

2-ounce plastic cups with lids
Instructions
Add gelatin to a spouted mixing bowl or 4-cup liquid measuring cup. Pour 1/4 cup of red wine over the gelatin and allow to sit for 5 minutes until the gelatin is absorbed into the wine.

Heat 1 cup wine over medium heat until it just begins to simmer. Whisk the hot wine into the gelatin mixture until the gelatin is dissolved.

Whisk in the remaining 3/4 cup of wine and both juices until combined. Set aside.

Lay out your plastic cups on a baking tray without the lids (for easy transportation). Distribute the diced apples evenly among the cups. Add 3 pieces of orange and 1/2 or a raspberry to each cup.

Pour the wine mixture into each cup filling just under the lip so there's room to put the lid on later.

Refrigerate the shots for 2-3 hours or until set.

Remove shots from the fridge. Place a raspberry half on top of each shot, cut side down. Serve immediately or cover each cup with a lid and refrigerate until ready to serve.
Notes
If you're not feeling the fruit in the shots, they can be omitted and you'll still have a delish wine jello shot!
Nutrition
Calories:
82
kcal
Carbohydrates:
15
g
Protein:
1
g
Sodium:
5
mg
Potassium:
204
mg
Fiber:
1
g
Sugar:
11
g
Vitamin A:
600
IU
Vitamin C:
24.9
mg
Calcium:
35
mg
Iron:
0.3
mg