These Brownie Sundae Cupcakes bring together everything you love about the classic fudgy and creamy dessert without the bowl!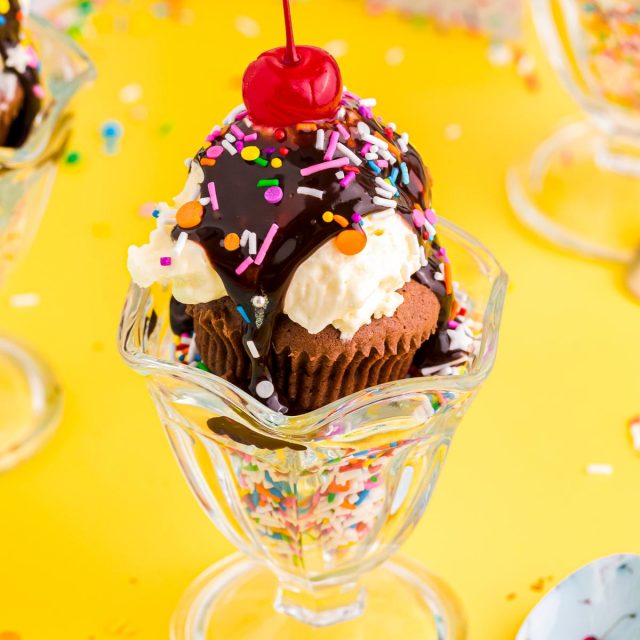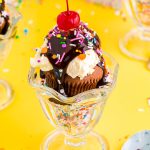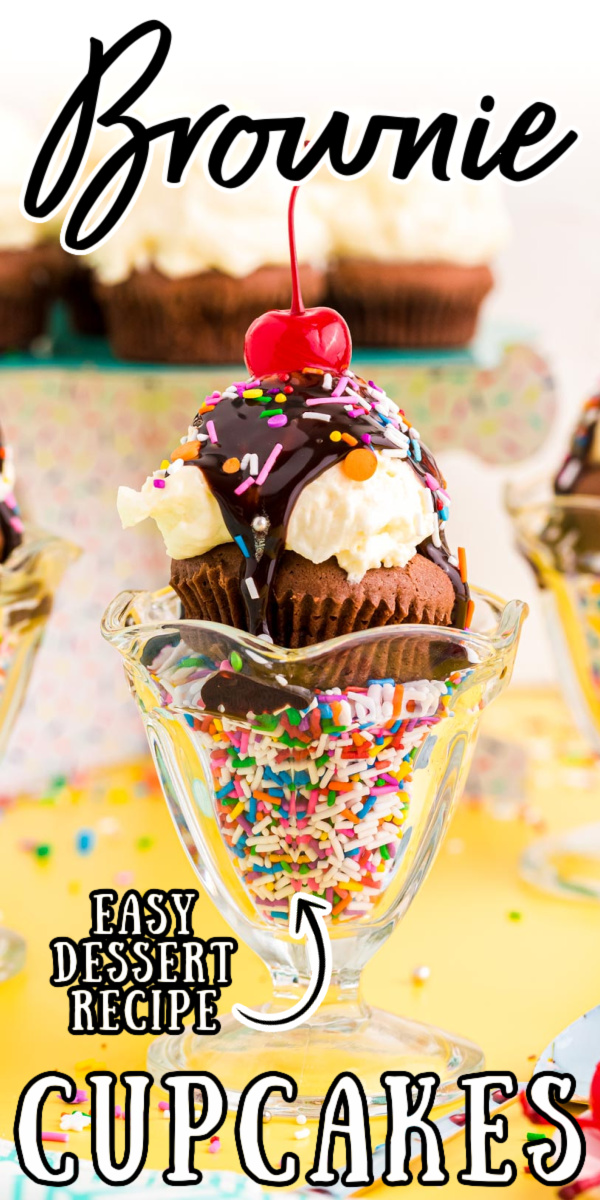 Brownie Sundae Cupcakes are rich, fudgy homemade brownies topped with a sweet whipped vanilla frosting and all your favorite sundae toppings!
Trade-in your pan of brownies for more ways to enjoy your favorite chewy, fudgy treat with recipes like my Brownie S'mores Dip that's served with graham crackers and these 4-ingredient Mud Pie Brownies!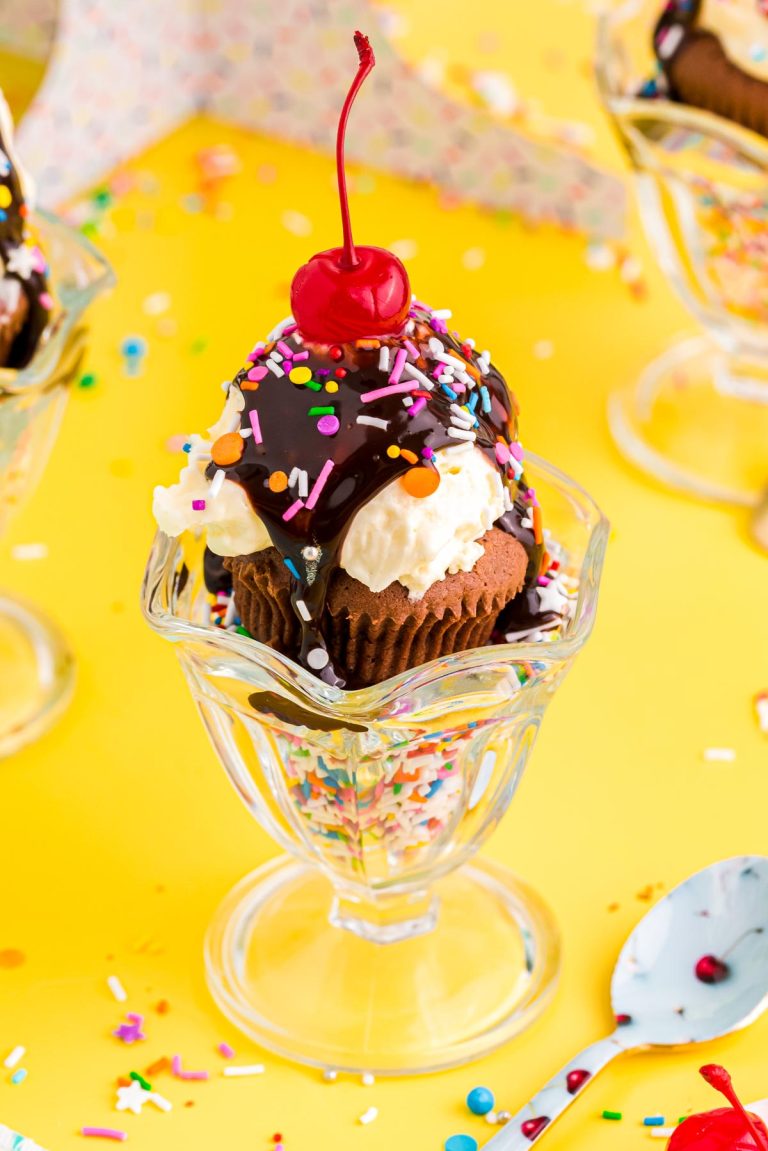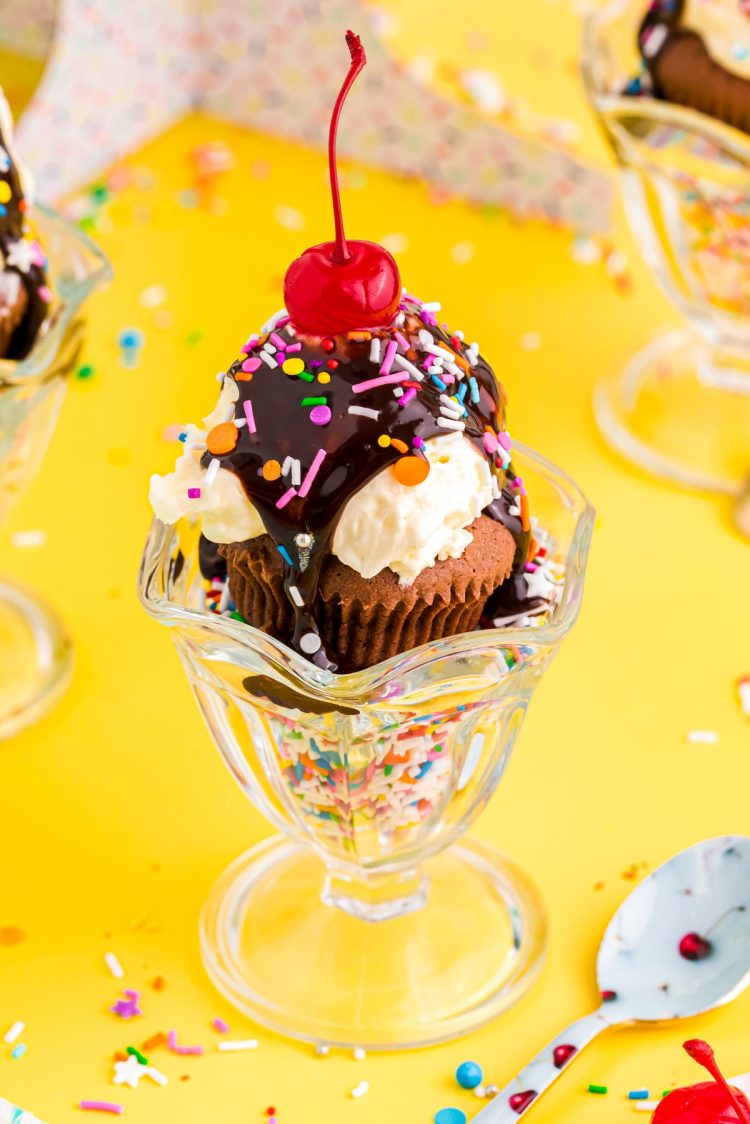 These Brownie Sundae Cupcakes have a simple 6-ingredient brownie base that is topped with homemade vanilla frosting and then finished off with your favorite ice cream toppings! Bury them in Whipped Cream, hot fudge, cookie crumbles, or sprinkles, and dig in!
The most basic sundae ingredient is obviously missing in these Brownie Sundaes: ice cream. The frosting takes its place in this dessert, skipping out on a melted mess and making it easy to transport this treat to all of your parties!
But that doesn't mean you can't put a scoop or two of your favorite ice cream on top if you'd like! You can even set the brownie cupcakes out as-is in a dish with a line-up of toppings, frosting choices, and ice cream so that everyone can build their brownie sundae exactly the way they want it!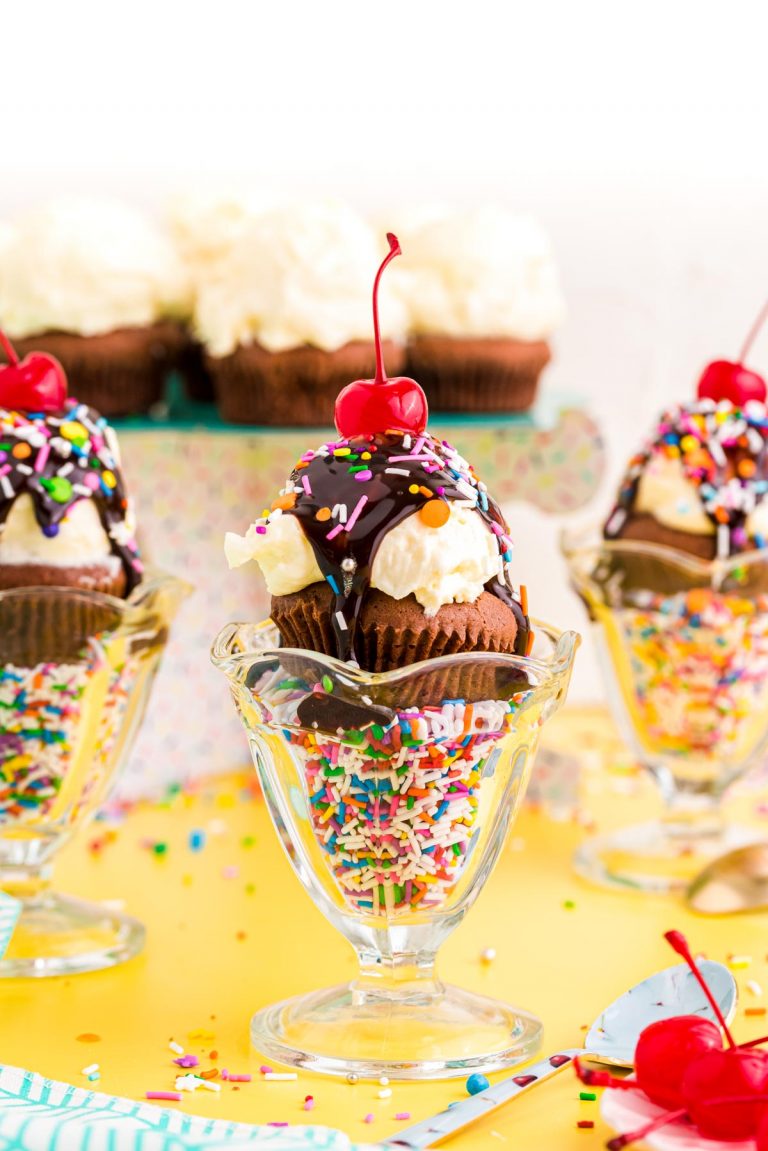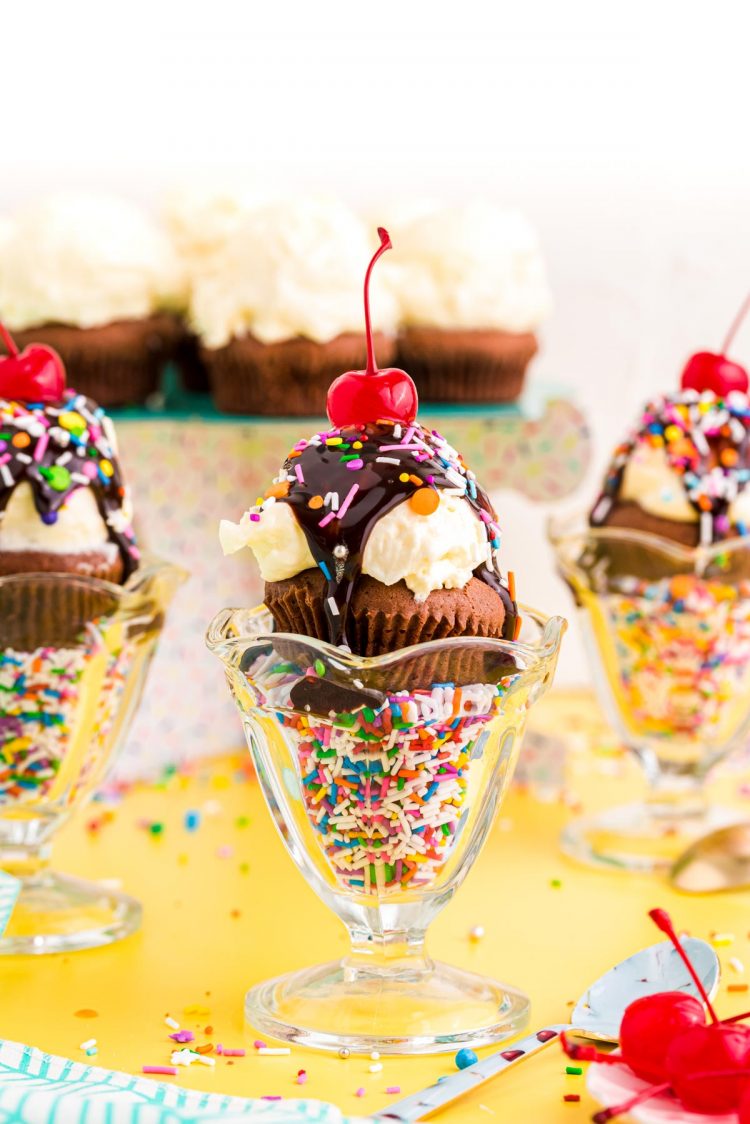 Ingredient Notes
This Brownie Cupcake Recipe has three easy parts! First the chocolate cupcakes, then the vanilla frosting, and lastly the toppings!
Semi-sweet chocolate chips, salted butter, eggs, granulated sugar, vanilla extract, and all-purpose flour are used to make the brownie cupcakes. As for the vanilla frosting, you'll need heavy cream, powdered sugar, and dry instant vanilla pudding mix.
Then just pick your favorite toppings to pile on to them! We love using:
Hot Fudge
Nuts
Maraschino Cherries
Rainbow or Chocolate Sprinkles
Drizzles of sauces like caramel, butterscotch, or strawberry.
Crumbled Oreos, fudge stripe cookies, and nutter butters.
Candy such as M&Ms, Reese's Pieces, Gummy Worms, Heath Bar, and Buncha Crunch.
Mini Chocolate Chips or Mini Marshmallows
As you can see, if you can think of it you can add it!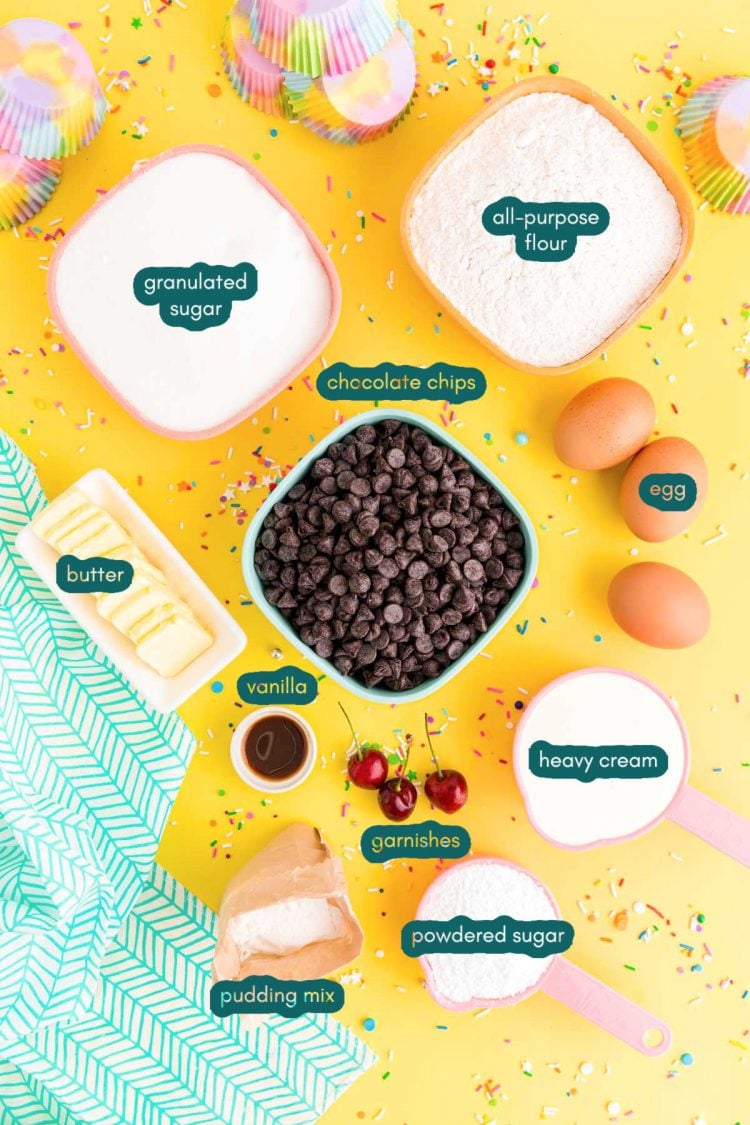 How To Make Brownie Cupcakes
Line a muffin tin with cupcake liners.
Microwave the chocolate chips and butter until it's completely melted and smooth.
Whisk together the eggs, sugar, and vanilla in a separate bowl.
Add the egg mixture slowly into the melted chocolate mixture. Whisk together.
Add in the flour and mix until smooth.
Fill the liners of the muffin pan with batter and bake them in the preheated oven.
Cool for 10 to 15 minutes and then transfer them to a wire rack to finish cooling to room temperature.
Beat the ingredients for the vanilla frosting in a large bowl until light and fluffy.
Scoop the frosting onto the cooled brownies using an ice cream scoop. Serve with toppings and enjoy!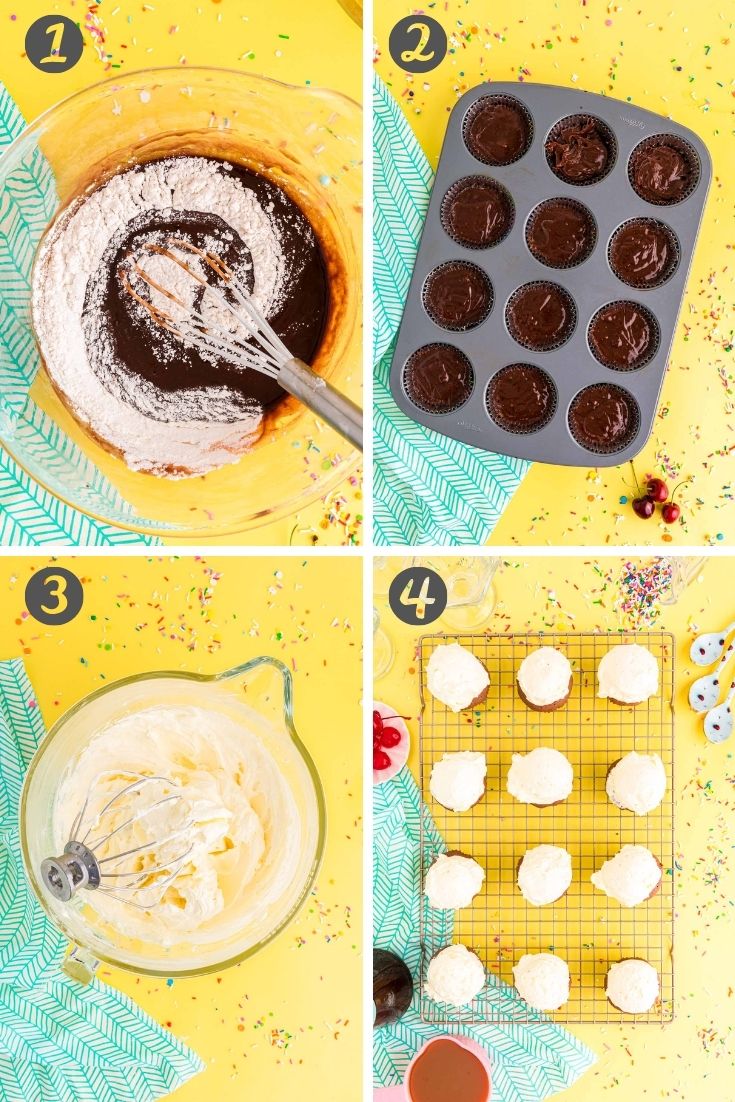 Frequently Asked Questions
How To Store Brownie Cupcakes
This dessert is best when enjoyed the same day they're frosted! For longer shelf life, you can bake brownies and store them in an airtight container for 3 to 4 days and frost them right before eating.
Can I Top These With Chocolate Frosting Instead?
Of course, just swap out the vanilla pudding mix in the frosting recipe for chocolate pudding or try my Best Chocolate Buttercream Frosting! I also think trying them with Peanut Butter Frosting or Nutella Frosting would be delicious as well!
Where Can I Get The Ice Cream Sundae Glasses?
Home good stores such as Marshalls or Tj Maxx are always my go-to! Target, Amazon, and Bed Bath & Beyond are worth checking for them as well! You might also be able to find them at antiques or thrift stores.
Can I Make These Mini Brownie Cupcake Sundaes?
Yes, you can! Just grab a mini muffin cup tin and adjust the baking time accordingly. Making them into minis will also yield more brownie cupcakes!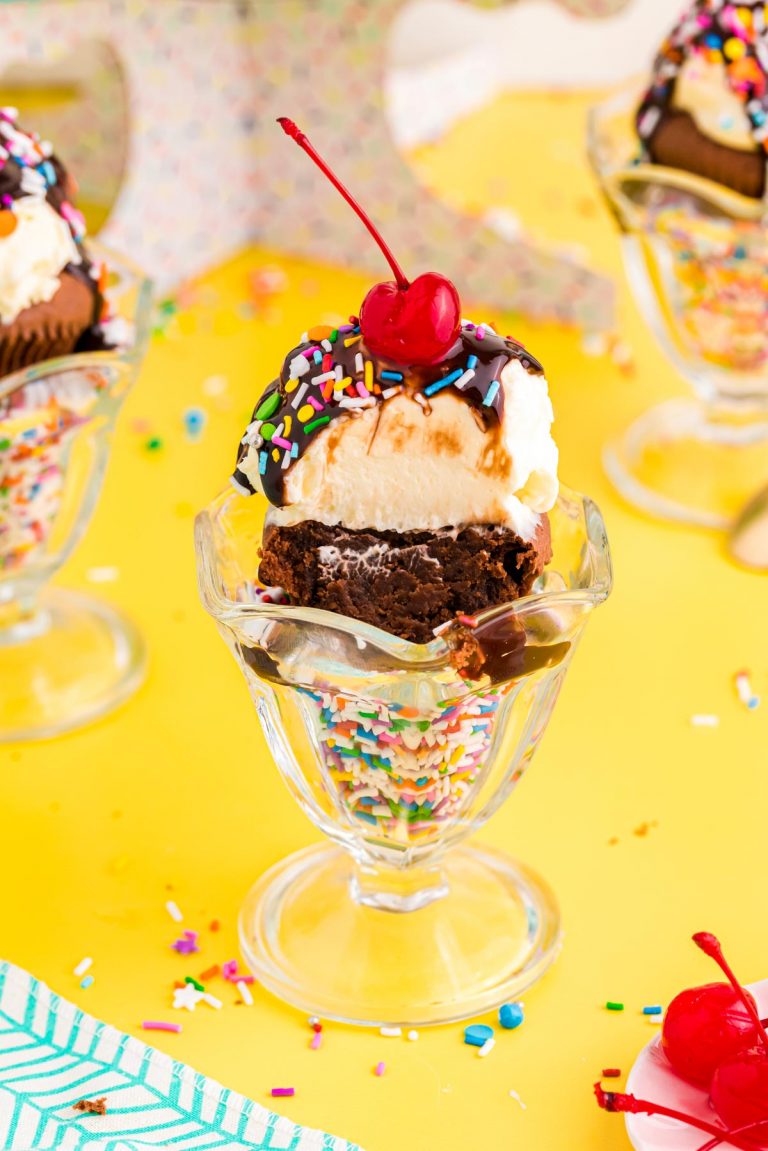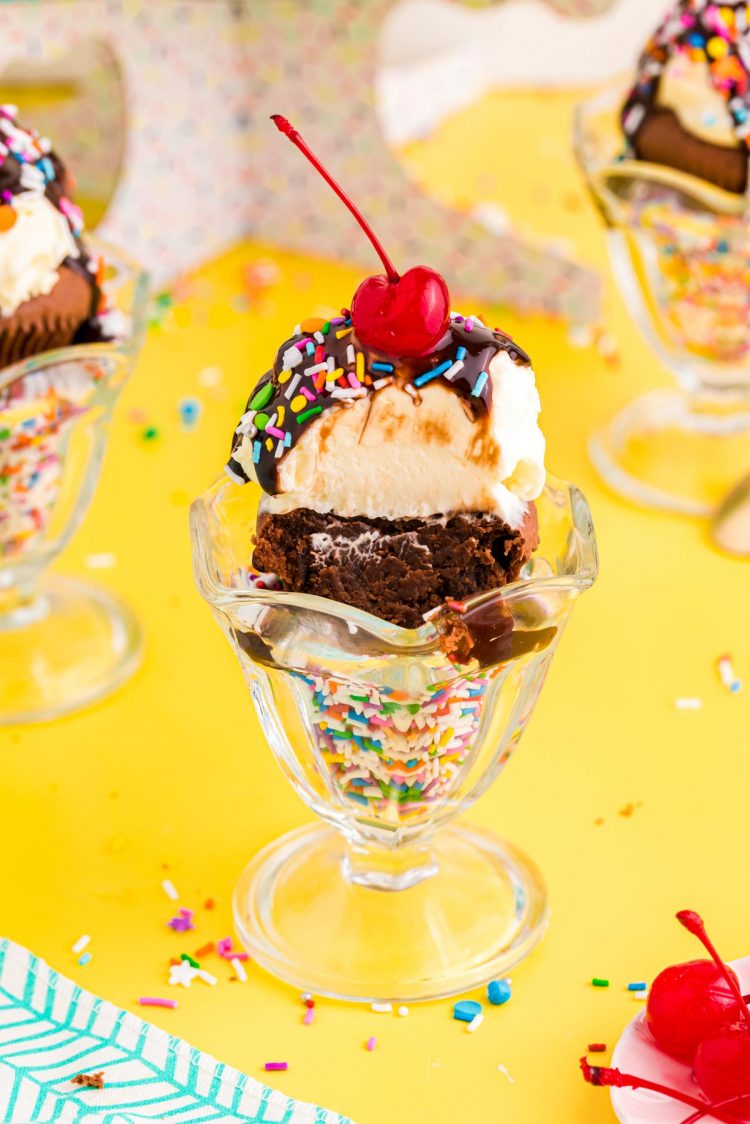 My kids love these Brownie Sundae Cupcakes since they get to cover them in their favorite, fun toppings! Here are more fun and delicious brownie recipes they'll love eating up as well!
👋 Let's Connect!
If you've tried this recipe, please let me know how you liked it in the comments below and leave a review; I love hearing from you! And don't forget to tag me – @sugarandsoulco – on Instagram and Pinterest with your photos or join our Sugar & Soul Show-offs Community and share them there, where you can join our recipe challenges and win prizes!
This recipe was originally published in 2015 and was updated in 2021 with new photos and clearer instructions.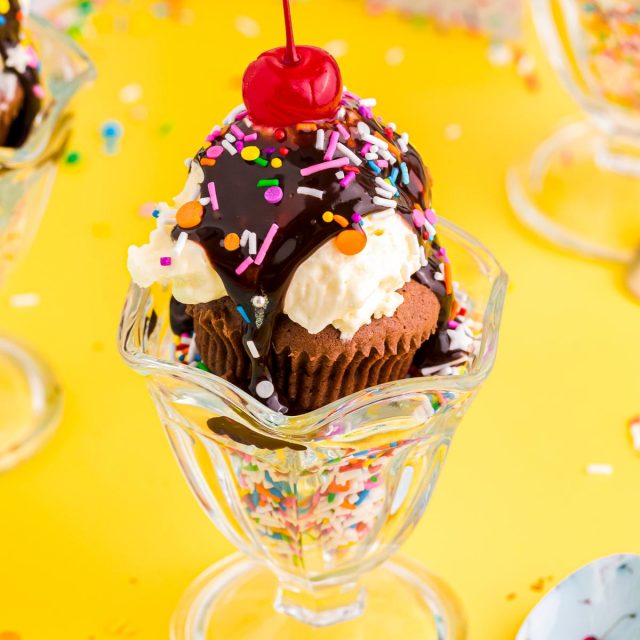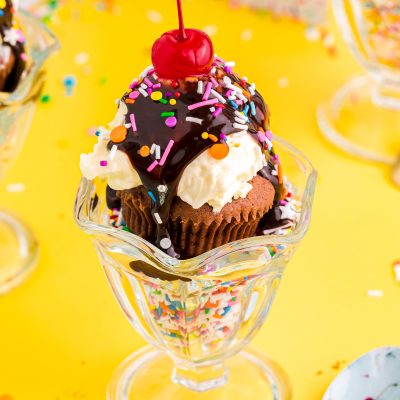 Brownie Sundae Cupcakes
These Brownie Sundae Cupcakes bring together everything you love about the classic fudgy and creamy dessert without the bowl!
Ingredients
Toppings:
Hot fudge
Nuts
Sprinkles
Caramel
Instructions
Cupcakes:
Preheat oven to 325°F and line cupcake pan with liners.

In a large microwave-safe bowl, combine chocolate chips and butter. Microwave on high at 30-second intervals, stirring in between until completely melted and smooth.

In a separate bowl, whisk together eggs, sugar, and vanilla until well mixed.

Slowly add egg mix to the chocolate mix, whisking well.

Slowly add in flour and mix until smooth.

Add batter to cupcake liners, filling them about ⅔ full. Bake for 15 to 20 minutes, until a toothpick comes clean from the center.

Let cool in pan for 10 minutes before transferring to a cooling rack.
Frosting:
Add ingredients to a large bowl or stand mixer and beat on medium-high speed with whisk attachments until light and fluffy.

Use an ice cream scoop to scoop the frosting onto the cooled brownies.

Top with toppings and enjoy!
Notes
Best served the same day they are frosted.
This recipe makes a lot of frosting due to filling the ice cream scoop, if you want to do a basic piping, use just 2 cups heavy cream, 1/2 cup powdered sugar, and 1/3 cup pudding mix.
Recipe adapted from Taste of Home.
Nutrition
Calories: 499kcal | Carbohydrates: 34g | Protein: 4g | Fat: 39g | Saturated Fat: 24g | Polyunsaturated Fat: 2g | Monounsaturated Fat: 11g | Trans Fat: 1g | Cholesterol: 154mg | Sodium: 147mg | Potassium: 136mg | Fiber: 1g | Sugar: 25g | Vitamin A: 1300IU | Vitamin C: 1mg | Calcium: 57mg | Iron: 1mg