Red Sangria made with a mix of red wine, brandy, lemon-lime soda and loaded with oranges, apples, strawberries, and blackberries, plus a touch of cinnamon!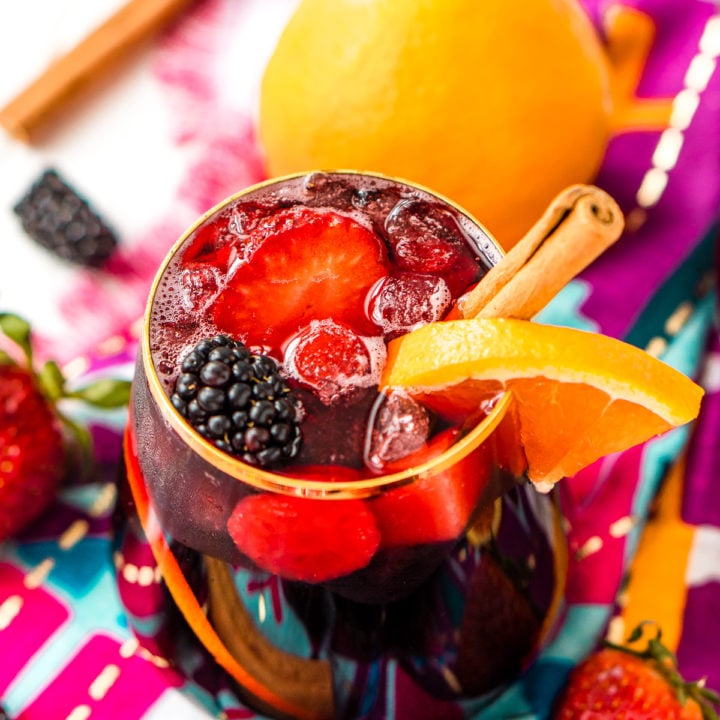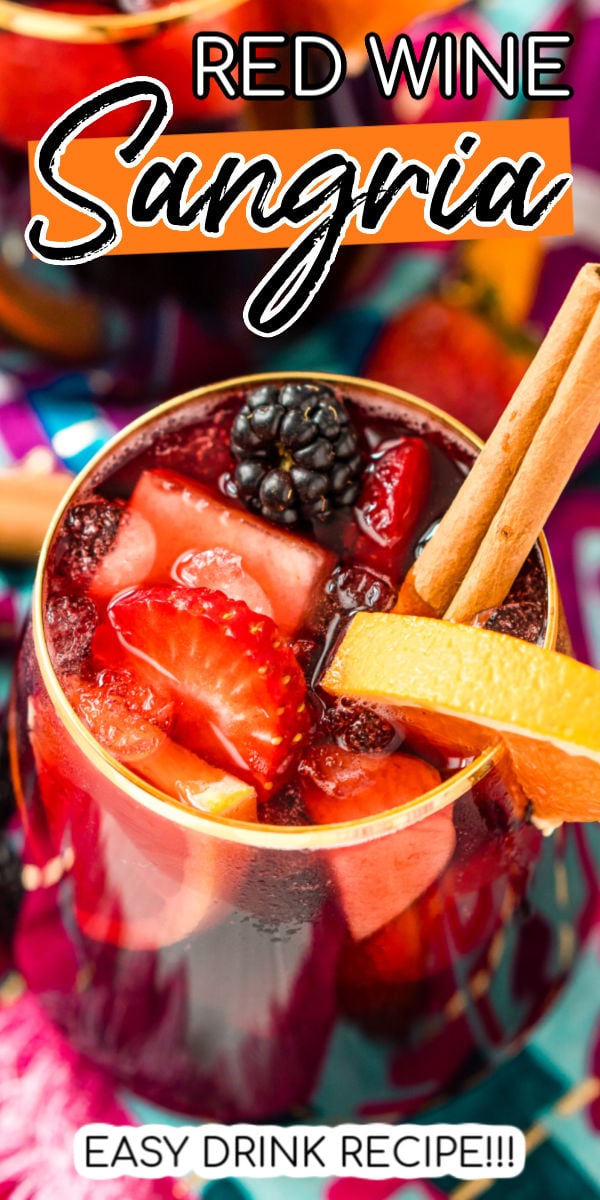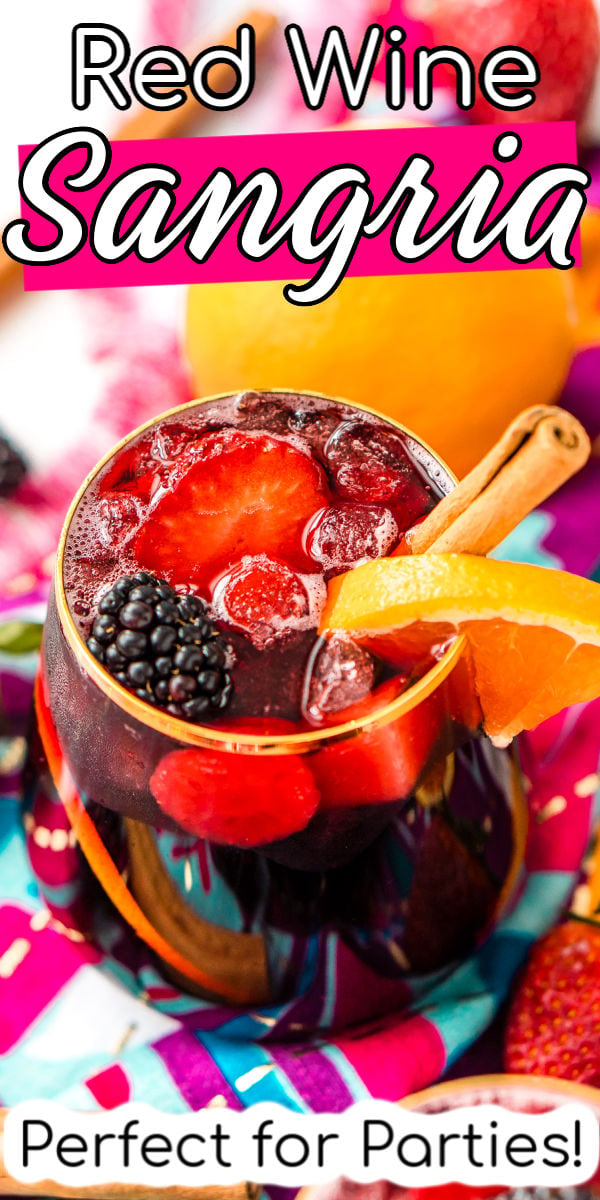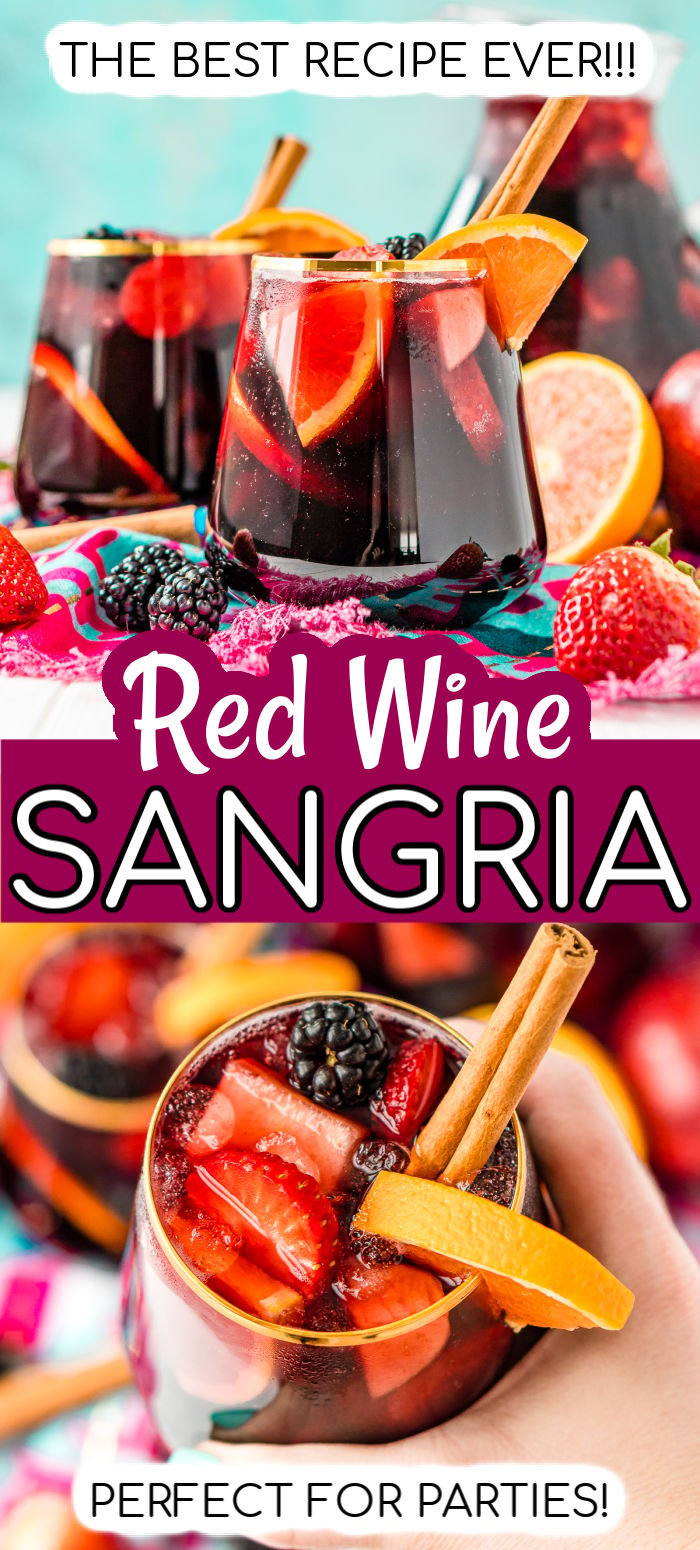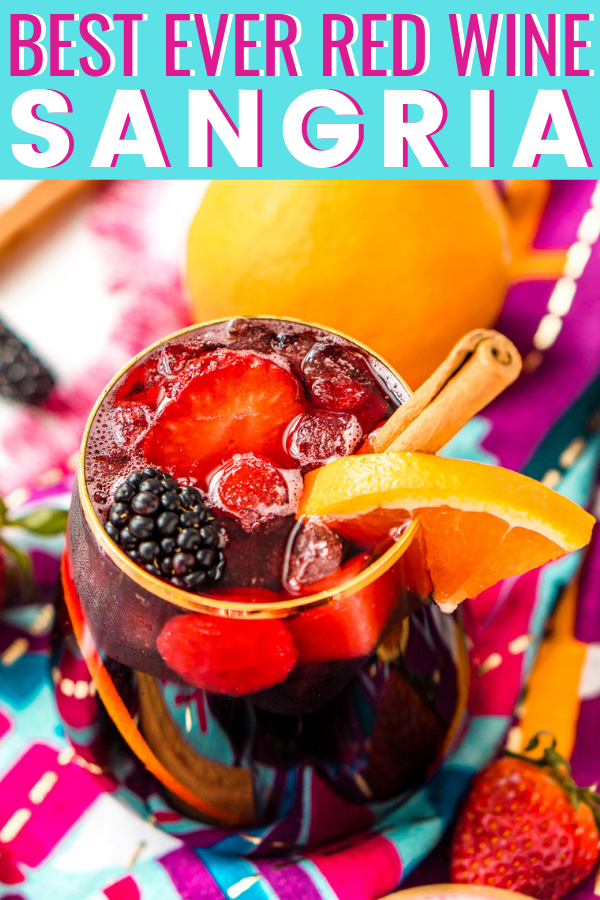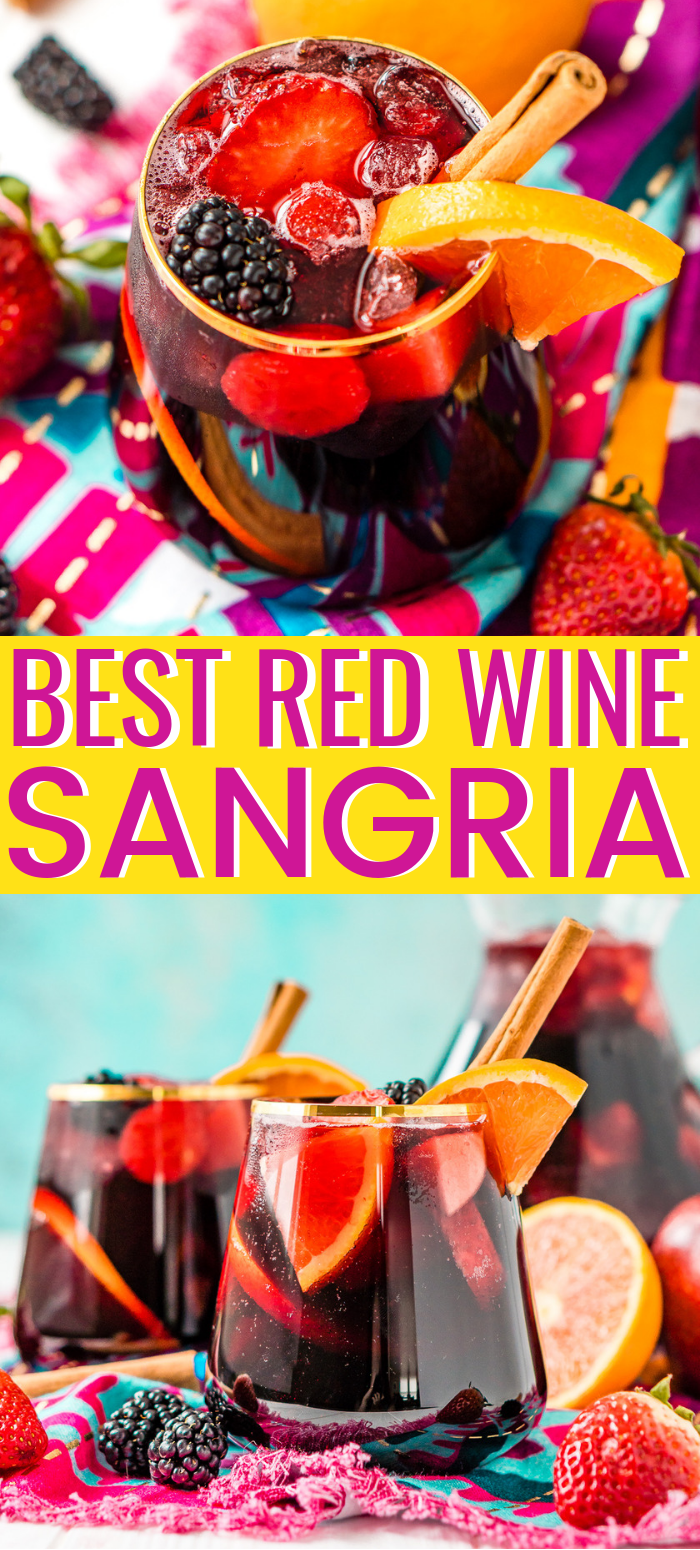 Red Wine Sangria is a delicious batch cocktail that isn't overly sweet and is made with a mix of red wine, brandy, lemon-lime soda, and loaded with oranges, apples, strawberries, and blackberries, plus a touch of cinnamon!
This sangria recipe is perfect for large gatherings and girls nights or it keeps in the fridge for several days for smaller occasions!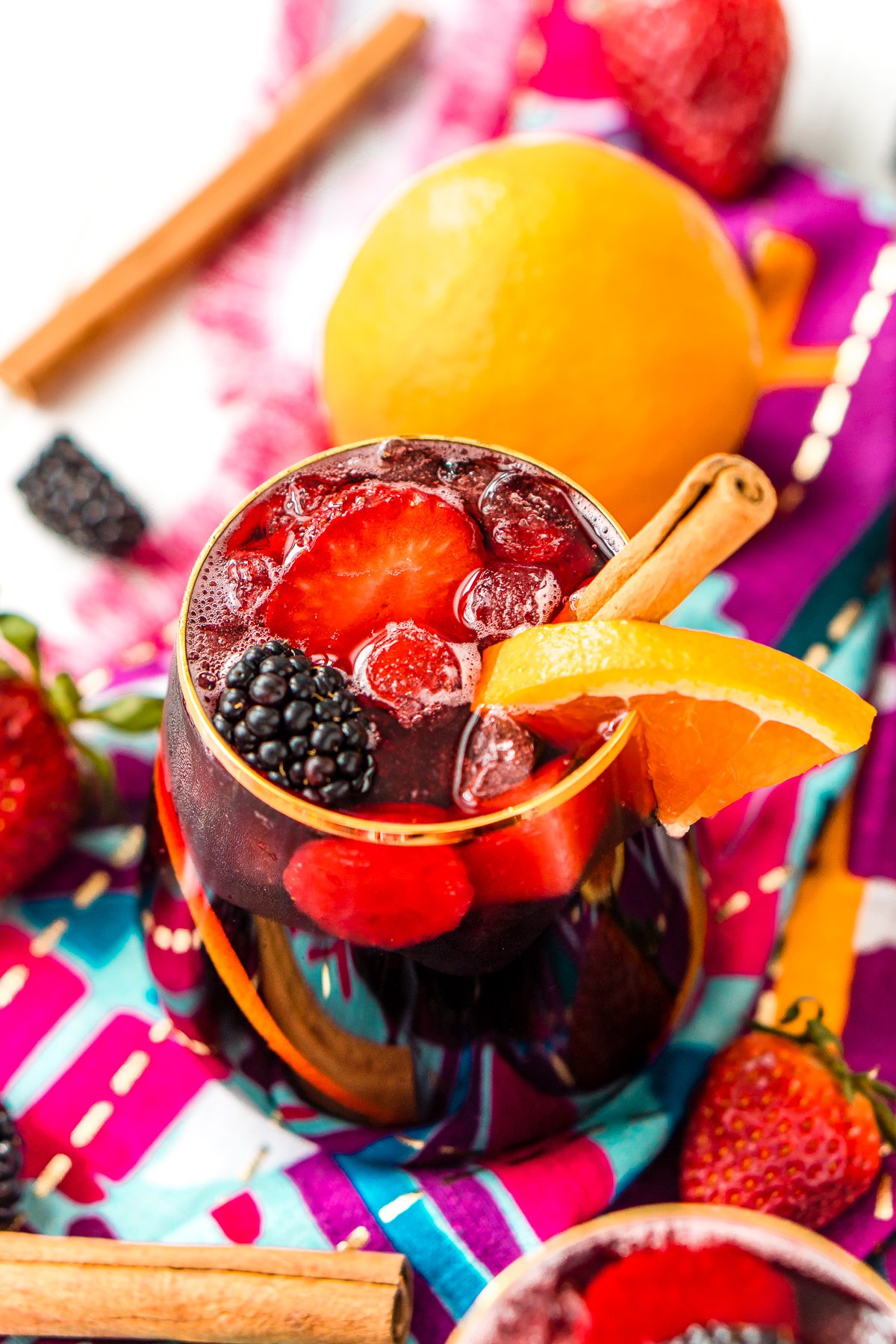 Pretty much everyone I know loves sangria! I don't even really like wine but this is one of my favorite summer drinks! I'm all about this fruity blend of wine, soda, and brandy!
This punch is bound to be an instant summer favorite at gatherings! You'll love how easy it is to mix up and that you can make it in advance!
And this might just be the Best Sangria Recipe you'll ever have!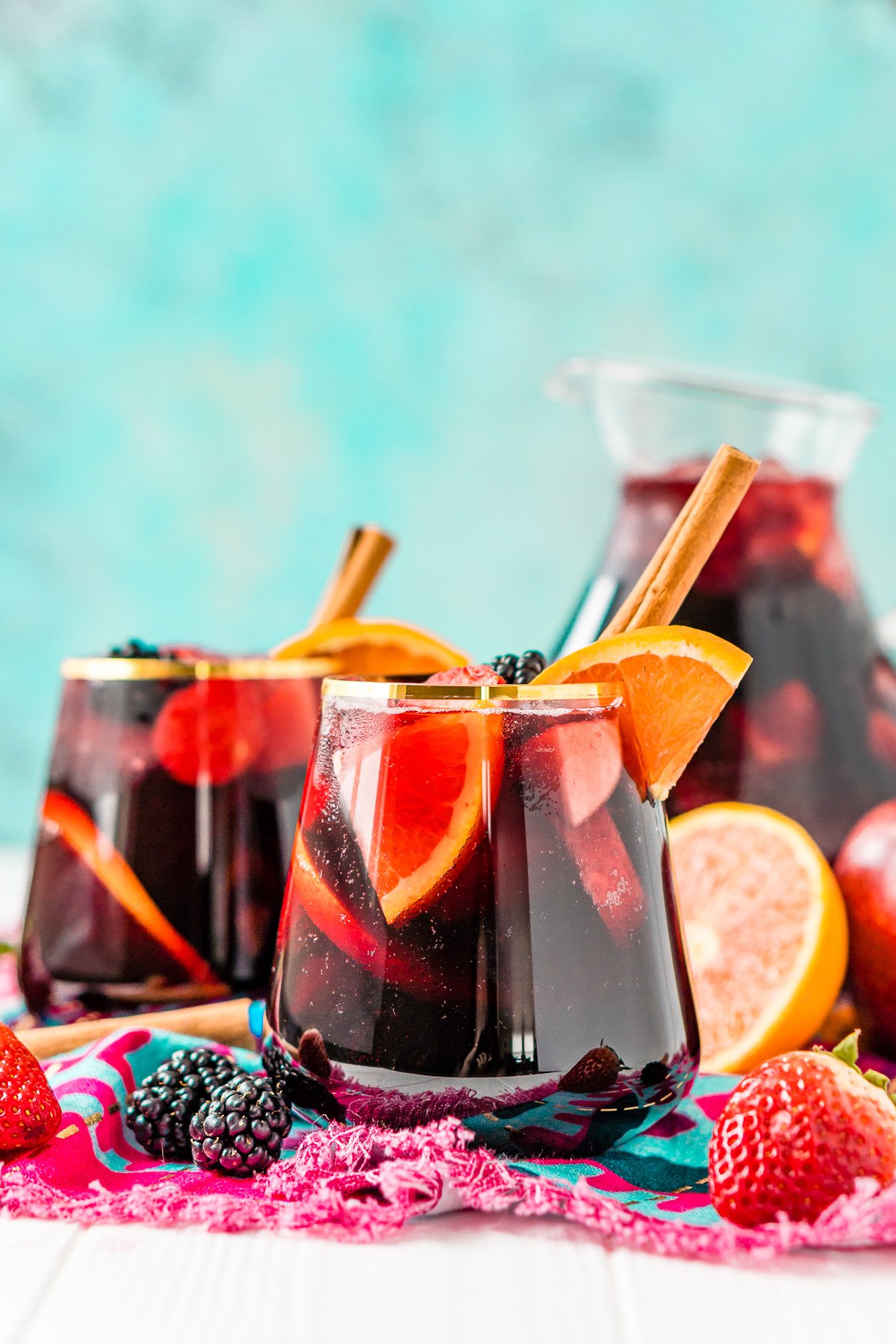 What is Sangria?
Sangria is a punch that originated in Spain and was first served in the US at the 1964 World Fair in New York. A basic sangria recipe is made with wine and fruit. But it also often includes additional liqueurs or fruit juice in it.
Is Sangria Red Wine or White Wine?
It can be either, this recipe is to be used with red wine but you can also try my delicious White Wine Sangria too!
I love sangria because it's so versatile and there are a million delicious ways to make it!
Is Sangria Sweet?
Some recipes can be, but this one isn't overly sweet at all. You have the option to add a couple of ounces of Simple Syrup to sweeten it up, but you can leave it out if you prefer!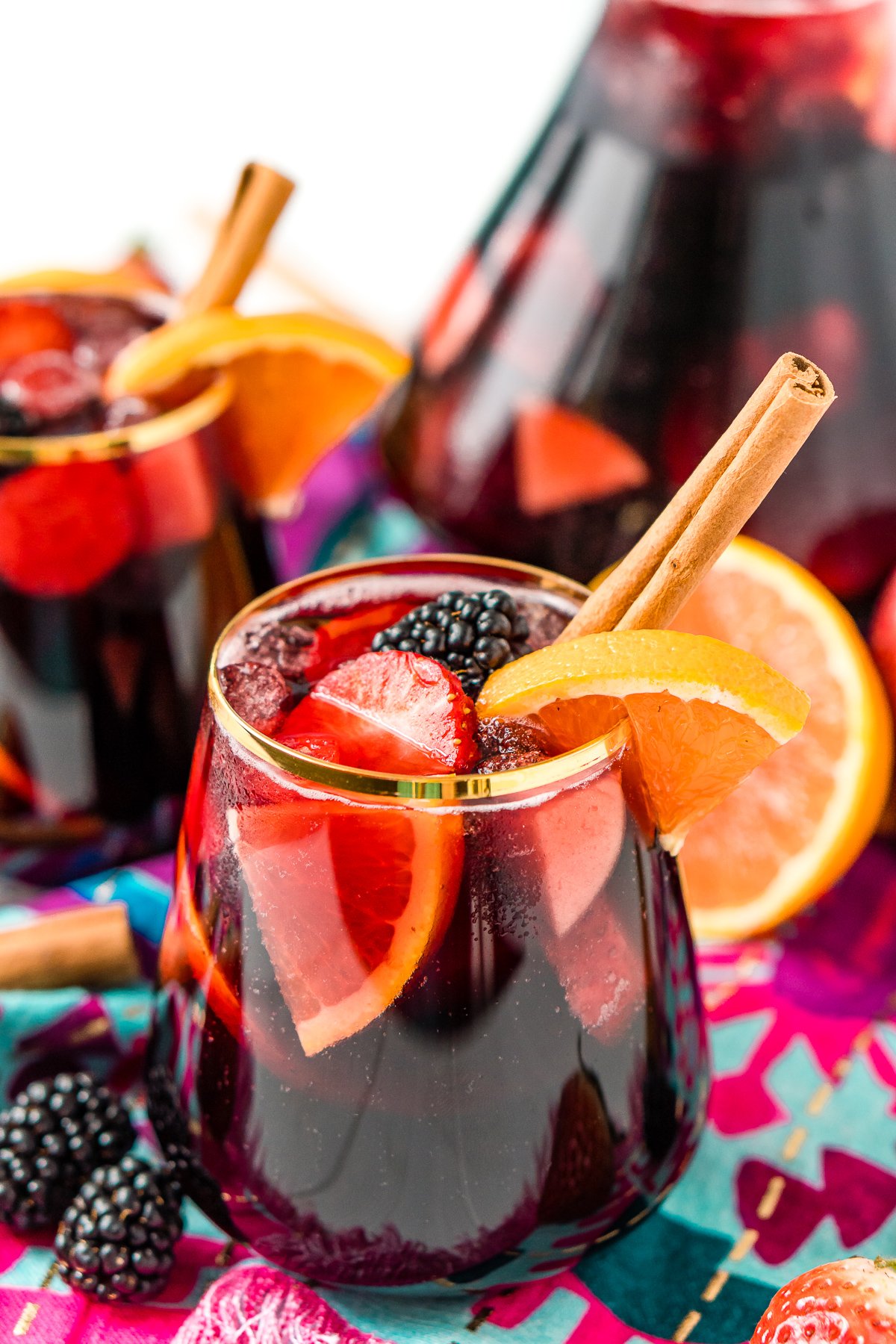 Red Sangria Ingredients
I have a soft spot for brandy in my cocktails and blackberry brandy paired with a Cabernet that had some spice notes is what really drives the flavor of this recipe!
Blackberry Brandy – I prefer the sweetness and flavor of blackberry brandy and usually use Allen's brand, but you can use any fruity brandy to make this recipe!
Cabernet – This is my personal preference, but I recommend using a red wine you know you like. But preferably with spicy and fruity notes. Remember that with sangria, cheap wine is totally fine to use!
Lemon-Lime Soda – Feel free to use club soda or sparkling water instead of soda if you want to cut back on the sugar and calories. Ginger ale could also be used.
Simple Syrup, Fruits, and Extra spices – Load it up with oranges, apples, strawberries, and blackberries. Add cinnamon sticks and simple syrup if you'd like.
Best Red Wine for Sangria
One of my favorites to use is Robert Mondavi Private Selection Cabernet Sauvignon Aged in Bourbon Barrels, it has notes of vanilla, brown sugar, and cherries.
Josh Cellars Cabernet Sauvignon is another great choice!
Ultimately, you'll want to look for a wine that's barrel-aged and check the bottle label for flavor notes if they're listed.
This recipe has also been tested with Shiraz and Merlot as well, but I didn't find it quite as delicious as when it's made with Cabernet.
How to make Sangria
Combine: In a large pitcher, combine all of the ingredients except for the soda and ice.
Steep: Let the sangria steep in the refrigerator for at least several hours but best when left for 1 to 2 days.
Serve: When you're ready to serve, add the soda to the mix, then serve over ice.
Scroll to the bottom to get the full printable recipe!
Large Batch Sangria Recipe – How to make Sangria for a crowd
This recipe is meant to serve twelve people, so if you're looking to serve a crowd just make this recipe as directed and you'll be all set. If you're looking to make a big jug, go ahead and double the recipe.
When it comes to parties though, I always like serving a variety and usually make a batch of red and a batch of white sangria too!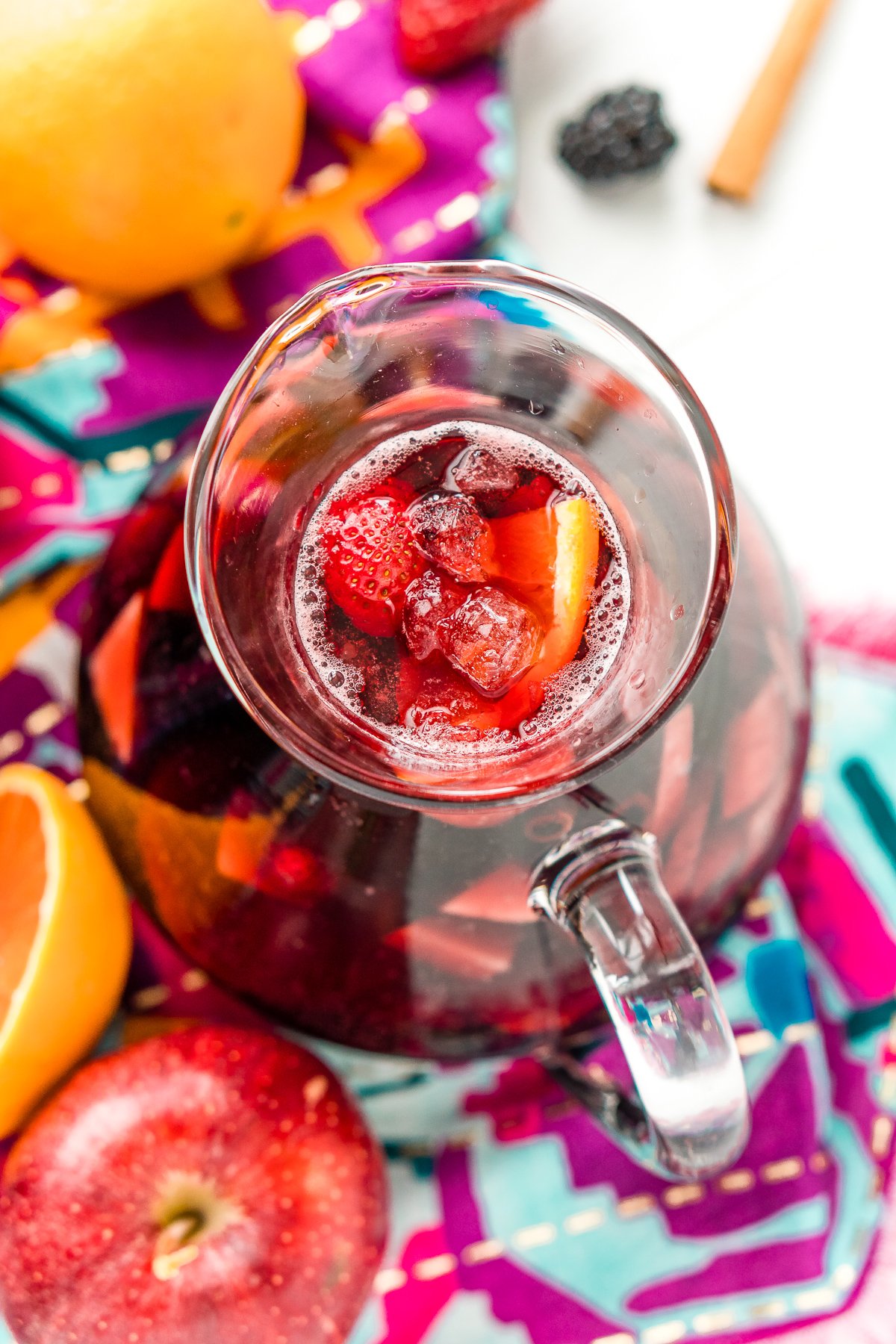 Storing this Red Sangria Recipe
How long is homemade Sangria good for?
From the time you first mix the fruit and wine together, this wine punch has a 3-day shelf life.
How far in advance can you make sangria?
You should make it at least a few hours in advance, preferably overnight for the best flavor. However, I would recommend making it no more than two days in advance giving you a day to spare for enjoyment.
This can leave you a narrow window to drink up if you're not serving a crowd.
Can you freeze Sangria?
Yes, you can, and it's a great way to preserve leftovers for another time! Go ahead and pour it into freezer bags and lay flat to freeze (similar to the way you'd freeze soup).
Thaw in a bowl in the fridge just in case it leaks. Sangria will need to get to about 21 degrees F to freeze fully and is good for up to 3 months in the freezer.
I have a Sangria Slushies recipe as well that's perfect for beating the heat! It's one of the most popular recipes on this site – everyone loves it!
Red Wine Sangria FAQs
Can I use white wine in Sangria?
White wine has a different flavor profile and tastes better with a different combination of fruits and liqueurs than this recipe requires! Check out my White Wine Sangria if white is your preference – you won't be sorry!
How long should Sangria sit?
It should set for at least a couple of hours to let the flavors meld. It's best if you let the flavors develop overnight though.
What's the best fruit to put in Sangria?
All different kinds of fruit can be used in sangria, but in this red wine recipe we stick to basics like apples, strawberries, and blackberries.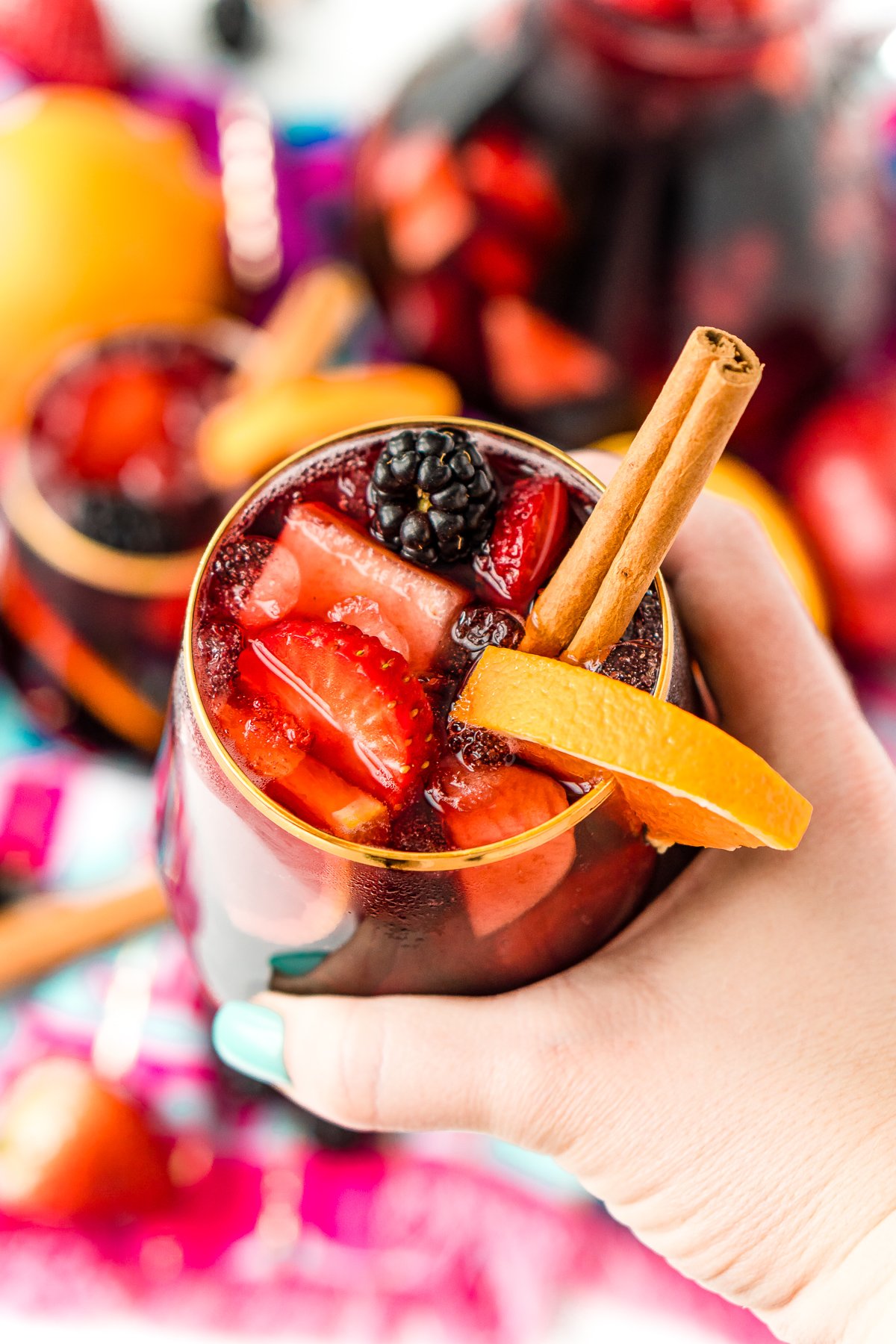 Seriously, I had a couple of glasses of it two days after steeping and I have never had a better sangria. The berries and the spice flavors were heightened and it was super smooth.
This is such a great recipe that I guarantee everyone you serve it to will ask you for it!
More Delicious Large Batch Drinks!
Best Red Wine Sangria
Click the button above to save this delicious recipe to your board!
👋 Let's Connect!
If you've tried this recipe, please let me know how you liked it in the comments below and leave a review. I love hearing from you!
Don't forget to tag me – @sugarandsoulco – on Instagram and Pinterest with your photos or join our Sugar & Soul Show-offs Community and share them there, where you can join our recipe challenges!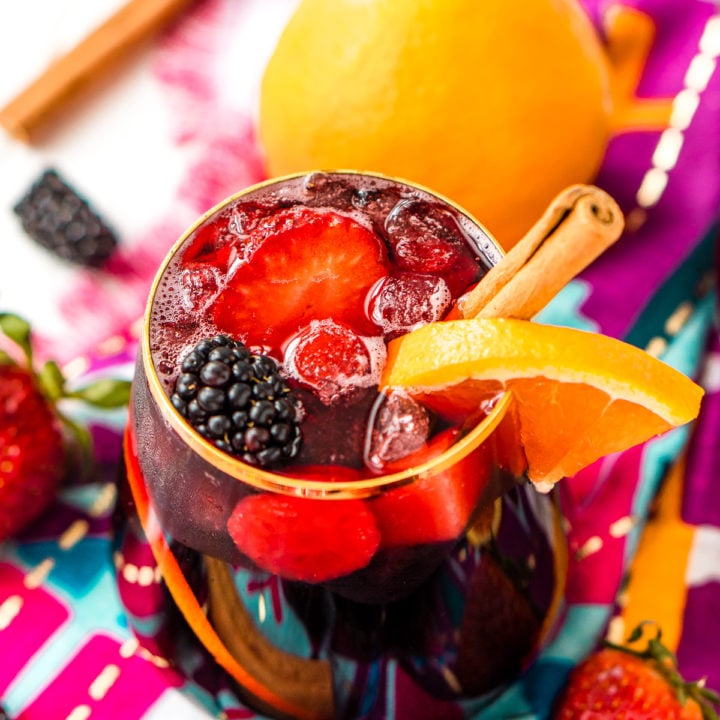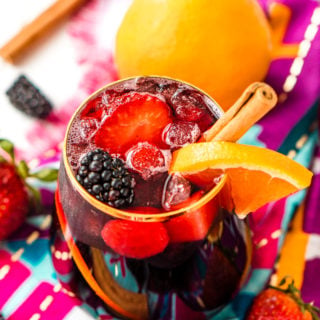 Red Sangria (Red Wine)
Red Sangria made with a mix of red wine, brandy, lemon-lime soda and loaded with oranges, apples, strawberries, and blackberries, plus a touch of cinnamon!
Instructions
Combine all ingredients EXCEPT lemon-lime soda and ice in a large pitcher.

Chill in the refrigerator for at least a couple hours. Overnight or one to two days for best flavor.

Pour the soda in just before serving over ice.
Notes
For Best Flavor: This sangria is best after two days of steeping.
Shelf Life: Once the fruit and wine have been mixed together, sangria should be stored in the refrigerator and consumed within 3 days.
If you can't find Cara Cara oranges, a navel orange will work as well.
If you feel like play around with this recipe a bit, try adding orange juice or lemon juice.
Want to keep this low calorie? Try replacing the lemon-lime soda with club soda.
Nutrition
Calories: 180kcal | Carbohydrates: 23g | Protein: 1g | Fat: 1g | Saturated Fat: 1g | Sodium: 12mg | Potassium: 111mg | Fiber: 3g | Sugar: 17g | Vitamin A: 70IU | Vitamin C: 20.5mg | Calcium: 20mg | Iron: 0.5mg