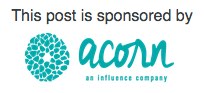 You must be 21 to consume alcoholic beverages. When doing so, please drink responsibly. No drinking and driving, and no drinking and texting! 
This Cranberry Mojito Punch is a festive sparkling cocktail that's sure to have everyone dancing the night away at your holiday party!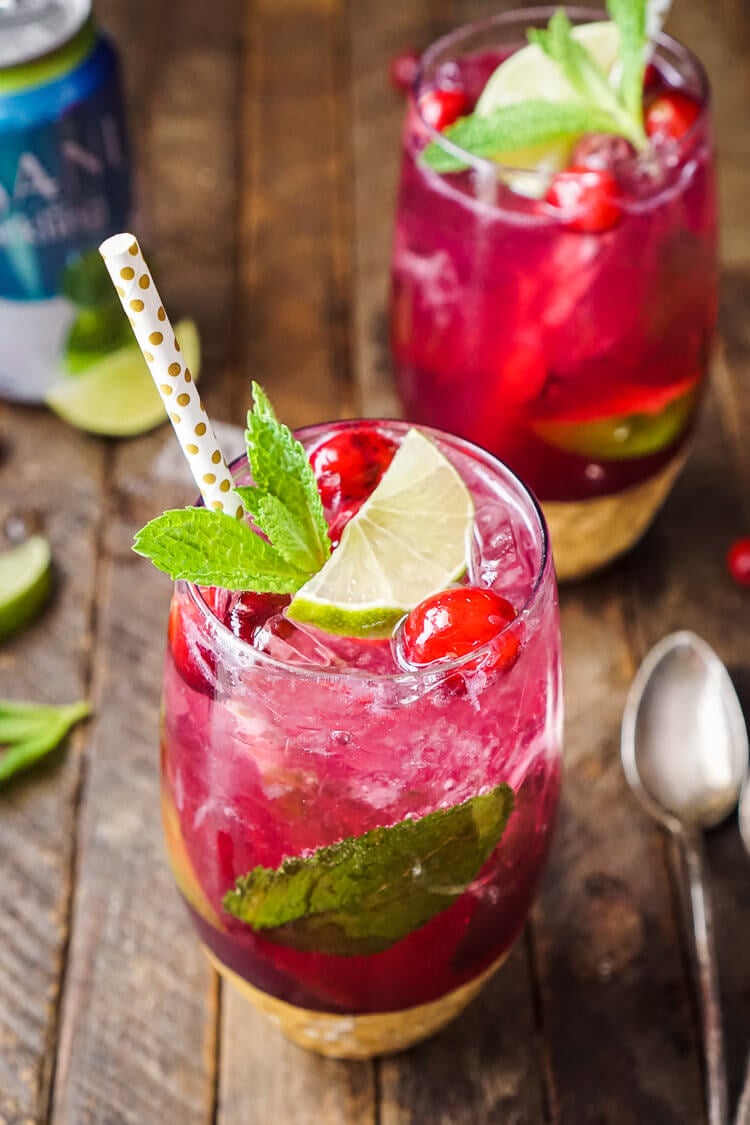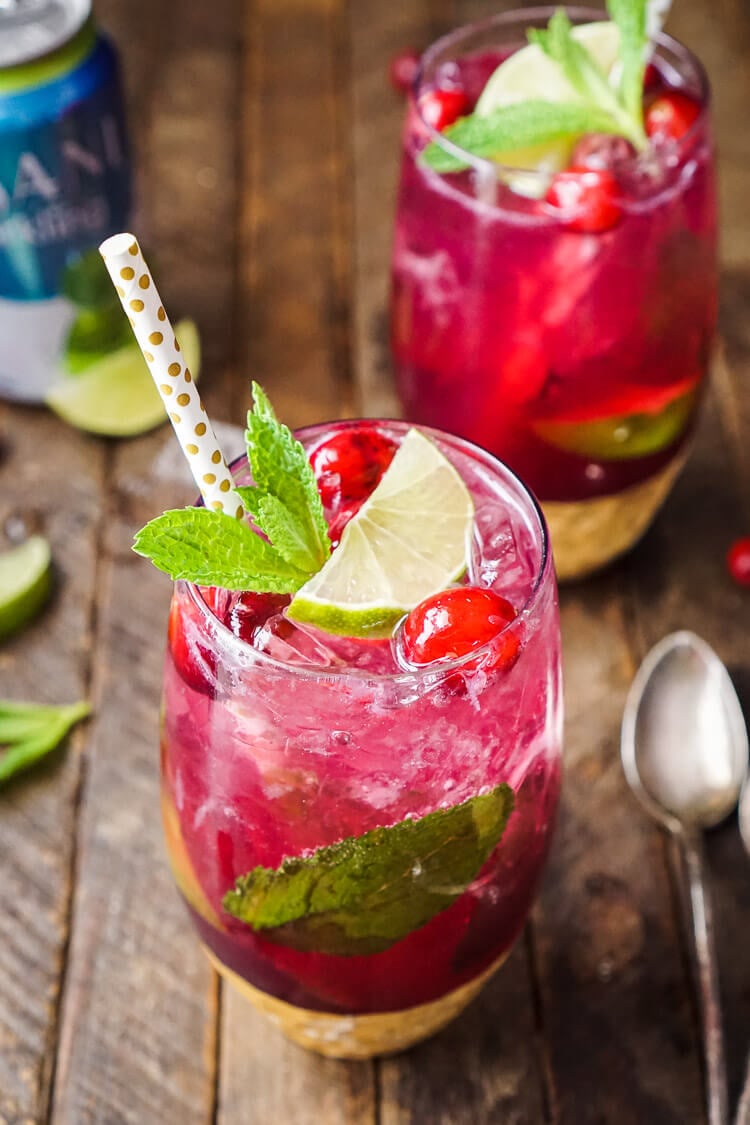 Cranberries are one of my favorite things about the holidays. It's the time of year when it's perfectly acceptable to add them to EVERYTHING! Last year I did a whole cranberry week, but I'm trying to keep myself under control this time around 😉 Although I have drank two of these mojitos today, but it's Friday night and it's been a loooong week, and frankly, I deserve it! Can't let them go to waste either!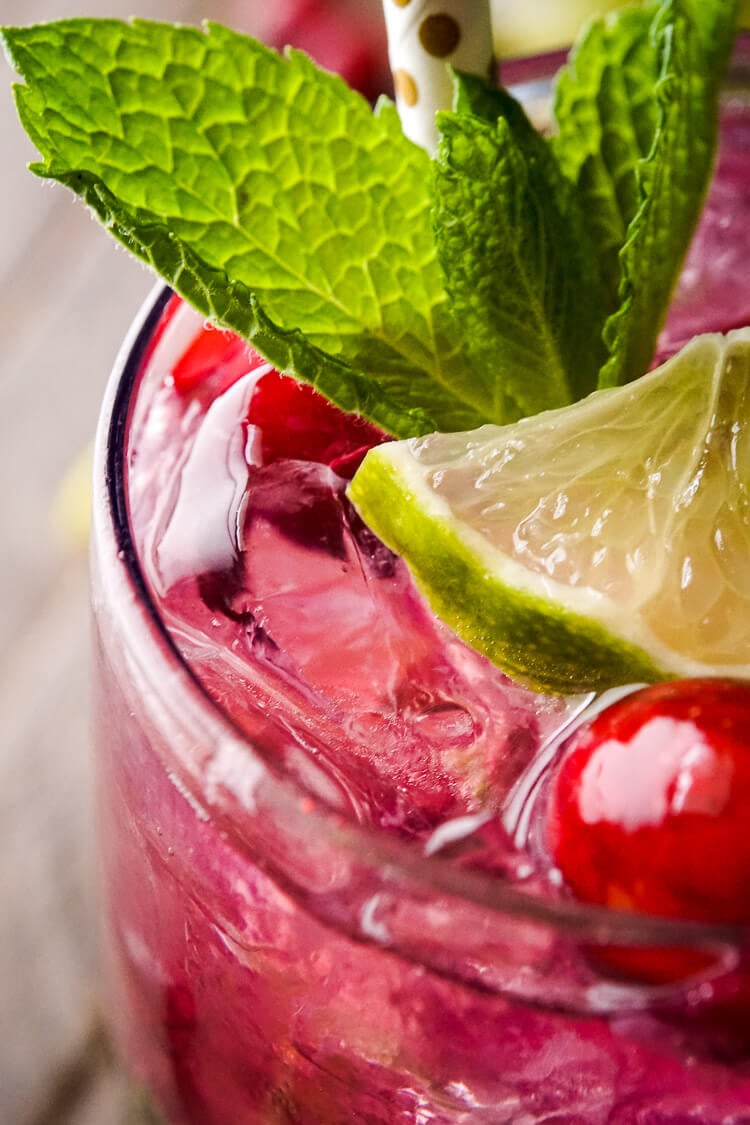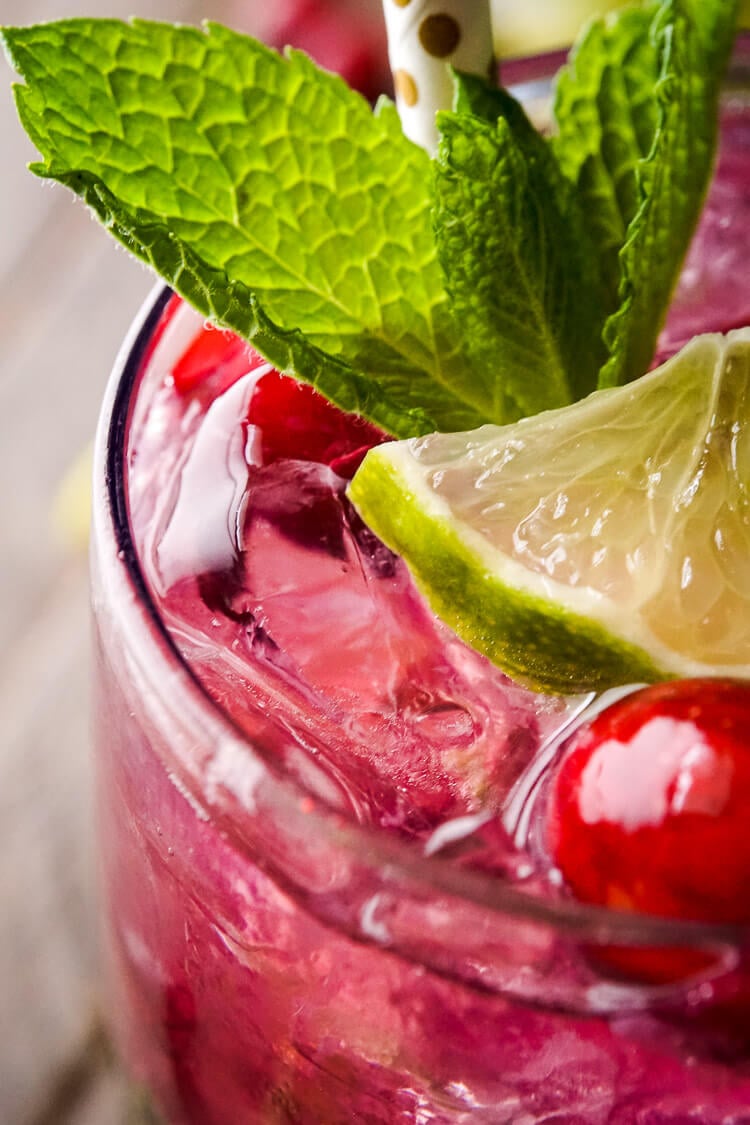 Technically, tonight should be our annual Christmas Party, but I decided not to throw it this year. I know, how boring am I? But it's been a crazy year with a lot of changes. So tonight we're having date night instead and honestly, nothing sounds better to me right now than movies, takeout, puzzles, and cocktails with my husband. I think we all tend to overbook and out-do ourselves during the holidays, and sometimes a quiet night at home is all we need. Anyone else feel that way?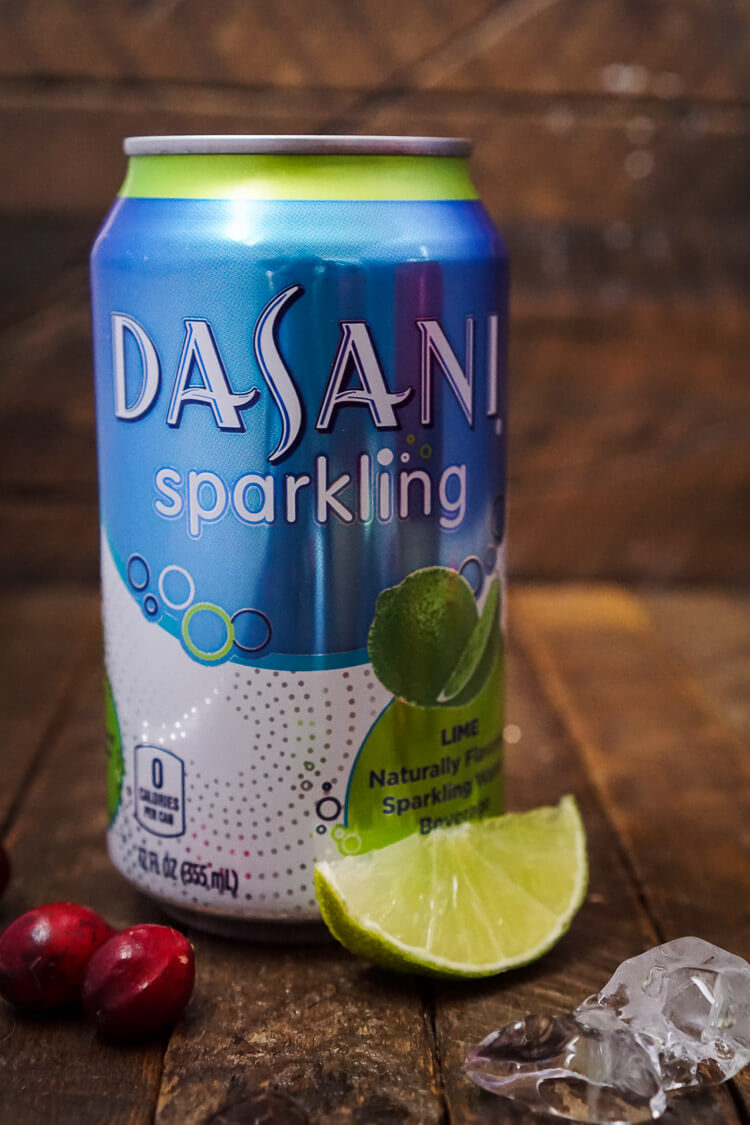 But just because we want to be homebodies for the night doesn't mean we can't get in the holiday spirit! And when it comes to the holidays, I like a little sparkle! So I picked up a 12 pack of Dasani Sparkling Water in Lime at Walmart. When you're making mojitos you mine as well get that lime flavor flowing from all angles. Thr Dasani Sparkling Waters have zero calories, unsweetened with no artifical colors and they're caffeine-free!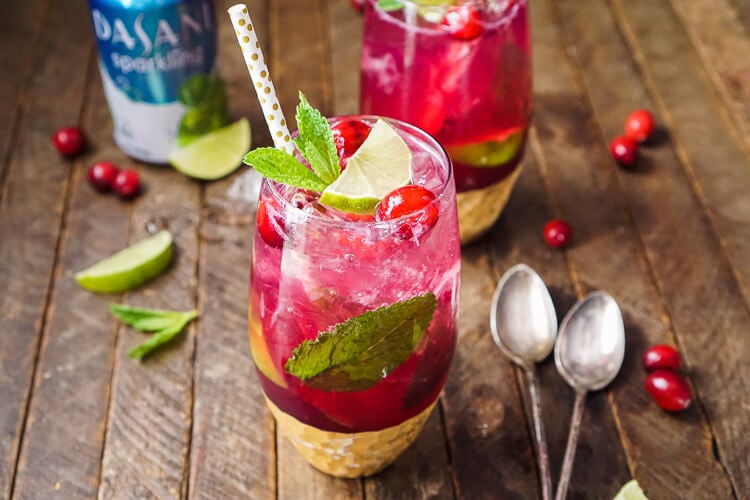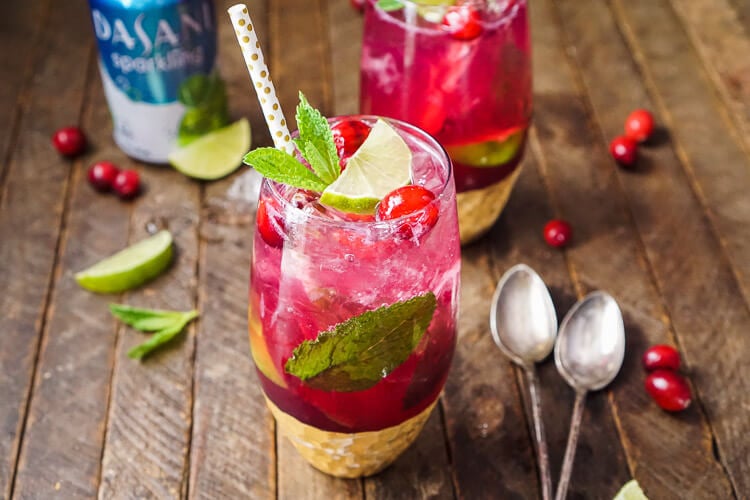 I really love the sparkle the Dasani added to this cocktail and it was way more fun than a standard club soda, plus it gives the drink extra flavor! The zesty lime and tart cranberries are a perfect match in this Cranberry Mojito Punch and the essence of mint just amplifies it to a whole new level! The best part about this drink is that you can make it ahead of time and the longer it sits, the more the flavors infuse! I put together a fun video to show you just how easy this holiday cocktail is to put together!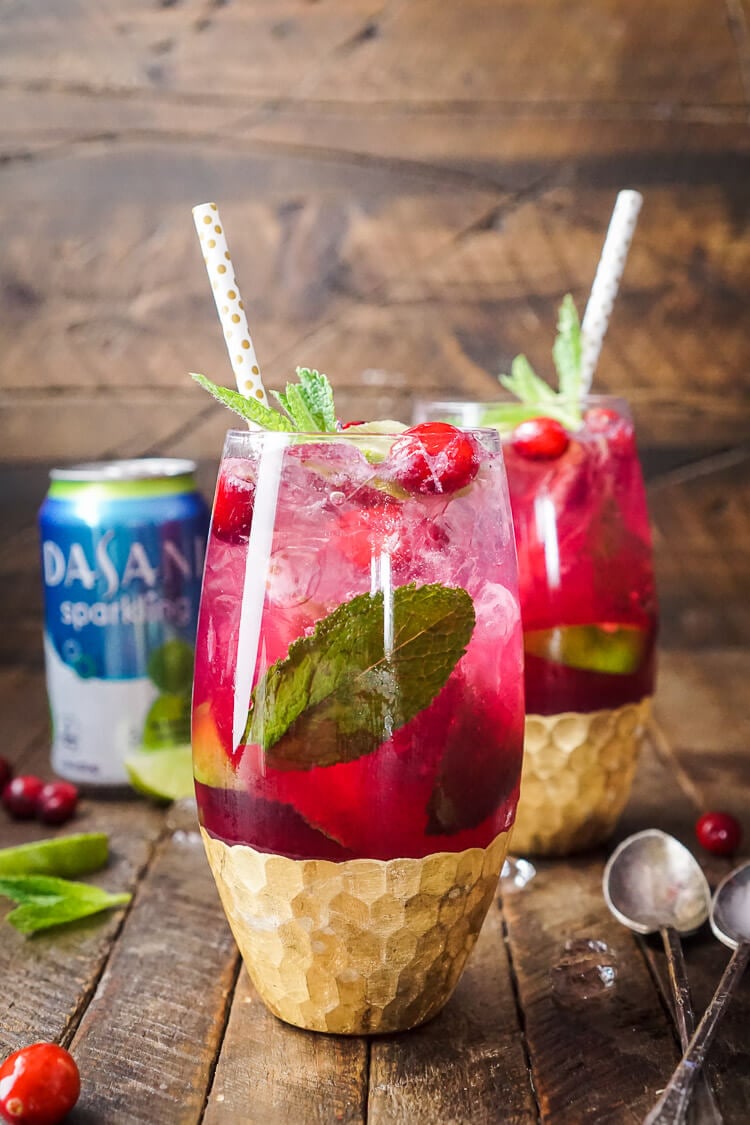 If you're looking for more great party drinks for the holiday season, check these out!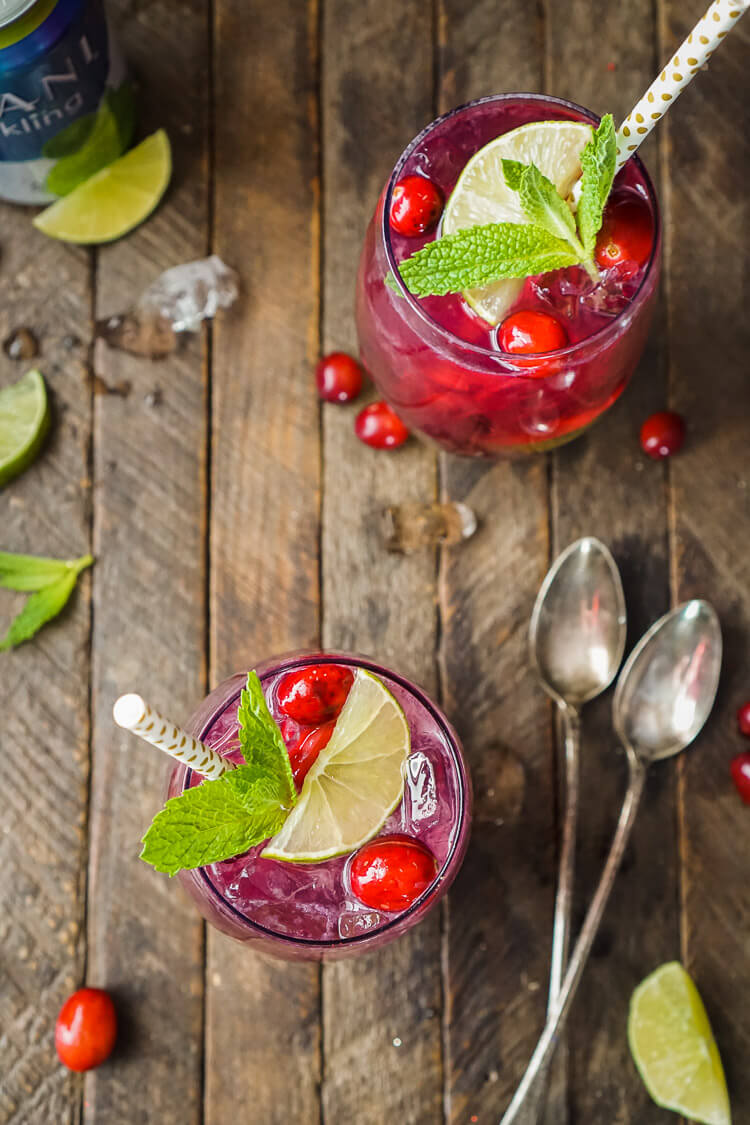 Cranberry Mojito Punch
A festive sparkling cocktail that's sure to have everyone dancing the night away at your holiday party!
Ingredients
½ cup granulated sugar
1 cup loose fresh mint, plus some for garnish
2 limes, sliced and divided
1 cup cranberries, plus some for garnish
½ cup fresh lime juice
1 cup light rum
½ cup cranberry juice concentrate, thawed
1 12 oz. can Dasani Sparkling Water Lime
crushed ice
Instructions
Add sugar and mint to a pitcher and muddle.
Add the slices of one lime along with 1 cup of fresh or frozen cranberries to the pitcher.
Pour in fresh squeezed lime juice and rum, stir to dissolve sugar.
Pour in cranberry juice concentrate and stir.
Top off with Dasani Sparkling Water Lime.
Fill glasses with crushed ice, pour punch over ice and garnish with cranberries, mint, and a fun straw.
Notes
Replace Rum with extra Dasani Sparkling Water Lime for a non-alcoholic version.
If making in advance, wait to add the ice and Dasani until just before serving so as not to water down or lose carbonation.