Christmas Punch is an easy and delicious holiday party drink packed with fruits like cranberries, oranges, and pomegranates. Keep it non-alcoholic or add rum or vodka for extra holiday spirit!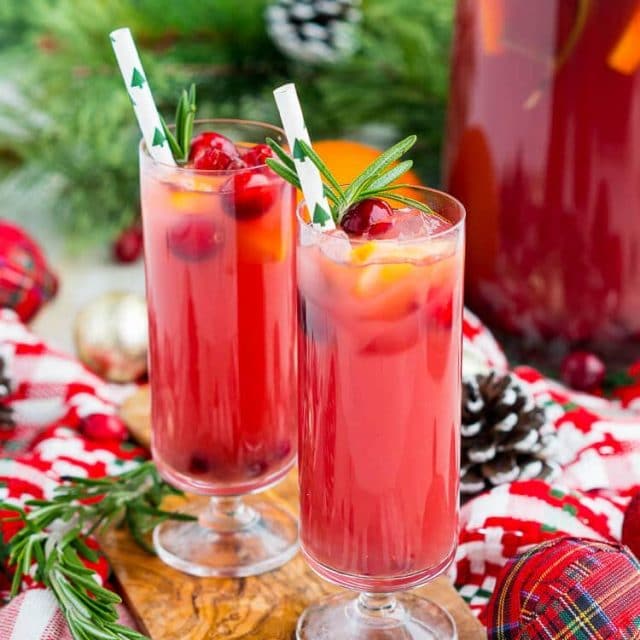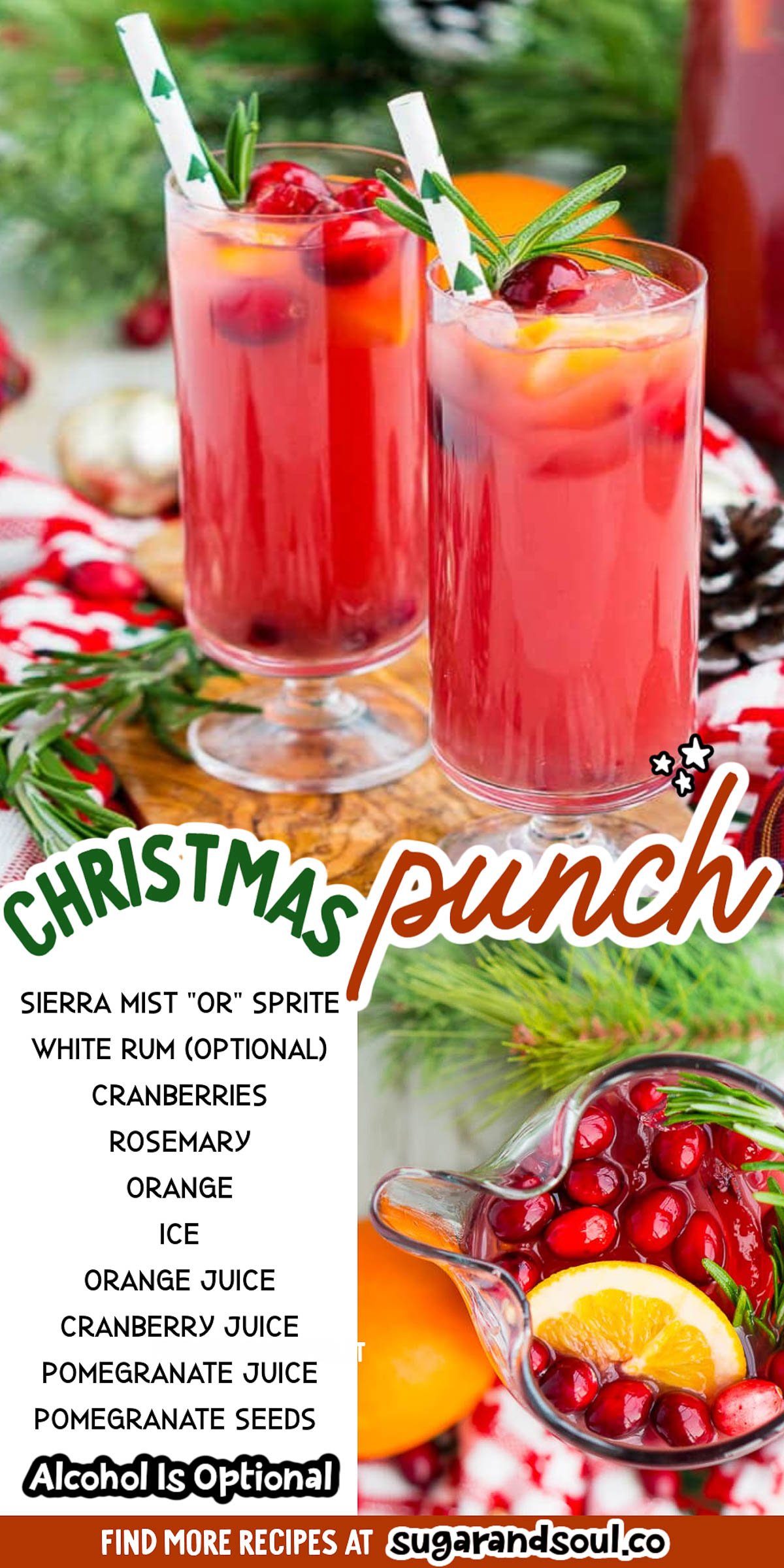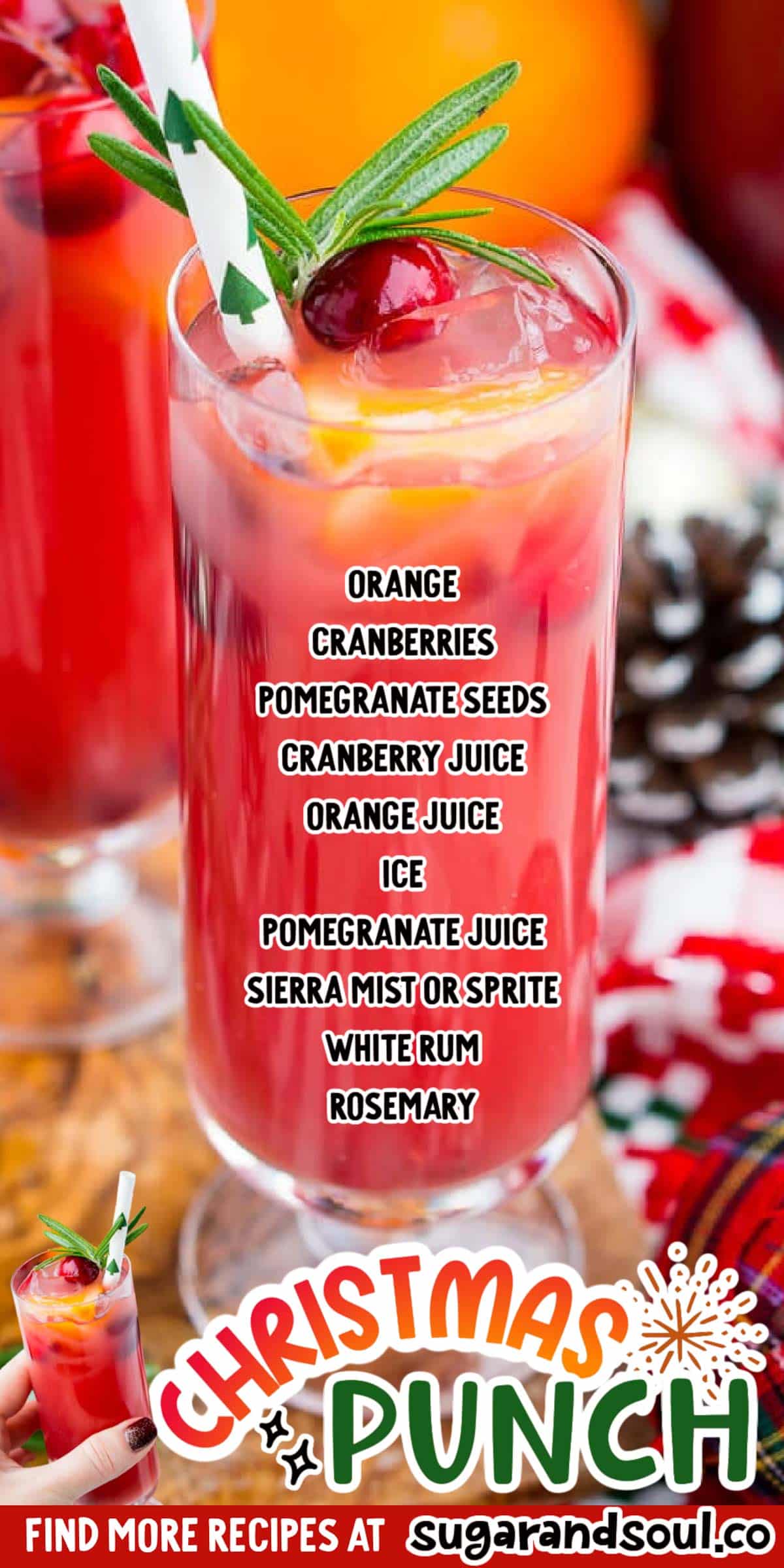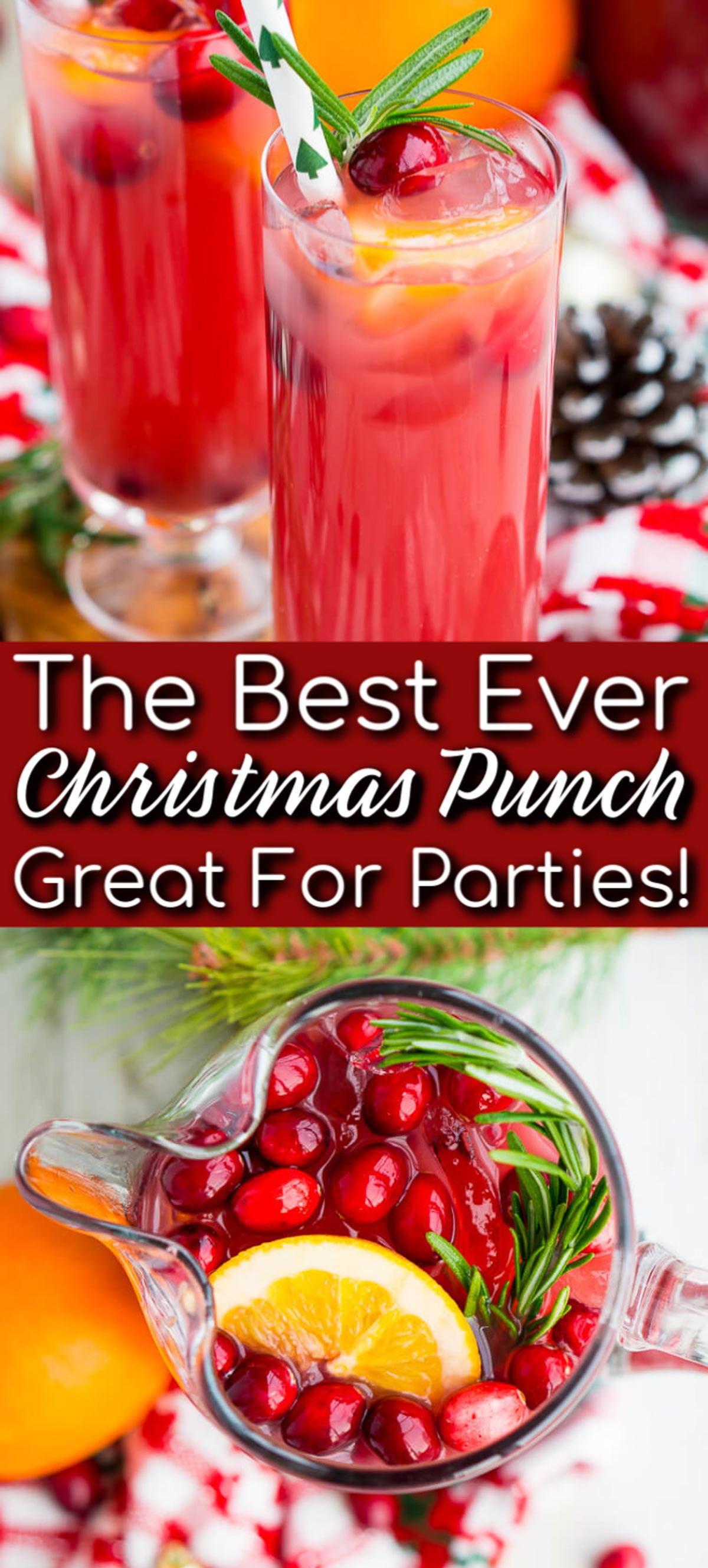 Need the Best Christmas Punch Recipe? This is it! Out of 1300+ recipes, this 4-Ingredient Holiday Punch is the MOST POPULAR recipe on my site and has almost 400 5-star reviews!
It's an easy and delicious holiday party drink packed with cranberries, oranges, and pomegranates. Keep it non-alcoholic, or add rum or vodka for extra holiday spirit!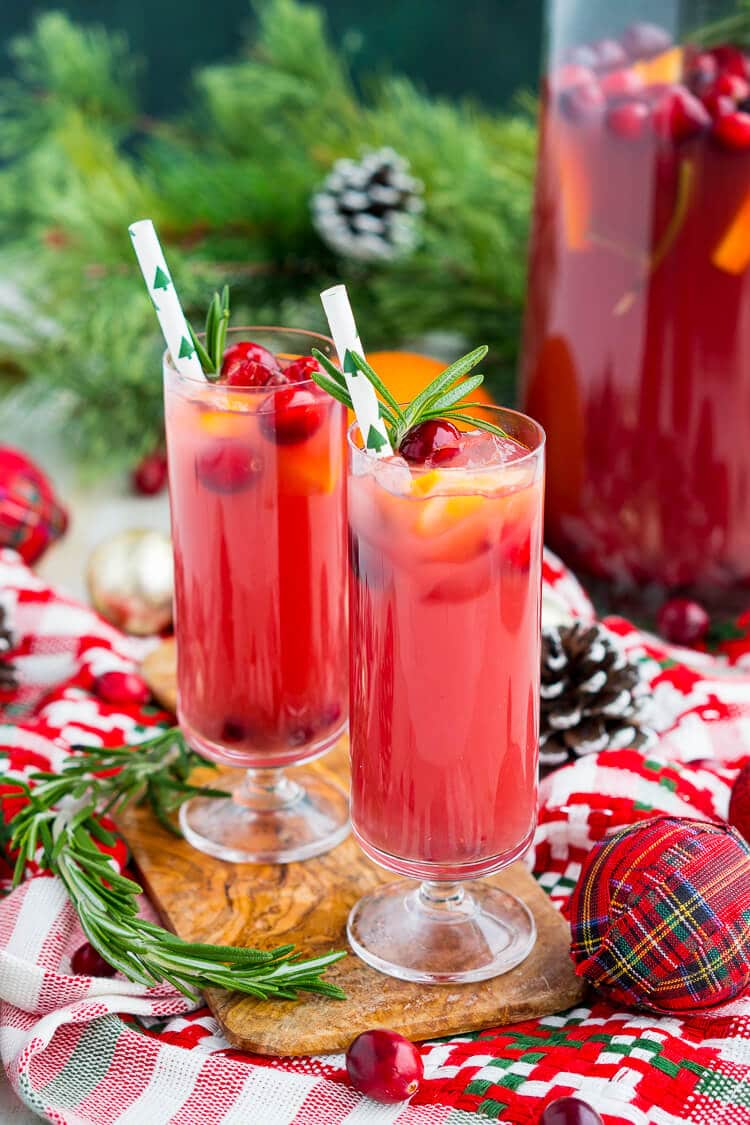 What Is Christmas Punch?
This has been my go-to recipe for more than 10 years. Since I published it in 2016, it's been enjoyed by thousands of readers and become a holiday tradition for many families!
Why Everyone Loves It:
Simple Ingredients – Easy to find juices and soda make up this punch recipe.
5-Minute Prep – This punch is ready to go as soon as you stir the ingredients together, no need for chilling!
It's Gorgeous – This punch recipe when styled with an ice ring or Christmas ice cubes and garnishes like fresh cranberries, pomegranates, and orange slices make this drink so festive it borders on a Christmas party centerpiece!
Customizable – The base is kid-friendly, but you can easily add vodka or rum for tons of extra holiday joy! And if you're serving a larger crowd, it's an easy recipe to double or triple!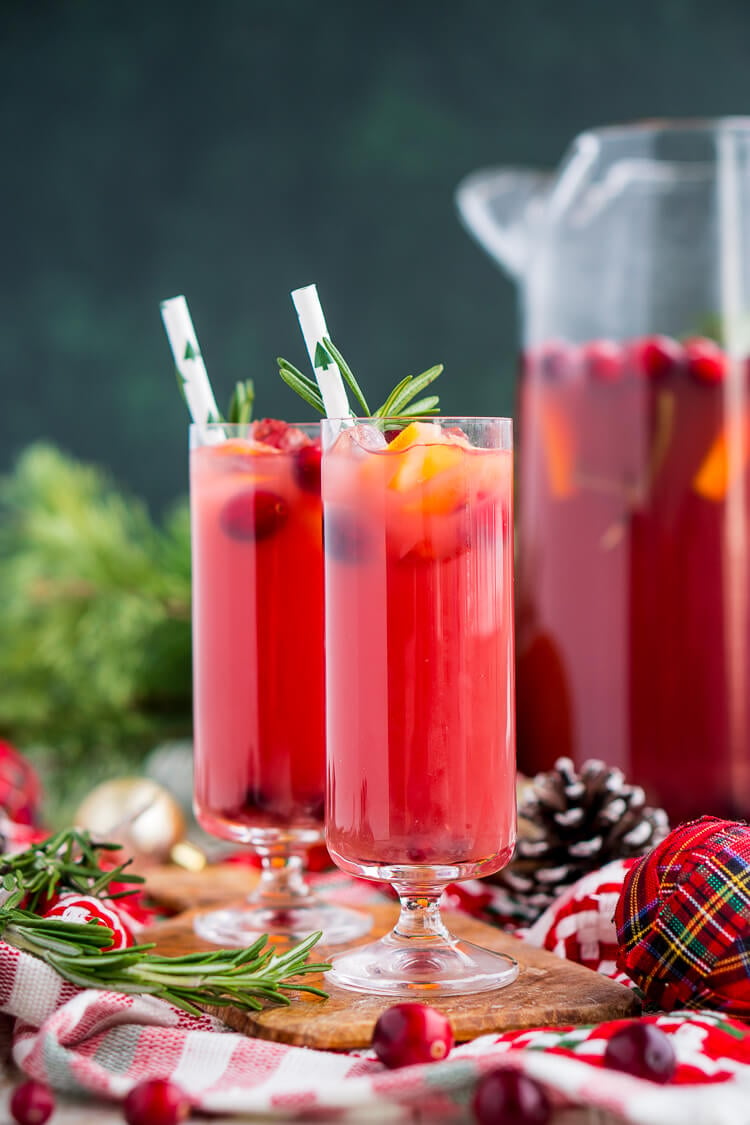 Christmas Punch Is A Tradition!
When I was growing up, the Christmas menu was always changing. Some years it was Turkey, some it was Ham, some it was lamb, and the occasional pizza, and these days it's usually all of the above because my family is filled with picky eaters.
But even when the food was getting changed up, my mom always made a Christmas Punch recipe. Sure, that, too, changed over the years, but regardless of the ingredients, there was always punch.
Oh, and there were always Cranberry Orange Meatballs, too, because feuds would have broken out if those weren't there!
This was my potluck contribution to family gathering..so easy and so festive. Made one spiked and one not. Used rum. Very delicious and not too sweet. Definitely a keeper! Thanks!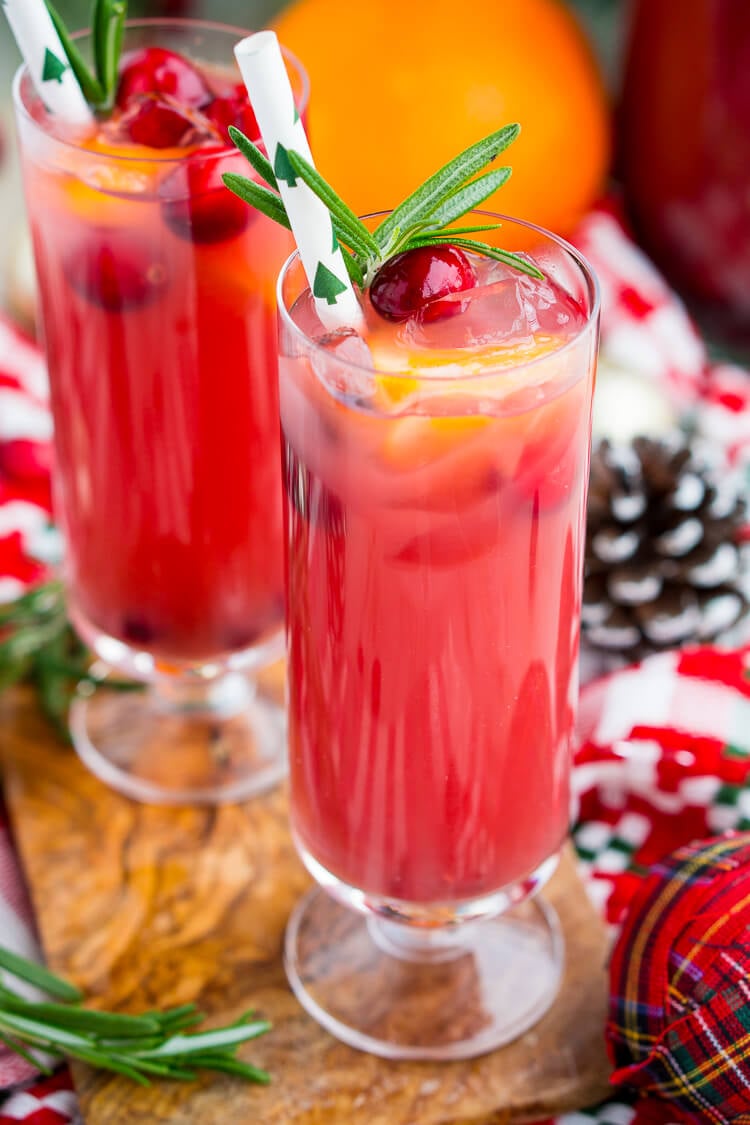 Holiday Punch Ingredients
Orange
Cranberries
Pomegranate seeds
Cranberry juice
Orange juice
Pomegranate juice
Lemon-lime soda
White rum (optional)
Rosemary (for garnish)
Ice
My mom always used the same base: cranberry juice, orange juice, and ginger ale. And I've added pomegranate juice to the mix and swapped the ginger ale for lemon-lime soda; I prefer 7UP. I've also added pineapple juice from time to time when I want it a little sweeter.
How To Make Christmas Punch!
Step 1: You can mix everything except for the soda and ice cubes ahead of time. Add the soda and ice just before serving so it doesn't start to go flat. For best results, make sure the ingredients are cold when you mix them together so the ice lasts longer and doesn't water down the punch.
Step 2: Add pomegranate seeds, orange slices, cranberries, and a sprig or two of rosemary to garnish (for sophistication, of course). Oh, and some extra holiday spirit by way of rum or vodka, and you're in for a truly festive holiday punch.
For an extra fun garnish, freeze orange slices, fresh cranberries, and water in a silicone bundt pan to make an ice ring!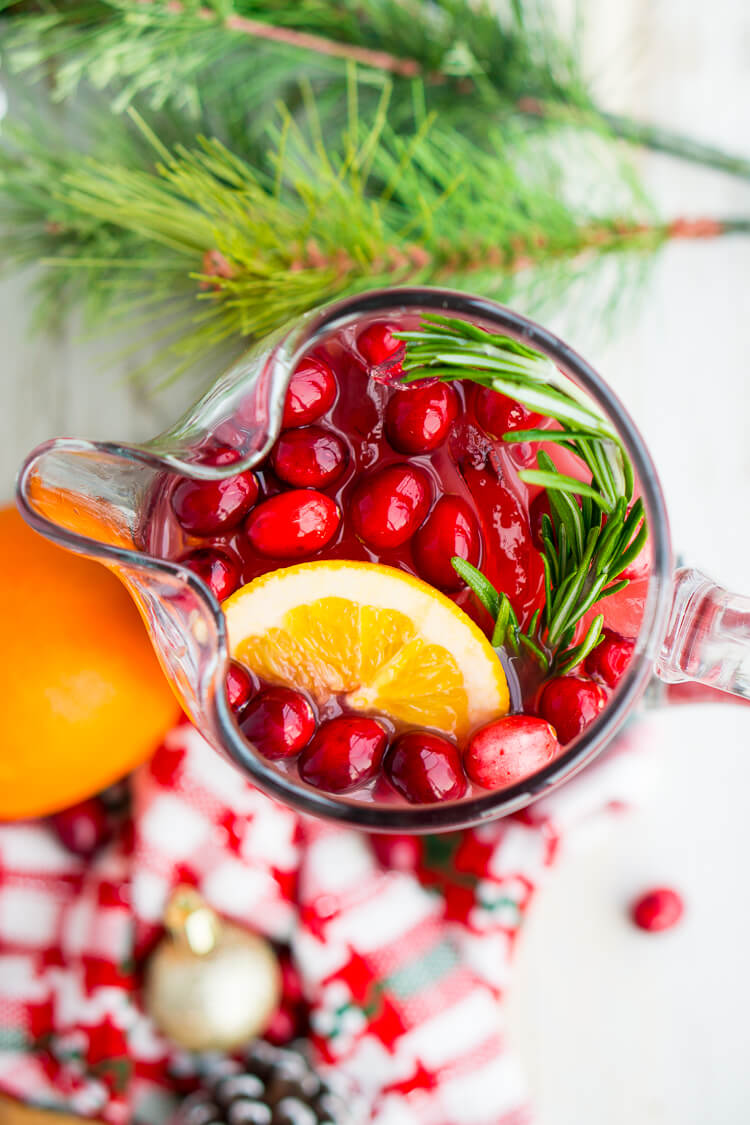 How to Make Non Alcoholic Christmas Punch:
Simply leave out the alcohol and add some additional lemon-lime soda. It will still taste amazing, and this way, the whole family can enjoy it!
How to Make this Christmas Punch Recipe Alcoholic:
My family likes to leave the bottles of vodka and rum next to the punch bowl so that we can make individual cups of the punch alcoholic really easily if we want to. Or, if it's an adults-only party, add the alcohol in with the rest of the punch ingredients!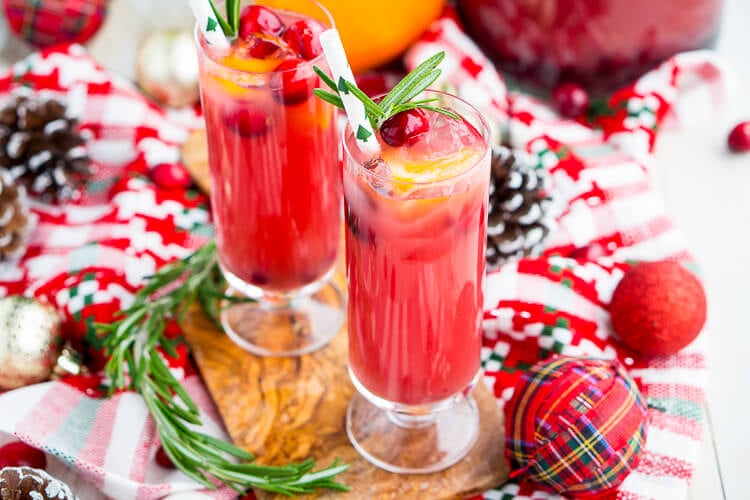 Holiday Punch Recipe Tools
A punch bowl, large pitcher, or another drink dispenser for serving!
The kids will love it if you have some fun paper straws for sipping!
Pretty punch glasses or easy disposable cups!
Holiday Drink FAQs
How long does Christmas Punch last in the fridge?
This Holiday Punch Recipe will stay good for up to 1 week in the refrigerator, this usually depends on the expiration date of the orange juice and if it has any of the fresh fruit in it which can start to turn faster than the juices.
However, it's important to note that the soda will go flat and the punch will begin to lose it's fizz after the first few hours.
Can you make party punch the day before?
I recommend doing a partial prep by combining all of the ingredients EXCEPT for the lemon-lime soda.
This mixture can be stored in the fridge until ready to use, then add the soda right before serving so it's fresh and fizzy!
How much punch do you serve at a party?
A standard recommendation for large parties is a gallon (16 cups) per 10 guests. In this recipe, if you had 10 guests, you'd want to double the recipe.
For smaller gatherings, I like to plan for around 1.5 cups per person. This recipe as written should be the perfect amount for a group of 6!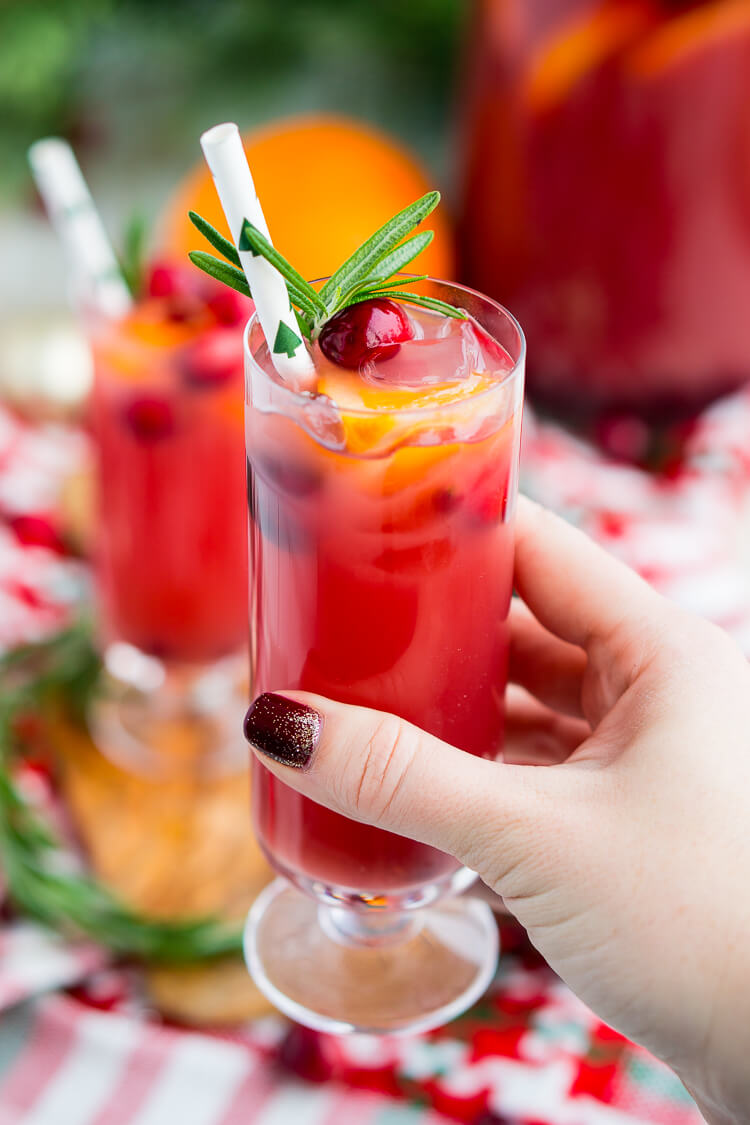 More Delicious Recipes like this Christmas Drink:
More Recipes from Sugar and Soul
This post was originally published in December 2016 and was updated in November 2019 for content.
Let's Connect!
If you've tried this recipe, please let me know how you liked it in the comments below and leave a review. I love hearing from you!
Don't forget to tag me – @sugarandsoulco – on Instagram and Pinterest with your photos or join our Sugar & Soul Show-offs Community and share them there, where you can join our recipe challenges!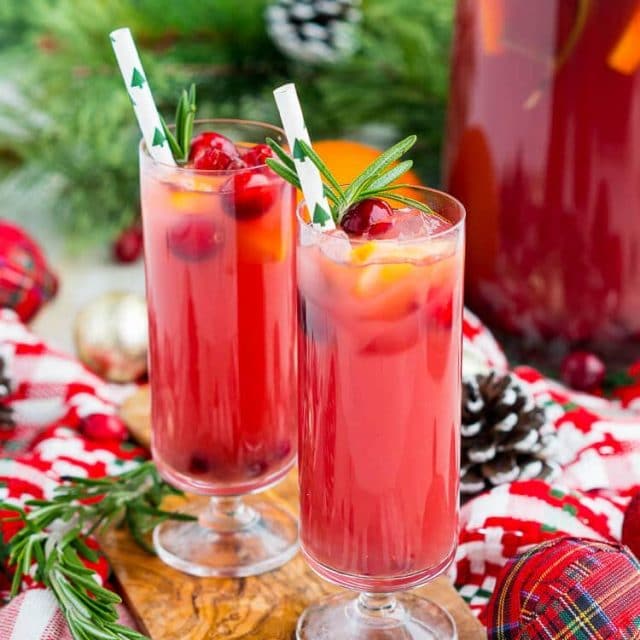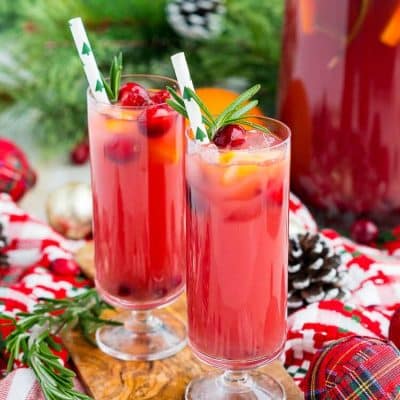 Christmas Punch (Alcoholic or Not)
Christmas Punch is an easy and delicious holiday party drink packed with fruits like cranberries, oranges, and pomegranates. Keep it non-alcoholic or add rum or vodka for extra holiday spirit!
Ingredients
1 orange sliced
1 cup cranberries
½ cup pomegranate seeds
2 cups cranberry juice Ocean Spray Pure Unsweetened 100% juice recommended
2 cups orange juice Simply, Natalie's, or Uncle Matt's brands recommend
1 cup pomegranate juice POM brand recommended
2 cups lemon-lime soda Starry, Sprite, or 7Up recommended
1 cup white rum optional
ice
fresh rosemary sprigs for garnish
Instructions
Add the slices from 1 orange, 1 cup cranberries, and ½ cup pomegranate seeds to a large pitcher or punch bowl. If using a really gallon-sized bowl or dispenser, you can double the recipe.

Pour in 2 cups cranberry juice, 2 cups orange juice, 1 cup pomegranate juice, and 2 cups lemon-lime soda. You can also add 1 cup white rum or alcohol of choice if including.

Serve in glasses over ice and garnish with fresh rosemary sprigs.
Notes
I highly recommend chilling all of your ingredients before prepping for the best results.
This punch can be made ahead of time, but don't add the ice or soda until just before serving so as not to dilute or lose its fizz.
You can substitute the lemon-lime soda for ginger ale.
You can add lemon and lime slices as well.
Keep alcohol on the side for guests to add their own and keep the punch itself kid-friendly.
I like white rum, spiced rum, whiskey, and vodka with this recipe.
Nutrition
Calories: 189kcal | Carbohydrates: 29g | Protein: 1g | Sodium: 11mg | Potassium: 303mg | Fiber: 1g | Sugar: 26g | Vitamin A: 195IU | Vitamin C: 48.3mg | Calcium: 22mg | Iron: 0.4mg