This Blackberry Bourbon Recipe is made with bourbon whisky, mint, lemon, homemade blackberry simple syrup, and club soda served over crushed ice!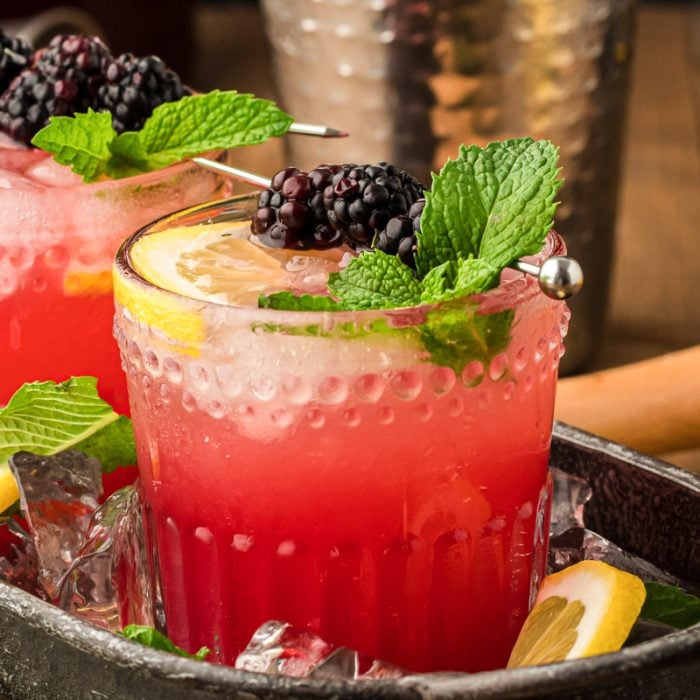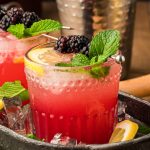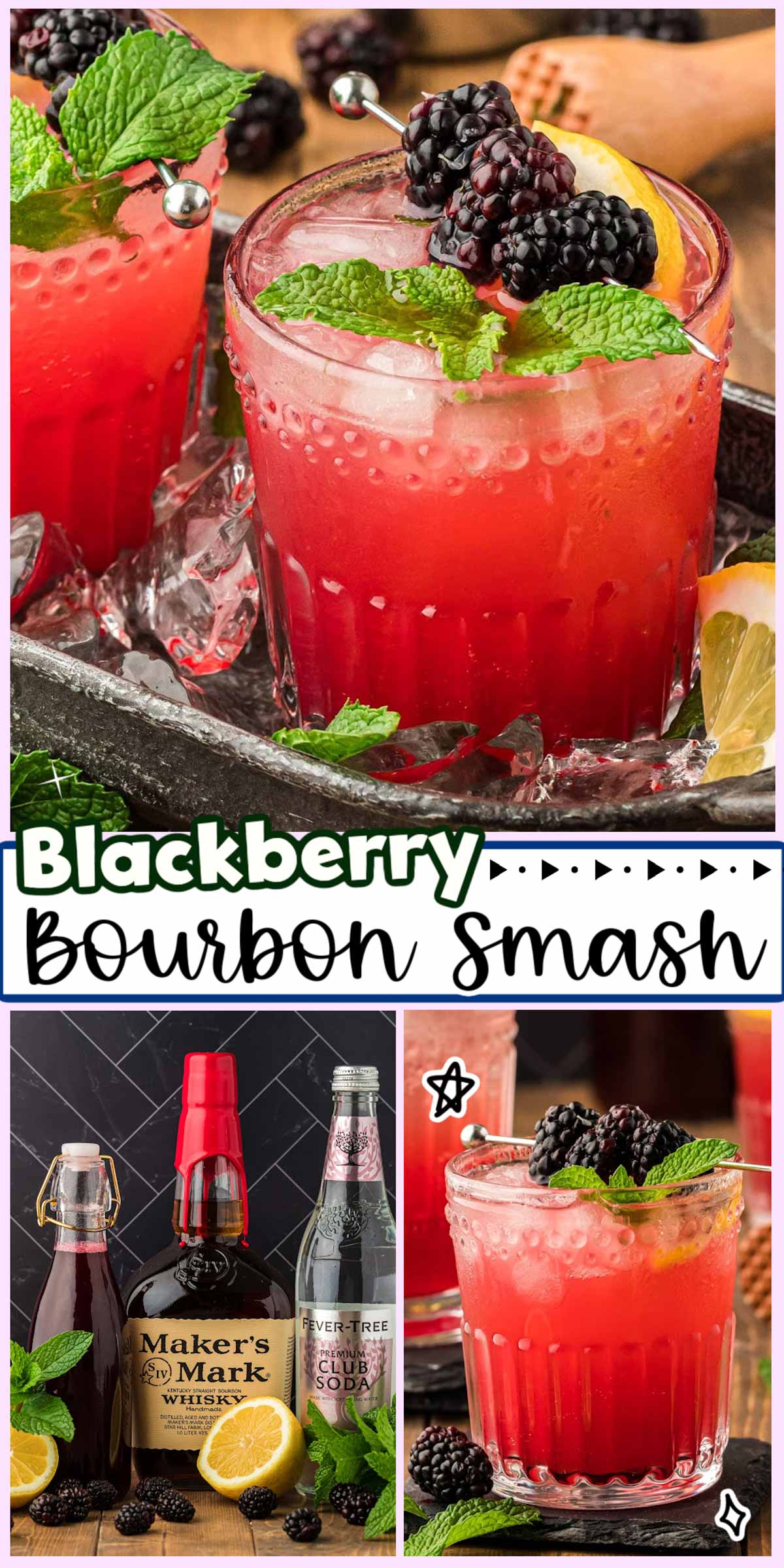 Bourbon Blackberry Smash Recipe is made with your favorite bourbon whisky, muddled mint and lemon, blackberry simple syrup, and club soda! Served over ice for a perfectly chilled cocktail!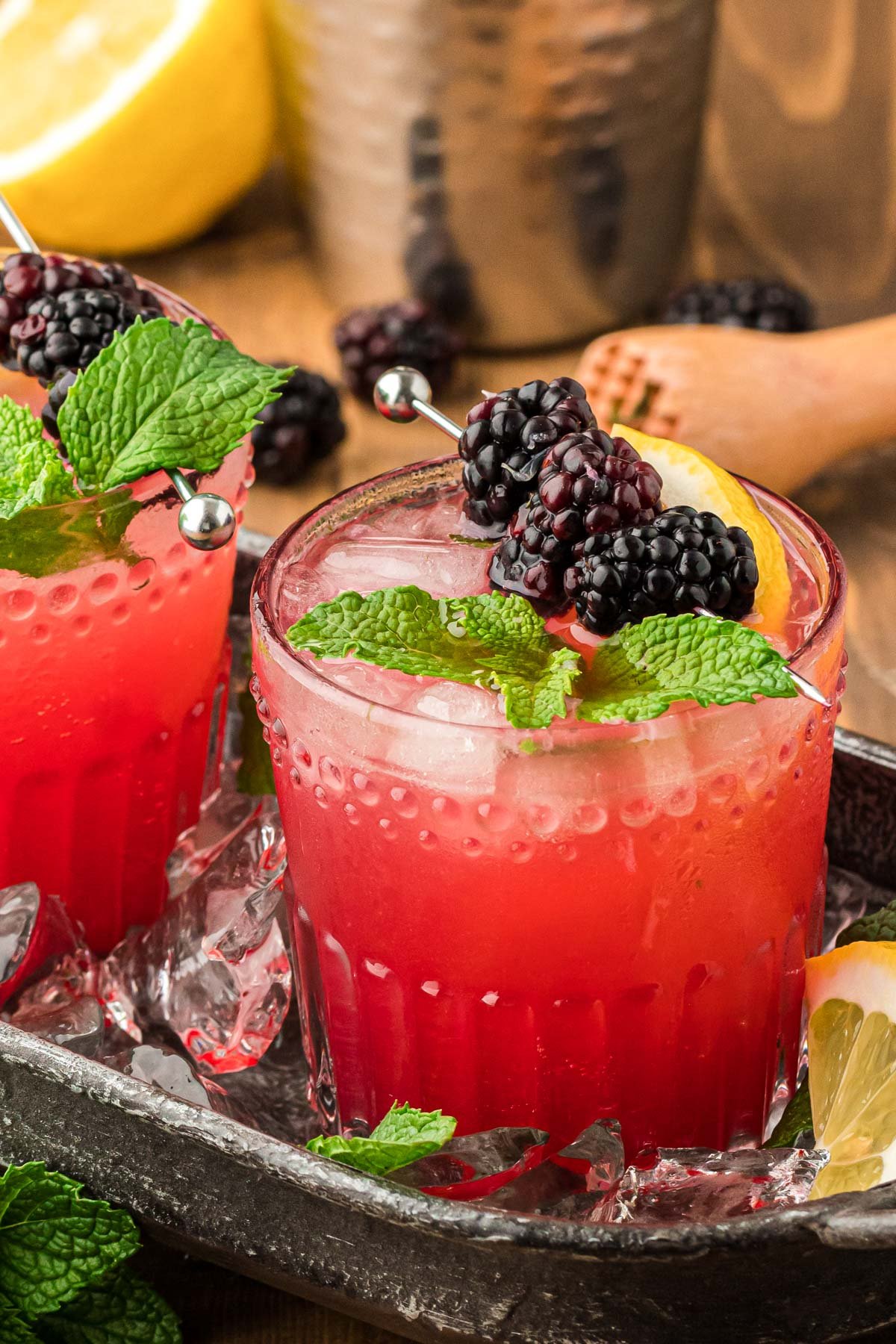 You Will Love This Blackberry Bourbon Smash Recipe
Relax on a hot summer day with this fruity Blackberry Bourbon Smash in hand! This delicious craft drink recipe is a modern update on a classic whiskey cocktail that's easy to make and even easier to drink!
To fill this smash with the best blackberry flavor, it's made with homemade blackberry simple syrup! This sweet syrup simmers fresh, juicy blackberries with granulated sugar, water, and optional lemon juice to create a flavor-packed syrup that makes this cocktail a standout!
And since the blackberry simple syrup yields 2 cups of syrup, you can easily make bottomless Blackberry Bourbon Smash Cocktails! Or use it to try other tasty drinks such as my Blackberry Margarita On The Rocks!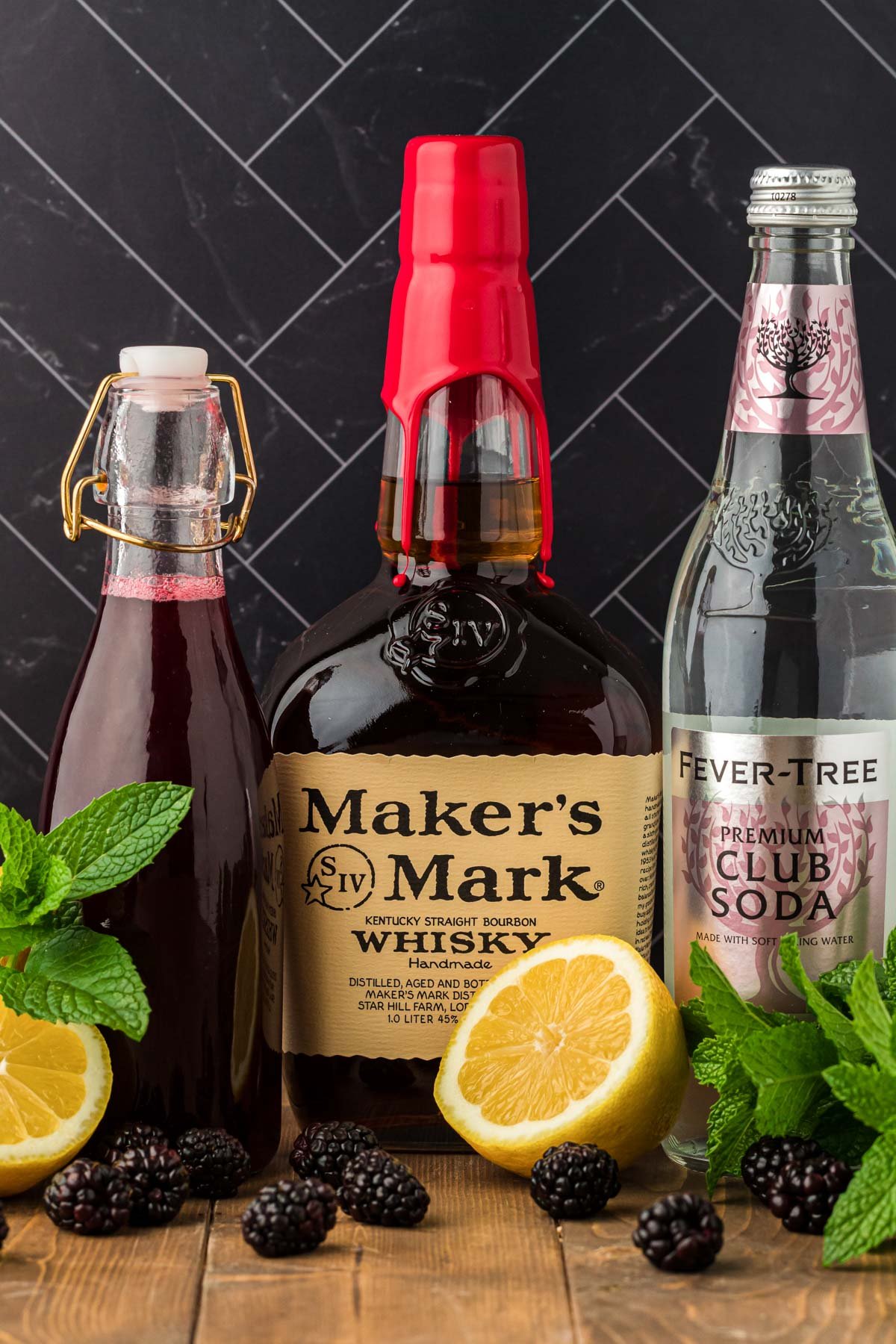 Blackberry Bourbon Smash Ingredients
Mint Leaves
Lemon Wedge
Blackberry Simple Syrup
Bourbon Whiskey
Ice
Club Soda
I prefer making this Blackberry Smash with Maker's Mark Kentucky Straight Bourbon Whisky. However, feel free to make this Blackberry Smash with whatever bourbon you have on hand, or if you're feeling fancy, you can grab your favorite high-quality bourbon to use.
Try making it with Blackberry Bird Dog Whiskey for extra blackberry flavor in this smash! You can also muddle up extra blackberries to add to your cocktail for a drink with a bit of delicious texture as well as increased blackberry flavor.
Bourbon Smash Blackberry Substitutions and Additions
Crushed Ice – Using whole ice cubes for shaking is best but if you prefer you can serve this cocktail over crushed ice.
Fruity Simple Syrup – Put your own twist on this smash by making it with different fruity simple syrups. Try a variation using Peach Simple Syrup, Raspberry Simple Syrup, or even Strawberry Simple Syrup!
Seasonal Fruit – Garnish your drink, or a fruity variation of this drink, with fresh fruit to match the simple syrup you choose! For example, if you use blueberry simple syrup to make a Blueberry Bourbon Whiskey Smash Cocktail then garnish your drink with fresh blueberries!
Club Soda – Instead of topping the cocktail off with a splash of club soda, you can use sparkling water, ginger ale, or ginger beer if you'd like.
Lemons – If you prefer lime juice over lemons you can use limes in this cocktail.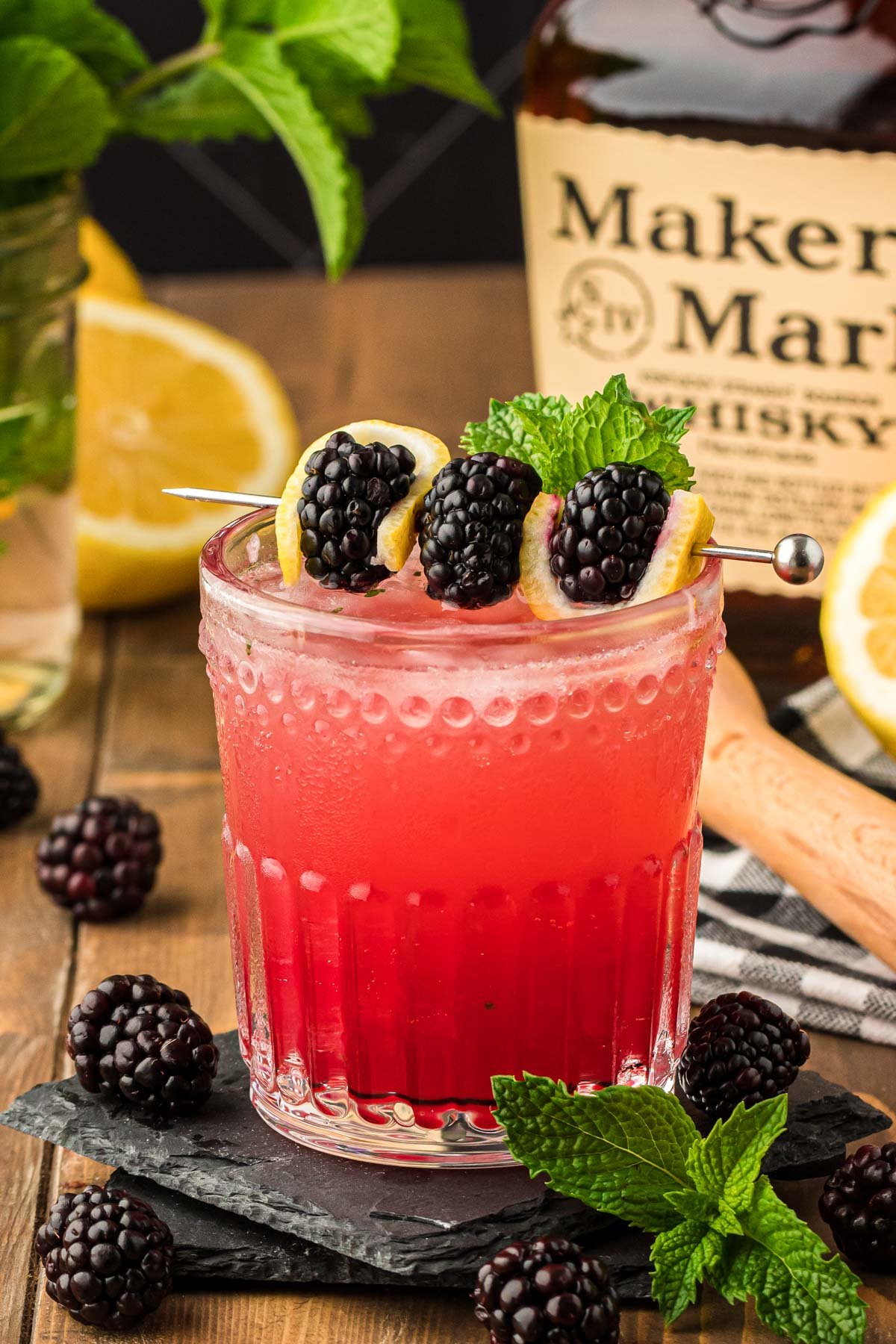 How To Make A Bourbon Smash (Blackberry)
Step 1: Add the mint leaves and lemon wedge to the cocktail shaker. Use a muddler to muddle or smash up the mint leaves and lemon wedge to release fresh lemon juice and mint flavoring.
Step 2: Add ice.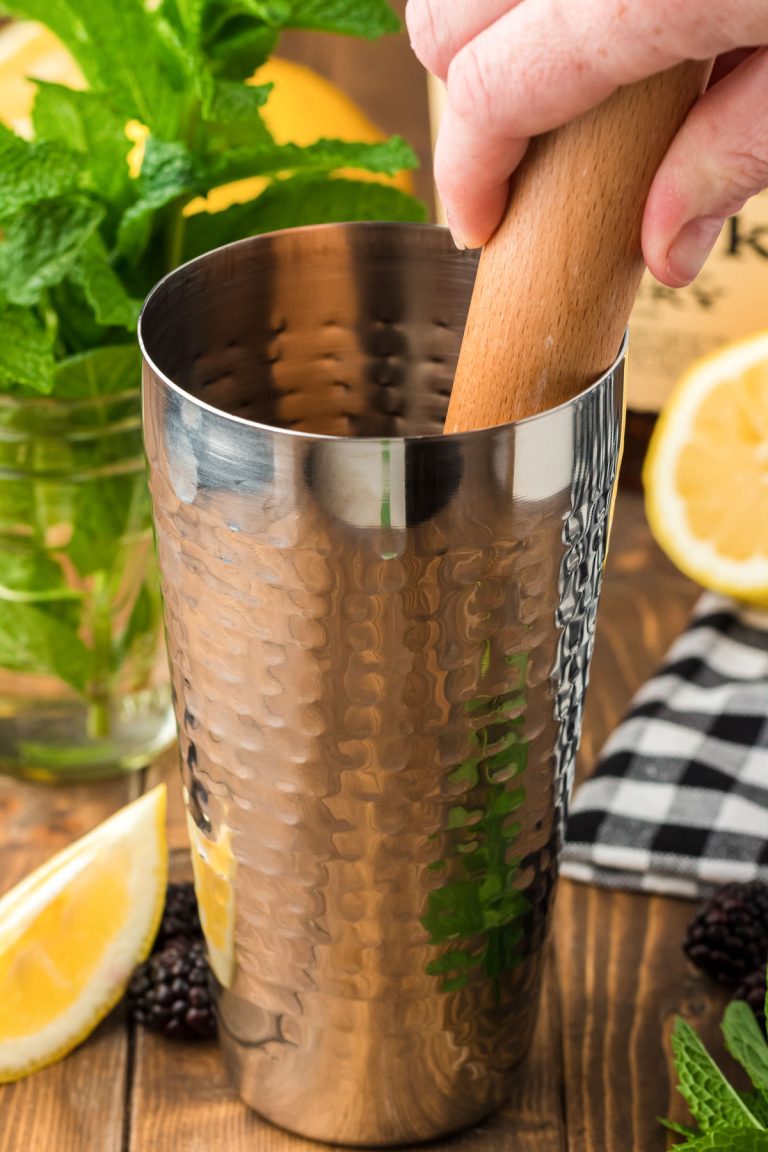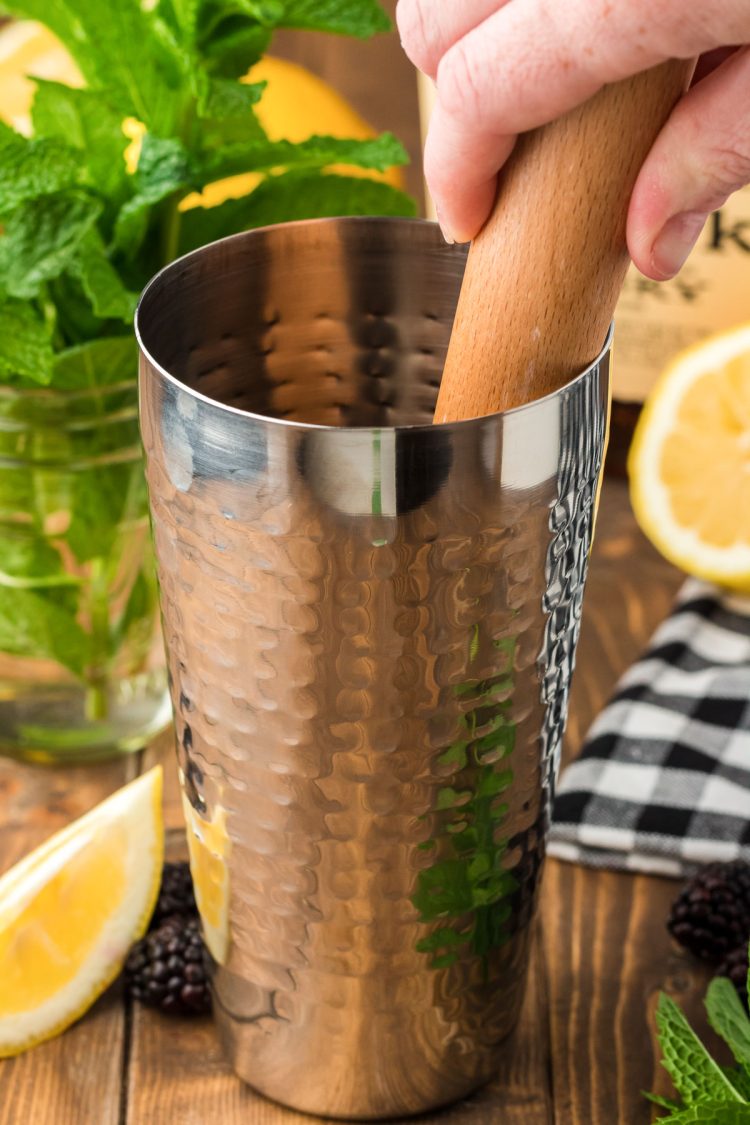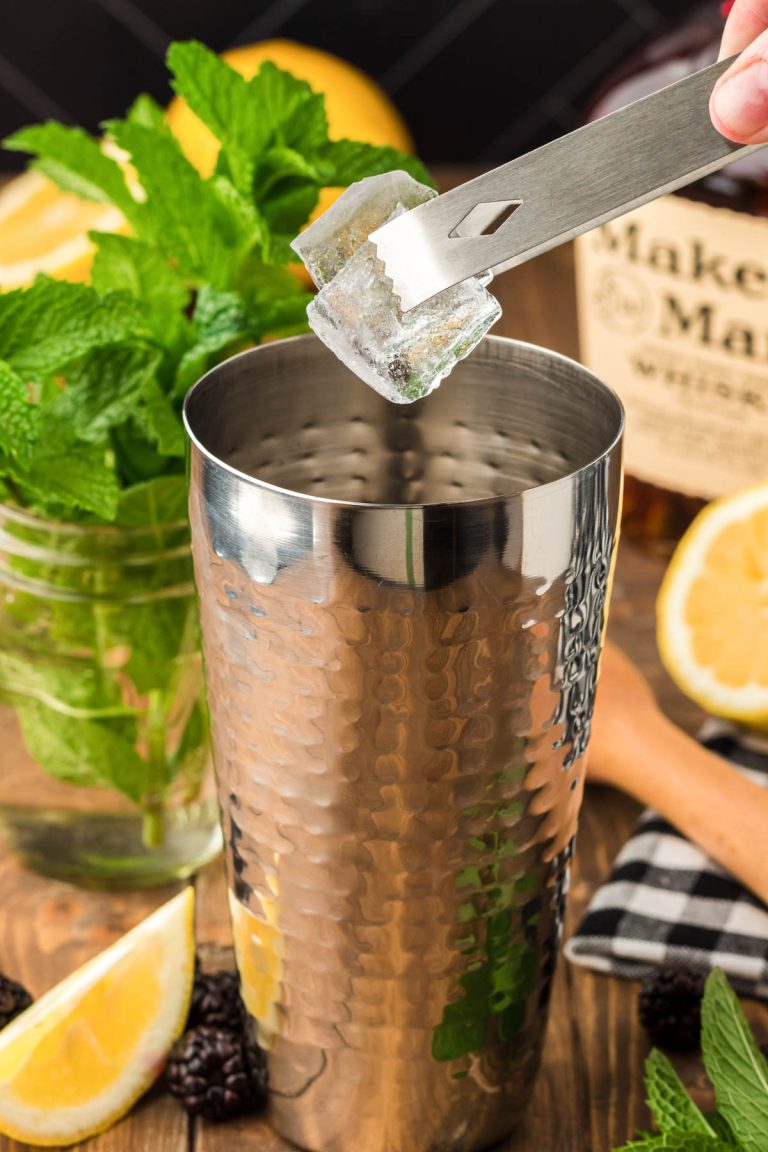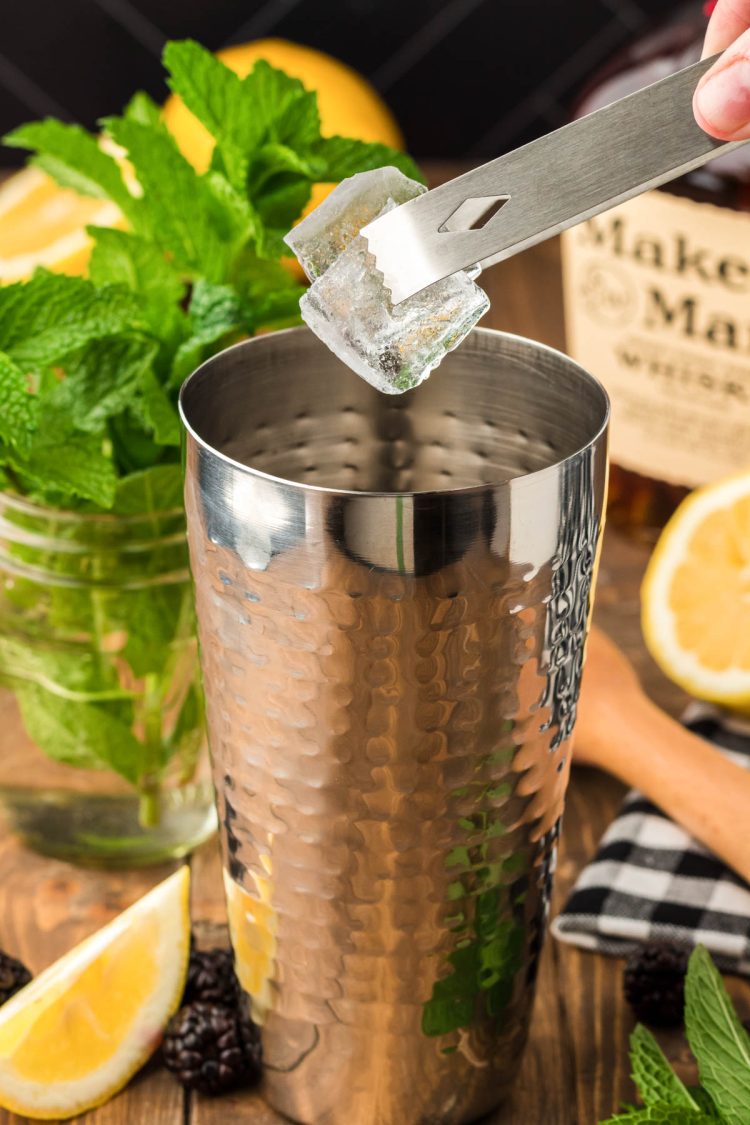 Step 3: Pour in the blackberry simple syrup.
Step 4: Add in the bourbon whiskey and shake the cocktail shaker vigorously to mix the cocktail.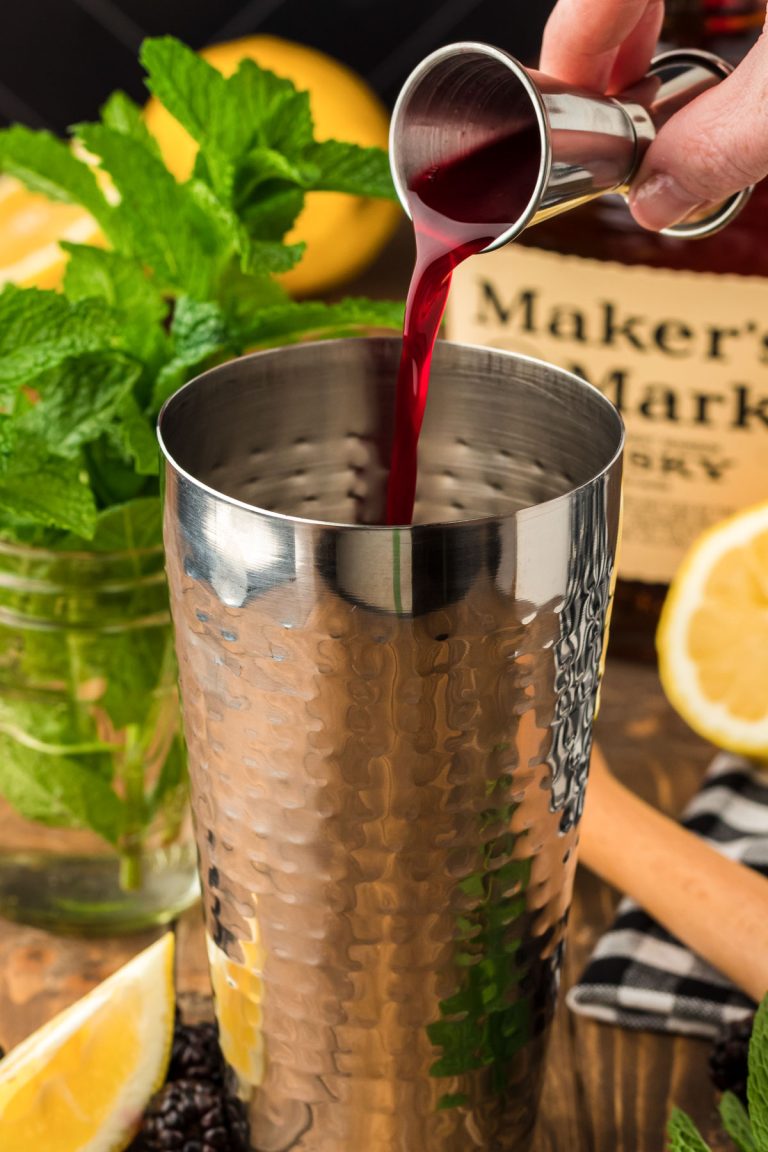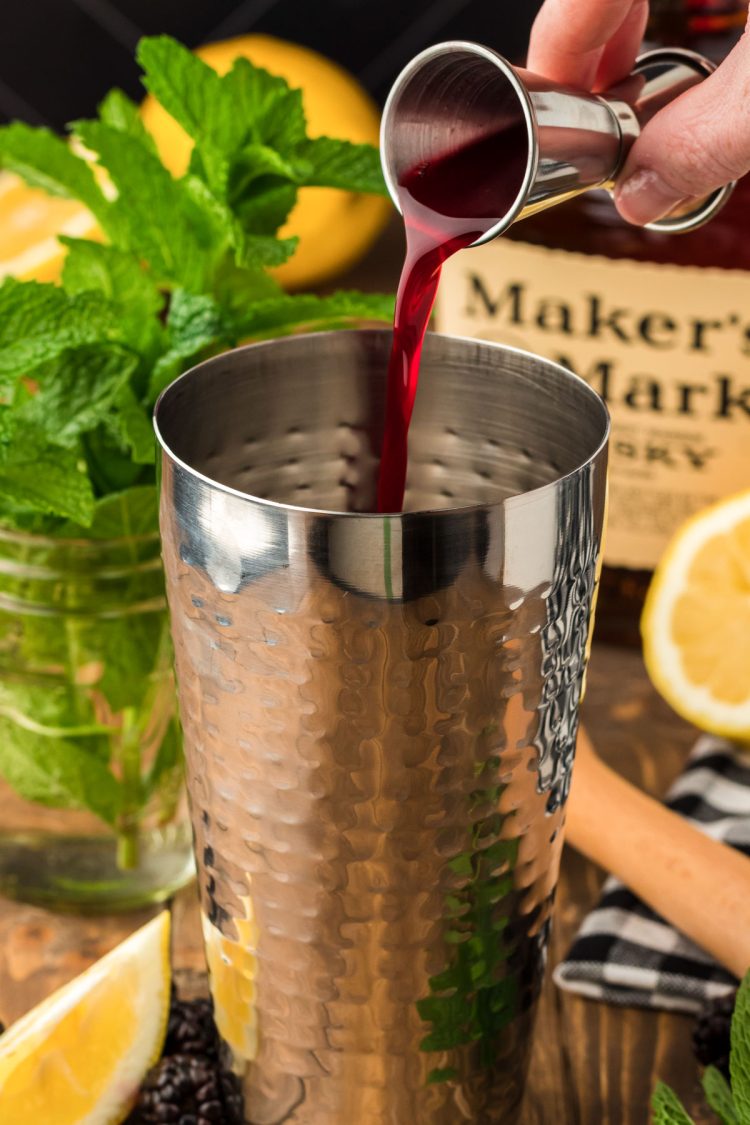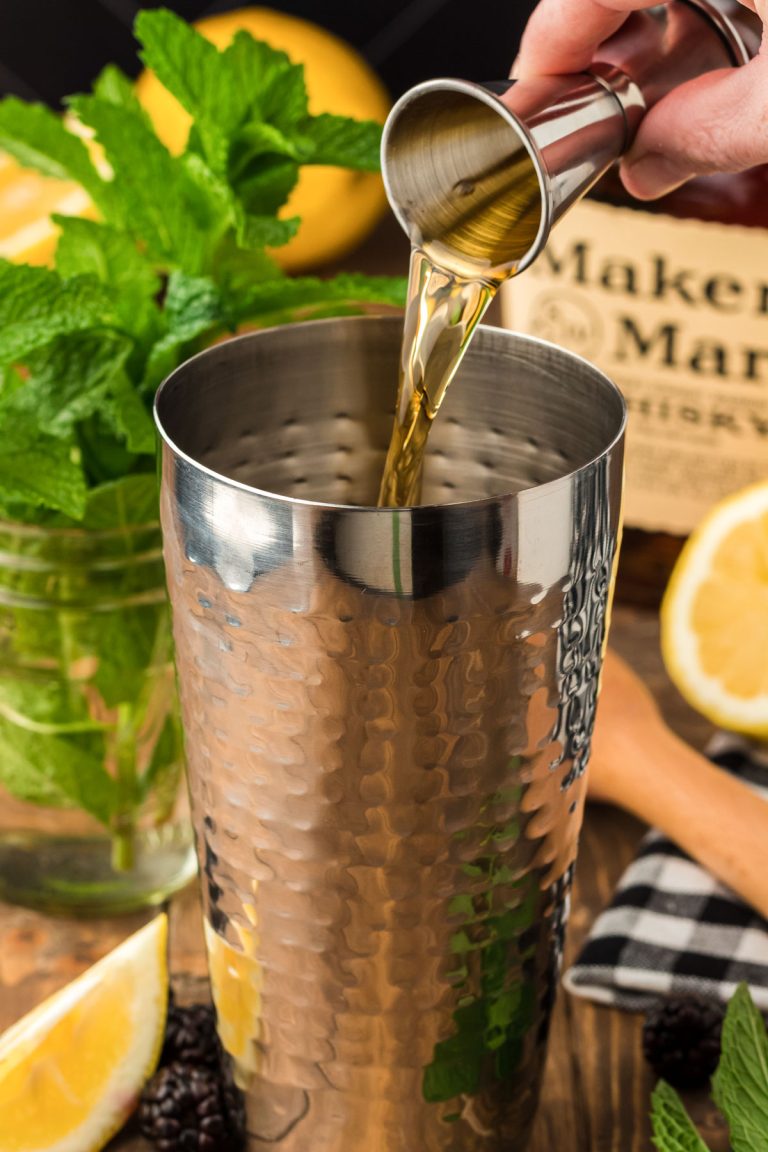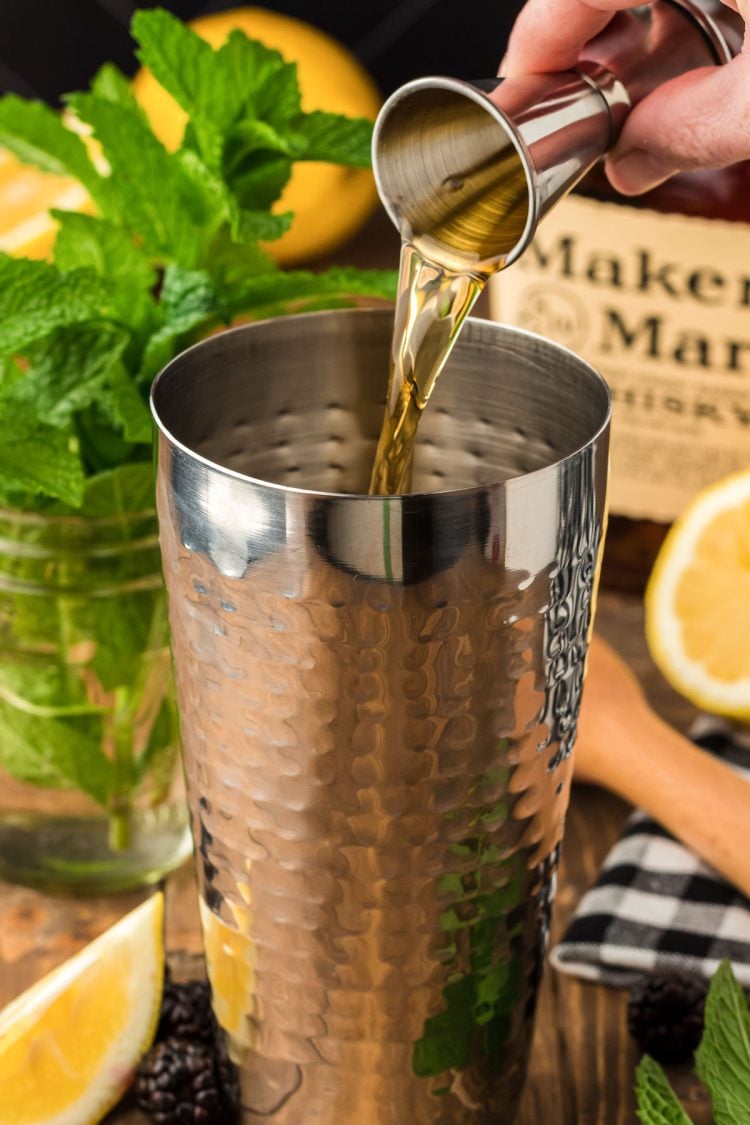 Step 5: Strain the Bourbon Blackberry Smash Cocktail into an old-fashioned glass that's filled halfway with ice.
Step 6: Top the cocktail with club soda and add garnishes before enjoying it!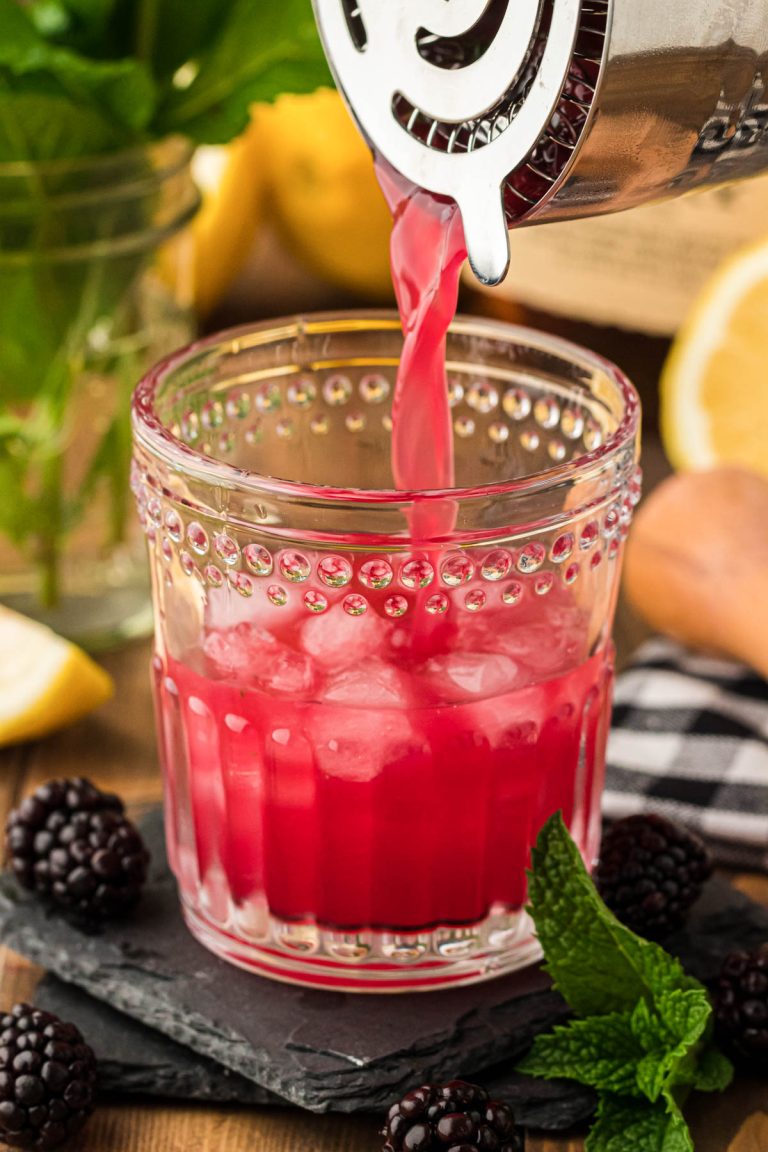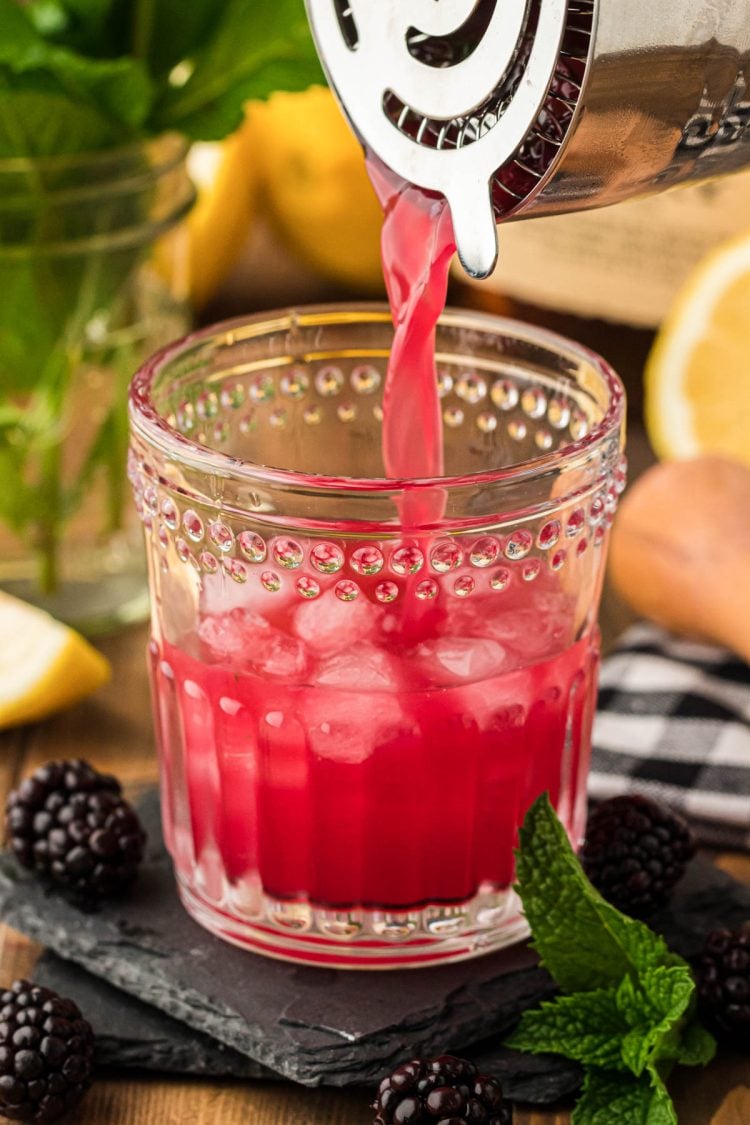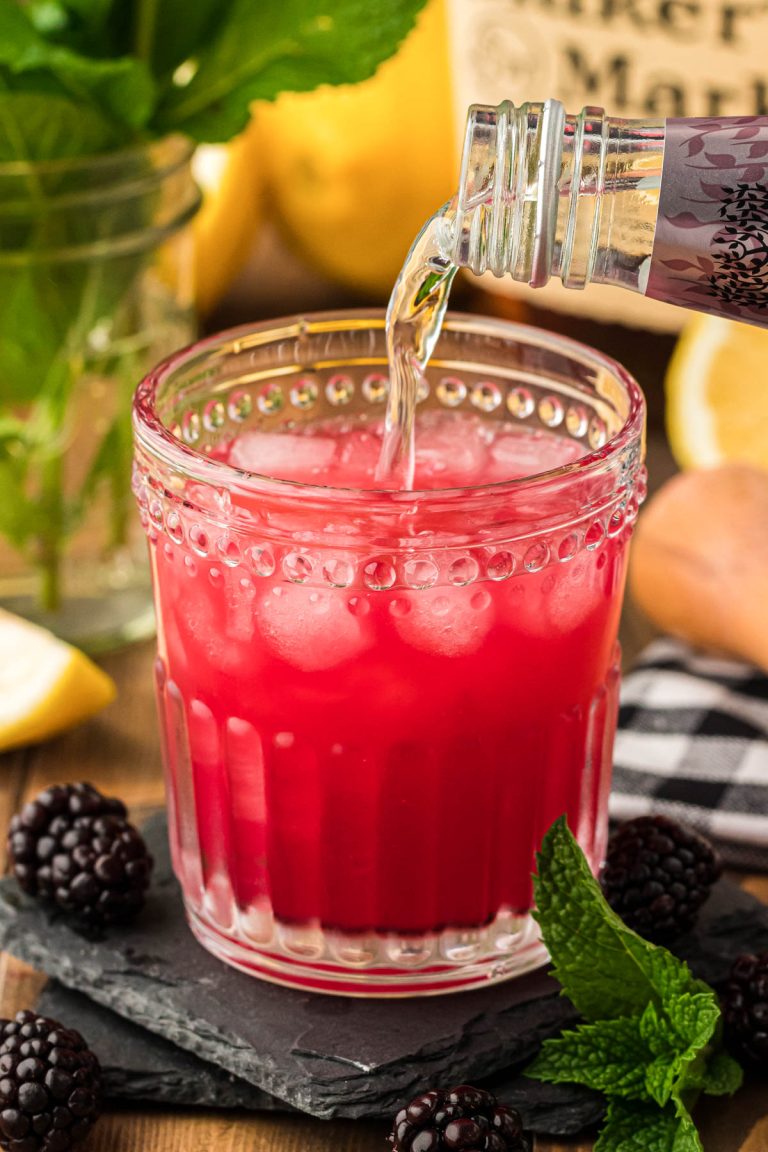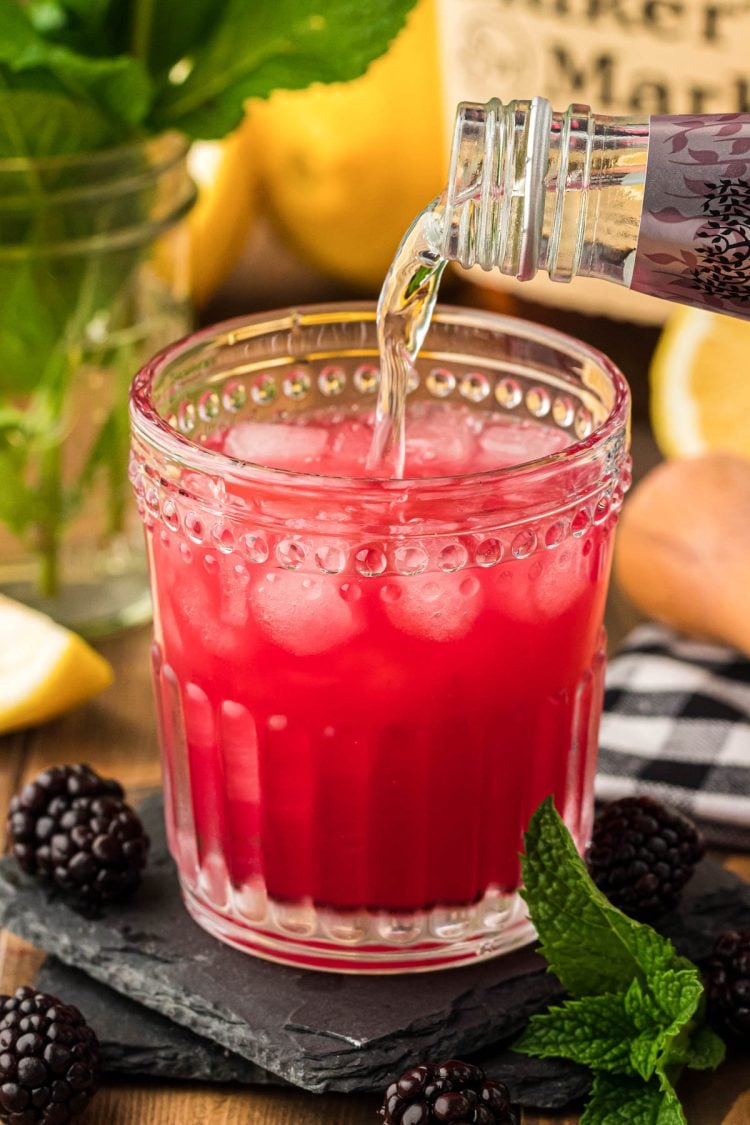 How To Store Blackberry Bourbon Smash
It's best to enjoy your blackberry bourbon smash the same day you enjoy it! However, you can transfer it into an airtight container or jar with a lid to store it in the fridge for a day or two.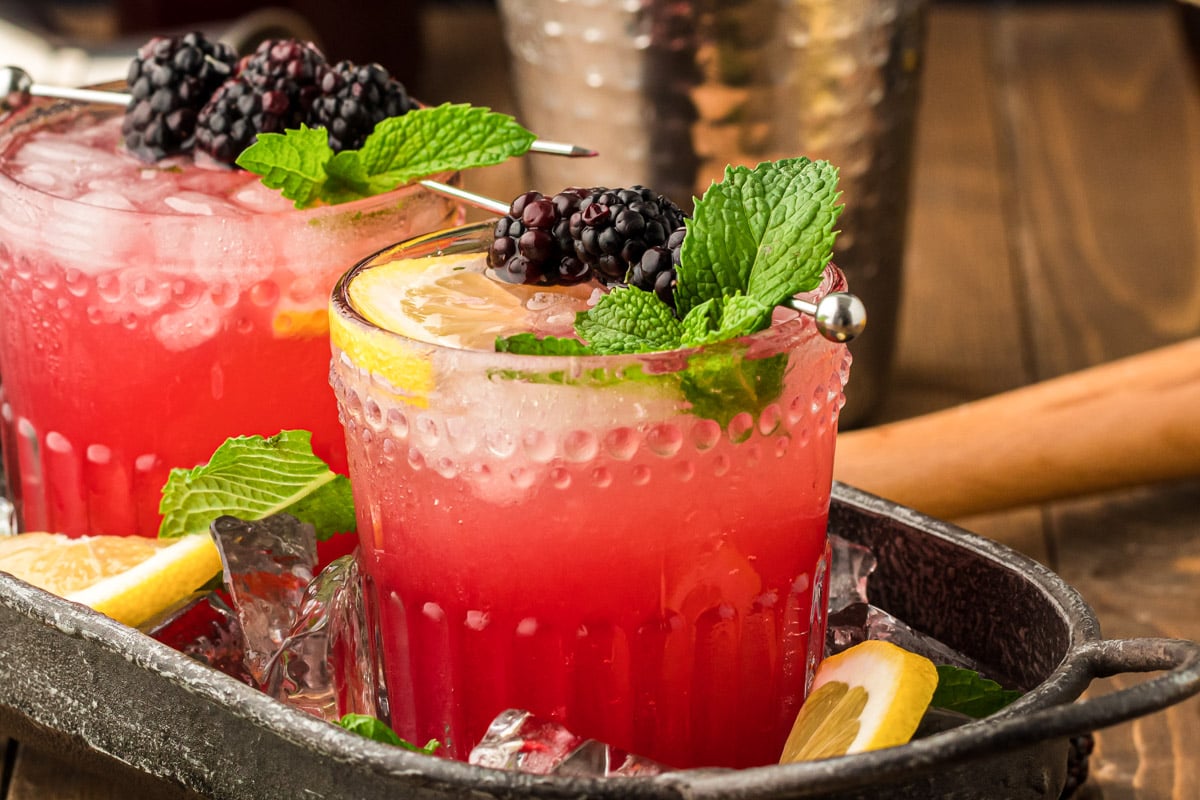 Bourbon Blackberry Smash FAQs
What does smash mean in a drink?
A Whiskey Smash is a mixed drink served over ice that has a fruity component paired with a base spirit and an herbal ingredient such as mint. This whiskey smash outline makes it an easy cocktail to add your own variations to!
How much alcohol is in a smash?
There is 2 oz bourbon or your choice of alcohol in a smash.
What's the difference between a julep and a smash?
A smash is made with a fruit flavor, whereas a julep is not.
Can I make this whiskey smash without a cocktail shaker?
Yes, this whiskey smash can still be made even if you don't have a cocktail shaker! You can just use a blender bottle, protein shaker, or any jar with a lid, such as a mason jar.

If you don't have anything with a tight lid, you can just simply stir your whiskey smash.
What tools can be used for muddling?
A muddler can be used for smashing; this can be found at stores such as Bed Bath and Beyond, Target, or even Walmart. Or you can just grab one off Amazon.

Other tools that can be used instead of a muddler are a mortar and pestle or the handle of a wooden spoon.
What's the best way to serve a bourbon blackberry smash?
I prefer serving a smash in old fashioned glasses since they're the perfect size. I find that high-ball glasses are too tall of a serving glass for this cocktail.

I then garnish this blackberry smash with fresh blackberries, fresh mint leaves, and lime wedges.
What type of alcohol can you use in a smash cocktail?
Instead of using bourbon, you can use gin, rum, vodka, or tequila.
Can I add more blackberry simple syrup to this smash to make a sweeter cocktail?
Absolutely. Feel free to add more simple syrup to taste until it becomes as sweet as you'd like!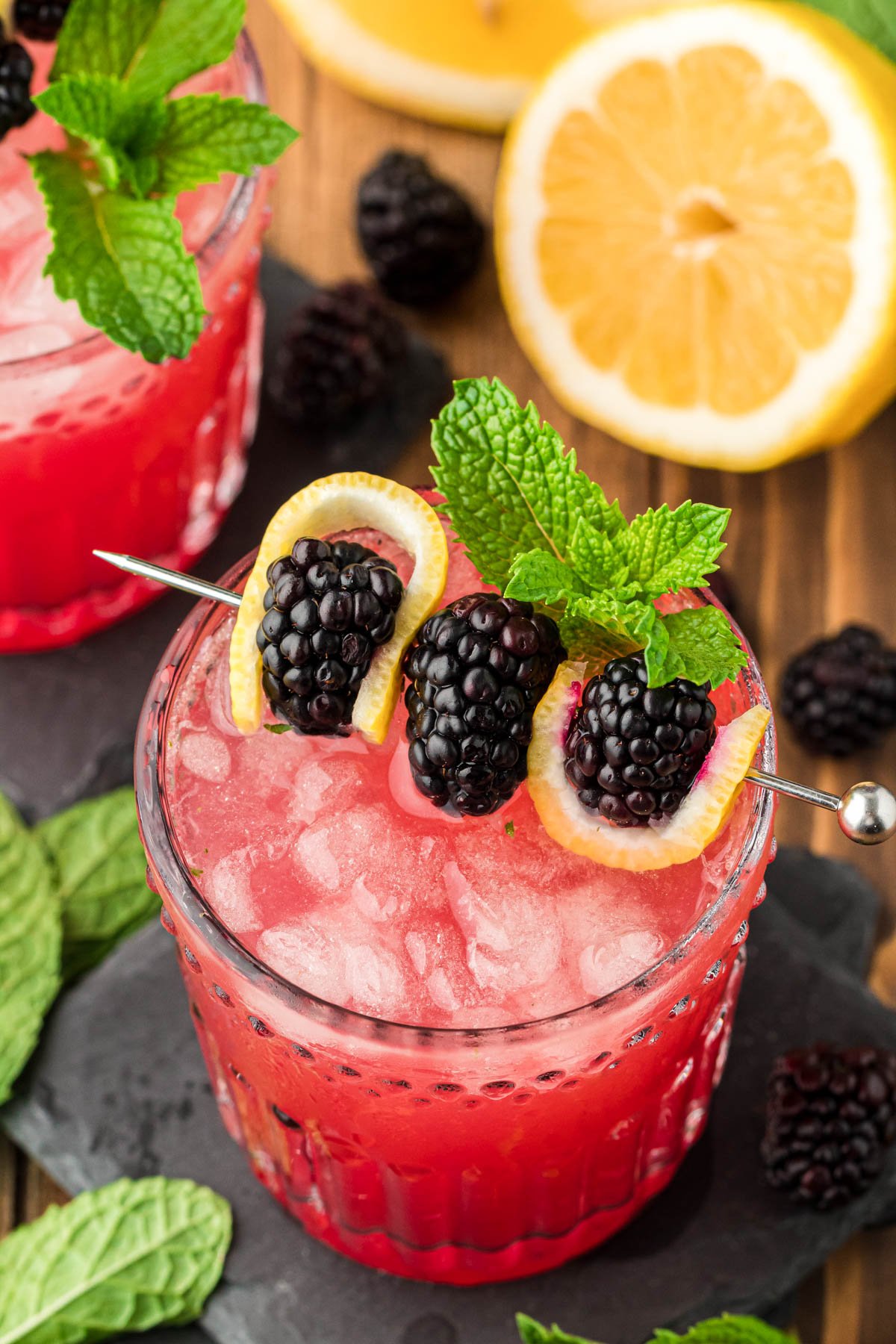 👋 Let's Connect!
If you've tried this recipe, please let me know how you liked it in the comments below and leave a review; I love hearing from you! And don't forget to tag me – @sugarandsoulco – on Instagram and Pinterest with your photos or join our Sugar & Soul Show-offs Community and share them there, where you can join our recipe challenges and win prizes!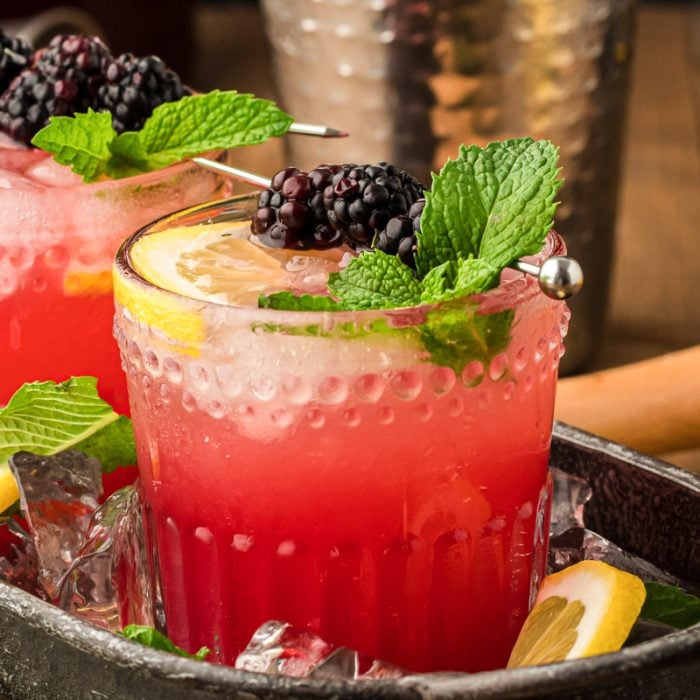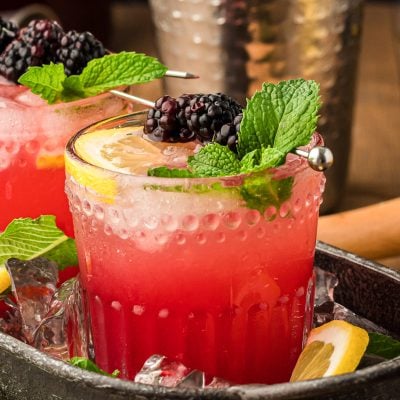 Bourbon Smash (Blackberry)
This Blackberry Bourbon Recipe is made with bourbon whisky, mint, lemon, homemade blackberry simple syrup, and club soda served over crushed ice!
Ingredients
8 mint leaves
1 lemon wedge
1 ounce blackberry simple syrup
2 ounces bourbon whiskey
ice
2 ounces club soda
Instructions
Muddle 8 mint leaves and 1 lemon wedge in the bottle of a cocktail shaker.

Add in 1 ounce blackberry simple syrup and 2 ounces bourbon whiskey.

Add ice and shake vigorously for 15 seconds.

Strain into an 8-ounce old fashioned glass filled halfway with ice.

Top with 2 ounces club soda.

Garnish with blackberries, lemon, and mint leaves and serve with a straw.
Notes
It's best to fill the cocktail shaker with whole ice cubes for shaking, but you can serve this drink over crushed ice if you prefer. For an extra blackberry flavor, try making this with Blackberry Bird Dog Whiskey. Muddle means smashing it up to release flavor. Often, berries, fruit, and/or fresh herbs are muddled to make craft cocktails. In this recipe, you muddle lemon and mint together. You can buy a muddler to add to your barware set, use a mortar and pestle, or simply use the handle of a wooden spoon!
Nutrition
Calories: 218kcal | Carbohydrates: 24g | Protein: 1g | Fat: 1g | Saturated Fat: 1g | Sodium: 32mg | Potassium: 46mg | Fiber: 1g | Sugar: 21g | Vitamin A: 340IU | Vitamin C: 12mg | Calcium: 19mg | Iron: 1mg