Chopped Italian Sandwiches chops up all the classic Italian sub ingredients and coats them in a delicious dressing before filling sub rolls! A great choice for lunch, dinner, or to bring on a picnic!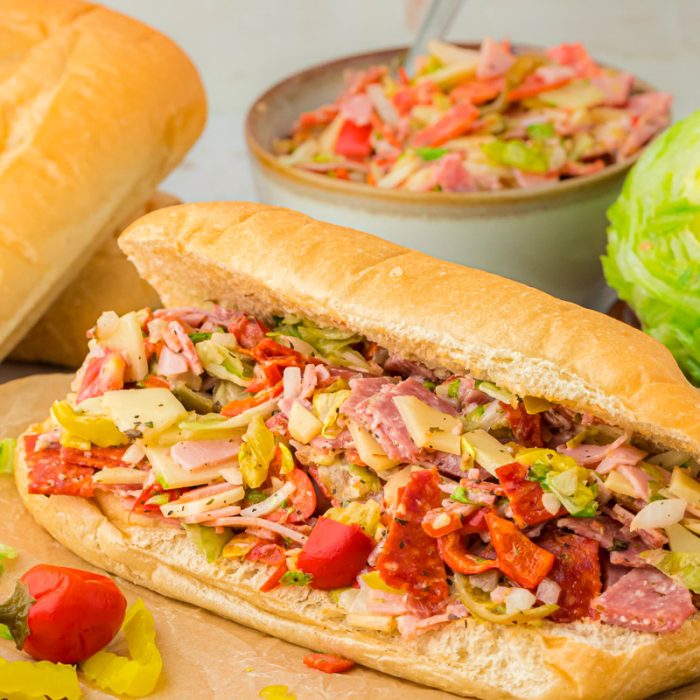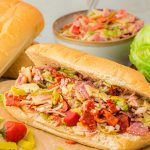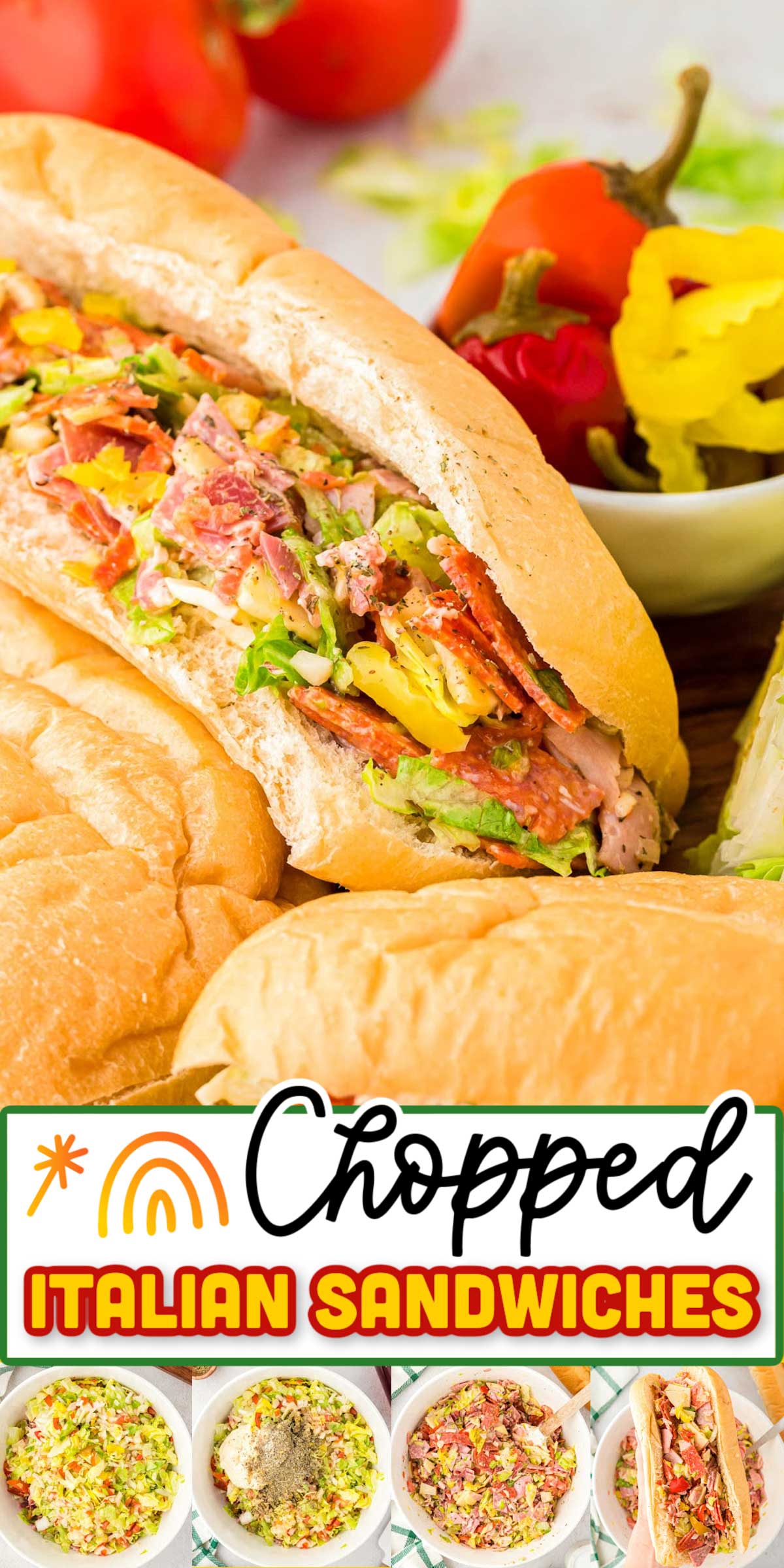 Chopped Italian Sandwiches are made with classic Italian sub ingredients that are chopped up and coated in a delicious dressing before filling sub rolls! A fun TikTok recipe that's a great choice for lunch, dinner, or to bring on a picnic!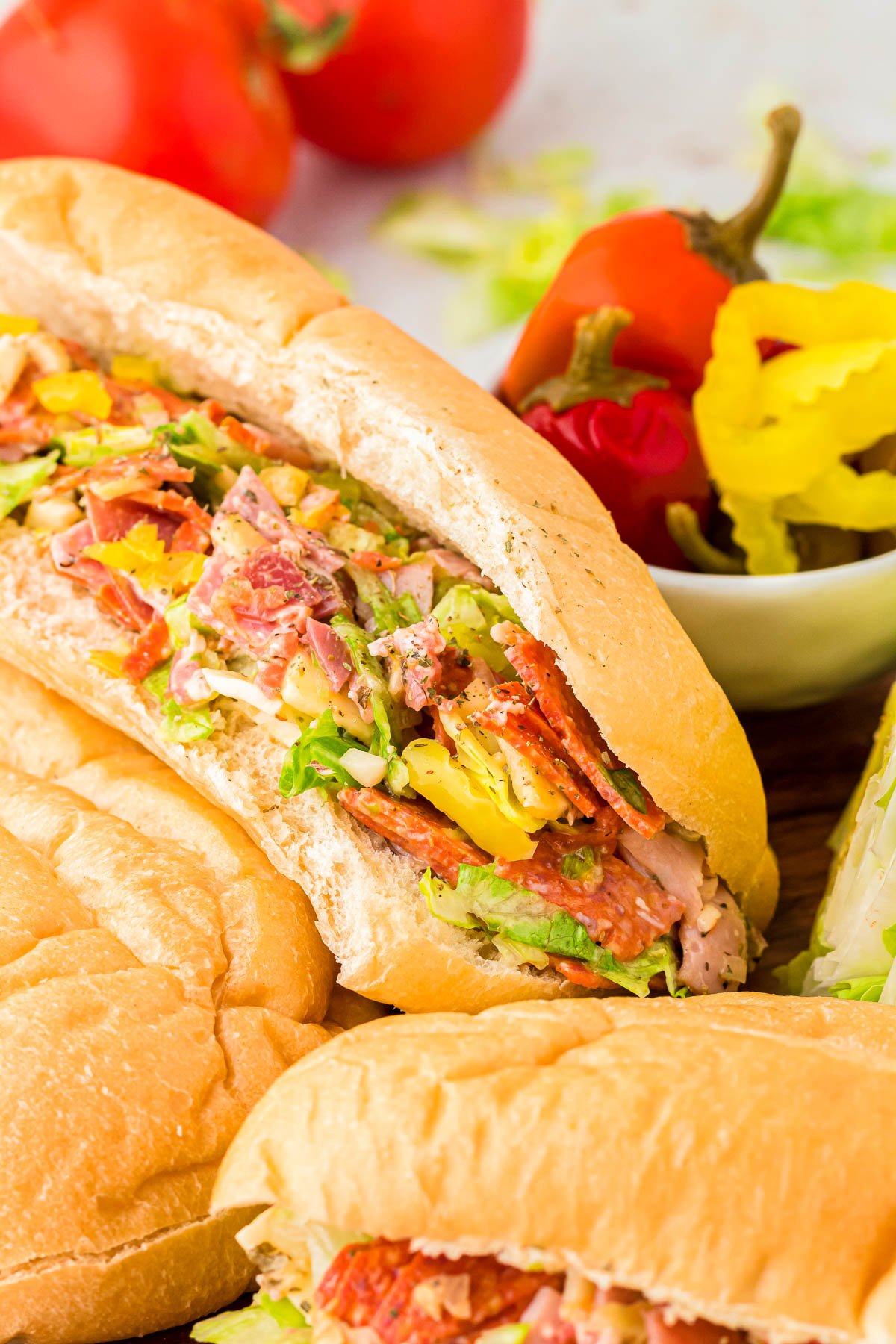 Chopped Italian Subs Are The Best!
This Chopped Italian Sandwich Recipe has all the same ingredients and flavors you love in a classic sub! Except in this Italian, the ingredients get chopped up and mixed with olive oil, red wine vinegar, mayo, and Italian seasoning.
This genius method has been trending all over TikTok, thanks to Big Eric's BBQ! These TikTok Chopped Italian Sandwiches pack every bite with the best balance of dressing to filling ratio, making for a more flavorful sub!
These chopped Italian subs are the perfect go-to when you don't want to heat the kitchen up for dinner! We even love mixing up the sandwich filling and packing it in the cooler for quick sandwich assembly at the beach!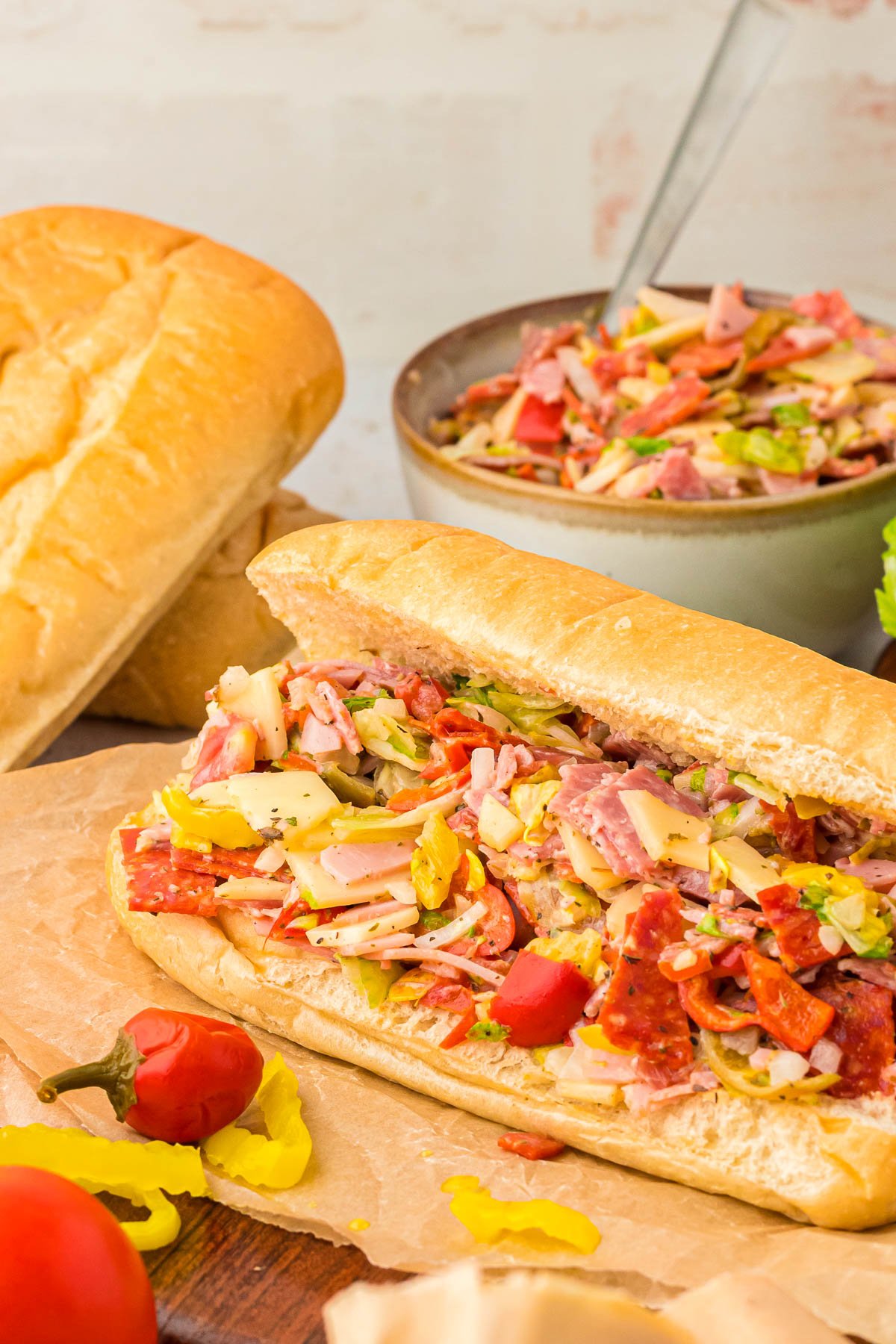 Ingredients For Chopped Italian Sandwiches
Black Forest Ham
Sandwich Pepperoni
Sandwich Genioa Salami
Hot Capicola
Provolone Cheese
Iceberg Lettuce
Tomato
Large White Onion
Banana Peppers
Cherry Peppers
Mayonnaise
Olive Oil
Red Wine Vinegar
Italian Seasoning
Salt
Cracked Black Pepper
Sub Rolls
The beauty of this sandwich is how easy it is to customize it exactly to your liking! For example, swap out the slices of ham for turkey, exchange the white onion for red onion, or even add black olives.
You can also use your favorite cheese if provolone isn't your thing. Go ahead and swap ingredients in and out until you find yourself with flavor-packed Italian sub sandwiches that your family loves!
Italian Sub Substitutions & Variations
Balsamic Vinegar – Red wine vinegar can be replaced with balsamic vinegar.
Italian Dressing – For more Italian flavoring, swap the olive oil out for your favorite Italian dressing.
Iceberg Lettuce – These sandwiches can be made with a bag of pre-shredded lettuce that you can grab from the produce section of your grocery store.
Sub Rolls – You can use wraps or pita pockets instead of sub rolls!
Salad Bowl – If you prefer salads over sandwiches, skip the sub rolls and make it a chopped Italian salad!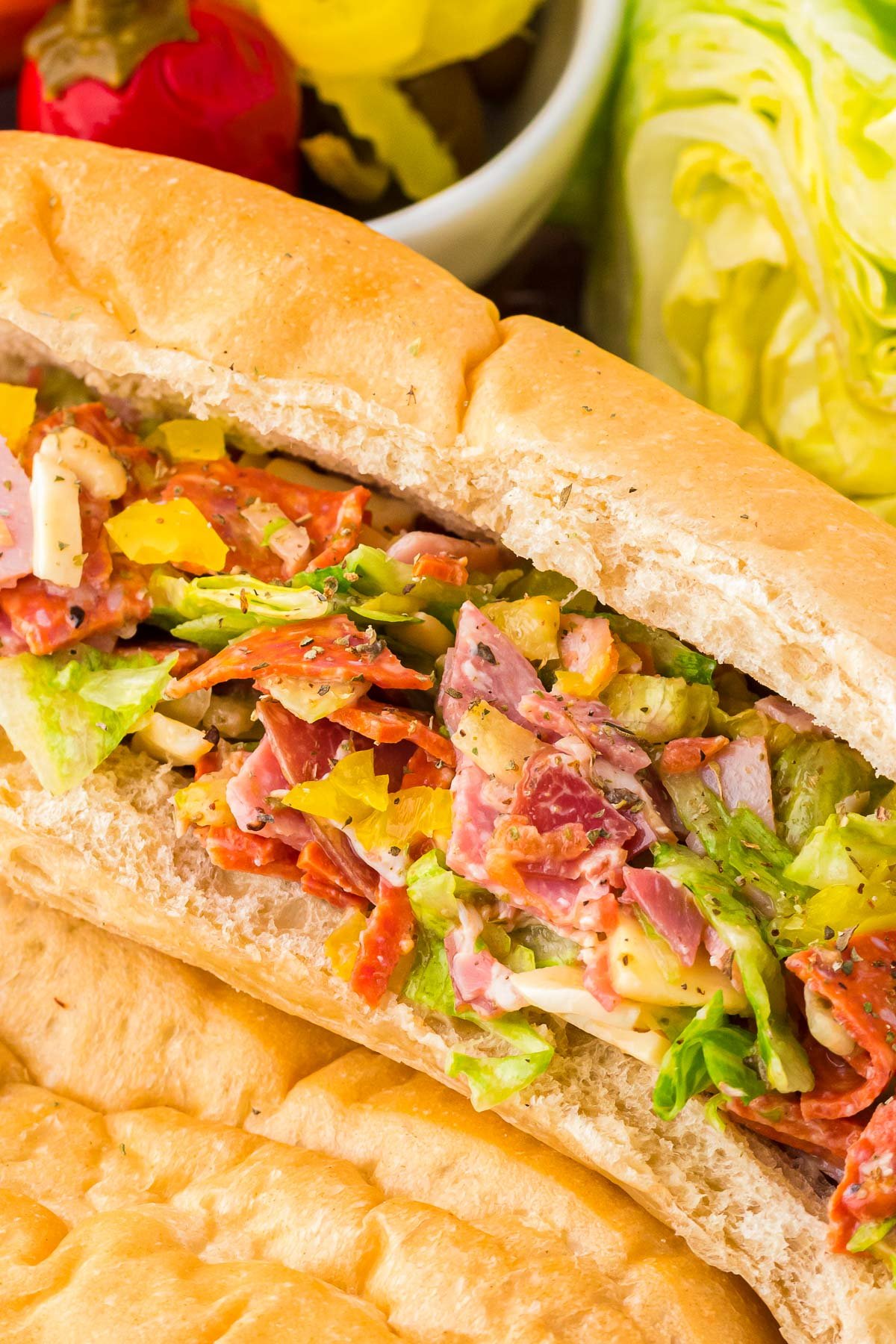 How To Make Chopped Italian Sandwiches
Step 1: Layer the Black Forest ham, sandwich pepperoni, sandwich Genoa salami, hot capicola, and slices of provolone cheese on a cutting board. Use a large, sharp knife to chop it all up into 1/2-inch pieces.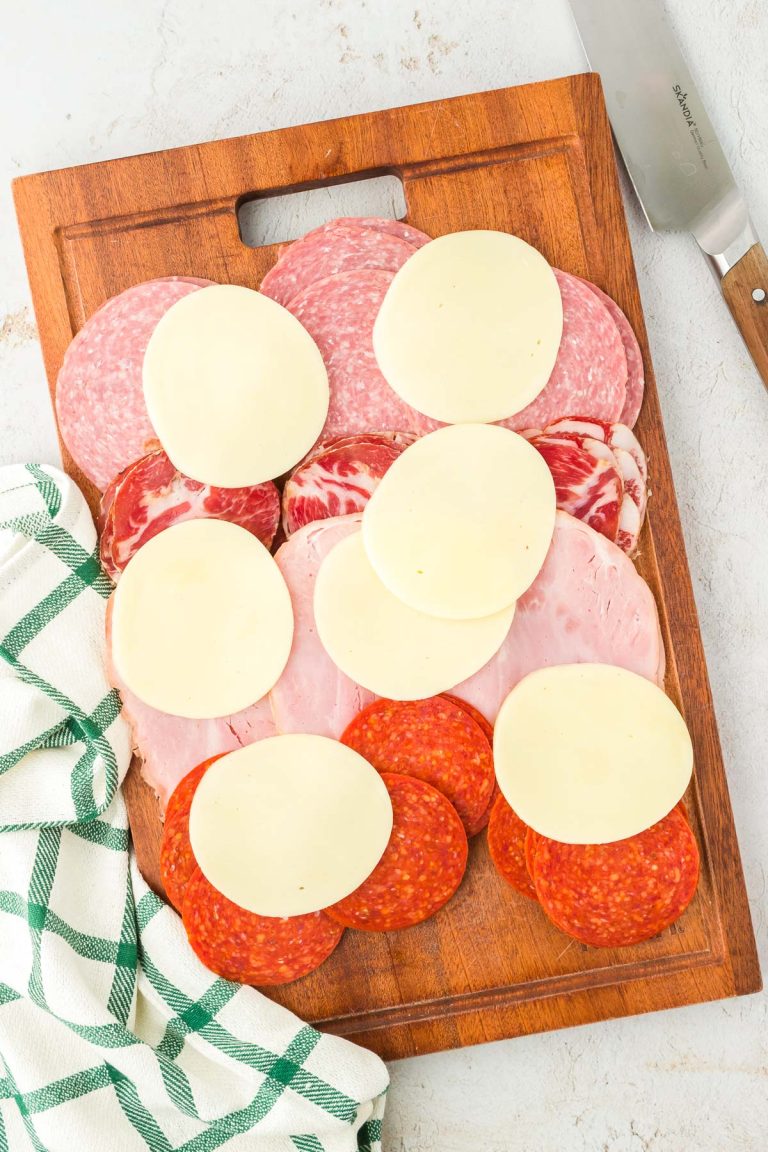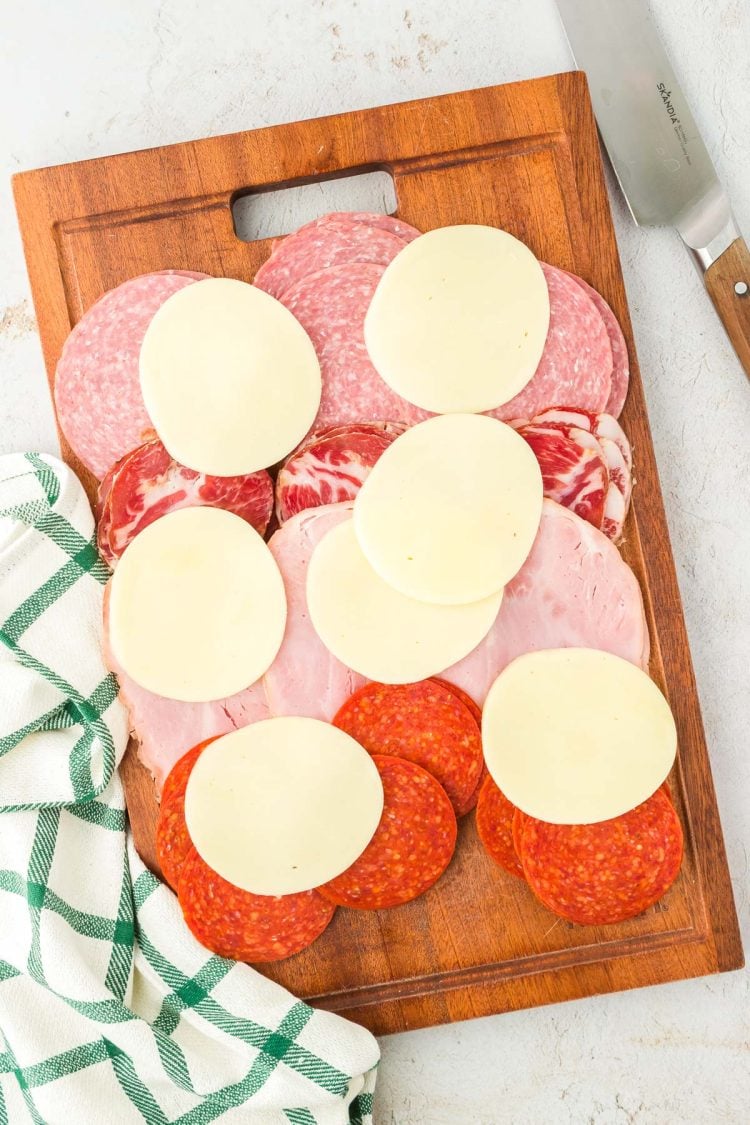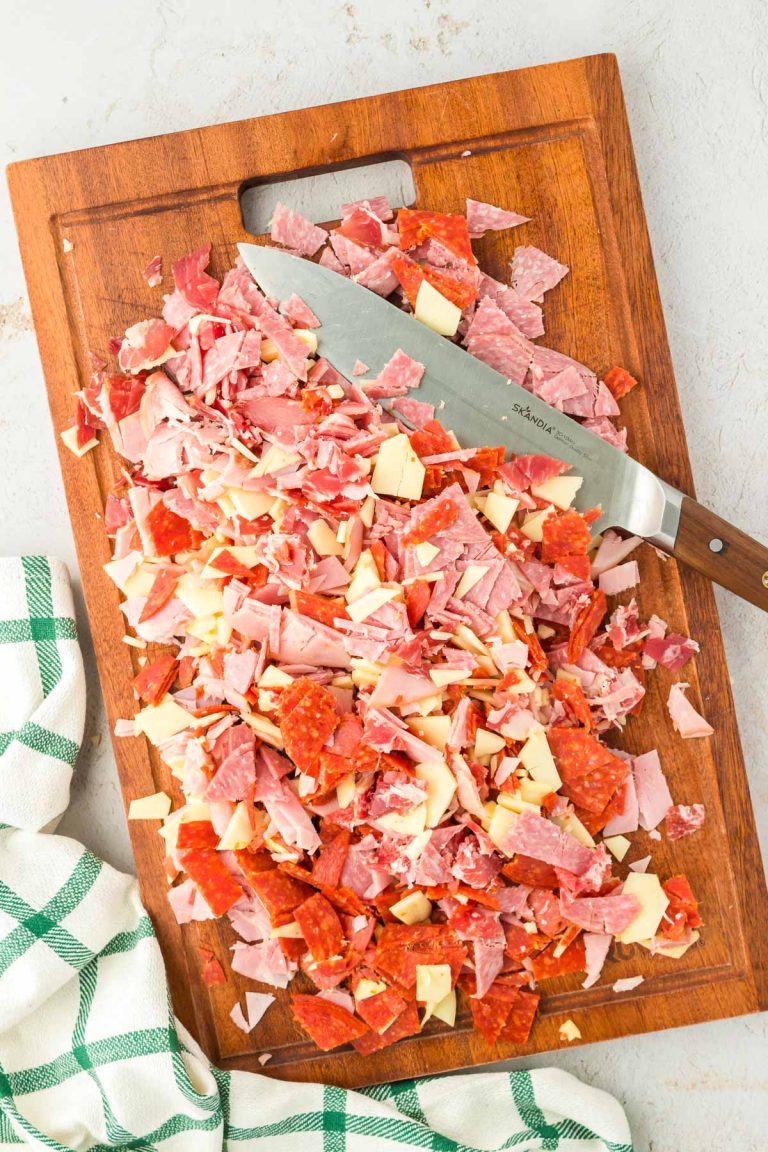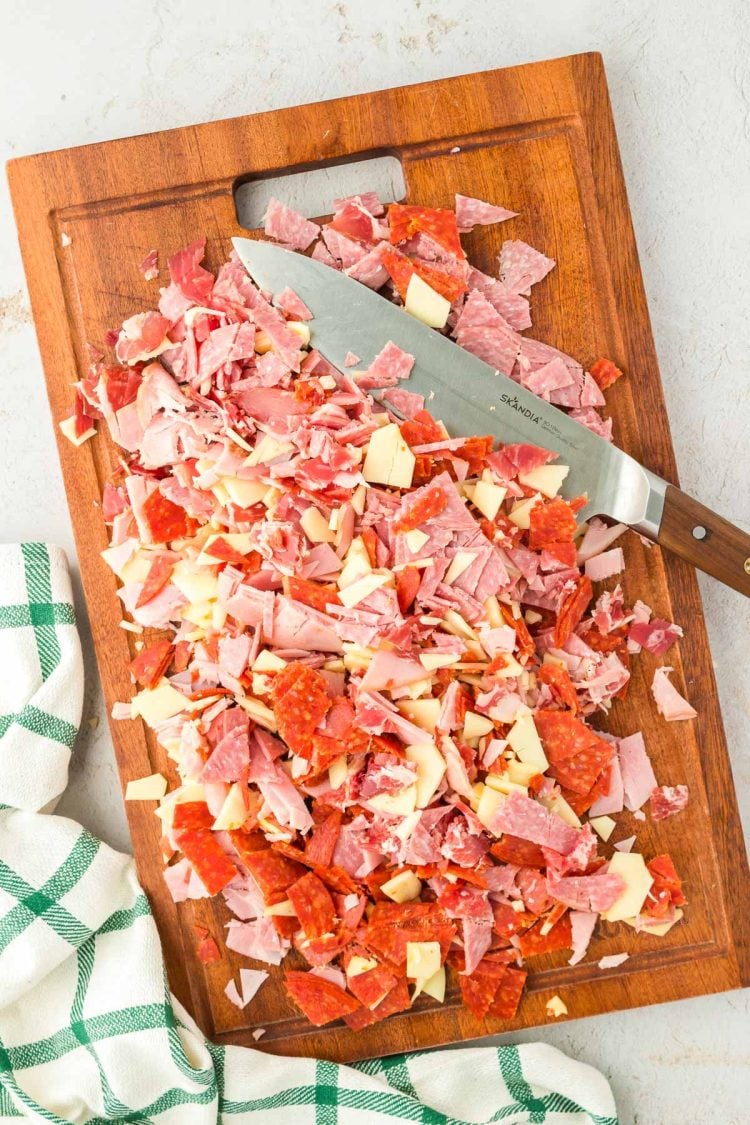 Step 2: Transfer the chopped-up meat and cheese into a large bowl.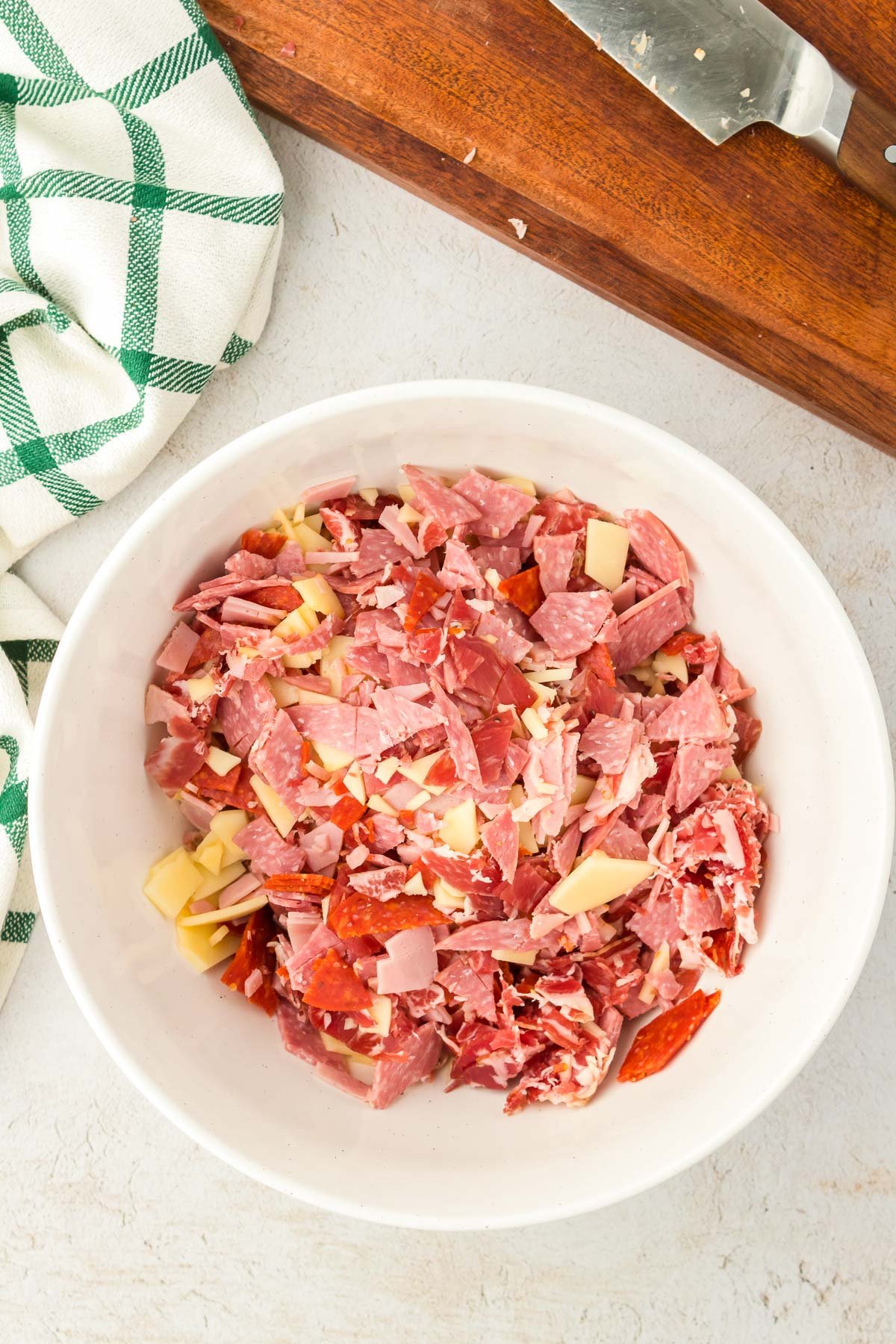 Step 3: Chop the iceberg lettuce, tomato slices, white onion, banana peppers, and sweet cherry peppers into similar-sized pieces like the meat. Then, add it to the bowl of meat and cheese.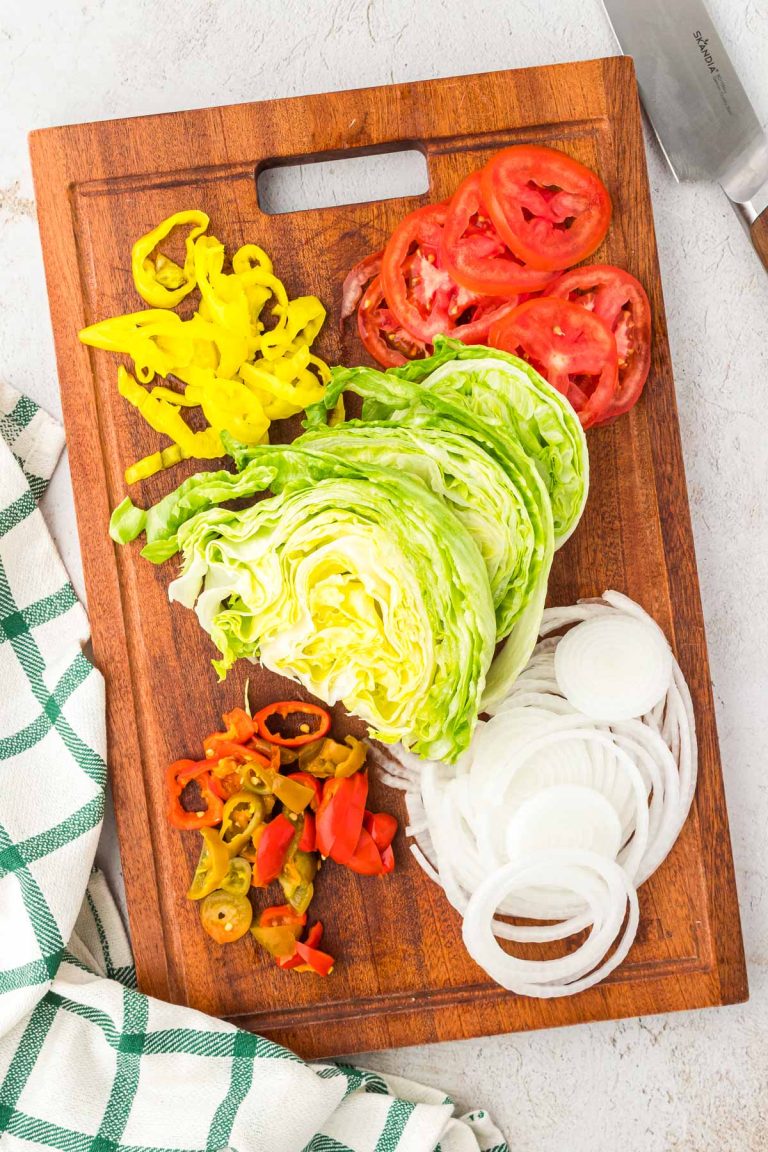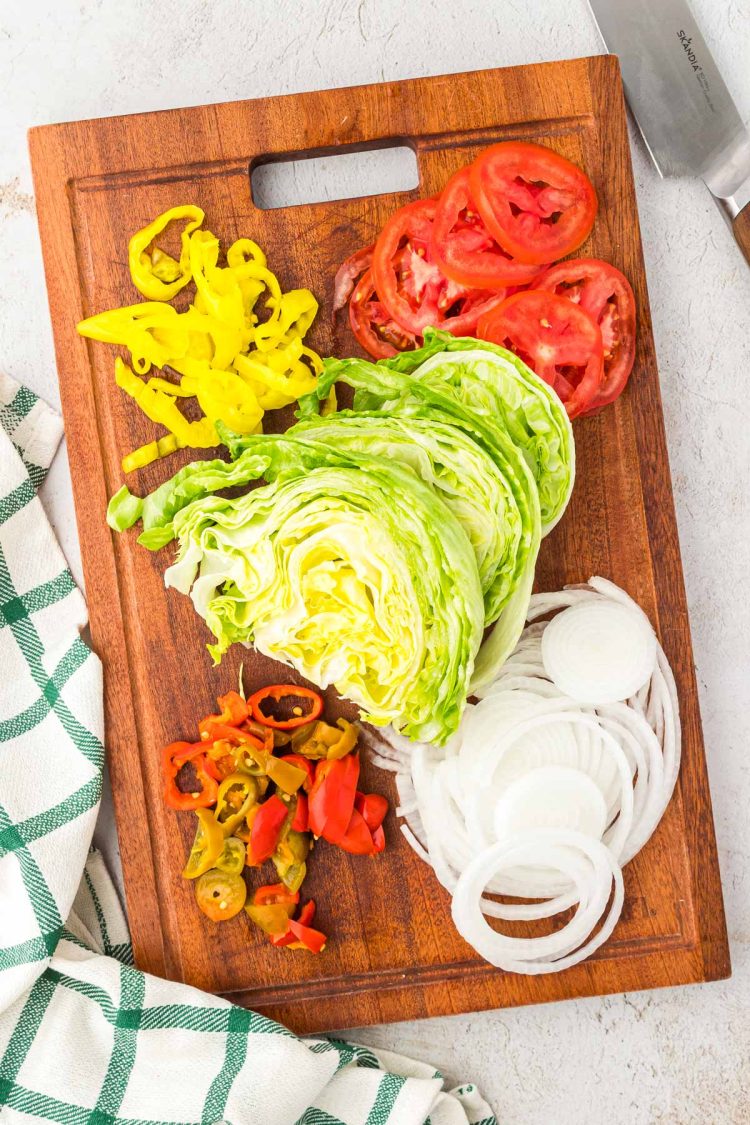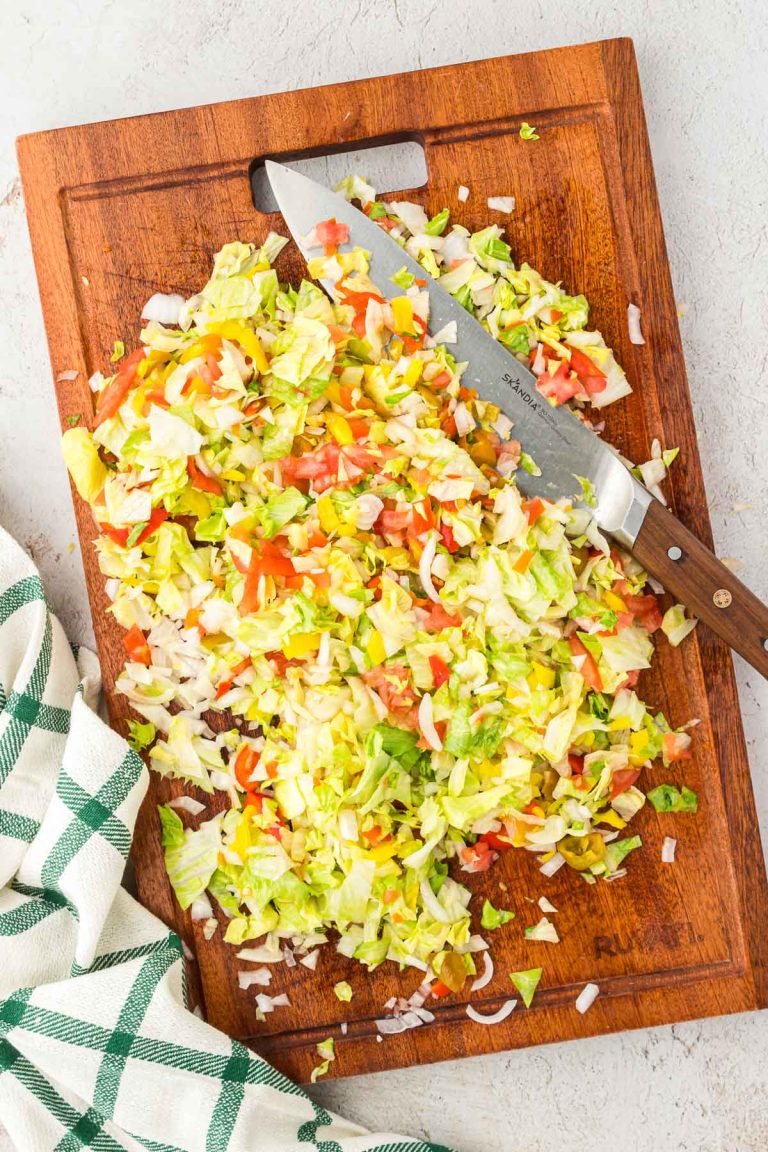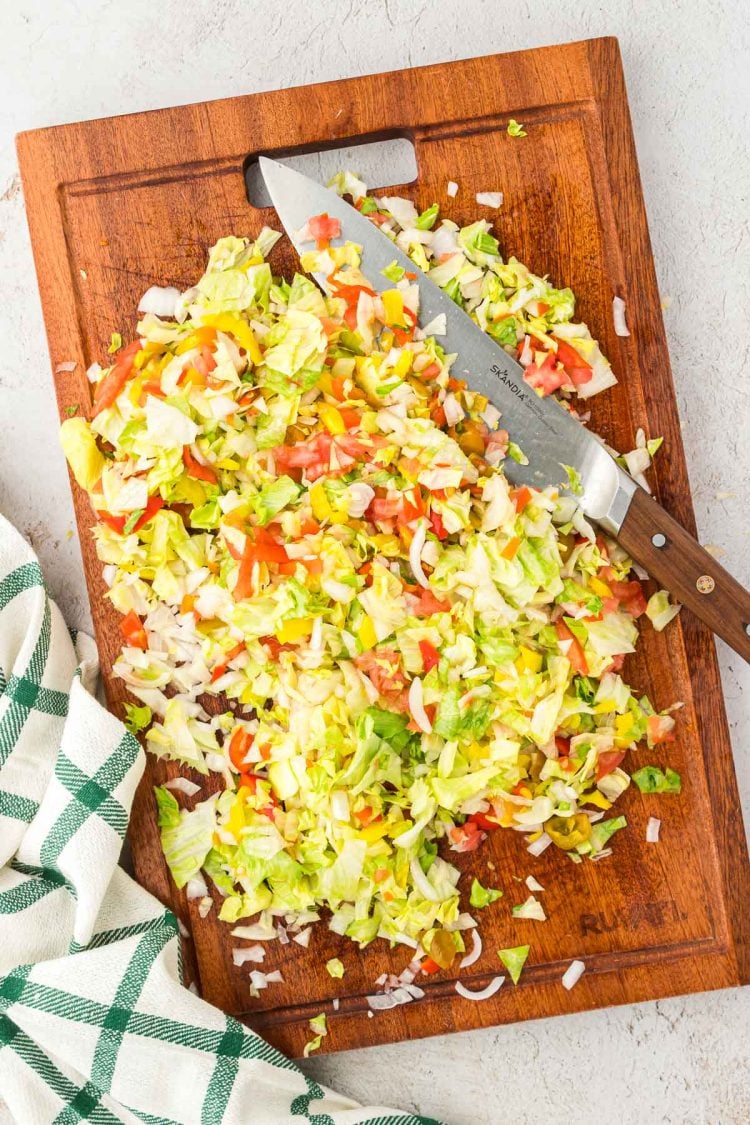 Step 4: Add mayo, olive oil, red wine vinegar, and Italian seasoning to the bowl of veggies, meat, and cheese. Toss until combined, and then add salt and cracked black pepper to taste.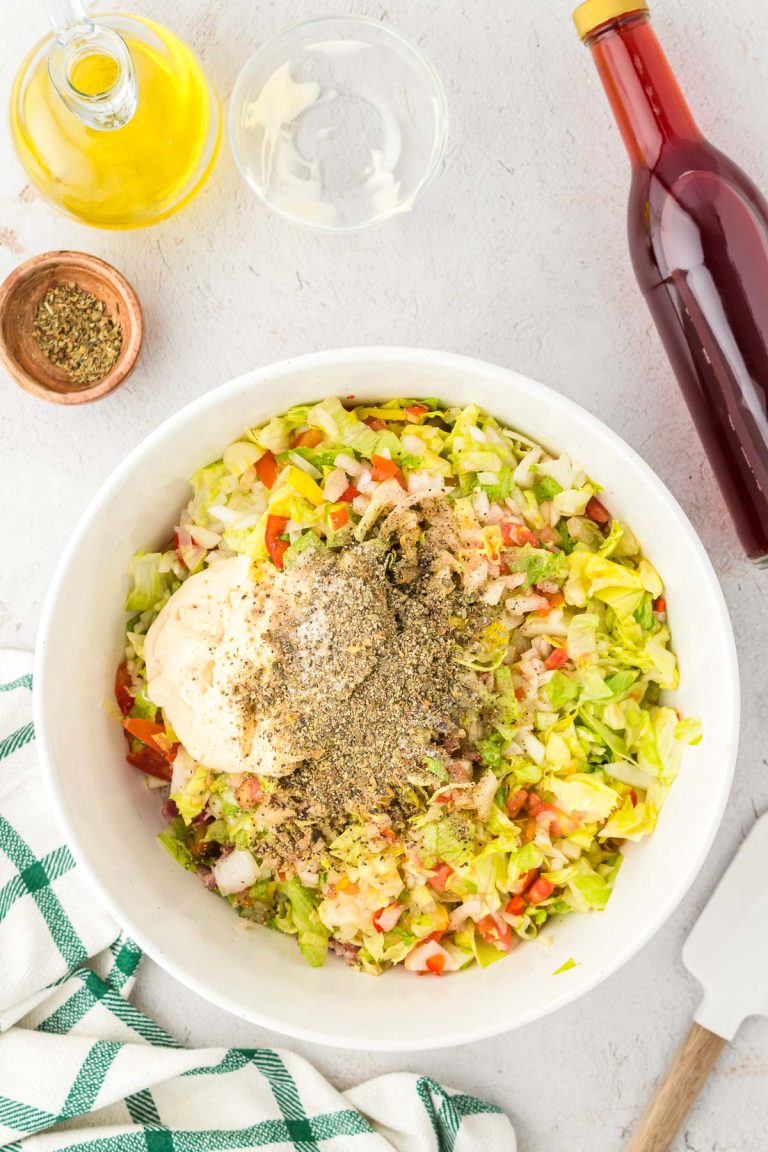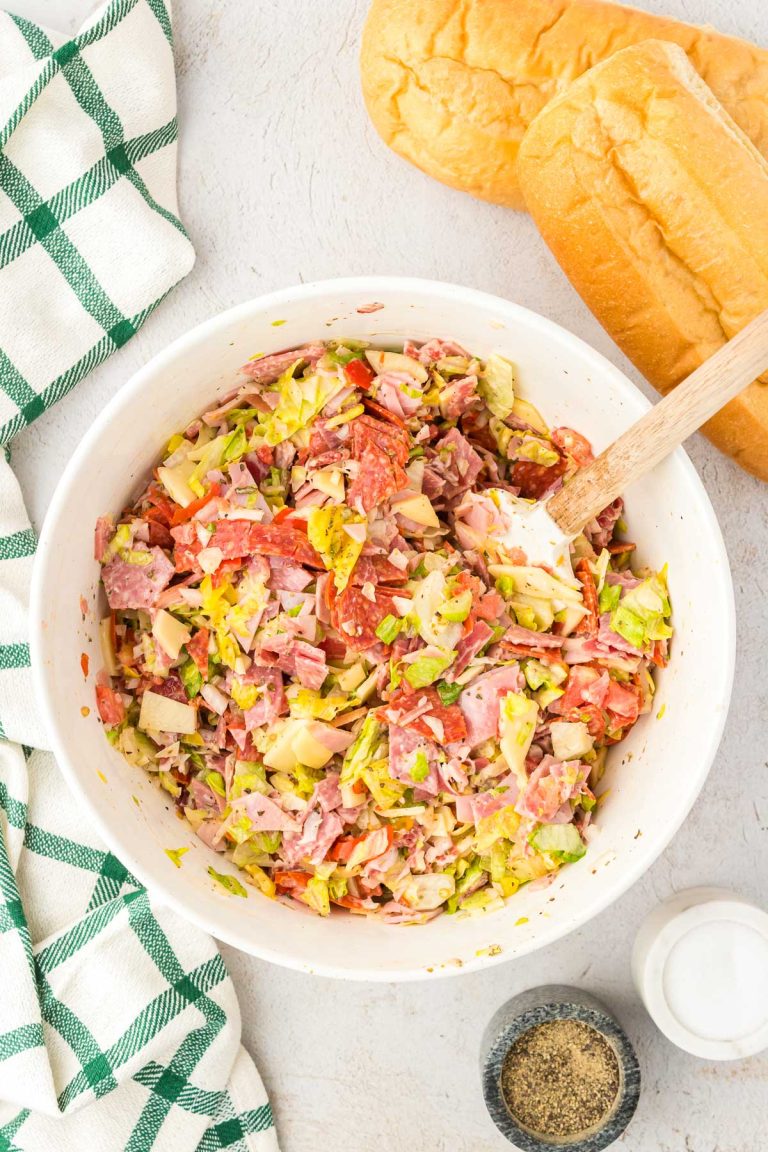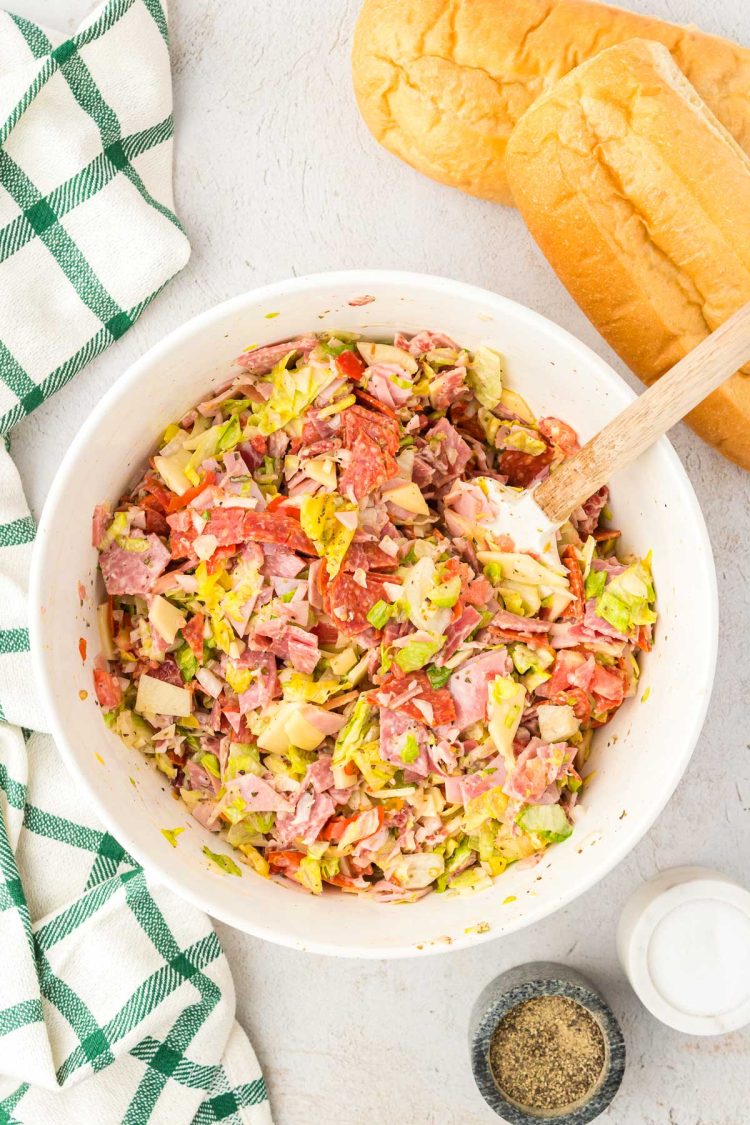 Step 5: Scoop the filling into sub rolls, serve, and enjoy!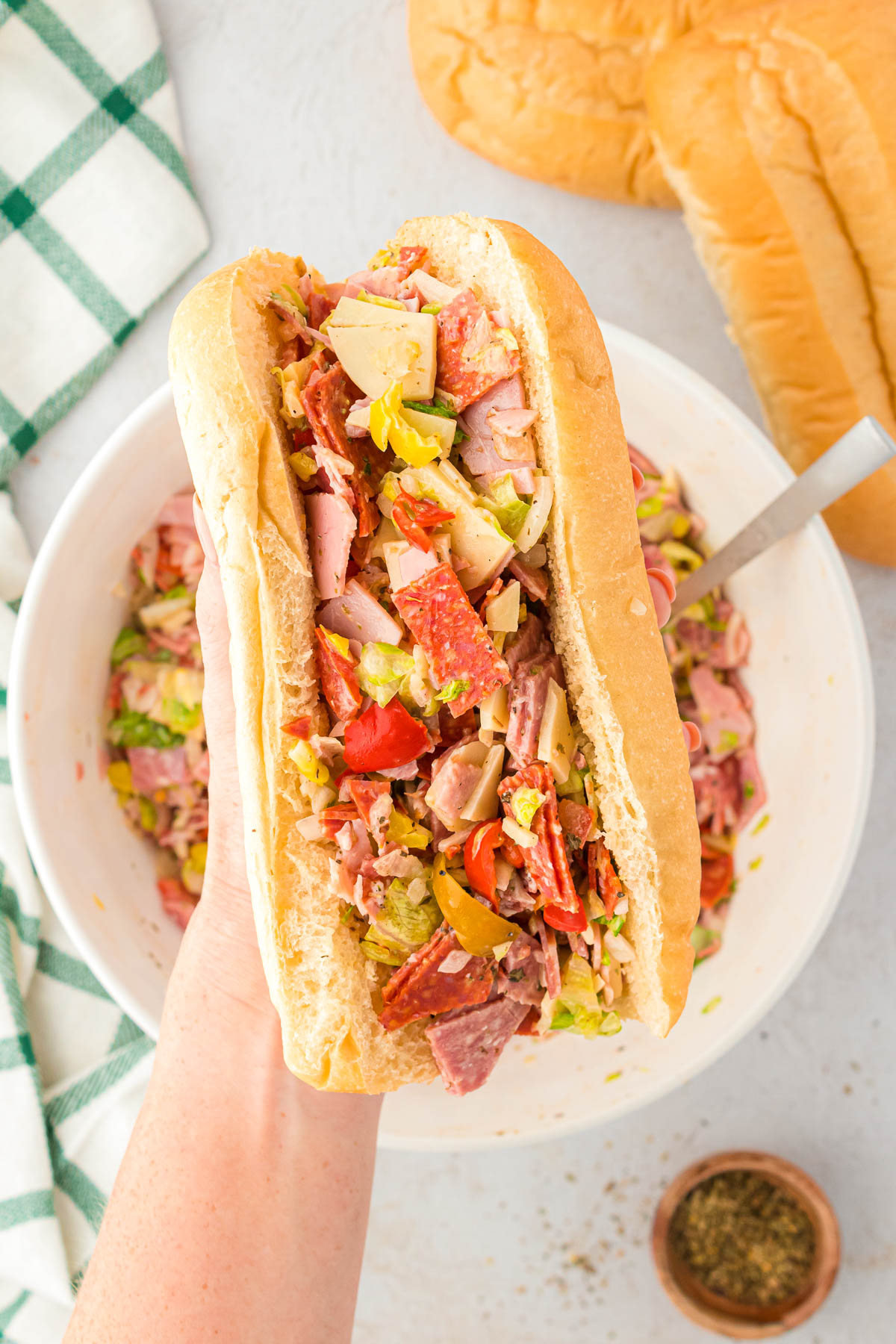 How To Serve Chopped Italian Sandwiches
Keep it easy and serve up these chopped sandwiches with a bag of your favorite chips and an ice-cold glass of soda or Classic Lemonade! You could also fry up Homemade French Fries or onion rings to eat alongside your sandwich.
And don't forget to finish your meal with something sweet! I'd suggest a batch of easy-to-make Peach Pie Enchiladas or Peanut Butter Cookie Bars.
Storing Chopped Italian Subs
Store any leftover chopped Italian filling in the fridge in an airtight container or a Ziploc bag with the excess air squeezed out of it. When storing the mixture with the lettuce already in it, I'd recommend enjoying the leftovers within 24 hours.
This is because the lettuce starts to wilt, giving it a soggy, undesirable texture.
If you're making this recipe for meal prep, I suggest leaving the lettuce and tomatoes out until right before serving. This will keep the mixture crisp with the best taste. Store without lettuce and tomatoes in the fridge for 2 to 3 days.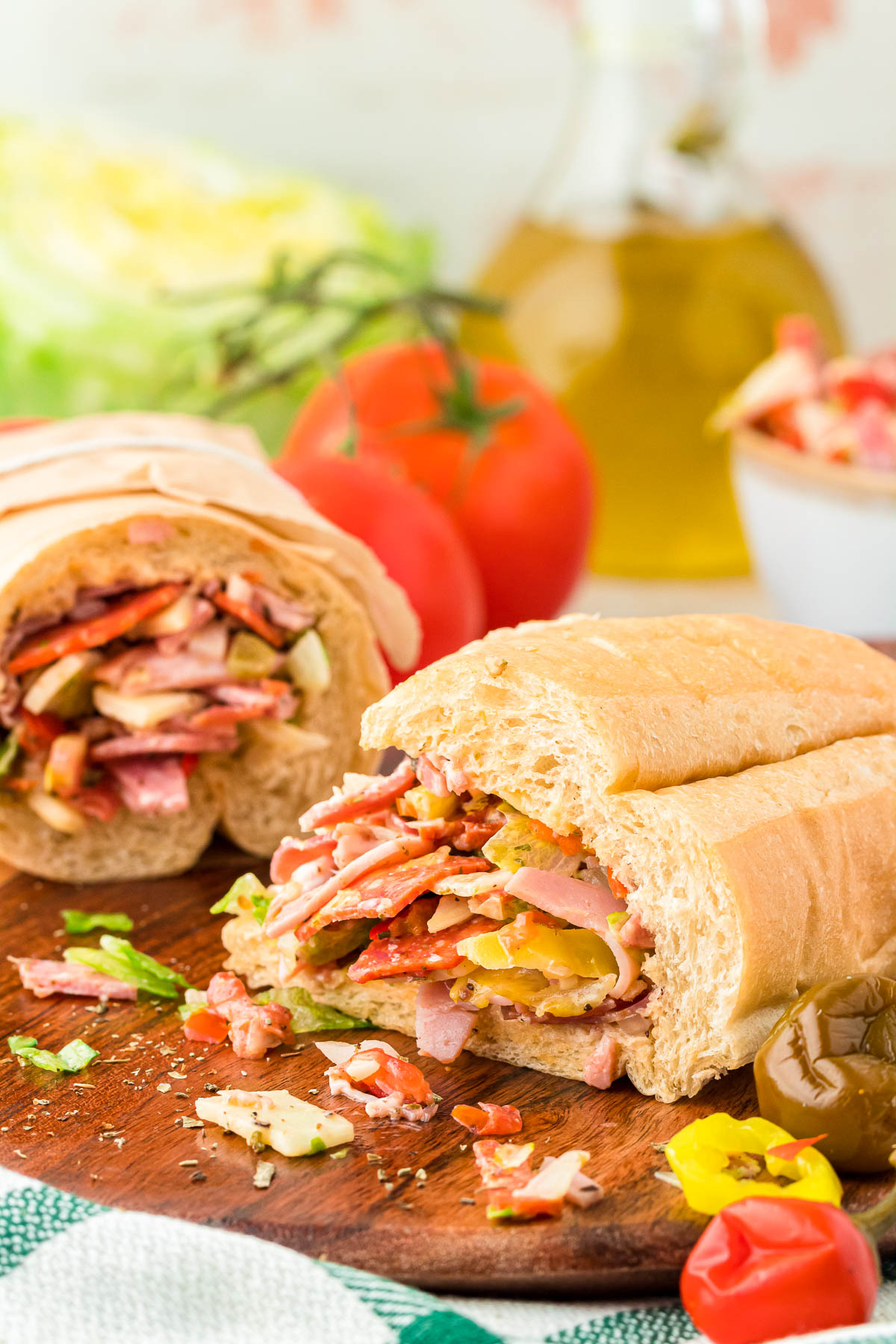 Chopped Italian Sub FAQs
What type of bread is best for Italian sandwiches?
You can choose a crusty loaf such as baguettes, soft white bread, Italian sub rolls, or even hoagie rolls. It comes down to personal preference. Therefore, use what you love to create the perfect bite!

I love making ours on the deli sub rolls that come in a 6-pack from our local grocery store.
Are Italian subs healthy?
The ingredients for this chopped sub are relatively healthy until you begin adding in the mayonnaise, oil, and bread. However, you can easily cut some carbs by eating this as a chopped Italian salad with extra lettuce and skipping the bread!
Will sandwiches get soggy overnight?
Yes, I would not assemble a chopped Italian sandwich to store overnight, or the bread will get soggy. For the best sandwiches, assemble them right before eating!
How many chopped Italian sandwiches does this recipe make?
This recipe makes 6 sandwiches, though it will largely depend on the bread and the size of the rolls you use.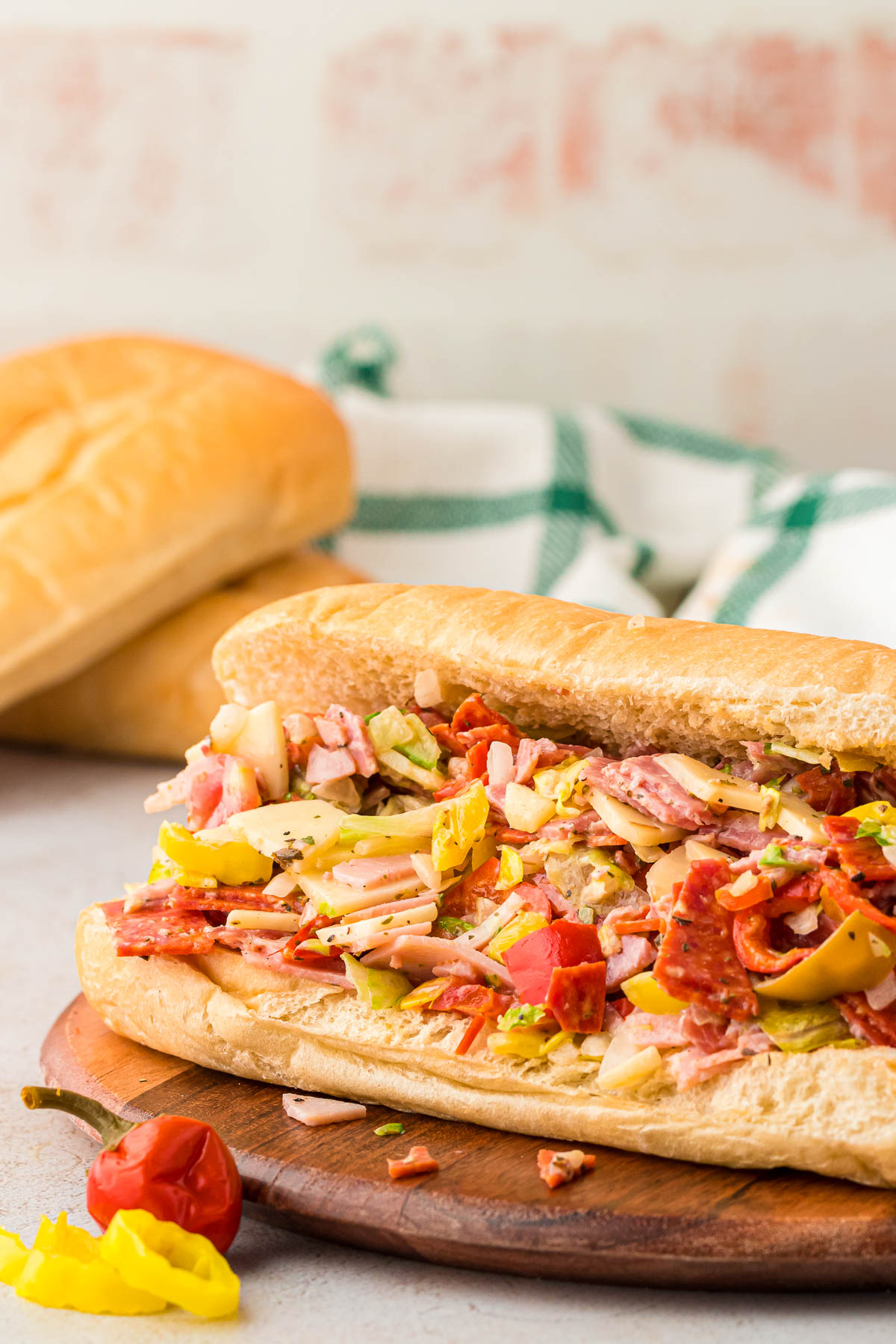 More Sandwich Recipes
👋 Let's Connect!
If you've tried this recipe, please let me know how you liked it in the comments below and leave a review. I love hearing from you!
Don't forget to tag me – @sugarandsoulco – on Instagram and Pinterest with your photos or join our Sugar & Soul Show-offs Community and share them there, where you can join our recipe challenges!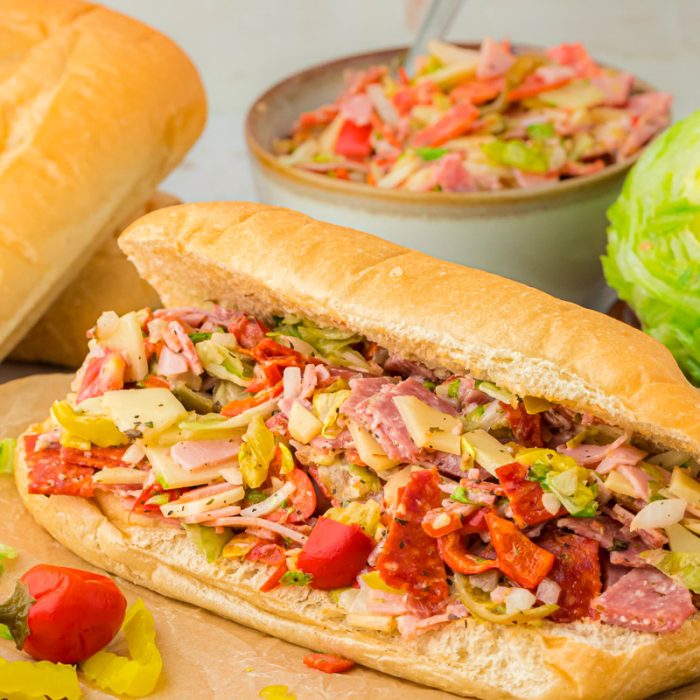 Chopped Italian Sub
Chopped Italian Sandwiches chops up all the classic Italian sub ingredients and coats them in a delicious dressing before filling sub rolls! A great choice for lunch, dinner, or to bring on a picnic!
Instructions
On a cutting board, layer ½ pound Black Forest ham, ¼ pound sandwich pepperoni, ¼ pound sandwich Genoa salami, ¼ pound hot capicola, and ¼ pound provolone cheese. Then use a large knife to chop it all up into pieces about ½-inch in size.

Transfer the meat and cheese to a large bowl.

Chop the ½ head iceberg lettuce, 1 tomato, ½ large white onion, ¼ cup banana peppers, and 6 sweet cherry peppers into small pieces like the meat and cheese and add to the bowl. Make sure to remove the stem and seeds from the peppers.

Then add ¼ cup mayonnaise, 3 tablespoons olive oil, 3 tablespoons red wine vinegar, and 1 tablespoon Italian seasoning and toss until combined. Add salt and cracked black pepper to taste.

Scoop the filling into 6 sub rolls (depending on size – this serves 6 of the deli sub rolls that come in a 6-pack).
Notes
Nutritional information is an estimate that DOES NOT include the sub rolls.
If making ahead, I recommend adding the lettuce and tomatoes right before enjoying for freshness. Everything else will keep in the fridge overnight in an airtight container.
Nutrition
Calories: 478kcal | Carbohydrates: 6g | Protein: 25g | Fat: 40g | Saturated Fat: 13g | Polyunsaturated Fat: 7g | Monounsaturated Fat: 17g | Trans Fat: 0.3g | Cholesterol: 87mg | Sodium: 1974mg | Potassium: 349mg | Fiber: 2g | Sugar: 3g | Vitamin A: 378IU | Vitamin C: 8mg | Calcium: 169mg | Iron: 2mg