These Harry Potter Butterbeer Cupcakes will cast a spell on your taste buds and leave you in a state of geeky bliss! Loaded with delicious flavors of toffee, butterscotch, caramel, and vanilla.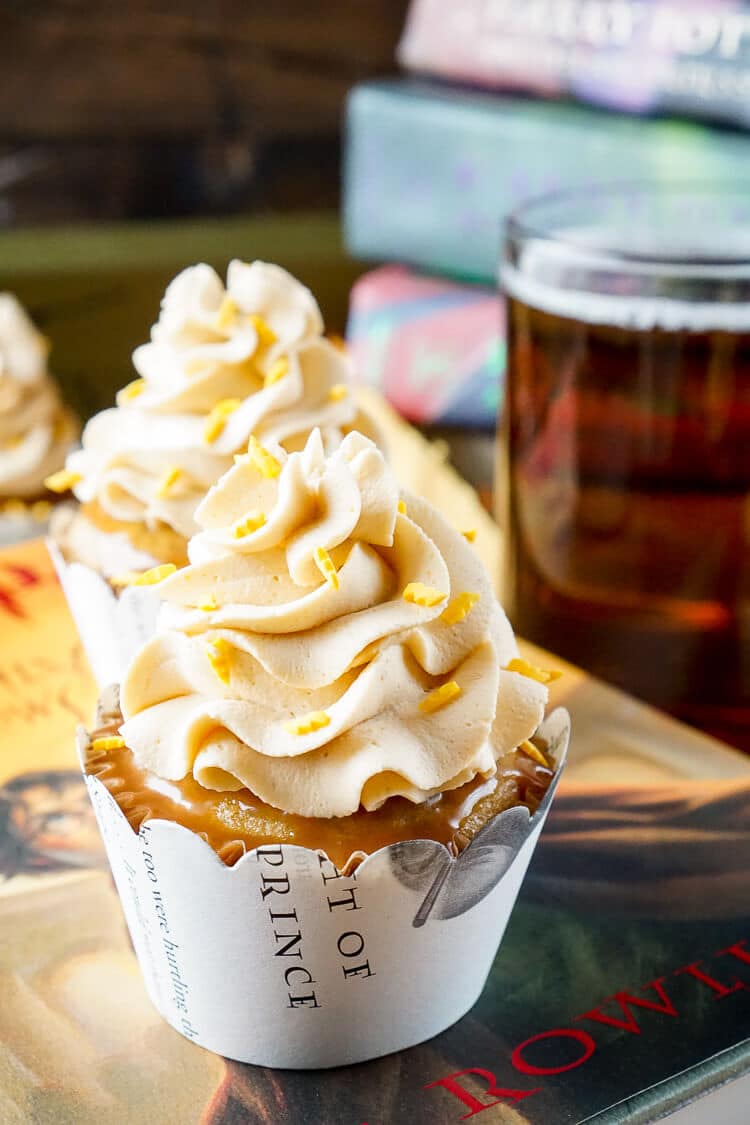 HARRY POTTER BUTTERBEER CUPCAKES
It's that time of year again! Every December, Matt and I have a Harry Potter marathon, I don't even remember how long we've been doing it, but I always try to bake up something delicious for us to enjoy with it!
Last year I made these Butterbeer Pudding Cookies and they've been one of my most popular recipes to date! We've made them over and over again, tried different variations and I even made them for a wedding in September! One reader is commented that the cookies "smell like unicorns," here's to hoping these cupcakes are just as good!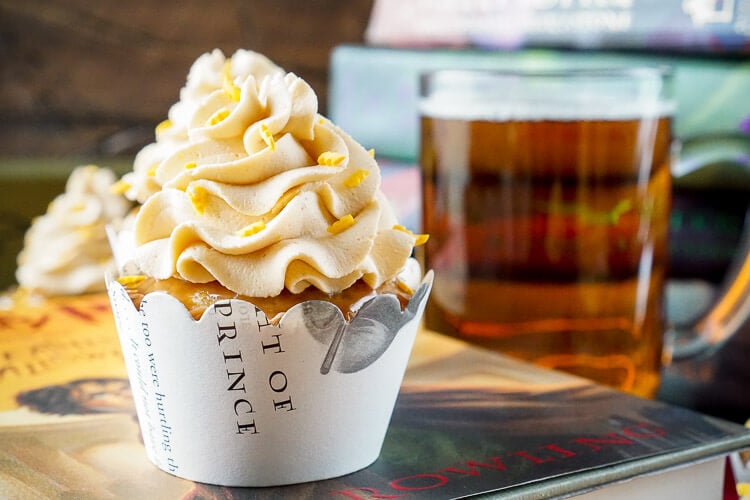 Personally, I think they're freakin' amazing and might just be the best cupcakes I've ever made, they taste like french toast and butterbeer had a baby! See, now you really want one!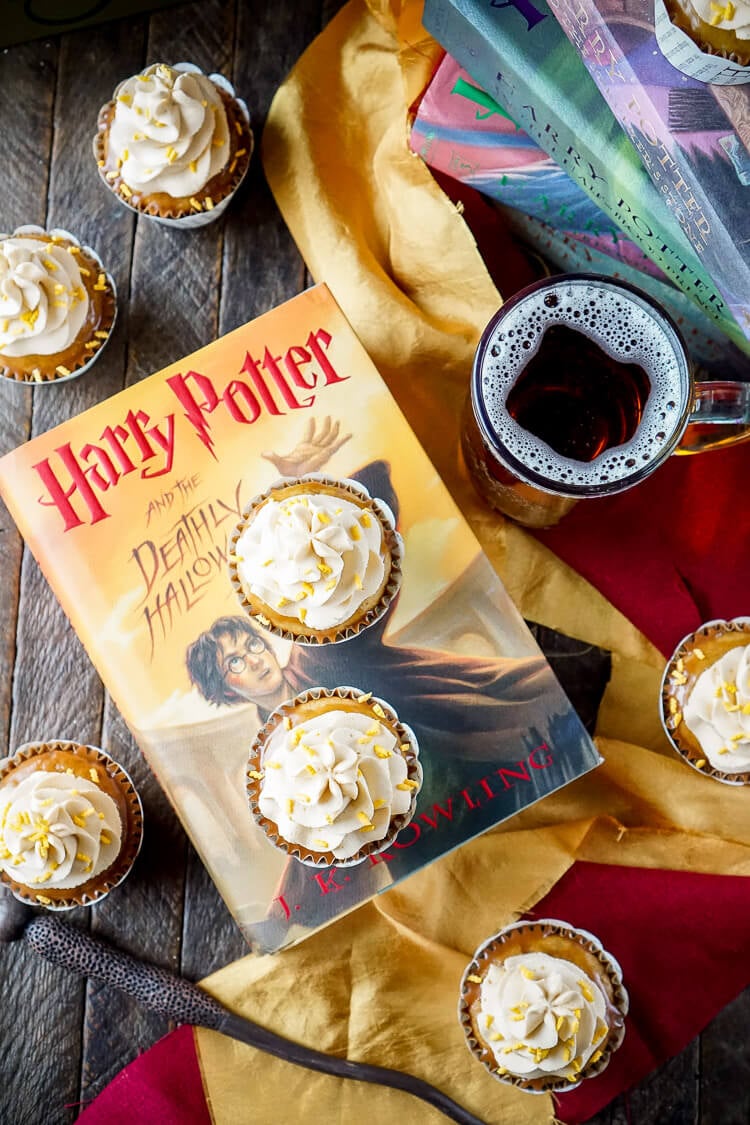 These cupcakes are light and fluffy with toffee bits throughout that make for a nice little punch of flavor. Then they're dipped in a rich butterscotch sauce and finished with a whipped butterbeer frosting and some lightning bolt sprinkles.
I know there's a fair amount of people who don't like to use flavoring or extracts, but please be aware that the butter extract is KEY in this recipe and CANNOT just be replaced with melted butter. You can find the imitation butter extract in the baking aisle with other flavorings, extracts, and food colors.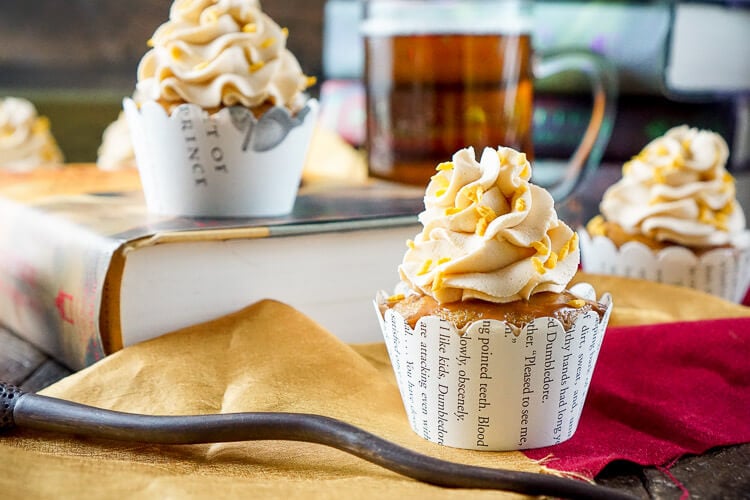 So Harry Potter lovers, are you guys excited for the Fantastic Beasts and Where to Find Them movie? I know I am, anything to keep the Harry Potter universe alive, right? The trailer comes out next week and I'm pretty pumped, especially because I adore Eddie Redmayne and know he's going to do an amazing job!
Also, have you guys picked up a copy of the new Harry Potter and the Sorcerer's Stone: Illustrated Edition? It's absolutely gorgeous and I can't wait to start collecting the books all over again!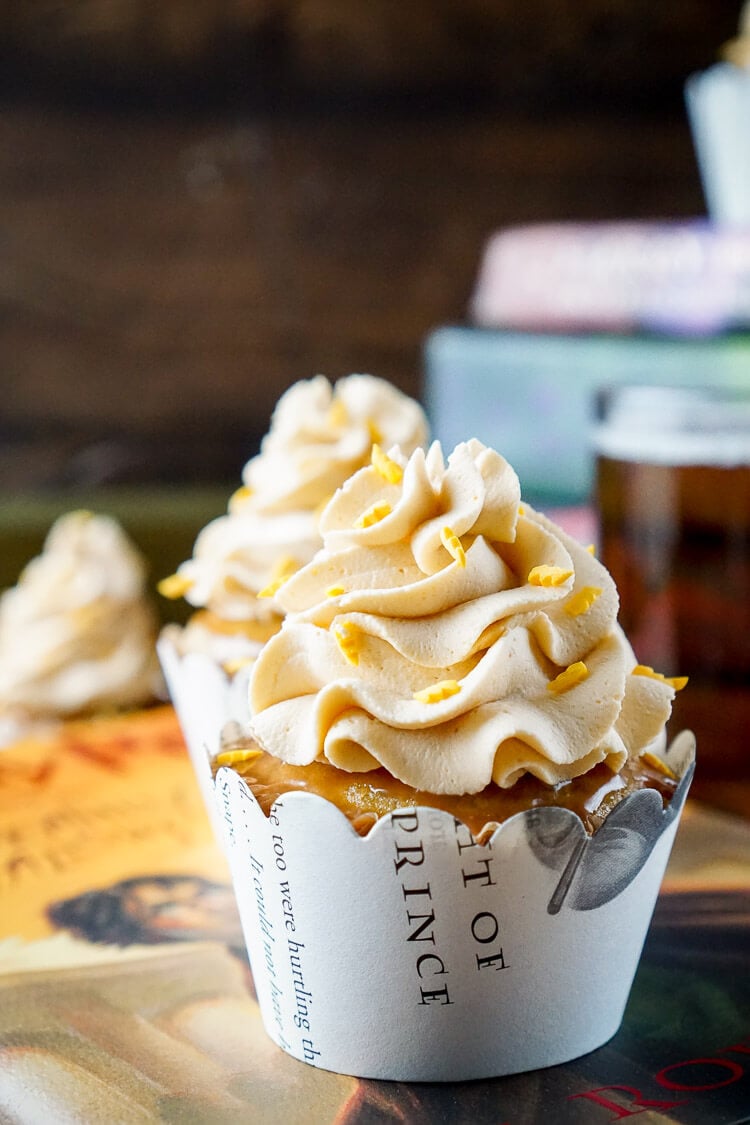 I purchased the Harry Potter cupcake liners on Etsy and put them on over the two regular liners so the sauce wouldn't make them all nasty. They are made out of copied book pages, and as a book lover, they were just too perfect.
The lightning bolt sprinkles used in the photos are no longer made, but you can find some similar ones here. You could also top the cupcakes with sugar lightning bolts.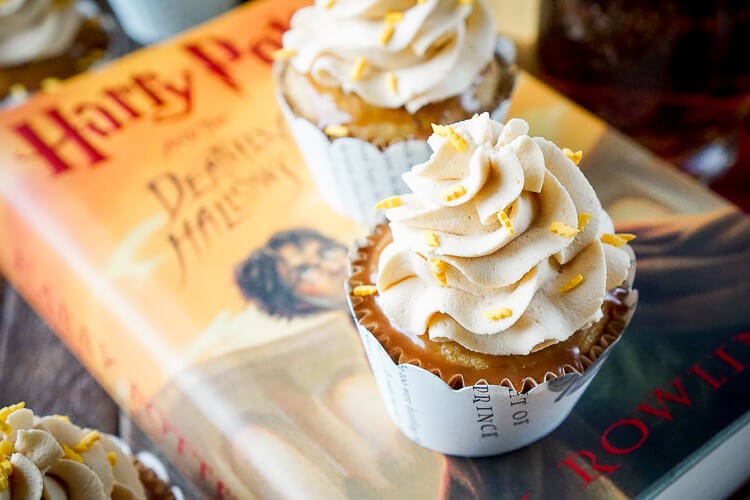 Check out more great Harry Potter Creations!
Butterbeer Pudding Cookies / Harry Potter Butterbeer Pancakes / Harry Potter Party
Harry Potter Quidditch Jersey Tutorial / Harry Potter's Butterbeer Fudge / His & Hers Harry Potter Mugs
Golden Snitch Truffles / Hogwarts House Crest Ornaments / Harry Potter Butterbeer Cake
Harry Potter DIY Golden Snitch Ornament / Butterbeer Poke Cake / Amortentia Love Potion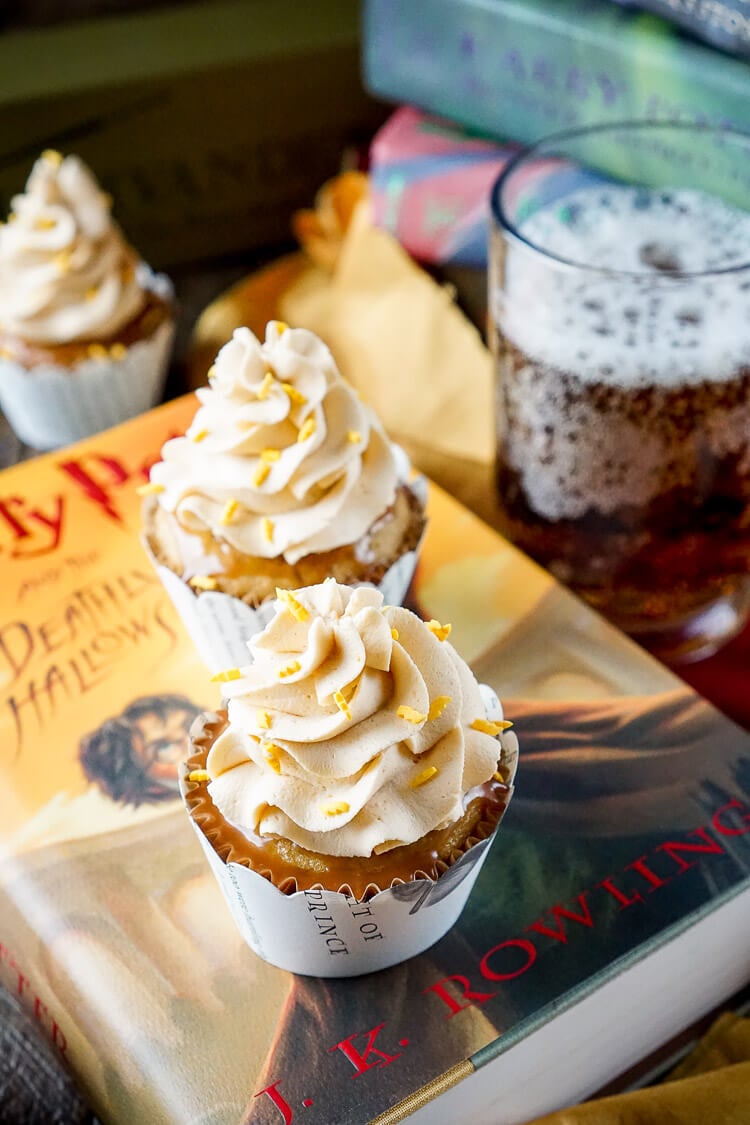 Fun Harry Potter Finds:
Pin these Butterbeer Cupcakes for Later!

Watch how to make these cupcakes below!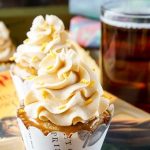 Harry Potter Butterbeer Cupcakes
These Harry Potter Butterbeer Cupcakes will cast a spell on your taste buds and leave you in a state of geeky bliss! Loaded with delicious flavors of toffee, butterscotch, caramel, and vanilla.
Keyword:
butterbeer cupcakes
Instructions
Cupcakes:
Preheat oven to 350 degrees F.

Line cupcake pan with liners.

Combine flour, sugar, baking soda, baking powder, and salt in a medium sized bowl and stir with a whisk until well mixed and smooth.

In a large bowl or stand mixer fitted with a whisk attachment, beat together the eggs, oil, extracts, and buttermilk.

Beat in the dry ingredients and the cream soda, alternating between the two until batter is smooth.

Mix in the toffee bits.

Add 1/4 cup batter to each cupcake liner and bake for 18-22 minutes.

Remove from oven and transfer to a cooling rack to cool. Bake remaining cupcakes.

Meanwhile, make the sauce by placing the butterscotch chips in a small metal bowl and heating the heavy cream in a small saucepan over medium heat.

Bring cream to a simmer, then pour it over the butterscotch chips. Let set for 3-4 minutes.

After time has passed, whisk cream and chips together until a rich sauce forms. Transfer to the fridge to cool and thicken for about 30 minutes.

Prepare frosting by combining all ingredients in a large bowl or stand mixer fitted with a whisk attachments and beat on medium-high for about 3-4 minutes until a light and fluffy frosting forms. Transfer frosting to a pastry frosting bag or to a dessert decorating tool.

Remove sauce from the fridge, roll out a piece of wax paper on a flat surface, dip the tops of the cupcakes in the sauce and place on the wax paper and let set for 15 minutes.

Place each cupcake in a second liner to cover up the stickiness.

Pipe frosting onto the cupcakes and finish with sprinkles.
Nutrition Facts
Harry Potter Butterbeer Cupcakes
Amount Per Serving
Calories 326
Calories from Fat 171
% Daily Value*
Total Fat 19g 29%
Cholesterol 73mg 24%
Sodium 197mg 8%
Potassium 103mg 3%
Total Carbohydrates 35g 12%
Protein 3g 6%
* Percent Daily Values are based on a 2000 calorie diet.