This post is sponsored by Philadelphia Cream Cheese. All opinions and content are that of Sugar & Soul.
These Chocolate Peppermint Cheesecake Cream Horns are a simple dessert with a flaky pastry that's been dipped in chocolate, sprinkled with peppermint candy pieces, and finished with a peppermint cream cheese filling.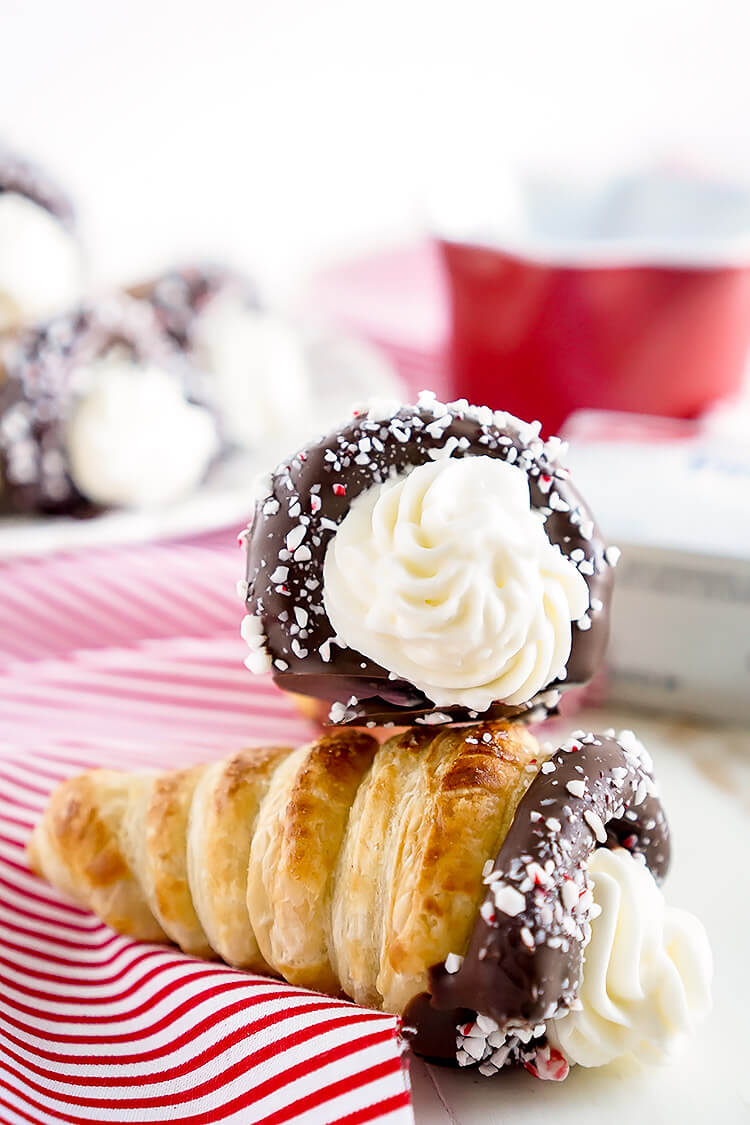 How many times do unexpected holiday parties pop up? At the office, for family, for the neighbors—it happens every year, and we're always left scrambling and wondering what the heck we're going to make on such short notice! Although we may love the idea of gorgeous pies, cheesecakes, and layer cakes, those desserts take a fair amount of time to make. And let's face it: Time isn't something we have a whole lot of this time of year.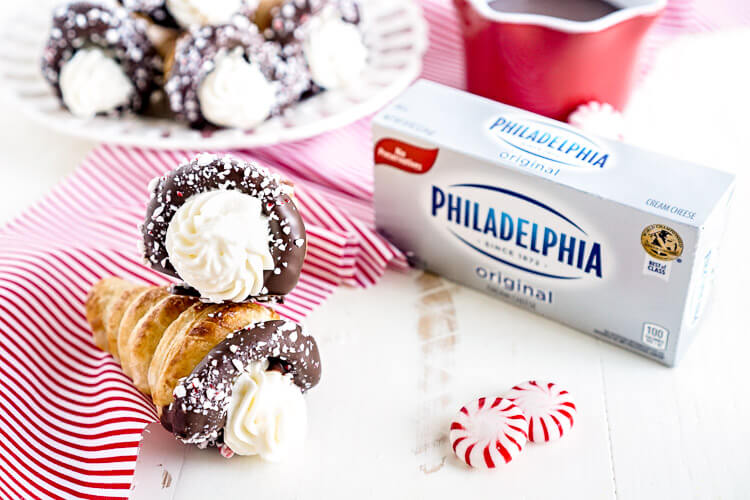 But short notice doesn't mean we can't impress, and it doesn't mean we can't whip up something that looks like it takes multiple hours in little more than one. Thanks to Philadelphia Cream Cheese, which is made with fresh milk and real cream, these delicious cream horns aren't lacking in the flavor department either! They're rich and creamy and just the thing to kick everyone's holiday spirit up a notch!
When you're serving a crowd, it's great to have hand-held, shareable dessert options. It will allow people to mix and mingle, and still enjoy the goodies! But I also love to package up cream horns in little boxes for neighbors and friends. I mean, come on: How many cookies does one need? The answer to that is ALL OF THEM, but you know what I'm getting at!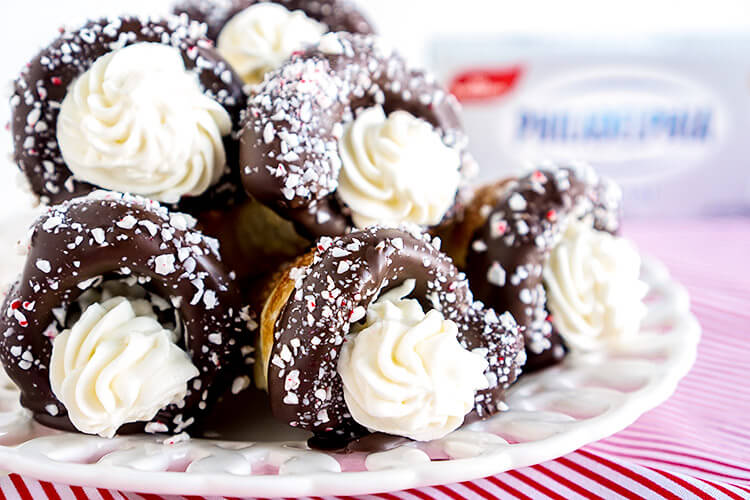 Cream horns are especially popular among the office staff during the holidays. And when you serve up flavors like cream cheese, chocolate, and peppermint, these babies won't last until 9 a.m.! That's right, a.m.! This is a recipe that will stand out in the crowd this holiday season. It's festive flavors and layered textures are sure to have everyone asking you for the recipe! So be sure to share it with them!
You might also enjoy my Classic Cream Horns recipe!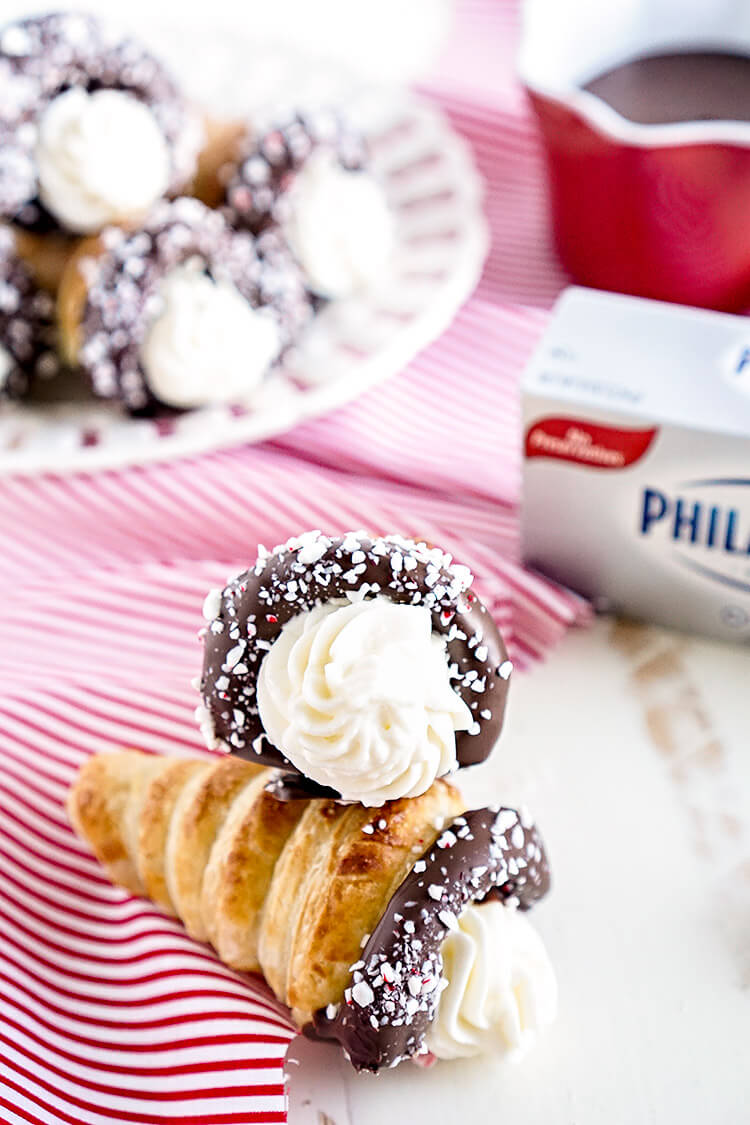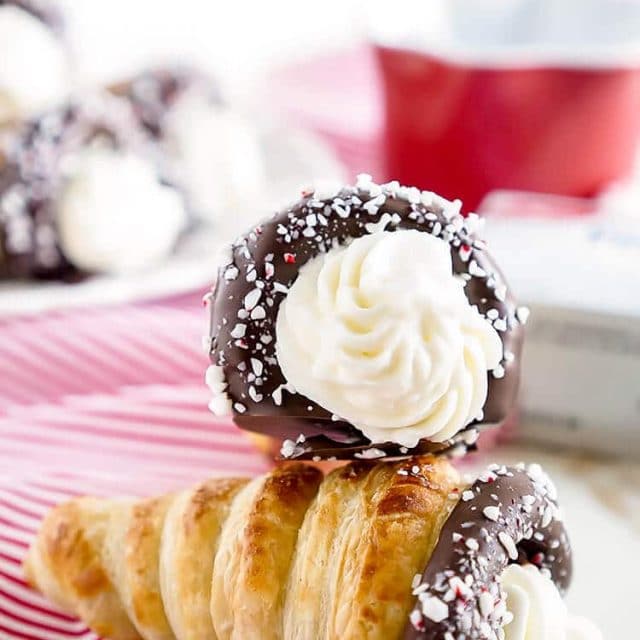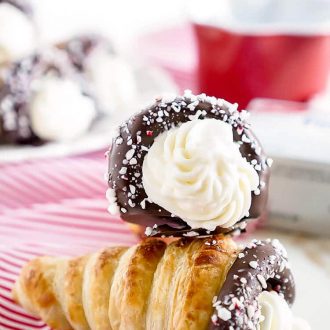 Chocolate Peppermint Cheesecake Cream Horns
These Chocolate Peppermint Cheesecake Cream Horns are a simple dessert with a flaky pastry that's been dipped in chocolate, sprinkled with peppermint candy pieces, and finished with a peppermint cream cheese filling.
Ingredients
1 15-

oz.

package puff pastry dough

thawed

1

egg

1

tsp

water

1/2

cup

+ 2 tbsp granulated sugar

divided

1

cup

chocolate chips

¼

cup

crushed peppermint candies or candy canes

1

cup

heavy cream

1

tsp

vanilla

1 8-

oz.

package Philadelphia Cream Cheese

softened

2

tsp

peppermint extract

You will also need cream horn molds. I recommend at least 12-18 to work with.
Instructions
Preheat oven to 450 degrees F. Line a baking sheet with parchment paper and set to the side. Unfold one sheet of thawed pastry dough on a lightly floured surface and use a rolling pin to gently smooth out any creases. Use a pastry or

pizza cutter

to cut dough into ½-inch-thick strips. Repeat for the second sheet of dough.

Placing the end of one strip at the point of the horn mold, pinch it and begin wrapping the dough around the mold, slightly overlapping the layer before it. Pinch the end of one more strip on where the first one leaves off, and wrap until complete, pinching the end into the dough. Use two strips for each mold, and continue until all of the strips are gone. Place wrapped horns on the prepared cookie sheet and place in the freezer for 10 minutes.

Just before the freezer time is up, lightly beat together eggs and water to make an egg wash. Remove horns from the freezer and brush them with the egg wash. Sprinkle with 2 tbsp of sugar and bake for 20 minutes, until horns are golden brown. Remove from the oven and let cool on horn molds for 5 minutes.

Add chocolate chips to a small bowl and microwave in 30-second intervals, stirring in between, until completely melted. Gently grip the pastry in one hand and pinch the mold with the other, and carefully pull them apart. Dip mouth of pastry in the melted chocolate and place on wax paper to set. Sprinkle with peppermint candy pieces, and do the same thing to all the rest.

While pastries and chocolate are setting, whip heavy cream and vanilla in a large bowl or stand mixer until stiff peaks form. Transfer to a small bowl and set aside. Beat cream cheese, 1/2 cup of sugar, and peppermint extract until light and fluffy, then gently fold in the whipped cream. Pipe cream cheese mixture into the cream horns. Consume within a few hours or store in the refrigerator for up to 48 hours.
Notes
2 cream horns equal 1 serving.
You can make mini cream horns but using just one strip of pastry dough and chilling for 10 minutes and baking for 10 minutes. The rest of the process remains the same.