Sweet Magnolias Cookies are made with a soft brown butter dough loaded with dark chocolate, walnuts, allspice, and almond extract.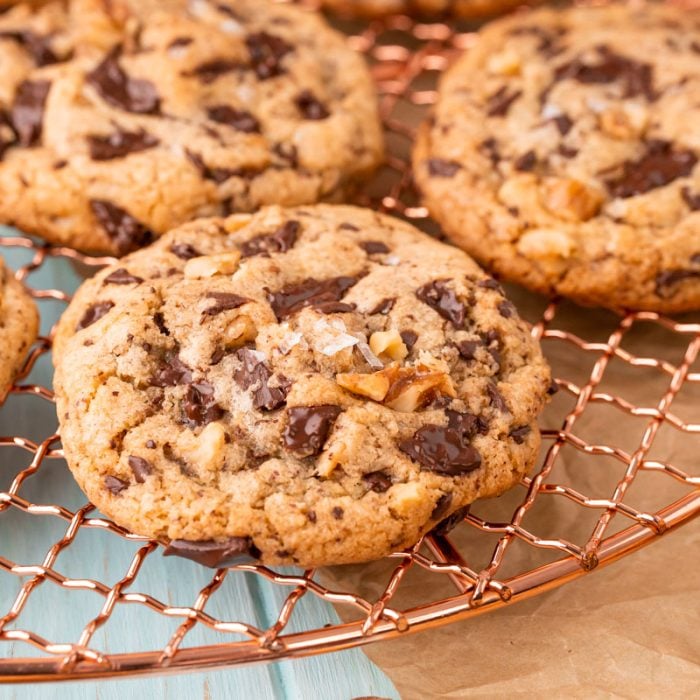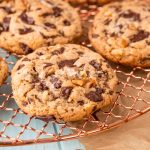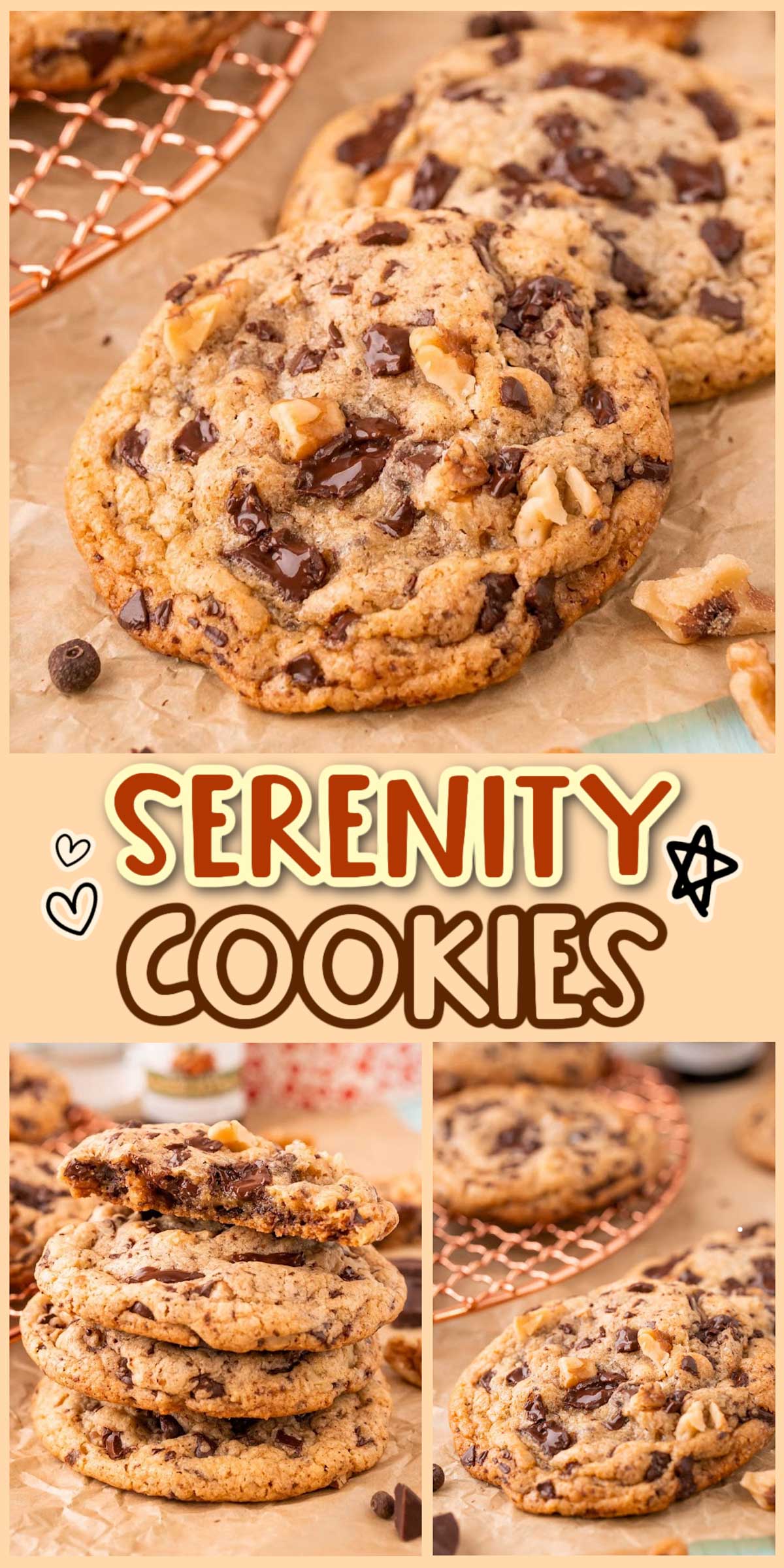 Serenity Cookies inspired by Sweet Magnolias are made with a brown butter dough, dark chocolate, walnuts, allspice, and almond extract for a tender, chewy, and flavorful cookie.
Serenity Cookies Inspiration and Purpose
These Sweet Magnolias Cookies are inspired by the popular Netflix series and loaded with walnuts and dark chocolate in brown butter and almond cookie dough with a bit of allspice!
I rarely do pop culture-inspired recipes anymore, but I loved this concept when it popped into my head a few days ago.
I'm not a huge fan of the show Sweet Magnolias, but for some reason, I seem to binge every season, even though I think the plot is pretty "meh." Virgin River falls in the same category 🙃 But there were a few sweet things about this season that I thought were great. Like the focus on "feeding the community." I loved how Dana Sue decided to do more with the gift she was given and bless those in need.
I think part of me is a little old-fashioned in that I still think it's the sweetest when friends and family say thank you with food. And I thought Noreen thanking the staff of Sullivan's for helping with the baby with a batch of her family's secret cookie recipe was super thoughtful.
As someone who grew up with periods of food insecurity, supporting our local food pantry is very important to me. Especially since my job requires me to put a lot of time and testing into these recipes to try and eliminate the risk of failed recipes on your end, that can mean extra waste on mine.
So, I wanted to take those two ideas from the television story and combine them. That's why the revenue from this recipe inspired by Noreen's will be donated to our local food pantry. So please, share this recipe far and wide so we can help those struggling with food insecurity.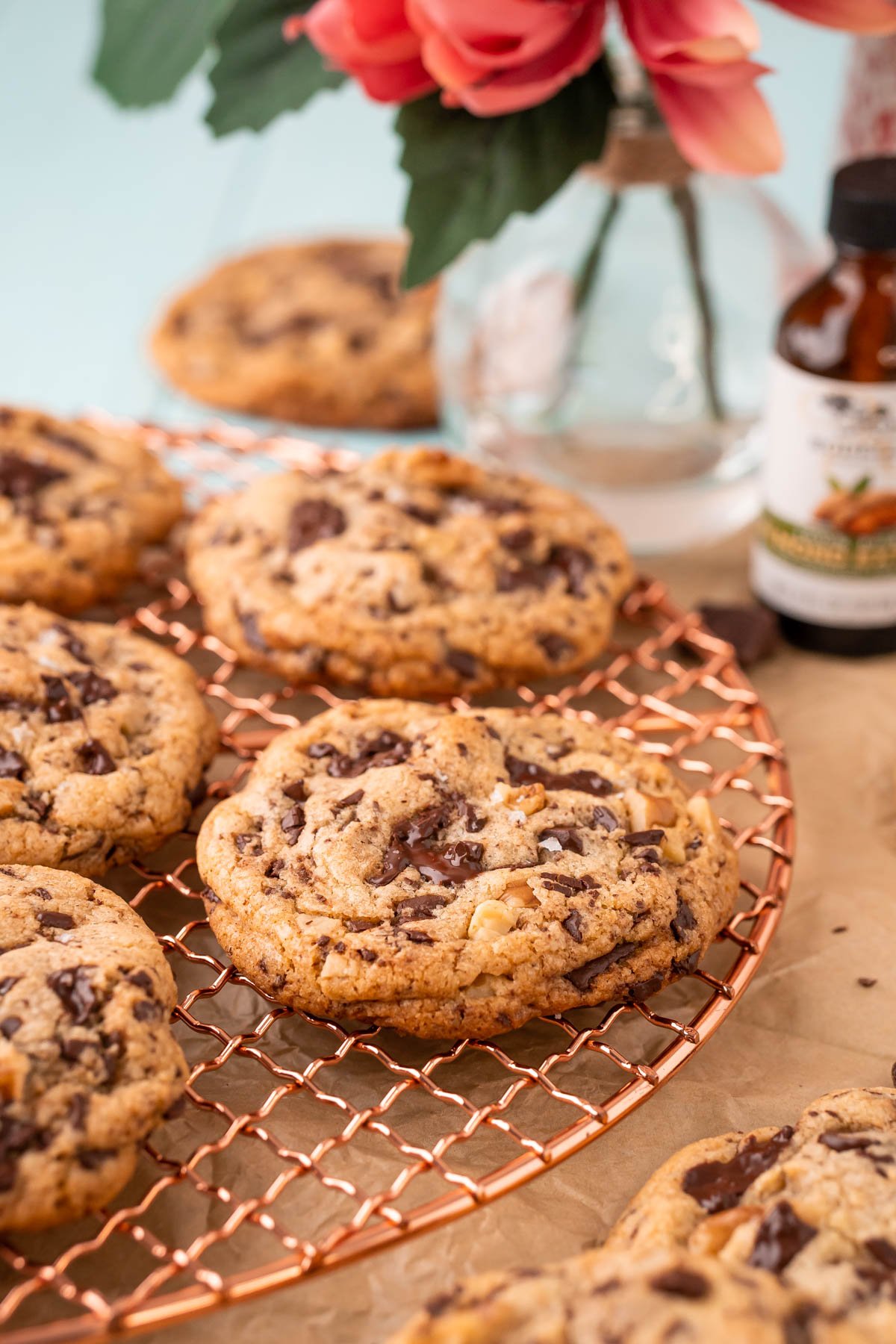 Sweet Magnolias Cookies Ingredients
all-purpose flour
powdered milk
salt
baking soda
ground allspice
salted butter
granulated sugar
light brown sugar
vanilla extract
almond extract
large egg
large egg yolk
dark chocolate
chopped walnuts
flaky sea salt
Key Ingredient Notes
Dark Chocolate – This is the first ingredient Noreen mentions, and I recommend using chopped baking chocolate or dark chocolate chips such as Guittard brand.
Walnuts – Noreen says her family uses crushed walnuts, which isn't a common term for walnuts. You either have ground meal from walnuts or you have chopped walnuts. I chose to embrace the latter and finely chopped the nuts so they were more distributed throughout the dough.
Butter – Noreen and the show weren't going to give away all their secrets of this delicious cookie recipe, so here's where I decided to add my own interpretation and brown the butter for an even more nutty flavor. I recommend using a European-style butter for best results.
Almond Extract – This is Dana Sue's first note she picked up from the cookies. It's not too overpowering, with just a teaspoon of almond extract in the dough. But if you really love that warm almond flavor, feel free to replace the vanilla extract with even more almond instead.
Ground Allspice – This is the flavor that Eric tastes once he's tried the cookies.
Since Noreen adds gives us the base flavors and doesn't deny or confirm Dana Sue and Eric's guesses, I'm assuming the flavors they noted were accurate.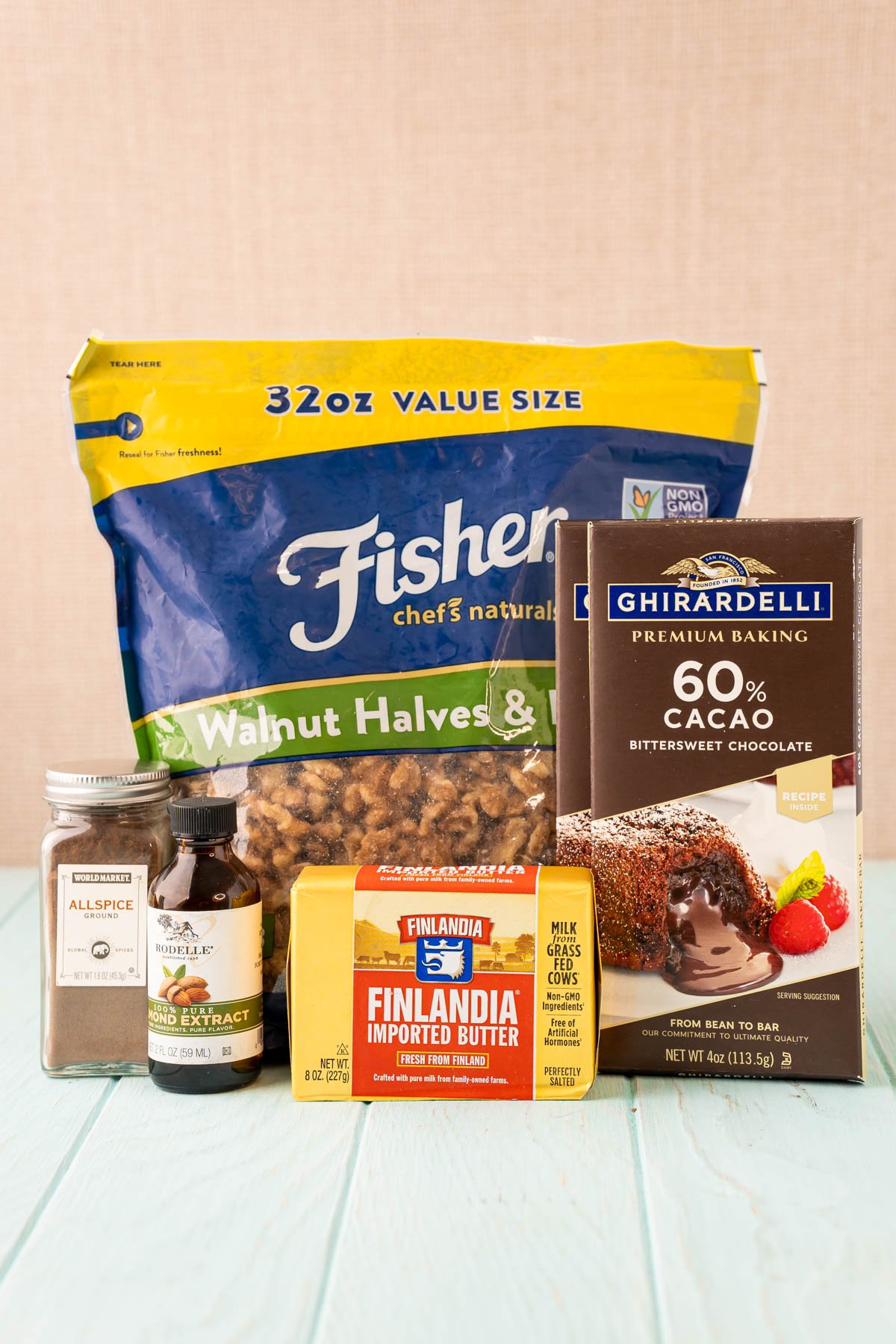 This recipe uses the base of my Brown Butter Chocolate Chip Cookies and adds a few more ingredients to it to give it its dynamic flavor. The process is simple but definitely different than other cookie recipes, given its unique mixing method. It's a no-chill dough, and you'll be pulling the first batch out of the oven in about 40 minutes.
How To Make Serenity Cookies
Step 1: Whisk together the flour, powdered milk, baking soda, allspice, and salt in a medium bowl and set aside.
Step 2: Add the sugars and extracts to a large bowl or stand mixer fitted with a whisk attachment and set aside.
Step 3: Add 10 tablespoons of butter to a large skillet and brown over medium-high heat. Check out my full guide for How To Brown Butter. Once browned, add in the remaining butter and stir until melted.
Step 4: Add the brown butter to the sugar and mix until combined.
Step 5: Add the egg and egg yolk and mix, then rest, mix, and alternate until you've reached 2 minutes of mixing.
Step 6: Swap to a paddle attachment if using a stand mixer, then add in the dry ingredients and mix just until combined.
Step 7: Chop up the chocolate and walnuts and add to the dough, reserving some for topping for a more polished finish, if desired.
Step 8: Portion out the dough with a 2-ounce cookie scoop (the dough balls should actually weigh about 2.7 ounces each) and drop on parchment-lined baking sheets 4 inches apart. I usually bake 6 cookies per 12×17-inch baking sheet.
Step 9: Bake until the edges are just golden, rotating halfway through. Remove from the oven and allow the cookies to rest on the pan for a few minutes before transferring to a wire rack to cool completely.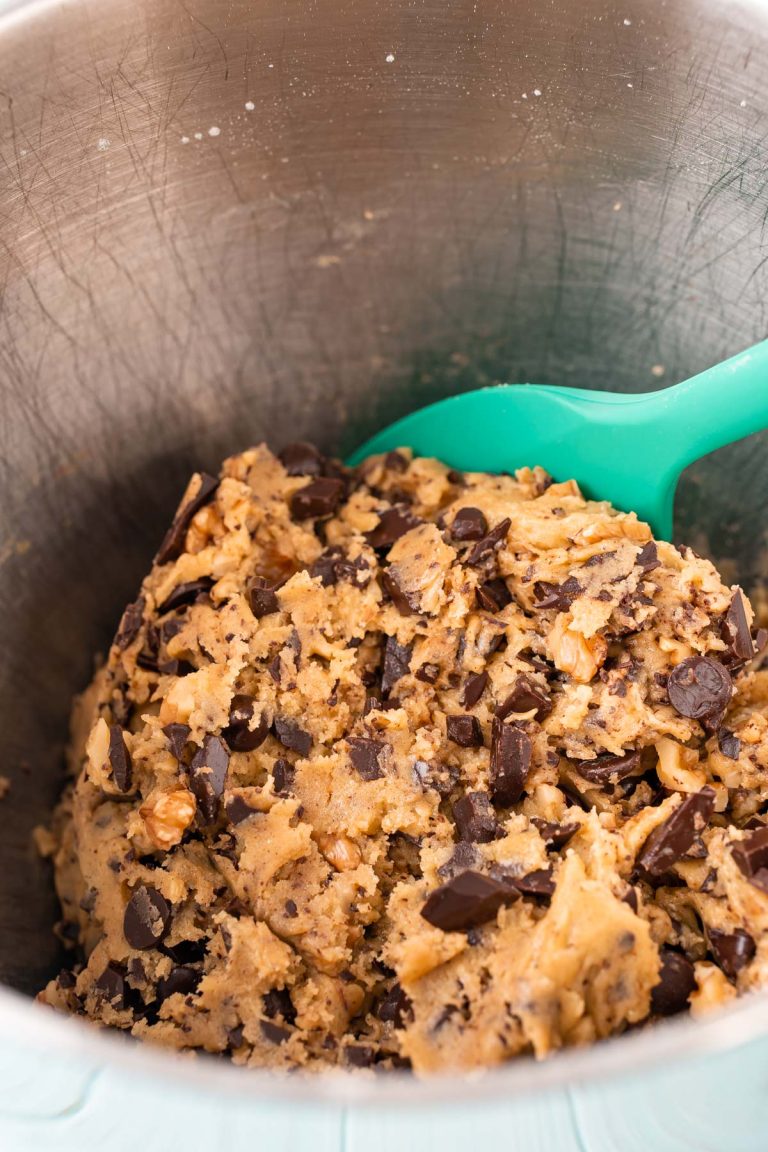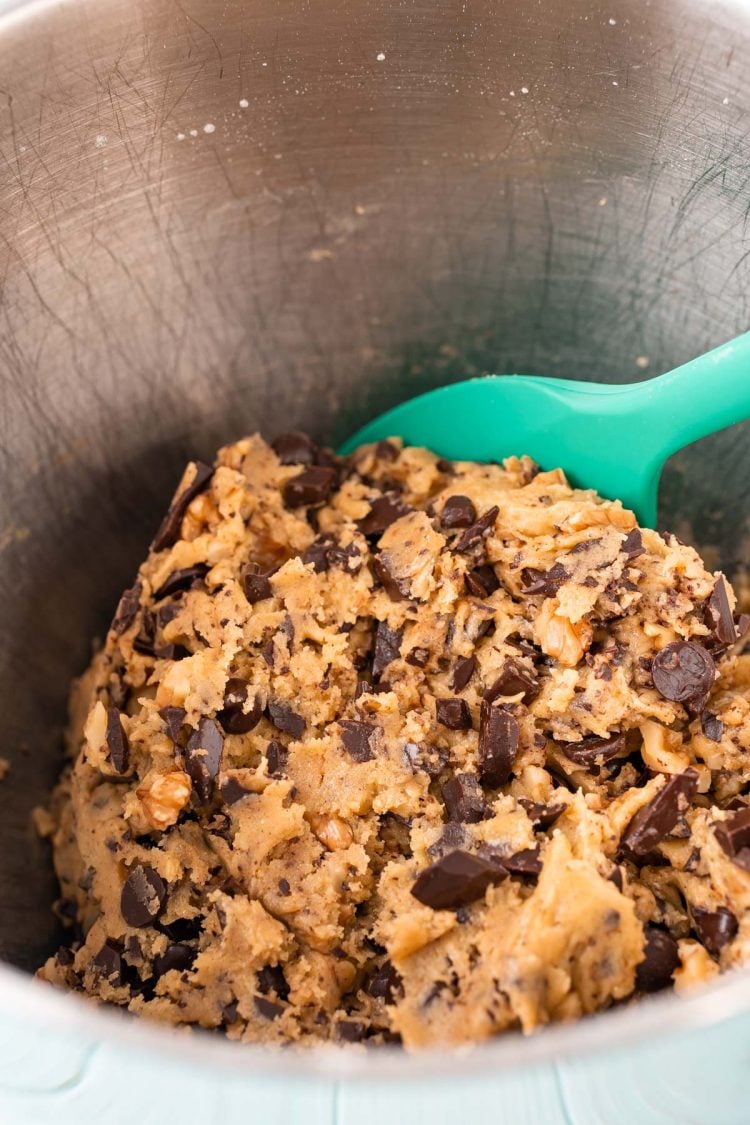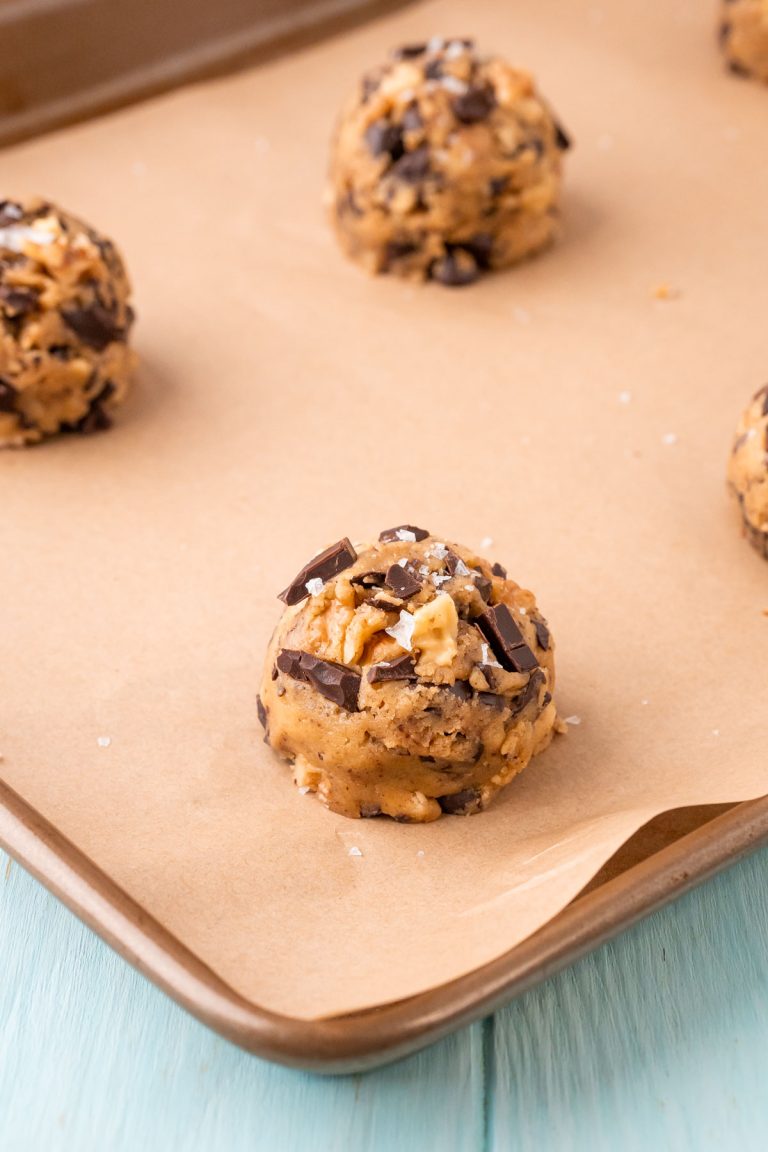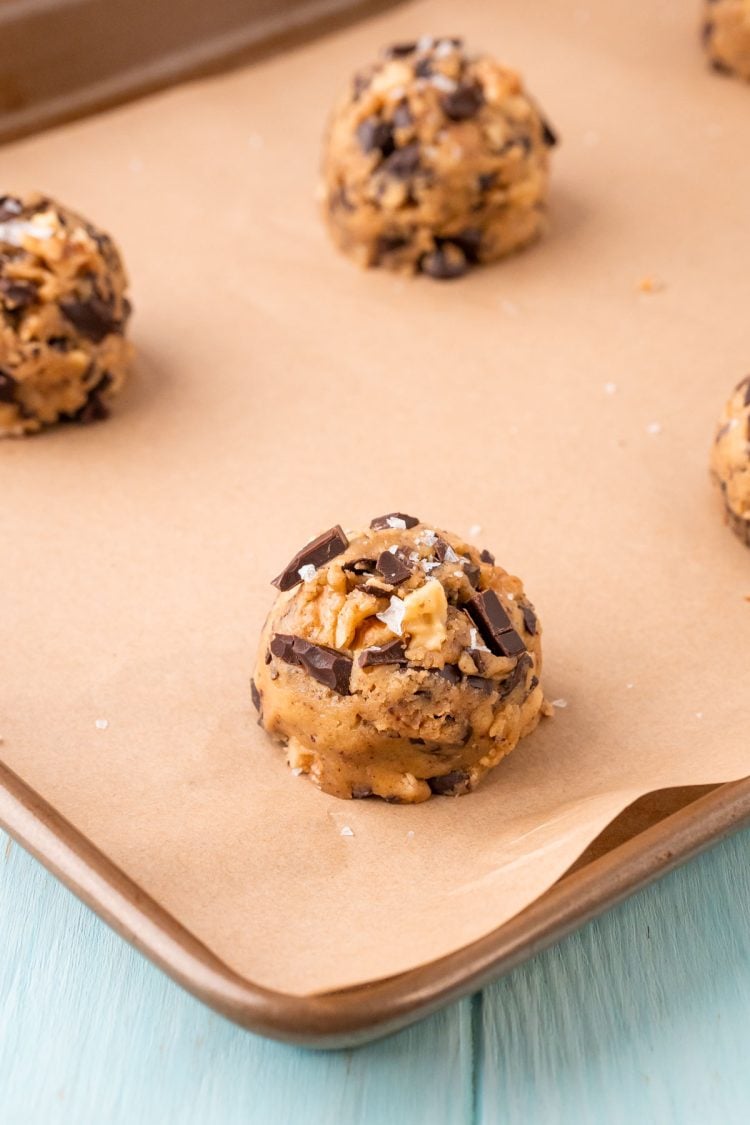 How To Store Sweet Magnolias Cookies
These cookies should be stored in an airtight container at room temperature and enjoyed within a few days.
How To Freeze Serenity Cookies
Follow my guide for How To Freeze Cookie Dough for cookies that are ready to bake when you want them. You can also freeze baked cookies for up to three months; just make and let them cool to room temperature before adding them to a freezer bag and squeezing out any excess air.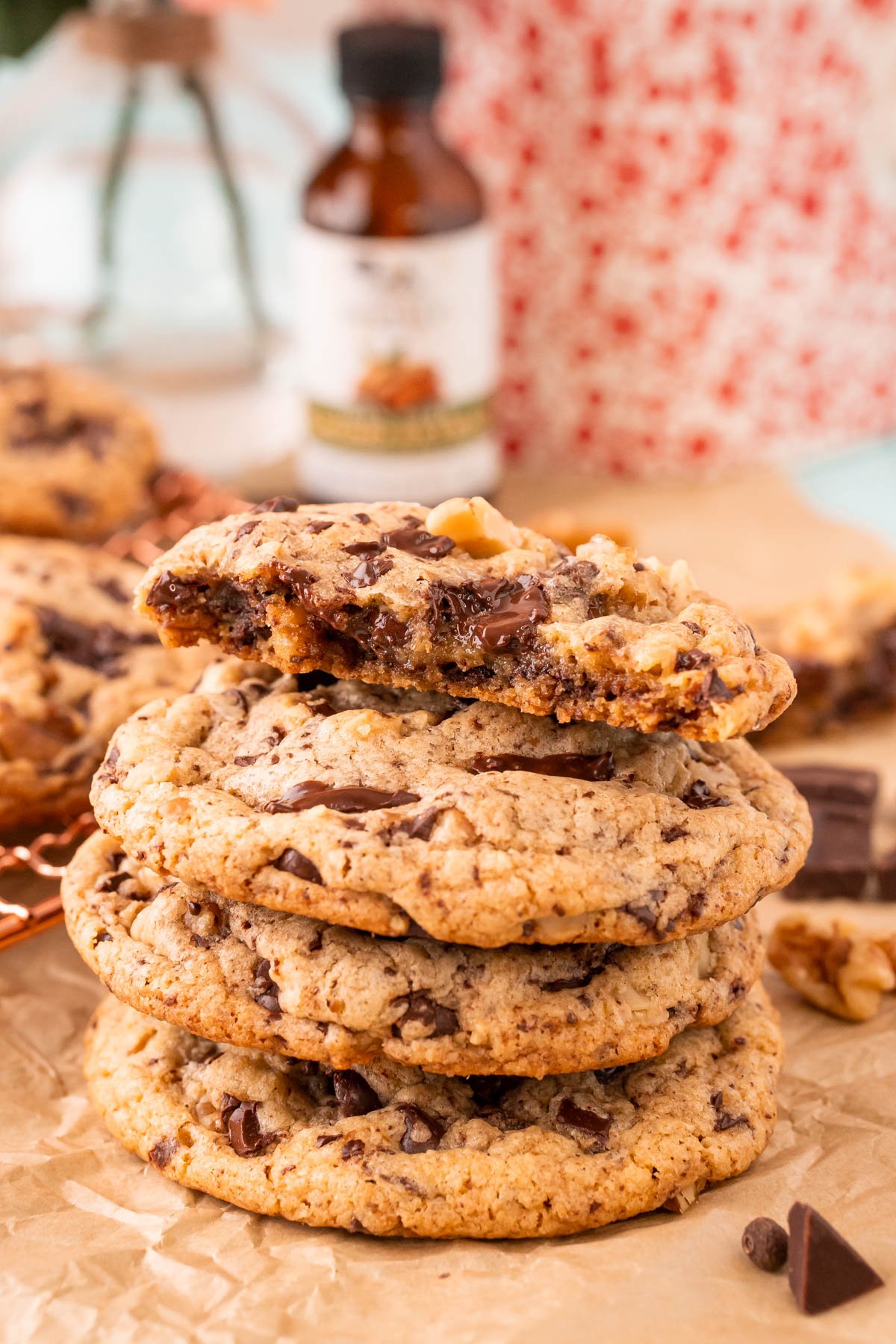 Serenity Cookies FAQs
Can I chill the dough?
Yes. However, it's important to note that the texture of the cookie could change if baked after chilling. Likely a puffier, chewier cookie.
Can I leave out the walnuts?
Yes, but then they won't quite be Serenity Cookies, but they will still be good. I would recommend adding 1/4 cup of extra flour if omitting the nuts.
Should I use baking chocolate or chocolate chips?
I prefer to use baking chocolate, but you can use either. Baking chocolate melts better, and you can poke it with a toothpick or cake tester to make pretty pools of melted chocolate for a more bakery-style finish.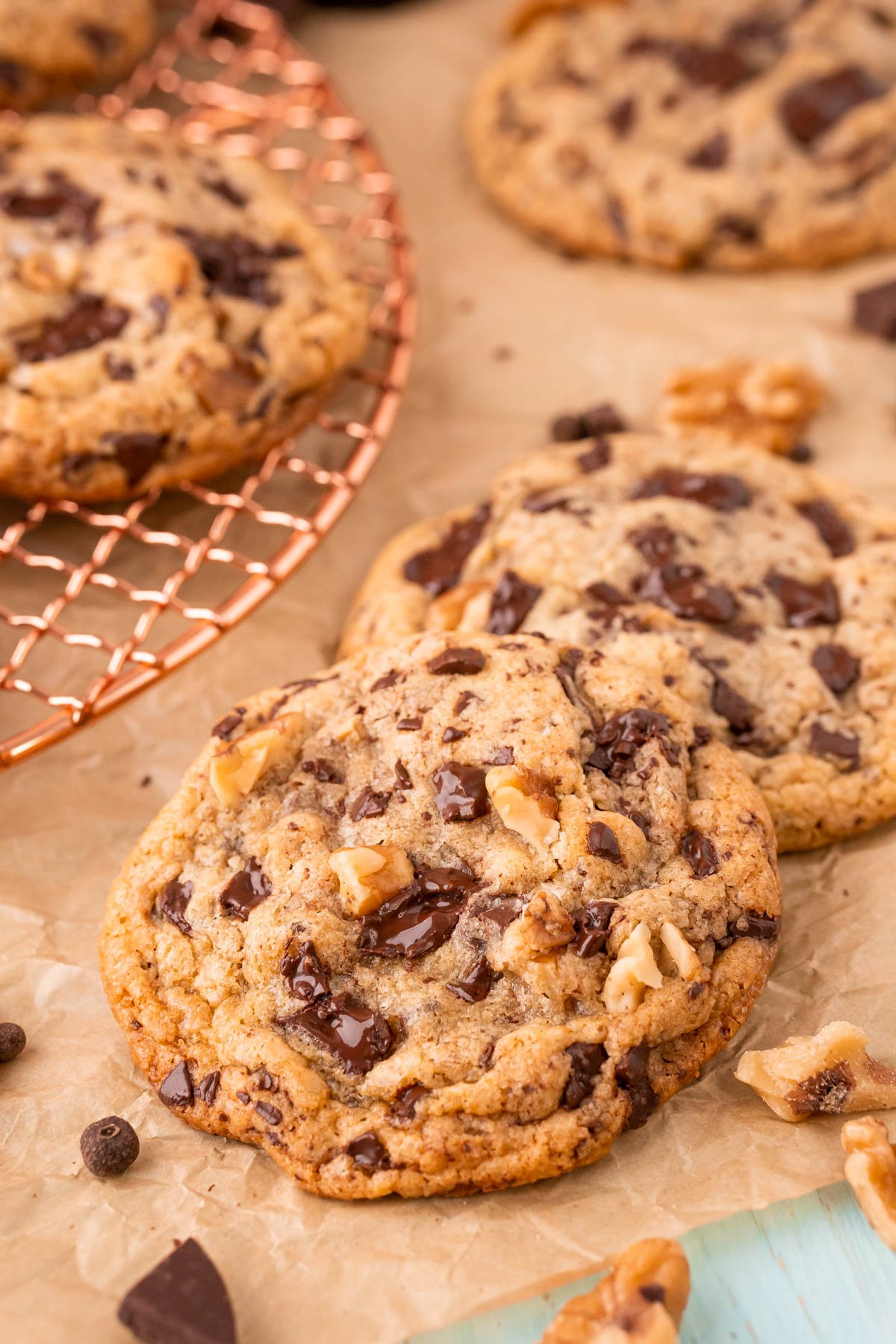 👋 Let's Connect!
If you've tried this recipe, please let me know how you liked it in the comments below and leave a review; I love hearing from you! And don't forget to tag me – @sugarandsoulco – on Instagram and Pinterest with your photos or join our Sugar & Soul Show-offs Community and share them there, where you can join our recipe challenges and win prizes!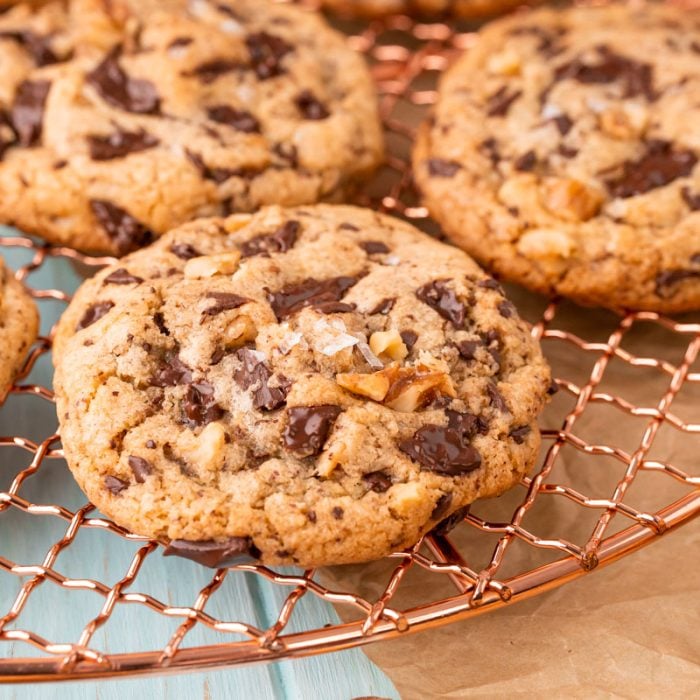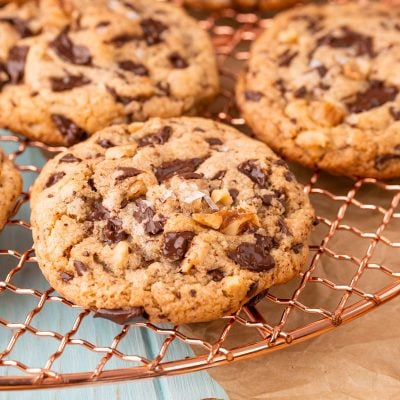 Serenity Cookies
Sweet Magnolias Cookies are made with a soft brown butter dough loaded with dark chocolate, walnuts, allspice, and almond extract.
Instructions
Preheat oven to 350°F and line a baking sheet with parchment paper and set aside. It is best if you use two baking sheets and rotate them for the batches. Dropping the second batch of dough on the hot cookie sheet will slightly change the structure of the cookie.

Pull the butter out of the refrigerator to sit at room temperature 15 minutes before using.

In a medium bowl, whisk together the 1¾ cup all-purpose flour, 2 tablespoons powdered milk, 1 teaspoon salt, ½ teaspoon baking soda, and 1 teaspoon ground allspice, and set aside.

Add 10 tablespoons of the 14 tablespoons salted butter to a skillet and cook over medium heat until melted. Continue cooking and stirring frequently for 2 to 3 minutes until brown bits start to form in the bottom of the pan, the top is foamy, and it has a nutty aroma. Remove from heat and stir in the remaining 4 tablespoons of butter until melted. Transfer the butter to a large heat-safe bowl or stand mixer bowl fitted with a whisk attachment.

Add the ½ cup granulated sugar, ¾ cup light brown sugar, 1 teaspoon vanilla extract, and 1 teaspoon almond extract to the butter and mix to combine.

Add 1 large egg and 1 large egg yolk and mix for 30 seconds. Let rest for 3 minutes, then whisk again for 30 seconds. Repeat the resting and whisking for 2 more rounds. The batter should be smooth, thick, and shiny when done – almost like caramel sauce.

Use a rubber spatula or paddle attachment to mix the dry ingredients into the wet ingredients for 1 minute. The dough will seem very soft, this is normal and you do not need to chill it.

Fold in most of the 12 ounces dark chocolate and 1 cup finely chopped walnuts, reserving a little to sprinkle on top of the cookies prior to baking.

Portion the dough with a large 2-ounce cookie scoop (each ball of dough will weigh about 2.7 ounces) and drop the dough 3 inches apart on the prepared baking sheet. Top the scoops of dough with the remaining chopped chocolate and gently press it into the top. Sprinkle with flaky sea salt if desired.

Bake for 10 to 12 minutes, rotating halfway through. The cookies should look slightly cracked and only slightly brown around the edge. Remove from the oven and allow the cookies to cool for 3 minutes on the baking sheet before transferring them to a wire rack to cool completely.
Notes
Do not brown all of the butter; it will alter the recipe. It's important that the 4 tablespoons are only melted and not cooked to the point of clarifying or browning.
Slicing the butter before melting will give it a fast and more even melt.
This recipe makes large cookies, about 4 to 5 inches. If you want to make small cookies, use a medium cookie scoop and bake for 7 to 9 minutes.
Store these cookies in an airtight container at room temperature. Enjoy them for up to 3 days!
Nutrition
Calories: 416kcal | Carbohydrates: 41g | Protein: 5g | Fat: 27g | Saturated Fat: 13g | Polyunsaturated Fat: 5g | Monounsaturated Fat: 7g | Trans Fat: 0.4g | Cholesterol: 54mg | Sodium: 292mg | Potassium: 251mg | Fiber: 3g | Sugar: 23g | Vitamin A: 385IU | Vitamin C: 0.2mg | Calcium: 52mg | Iron: 4mg