These soft Molasses Cookies are a simple and old-fashioned dessert recipe made with thick molasses, spices, and sugar. A classic cookies recipe that's actually dairy-free!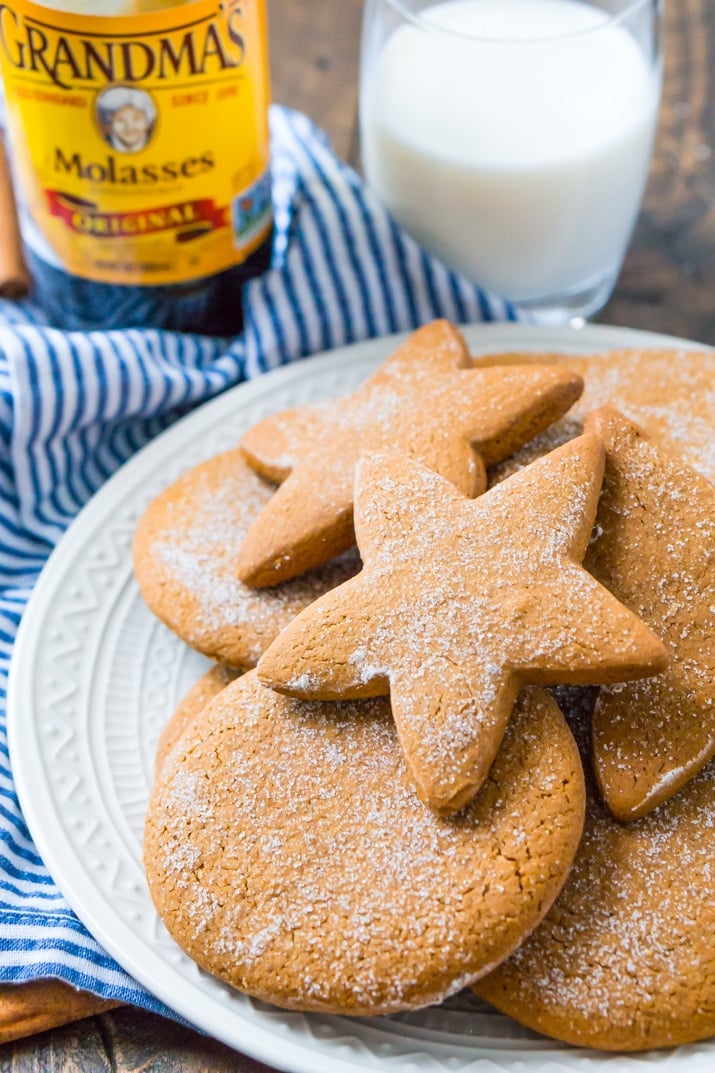 Molasses Cookies
I originally published the recipe for these Molasses Cookies back in 2013, but as some of you know, we moved this year. With the move came the packing and the unpacking. And even though it had only been a few months since I had seen it, when I unboxed the three generation photo of my mom, my grandmother, and me, it left me sobbing.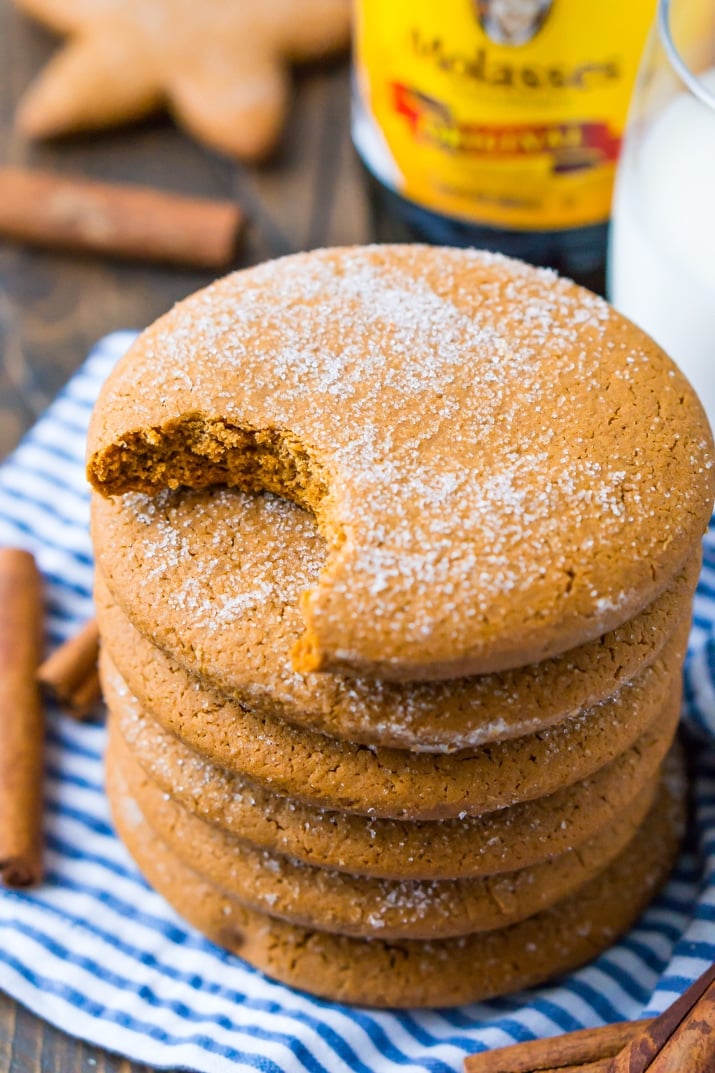 You see, that was just a few weeks ago and the photo was taken ten years ago this Christmas. It was our last Christmas with her and the last photo we ever took together. I miss her greatly and my grandfather too, who passed three and a half years later. It was memories of him that originally prompted this post on the blog.
But this was a recipe that both of them made, that my family has eaten and enjoyed for decades. My grandparents sent these to my uncle when he was deployed overseas and they made them for every holiday. To say this is a special recipe doesn't quite cover it.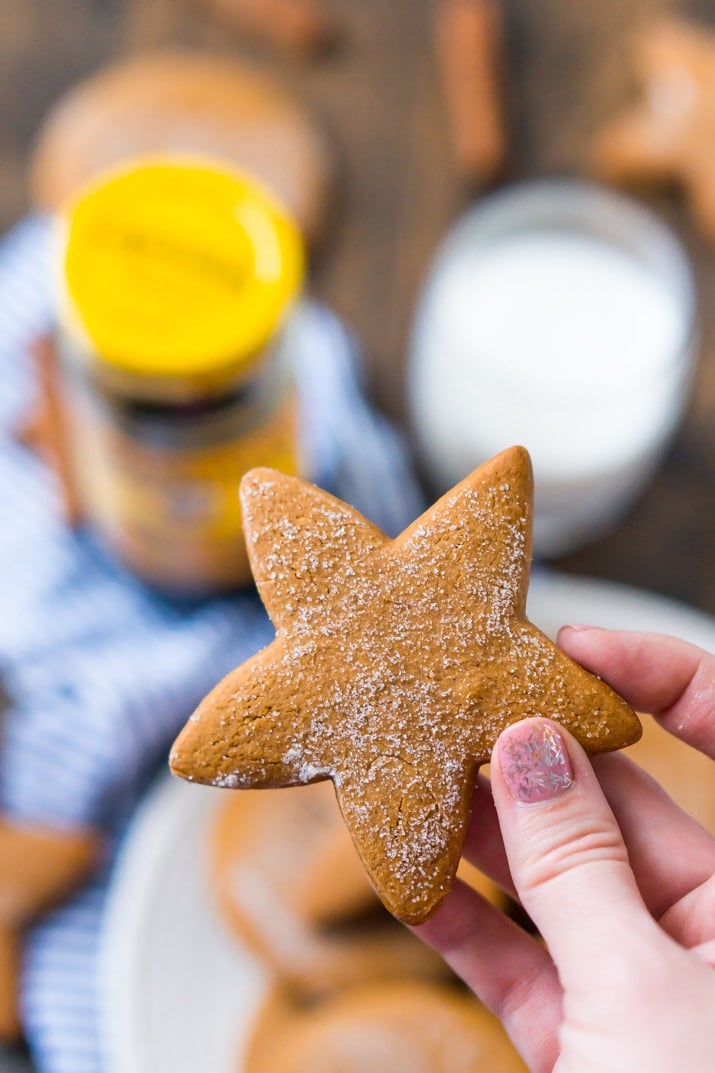 Because while I love new twists on old favorites, sometime's there's nothing quite like a classic sugar cookies or soft pillowy molasses cookies around the holidays. Maybe it's because they're so nostalgic, but really, I think it's because they're just so simple and delicious!
It seems like every time I visited my grandparents' there were always molasses cookies. My grandparents would bag them up and share them with friends and family. They're soft but not chewy, the perfect old-fashioned cookie. This recipe is definitely one you want to share because the cookies are so good.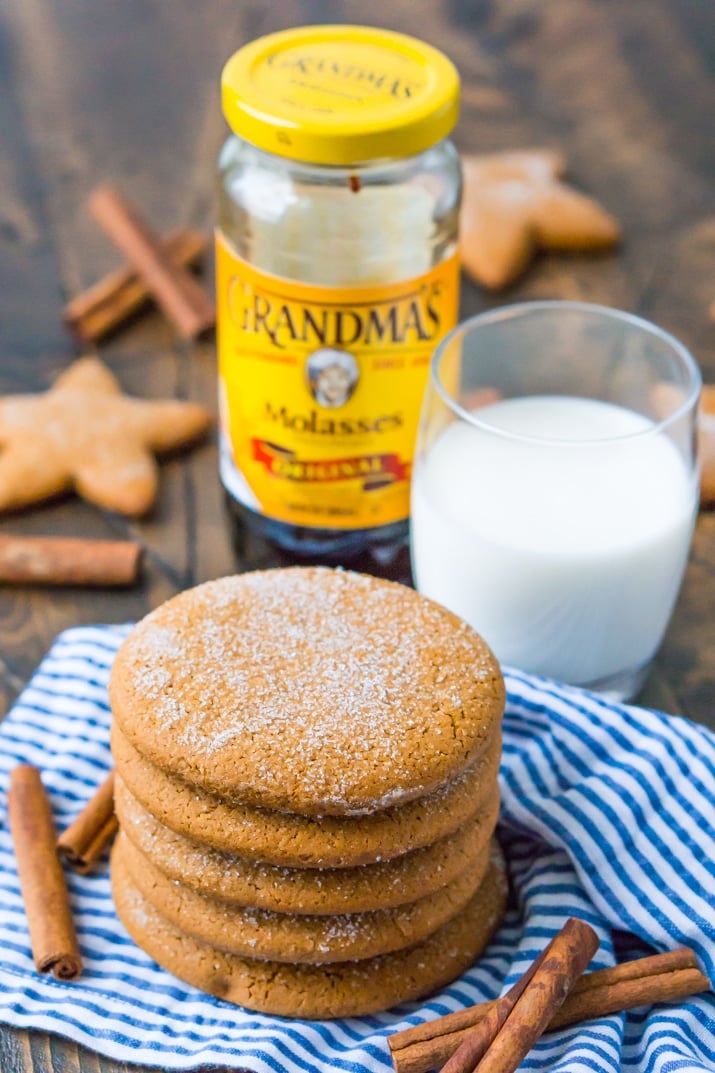 I miss my grandparents, especially this time of year. I think we all find this time of year a little bit harder without the ones we've lost. I still remember how he smelled of pipe tobacco and sawdust and she smelled of clean soap. I miss watching
Cat Ballou
and playing cribbage and *helping* with crossword puzzles. But I'm glad I have some of their recipes to remember them by.
I always loved when my grandparent's house was filled with the smell of baked goods around the holidays or just because. I loved the smell of sugar and spice blending into the perfect cozy cookie, it brings me back to my childhood and all of the wonderful memories it holds with them.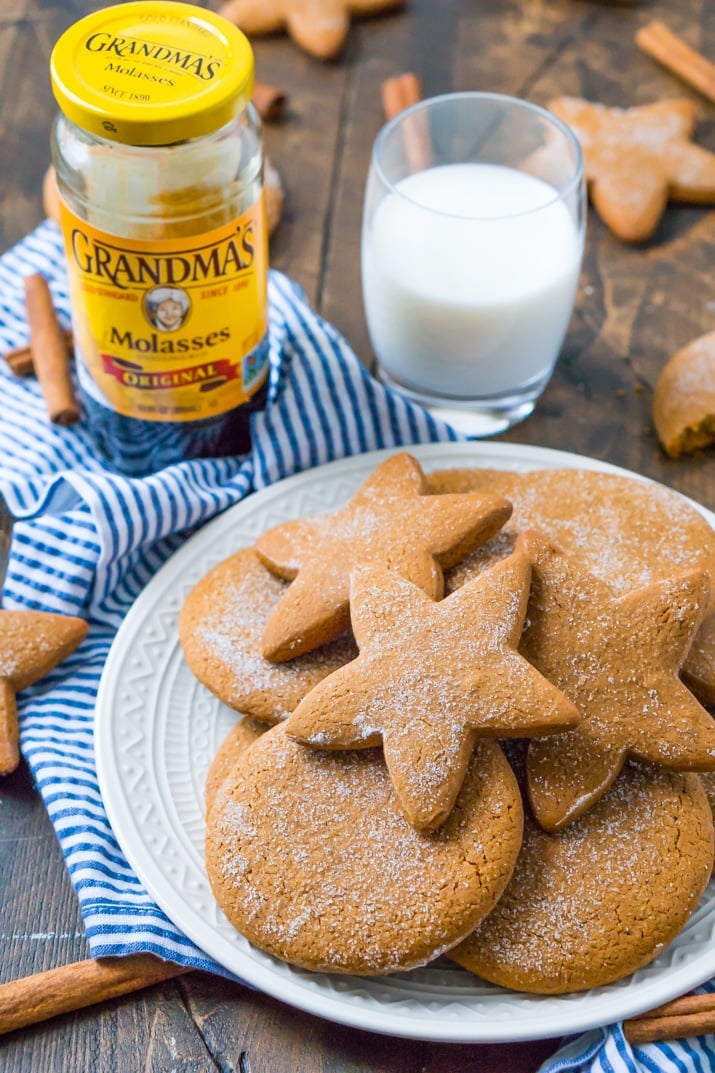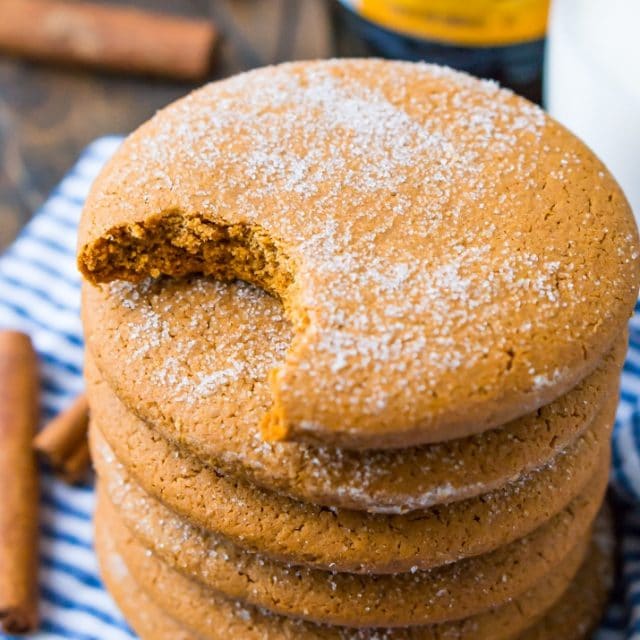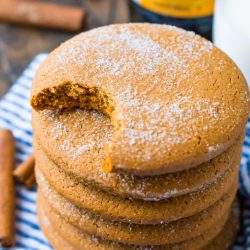 Molasses Cookies
These soft Molasses Cookies are a simple and old-fashioned dessert recipe made with thick molasses, spices, and sugar. A classic cookies recipe that's actually dairy-free!
Instructions
Preheat oven to 350 degrees F and line a baking sheet with parchment paper and set aside.

In a large bowl or stand mixer fitted with a paddle attachment, mix together molasses, sugar, and vegetable shortening.

Add the warm water to a medium bowl, hold it over the large bowl with the molasses mixture in it, and whisk in baking soda and Bakewell cream. Take caution as the mixture will activate. Pour into molasses mixture and mix until combined.

Add egg, ginger, cinnamon, nutmeg, vanilla, and salt. Mix well.

Add flour 1 cup at a time and knead dough until it is soft and easily handled. Dough may be a little sticky, that's okay.

Transfer dough to floured surface and knead gently with well-floured hands making sure the dough isn't too sticky. Cut the dough into quarters and work with one quarter at a time. Roll the dough out with a rolling pin until it's about a 1/4 inch thick. Use floured cookie or biscuit cutters to cut the dough as desired and transfer cut cookies to the cookie sheet.

Sprinkle cookies with additional granulated sugar before baking, if desired. Bake for 8 to 11 minutes depending on cookie size. Edges should be a little more golden brown and the tops of the cookies should have small cracks along them. Transfer cookies to a cooling rack and continue baking off the rest of the dough.
Nutrition
Calories:
169
kcal
Carbohydrates:
28
g
Protein:
2
g
Fat:
4
g
Saturated Fat:
1
g
Cholesterol:
3
mg
Sodium:
120
mg
Potassium:
131
mg
Sugar:
9
g
Vitamin A:
5
IU
Calcium:
19
mg
Iron:
1.5
mg
Pin this Molasses Cookies Recipe for Later!

This post was originally published in October 2013 and updated in December 2017.