These Cranberry Orange Meatballs are made with just 4 ingredients with just 5 minutes of prep work! Let your crock pot take care of the rest and serve up this delicious appetizer at your holiday and game day parties!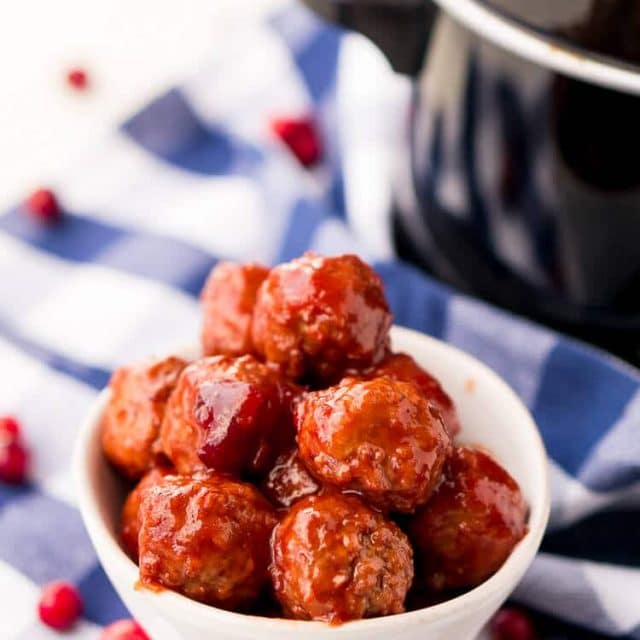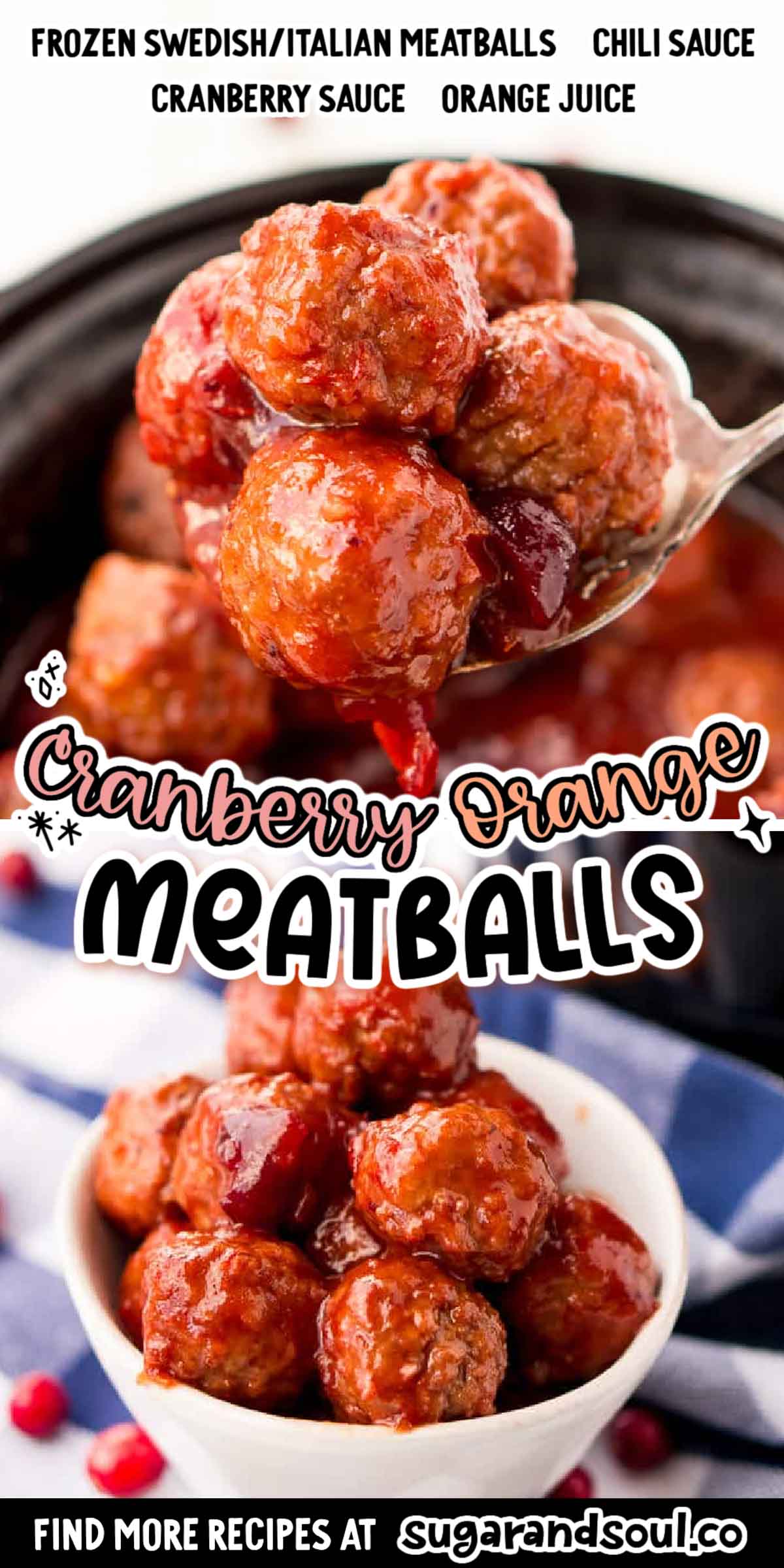 These Cranberry Orange Meatballs are a crowd-pleasing appetizer that's perfect for holidays and game days! Takes just 5 minutes to prep 4 ingredients!
Appetizer meatballs like these are some of my favorite snacks to serve at parties! As are these Slow Cooker Grape Jelly Meatballs and Hot Pepper Jelly Meatballs!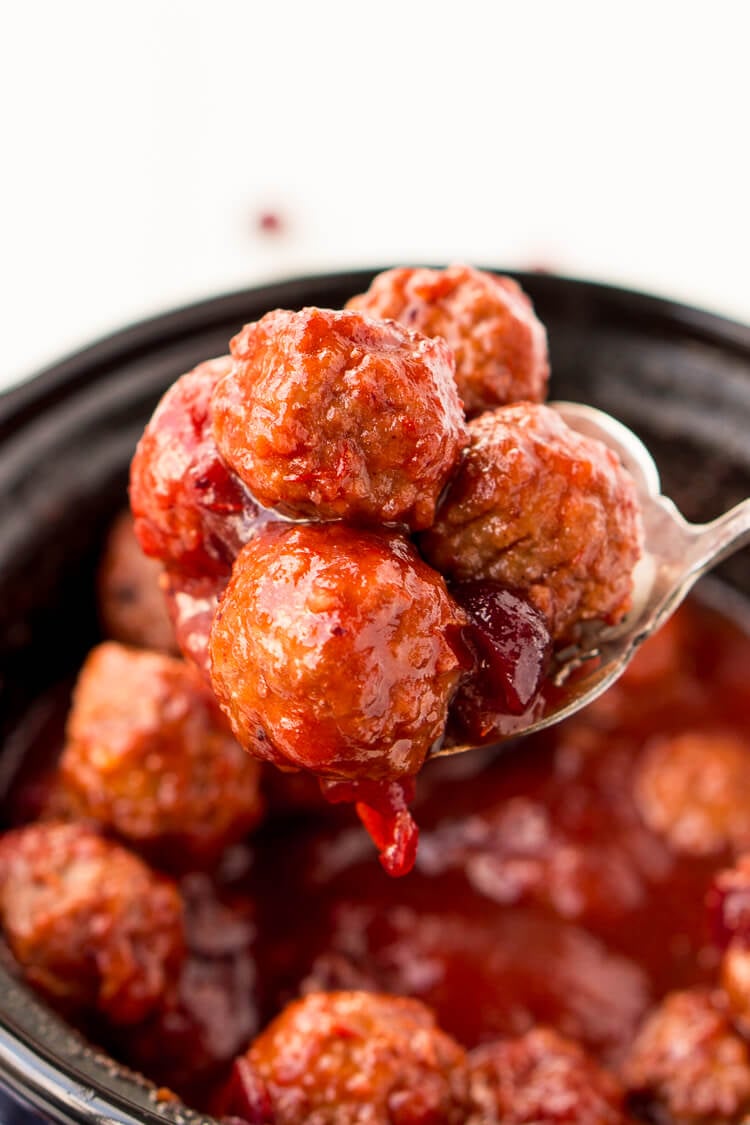 These Cranberry Orange Meatballs are going to be an instant hit with the entire family on game day and throughout the holiday season! To enjoy them, all you have to do is simply dump the ingredients into the crockpot!
These meatballs were inspired by the classic grape jelly meatballs my mom always made for parties when we were growing up, and those never lasted long, either.
But I love cranberries more than grapes, and the addition of orange juice adds a little extra zing and holiday festiveness!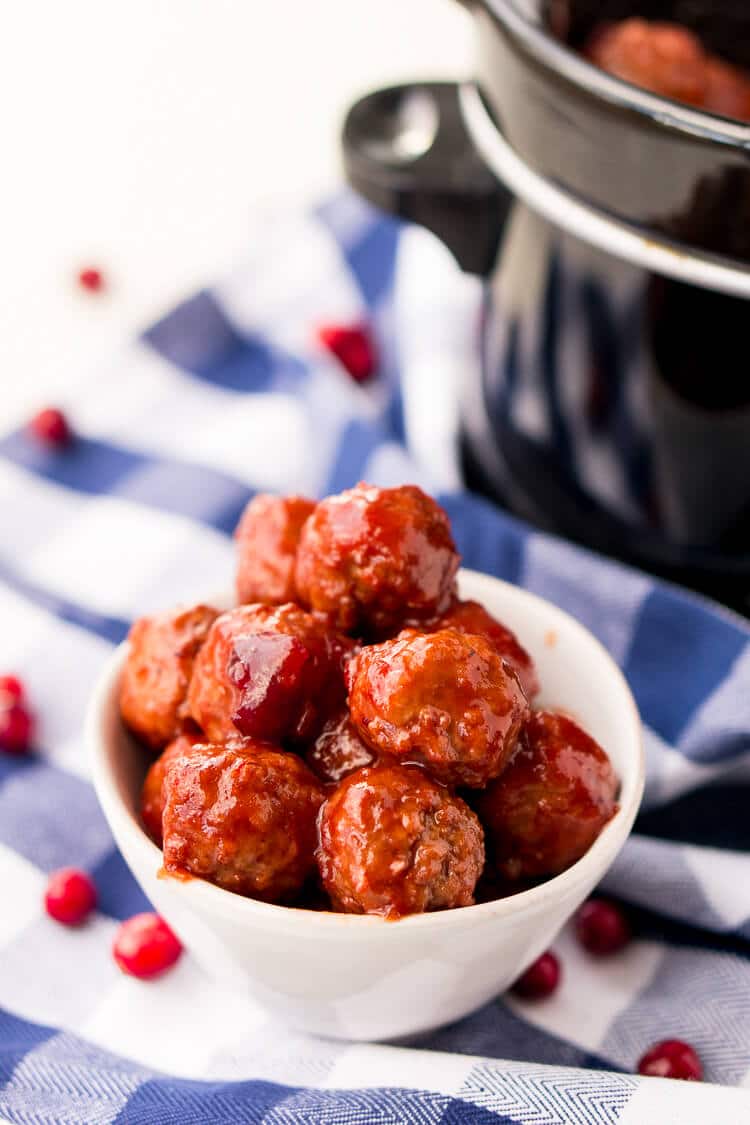 All About These Crockpot Meatballs
Taste: Ingredients such as orange juice and whole-berry cranberry sauce combine to give these meatballs a sweet yet tart flavor! With the addition of chili sauce, the final flavor is sweet, tart, and wonderfully savory!
Making it an appetizer that will have friends and family running to the crockpot!
Texture: The sauce creates a thick, sticky coating on the tender meatballs! Delivering a mouthwatering texture that's easy to devour!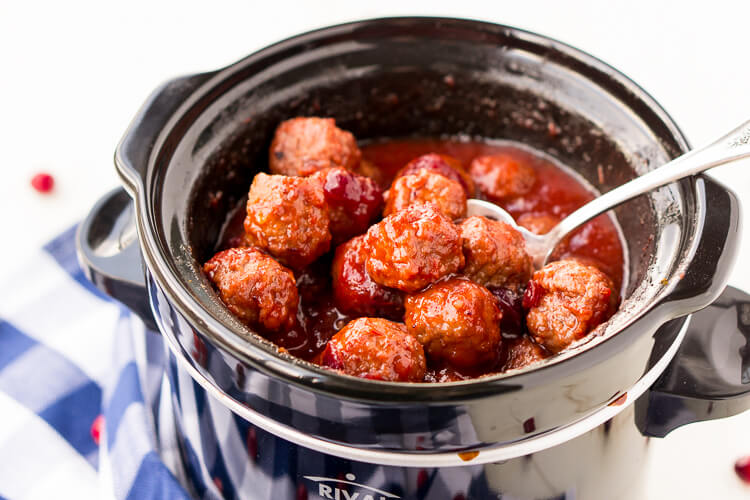 Choosing Your Meatballs
For me, the best part of this recipe is just grabbing a bag of frozen meatballs from the grocery store! That way, I can skip mixing and rolling up homemade meatballs.
I usually opt for frozen Swedish or Italian meatballs since those are always the easiest to find! Feel free to use what you prefer, though.
You could also whip up a batch of your favorite homemade meatballs to use! If you choose to take that route, you won't need to cook them as long as they are in the crockpot.
Once the cooked meatballs have heated evenly with the sauce mixture, you can turn the crockpot to low or warm.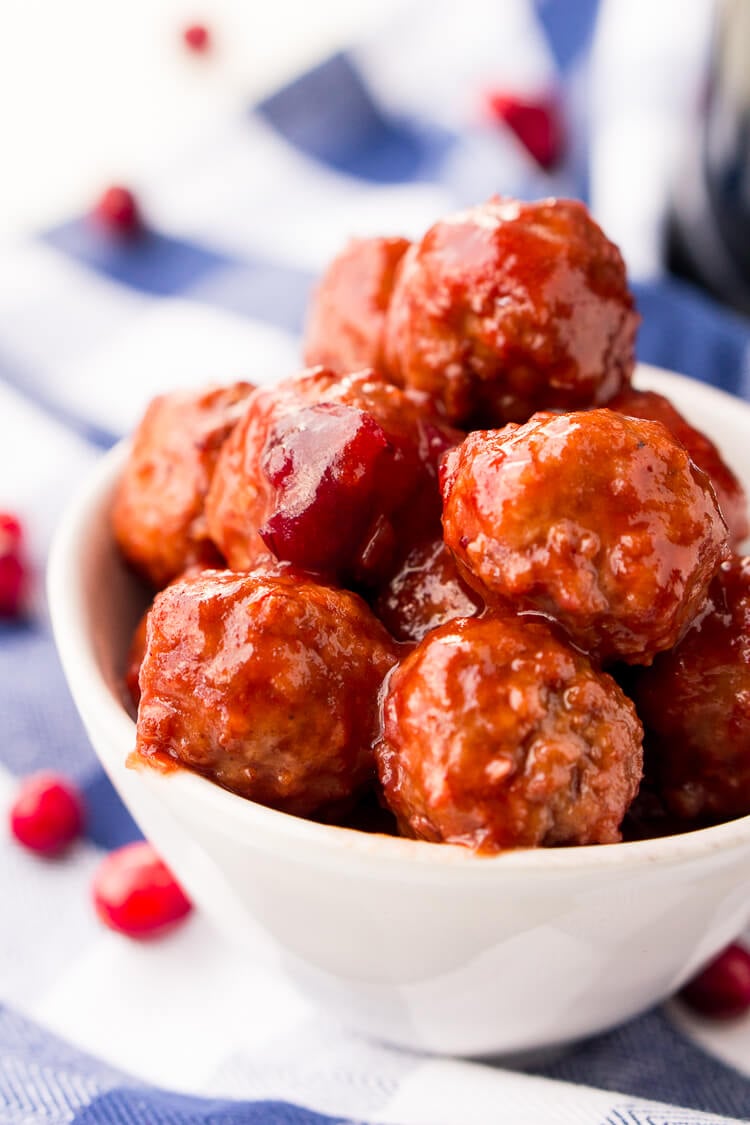 Tips & Tricks When Making This Cranberry Orange Meatballs Recipe
Chili Sauce – I used Heinz Chili Sauce since that's what we enjoy! But feel free to use your favorite brand of chili sauce or even experiment with different kinds to find what tastes best for you!
Amount Of Meatballs – This recipe is fitted for 28 ounces of meatballs. However, the bag size of meatballs does vary from brand to brand. Therefore, anything close will do! If that's the case, you may just have saucier meatballs, but that sounds tasty to me!
Stir To Coat – When the meatballs are cooking, make sure to stir occasionally, so they're evenly coated!
Make-Ahead Option – This appetizer can be made ahead of time to make game days and holidays even easier! To do so, cook them following the recipe instructions, allow them to cool, and then transfer the meatballs and sauce into an airtight container to refrigerate. When you're ready to serve them, simply dump the mixture back into the crockpot and heat!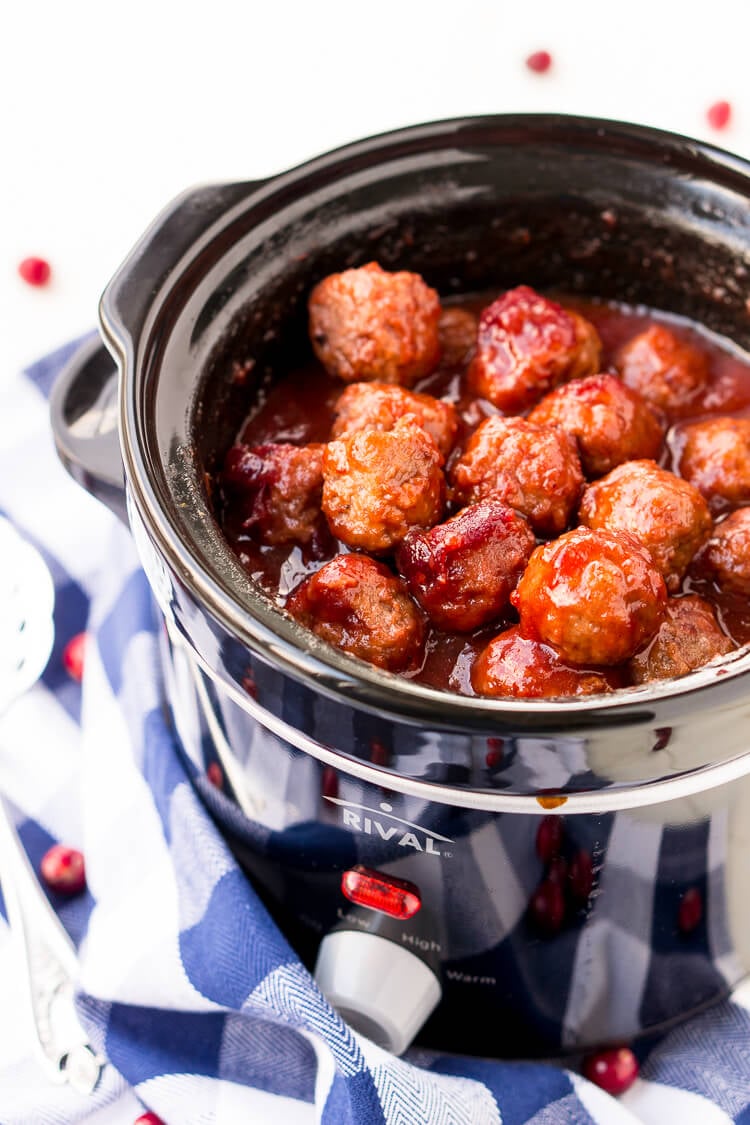 Appetizer meatballs like these and my Crock Pot Apple Cocktail Meatballs are always one of my go-to choices! They're filling and delicious, and everyone always eats them all up!
Since they're a favorite, I've come up with a variety of meatball recipes to switch up the flavor! So, you'll have to also check out my Merlot Meatballs and Pineapple Tequila Meatballs!
How Do I Store Leftover Meatballs?
Allow leftovers to cool before placing them in an airtight container. Afterward, place the leftover meatballs into an airtight container and store them in the fridge.
Enjoy the leftovers for up to 3 days!
Can I Make This Appetizer A Little Spicier?
Yes, to get a bit more of a kick out of these meatballs you can either choose a spicier chili sauce or add in some crushed red pepper flakes!
Is There A Substitution For Orange Juice?
Instead of using orange juice, you can use an equal amount of pineapple juice. Just keep in mind it may slightly alter the final taste of this recipe! You could also try using orange marmalade instead!

Let's Connect!
If you've tried this recipe, please let me know how you liked it in the comments below and leave a review. I love hearing from you!
Don't forget to tag me – @sugarandsoulco – on Instagram and Pinterest with your photos or join our Sugar & Soul Show-offs Community and share them there, where you can join our recipe challenges!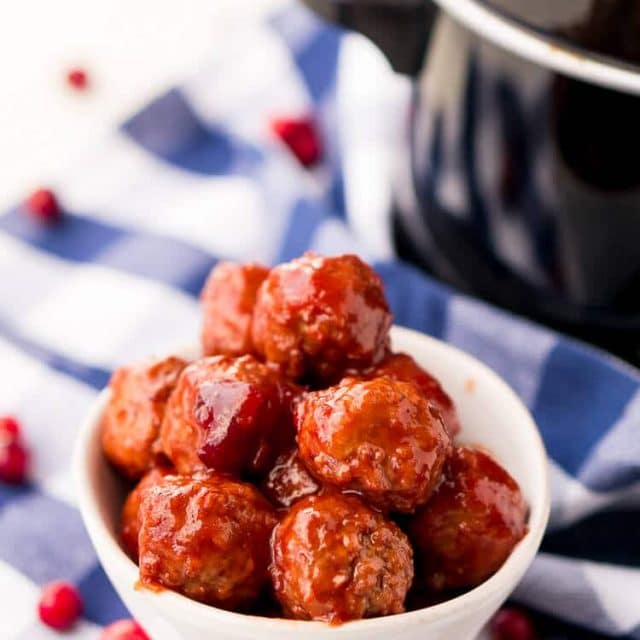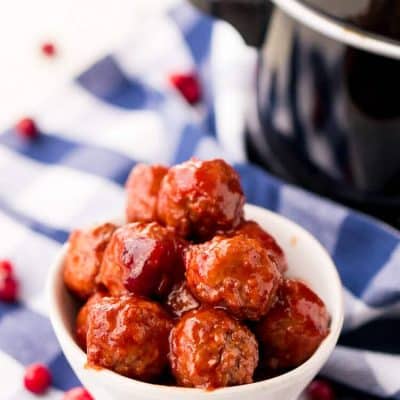 Cranberry Orange Meatballs
These Cranberry Orange Meatballs are made with just 4 ingredients with just 5 minutes of prep work! Let your crock pot take care of the rest and serve up this delicious appetizer at your holiday and game day parties!
Instructions
Add the meatballs to a crockpot.

28 ounce bag frozen Swedish/Italian meatballs

Add the chili sauce and cranberry sauce on top of the meatballs. Add the orange juice to the chili sauce bottle and shake to loosen up the remaining sauce and then pour it into the crockpot. Stir together to evenly coat the meatballs with the sauce.

12 ounce bottle chili sauce, 14 ounce can whole-berry cranberry sauce, 1/4 cup orange juice

Cook on high for 2 hours or until meatballs are tender and hot throughout, turn heat to low to keep warm during servings. Stir occasionally.
Notes
The bag size of meatballs might vary by brand, but anything close will do.
Nutrition
Calories: 255kcal | Carbohydrates: 19g | Protein: 11g | Fat: 14g | Saturated Fat: 5g | Cholesterol: 47mg | Sodium: 426mg | Potassium: 313mg | Fiber: 2g | Sugar: 15g | Vitamin A: 220IU | Vitamin C: 8.3mg | Calcium: 16mg | Iron: 0.9mg