This Chicken Dinner is loaded with seasonal flavors and comes together in just 30 minutes! Roasted Brussels sprouts and red grapes mixed with shallots and garlic and the crunch of walnuts bring this whole meal to life!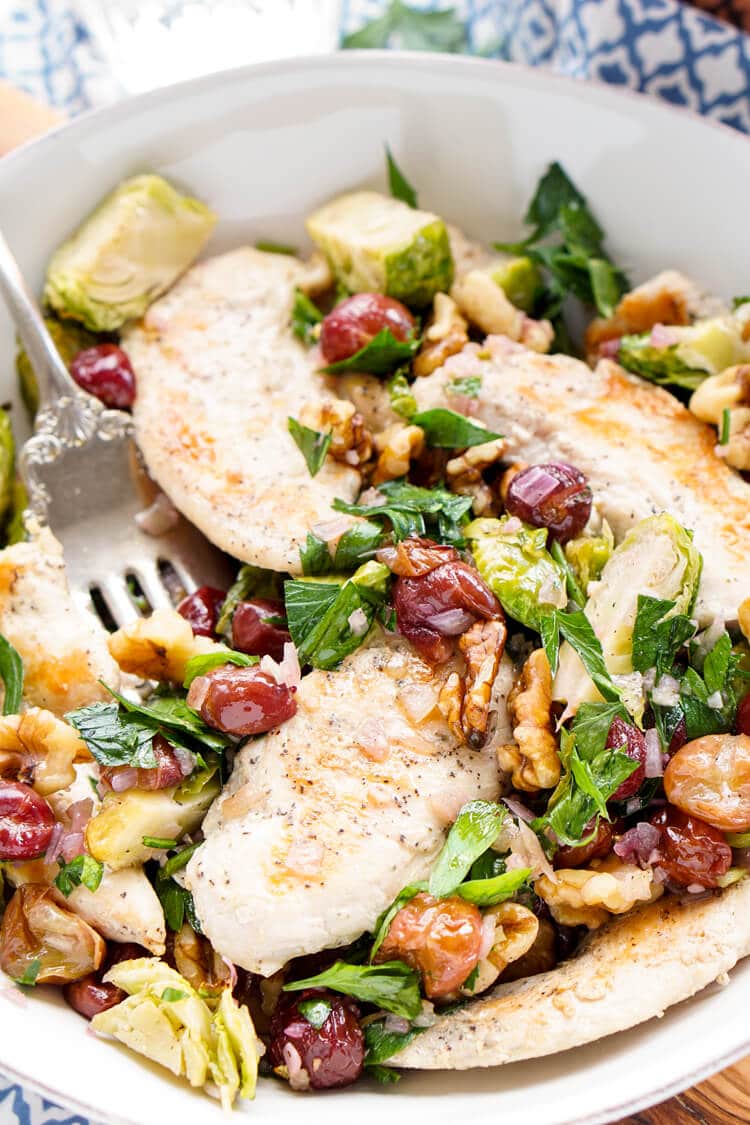 Guys, I can't even tell you how crazy this summer has been and how insane this fall is about to get, and I don't even have kids going back to school right now, so I'm sure you're all feeling it too. I'll be traveling every other week for the rest of the year and we're also remodeling our house… not my brightest move. But the house needed a facelift and I'm not one to pass up an adventure!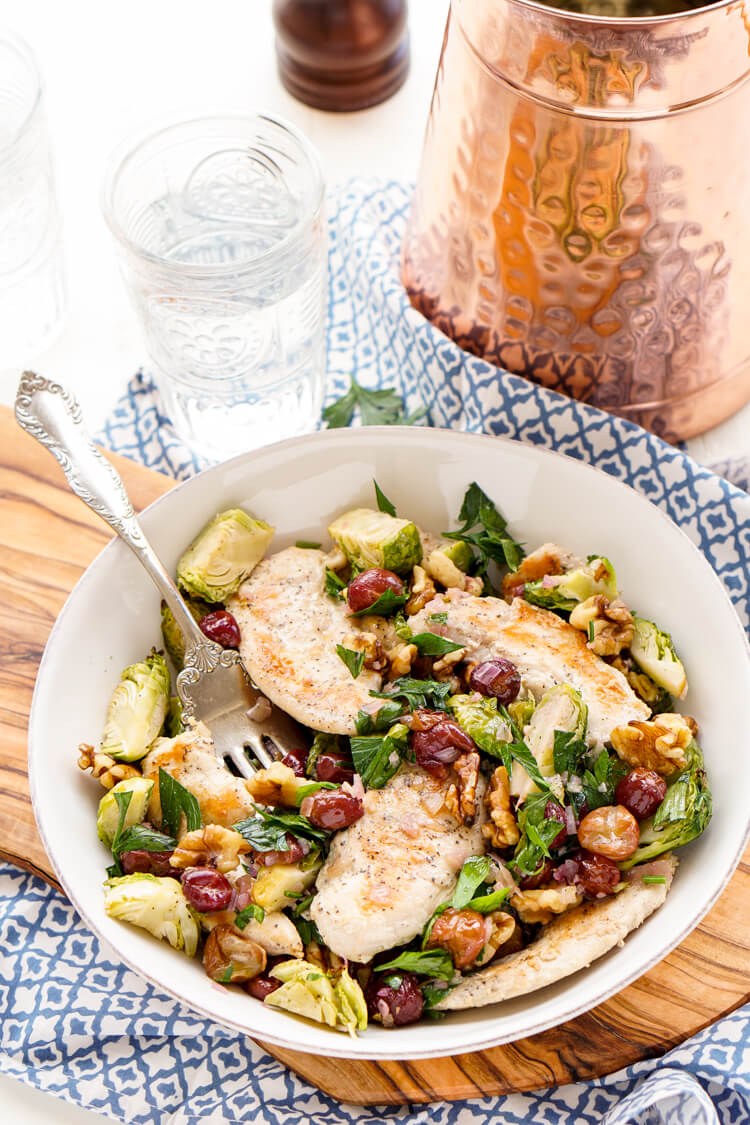 And with our lives as crazy as they are, Matt and I are looking for every possible opportunity to save time. We spend so much time thinking about what we're going to make for dinner, getting ingredients, and making it, and let's not forget the time we usually spend arguing over dinner. Hangry is a very real condition in this house.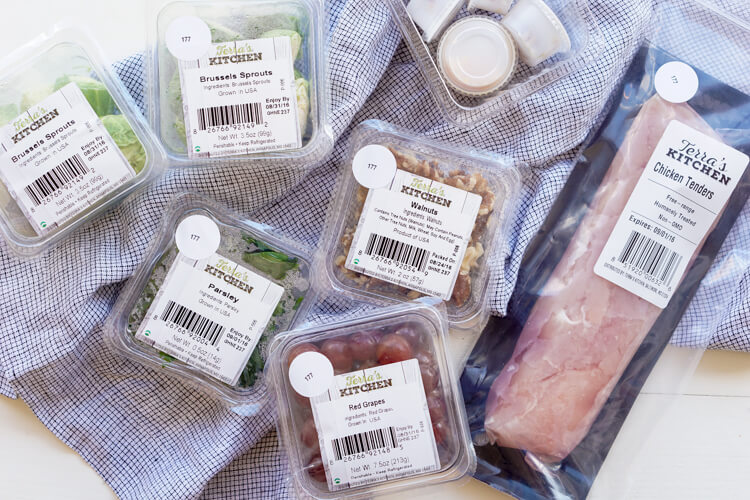 With me being gone a lot and Matt in his busiest time of year at work, we want to minimize the amount of time we spend doing daily mundane things, like cooking dinner. Enter Terra's Kitchen.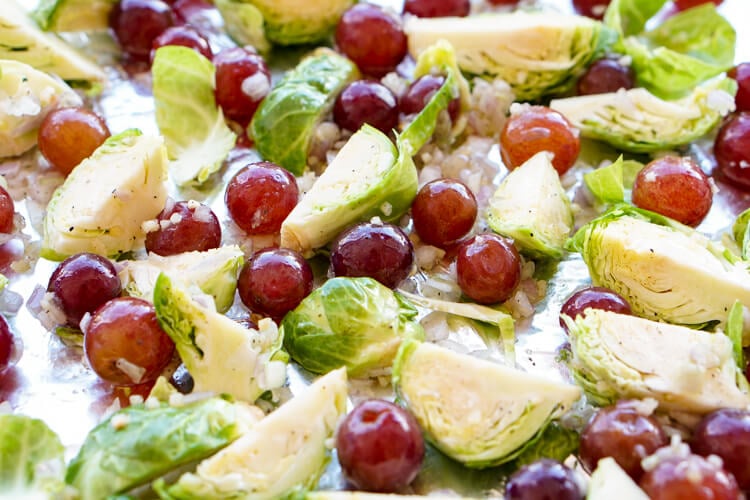 Terra's Kitchen is a meal delivery service, each week you can pick from pre-designed meals and have them shipped right to your door. The best part about it all is that the prep work is done for you, diced onions, trimmed meat, and measurements are all taken care of! It basically allows us to skip the argument and the grocery store and get right down to work on dinner, which is usually ready in less than 30 minutes!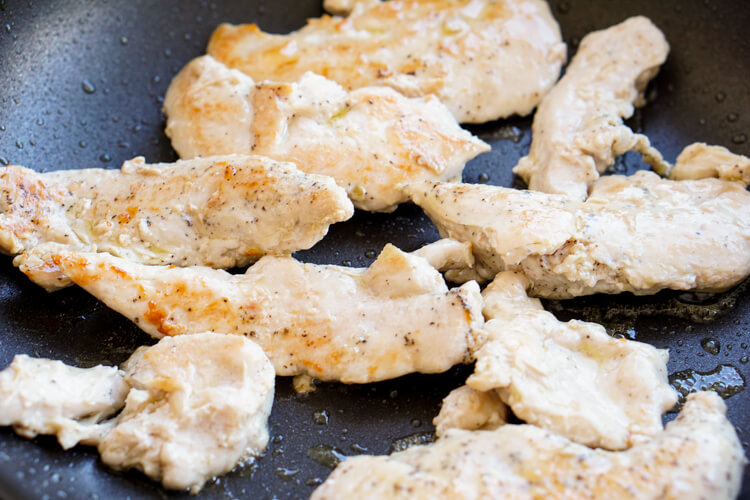 You can pick which day of the week your vessel arrives and once you've unloaded it, just rip off the shipping label to reveal the return label and leave it outside when it will be picked up by the delivery man. Then use your handy dandy recipe cards to make your meals!
One of my favorite Terra's Kitchen meals is the Roasted Brussels Sprouts + Grapes Over Tender Chicken. It's super easy to make and the flavors are perfect for the end of summer! Plus, who can resist roasted grapes? Not I! Oh, and they also sell add-on items as well. It's really hard to find skirt steak around here so I love that I can order it from them and make Carne Asada at home now!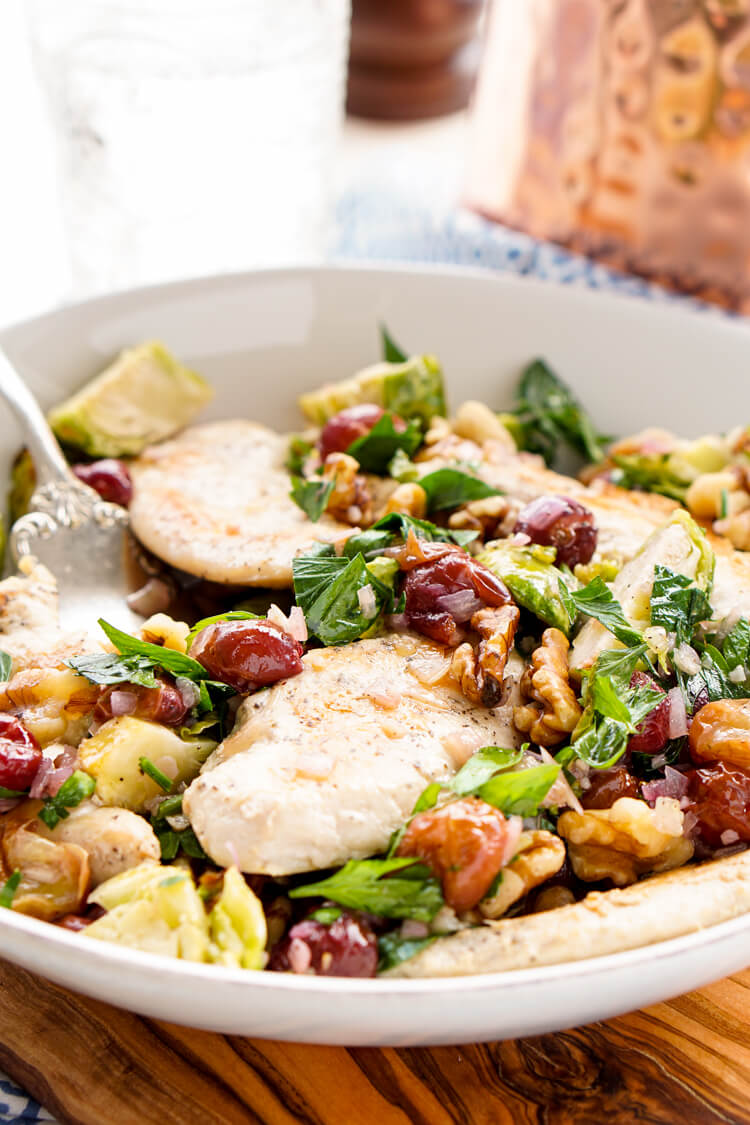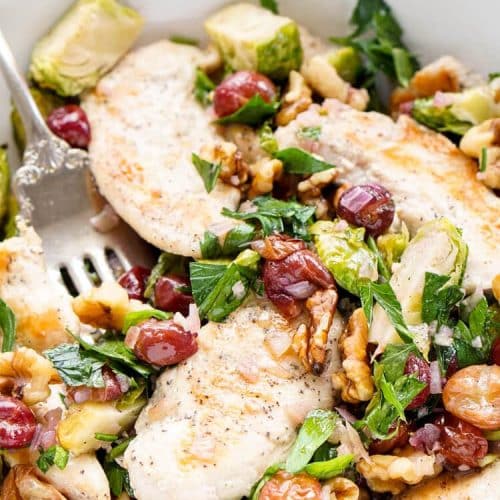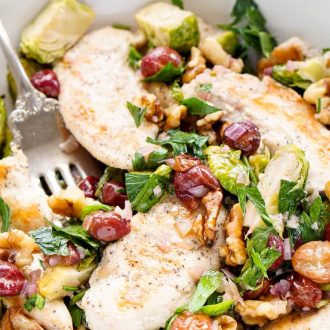 Roasted Brussels Sprouts & Grapes Over Tender Chicken Dinner
Ingredients
Vegetables:
7

ounces

Brussels sprouts

7.5

ounces

red grapes

1

tablespoon

olive oil

1.5

ounces

diced shallots

.3 ounces minced garlic

1

teaspoon

salt

1/2

teaspoon

black pepper

.5 ounces chopped parsley

2

ounces

chopped walnuts
Instructions
Vegetables:
Preheat oven to 375 degrees F and line a large baking sheet with aluminum foil.

Trim and quarter the Brussels sprouts and arrange on the baking sheet with the grapes, toss with olive oil, shallots, garlic, salt, and pepper. Spread evenly and roast until sprouts are tender and golden brown, about 20 minutes.

Remove from oven and stir in the chopped parsley and walnuts.
Chicken:
While the sprouts are roasting, season the chicken tenders liberally with salt and pepper. Place a medium pan over medium-high heat and add olive oil.

Add the chicken to the pan and cook until browned on the bottom, turn, and continue to cook until chicken is cooked through, about 3 to 4 minutes per side.

Place cooked chicken on a platter and spoon the sprouts over it.