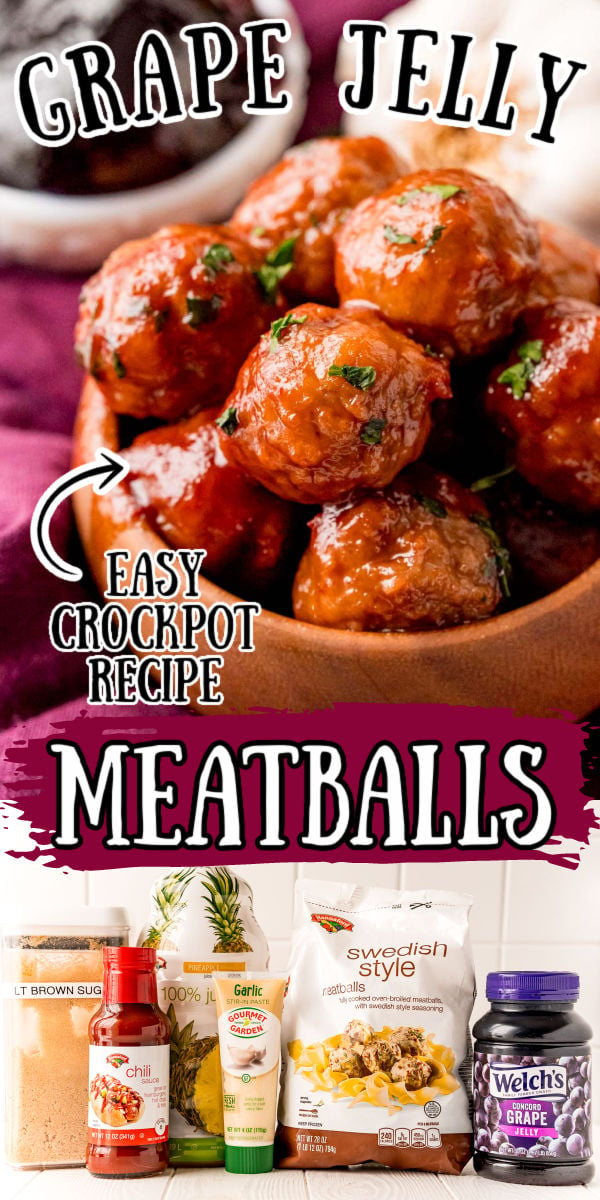 Grape Jelly Meatballs are a quick and easy recipe that takes just 5 minutes of preparation and then your crockpot takes it to the finish line! This appetizer is sweet, tangy, and filling and you can always count on it being one the whole family loves!
Crockpot dishes are the best go-to recipes when you're feeding large crowds and wanting to serve up something warm! These Peach Barbecue Little Smokies and Pineapple Tequila Meatballs are definitely worth adding to your game day menu as well!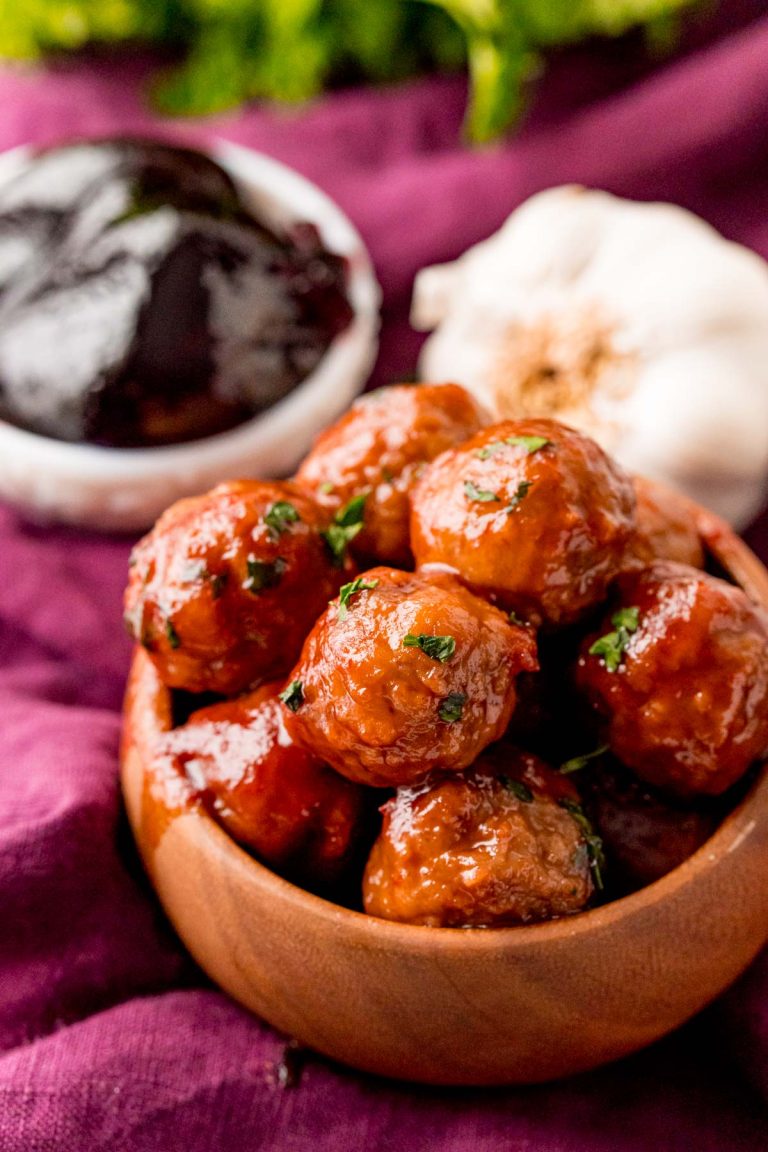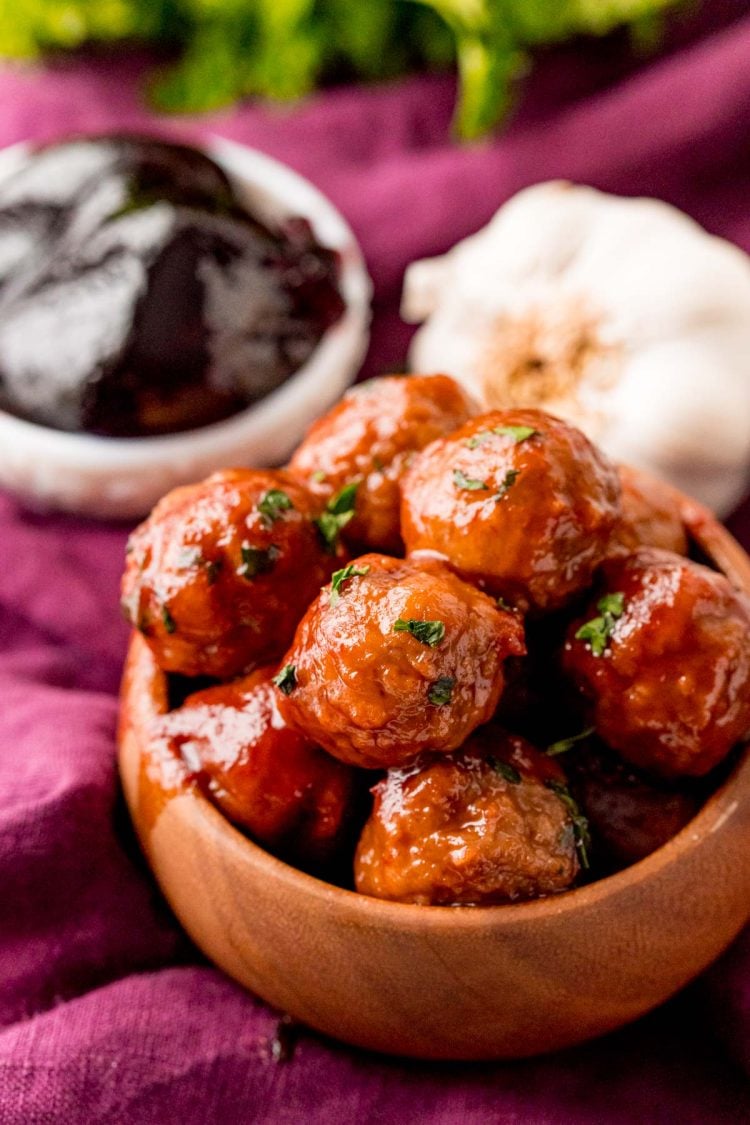 This Grape Jelly Meatball Recipe lets you decide if you want to use homemade meatballs or your favorite frozen meatballs! There's no shame in grabbing frozen meatballs from the grocery store to enhance the ease of this appetizer! Actually, it's what I prefer to use!
If there was ever a signature smell of game day, I'm confident these crockpot meatballs would be a top contender! The aroma that fills the air when the grape jelly, pineapple juice, and light brown sugar combine is both comforting and mouthwatering!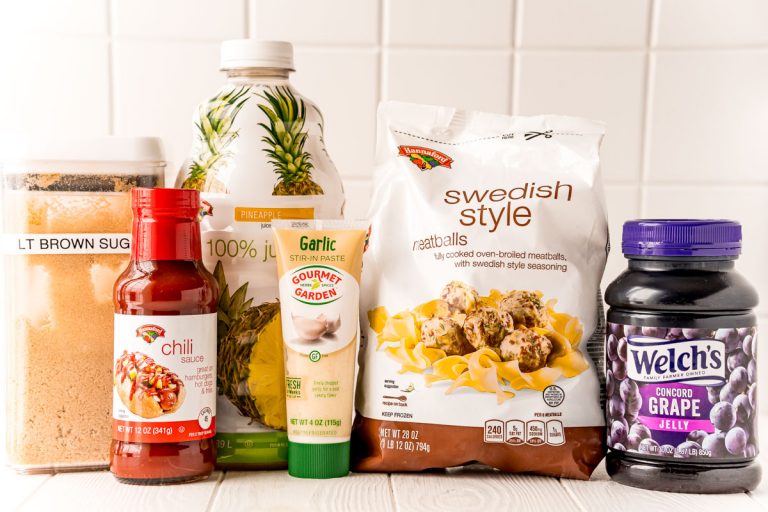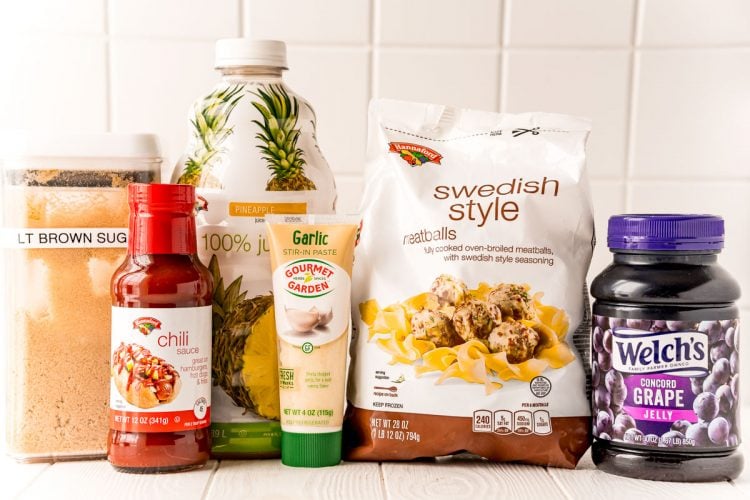 Grape Jelly Meatballs Ingredients
If you love a short and simple ingredients list, then this recipe is for you! Grape jelly, chili sauce, pineapple juice, light brown sugar, and garlic paste make the sauce that these meatballs cook in!
When I use this recipe I have zero shame when I reach for the frozen meatballs! This recipe is designed for 32 ounces of meatballs, just keep that in mind if you go the homemade route.
Popular Appetizers: Chicken Queso Dip | Shrimp Cocktail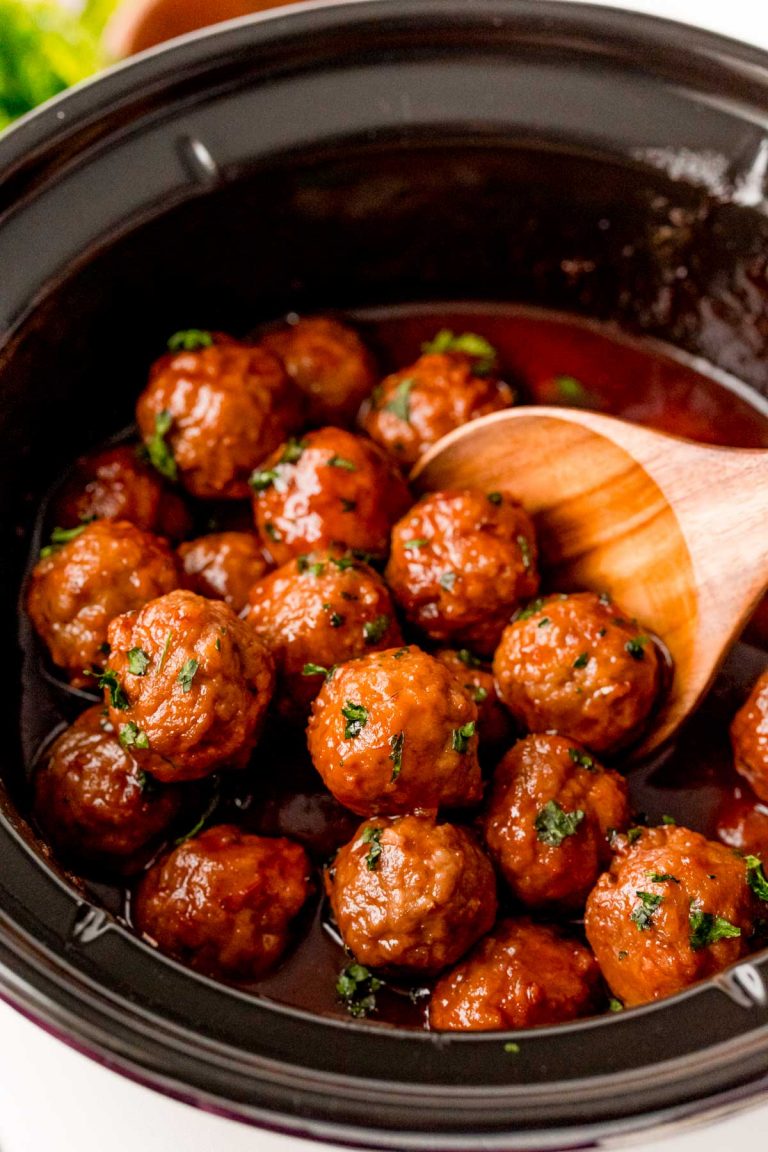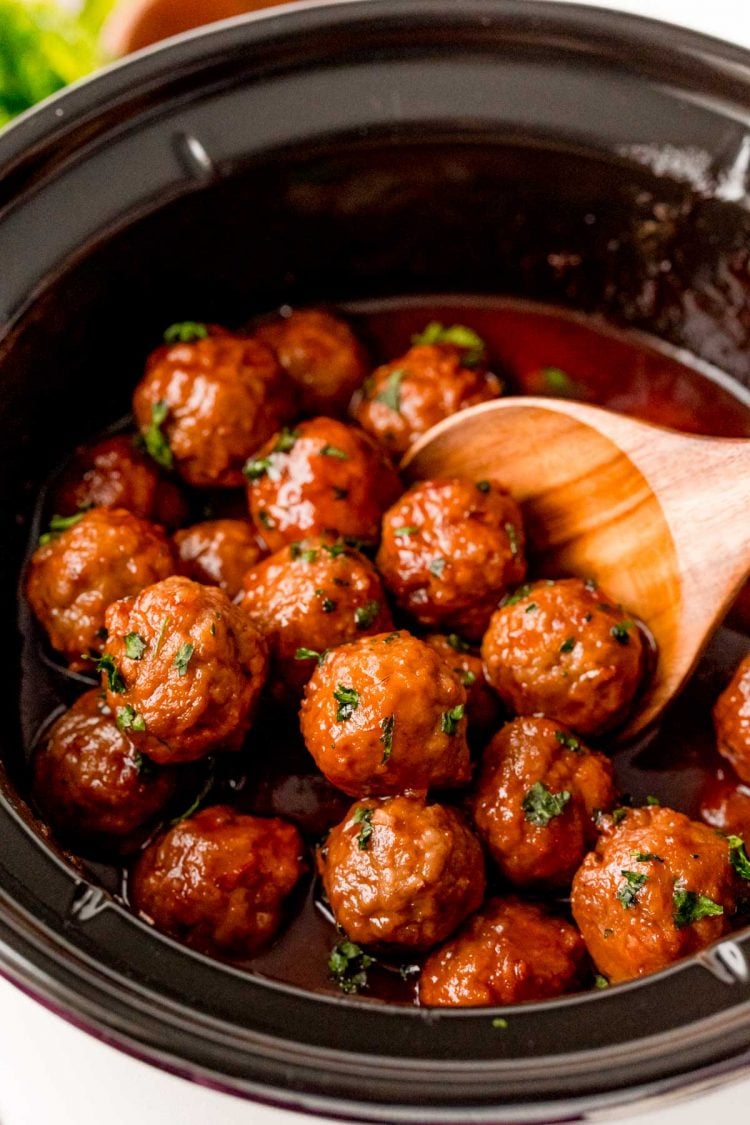 How To Make Slow Cooker Grape Jelly Meatballs
Add the meatballs, frozen or homemade, along with grape jelly, and chili sauce into your crockpot. Add pineapple juice to the chili sauce container, shaking it up to loosen any remaining sauce, then pour it into the crockpot.
RECIPE NOTE: If you're using homemade meatballs they will need to be cooked before you add them to the crockpot.
Next, place the light brown sugar and garlic paste over the meatballs and stir to combine. Cook on high in the crock pot for 2.5 to 3 hours, placing on warm afterward for serving!
When using homemade meatballs they won't need to cook as long since they won't be starting out frozen!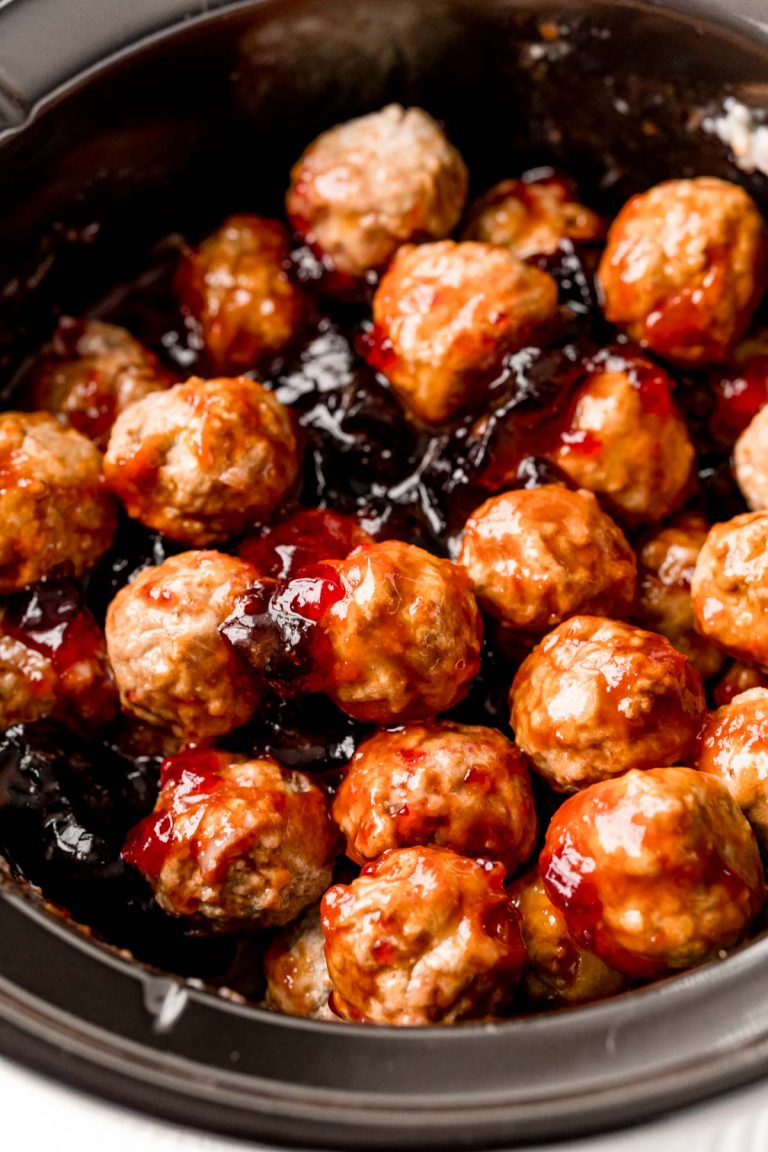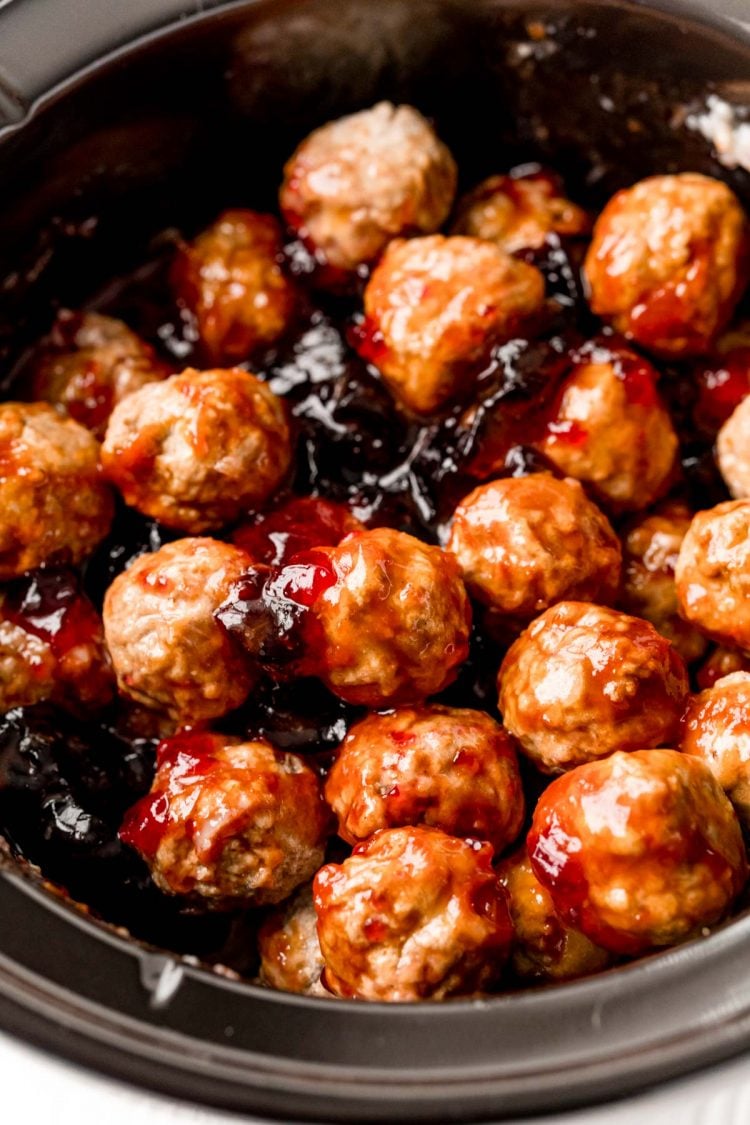 Recipe Variations
Another delicious variation of this recipe turns these into grape jelly bbq meatballs using your favorite barbecue sauce! Sweet baby ray BBQ sauce is a popular option, if using just omit the chili sauce!
If you like cranberry, you should also try my Cranberry Orange Meatballs made with cranberry sauce!
Recipe Substitutions
Orange juice can easily replace pineapple juice and light brown sugar can be omitted completely if watching your sugar intake. Garlic powder can be used in place of the garlic paste, with just ¾ teaspoon!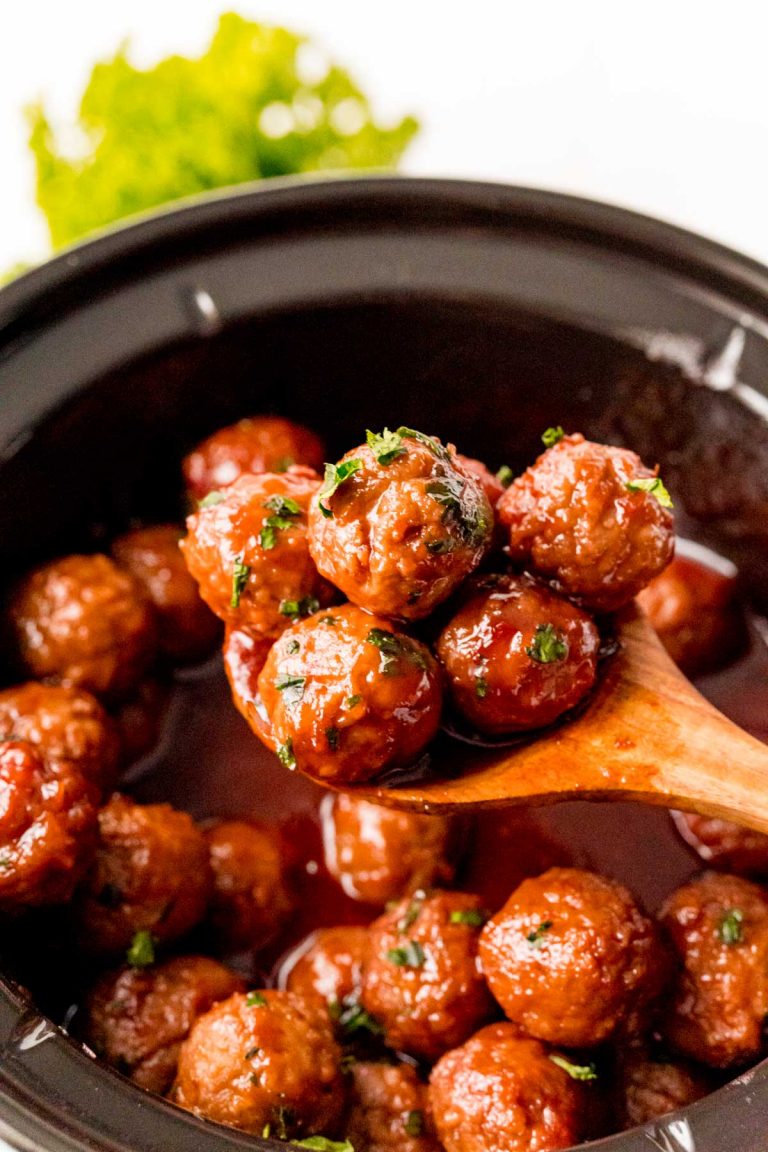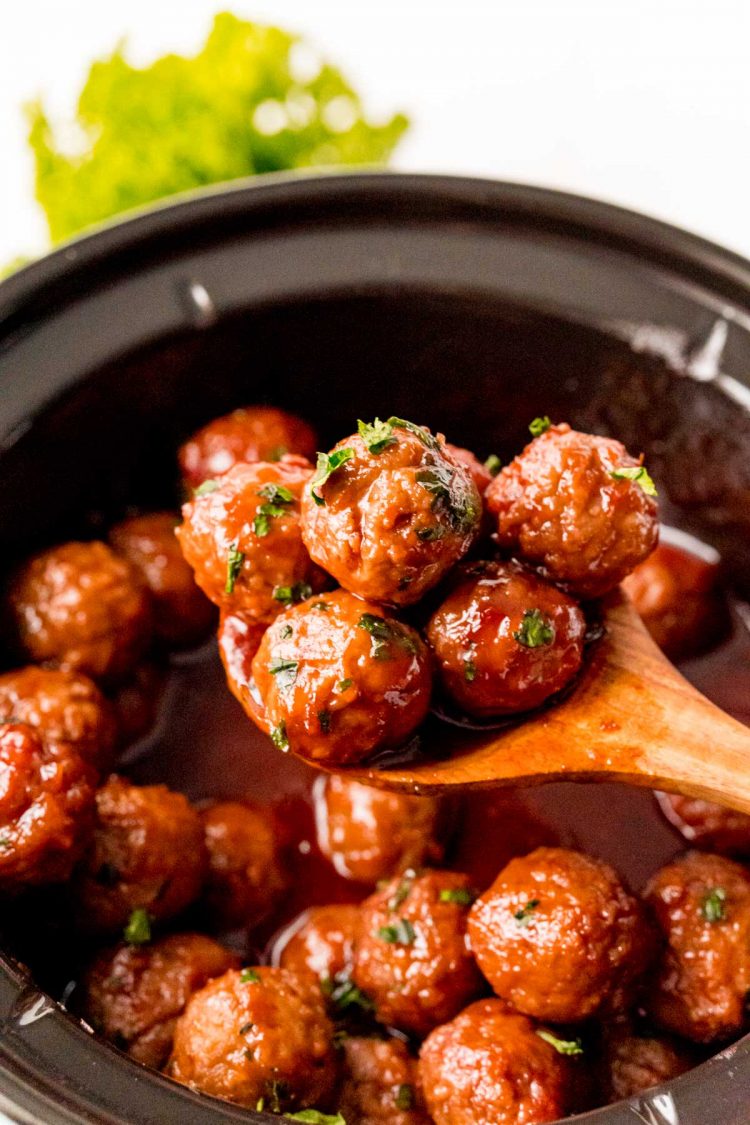 How To Store
These meatballs can be stored for up to 3 days in the refrigerator in an airtight container.
Make-Ahead
To make this appetizer recipe even easier you can cook it ahead of time and refrigerate them until you're ready! When it's time to serve just place the meatballs back in the crockpot to be reheated.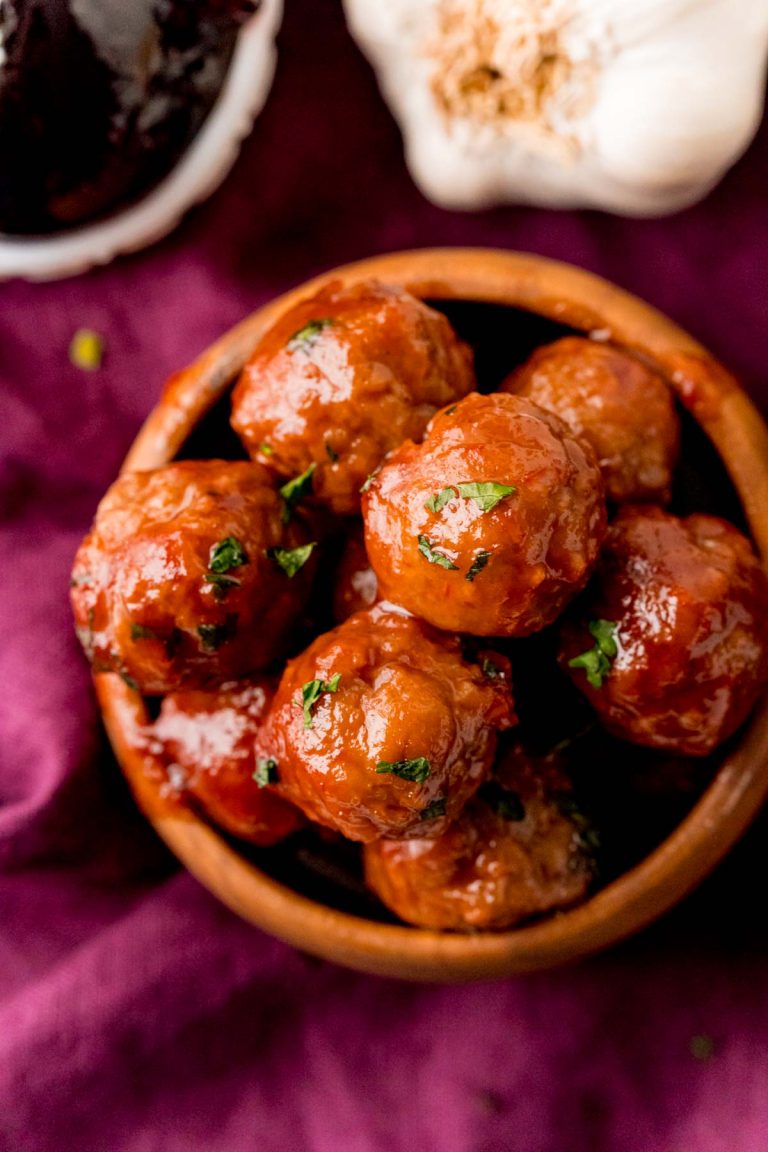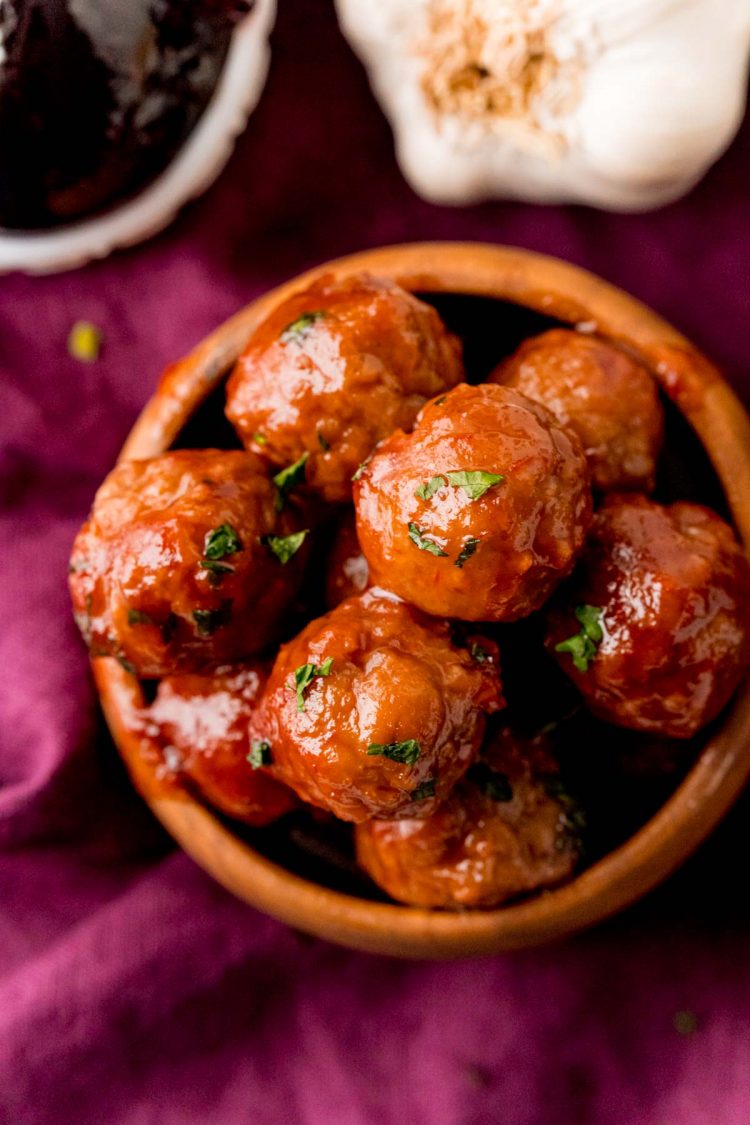 Keep a hearty meatball recipe handy in your back pocket ready to whip when those gatherings and game days arrive! Here are a few more meatball recipes that are sure to hit the spot!
👋 Let's Connect!
If you've tried this recipe please let me know how you liked it in the comments below and leave a review, I love hearing from you! And don't forget to tag me – @sugarandsoulco – on Instagram and Pinterest with your photos or join our Busy Family Recipes Facebook Community and share them there!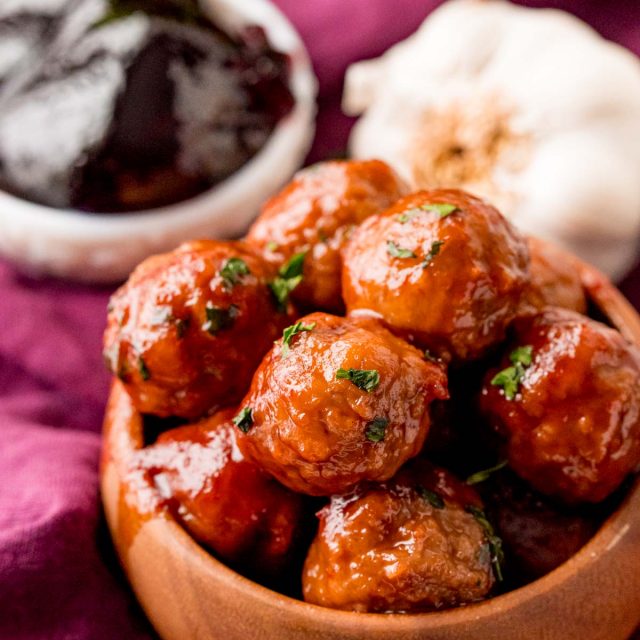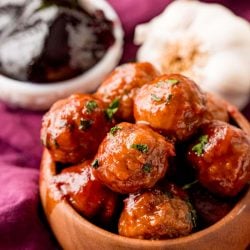 Grape Jelly Meatballs
Classic grape jelly meatballs get an upgrade with the additions of pineapple, brown sugar, and garlic! They are so easy to whip up in the crockpot and will disappear so fast at any party!
Instructions
Add the frozen meatballs, grape jelly, and chili sauce to a 3 quart or larger crockpot.

Add the pineapple juice to the chili sauce container and shake to loosen up any remaining sauce then pour into the crockpot.

Add in the light brown sugar and garlic paste and stir to combine.

Cook on high for 2½ to 3 hours. Keep on warm for serving.
Notes
Orange juice can be used in place of pineapple juice.
Light brown sugar can be omitted if watching sugar intake but it really adds a lot flavorwise.
¾ teaspoon of garlic powder may be used instead of garlic paste.
Store leftovers in an airtight container in the microwave for up to 3 days.
You can cook these in advance and refrigerate then place them back in the crockpot to reheat.
Nutrition
Calories:
355
kcal
Carbohydrates:
37
g
Protein:
14
g
Fat:
16
g
Saturated Fat:
6
g
Cholesterol:
54
mg
Sodium:
435
mg
Potassium:
368
mg
Fiber:
2
g
Sugar:
26
g
Vitamin A:
198
IU
Vitamin C:
9
mg
Calcium:
30
mg
Iron:
1
mg