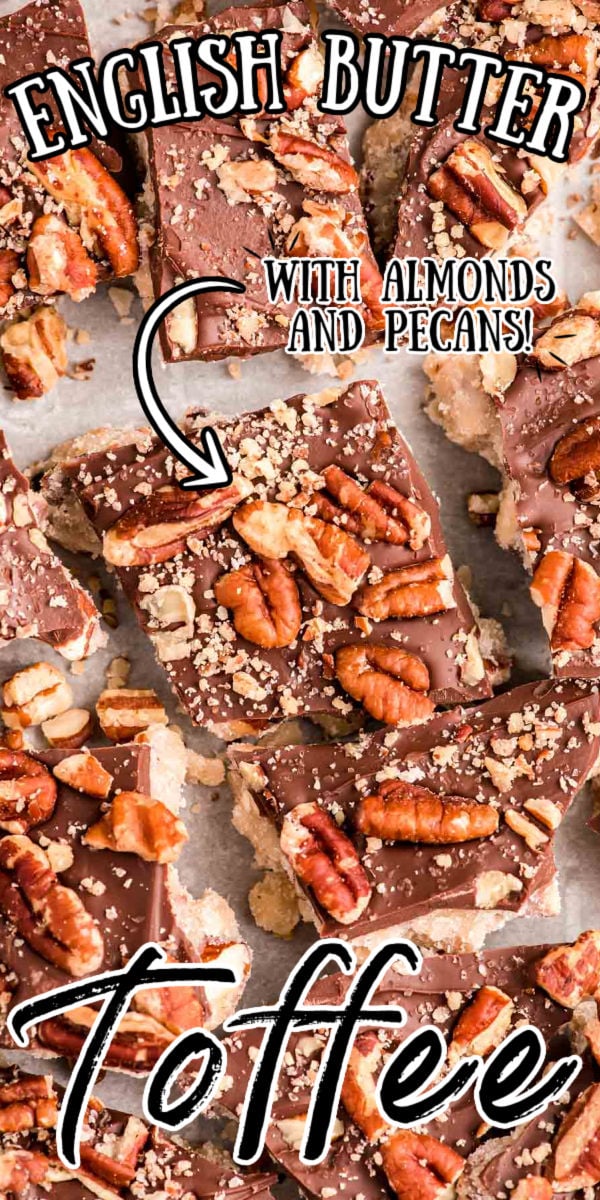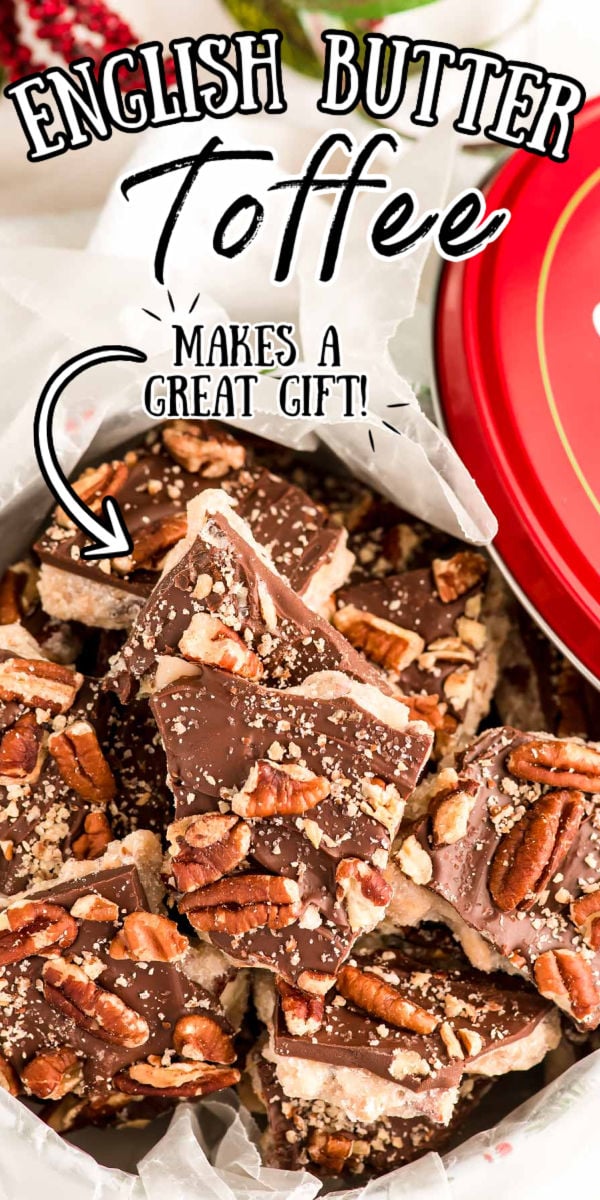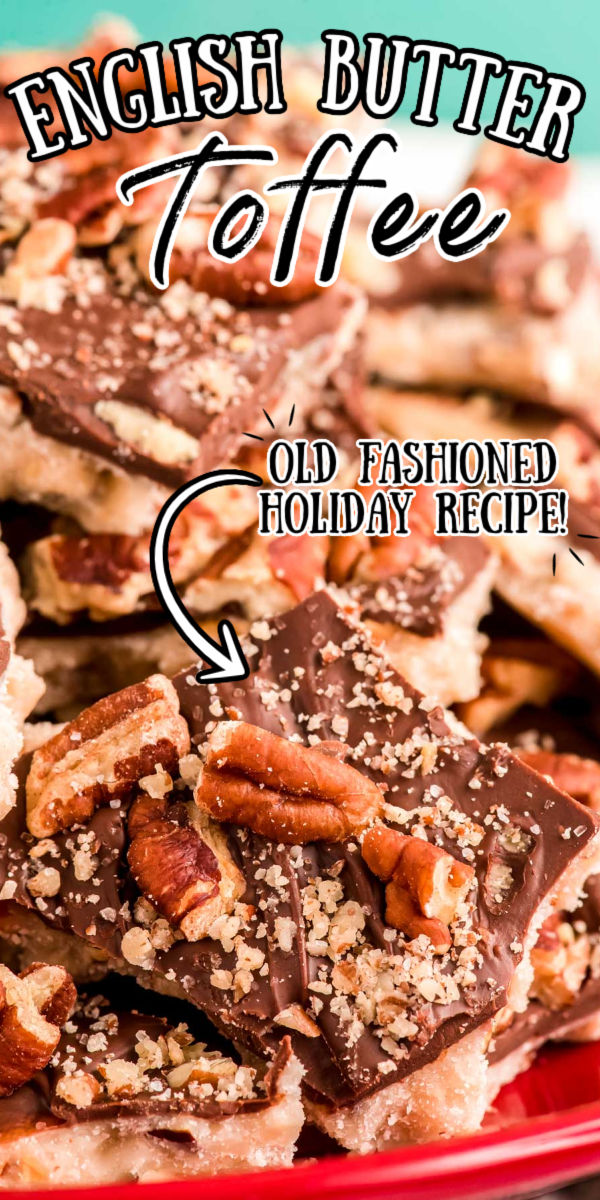 This Homemade English Butter Toffee is crunchy, buttery, and chocolaty and loaded with almonds and pecans for a rich and decadent candy recipe that's perfect for sharing!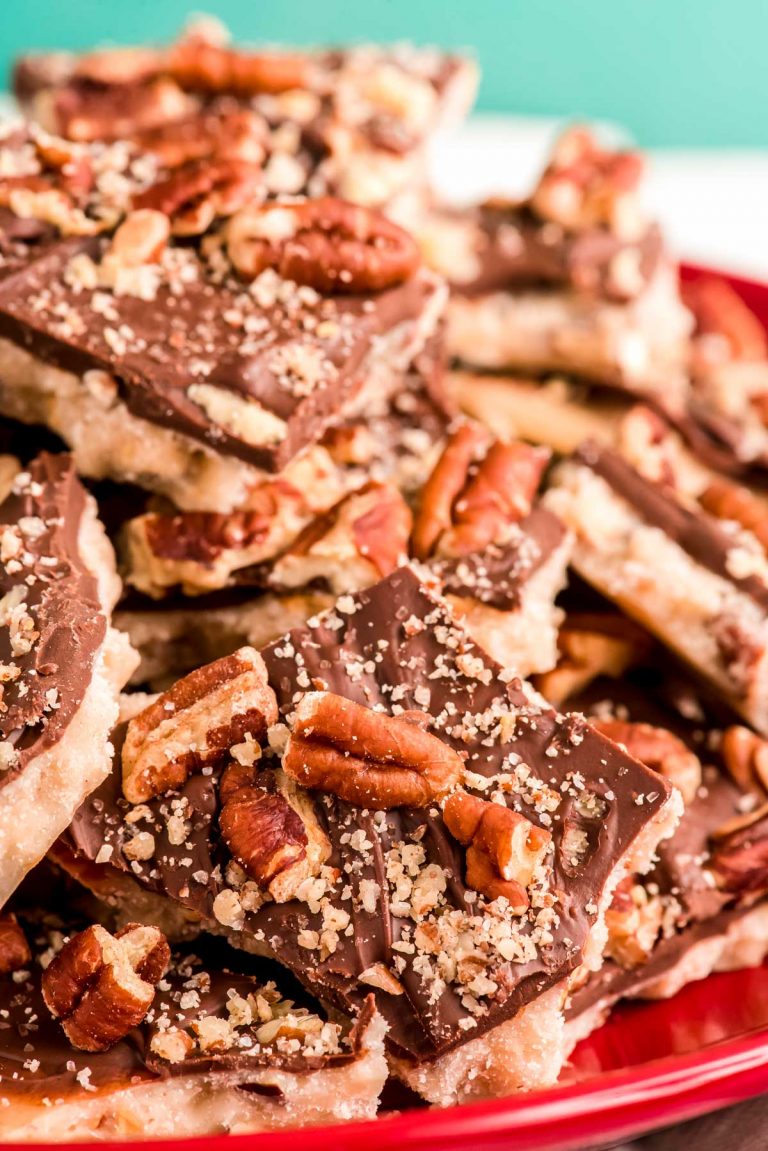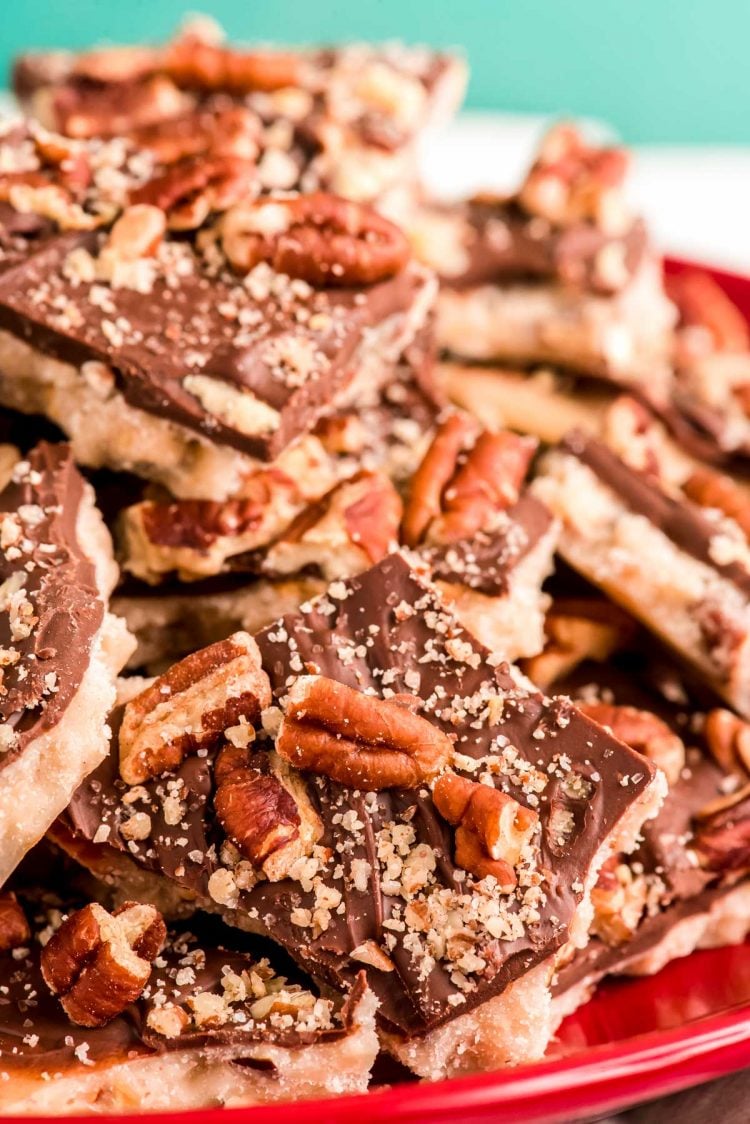 English Toffee is an absolute timeless holiday treat, this classic has been everyone's favorite for decades!
This toffee is so good you can skip making anything else for your holiday tins, just fill them up with this candy!
Although if you don't want your toffee to be lonely add in my other favorite recipes for cookie tins! Peanut Butter Fudge, Crockpot Candy, or Shortbread Christmas Crack!
Let this toffee recipe interrupt the hustle and bustle of the cookies and pies you've been making for the holidays! This rich, golden treat is addicting in the best way possible, make up a few batches, you'll thank me later!
Don't shy away from making this because of the candy process or having to move quickly yet patiently. I've laid out the path to arrive at the best homemade toffee, your job is just to follow each step!
Jump to the recipe at the bottom if you're in a hurry to get addicted to this almond toffee recipe!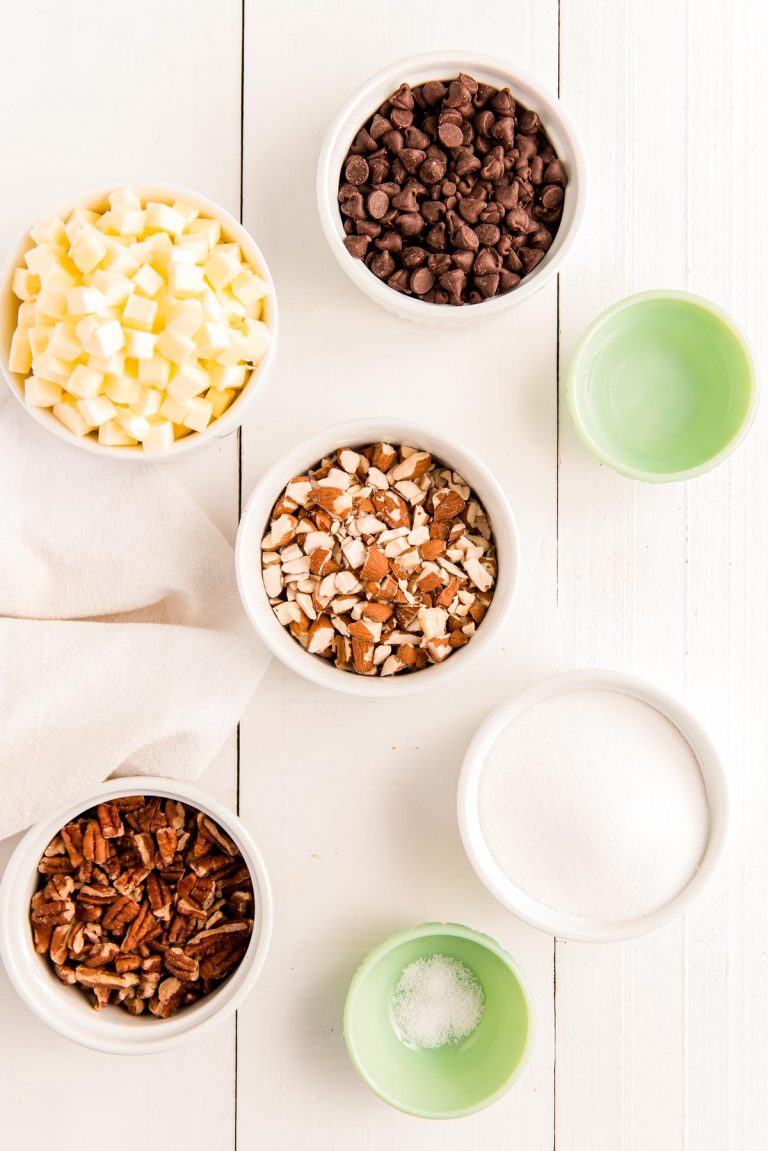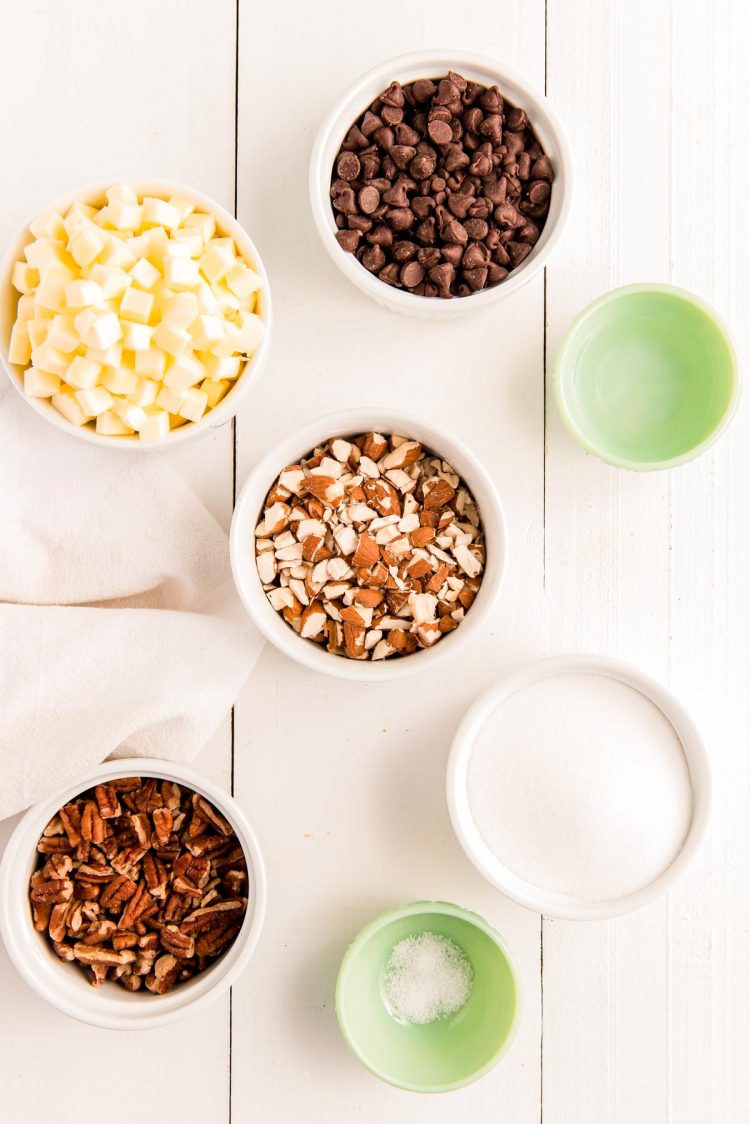 Homemade English Butter Toffee Ingredients
Preparing the ingredients ahead of time will be one of the keys to success in this recipe! This recipe is made with two distinct layers, the toffee itself and the toppings for which you will need:
Toffee – Salted butter, sugar, and water are boiled together to make up the base of this recipe. Then toasted chopped almonds are folded into the toffee mixture before pouring onto the pan and hardening.
Topping – Semi-sweet chocolate chips are melted and spread on the hot toffee layer and then sprinkled with pecan pieces and sea salt.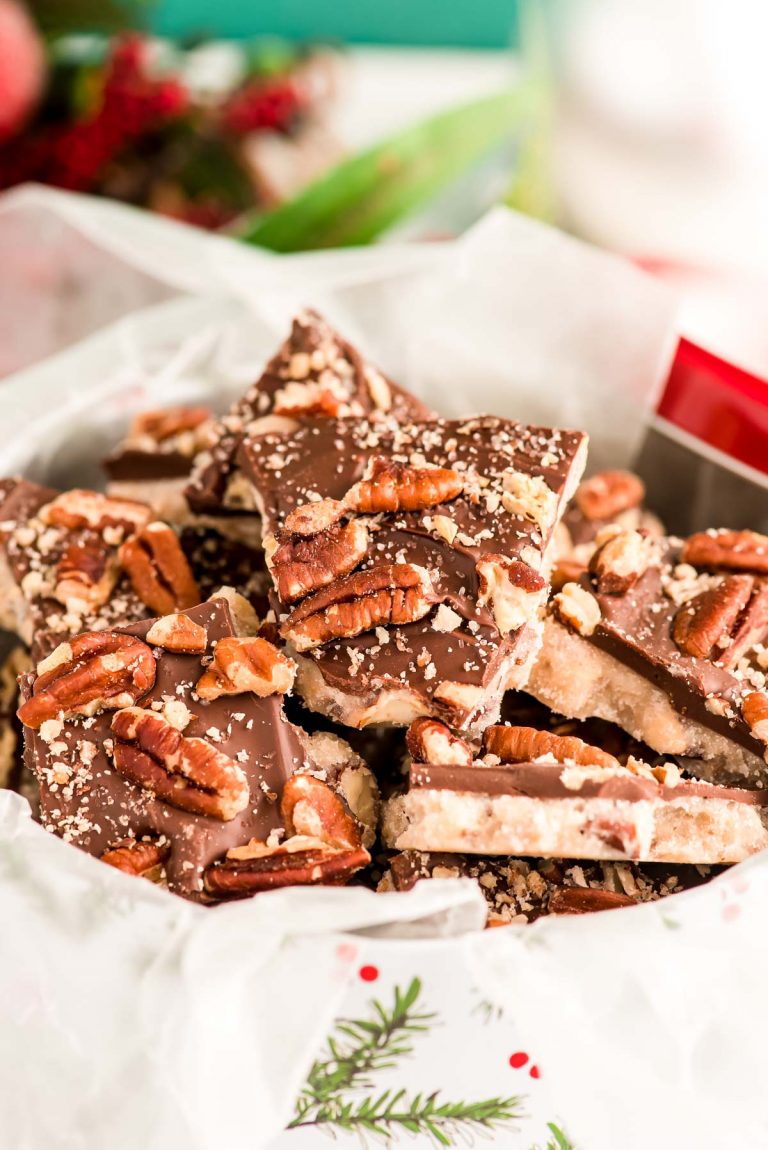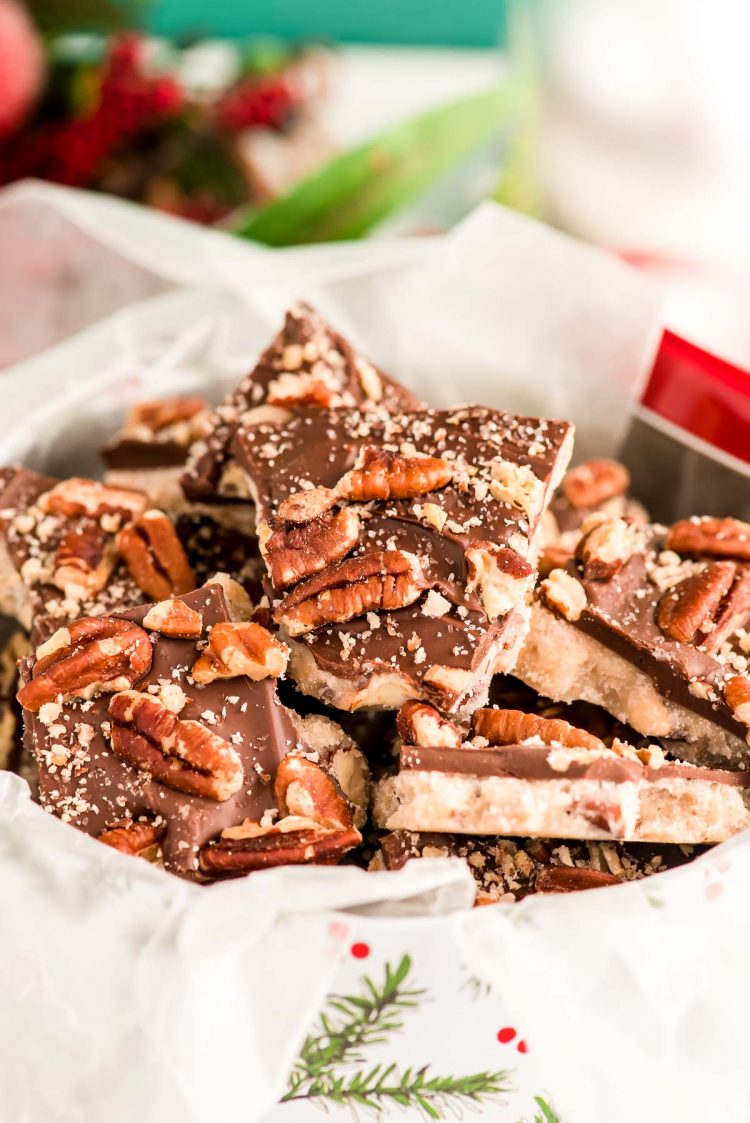 Kitchen Tools Needed
Along with gathering your ingredients here's a list of kitchen tools you'll need to have during the process as well:
Candy Thermometer – A critical part of candy making is removing it from the heat at just the right temperature! This takes the guesswork out of which candy making stage your boiled sugar mixture is at.
Heavy Bottom Pan – Heavy, high-quality stainless steel saucepans are best to use when making candy since they allow the heat to be distributed more evenly. This will ensure your toffee doesn't get scorched!
Baking Sheet – Used as the surface for the butter toffee to rest and harden on, giving you a nice thin, even layer.
Parchment Paper – Every baker's best friend! This coated paper is non-stick and makes cleaning up a breeze!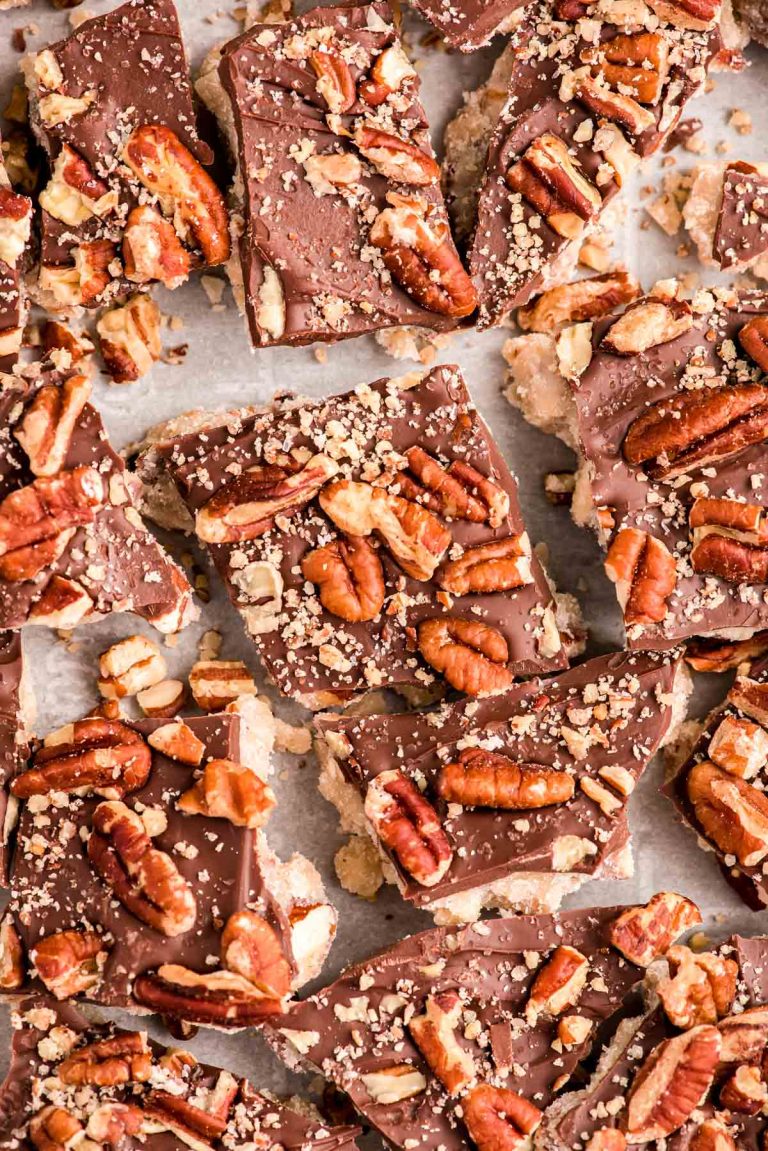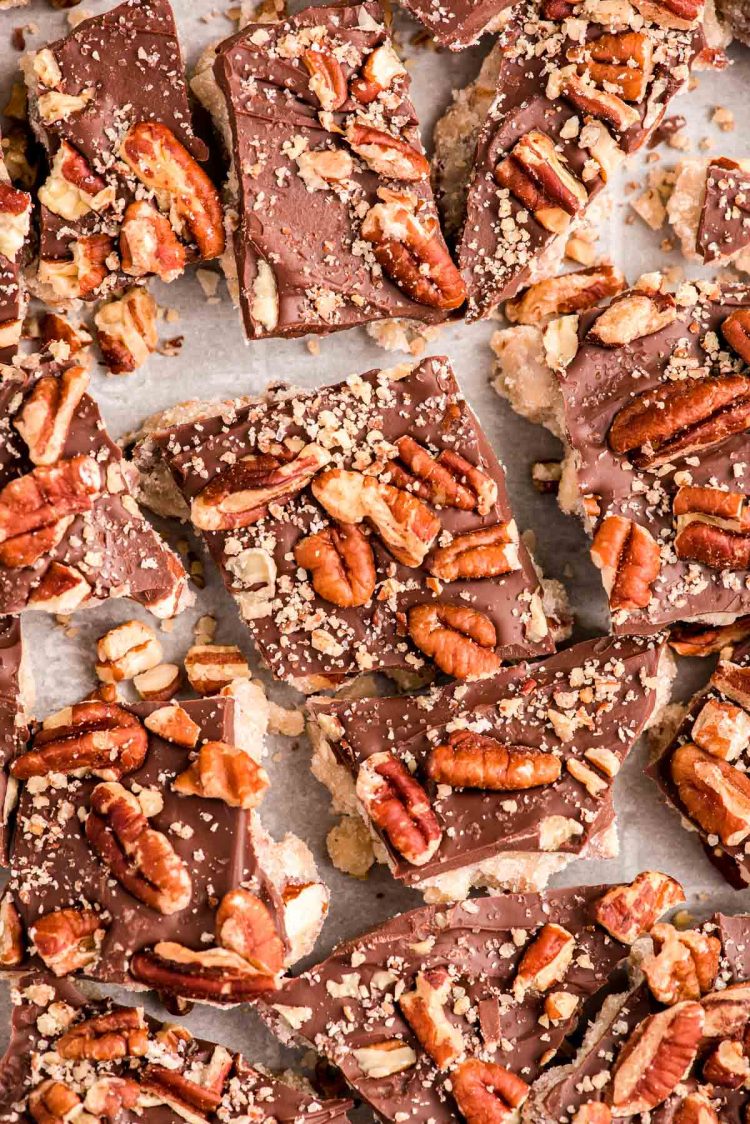 How To Make Butter Toffee
Before beginning it's important to measure out and prepare all of the ingredients. Making toffee is time sensitive and requires you to work swiftly, so again, preparing everything ahead of time is vital!
Line a large rimmed baking pan with parchment paper and set aside.
Prepare the nuts by toasting them for a few minutes at 350°F on a separate parchment-lined baking sheet. You could also toast them in a skillet over medium heat as well.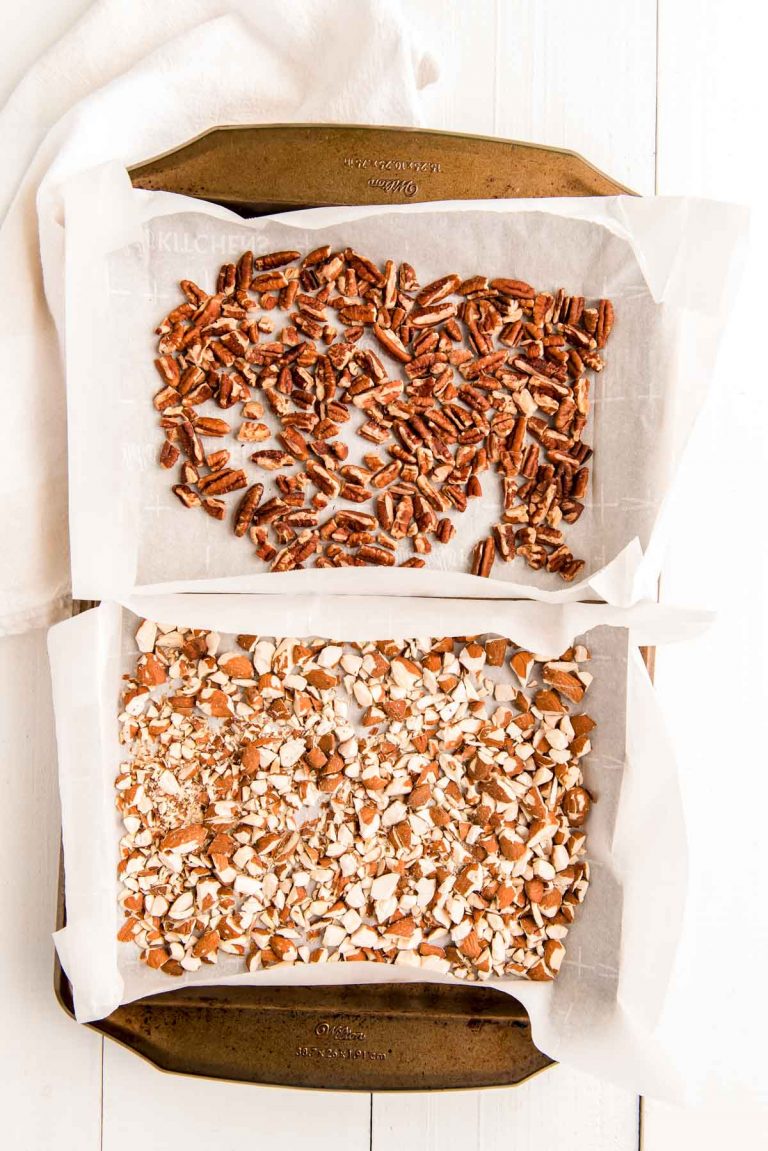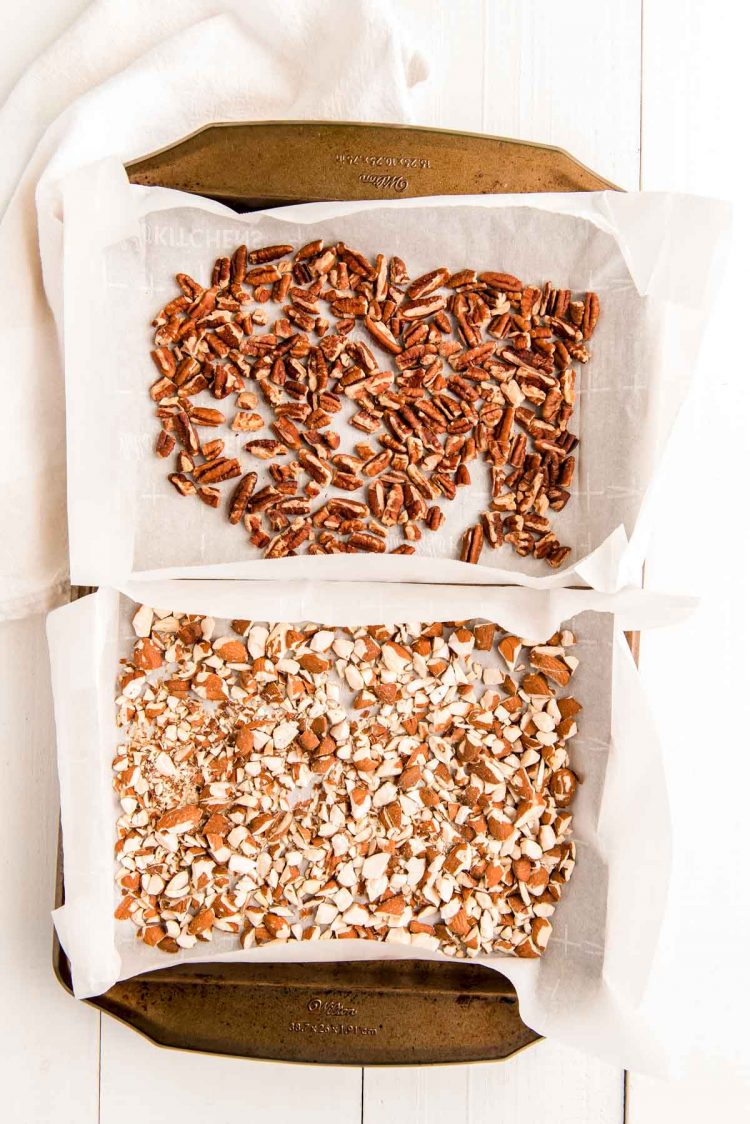 Using your heavy saucepan combine the butter, sugar, and water and place it over medium heat. Stir the butter toffee constantly with a rubber spatula until the mixture begins to boil, about 5 minutes.
RECIPE TIP: Do not use a non-stick skillet for this English butter toffee recipe, a heavy-bottomed stainless steel ban is best.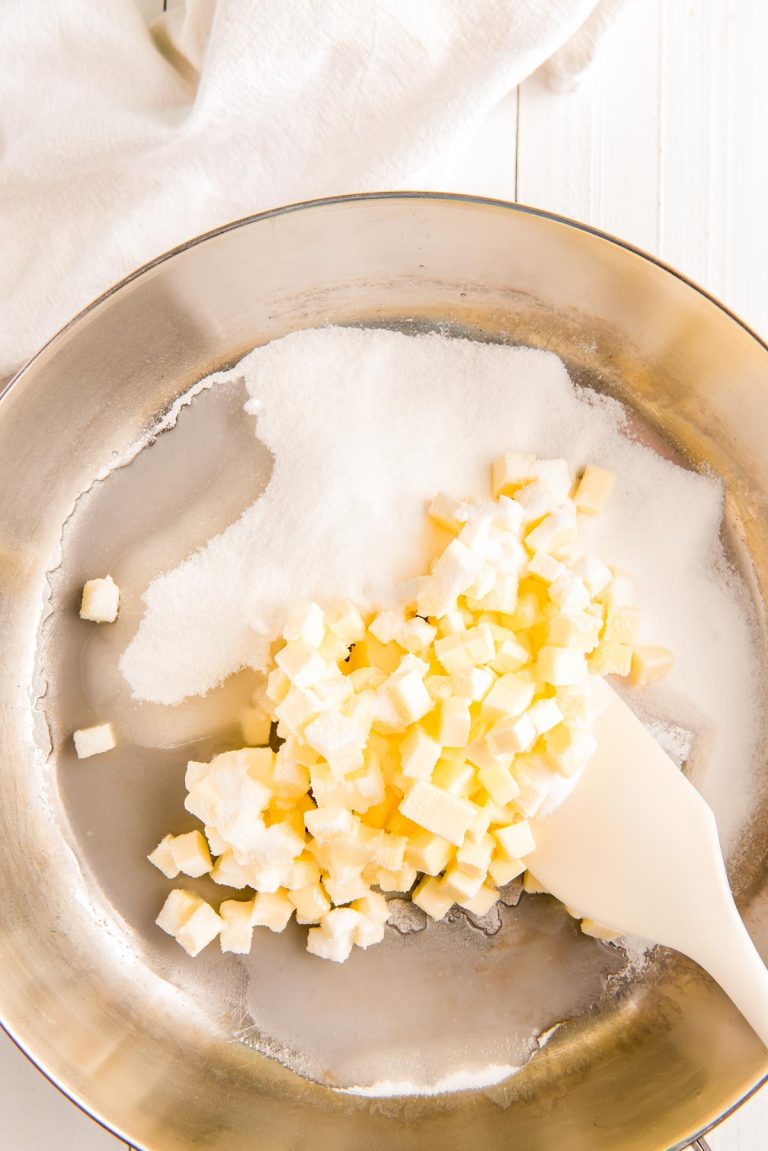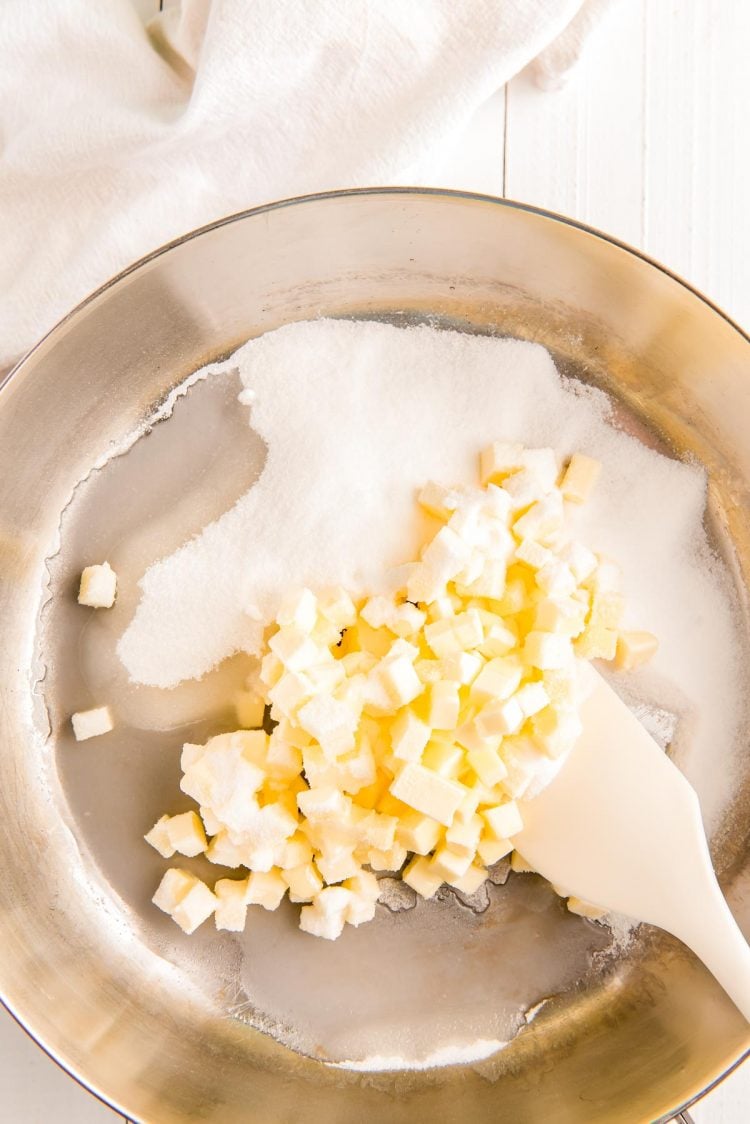 Once boiling, reduce the heat to medium-low and continue stirring it, making sure to scrape the bottom of the pot. Continue stirring until the mixture is golden brown and registers 305°F but no more than 310°F on the candy thermometer, this is called the crack stage.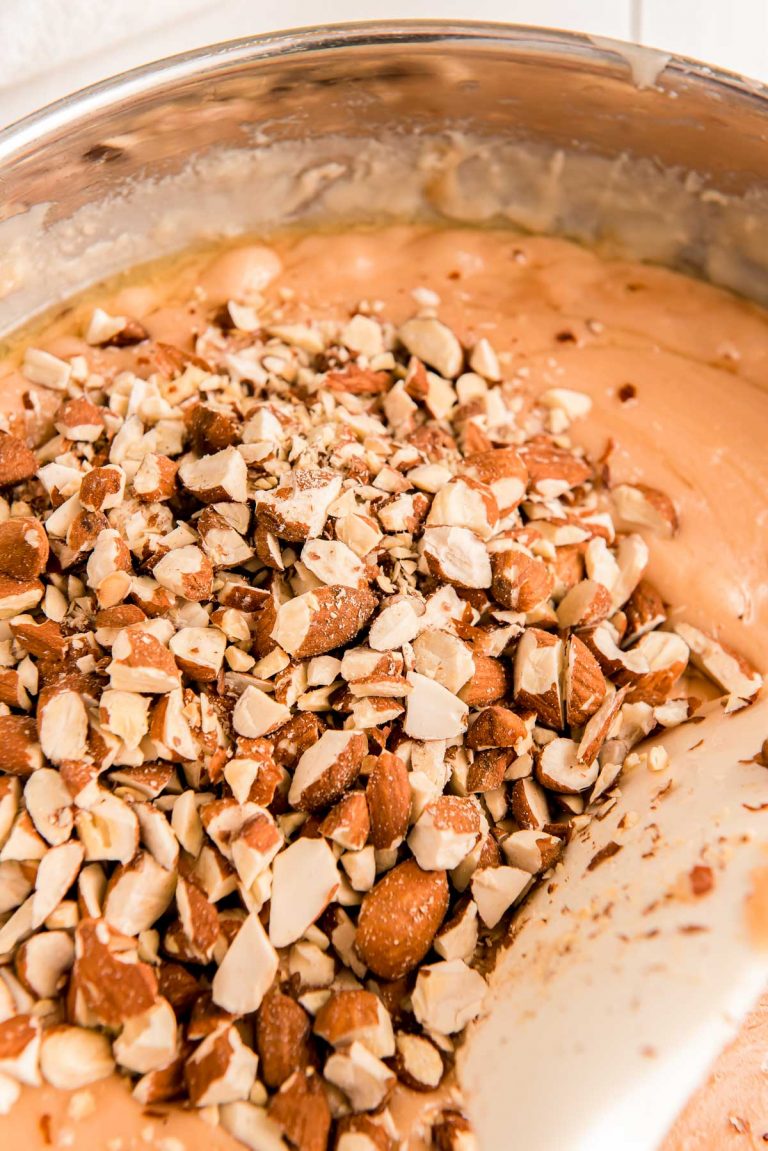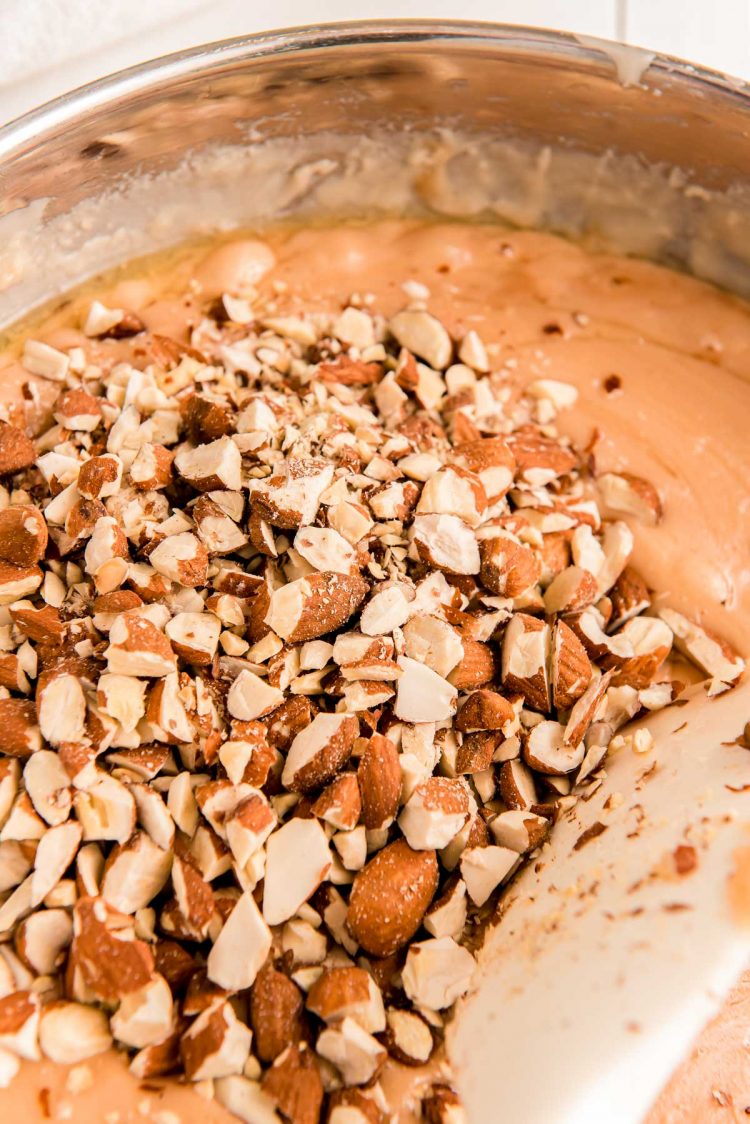 Remove the saucepan from heat and quickly stir in chopped almonds. Then quickly pour the toffee onto the prepared pan and spread it evenly out to ½ to ¼ inch thickness.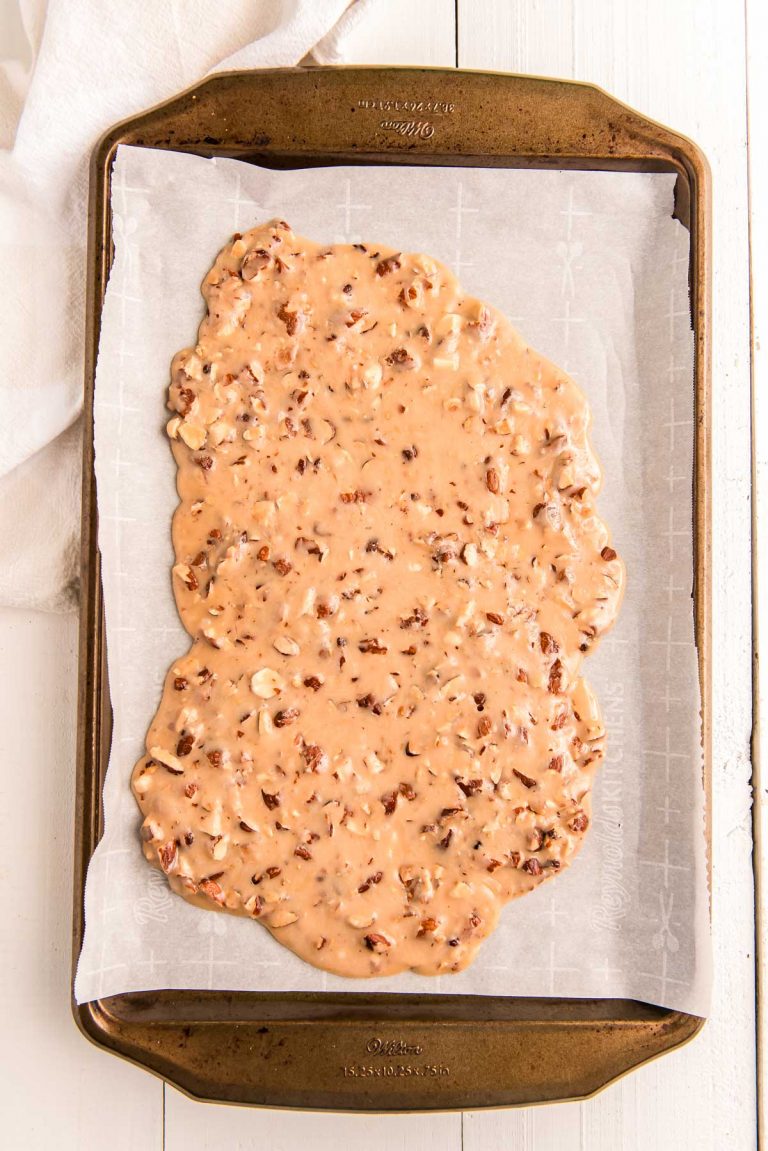 Let the homemade toffee sit for 2 minutes then sprinkle chocolate chips all over the top of the hot toffee and let them sit. Once they've softened, spread the chocolate all over the surface with a rubber spatula.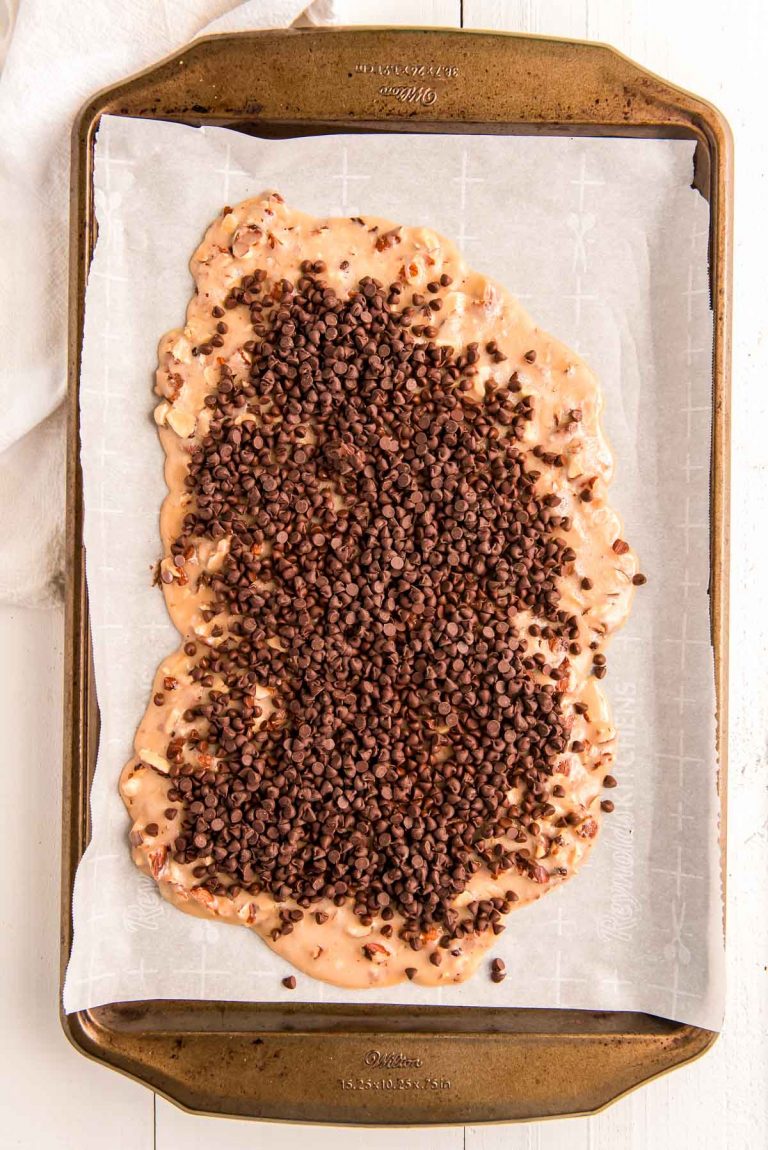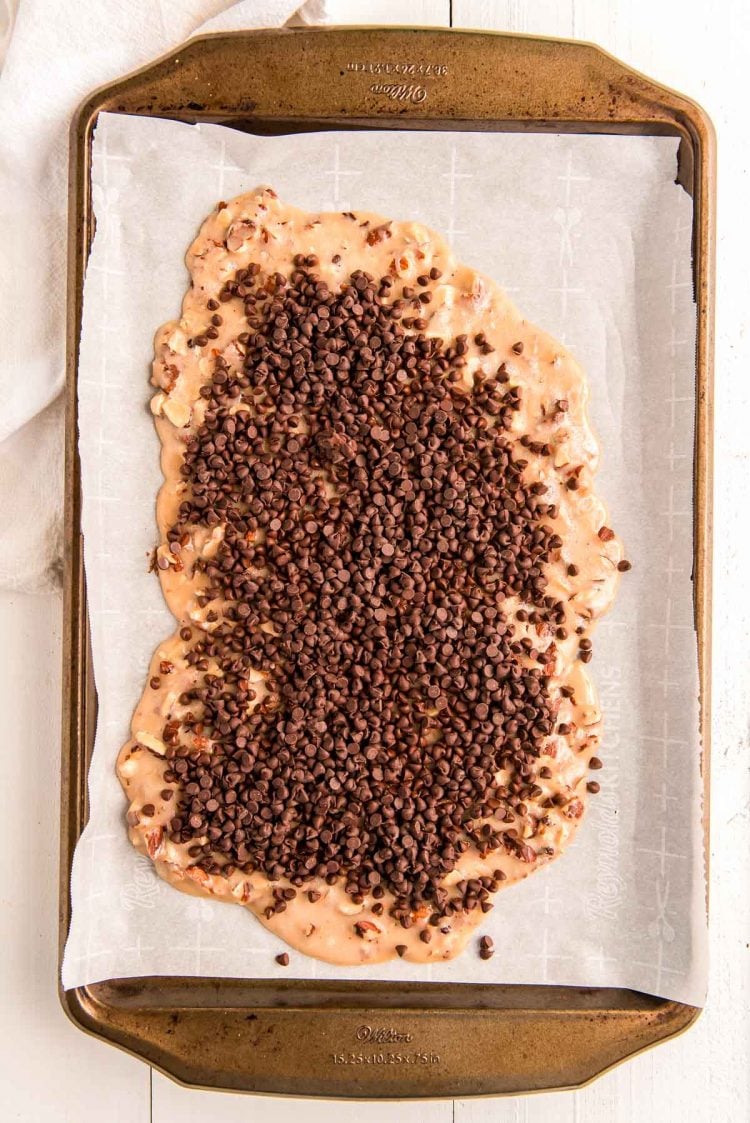 Finish the toffee off by sprinkling the pecan pieces and salt over the melted chocolate and let sit for 10 minutes. Toffee bits would also be a wonderful addition to the topping!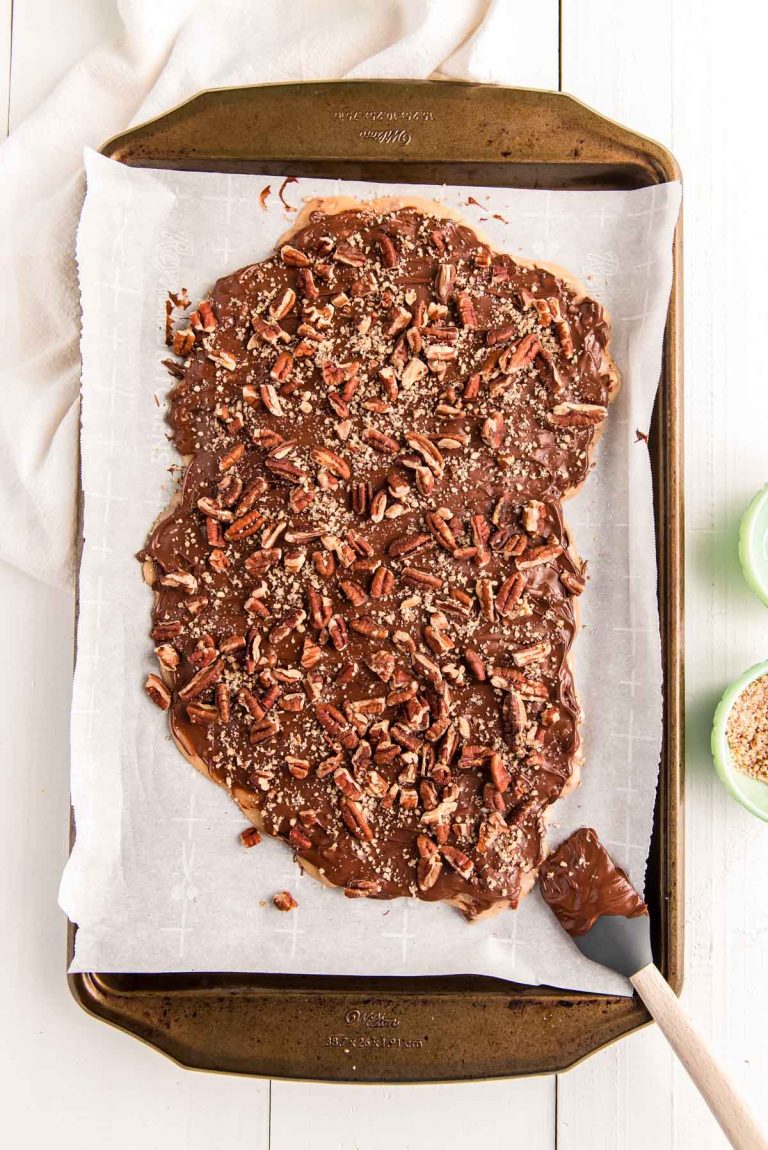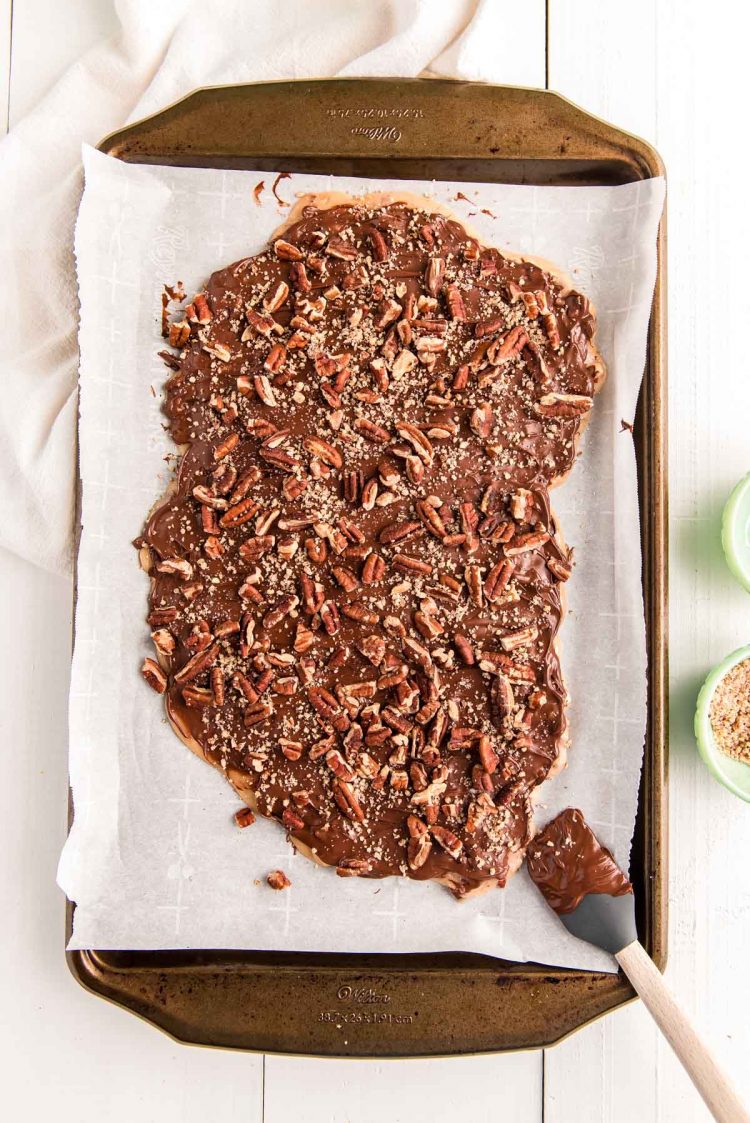 Chill in the refrigerator for about 1 hour until the chocolate has hardened, then break it into roughly 2-inch pieces. You can store this in the refrigerator for up to 1 month in an airtight container.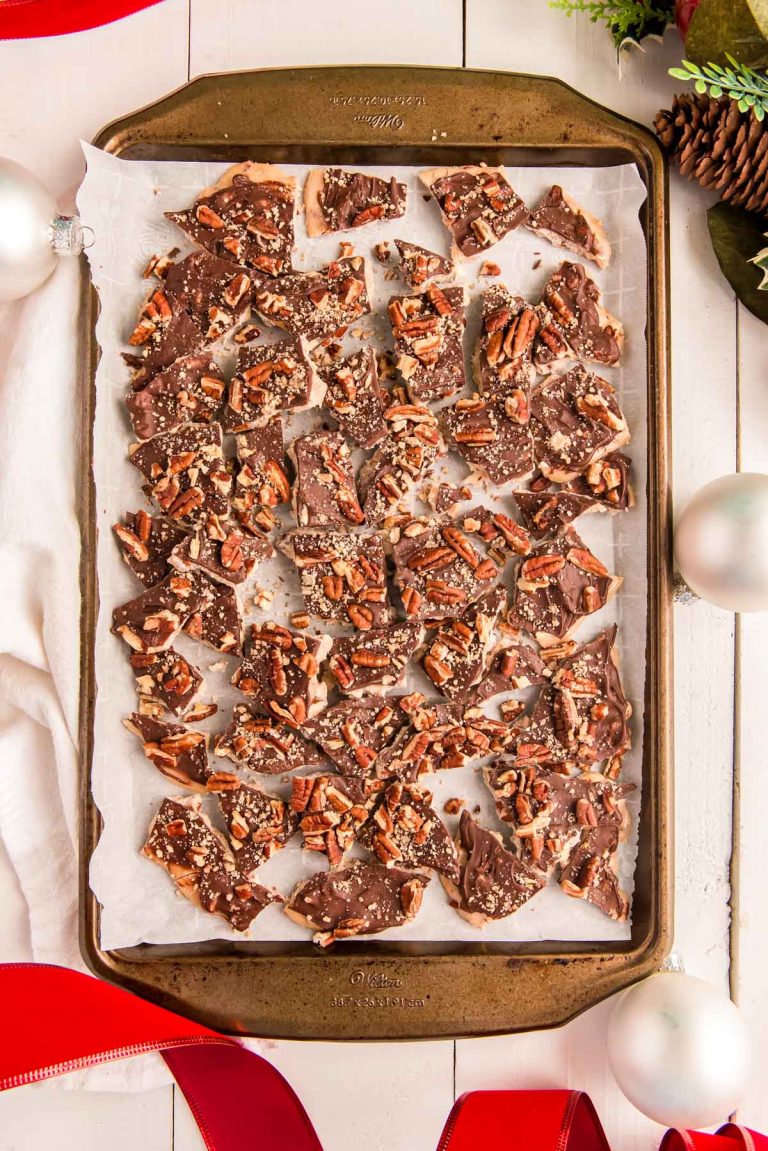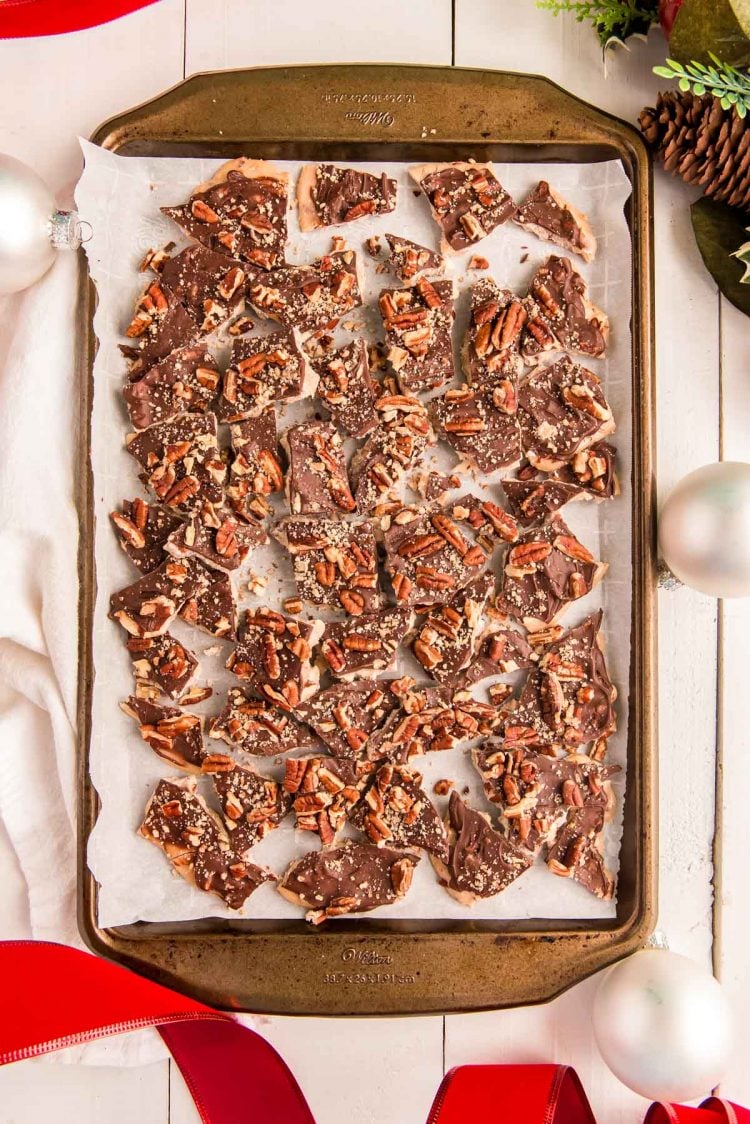 Toffee Frequently Asked Questions
Can I substitute semi-sweet chocolate chips for milk chocolate chips?
Yes, you can substitute the two. Semi-sweet gives a deeper chocolate flavor from the higher cocoa content so using milk chocolate may make them sweeter.
Are there different toffee flavors?
There are SO many flavors of toffee, peanut butter, coconut, cinnamon sugar, the list could go on!
Does the weather dictate toffee results?
Yes, it's best to make this candy when it's not raining, snowing, or humid. For best results make the candy on a clear dry day.
Can you freeze this toffee?
Yes! To freeze, place the toffee in a freezer bag and squeeze out any excess air. store in the freezer for up to 2 months.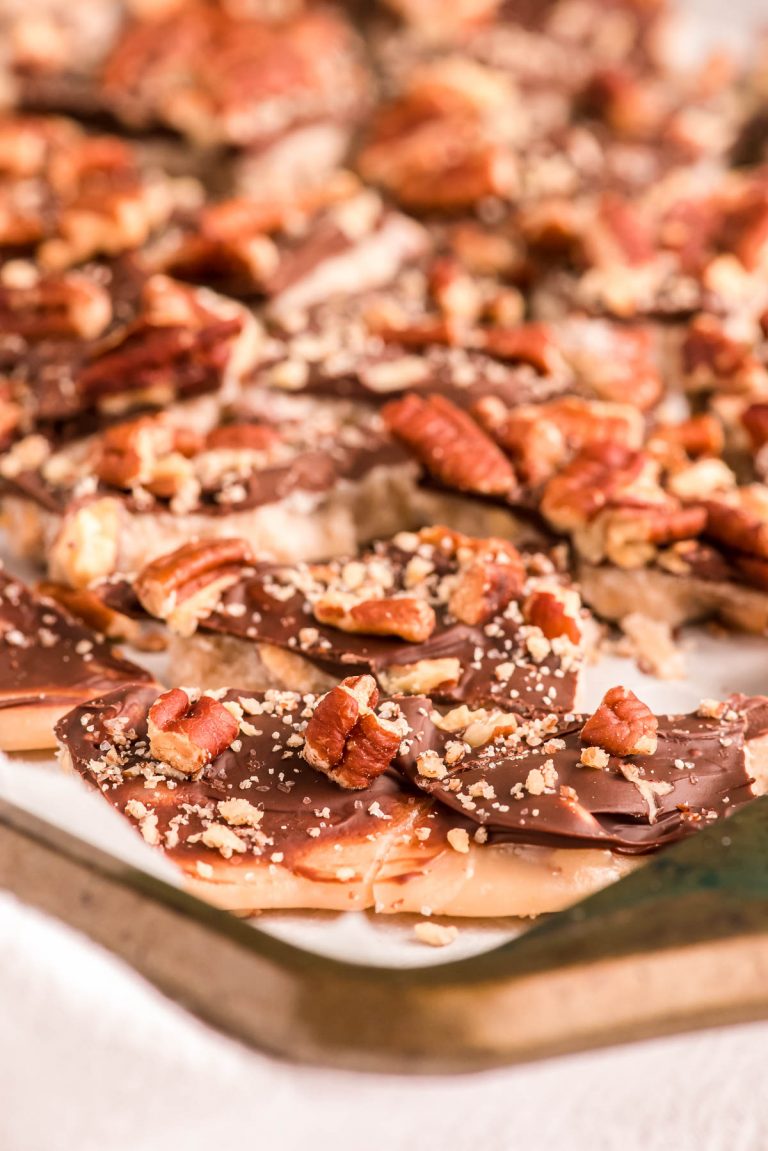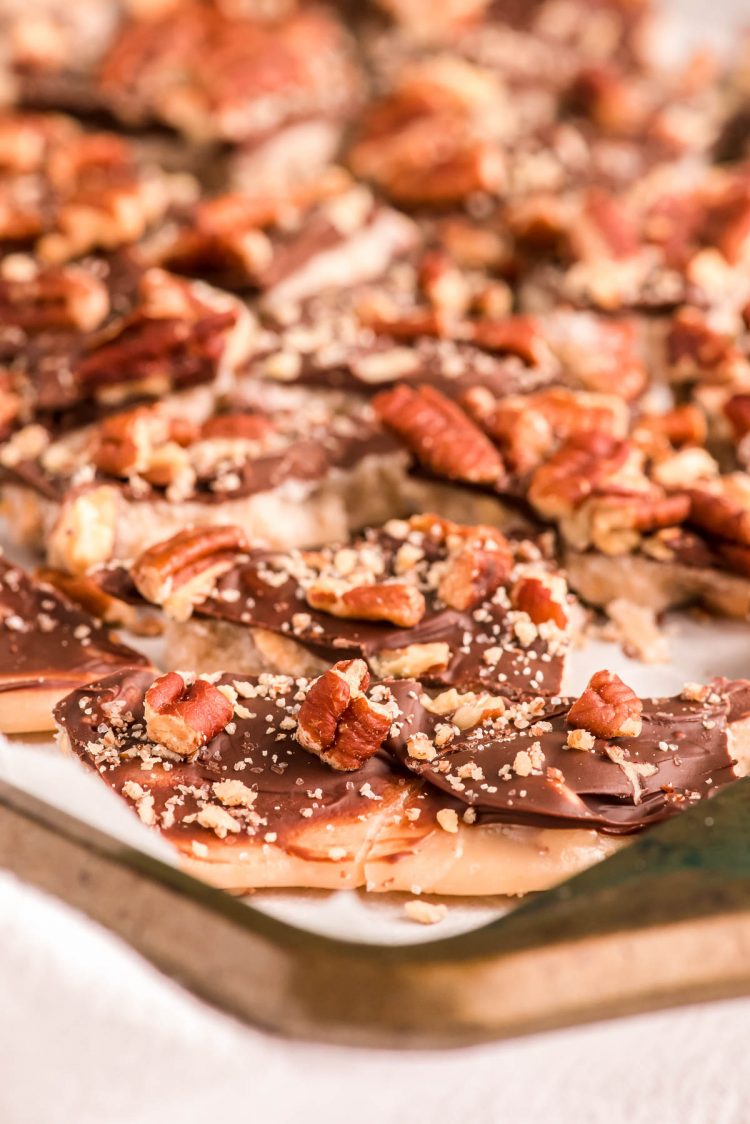 Now that you've taken a bite of this delicious English Toffee aren't you glad you made a few batches? Here are some more delicious recipes to try!
Try Another Tasty Recipe!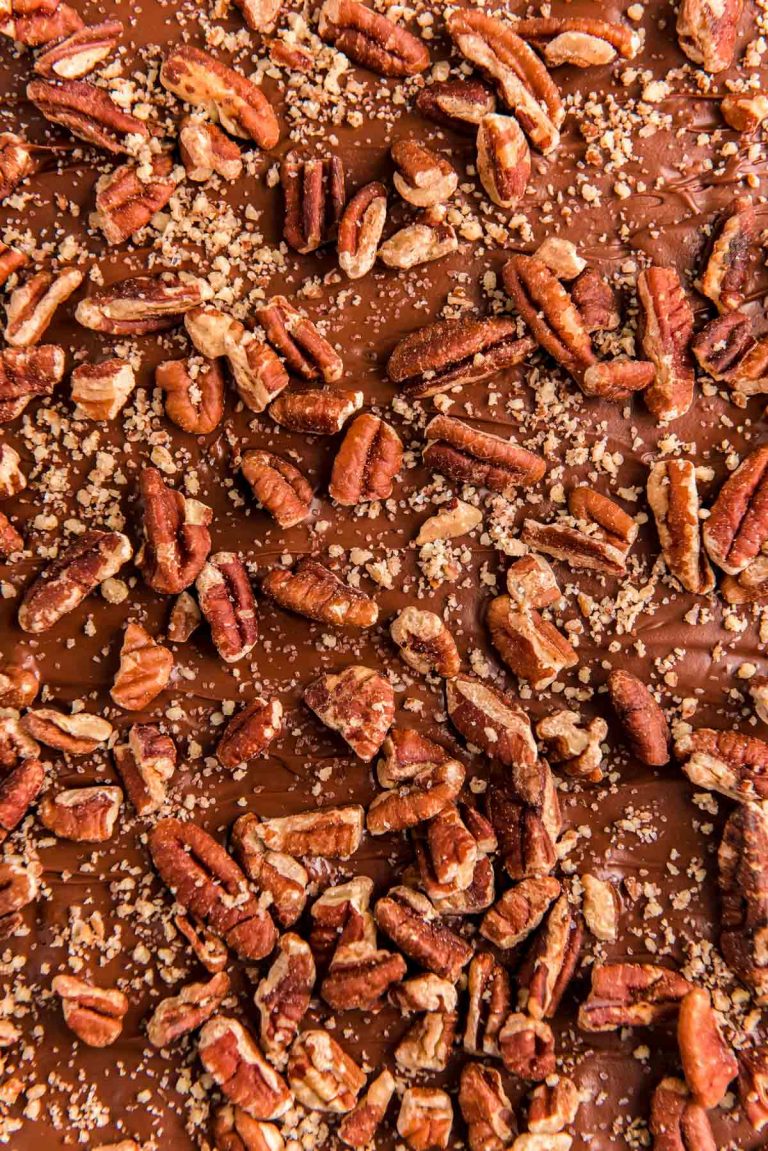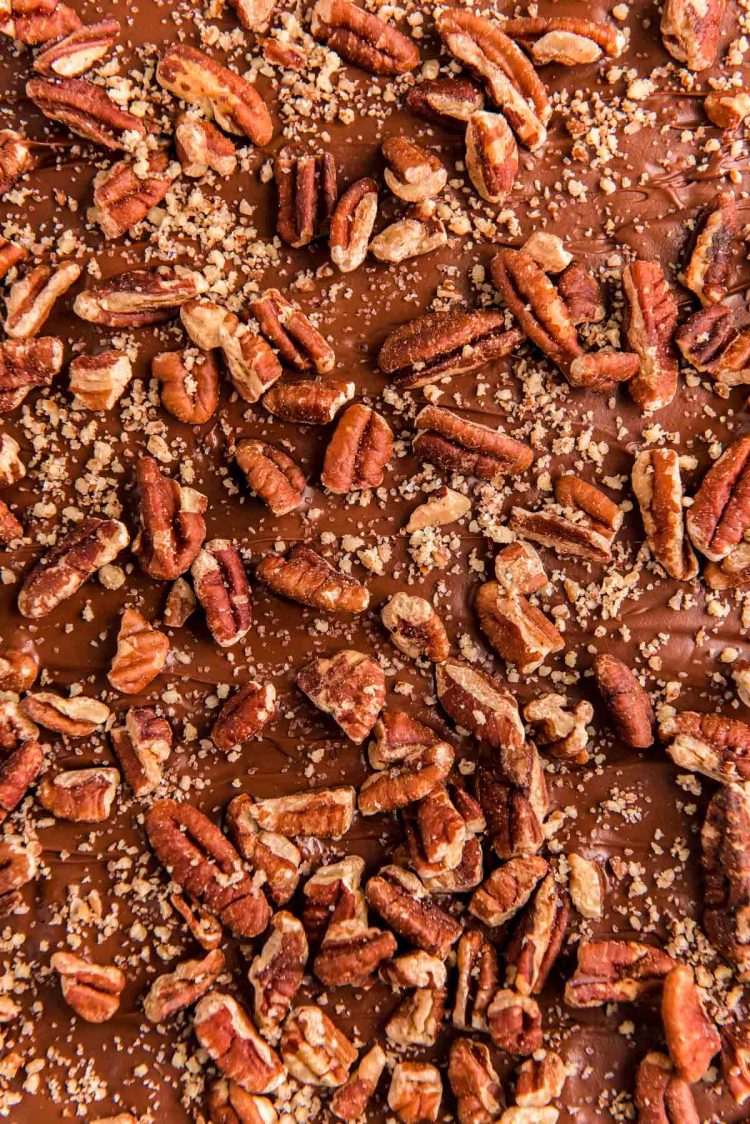 English Butter Toffee
Pin It For Later
Click the button above to save this delicious recipe to your board!
👋 Let's Connect!
If you've tried this recipe please let me know how you liked it in the comments below and leave a review, I love hearing from you! And don't forget to tag me – @sugarandsoulco – on Instagram and Pinterest with your photos!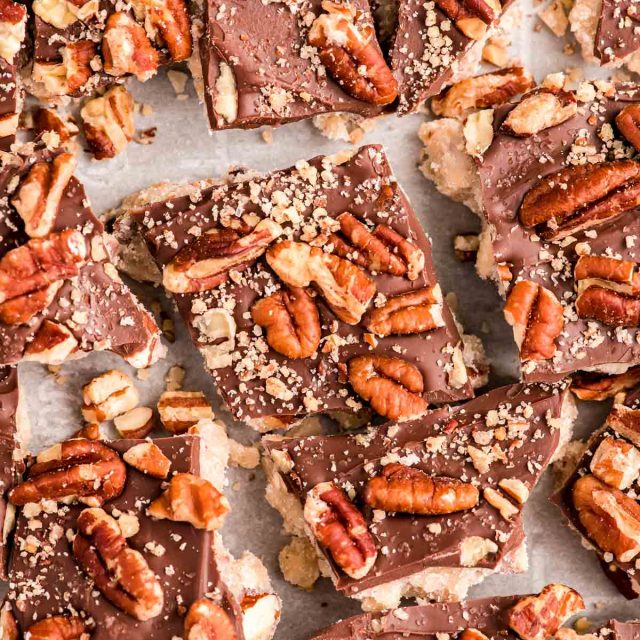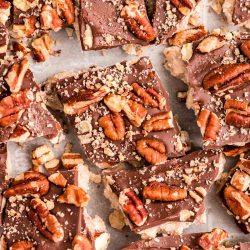 English Butter Toffee
Ingredients
1

cup

salted butter

diced

1

cup

granulated sugar

2

tablespoons

water

1

cup

chopped almonds

toasted

¾

cup

pecans pieces

toasted

¼

teaspoon

flaky sea salt

optional
Instructions
Line a large rimmed baking sheet with parchment paper and set aside. Measure and prepare all ingredients before you begin cooking, this is a very sensitive and hands-on recipe and you'll want everything ready to go because you will need to work quickly.

Toast the nuts separately but either baking at 350° on a parchment-lined baking sheet for 5 to 7 minutes OR in a skillet over medium heat for about 5 minutes.

In a large heavy-bottomed stainless or enameled saucepan over medium heat, combine butter, sugar, and water and cook, stirring constantly with a rubber spatula, until butter and sugar are melted and mixture begins to boil, about 5 minutes.

Reduce the heat to medium-low and continu°e to cook, stirring constantly and scraping the bottom of the pot, until mixture is golden brown in color and registers at least 305°F but not more than 310°F, 10 to 15 minutes.

Working quickly, remove the saucepan from heat and stir in 1 cup of roughly chopped almonds.

Transfer toffee to a rimmed baking sheet lined with parchment paper and spread into a thin, even layer about ⅛ to ¼-inch thick. Let the toffee sit for 2 minutes.

Sprinkle chocolate chips over the hot toffee and let sit until softened, about 2 minutes. Use a rubber spatula to spread the chocolate all over the surface of the toffee.

Sprinkle toffee evenly with the pecan pieces and salt (if using) and let sit for 10 minutes.

Transfer to refrigerator and chill until chocolate is hardened, about 1 hour.

Break toffee into roughly 2-inch pieces, transfer to an airtight container, and refrigerate for up to one month.
Notes
Do not use a non-stick pan for this recipe.
Do not make this on a day where it is raining, humid, or snowing. A clear dry day will give the best results.
It's important not to turn the heat too high, the mixture can easily burn, so slow and steady wins the race with this recipe.
I prefer to have a more powdery looking nut topping so I will run whole pecans through the food processor which usually gives me nice little pieces of nuts, plus the powdery nut meal.
You need to move extremely quickly once the mixture reaches temperature using a candy thermometer, and then need to immediately pour it. If not, it will thicken so fast and will not be able to be poured.
After the chocolate is spread over top, the nuts need to be tossed on top immediately or else they won't stay attached.
If the chocolate is not melting fast enough, or the person waited too long to put the chocolate chips on top, it can be melted by putting the oven at 200 degrees F and put the entire pan in for a few minutes (Just have to watch it to see when the chips start to look shiny/melted, then pull it out of the oven) and spread.