These Hot Chocolate Oreo Balls are a 3-ingredient irresistible truffle recipe that's then dressed up to look like a festive mug of hot chocolate! Makes almost 2 dozen no bake treats!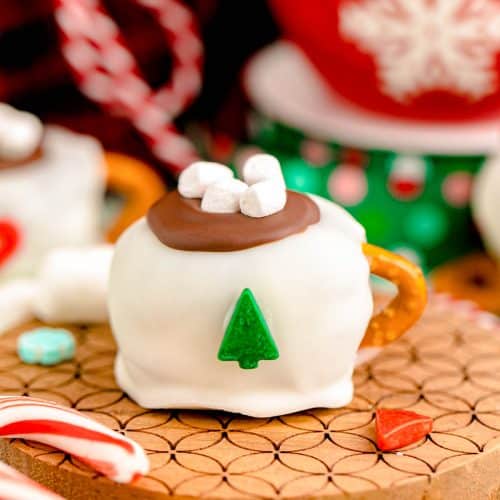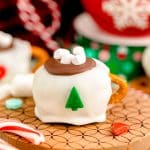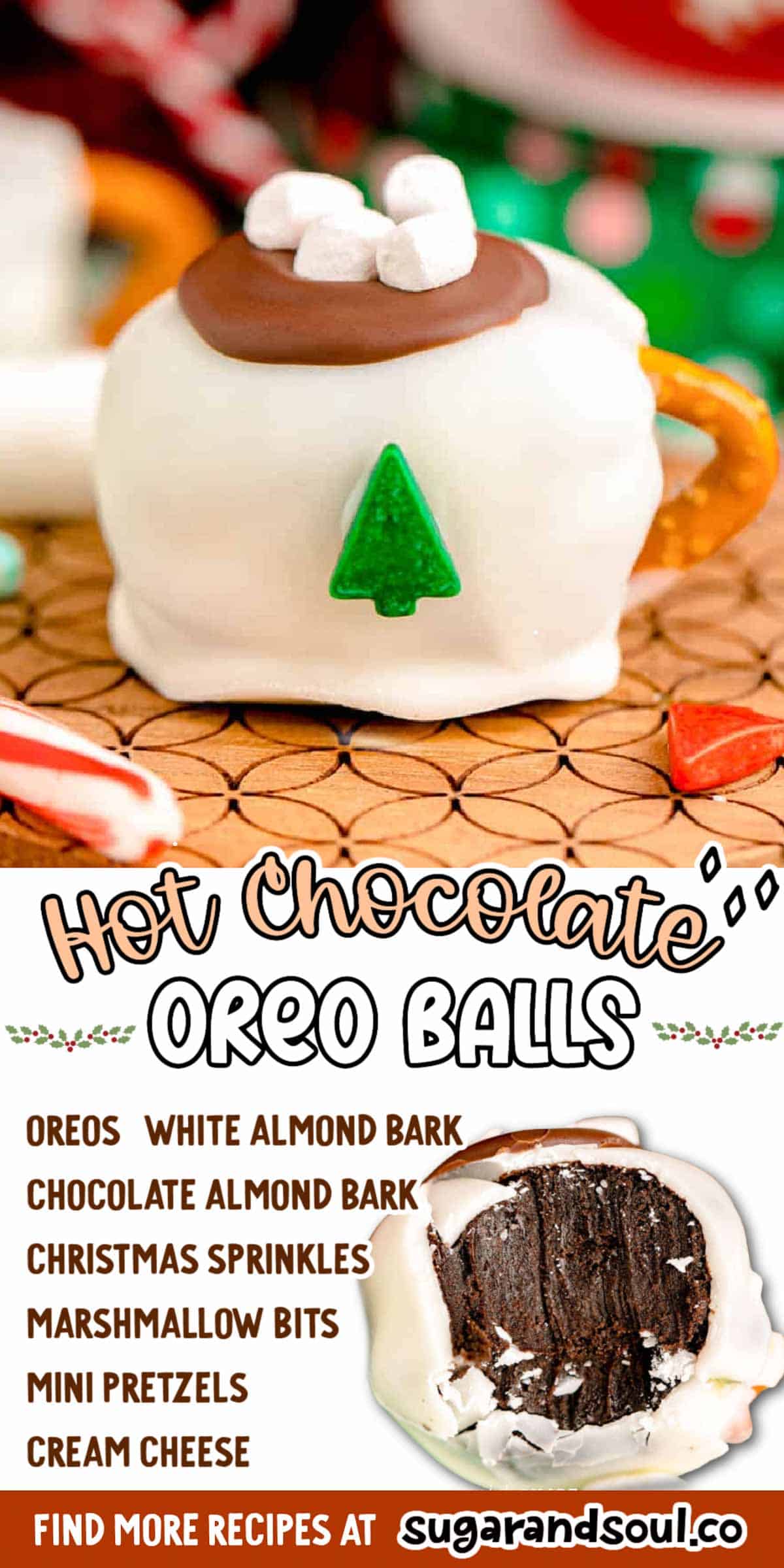 These Hot Chocolate Oreo Balls are a 3-ingredient irresistible truffle recipe that's then dressed up to look like a festive mug of hot chocolate! Makes almost 2 dozen no bake treats!
Get crafty making another festive Oreo dessert such as these Easy Oreo Snowman Cookies or Festive Christmas Oreo Balls!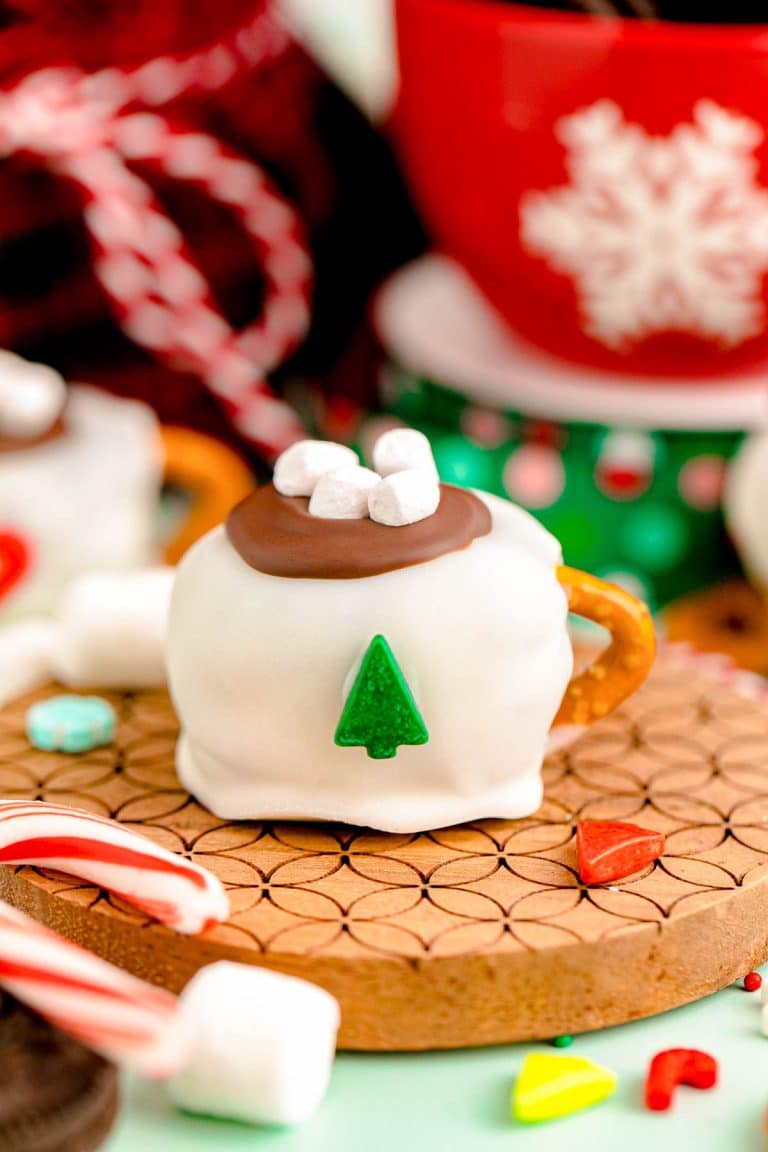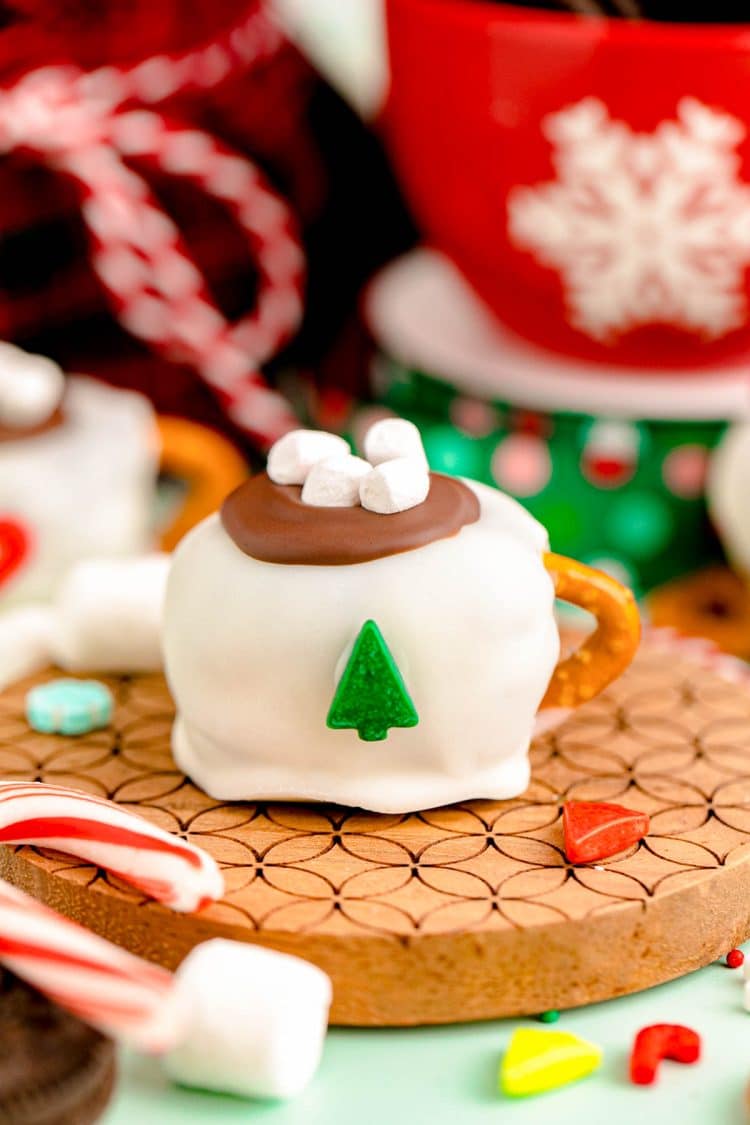 These Hot Chocolate Mug Oreo Balls are a fun way to serve up a dessert that everyone will love! With minimal ingredients, zero baking, and quick cleanup, you'll even love to make them!
This Oreo Ball Recipe no bake treat is one that the whole family can even be involved with! Just set out a variety of sprinkles and decorations so everyone can decorate their own Hot Cocoa Mug Truffle!
Enjoying These Hot Chocolate Oreo Balls
Taste: Crushed Oreos with chocolaty vanilla flavoring combine with tangy softened cream cheese to make decadent Oreo cookie balls! They're then dipped in sweet vanilla almond bark and dressed up like mugs using salty pretzels, more chocolate, and dehydrated mini marshmallows!
Texture: When biting into these Oreo balls with cream cheese, you are met with a crisp chocolate shell! The shell then melts away into a creamy, moist filling that combines with the crunchy mug decorations!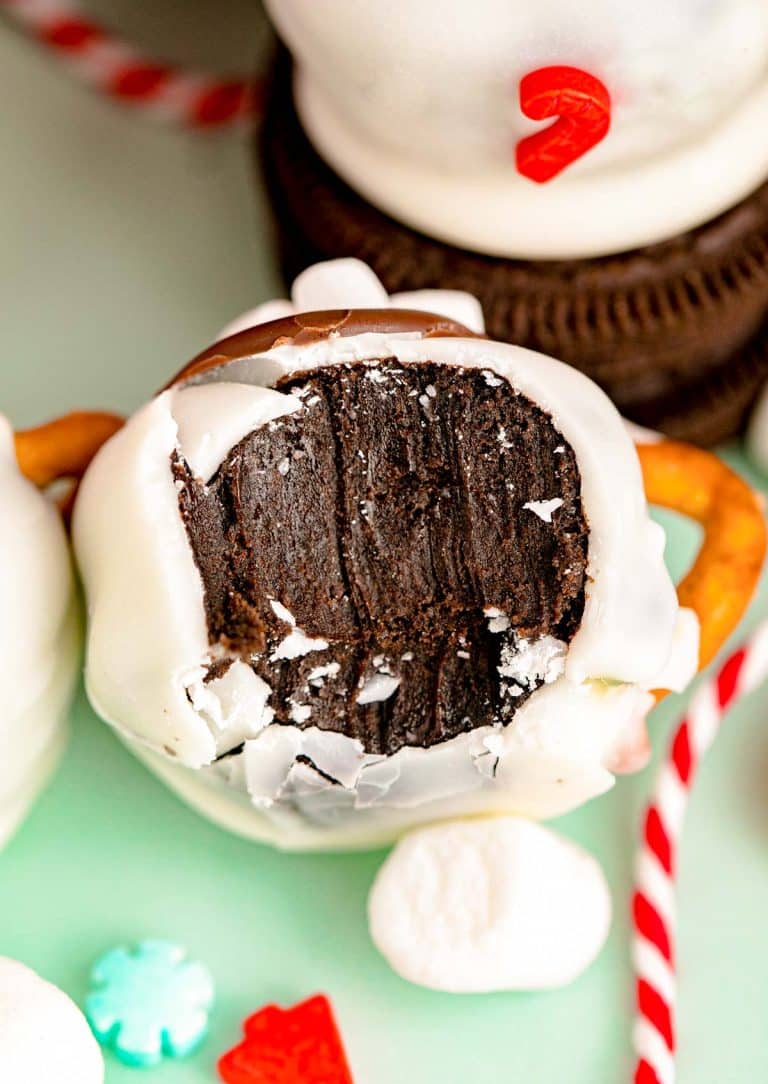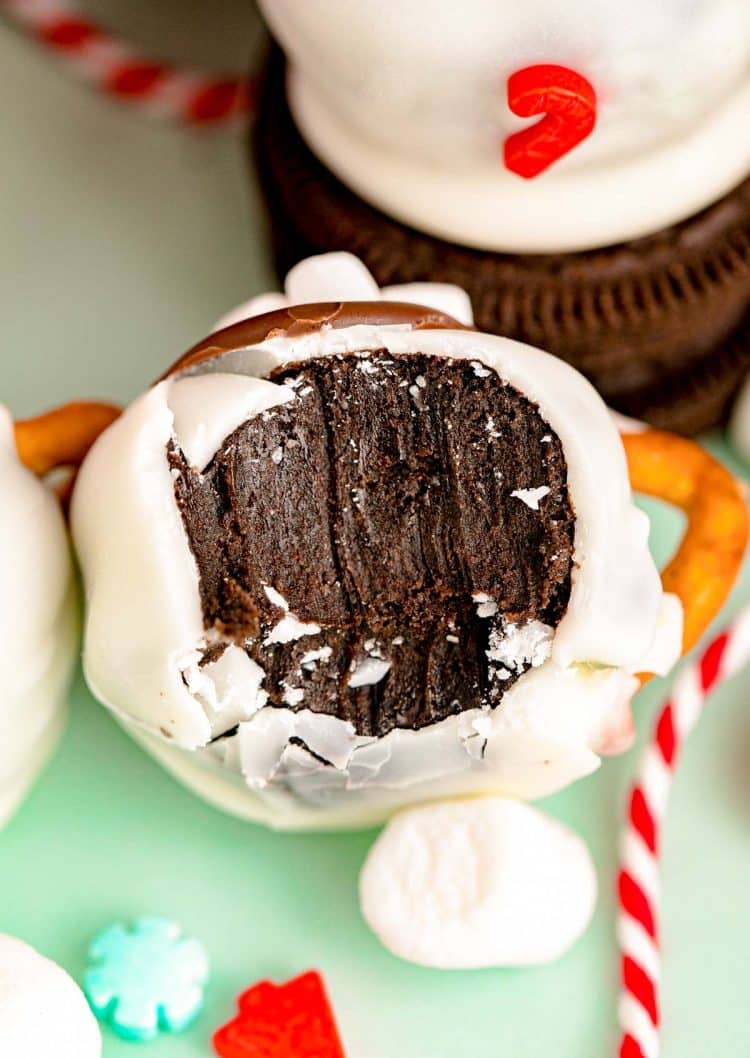 The holiday season is great for making treats like these Hot Cocoa Mug Oreo Balls that not only taste good but are fun too! Another fun truffle recipe is these Easy Oreo Ball Ornaments that are made with similar ingredients!
For more fun treats made with Oreos, check out these Christmas Oreo Snow Globe Cookies and Cute and Easy Oreo Penguin Cookies!
Helpful Tips When Making These Hot Cocoa Oreo Mug Truffles
Food Processor – The easiest and quickest way to make the filling is to use a food processor. This method creates a smooth filling with little effort on your part. However, you can still make this recipe without a food processor. Just place the Oreos in a Ziploc bag, squeeze the excess air out of the bag, and then seal it. Afterward, use a rolling pin to roll over the cookies to create fine crumbs. Then add the crushed Oreos into a bowl with the softened cream cheese to mix with an electric mixer.
Shaping The Mugs – For uniform-looking mugs, use a 1-inch cookie scoop to scoop out half spheres of the filling mixture. If needed, use the back of a butter knife to scrape over the top of the scoop to level the filling off. This flat top of the Oreo ball will be the top of the mug that holds the decorations.
Chill The Oreo Balls – Once the filling has been portioned out into the shape of domes, pop them in the freezer. This will chill them to firm them up to make for an easier dipping and assembly process! Be careful not to keep them in the freezer for more than 15 minutes, or they'll get too cold. When they're too cold, it creates a larger temperature difference between them and the warm melted almond bark. This temperature difference could cause the chocolate coating to crack once it's hardened. Leaving you with broken mugs!
Melting The Bark – For a more even melt, chop up the almond bark. Then you can either melt it in the microwave according to the instructions on the package or by using the double boiler method.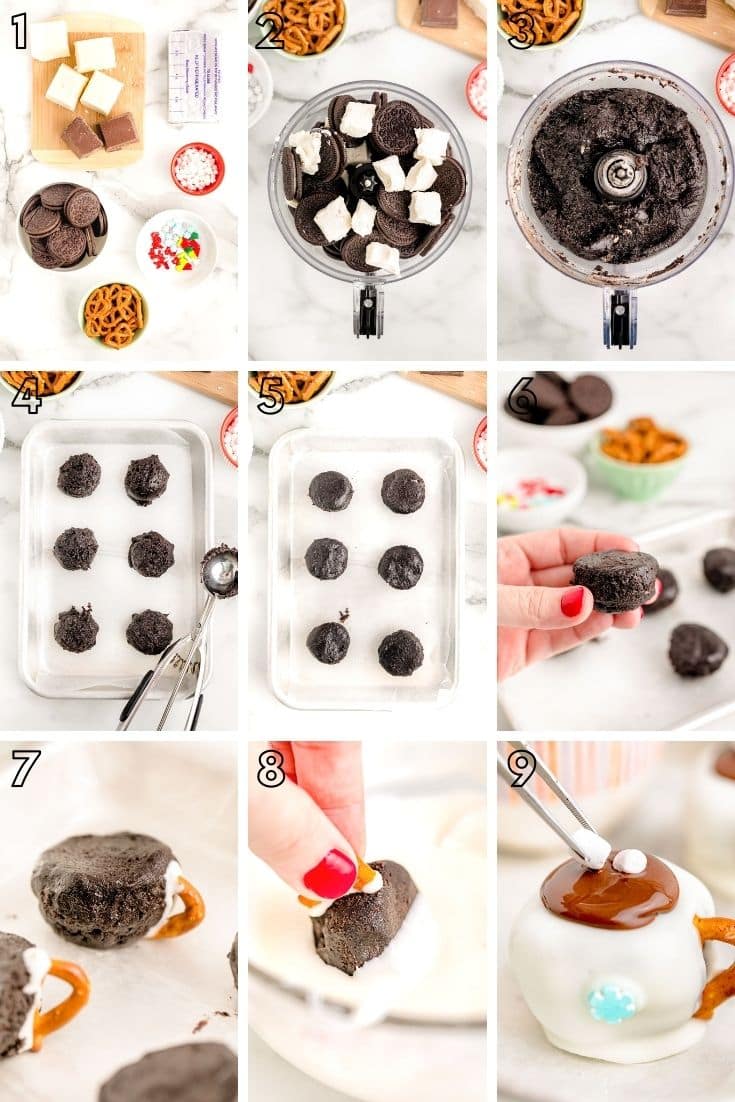 Substitutions & Variations For This Oreo Truffles Recipe
Chocolate Chips – If needed, you can use melted chocolate chips for dipping instead of almond bark. To create the perfect smooth chocolate finish, I'd recommend adding coconut oil or vegetable to the chocolate chips.
Flavored Truffles – You can make these Hot Cocoa Mug Oreo Balls in a variety of flavors! Try making them with the filling from my Peppermint Oreo Balls Recipe or Oreo Peanut Butter Balls!
Make Colored Mugs – To make colored hot cocoa mugs use colored candy melts! Or use gel food coloring to dye the white almond bark red or green!
How Do I Store These Hot Chocolate Oreo Balls?
Place the Oreo Balls in an airtight container, storing them only in one single layer so that the decorations don't get messed up. Then place them in the refrigerator to enjoy for up to 2 weeks.
Can This Truffle Recipe Be Made With Reduced Fat Or Fat Free Cream Cheese?
Full-fat cream cheese has the richest flavor, so using reduced-fat or fat-free may alter the final taste. I've never tested this recipe with anything other than full-fat cream cheese however, using reduced-fat or fat-free should work just fine.
Where Do I Find Dehydrated Marshmallow Bits?
Typically, these can be found in the aisle with the hot chocolate mix and coffee of most grocery stores. However, they're a hot item this time of year, so it can be tricky to find them in stores. I usually buy them online at Target.
Once you have them, you can make other fun recipes with them, such as Christmas Chex Mix, Hot Chocolate Bombs, and Golden Grahams S'mores Bars!
Can I Just Use Mini Marshmallows On Top Of The Mugs Instead Of Marshmallow Bits?
Unfortunately, mini marshmallows will not work since they're too big. The bits are almost the size of sprinkles, so they fit much better on top of the Oreo mugs! However, you can use white ball sprinkles.
What Is Almond Bark?
Almond bark is vanilla-flavored candy coating. Though the name of it is almond, it's actually not even made with almonds or nuts of any kind.
This popular candy coating is used to coat treats like these truffles, Easy Chocolate Crockpot Candy, nuts, and other confections.
If you've never purchased Almond Bark before, you'll find it in the baking aisle of your grocery store.
How Can I Make These Oreo Balls Dairy-Free?
Since the Oreos and Almond bark are both dairy-free already, you'll just need to find a dairy-free cream cheese substitute.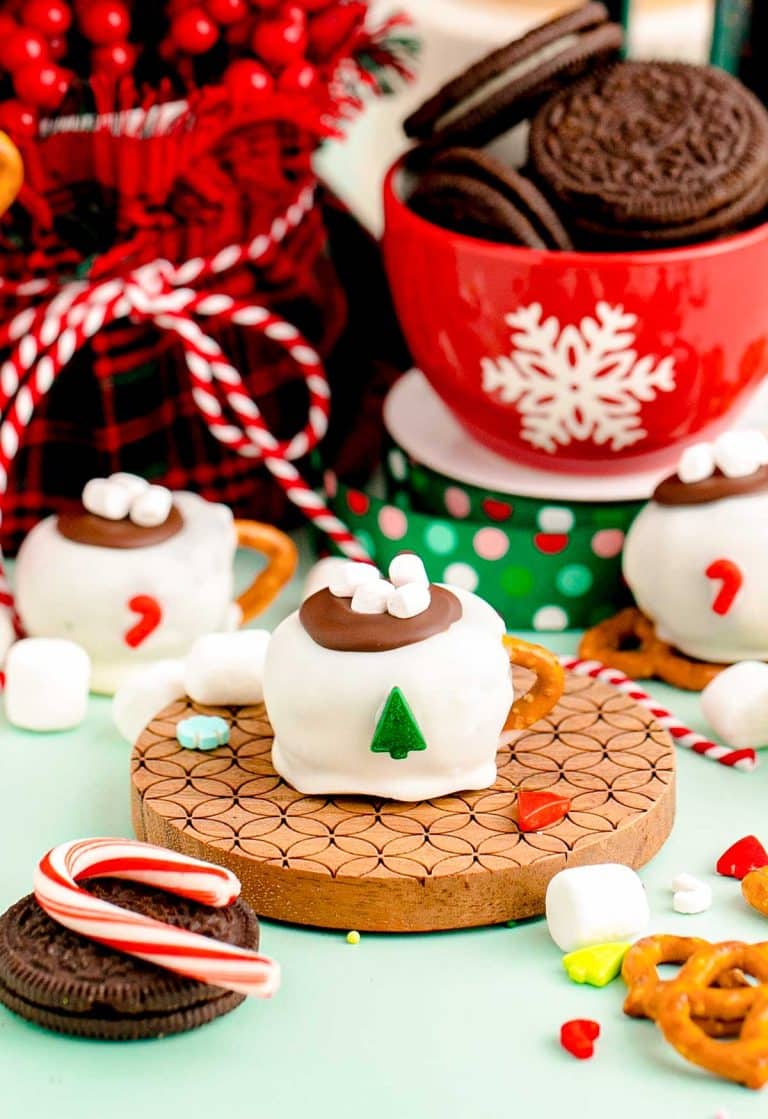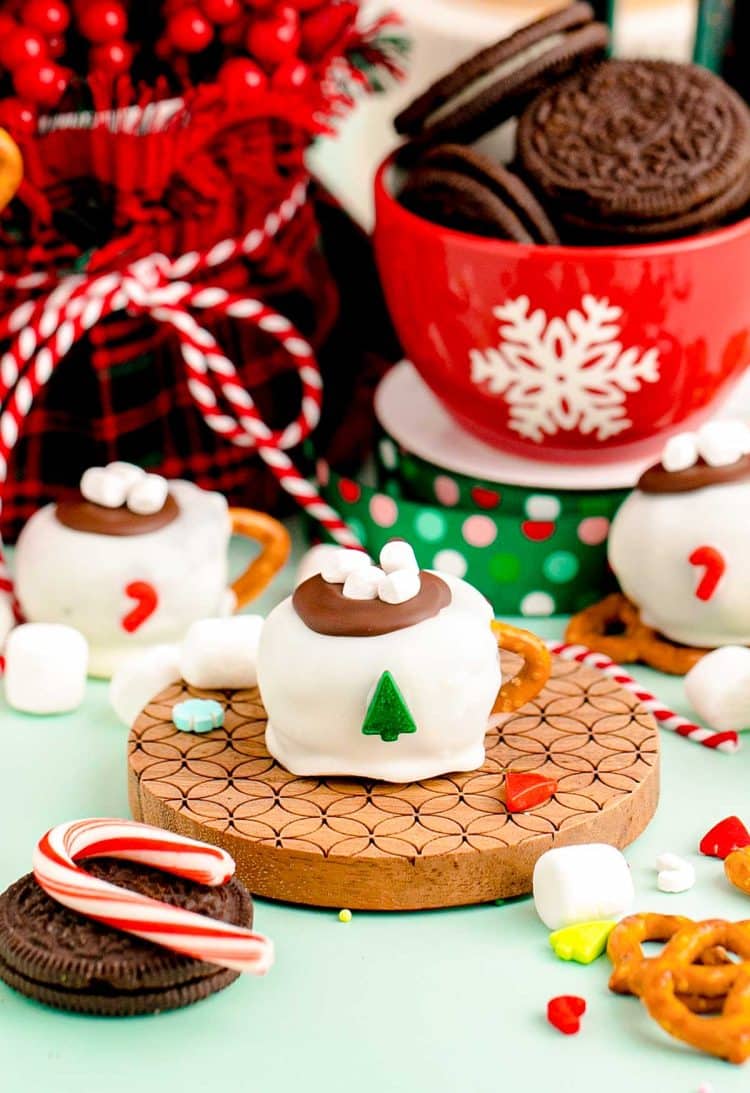 👋 Let's Connect!
If you've tried this recipe, please let me know how you liked it in the comments below and leave a review; I love hearing from you! And don't forget to tag me – @sugarandsoulco – on Instagram and Pinterest with your photos or join our Sugar & Soul Show-offs Community and share them there, where you can join our recipe challenges and win prizes!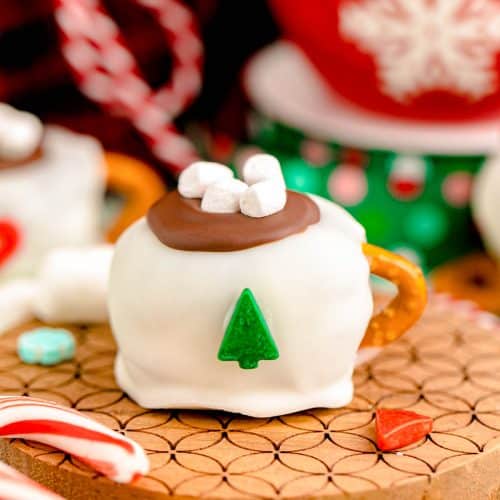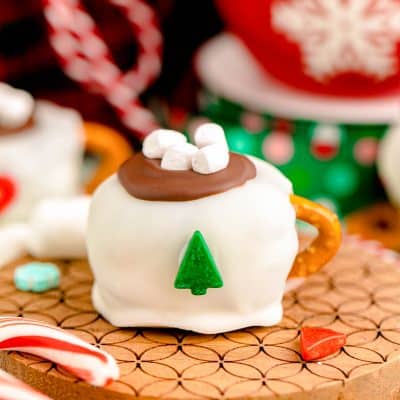 Hot Cocoa Mugs Oreo Balls
These Hot Chocolate Oreo Balls are a 3-ingredient irresistible truffle recipe that's then dressed up to look like a festive mug of hot chocolate! Makes almost 2 dozen no bake treats!
Ingredients
1 (14.3oz.) package Oreos about 35 Oreos
8 ounces cream cheese softened and cut into cubes
12 ounces white almond bark
6 ounces chocolate almond bark
20 mini pretzels break each one to make a handle shape
¼ cup marshmallow bits
Christmas Sprinkles
Instructions
Add half of the Oreos to a food processor, layer on half of the softened cream cheese cubes, add the rest of the Oreos and cream cheese then pulse together on high until combined and smooth. (This may take a while because the ingredients are thick. Be sure to stop the processing every so often to scrape down the sides if needed).

Line a baking sheet with wax paper and use a 1-inch cookie scoop to scoop out uniform half spheres of Oreo ball mixture. Place each scoop on the lined baking sheet, dome side facing up, then place in the freezer for 15 minutes to firm up.

When there is about 5 minutes remaining of chill time, heat the white chocolate and chocolate in microwavable safe bowls according to the package instructions. (Usually 1 minute on full power, stir and continue in 30 second intervals until melted). Set these on your workstation when melted and take the chilled Oreo balls out of the freezer

Pick up an Oreo ball dome, one at a time. Smooth out the outside layers with your hands and turn the flat side up towards the ceiling. The Oreo ball should now resemble a teacup.

One by one, dip the tips of the pretzel handle in white almond bark and place them into the sides of the cup to make an entire mug. Place each back on the baking sheet and repeat the process with all Oreo balls.

Place the baking sheet back in the freezer for 15 minutes so the handle hardens within the Oreo truffle ball.

Check your chocolates to make sure they are still warm and spreadable. Heat them both for 30 seconds more if needed while the hot cocoa mugs are chilling.

Finally, dip each of the hot cocoa Oreo mugs into white chocolate covering completely and set them on the baking tray adding sprinkles immediately as you work before the chocolate hardens.

Then lightly dollop chocolate to the tops of each mug once the white chocolate has set and add your tiny marshmallow bits to the top to finish the look.

Place back in the refrigerator for at least 1 hour to allow the Oreo balls to completely set up.
Notes
*Make sure you buy MARSHMALLOW BITS, not mini marshmallows…the bits are almost the size of sprinkles and fit much better on the top of the Oreo balls. *I recommend storing these in the refrigerator and taking them out 30 minutes to 1 hour before serving. Personally, I think they are easier to eat when the chocolate has softened a bit, but they hold up better when they are cold. They will keep for up to 2 weeks in an airtight container in the refrigerator. I recommend storing them in one flat layer so as not to mess up the decorations.