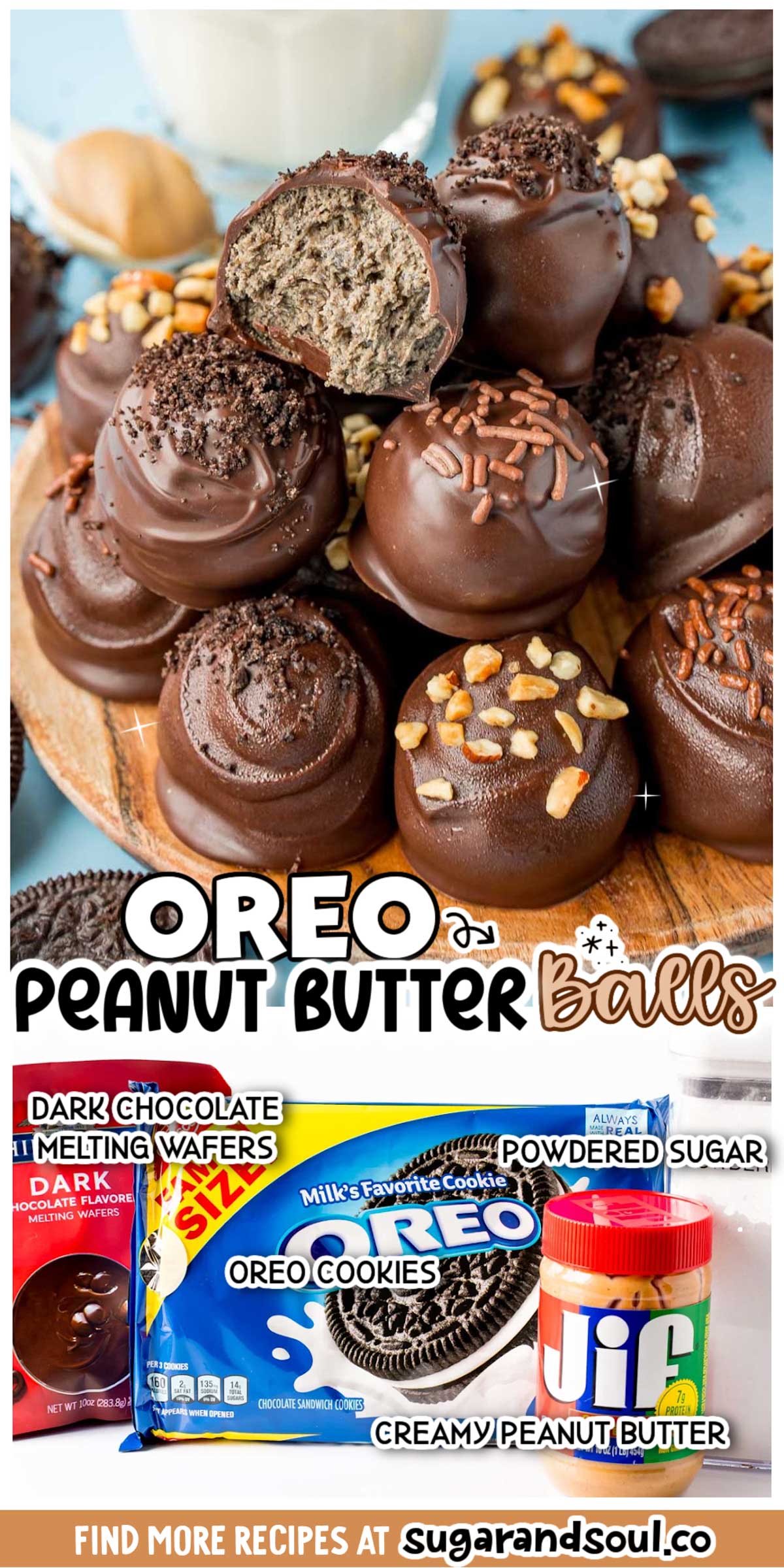 Oreo Peanut Butter Balls have an easy 3-ingredient filling that's formed into fun bite sizes before being dipped into melted dark chocolate! Prep a batch in only 30 minutes!
For a minty twist on Oreo Balls check out my Easy Peppermint Oreo Balls Recipe! These also take just 30 minutes of hands-on prep time!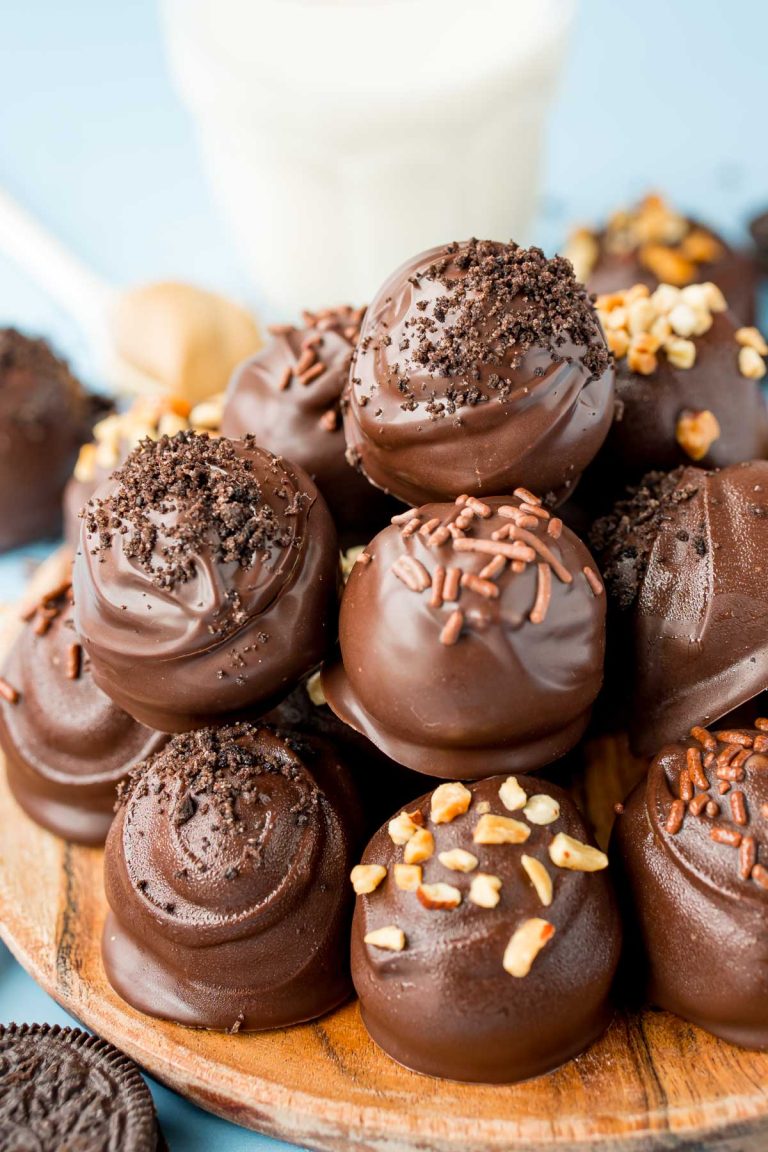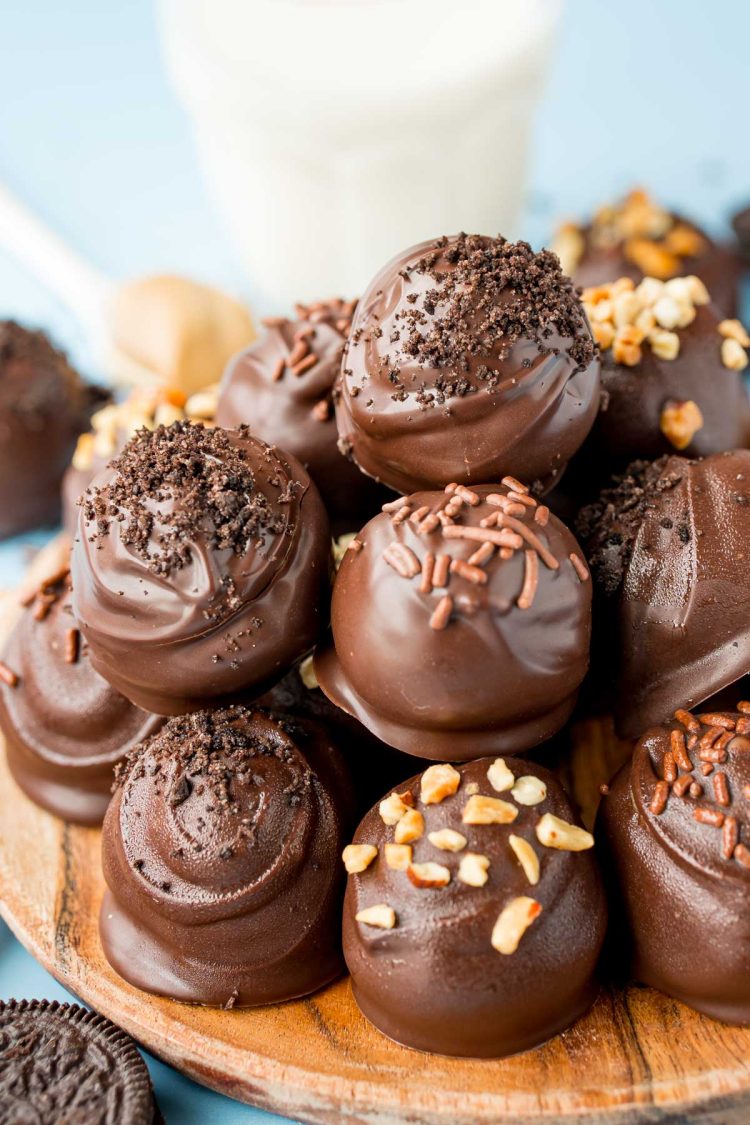 These Oreo Peanut Butter Balls have an easy-to-make filling that's coated in melted chocolate! The Truffles are then topped with crushed peanuts, sprinkles, or Oreo crumbs!
Pop one into your mouth to meet your new favorite hand-held dessert that you'll want to make over and over again!
Biting Into An Oreo Peanut Butter Ball
Taste: Each bite-sized dessert truffle meets you with the perfect flavor balance of sweet with a slight hint of salty. You'll love the taste of sweetened creamy peanut butter that combines with the Oreo crumbs to form the filling!
Texture: The filling gives you both creamy and crunchy thanks to the peanut butter filling that's studded with bits of Oreo crumbs. The delicious truffle mixture is then dipped in melted dark chocolate creating an outer chocolate shell!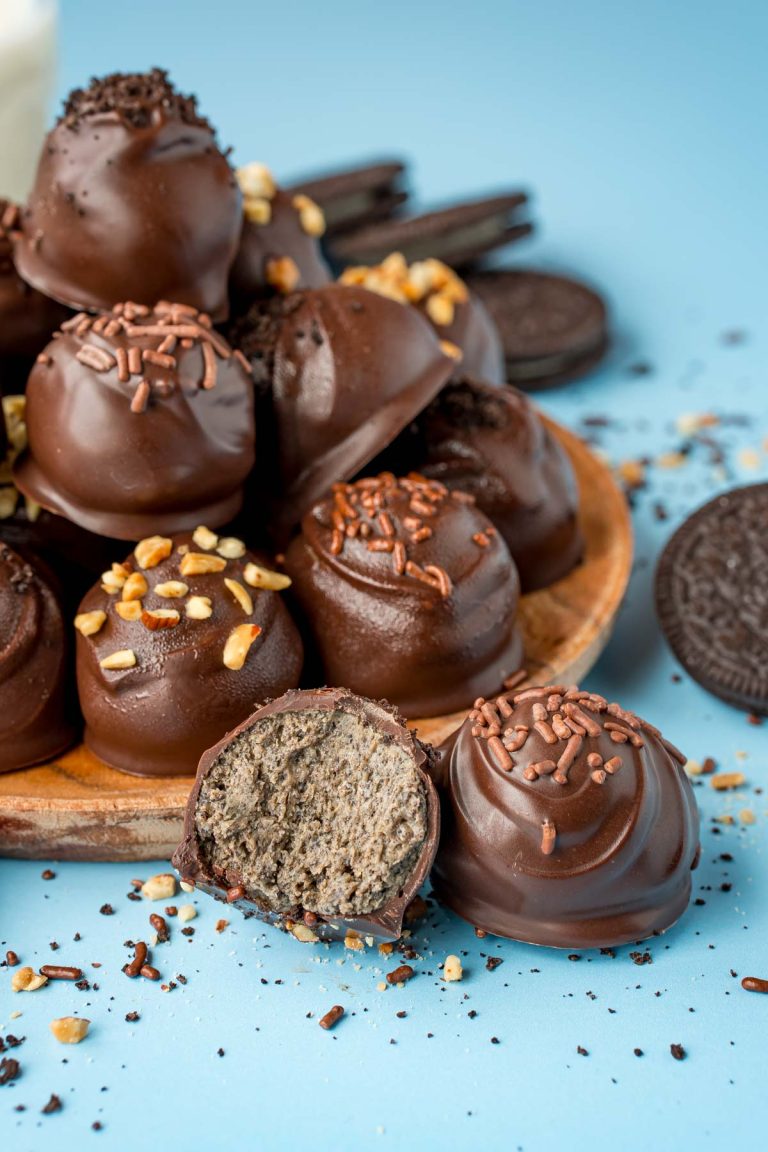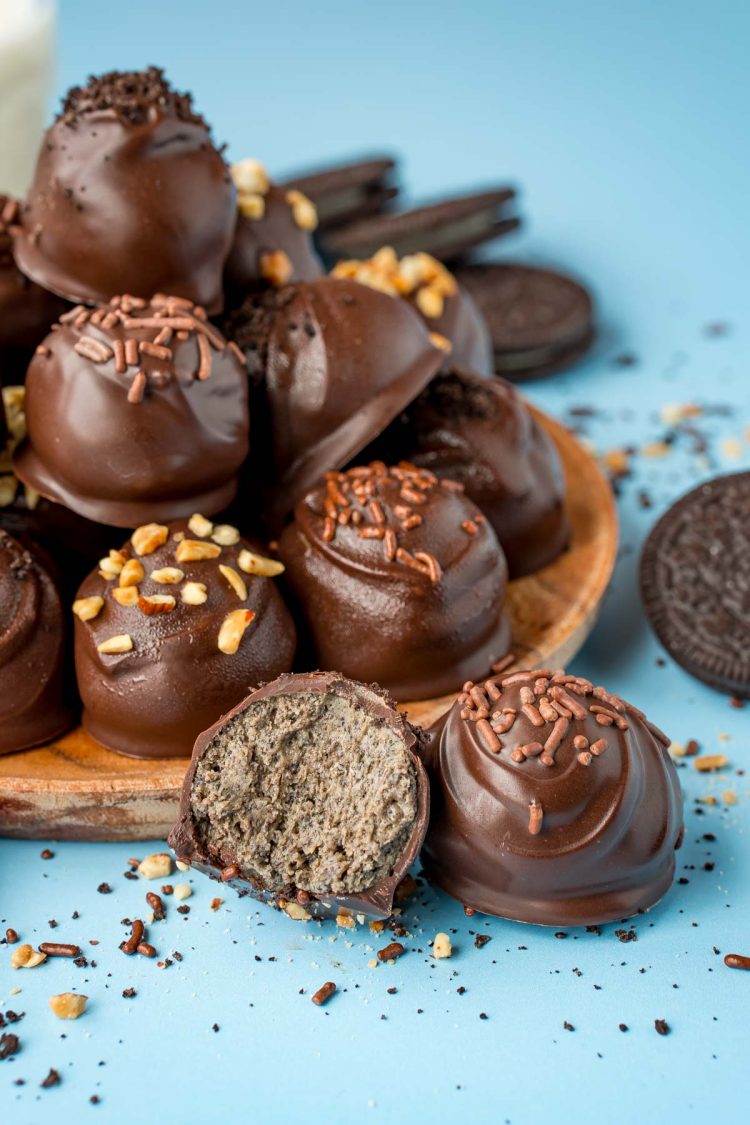 When To Enjoy These Tasty Bite-Sized Dessert Balls
Holidays! Truffles are a popular dessert to share around Christmas time! I've even been known to start my holiday baking early to be able to bring a batch to Thanksgiving!
Gifting! Toss a few Peanut Butter Oreo Balls into cellophane bags and tie them off with a pretty ribbon. Then pass them out to friends, family, and co-workers for an edible gift that everyone will beg for!
Potluck! This recipe yields just over three dozen bite-sized treats! Making them a great option for bringing to potlucks to feed a crowd!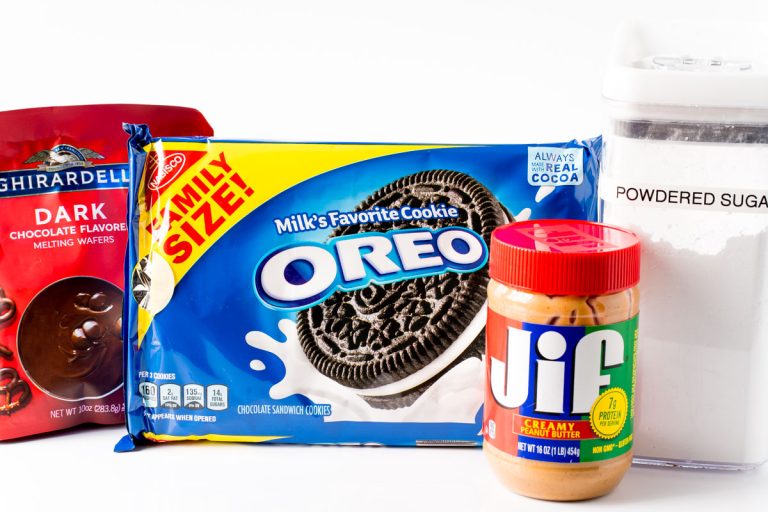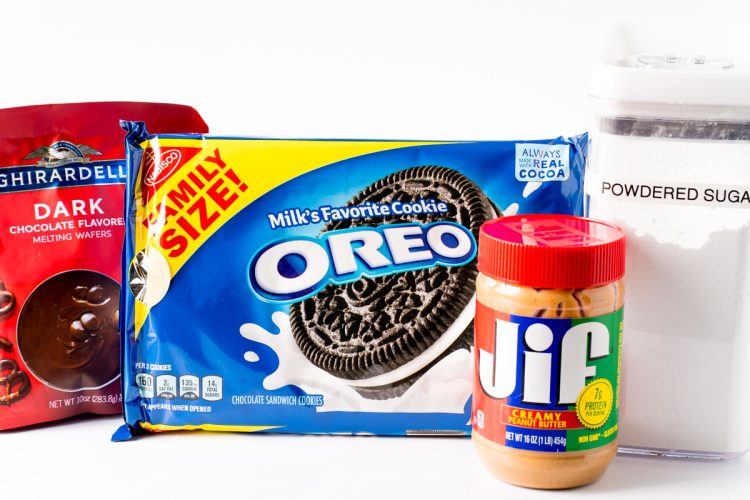 Tips For Making These Peanut Butter Oreo Truffles
Portion Sizing – Use a medium cookie scoop to portion out the mixture. This way the Truffles are all about the same size.
Freezing The Truffles – Placing the scooped-out Truffle mixture into the freezer allows them to firm up. Making for an easier process when it comes to dipping the balls in the melted chocolate.
Spiral Dipping Tool – Though not necessary, a dipping tool is super handy when making truffles of any kind! If you don't have one, no worries, a fork or spoon will also get the job done.
Softening Filling – If the Truffle filling becomes too soft while dipping, simply place the baking sheet back into the freezer. Then just grab the other sheet that was waiting in the freezer and continue the dipping process.
White Chocolate – For a fun flavor variation, you can also melt white chocolate to dip the Truffles in.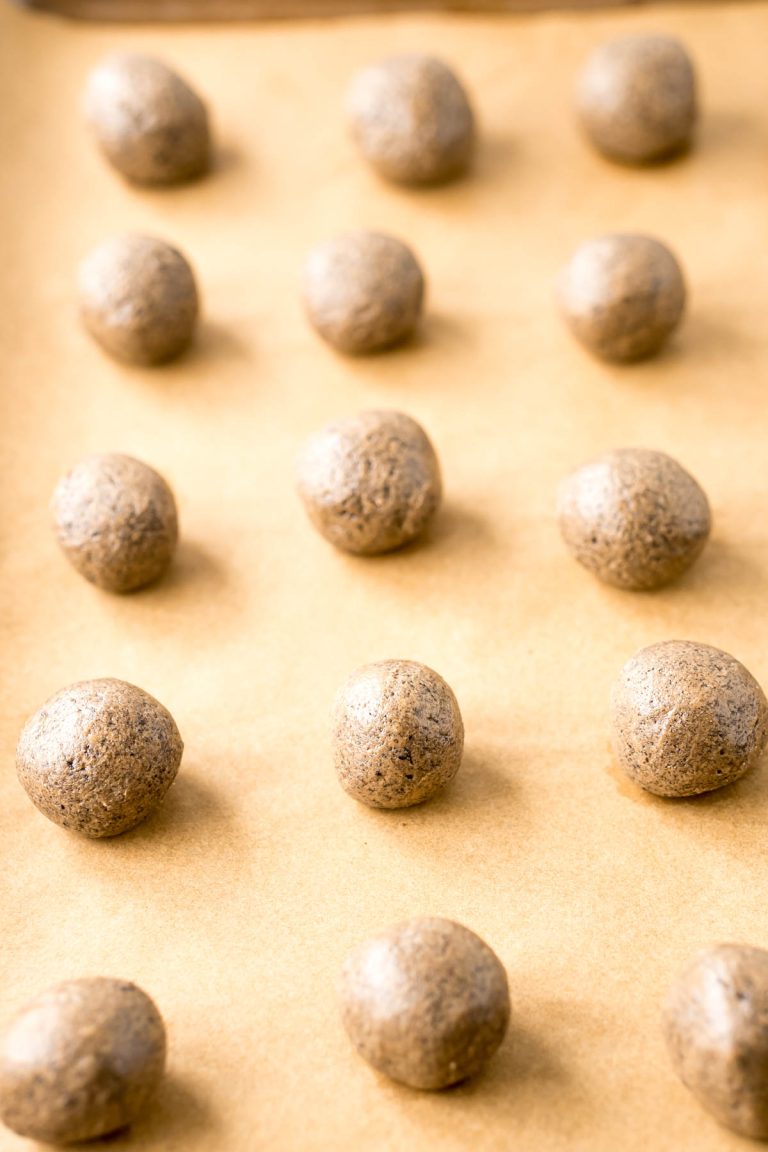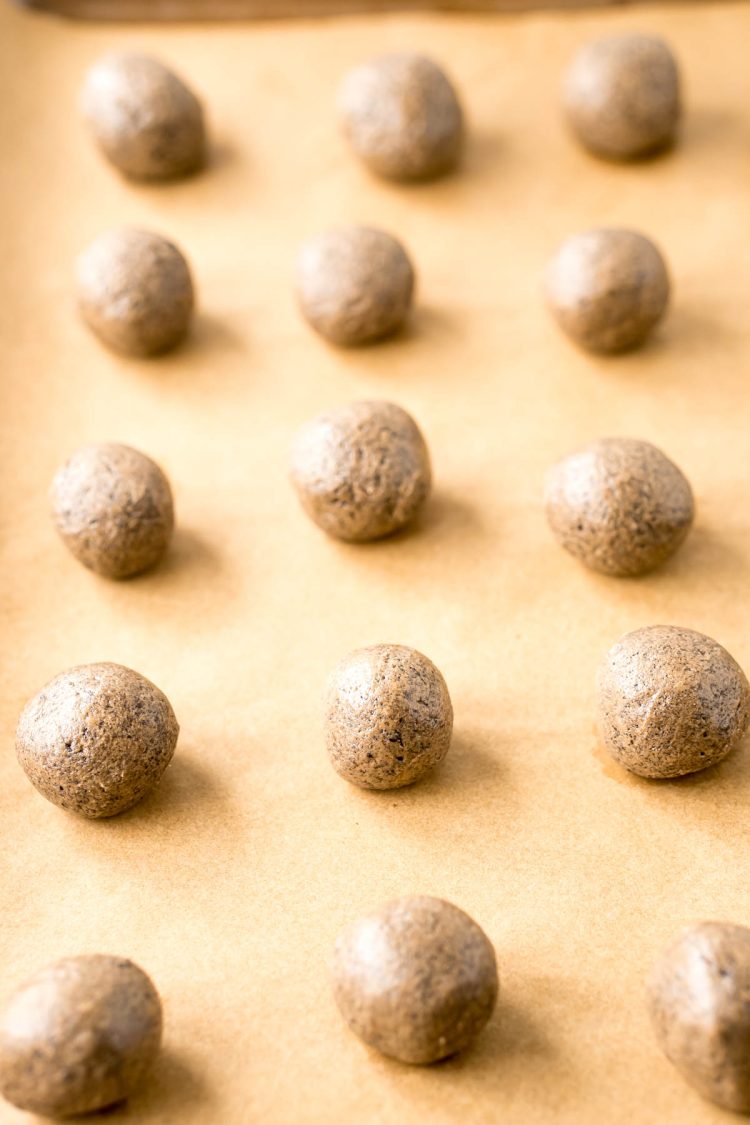 Do I Need To Store These Truffles In The Refrigerator?
The ingredients don't require these Oreo Peanut Butter Balls to be stored in the fridge, however, the filling does tend to turn soft. This can lead to cracked chocolate shells if they're left at room temperature for too long.
So, storing the Truffles in the refrigerator is best but not absolutely necessary.
Am I Supposed To Use Just The Cookie Part Of The Oreos?
Nope! This recipe calls for the whole Oreos to be used in it. Simply transfer the cookies from the Oreo package directly into the food processor.
What If I Don't Have A Food Processor To Pulse The Cookies?
You can either try using your blender that has a pulse button or simply do this step by hand. To do it by hand, place a portion of the cookies into a gallon Ziploc bag. Then roll a rolling pin over them until fine crumbs form.
Repeat this process until all cookies have been turned into fine crumbs.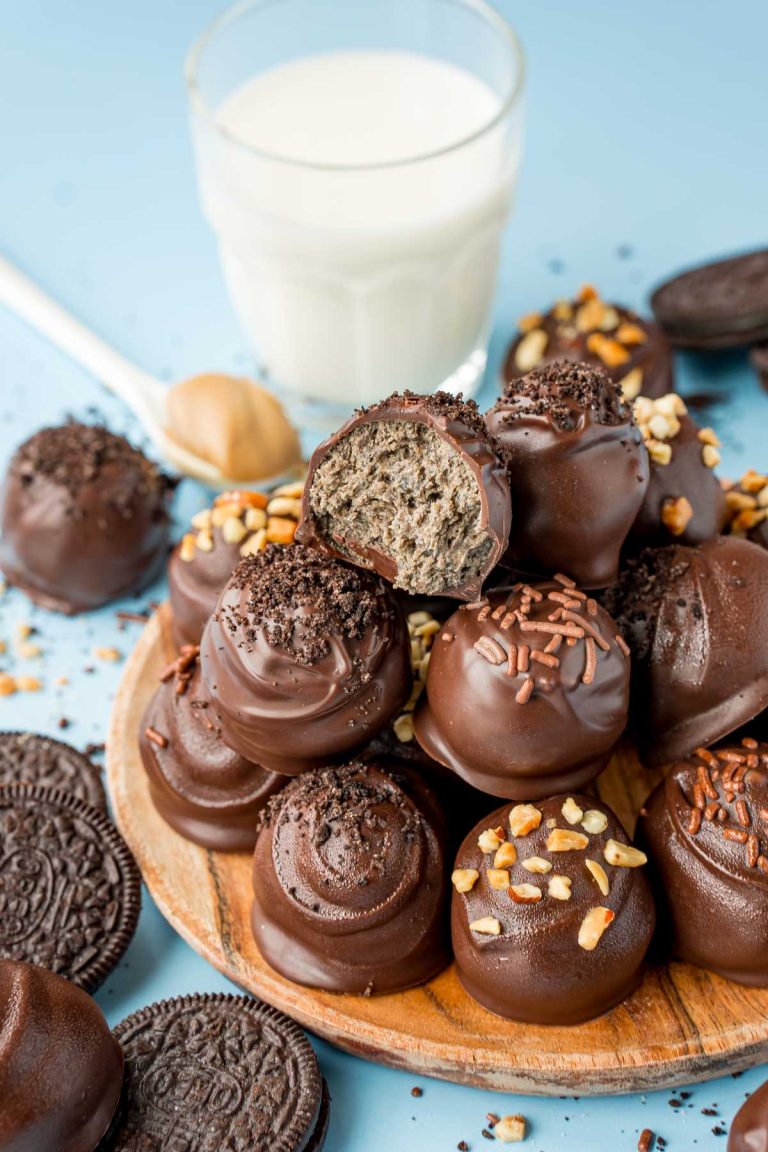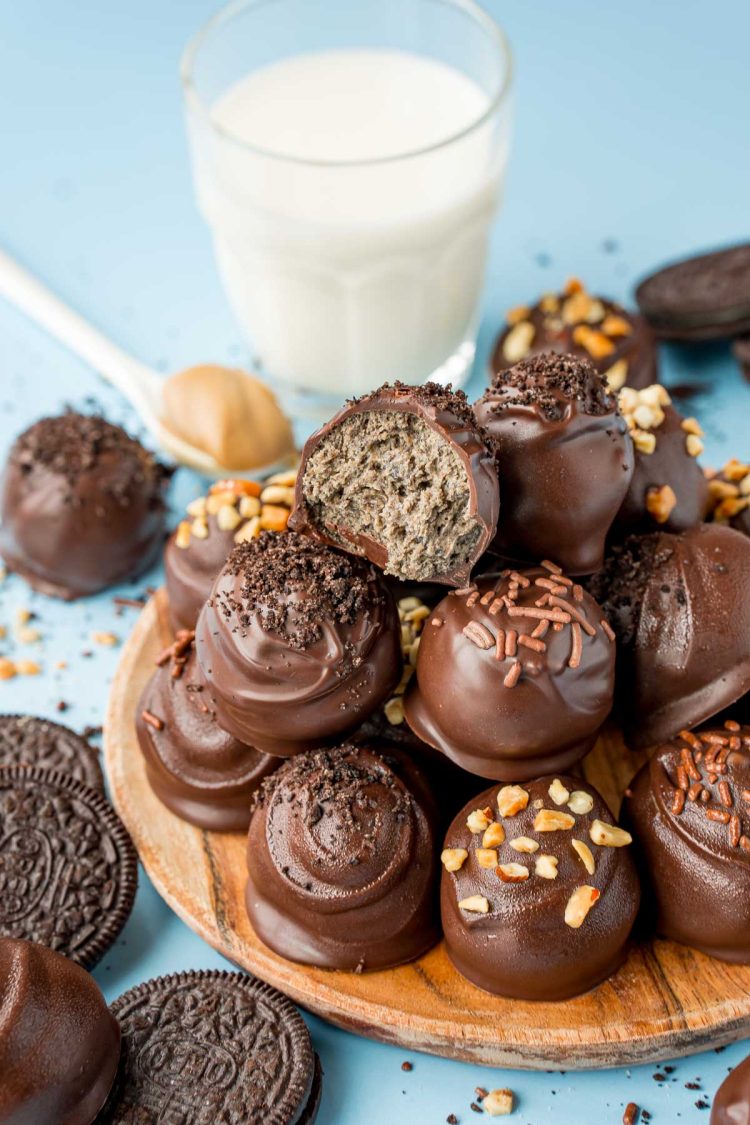 These Peanut Butter Oreo Cookie Balls are proof that Oreos can be added to any dessert! Check out more Oreo-filled dessert recipes that you'll want to try as well!
Peanut Butter Oreo Truffles
Pin For Later
CLICK THE BUTTON ABOVE TO SAVE THIS DELICIOUS RECIPE TO YOUR BOARD!
👋 Let's Connect!
If you've tried this recipe please let me know how you liked it in the comments below and leave a review, I love hearing from you! And don't forget to tag me – @sugarandsoulco – on Instagram and Pinterest with your photos or join our Busy Family Recipes Facebook Community and share them there!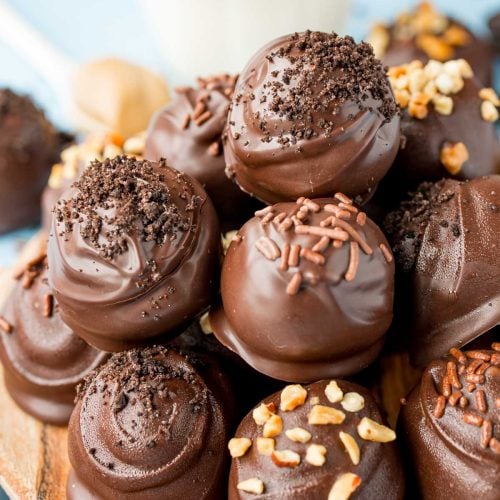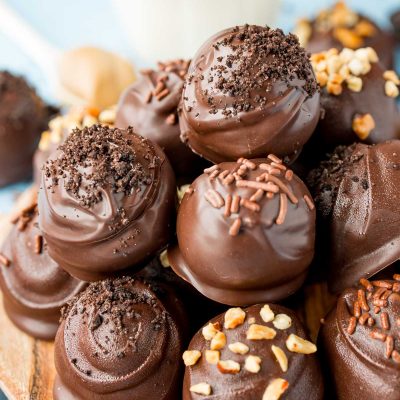 Oreo Peanut Butter Balls
Oreo Peanut Butter Balls have an easy 3-ingredient filling that's formed into fun bite sizes before being dipped into melted dark chocolate! Prep a batch in only 30 minutes!
Ingredients
33

Oreo Cookies

about 3 cups crumbs

2

cups

creamy peanut butter

1½

cups

powdered sugar

20

ounces

dark chocolate melting wafers
Instructions
Add the Oreos to a food processor and pulse until fine crumbs form.

Transfer the Oreo crumbs to a large mixing bowl with the peanut butter and beat to combine. Add in the sugar and mix at low speed until sugar is just incorporated then increase speed to thoroughly combine.

2 cups creamy peanut butter,

1½ cups powdered sugar

Use a medium cookie scoop to portion out the mixture onto two parchment-lined baking sheets and freeze for 30 minutes.

Near the end of the 30 minutes, add half of your melting wafers to a wide-mouthed glass or deep bowl and microwave at 30-second intervals until fully melted.

20 ounces dark chocolate melting wafers

Remove one of the pans from the freezer and roll the portions between your palms to create round balls and drop the balls one at a time into the melted chocolate. Use a spoon to coat the top and a spiral dipping tool or fork to remove, let any excess chocolate drip off before placing back on a fresh parchment-lined-baking sheet. If you notice the balls getting too soft to dip, switch them out for the pan in the freezer and dip some of those, then switch back until all have been dipped.
Notes
These do not need to be refrigerated due to the ingredients, however, the peanut butter mixture can get soft inside and crack the chocolate if left at room temperature too long, so storing them in an airtight container in the refrigerator is best, but not necessary.
You are using regular whole Oreos, not just the cookies.
Nutrition
Calories:
233
kcal
Carbohydrates:
26
g
Protein:
4
g
Fat:
13
g
Saturated Fat:
6
g
Polyunsaturated Fat:
2
g
Monounsaturated Fat:
4
g
Trans Fat:
0.01
g
Sodium:
103
mg
Potassium:
101
mg
Fiber:
1
g
Sugar:
21
g
Vitamin A:
0.2
IU
Calcium:
9
mg
Iron:
1
mg