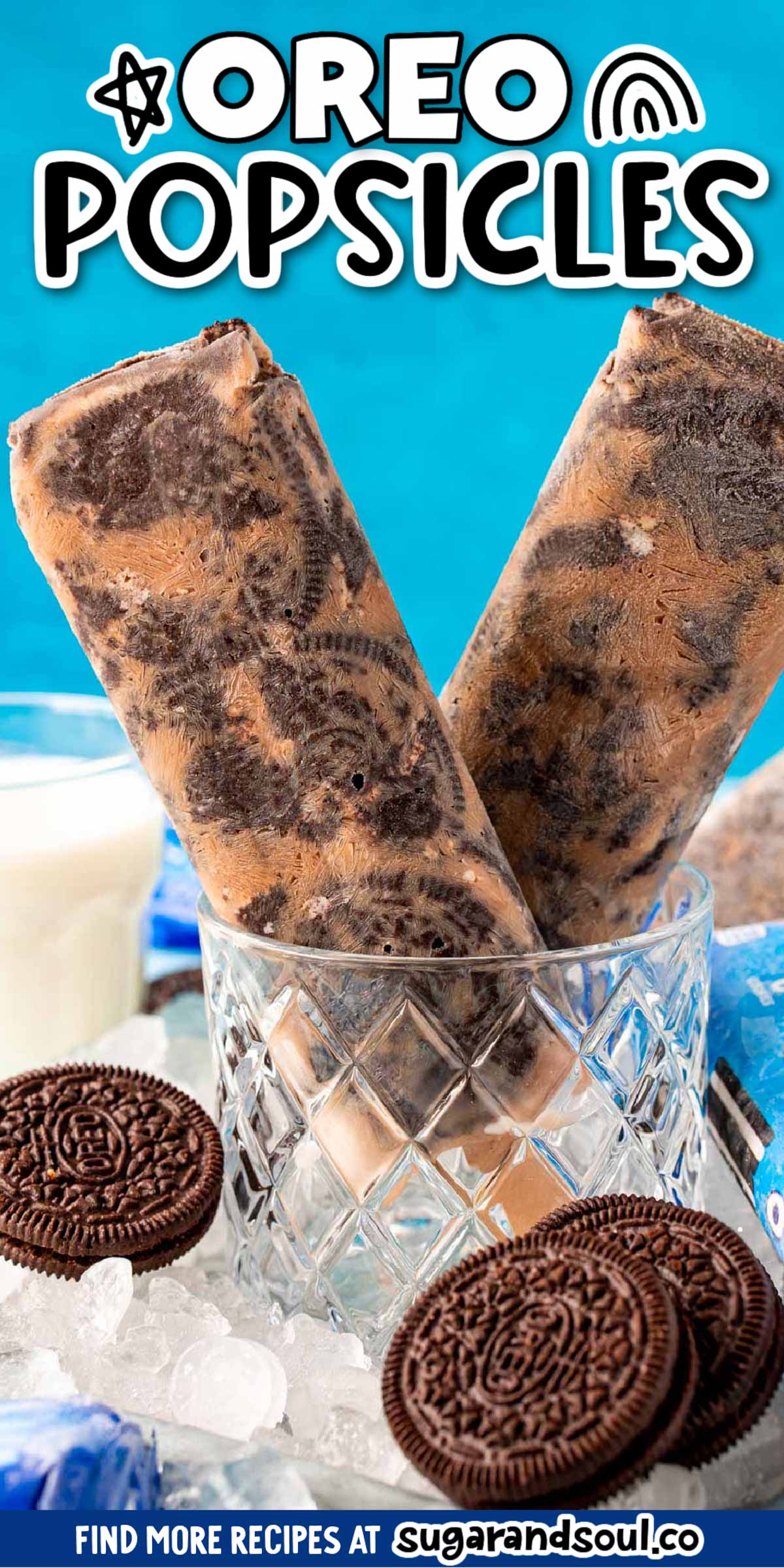 These Oreo Popsicles are the easiest summer dessert recipe loaded with cookies n cream flavor! No popsicle molds are required for this 2-ingredient frozen treat recipe!
Summer recipes like this are perfect for when you want something delicious that you can make in advance for parties, after ball games, and easy weeknight desserts!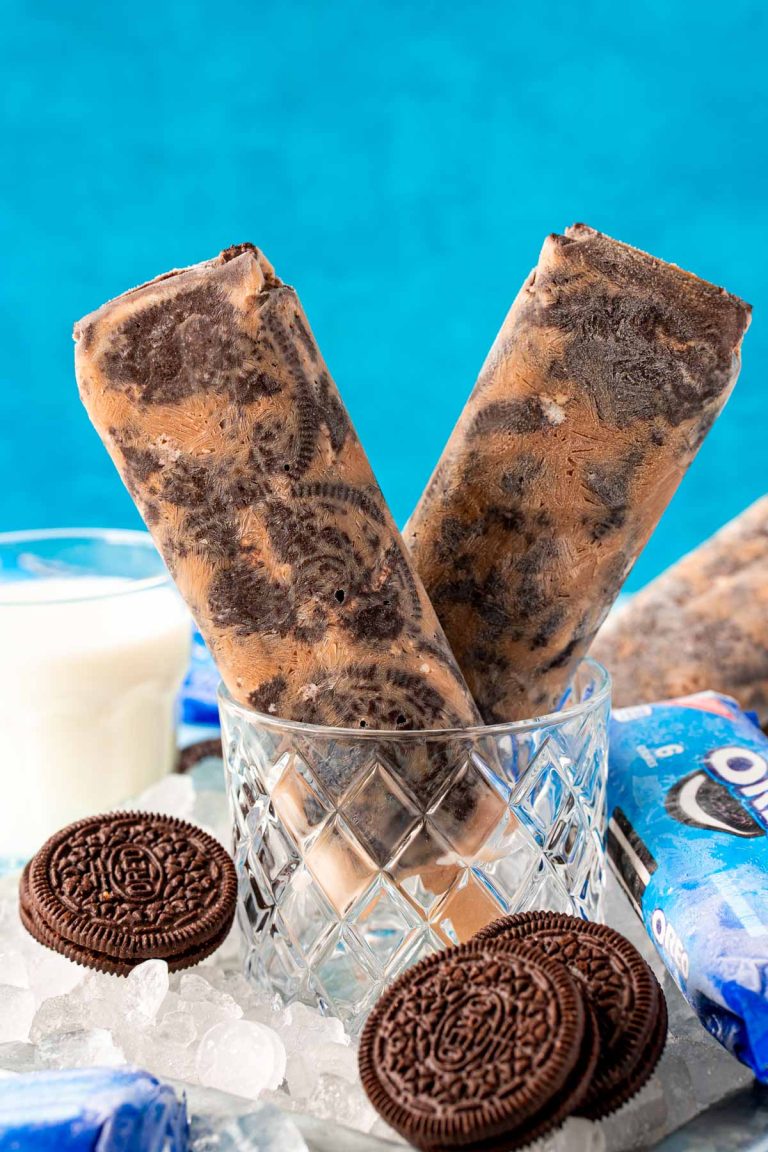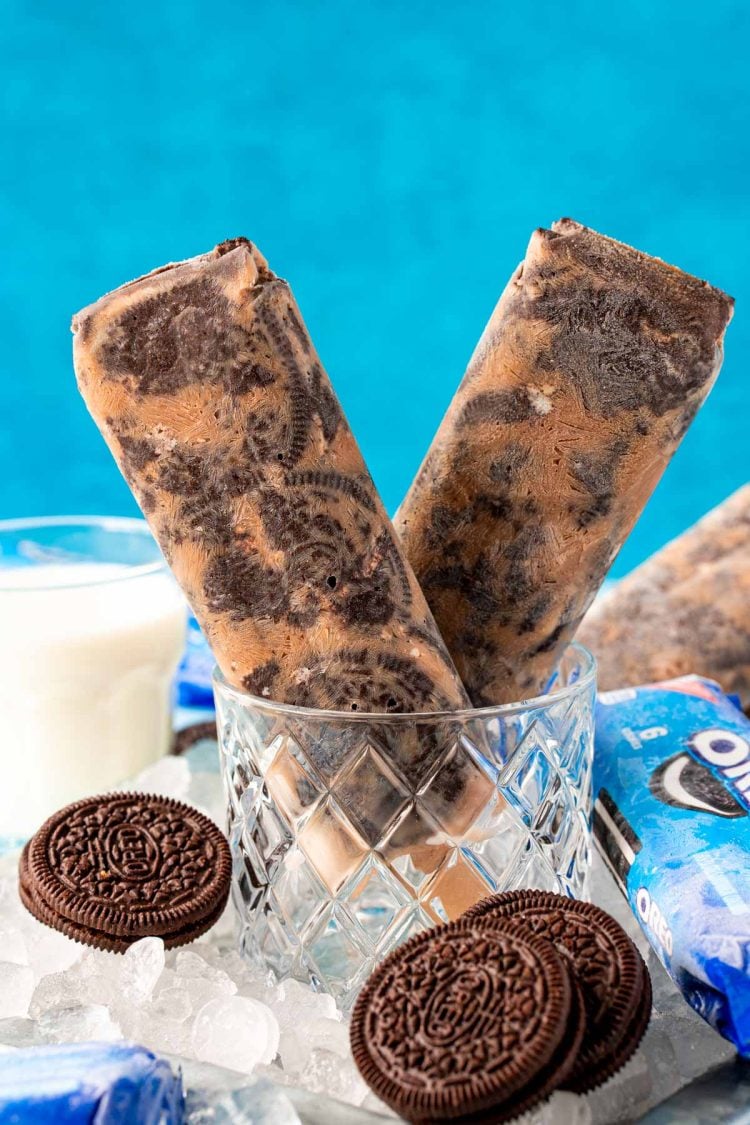 I originally saw this Oreo Popsicle recipe on Instagram and thought it was pure genius and knew I had to give it a try! And now that I've made them, they might just be my new favorite way to enjoy Oreos outside this No Bake Oreo Cheesecake!
What I Love About These Oreo Popsicles:
Easy – As I mentioned before, no mold, bowl, food processor, or other fancy tools are required for this recipe – you simply crush, pour, and freeze!
Texture – While they are frozen, they have a lovely texture. The chunks of Oreo expand and soften in the milk prior to freezing which results in little cake-like pieces in the popsicles – SO GOOD!
Flavor – I'm sure you won't be surprised that these taste like milk-dipped Oreos. But it's a flavor most of us love! I actually only like Oreos once they've been dipped in milk or turned into a pie crust 😉
Make-Ahead – Once you make them, these popsicles are ready to enjoy at a moment's notice – perfect for those kids home for the summer and impromptu BBQs with the neighbors!
As you can see, there are many reasons to love these sweet Oreo popsicles. But the best part is that they're made with just 2 simple ingredients!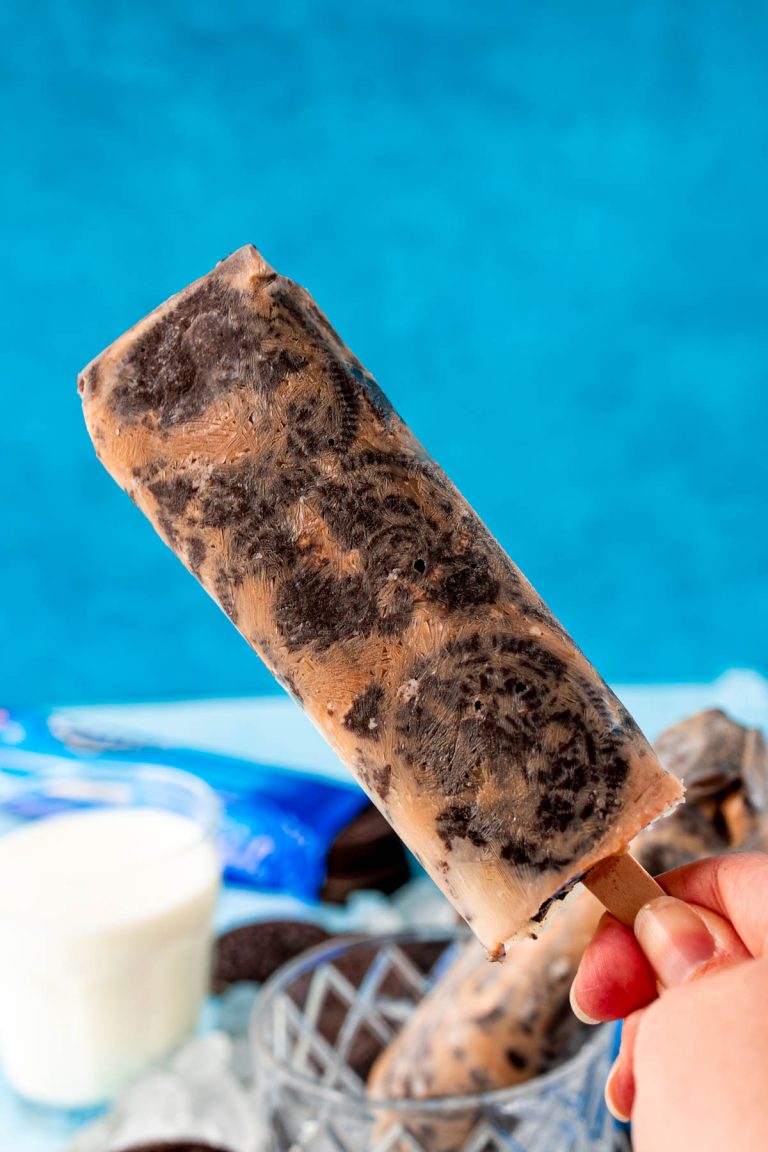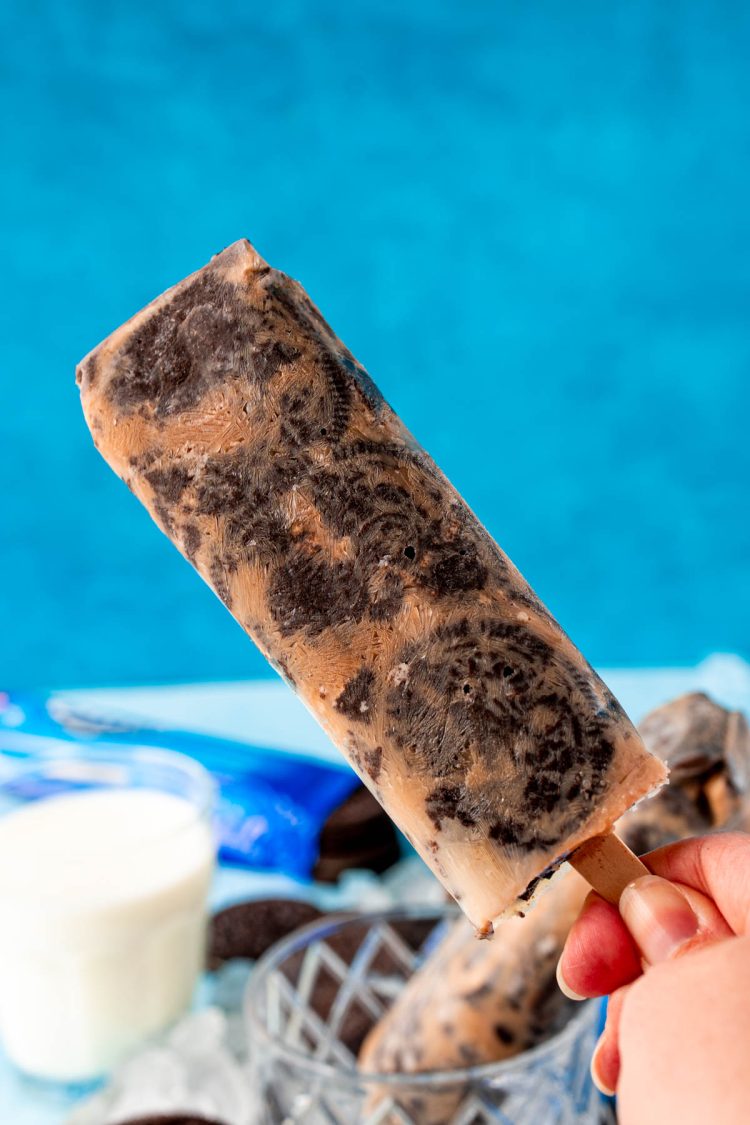 Ingredient Notes
These Cookies and Cream popsicles are made with just Oreos and Milk! They are prepared right in the Oreo package so very few dishes and tools are required. You can adjust the recipe to use the 4-count or even 2-count Oreo packs instead of the 6-count packs!
Want to add extra flair to these Homemade Oreo Popsicles? After unwrapping, dip them in magic shell for an extra chocolatey finish!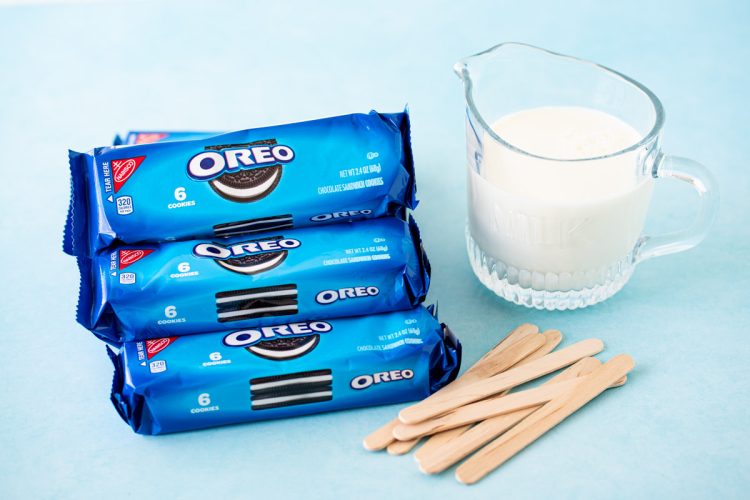 How To Make Oreo Popsicles With 2 Ingredients
The hardest part about making these popsicles (other than waiting for them to freeze) will be finding the perfect container to hold them up in. I used this one, but anything similar will do, just make sure it's freezer safe!
These Oreo popsicles are a breeze to prepare!
Start by crushing the Oreos up in the sealed package, you want to try to avoid having any whole Oreo cookies remaining.
Add them to the container you plan to freeze them in.
Add popsicle sticks so they stick up about 1-inch above the top of the wrapper.
Finally, add in the milk until just above the crushed Oreo crumbs.
The popsicle sticks can be added before or after the milk.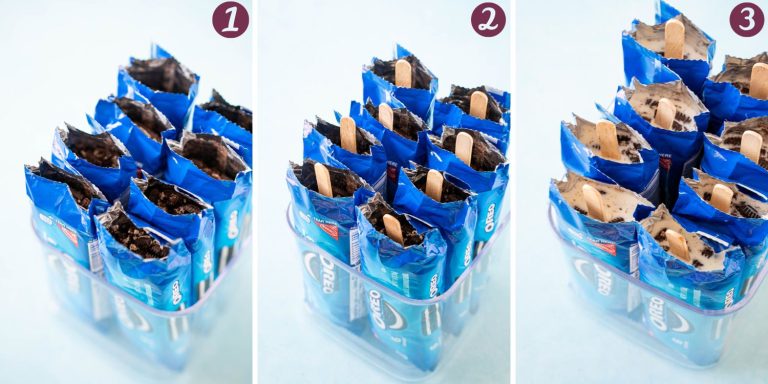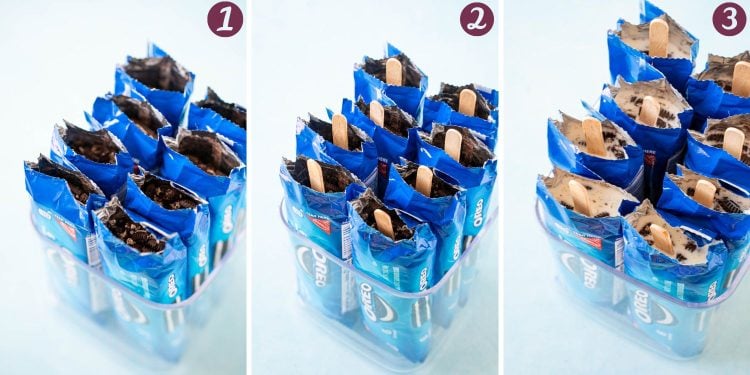 Frequently Asked Questions
Do I Have To Make The In The Package?
Absolutely not. If you'd prefer to make them in a popsicle mold, that's totally fine. This method is just really easy and creates fewer dishes. I like this popsicle mold for homemade popsicles!
Are They Really Sweet?
I would say they are sweet, but not overly so. They are just Oreos and milk.
Can I Use Any Milk?
Yes, any milk or milk substitute will work for this recipe – I bet chocolate milk would be amazing!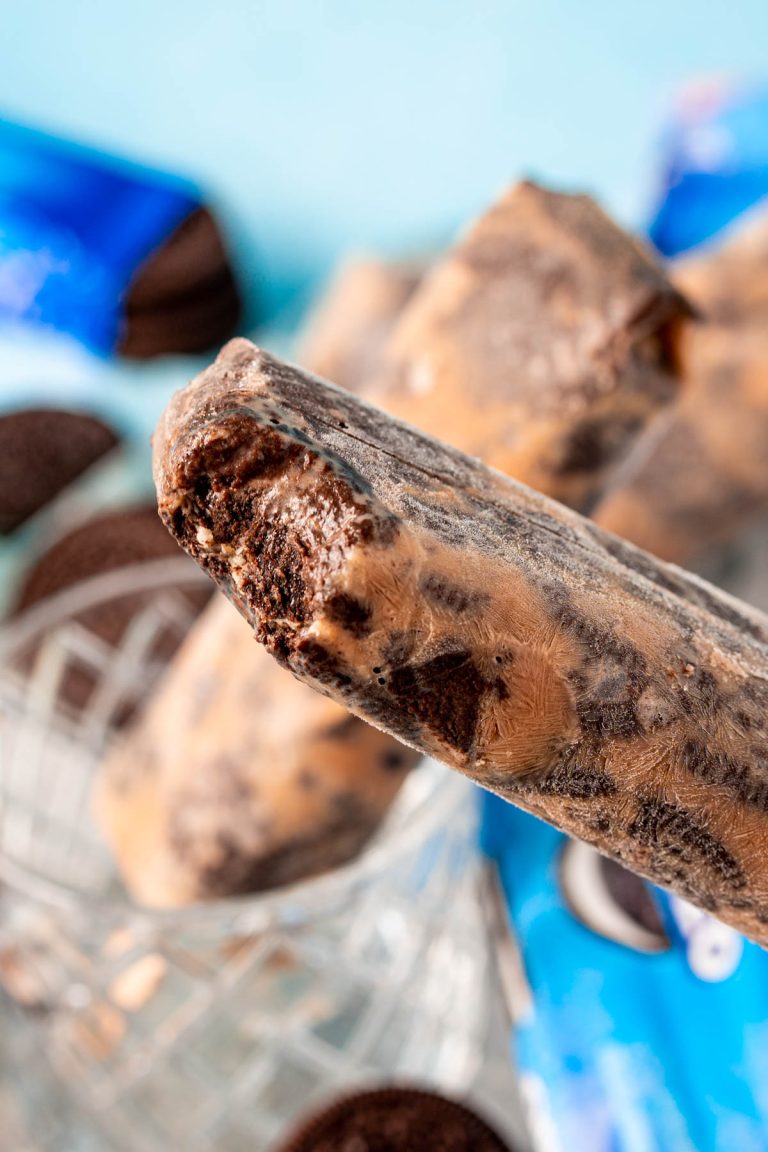 Oreo Popsicles
Pin For Later
CLICK THE BUTTON ABOVE TO SAVE THIS DELICIOUS RECIPE TO YOUR BOARD!
👋 Let's Connect!
If you've tried this recipe, please let me know how you liked it in the comments below and leave a review; I love hearing from you! And don't forget to tag me – @sugarandsoulco – on Instagram and Pinterest with your photos or join our Busy Family Recipes Facebook Community and share them there!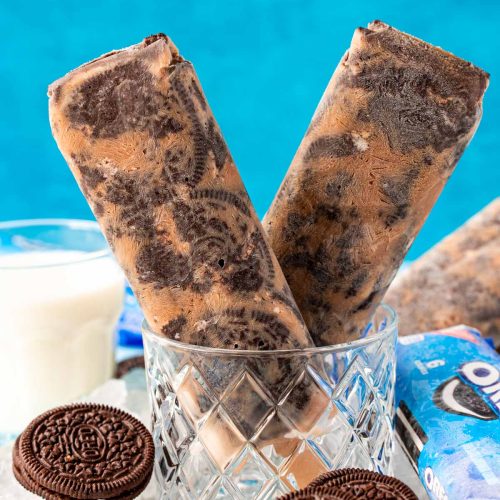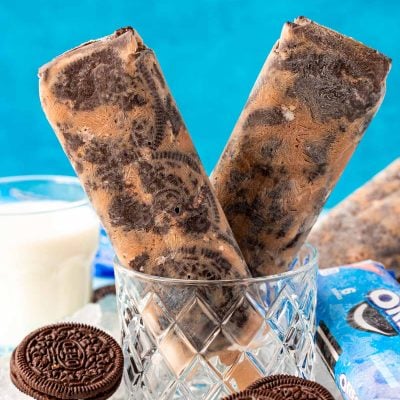 2-Ingredient Oreo Popsicles
These Oreo Popsicles are the easiest summer dessert recipe loaded with cookies n cream flavor! No popsicle molds are required for this 2-ingredient recipe!
Equipment
8 popsicle sticks

1 container

that will fit 8 packs of Oreos and is at least 5 inches tall
Ingredients
8

(2.4oz./6ct)

Oreo cookie packs

4

cups

milk

of choice
Instructions
Use the flat side of a meat tenderizer or a rolling pin to crush the Oreos inside each package. Use your hands to gently squeeze the broken up Oreos inside to loosen them up.

8 (2.4oz./6ct) Oreo cookie packs

Gently open the packages on one end, making sure not to tear the package down the sides. Place open end up in a container that snuggly fits the packages.

Stick the popsicle sticks into the center of the packages so that the ends are about 1 inch above the top of the package.

Pour 4 ounces of milk into each of the packages, just to cover the tops of the crushed Oreos.

Freezer for at least 6 hours before enjoying.
Notes
Nutritional information is an estimate using whole milk.
You can make as few or as many pops as you want, you just need 4 ounces of milk for every 6 ct package.
You can also make this recipe with the smaller packs, the 2 ct packs will require almost 2 ounces of milk and the 4 ct packages will require around 3 ounces.
Once frozen, transfer popsicles to a freezer bag and store for up to 1 month.
Nutrition
Calories:
535
kcal
Carbohydrates:
77
g
Protein:
8
g
Fat:
24
g
Saturated Fat:
7
g
Sodium:
449
mg
Fiber:
2
g
Sugar:
46
g