Hummingbird Cake is a classic recipe made with mashed bananas, crushed pineapple, and shredded coconut, and it's topped with a sweet caramel cream cheese frosting and pecan pieces!
If you're a fan of Banana Bread, Carrot Cake, or Coconut Cake – you're going to LOVE this recipe!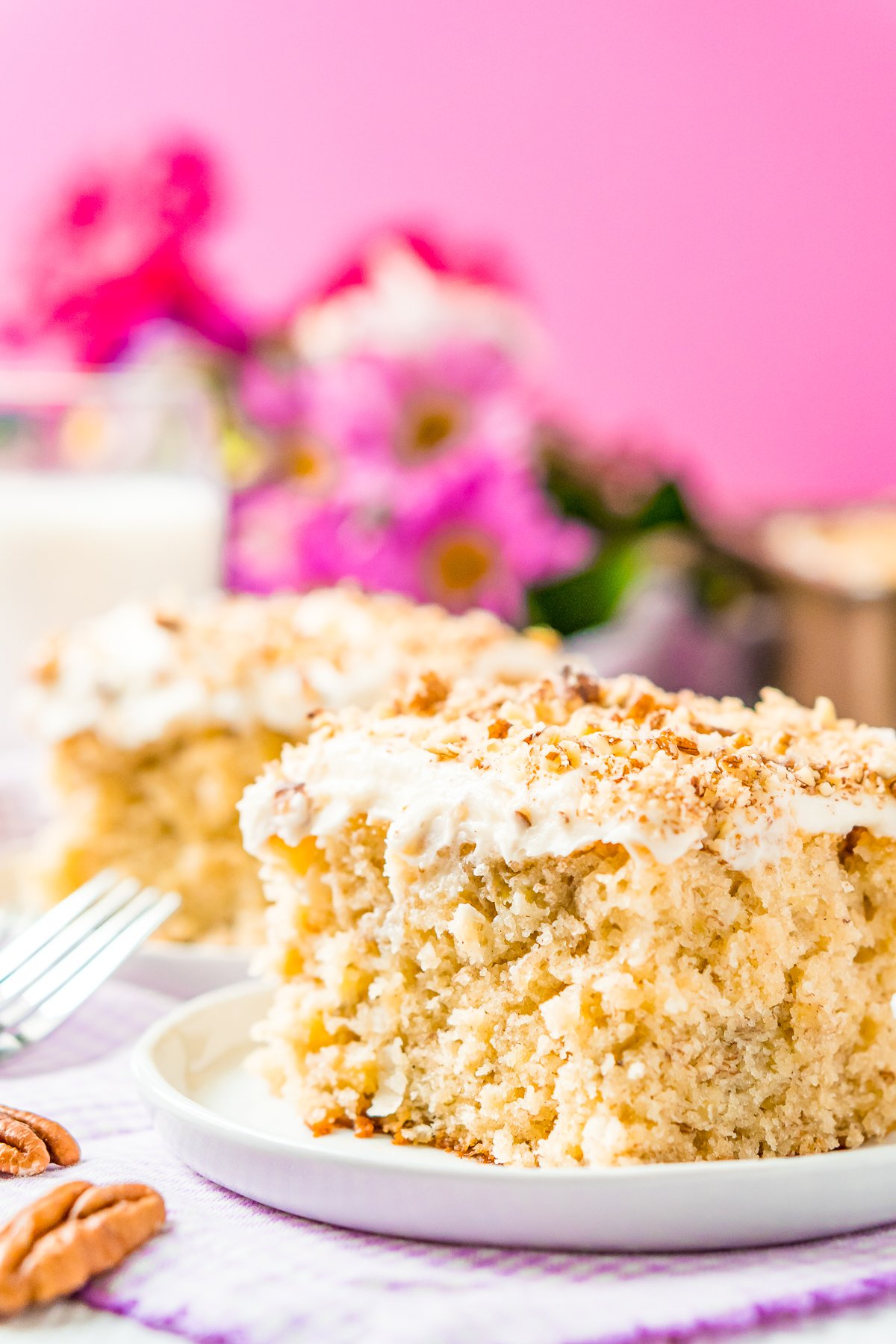 This Easy Hummingbird Cake Recipe is perfect to make and share at all your summer gatherings. Not only is the recipe simple, but it puts a unique twist on homemade cake …
Plus, it's always a big crowd-pleaser!
What Is Hummingbird Cake?
No hummingbirds were harmed in the making of this cake and it's not meant to be served to them either 😉 If you want to indulge in a taste of the tropics this summer, you need this Hummingbird Cake Recipe!
The cake is moist and full of fruity flavors from coconut, bananas, and pineapples. Then, it's topped with a silky smooth caramel cream cheese frosting that'll make your mouth water!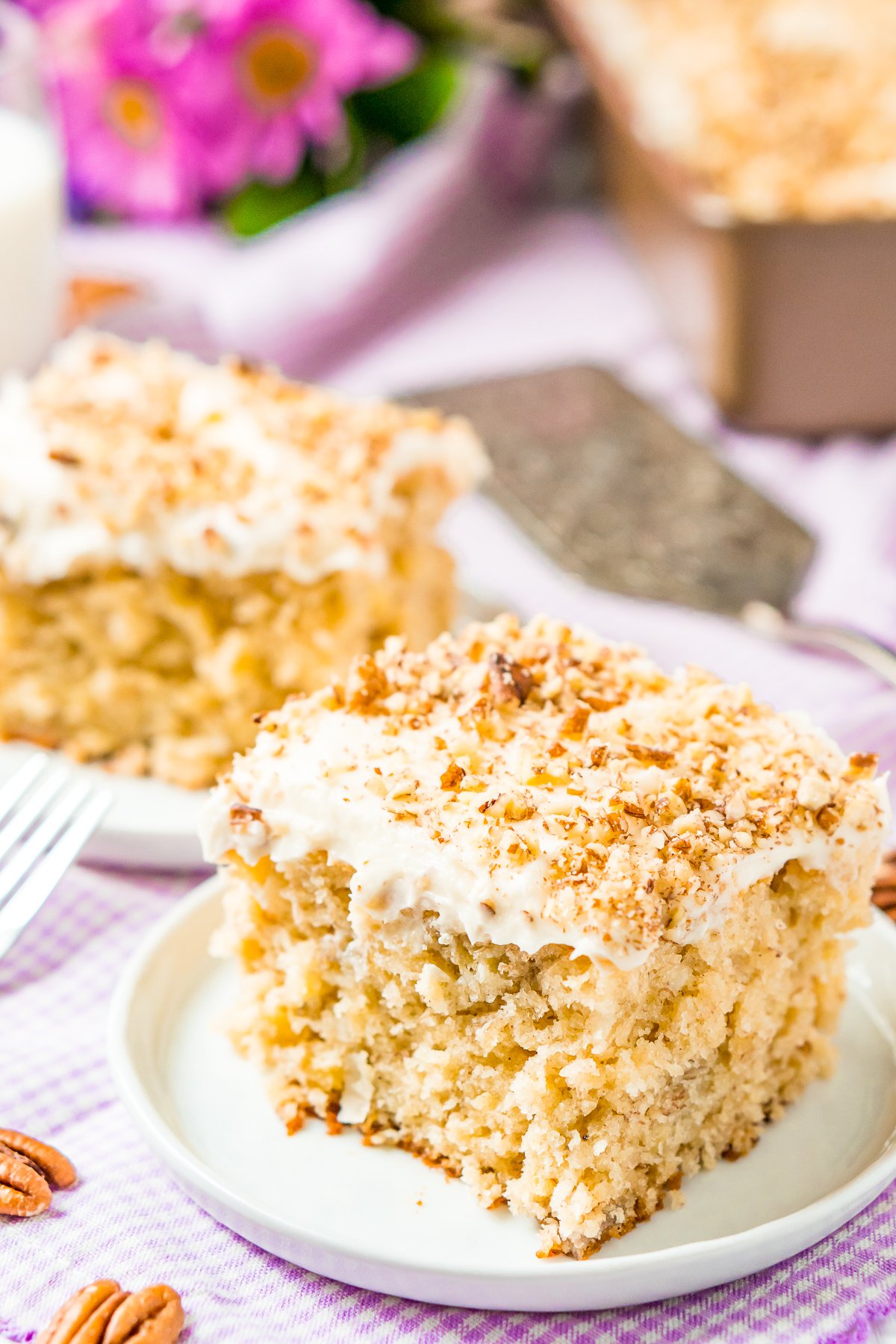 How To Make Hummingbird Cake:
Traditionally, this treat is made with three layers. But with my version, you can keep it simple and make a Hummingbird Sheet Cake, instead.
Cake:
There, now you know how to make it, so whip one up for all your get-togethers this season. You can make it for casual barbecues, cookouts, and even for a Fourth of July bash. However, it's also sophisticated enough to serve for birthdays, anniversaries, graduation parties, and even brunch!
How Long Does Hummingbird Cake Last?
Can You Leave It At Room Temperature? Yes, and I think is best. You can store covered at room temperature for 2 to 3 days.
Do You Refrigerate It? You don't have to, but you can and it will yield a longer shelf life. I recommend storing it covered for 5 to 7 days.
Can You Freeze It? You sure can, but I recommend leaving the frosting off before freezing. Simply bake the cake and allow to cool to room temperature before double wrapping with plastic wrap and then wrapping once more with aluminum foil and freezing for up to 3 months.
Why Do They Call It Hummingbird Cake?
Wondering where this dessert gets its name?
The history of Hummingbird Cake, like many recipes, seems to involve a bit of hearsay. Filled with flavors from the islands, the name may originate from Jamaica, where the hummingbird is the national bird. (Fun fact: it's also known as Doctor Bird.)
Here in the US, a Hummingbird Cake Recipe can be traced back to a Southern Living article from 1978. However, it's believed to have originated in Jamaica. But no matter where this luscious dessert came from, one thing's for sure: it's totally scrumptious and will definitely put you on island time!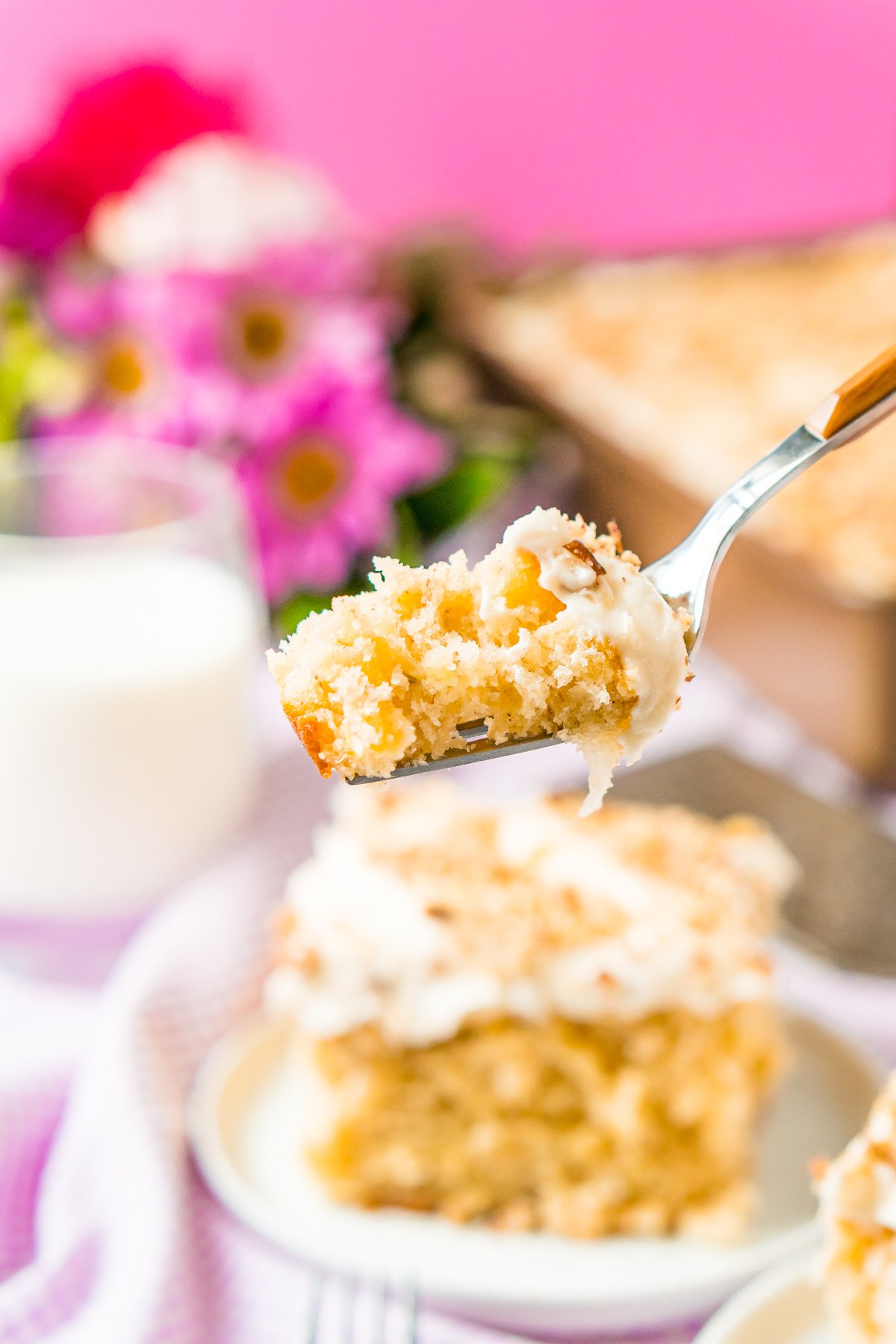 Normally, you see this cake made with a traditional cream cheese frosting nestled between three cake layers. But I love the caramel twist and I think making this in a sheet pan makes it super easy to transport and enjoy at potlucks. I love this 9×13-inch cake pan that comes with a lid!
So if you've never made it, this is the BEST Hummingbird Cake Recipe to try for ease and flavor — you won't regret it! This cake recipe takes classic Banana Cake up a notch by highlighting tropical fruity flavors. Make one for your next get-together to put everyone in the summertime spirit!

Let's Connect!
I created a fun little group on facebook and I'd love for you to join in! It's a place where you can ask questions and see what's new with Sugar & Soul! If you'd like to check it out, you can request to join HERE.
Be sure to follow me on Instagram and tag #sugarandsoulco so I can see all the wonderful recipes YOU make from this site! You can also Subscribe to my Newsletter so you never miss a delicious recipe again!