A sweet brown sugar coffee cake with a layer of fresh wild blackberries that are bursting with flavor!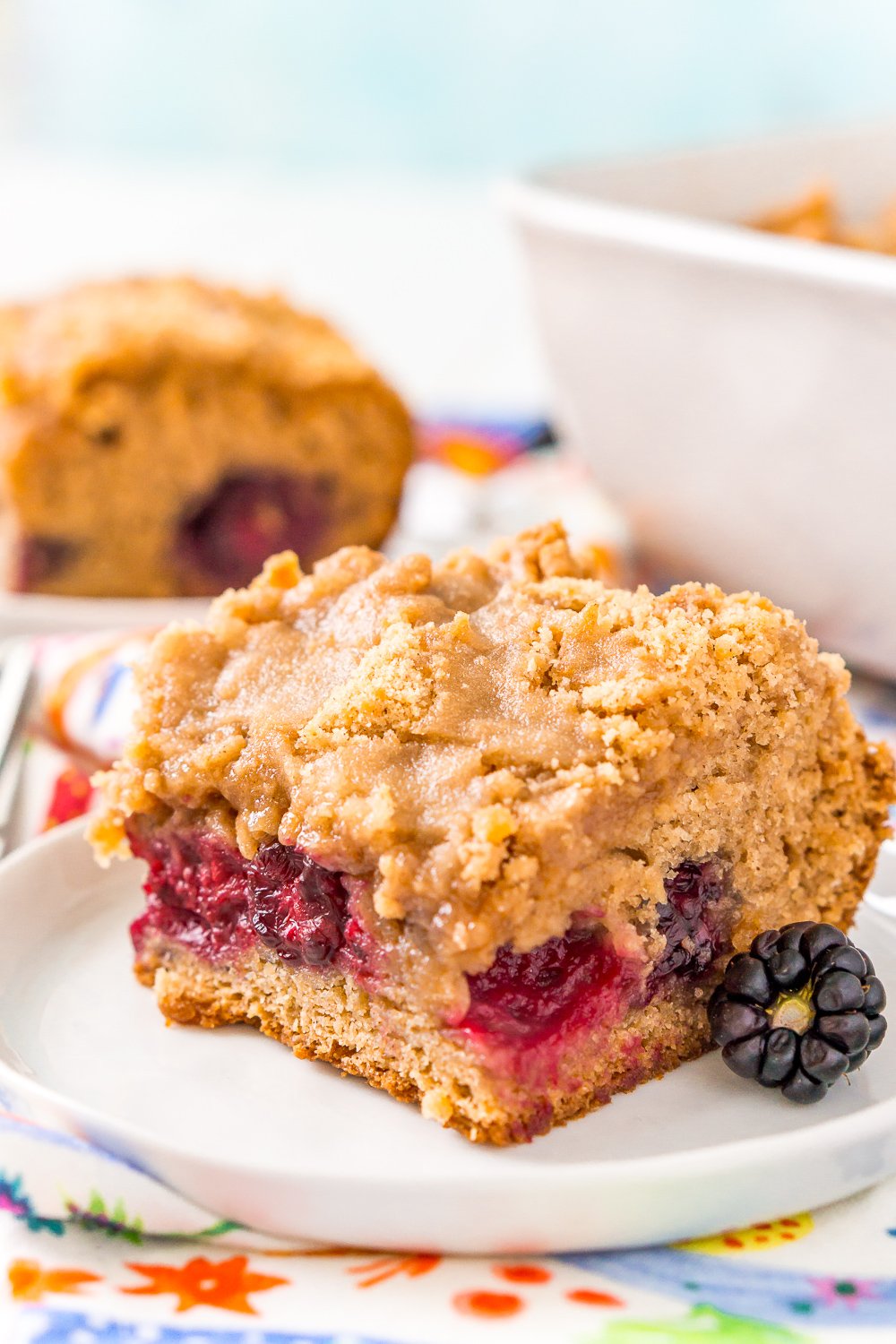 Blackberry Coffee Cake
If I were a fruit, I'd be a wild blackberry.
Most of the time I'm sweet, but every now and then you'll get a punch of bitter or tart out of me, and you often won't know when it's coming. Seriously, just ask my family. Usually, it's when I'm hungry.
Growing up, I was a little untamed. I was a country kid growing up in the north woods. I grew up on dirt bikes, horses, softball, and pizza.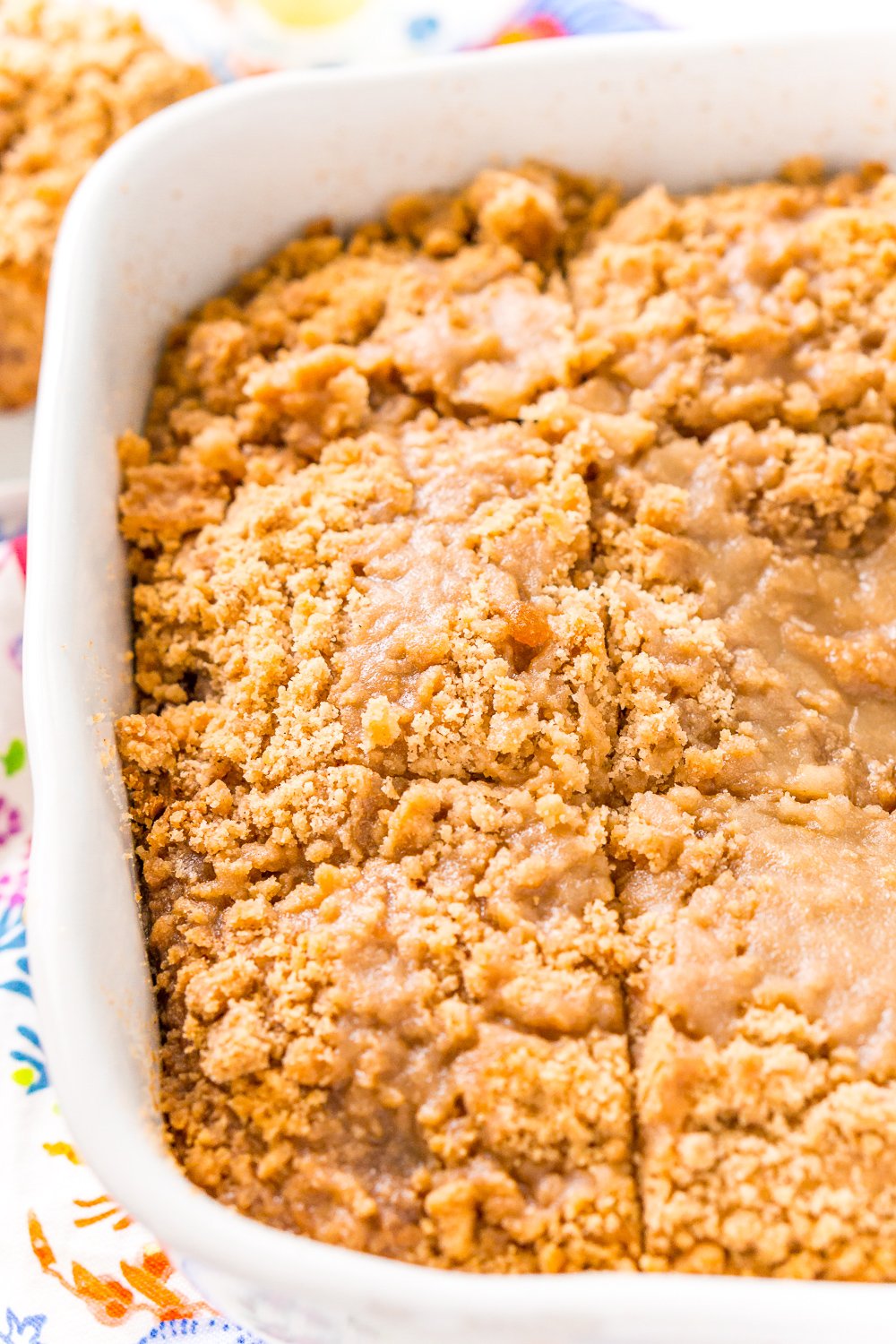 I spent my summers running through the woods and building forts. Skipping rocks and chasing fireflies.
I was free and gave my parents a run for their money.
Somehow the lessons my grandmothers taught me got through the mess of curls and dirt, but for a while, I was wild.
For the best wild blackberries, you usually have to dive through a heap of thorns and brush to pick them.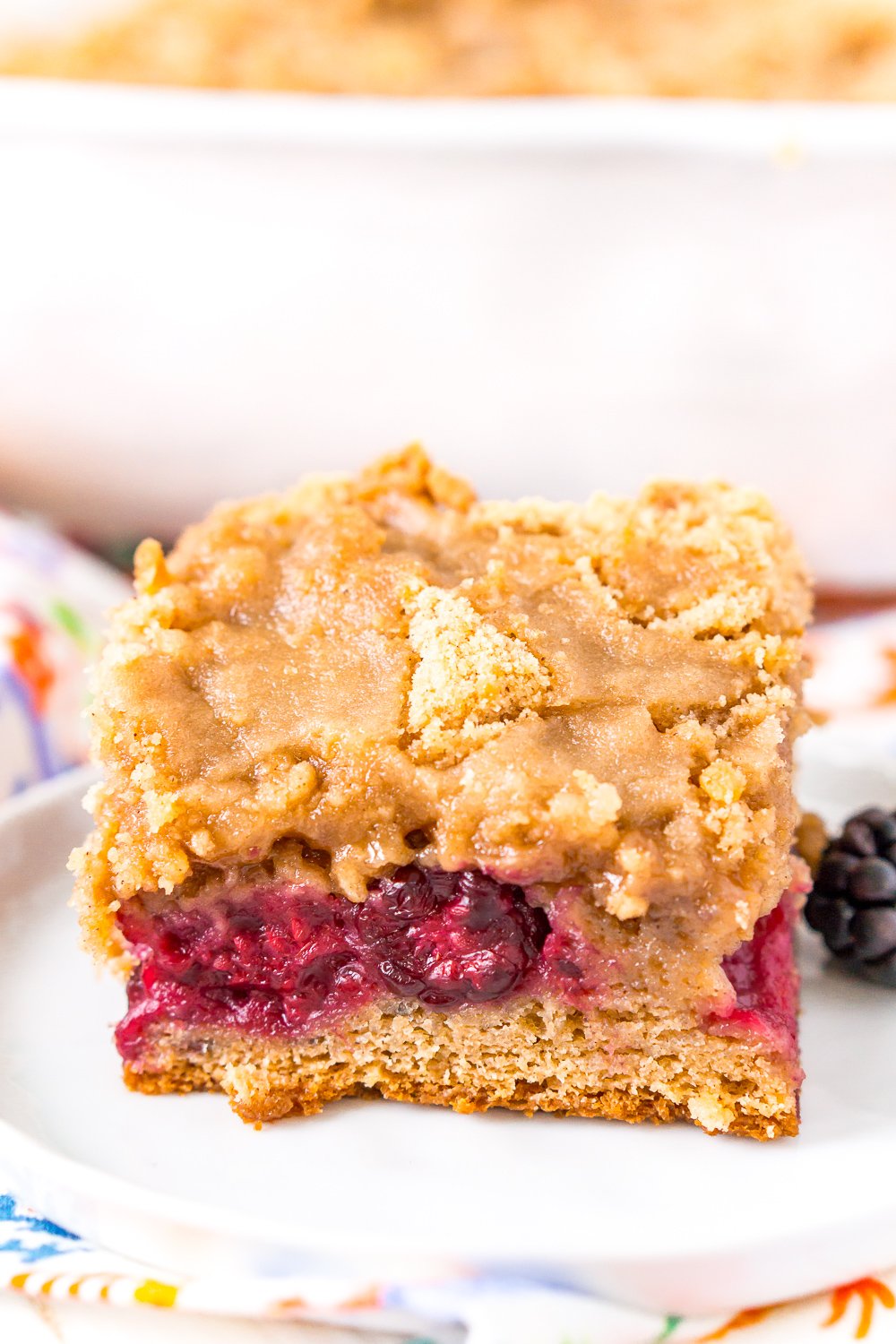 Like the blackberries, I built a wall of thorns around myself growing up. If no one could get in, no one could hurt me.
There was no one event or reason why I built this wall, it was an ongoing effort of my youth.
This is in no way a reflection of my childhood, I really had a great one.
I think it was a mix of the pain from all the teasing I endured, the fear I felt when my dad got sick, and growing up with only brothers.
I know, this post is starting to seem a little sad, but it's not. I promise.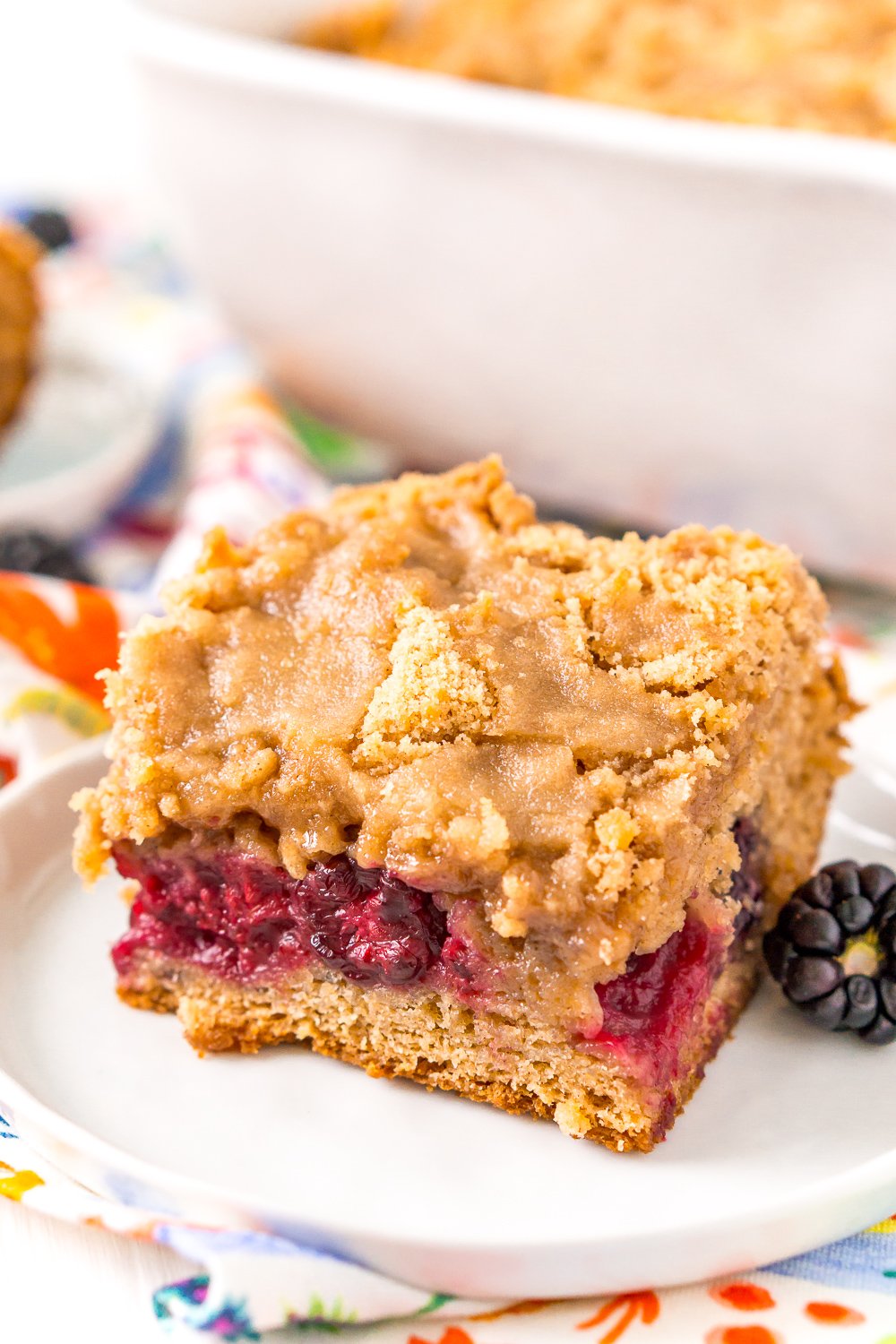 I think a lot of us build walls in our lives, even though it's hard to admit it.
And sometimes you just need the right person to come along who's willing to fight through and endure the pain of the thorns to get to the berries. For me, that person was Matt.
I can't even count the number of times I tried to guard my heart and push him away, but he just kept fighting and waiting.
Now almost ten years together, I'm still a blackberry, but now I'm more like this amazing Blackberry Brown Sugar Coffee Cake. He softened me up a bit.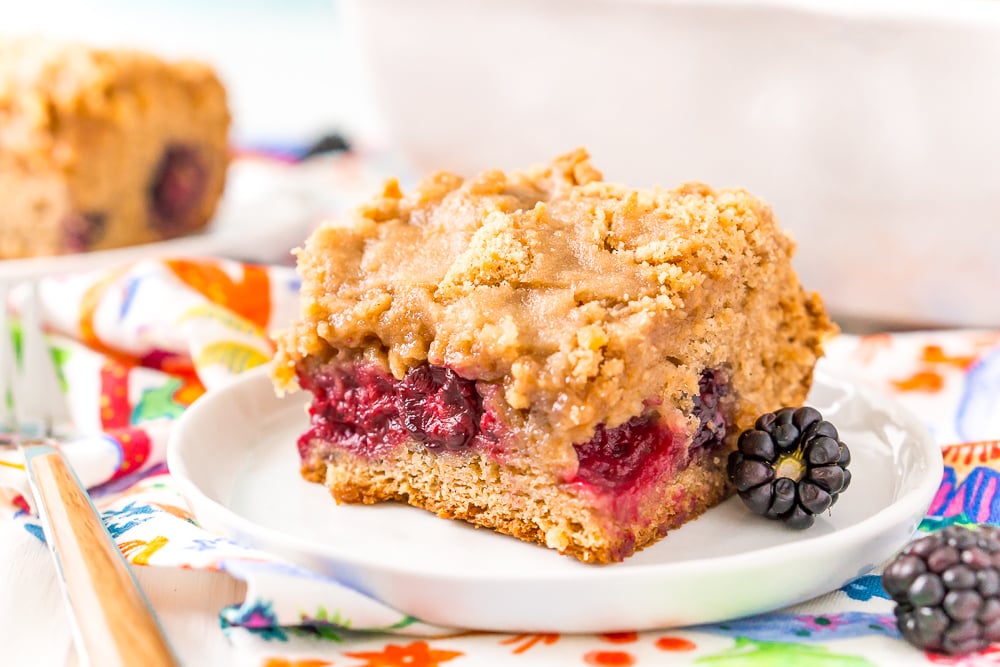 Within this cake, the blackberries heat up and burst but they also become more vibrant.
Suddenly, those blackberries have a sweet warm cake to enclose them, while still being able to shine.
Or in my case, somewhere soft to land when I inevitably fall on my ass after some crazy venture.
It's nice to have that support when I get these crazy ideas (like this blog), sometimes they work out and sometimes they don't.
But I can always count on him to be there for me. I know I'm blessed to have someone like that in my life and even more so that we met so young.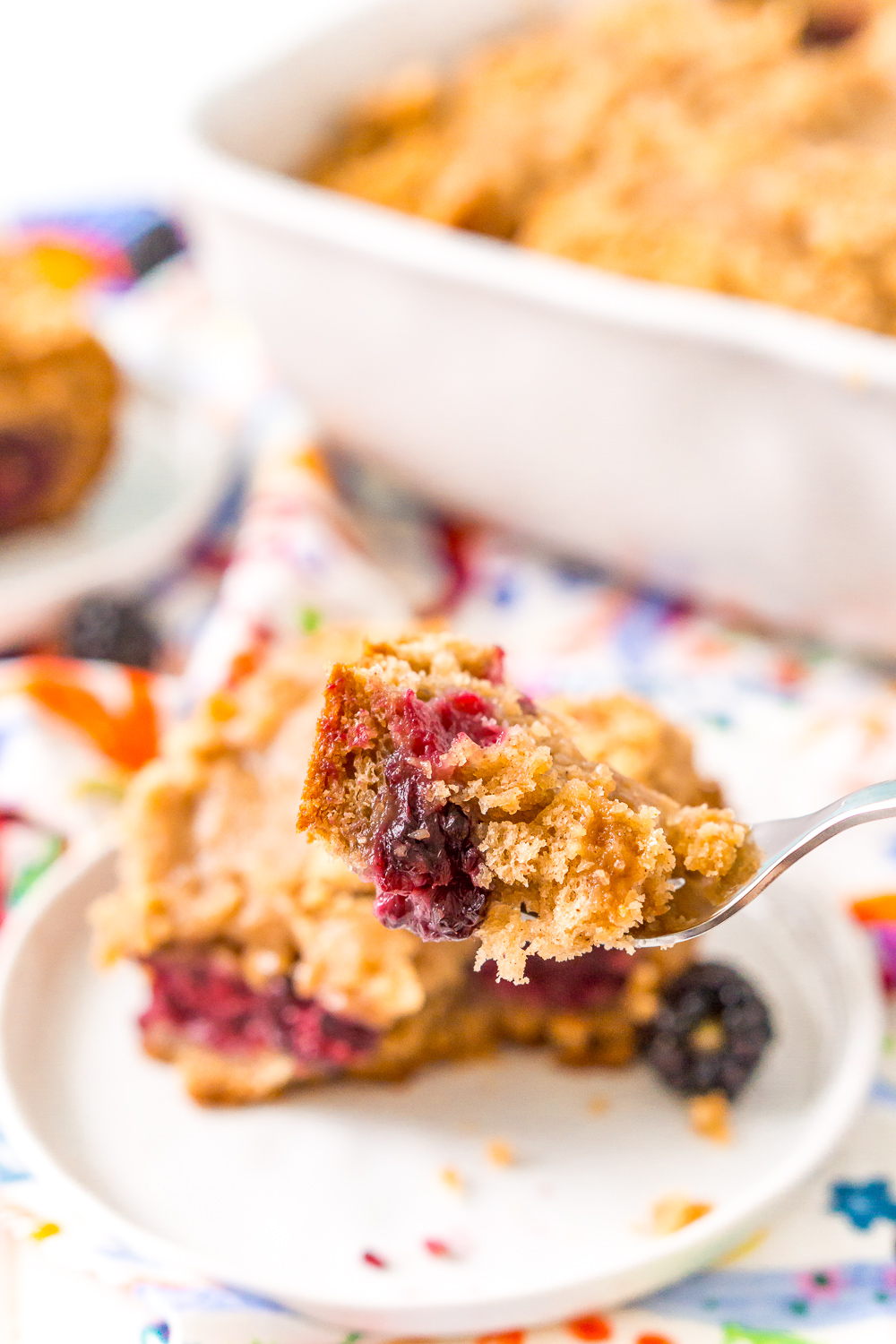 Matt even went with me to pick these precious berries in the overgrown patches of my youth.
He just kept saying how ridiculous I was as I crawled up on top of the old abandoned Cadillac in my Pa's junkyard to get to them.
But hey, I'd rather be ridiculous than boring!
So with that, I'm out, because this blackberry needs to go throw her cake a killer birthday party!
But go make THIS cake… it really truly is pretty awesome! And I hope you all have a lovely Labor Day weekend, friends!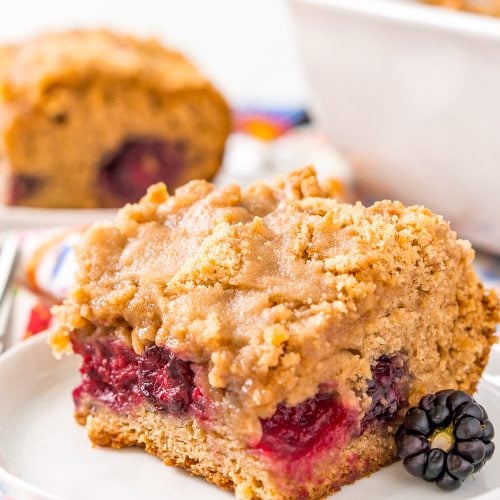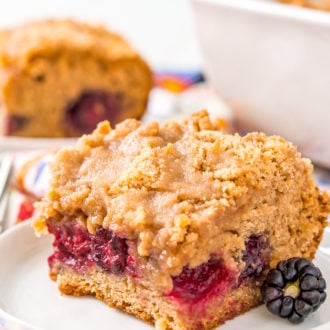 Blackberry Brown Sugar Coffee Cake
A sweet brown sugar coffee cake with a layer of fresh wild blackberries that are bursting with flavor!
Print
Pin
Rate
Total Time:
1
hour
5
minutes
Instructions
Cake:
Preheat oven to 350

Grease a 9 x 13 in baking dish.

Cream butter and brown sugar.

Add in eggs one at a time beating between each one.

Combine flour, baking soda, cinnamon and salt together in a large bowl.

Add half of the flour mix to the wet ingredients and beat until mixed.

Add yogurt and vanilla and beat until mixed.

Add remaining flour mix and beat until everything is well incorporated.

Pour half of the batter into the baking dish.

Evenly spread the blackberries out in a layer on top of the batter.

Pour the rest of the batter over the blackberries, making sure to fully cover them.
Crumble:
Combine ingredients in a large bowl or stand mixer and beat until crumble forms, spread evenly over cake batter.

Bake for 40-45 minutes.

Remove from oven and allow to cool for at least 10 minutes on a wire rack before serving.
Notes
Switch out the blackberries for any fruit.
For an extra high crumble, double the ingredients and bake for an extra 5 minutes.
Add a light sugar glaze for extra wow!
Recipe adapted from
Emeril Lagasse
Nutrition
Calories:
296
kcal
|
Carbohydrates:
48
g
|
Protein:
4
g
|
Fat:
10
g
|
Saturated Fat:
6
g
|
Cholesterol:
47
mg
|
Sodium:
183
mg
|
Potassium:
110
mg
|
Fiber:
1
g
|
Sugar:
30
g
|
Vitamin A:
7.2
%
|
Vitamin C:
4.9
%
|
Calcium:
4.1
%
|
Iron:
7.8
%