Easy Yorkshire Pudding is classic, 5-ingredient, English rolls that are delicious, quick and easy to make, and disappear fast! Pair them with a Sunday roast dinner or smother them in jam for breakfast!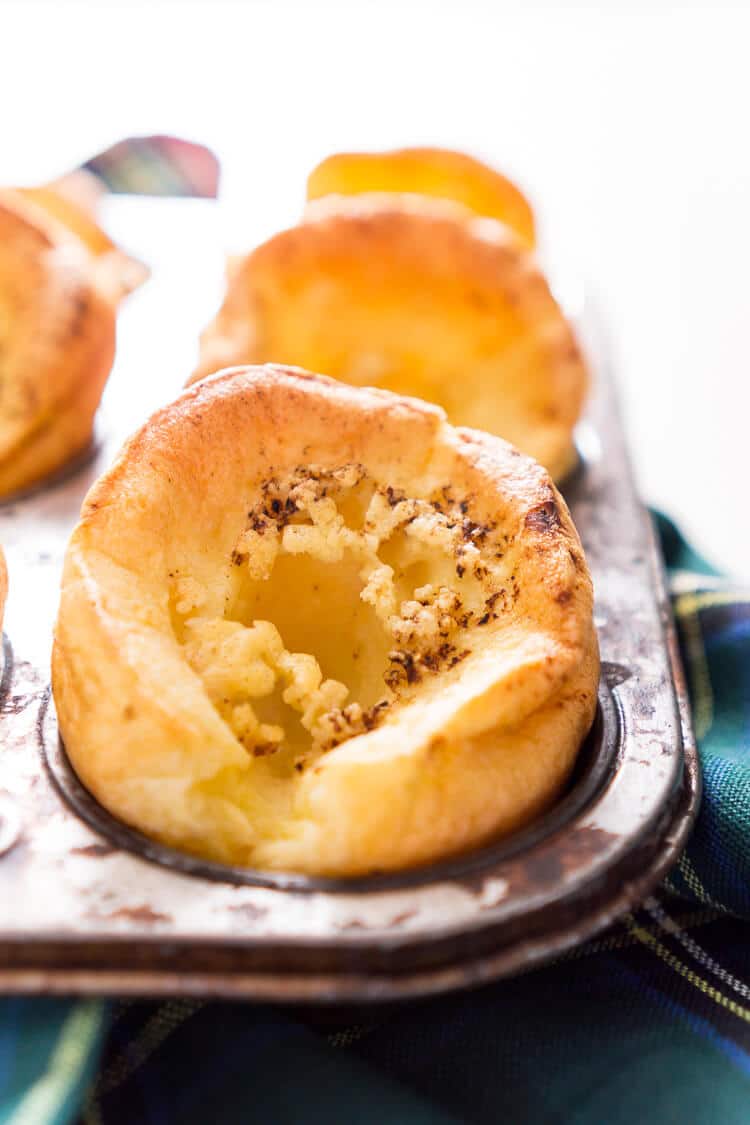 Yorkshire Pudding
Happy New Year you guys! I hope you all had a fun and safe NYE, unfortunately for us, we've spent the last week super sick and stayed in last night binge watching The Magicians and The OA. But today, we're excited for the premiere of SHERLOCK! Yes, the fourth and possibly final season is finally here!
I had wanted to do a Food & Fiction post for Sherlock because it's a show that I really love. But when I started thinking about it, they never really eat, in fact, I'm pretty sure Sherlock has an eating disorder. I think we've seen him drink coffee and wine and maybe once he ate fish and chips.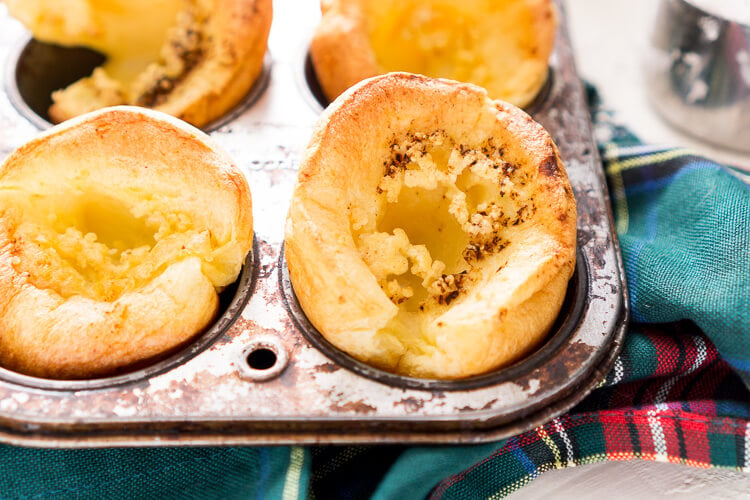 But I like to imagine Mrs. Hudson makes her fair share of Yorkshire Pudding at 221B Baker Street. And since Yorkshire pudding is such a classic, and I love it, and my friend Tara from Where Is Tara? reminded me I hadn't had it in forever last week, I thought it was about time I shared my recipe for it with you guys!
I wish I remembered to make it for Christmas to go with my mom's prime rib roast, because for me, personally, that's when they're best. Especially when you load them up with gravy… YUM!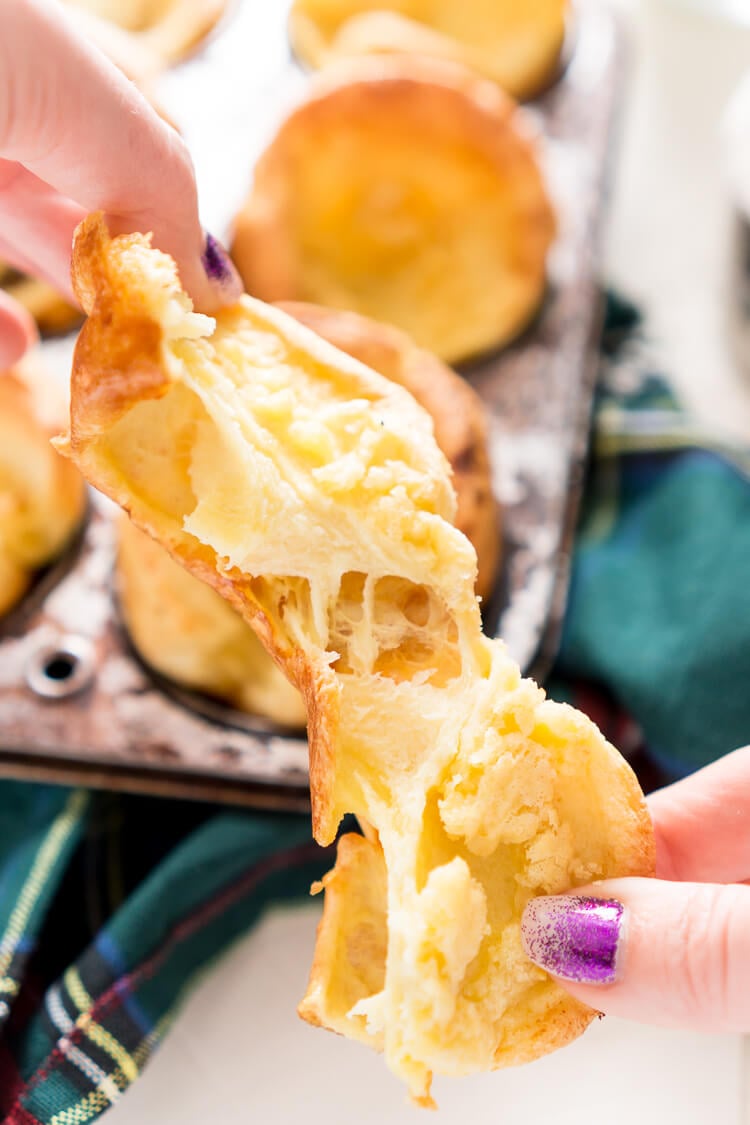 Yorkshire Pudding is also known as Popovers here in the states, for the most part, they're the same. But popovers tend to be baked in a popover pan, and I don't know about you, but I don't have room for another damn pan in this house. Yorkshire Pudding, however, is generally cooked in a basic muffin pan, which I already have and is a staple in most kitchens.
The other common difference between the two is that traditionally Yorkshire Pudding is made using beef roast or bacon fat drippings and Popovers are made using butter, but I've also seen both methods referred to by both names. So again, they're pretty much one and the same. But those two differences are why this recipe can be made two ways.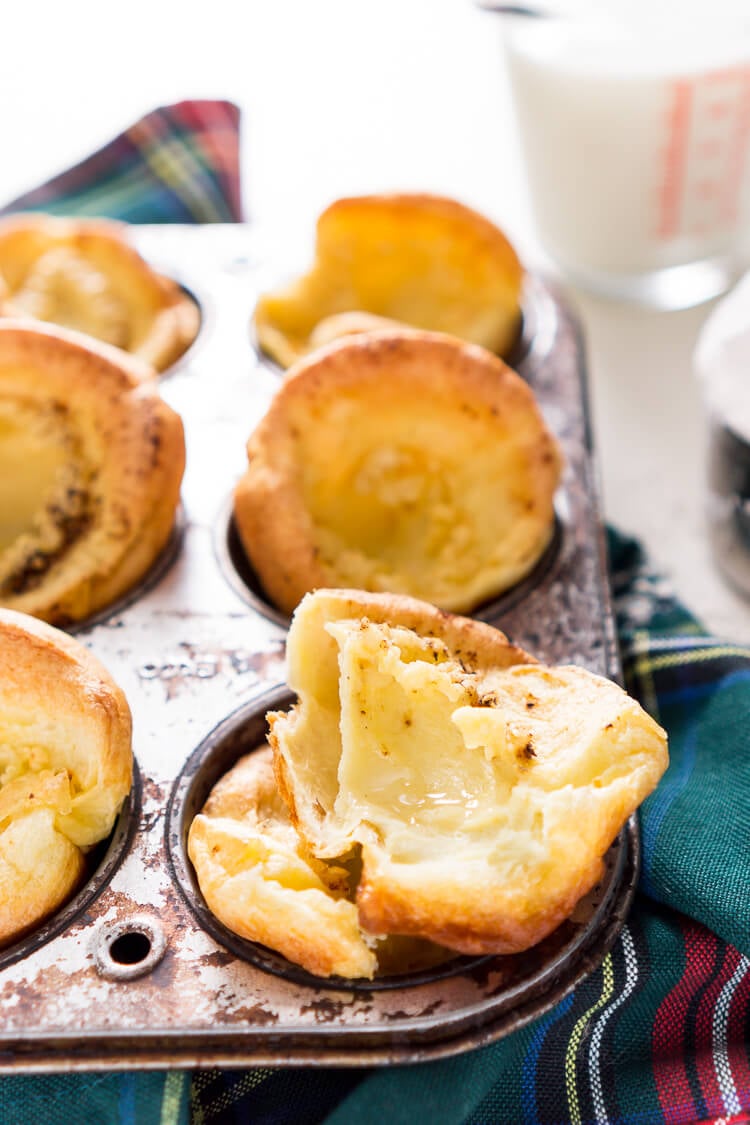 And I'm sure if you're like me, making any kind of bread seems a little daunting. But the reason I love this recipe so much, and much like my Bannock, is that there's no need for yeast or rising. This recipe is very simple and easy to make and uses just five ingredients: eggs, milk, flour, salt, and either beef drippings or butter.
As long as you follow this recipe exactly, the end result should be light, golden, and delicious Yorkshire Pudding Popovers! You don't even need to add butter to them because it's already laced throughout. Just look at the picture above at that little pool of butter, that's there naturally after the baking process… YUM!
5 Tips for Making Yorkshire Pudding:
Room temperature large eggs should be used.
Room temperature whole milk should always be used.
Reduce oven heat when instructed, no sooner, no later.
DO NOT mix in a stand mixer or with a hand mixer – bowl and whisk only!
Even if butter or drippings are already liquid when adding to the pan, you still need to do the first baking step because it is key for the butter/drippings and pan to be hot as soon as the batter is added.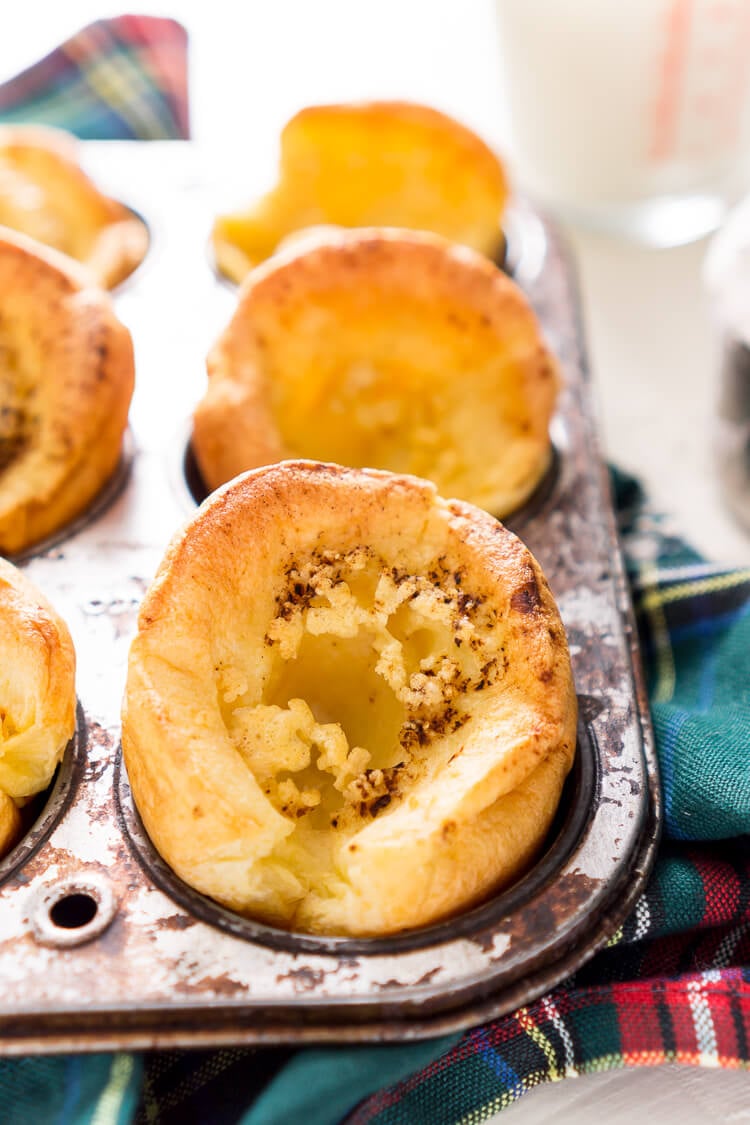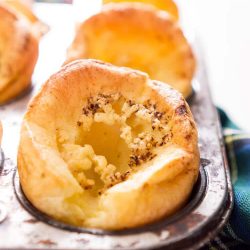 Yorkshire Pudding Popovers
Easy Yorkshire Pudding Popovers are classic, 5-ingredient, English rolls that are delicious, quick and easy to make, and disappear fast! Pair them with a Sunday roast dinner or smother them in jam for breakfast!
Ingredients
6

tablespoons

butter or beef/bacon drippings

3

large eggs

room temperature

1

cup

whole milk

room temperature

1

cup

all-purpose flour

1/2

teaspoon

salt
Instructions
Preheat oven to 375 degrees F.

Add a 1/2 tablespoon of butter or beef/bacon drippings to each cup of a 12-cup muffin pan. Bake for 5 minutes.

While butter/drippings are baking, gently whisk the eggs and milk together in a large bowl. Add in the flour and salt and mix in gently until combined.

Once the 5 minutes are up, remove muffin pan from the oven and add a little less than 1/4 cup of batter to each cup with the melted butter/drippings.

Bake at 375 degrees F for 10 minutes.

After 10 minutes, REDUCE THE HEAT to 350 degrees F and bake for another 20 minutes.

Remove from oven after baking and enjoy hot!
Nutrition
Calories:
116
kcal
Carbohydrates:
9
g
Protein:
3
g
Fat:
7
g
Saturated Fat:
4
g
Cholesterol:
58
mg
Sodium:
171
mg
Potassium:
53
mg
Sugar:
1
g
Vitamin A:
265
IU
Calcium:
32
mg
Iron:
0.7
mg