This Triple Berry Coffee Cake is loaded with strawberries, blueberries, and blackberries then finished off with chopped pecans and a simple icing.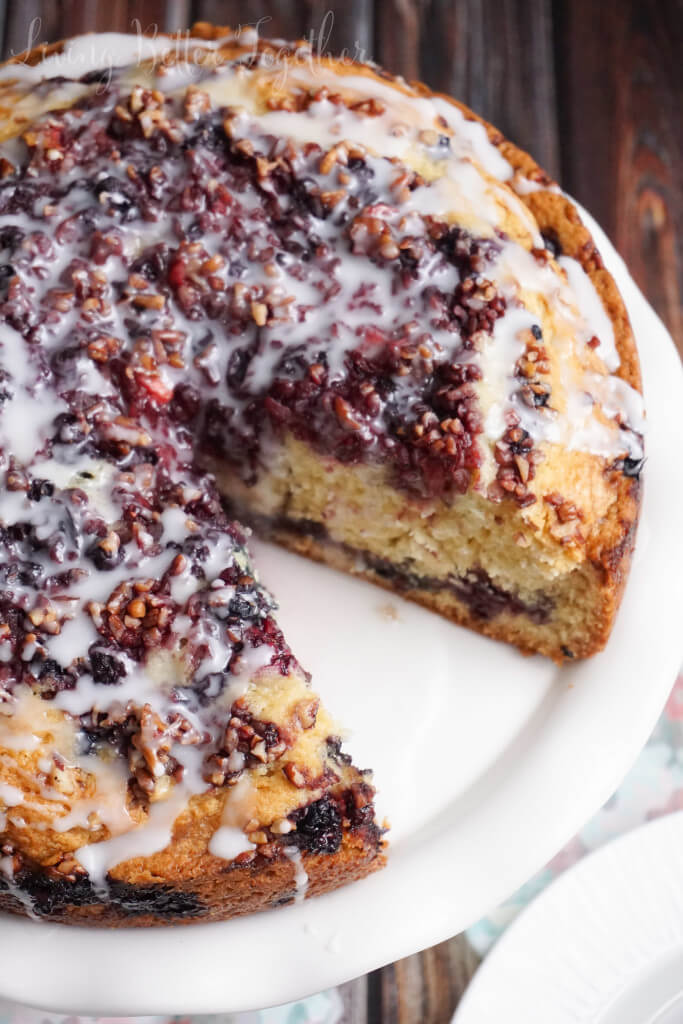 One of my favorite things about summer is the beautiful native berries. I love  picking them and using them when they're fresh in recipes like these Strawberry Coffee Cake Muffins and this Blackberry Brown Sugar Coffee Cake. However, since grocery store berries kinda suck and have very little flavor, I like to pick enough to freeze and use all year long.
I was in a berry mood last weekend and decided to whip up this amazing Triple Berry Coffee Cake. The native strawberries, blueberries, and blackberries burst with flavor in this simple dish. Pecans and cinnamon lend a hand in texture and flavor while a simple sugar glaze coats the top for a perfect finish. This rustic and delicious coffee cake is a must for the weekend breakfast table!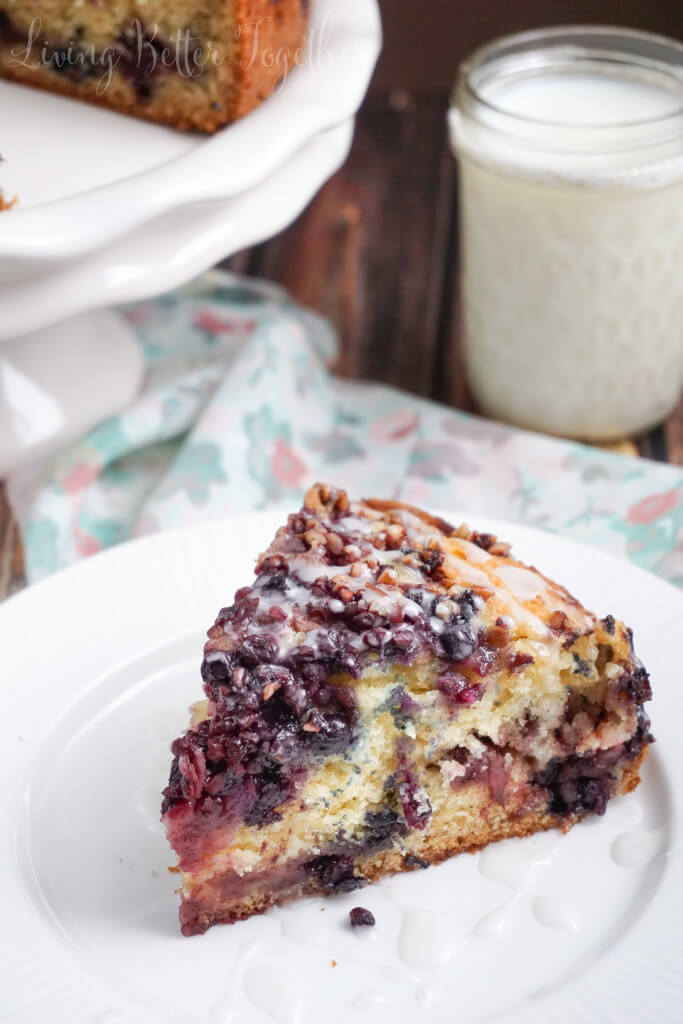 Often times, cakes with berries in them can have a hard time cooking in the center because the berries are so heavy. It's even harder when the berries are frozen and releasing juices into the cake. So if you look at your cake when time's up and it's not quite cooked in the middle but the edges are starting to brown, then I want to let you in on a little secret.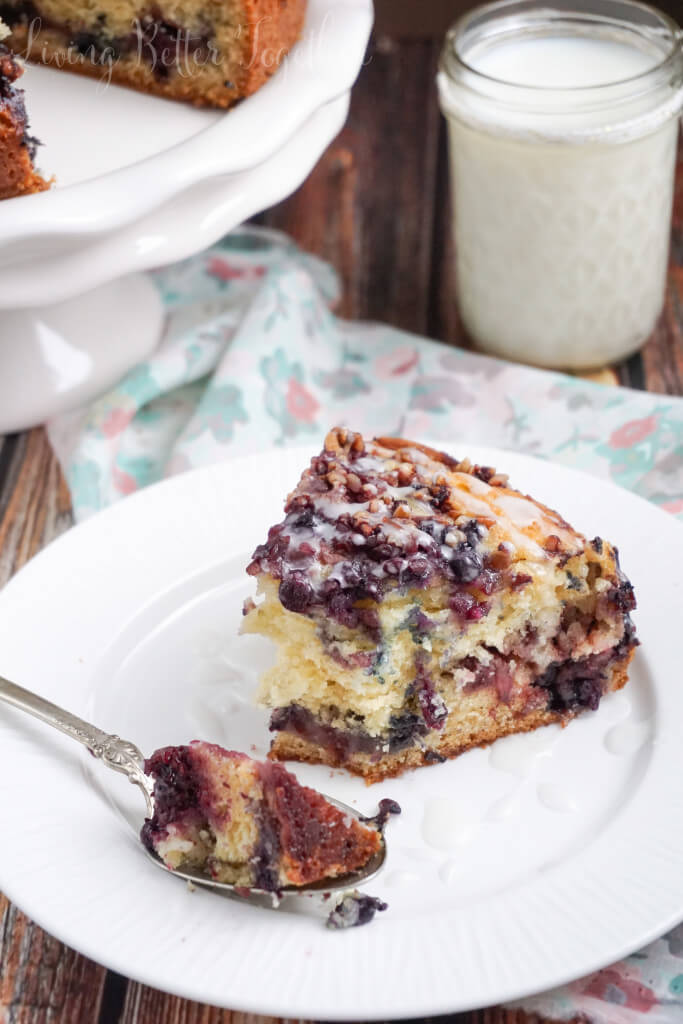 Grab some tinfoil and turn the heat down to 325 F. Loosely cover the pan with the tin foil and bake on 5 minute increments until toothpick comes clean from the center of the cake. The tinfoil will trap the heat in and help the center cook while preventing the top from browning any further. Cool trick, huh? You can do this with any cake that's having trouble cooking in the center, it's just a more common occurrence in cakes with berry or crumb toppings.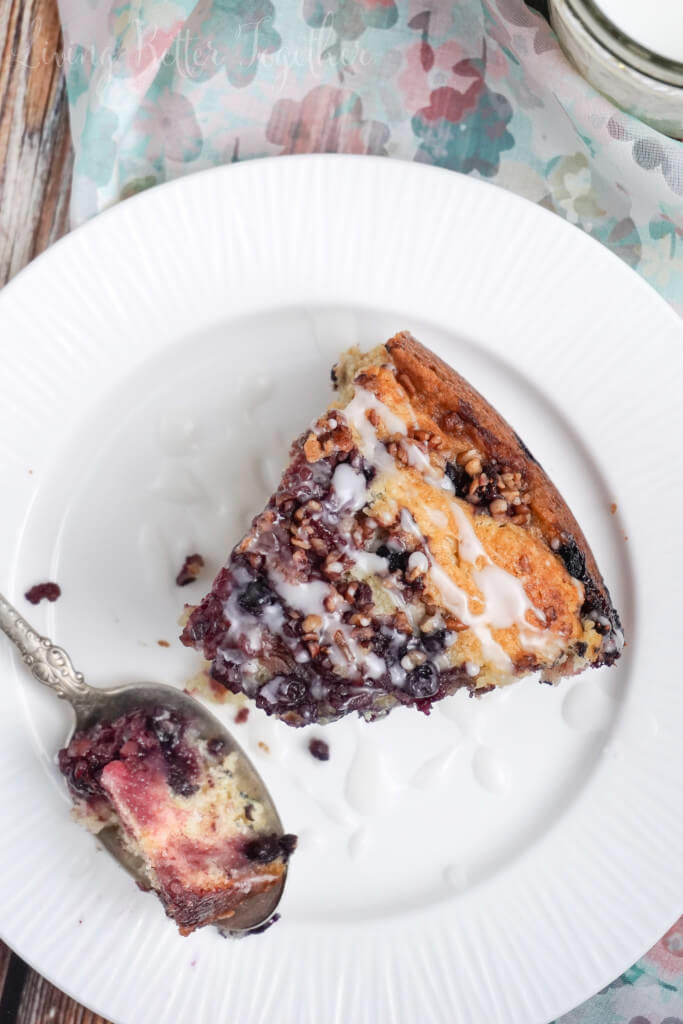 Triple Berry Coffee Cake
This Triple Berry Coffee Cake is loaded with strawberries, blueberries, and blackberries then finished off with chopped pecans and a simple icing.
Ingredients
Berry Mixture:
¾ cup Chopped Strawberries (frozen or fresh)
¾ cup Blackberries (frozen or fresh)
½ cup Blueberries (frozen or fresh)
½ cup Chopped Pecans
3 tbsp Sugar
1½ tsp Cinnamon
Coffee Cake:
2¼ cups All-Purpose Flour
1 tsp Baking Powder
½ tsp Baking Soda
1 tsp Cinnamon
1¼ cups Sugar
1 cup (2 sticks) Unsalted Butter (room temp)
1 tbsp Vanilla Extract
2 Large Eggs
1 cup Sour Cream
Icing:
1½ cups Confectioners' Sugar
3-4 tsp Water
Instructions
Preheat over to 350 F.
Grease and lightly flour a 9 in. spring form pan.
Mix together all ingredients for the berry mixture in a medium bowl and set aside.
Combine flour, baking powder, baking soda, and cinnamon in another medium bowl and set aside.
Cream butter and sugar in a large bowl or stand mixer.
Add in eggs one at a time, beating in between.
Add in vanilla extract and beat on medium speed for 2 minutes, occasionally stopping to scrape down the sides of the bowl.
Beat in the flour mixer, alternating with the sour cream on low speed until fully incorporated. Scrape down the sides as needed.
Spread ½ of the batter out in the pan, batter will have a bit of a dough consistency and you may need to use your hands to spread it around all the way out to the edges.
Evenly distribute half of the berry mixture on top of the batter.
Spread the remaining batter over the filling and then evenly top with the remaining filling.
Bake for 55 - 65 minutes.
Check around minute 45 to see if you need to use the tin foil method mentioned above for the remainder of cooking.
Once cake is fully cooked, remove from oven and let cool in the pan for 10 minutes, then remove the sides of the pan and allow to cool completely on a cooling rack.
Once cake has cooled, stir together icing ingredients and drizzle over the cake.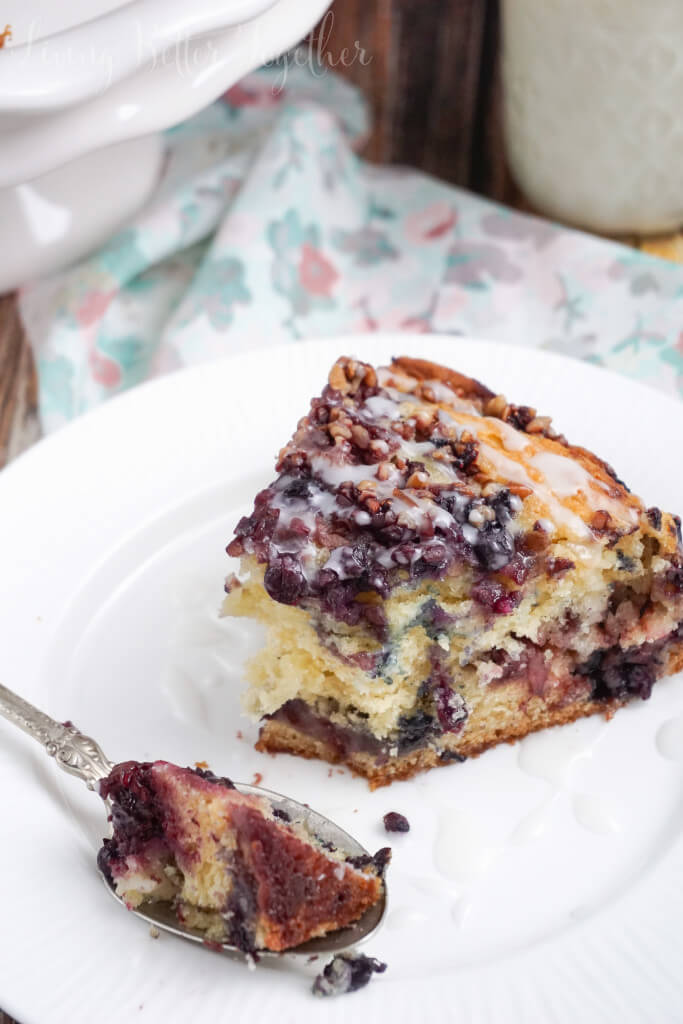 Pin the image below to save this recipe for later!