This TikTok Baked Gnocchi recipe is made with just a handful of ingredients, one sheet pan, and is ready in less than 30 minutes! It packs so much flavor and anyone can pull this delicious dish off!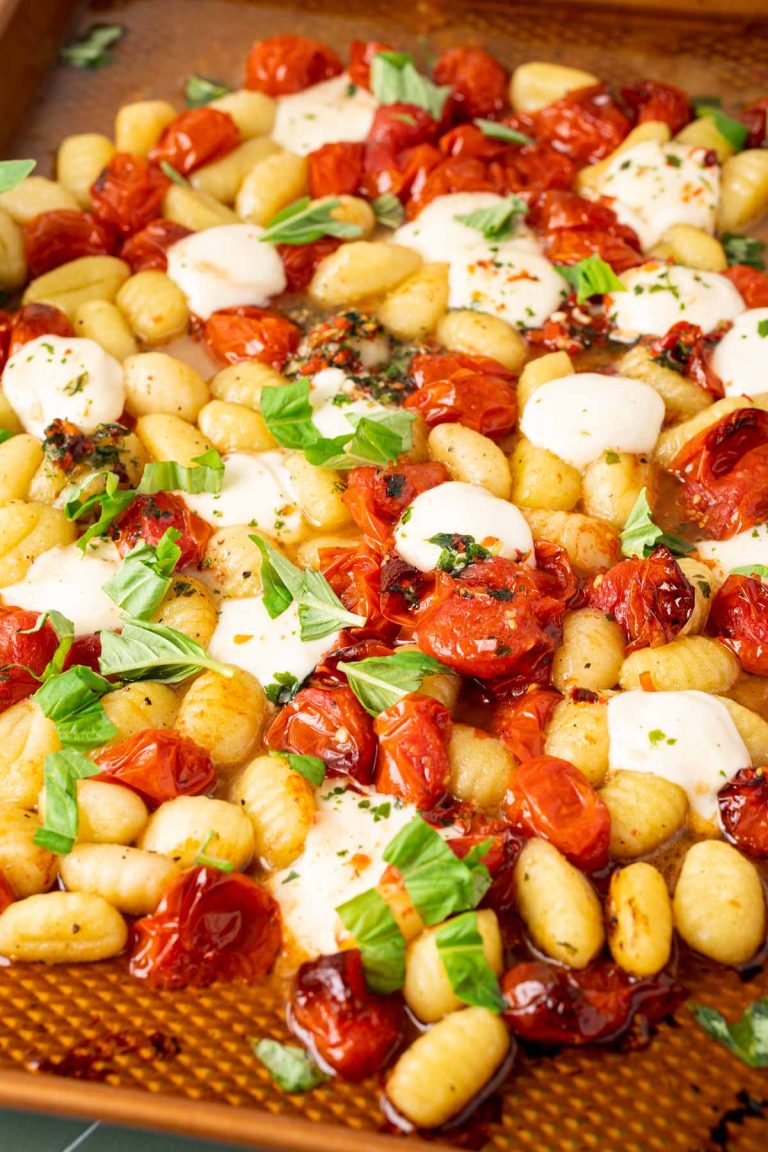 This recipe is going nuts on TikTok thanks to @saraebaus – she raves about the amazing flavor and simplicity of this Baked gnocchi. And guess what? She's not kidding! It is SO good! I decided to make her recipe Caprese-style, but you can definitely omit the basil and the balsamic if you want to!
What I Love About This Caprese Gnocchi Recipe
Easy – Truly anyone can throw this recipe together. And the thing I love about gnocchi is that it always looks impressive! And the Caprese twist – well that just makes it extra fancy and flavorful!
25 minutes – From start to finish this dish takes just 25 minutes to prepare and roast!
Vegetarian – If you're looking for a meatless dinner option, this recipe is perfect. However, I've added grilled chicken to it too and it's also delicious that way!
Affordable – Minimal ingredients usually means budget-friendly and although the marinated mozzarella balls do seem a bit pricey, this recipe still comes in around $15 for 4 servings!
Popular TikTok Recipes: Hot Girl Summer Salad | Corona Sunrise | Twisted Bacon
Making TikTok Gnocchi
You'll need a package of gnocchi, I recommend using the kind you find in the fried pasta aisle as opposed to fresh gnocchi. You'll toss the gnocchi with the tomatoes on a sheet pan with some garlic paste, salt, pepper, and the oil from the mozzarella balls package.
Roast this mixture then add the mozzarella balls and roast for a few minutes more until melted. After removing from the oven, sprinkle with roughly chopped basil and drizzle with balsamic glaze.
You'll find marinated mozzarella in the specialty cheese section of most grocery stores. If you can't find it, some people like to use 1/4 cup of olive oil and fresh herbs in the recipe instead, just make sure you drain the plain mozzarella balls before adding them to the sheet pan. I do recommend using the marinated kind if you can find them because the flavor is so much better in my opinion!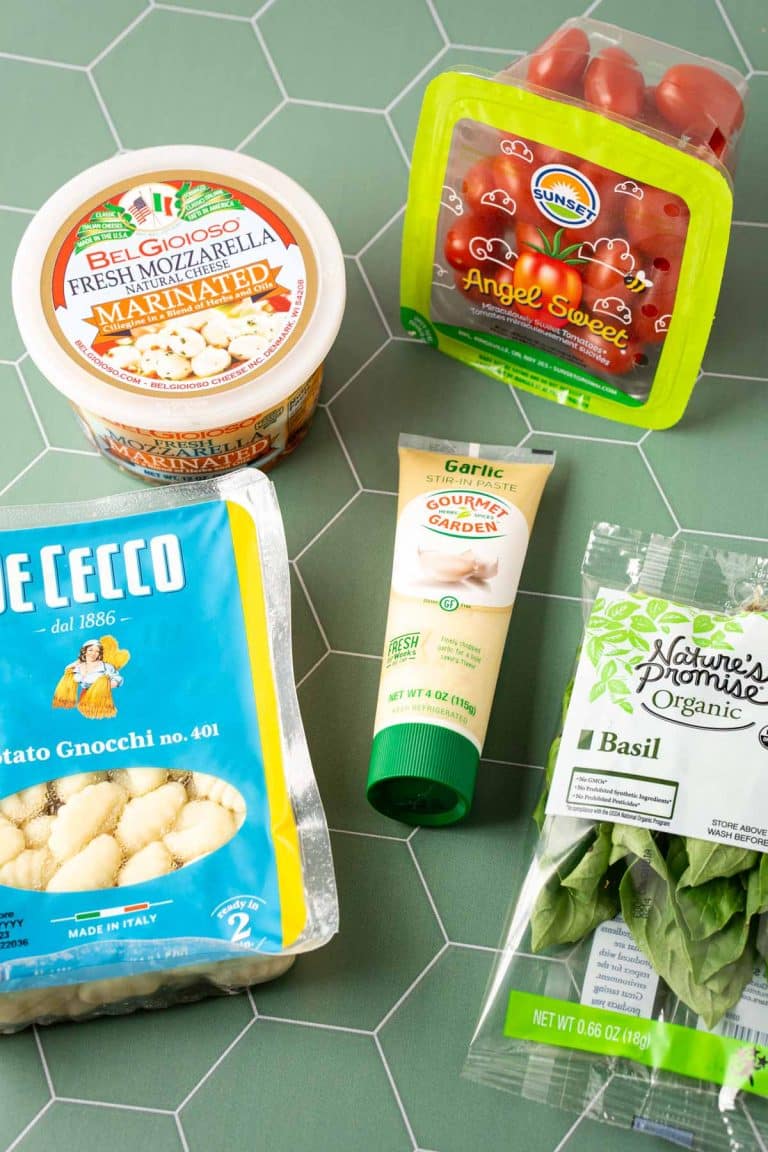 Everyone in our family absolutely LOVES this TikTok Baked Gnocchi! The gnocchi itself gets soft on the inside with a slightly crispy roasted exterior. The tomatoes are literally bursting with juice and flavor. The mozzarella is just enough cheese for this Italian-inspired dish. It really is perfection all on its own with a bit of garlic, salt, and pepper.
However, I really love Caprese and I think that a bit of basil and balsamic takes this incredible dish to the next level! So make it with or make it without, either way, you can't go wrong with this recipe! It's the perfect weeknight meal thanks to its quick prep and cook time – but impressive enough for guests!
How To Serve TikTok Roasted Gnocchi
This dish can be served on a plate or in a bowl. There will be a lot of oil in the pan so I recommend using a spatula to dish it out.
Serve with crusty bread to soak up the excess oil… YUM! Or add grilled chicken to the mix or even marinated mushrooms or bacon crumbles.
Storing Leftovers
This is one of those recipes where leftovers don't keep well. I highly recommend enjoying all of it when it's fresh out of the oven.
Popular Pasta Recipes: American Chop Suey | Spaghetti Limone | Baked Ziti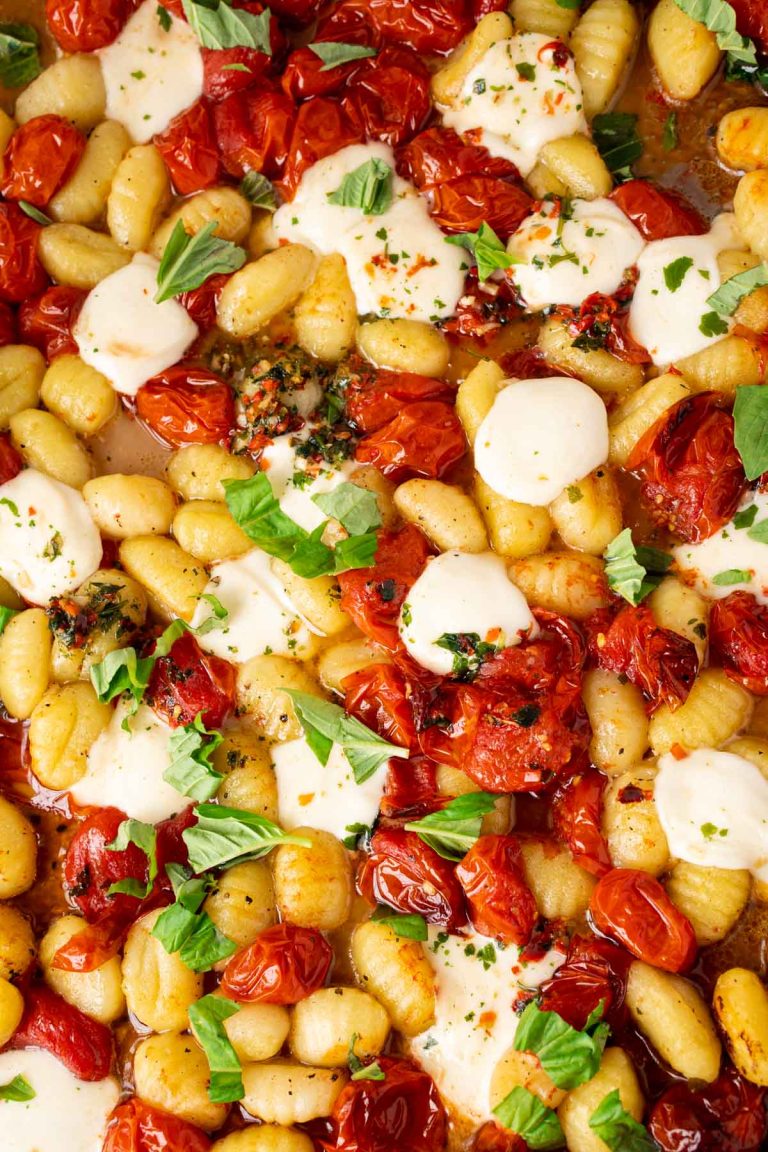 👋 Let's Connect!
If you've tried this recipe, please let me know how you liked it in the comments below and leave a review; I love hearing from you! And don't forget to tag me – @sugarandsoulco – on Instagram and Pinterest with your photos or join our Busy Family Recipes Facebook Community and share them there!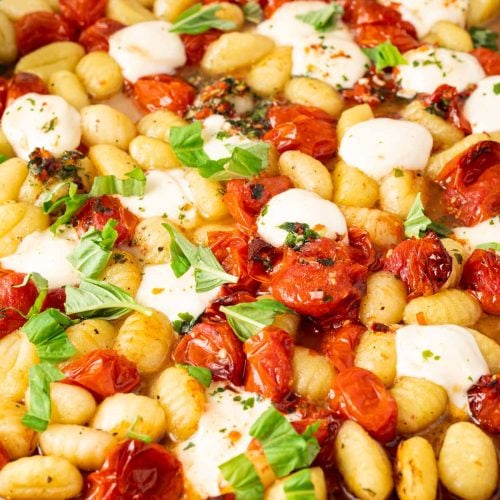 Baked Gnocchi
This TikTok Baked Gnocchi recipe is made with just a handful of ingredients, one sheet pan, and is ready in less than 30 minutes! It packs so much flavor and anyone can pull this delicious dish off!
Ingredients
17.5

ounces

gnocchi

2

pints

grape or cherry tomatoes

2

tablespoons

garlic paste

or 4 cloves crushed garlic

12

ounces

marinated fresh mozzarella

with oil

½

teaspoon

sea salt

optional

½

teaspoon

cracked black pepper

optional

¼

cup

basil leaves

optional

1

tablespoon

balsamic glaze

optional
Instructions
Preheat the oven to 450°F.

Dump the gnocchi and tomatoes onto a large sheet pan.

17.5 ounces gnocchi,

2 pints grape or cherry tomatoes

Add garlic paste and the oil from the mozzarella package, reserving the mozzarella balls for later. Add the salt and pepper and stir until the gnocchi and tomatoes are evenly coated in the garlic and oil.

2 tablespoons garlic paste,

12 ounces marinated fresh mozzarella,

½ teaspoon sea salt,

½ teaspoon cracked black pepper

Remove from the oven and then add the mozzarella balls, distributing evenly amongst the gnocchi and tomatoes

12 ounces marinated fresh mozzarella

Roast for an additional 3 to 5 minutes until the mozzarella has melted.

Remove from the oven and garnish with freshly chopped basil and balsamic glaze, if desired.

¼ cup basil leaves,

1 tablespoon balsamic glaze
Notes
I have only tested this recipe with shelf-stable gnocchi, not fresh gnocchi. Fresh gnocchi would likely cook faster.
Basil and balsamic are an optional addition if going for a caprese flavor, which I prefer.
Nutrition
Calories:
345
kcal
Carbohydrates:
40
g
Protein:
18
g
Fat:
14
g
Saturated Fat:
8
g
Polyunsaturated Fat:
1
g
Monounsaturated Fat:
4
g
Cholesterol:
45
mg
Sodium:
838
mg
Potassium:
442
mg
Fiber:
4
g
Sugar:
5
g
Vitamin A:
1751
IU
Vitamin C:
23
mg
Calcium:
330
mg
Iron:
4
mg