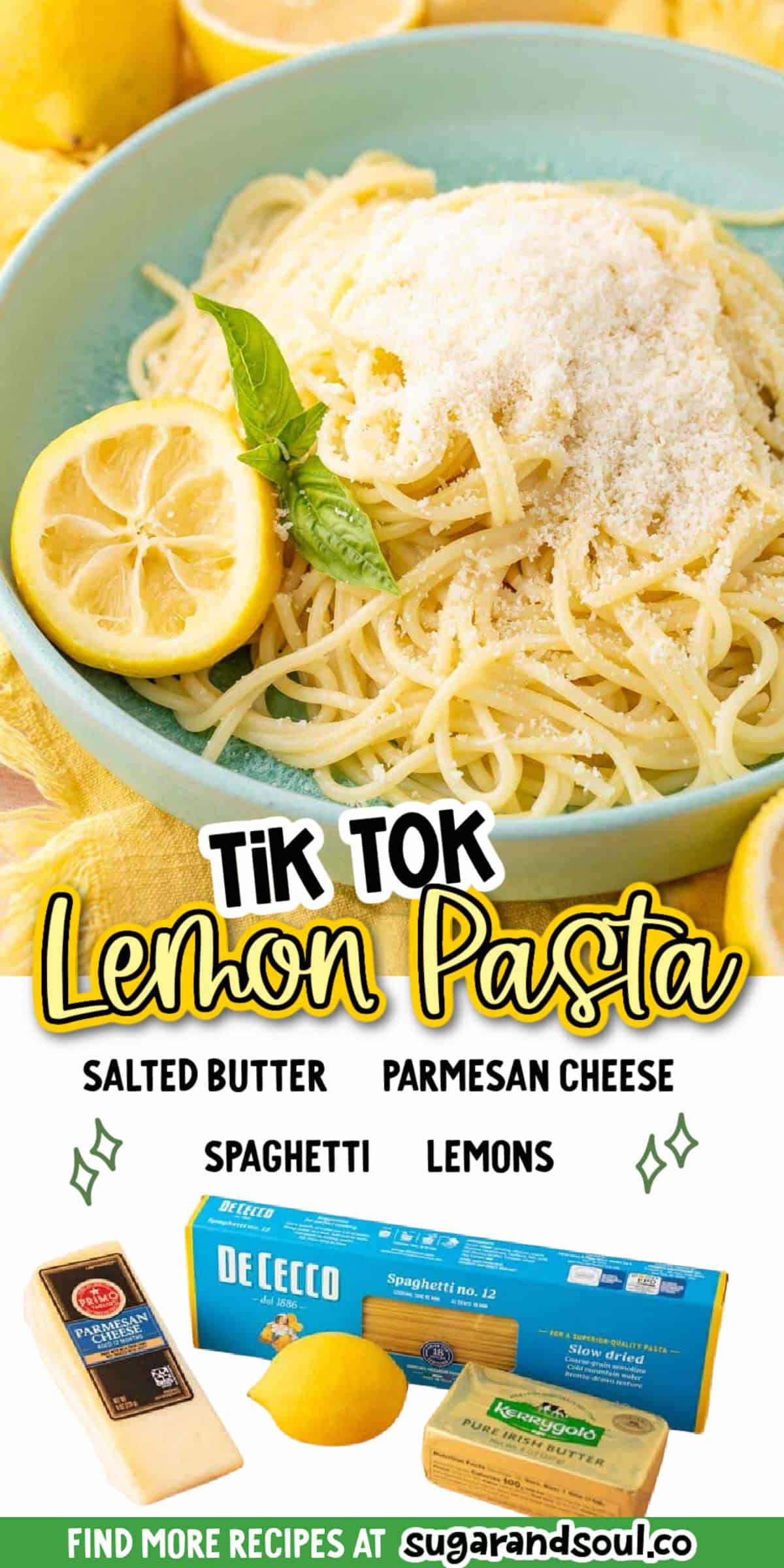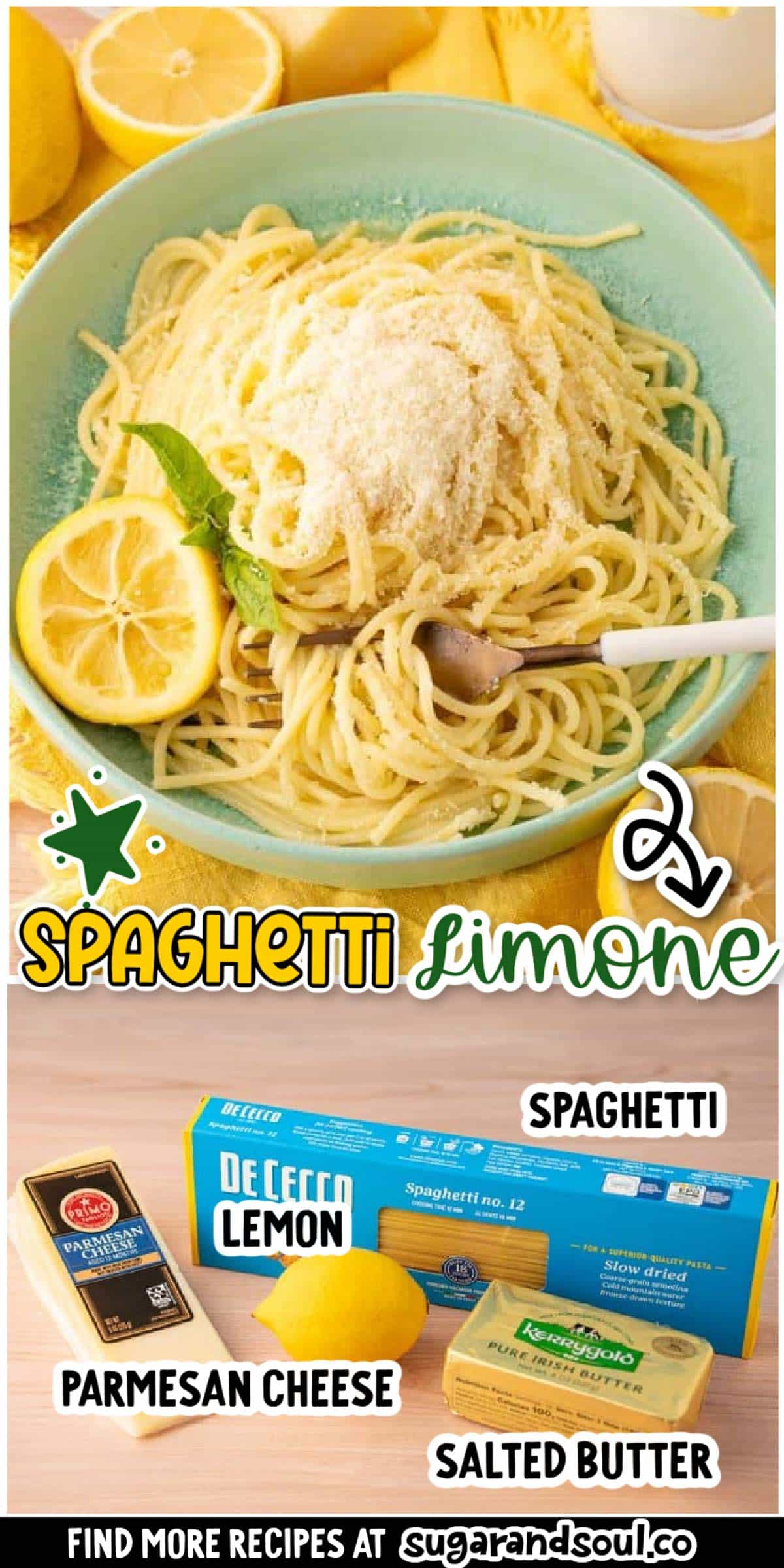 This simple Lemon Pasta (Spaghetti al Limone) recipe is made with just 4 ingredients and ready in just 15 minutes! Loaded with vibrant citrus and salty parmesan and butter – the whole family will love this easy Italian-inspired dish!
No wonder this Lemon Butter Pasta recipe is going crazy on TikTok with millions of views across multiple videos. But few actually share the recipe or talk about the techniques that truly make this dish memorable, but I do, so let's dive in!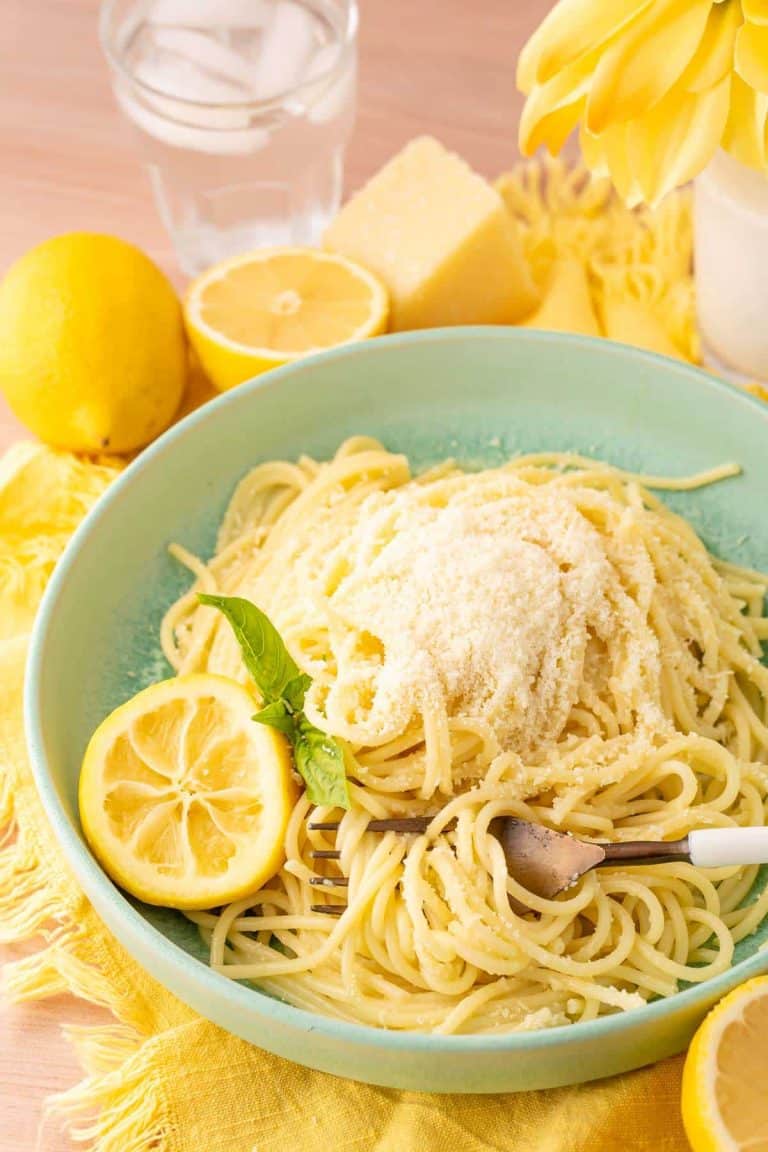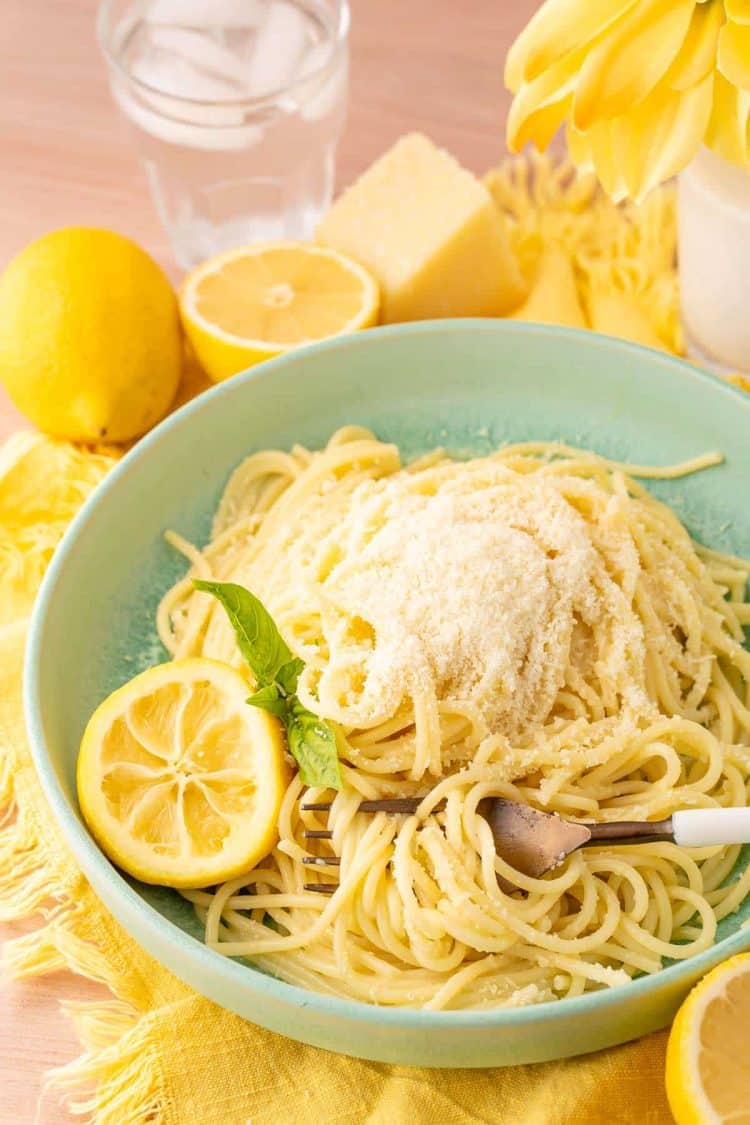 Who doesn't love a recipe as easy as this TikTok Lemon Pasta when it comes to dinner during the week? But honestly, this recipe is so flavorful and easy to fancy up that it could be served for a special occasion too.
The original Spaghetti al Limone recipe went viral last year from TikToker @TheShaySpence, who made Frank Prisinzano's famous recipe from his NYC restaurant, Lil' Frankie's. But in the last few days, creator @EmilyMeriko has prompted its popularity again.
Frank Prisinzano calls this a "no recipe" dish – he just eyes everything to get the consistency. We've made his recipe several over the last few months and it's always a hit. So to be a bit more practical I'm going to include what I normally use in the recipe card below. This is the only pasta my daughter will eat other than plain pasta with parmesan – she calls it lemonade pasta – 3-year-olds, amirite?
Why This TikTok Lemon Pasta Recipe Works
Simple Prep – Nothing too crazy or time-consuming – this Limone pasta requires minimal dishes and just 4 ingredients.
Flavor Trinity – The bright lemon flavor really shines in this dish with the help of butter and parmesan. Minimalist recipes can be truly amazing so long as they are executed properly.
Quality Ingredients – Make sure to use fresh high-quality full-fat ingredients for this dish for the best possible results.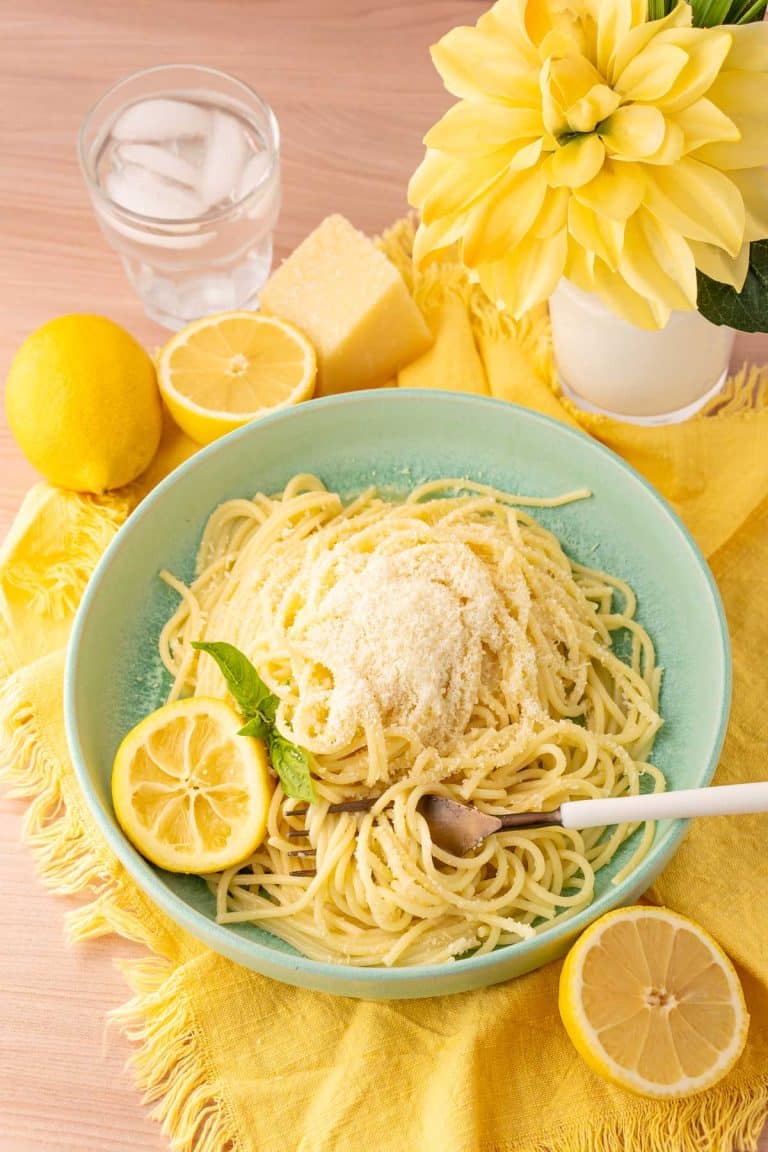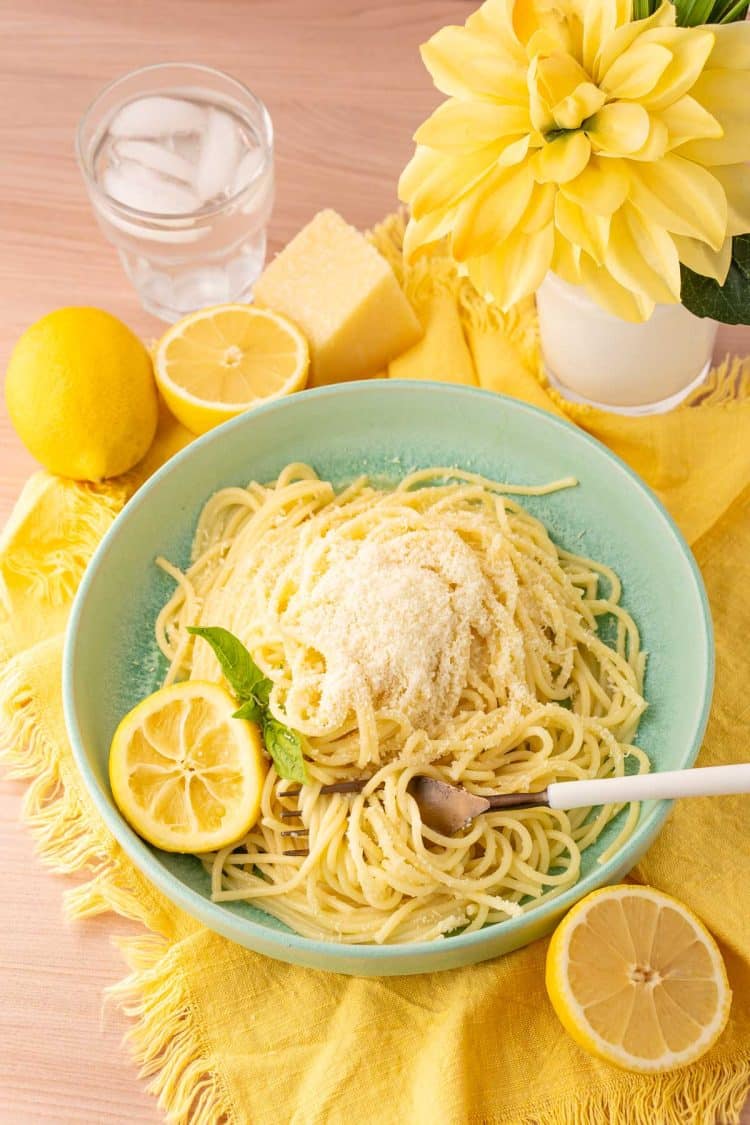 Pasta al Limone Ingredients Notes
As I said, with only 4 ingredients it's important to get the right kinds and prepare them in the proper way. Let's talk about what each one brings to the dish.
Pasta – Use spaghetti for this recipe. Your favorite brand is fine but I recommend using either Rao's or De Cecco for the best texture. Look for a dried pasta that has a matte/gritty feel over a smooth glossy finish. The other thing you will notice about these pastas is that the pasta water ends up being much more yellow in color.
Lemons – You can't have Spaghetti Limone without lemons. Make sure to use fresh ones, do not shortcut this recipe with bottled lemon juice. Plus you'll want to use the whole lemons in the recipe.
Butter – The butter is so important in this recipe, you need high-fat grass-fed butter to really get the sauce the right consistency. If you have access to raw butter, that's great. If not, a European or extra creamy sweet butter will work great – make sure to use salted butter.
Parmesan – Don't use the shaker jar stuff for this recipe, go with freshly grated "cheese dust" so that the cheese falls through the pasta to coat it.
Sea Salt – Yeah, technically this is the fifth ingredient but it's important to note that when you season your pasta water you should use sea salt over table salt. Remember, the pasta water is going to be used in the sauce so we want it to be seasoned properly.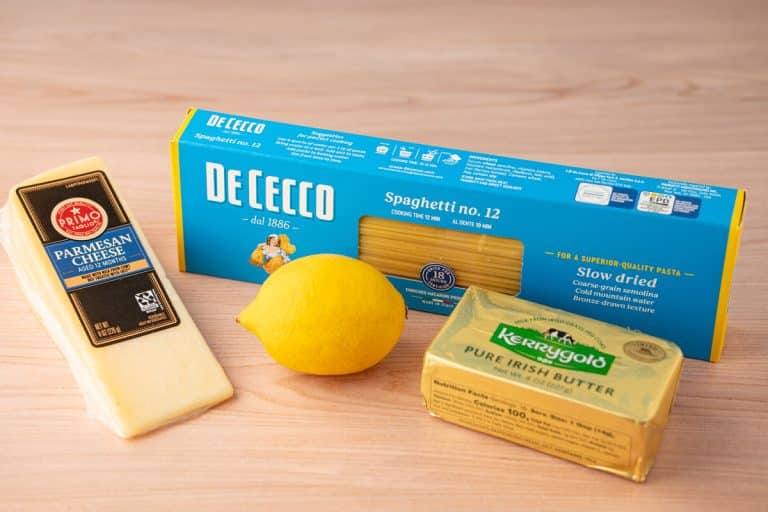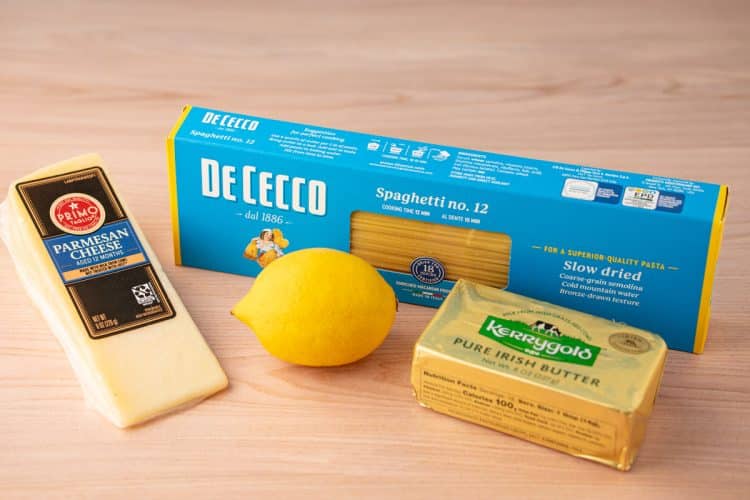 How To Make TikTok Spaghetti Limone
This is a really easy recipe to make, just take note of some of the key things like no heat while building the sauce, wet pasta, reserved pasta water, and more as these are all crucial to the dish.
Start by boiling your pasta until al dente, but do not drain. Once al dente, use tongs to transfer the spaghetti to a clean pot with any water that clings to it. You want the pasta to be "wet". Do not heat the fresh pot because it will break the sauce.
While the pasta is cooking, make the "cheese dust" by grating the cheese in a circular motion on the zesting side of a box grater. This is the side with circular holes that appear spikey.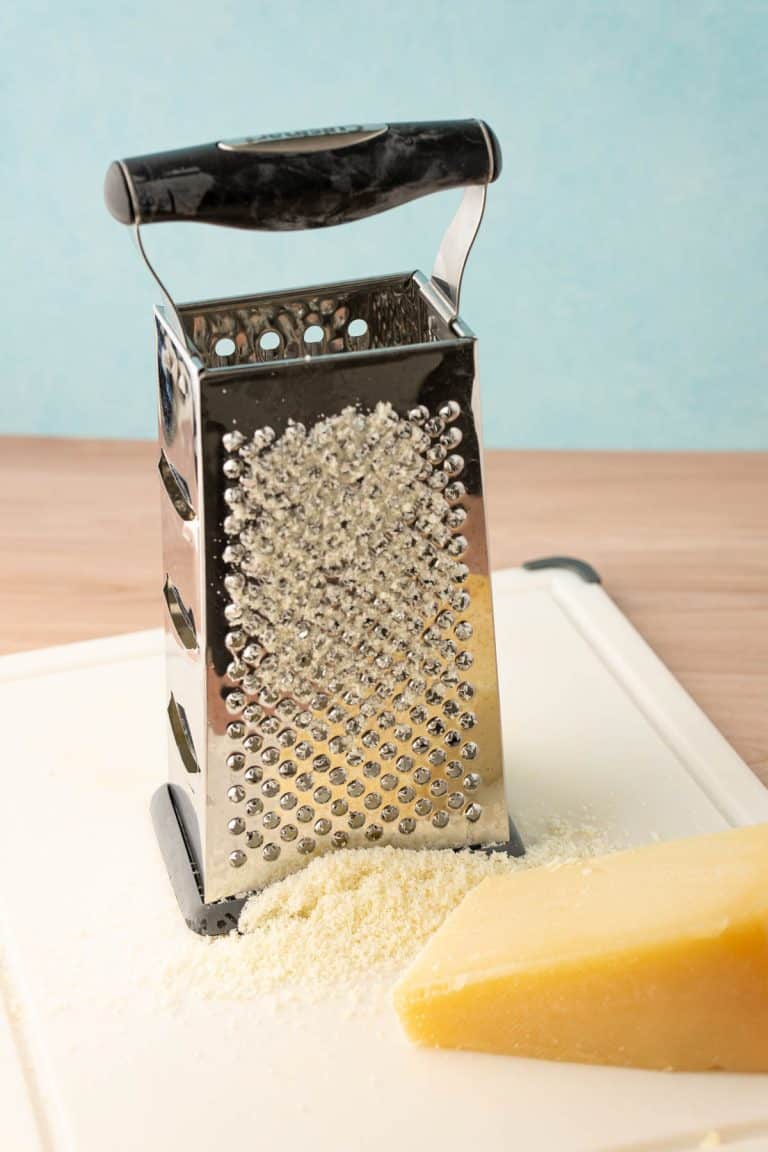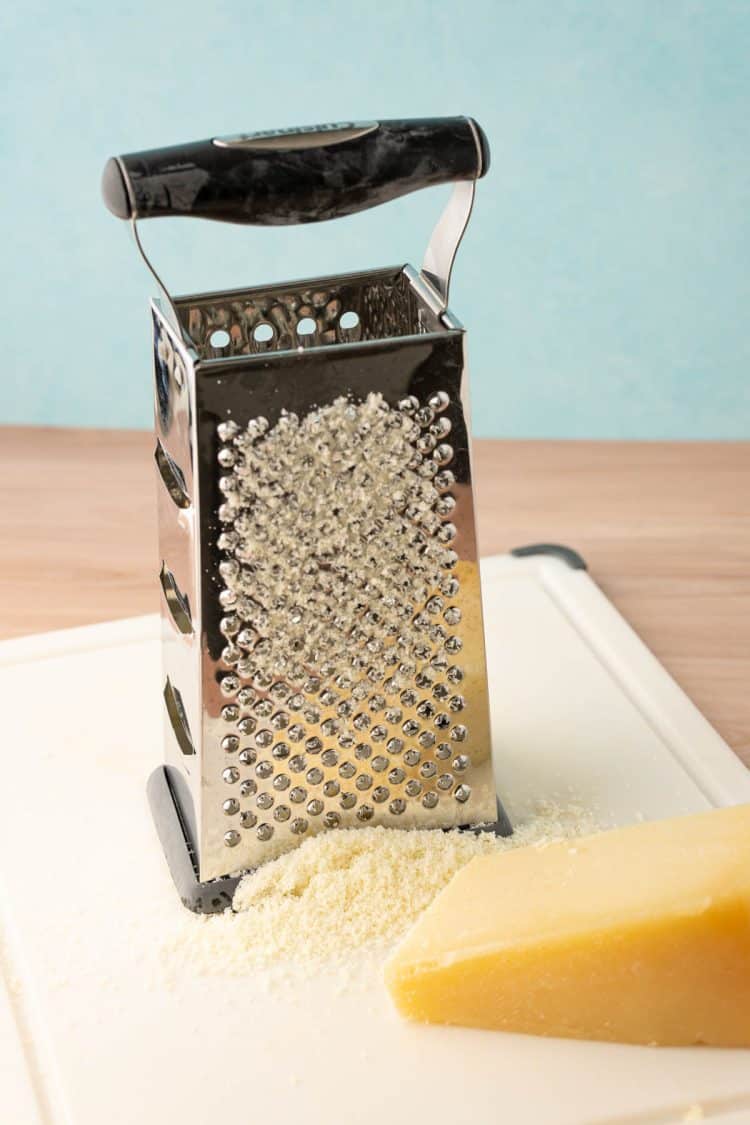 Pour in the lemon juice, making sure to strain it first so there are no seeds, then throw in the lemon halves. Add the butter then swirl the pasta around with the tongs to melt the butter and begin building the sauce.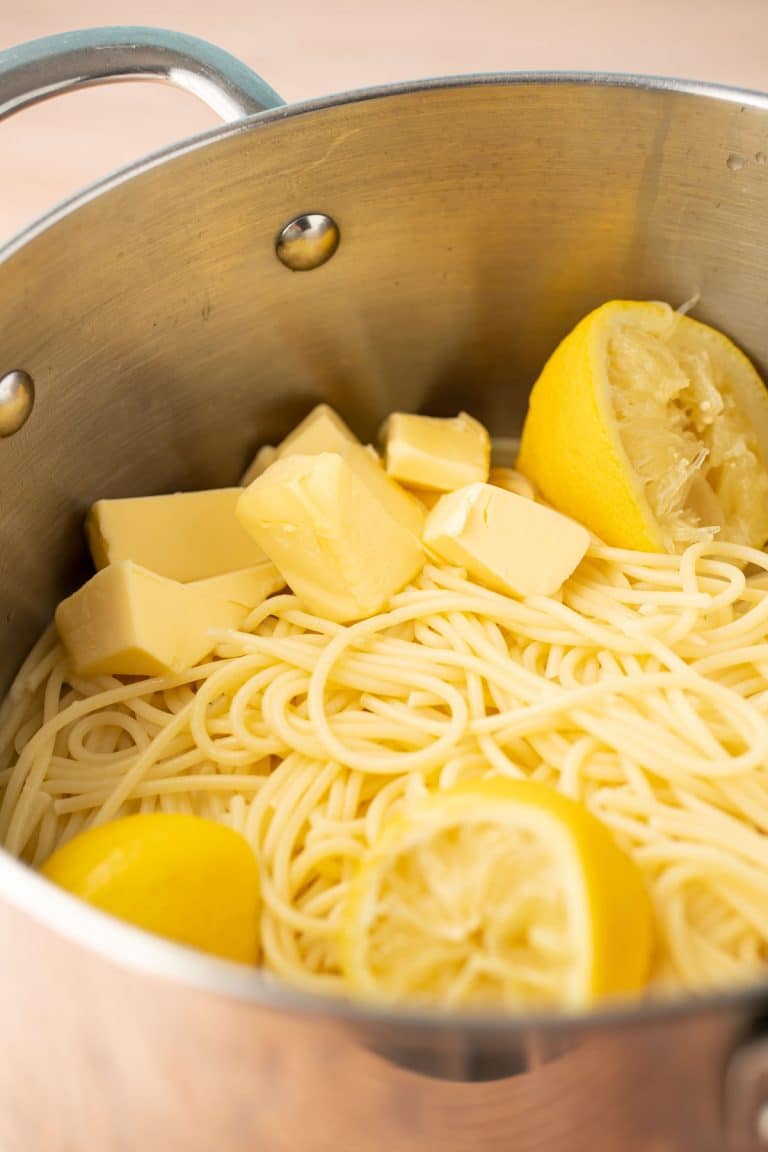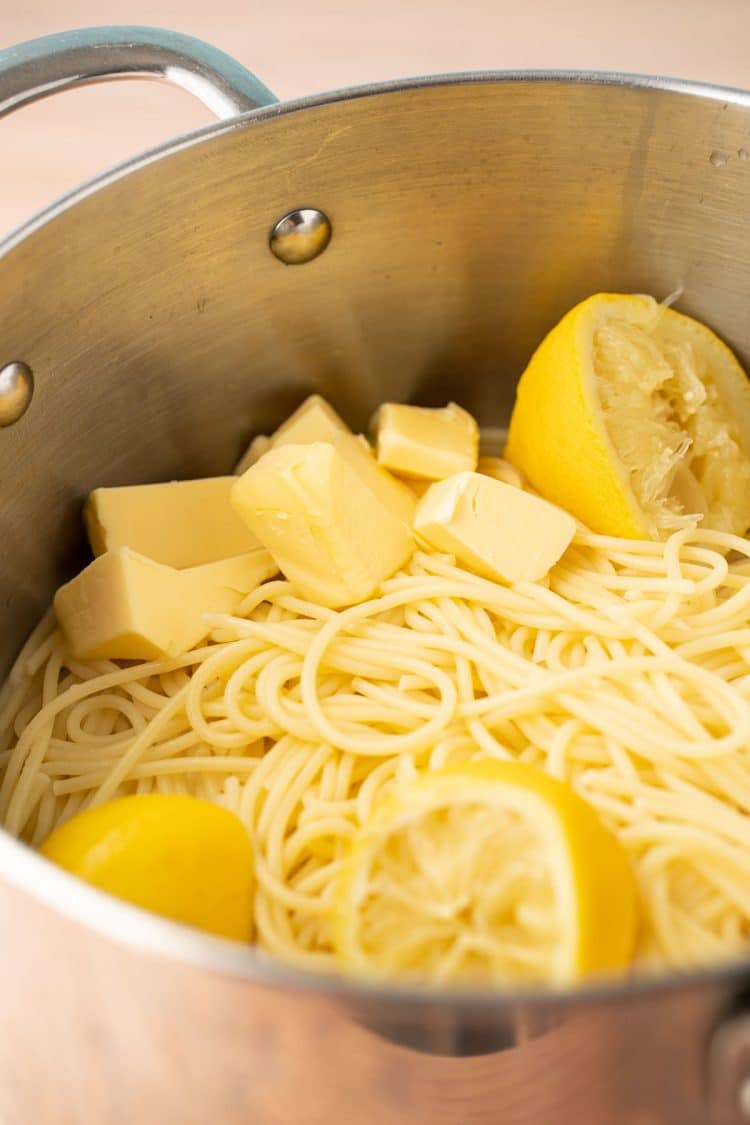 Add ladles of starchy pasta water as needed while continuing to stir the pasta to emulsify the sauce. You're aiming for what you see in the photo below.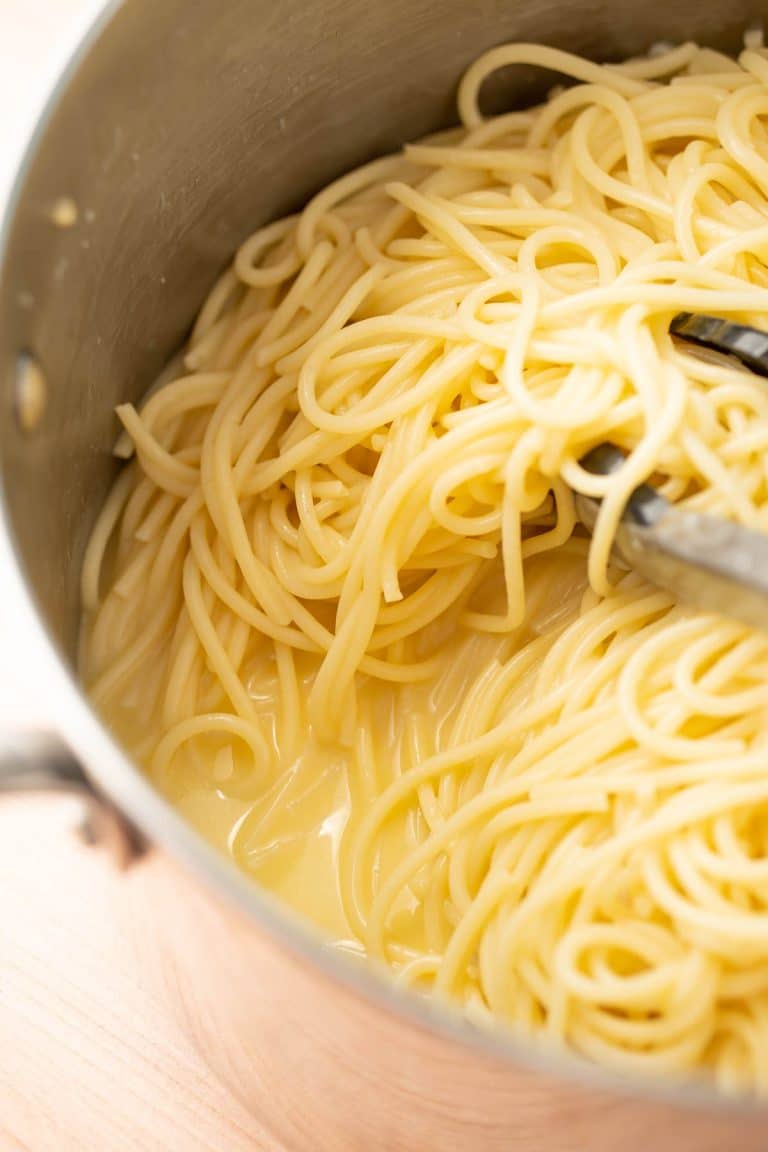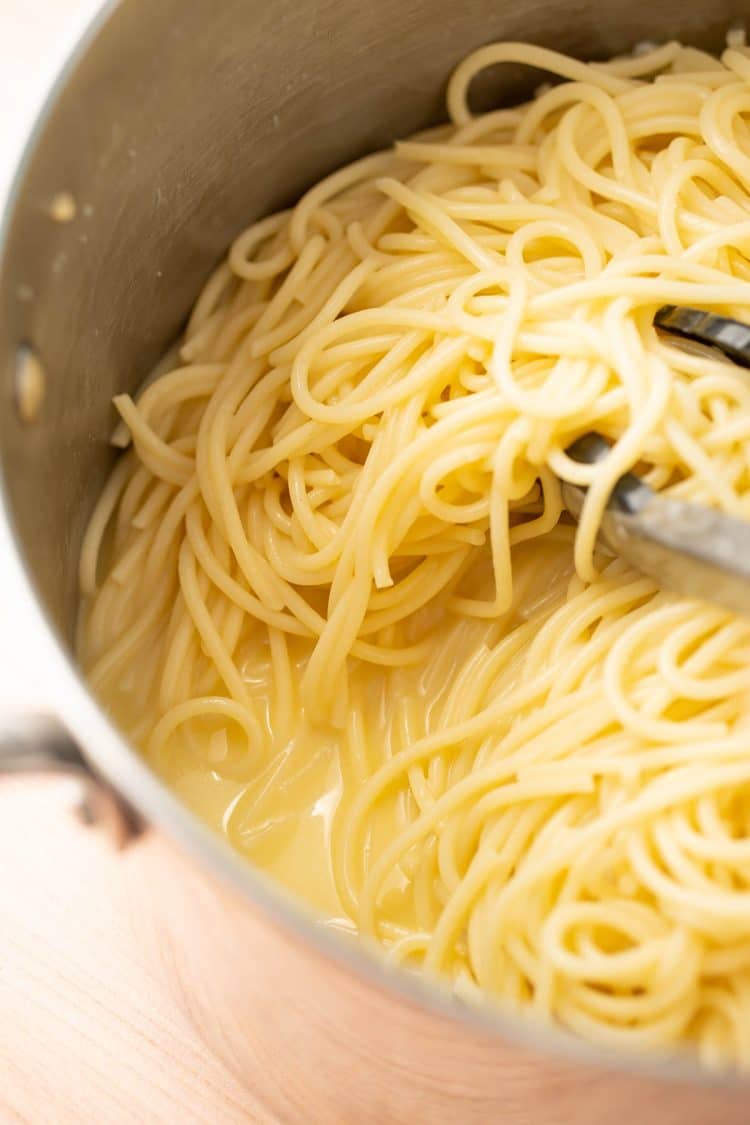 Plate and top with a mound of finely grated Parmesan cheese and pour a little more sauce over the pasta and enjoy.
Serve on warm plates so the butter doesn't begin solidifying after plating. This helps maintain the sauce's consistency throughout the meal.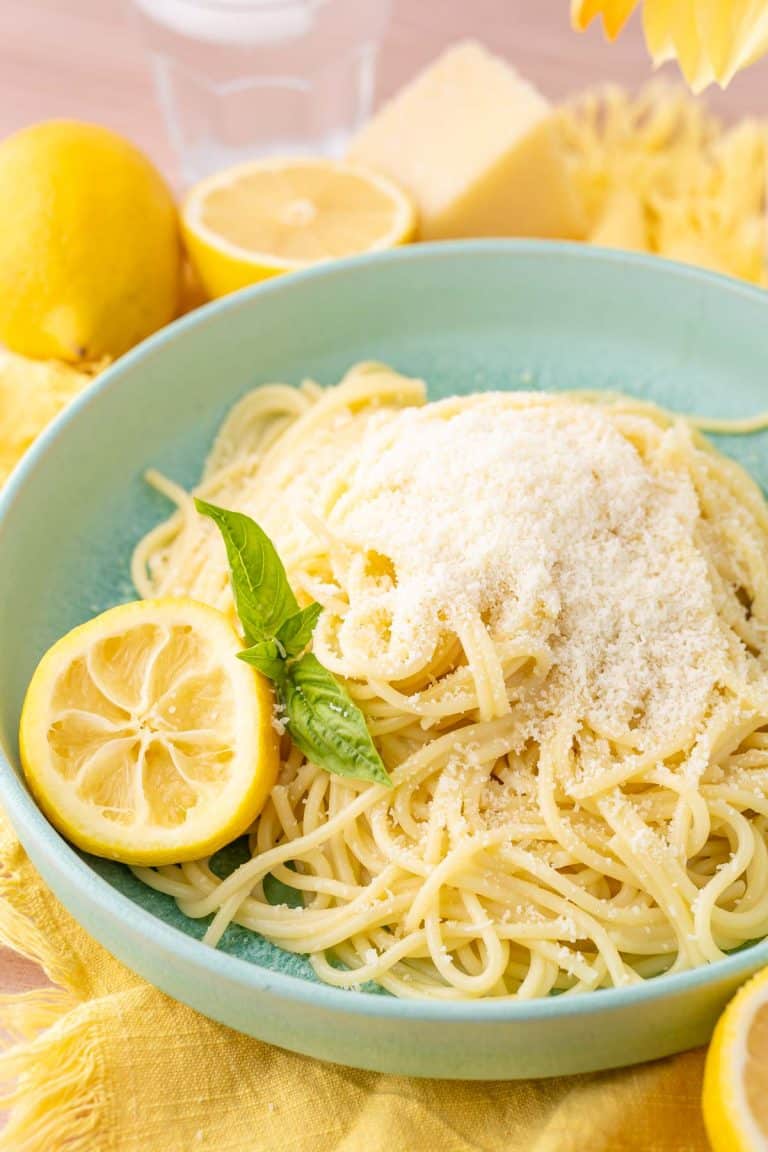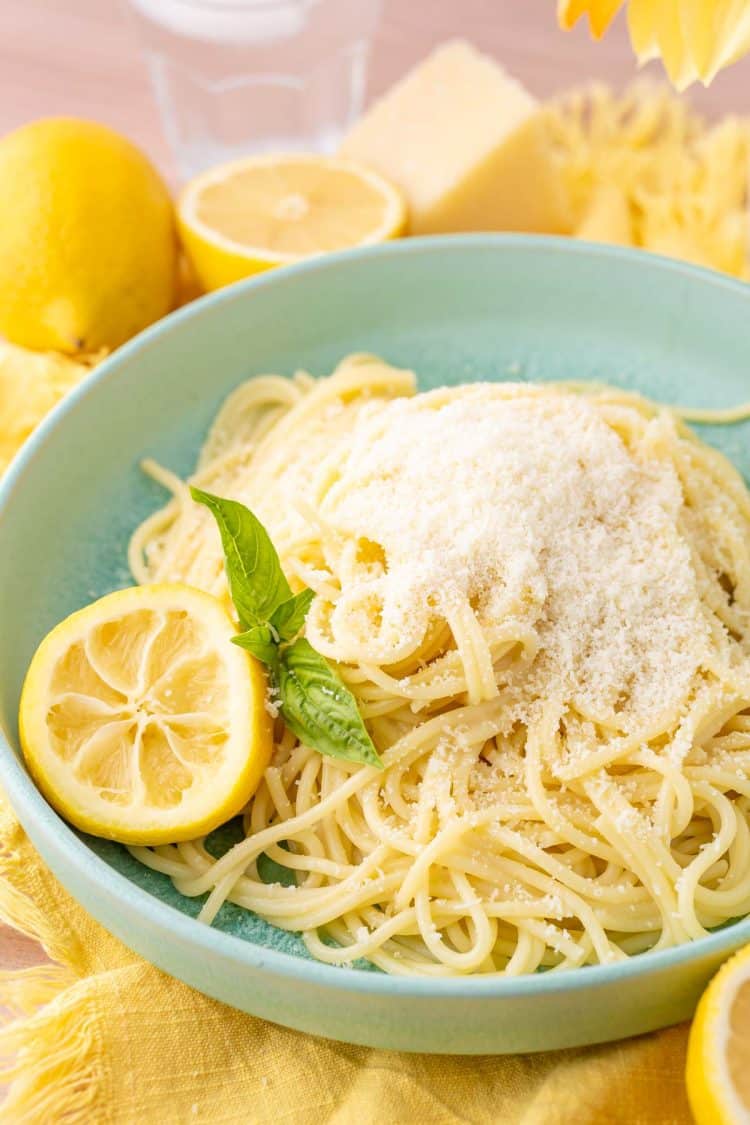 Variations on TikTok Pasta al Limone
This Lemon Butter Pasta is perfect just the way it is, but if you desire to mix it up a bit, try serving it with chicken, or adding some garlic, shallots, to red pepper flakes to the mix. Basil also makes a lovely garnish or even a handful of leaves tossed in while stirring to capture even more flavor. For a lemon pepper finish, add freshly grated black pepper before serving.
Frequently Asked Questions
How To Store TikTok Lemon Pasta
The real answer is don't. This dish is best served fresh and when cooled and reheated, the sauce will break. If you do have leftovers, I would recommend adding them back into a pan with some additional butter to heat it up.
Why Do You Need To Add Lemon Halves?
When you toss the lemons in and stir up the TikTok Lemon Pasta with them, you want to do this pretty vigorously to bruise the lemons against the side of the pan to release the oils. This adds another level of lemon flavor. This method is more desirable than using lemon zest.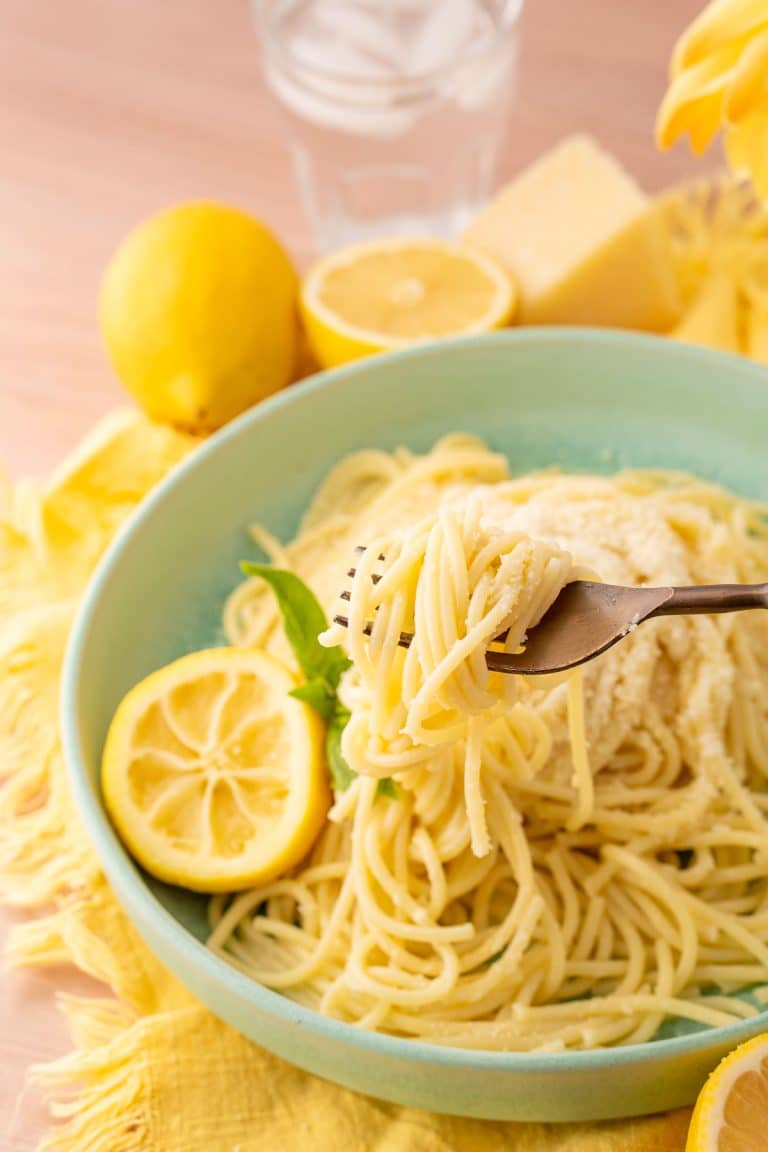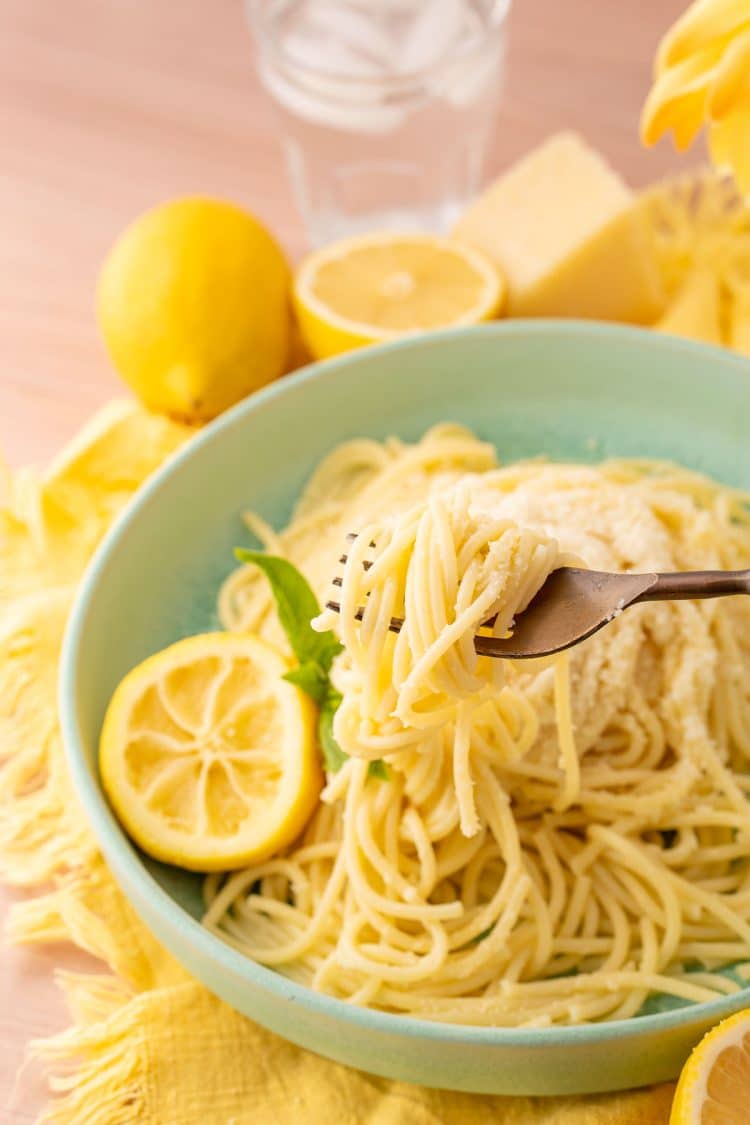 If you're looking for more delicious lemon recipes, I highly recommend trying this Lemon Garlic Salmon or this divine Lemon Olive Oil Cake. This Lemon Drizzle Cake is simple and sweet too – perfect for summer celebrations! Maple Lemonade is also another refreshing lemon favorite!
Spaghetti Limone
Pin For Later
CLICK THE BUTTON ABOVE TO SAVE THIS DELICIOUS RECIPE TO YOUR BOARD!
👋 Let's Connect!
If you've tried this recipe please let me know how you liked it in the comments below and leave a review, I love hearing from you! And don't forget to tag me – @sugarandsoulco – on Instagram and Pinterest with your photos or join our Busy Family Recipes Facebook Community and share them there!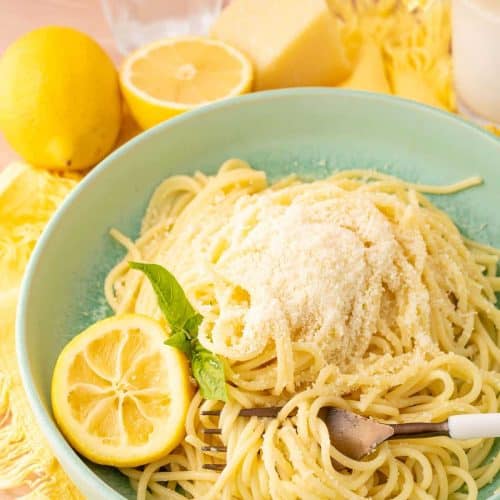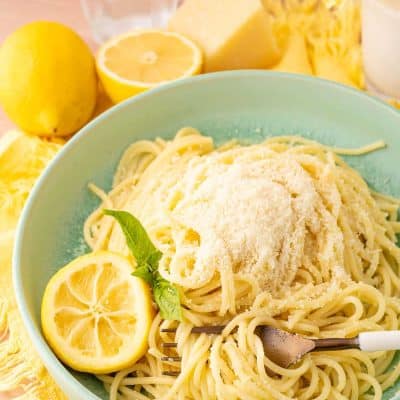 TikTok Lemon Pasta (Spaghetti Limone)
This simple Lemon Pasta (Spaghetti Limone) recipe is made with just 4 ingredients and ready in just 15 minutes! Loaded with vibrant citrus and salty parmesan and butter – the whole family will love this easy Italian-inspired dish!
Ingredients
1

pound

spaghetti

8

ounces

Parmesan cheese

2

lemons

juiced – save halves

½

cup

grass-fed salted butter
Instructions
Bring water to a boil and season with sea salt. Cook pasta until al dente, turn off heat, and do not strain.

While the pasta is cooking, grate the Parmesan into cheese dust by grating in a circular motion on the zesting side of a box grater. Set aside.

Use tongs to transfer the pasta from the water to a clean pot – do not turn on the heat. You will use the heat of the pasta to do the rest of the "cooking".

Clean the lemons and juice them, discarding any seeds. Add the lemon juice along with the lemon halves and the butter into the pot with the pasta and stir vigorously to melt the butter.

2 lemons,

½ cup grass-fed salted butter

Add ladles of pasta water to build the sauce to desired consistency. I usually use about ⅓ to ½ cup to get it where I want it.

Plate on a hot plate and pour a little extra sauce over the top and finish with a handful of Parmesan cheese.
Nutrition
Calories:
575
kcal
Carbohydrates:
61
g
Protein:
24
g
Fat:
26
g
Saturated Fat:
16
g
Polyunsaturated Fat:
1
g
Monounsaturated Fat:
7
g
Trans Fat:
1
g
Cholesterol:
66
mg
Sodium:
732
mg
Potassium:
258
mg
Fiber:
3
g
Sugar:
3
g
Vitamin A:
776
IU
Vitamin C:
19
mg
Calcium:
477
mg
Iron:
2
mg