This Baked Ziti Recipe is a classic homestyle dish that's just waiting to be devoured! Tender pasta, melted cheese, meat, and a hearty sauce come together for the ultimate comfort food!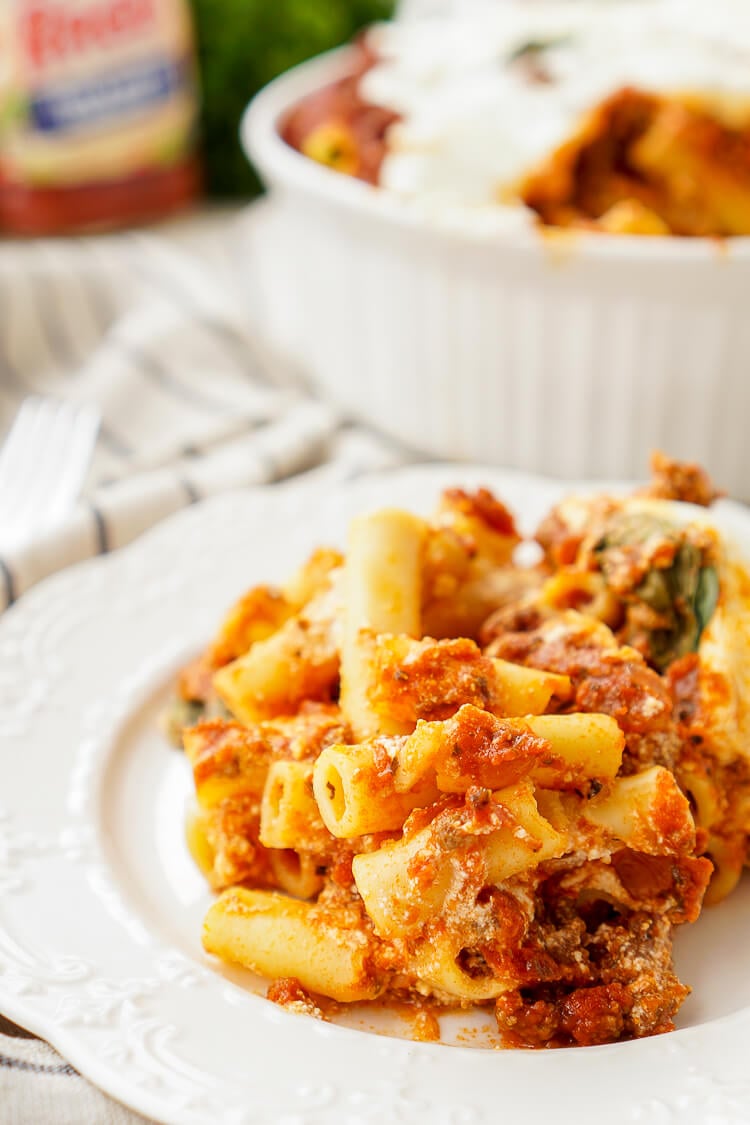 Baked Ziti Recipe
This Baked Ziti Recipe is pure comfort food, perfect for cozy weeknights and special occasions alike!
When he offered to cook me dinner on our first date, I knew he was different.
In the spring of 2013, my best friend Ashli worked with Rob at the bar where she bartended and he bounced. She'd been telling me about him for months, gushing about how we'd be perfect for each other. But at the time, I had a boyfriend.
And then, I got dumped. My manipulative ex had once again had the last word. Weeks after the breakup I was still feeling bruised, so Ashli wanted to lift my spirits (as best friends do). One Friday night she was off from work, and announced that she was "taking me out." That night, I met Rob.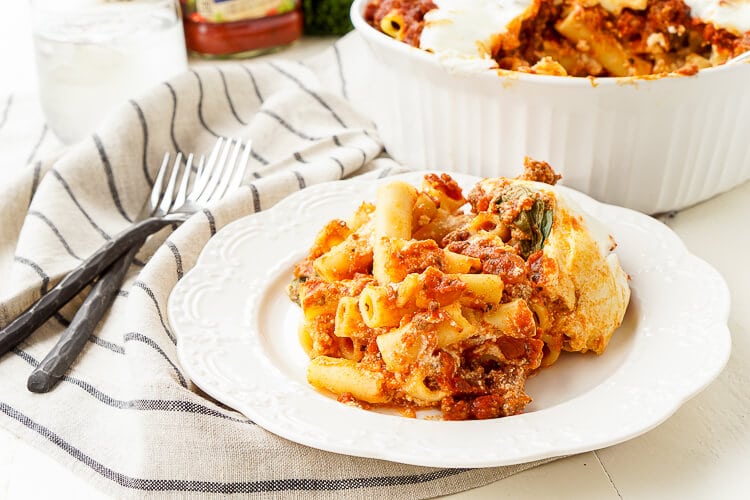 He was as handsome as my best friend had promised. Two days later, he asked me out on our first date: he was going to make me his homemade baked ziti recipe.
I was thrilled by his genuine offer–the notion of a "real date" seems to be a rarity these days.  I didn't want to get my hopes up, but I thought, could this one be different?
I arrived at his apartment, which was clean and simply furnished. The music was on, and the table was set. There was a bottle of red wine on the counter, with two glasses waiting to be filled. But the best part (besides my well-groomed date) was the aroma of dinner wafting from the kitchen.
When he pulled the pan from the oven, steam rose in tantalizing swirls from the freshly baked ziti. The noodles were drenched in the homemade red sauce that he'd let simmer all day, and it was loaded with beef and bubbling mozzarella. He prepared my plate, grating a block of Parmesan cheese until a small pile of curls topped the mouth-watering mound.
Before arriving for our date, I'd been afraid that I'd be too nervous to eat; but after my first forkful of pasta and cheese, anchored in the most flavorful red sauce I had ever tasted, the butterflies flew away.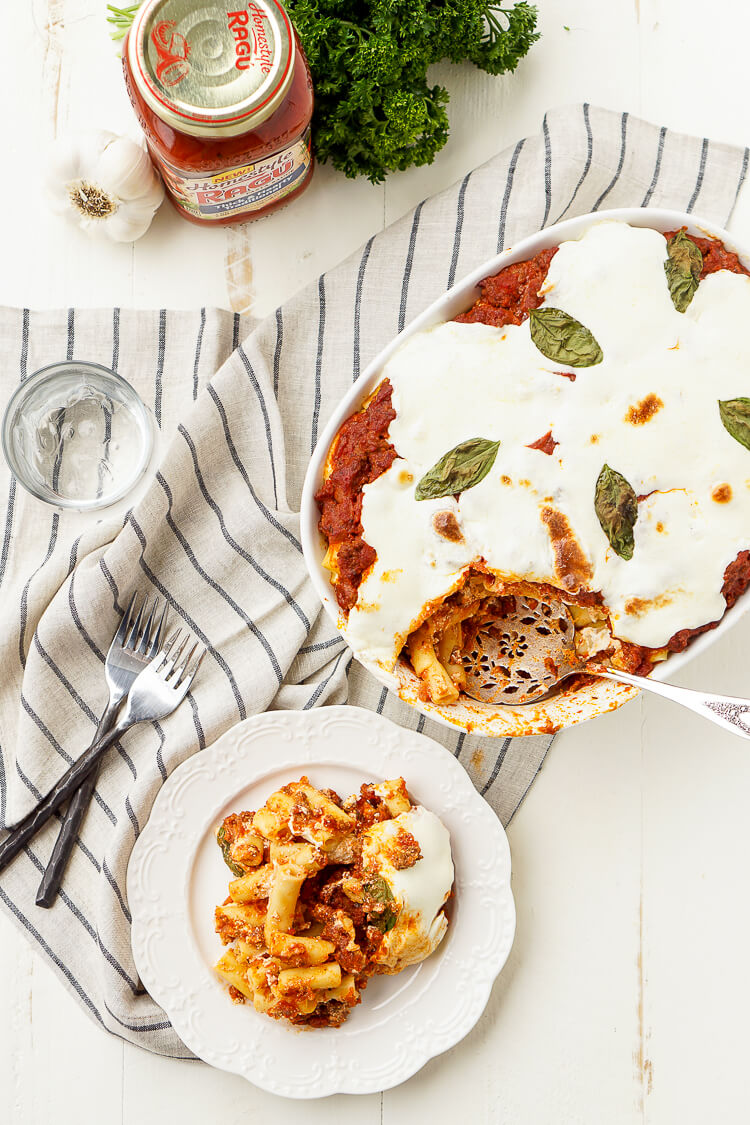 Fast forward a few years, and we were living together out of state, chasing opportunities for work. As our three-year anniversary approached, it became clear: we'd both be working that day.
Since moving, we'd missed two years' worth of holidays, birthdays, and milestones with our families, and had finally begun making plans to move back home. But things were slow, and living costs money, and as we missed out on one gathering after another, I began to fall into a slump.
On April 22nd, our anniversary, I left work late, starving and exhausted. Rob was already home, and I figured we'd order takeout from our favorite Chinese restaurant, a small way of "celebrating."
But when I walked through the door of our apartment, I realized my boyfriend had a different plan in mind. The scent of something cooking, savory and wonderful, filled my nostrils. I looked around: he had cleaned. There was a bottle of wine with two glasses set out, and candles lit on the table. He greeted me while holding an oven mitt and wearing a smile.
Then he got down on one knee.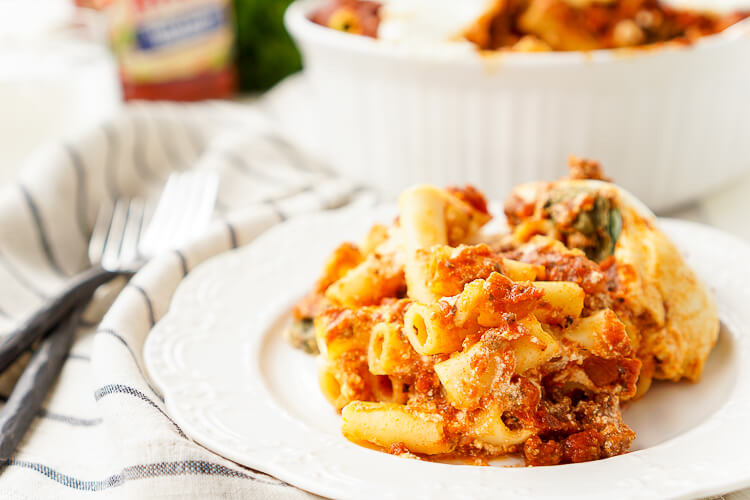 He presented me with a sparkling ring that seemed to glow in the dim light. We were engaged!
After some talk and some tears, my fiancé prepared our plates and shredded the fresh Parmesan while I admired my new ring, watching how it caught the candlelight.
When I took my first bite of the baked ziti recipe, I couldn't help but smile. Reminiscing about our first date, I marveled at how far we'd come. On that night, we had no idea that three years later we'd be here. I savored the noodles, tender under the beef, melted cheese, and a rich sauce that was so hearty, that it barely dripped from between the prongs of my fork. In the midst of all the excitement, I'd forgotten how hungry I was!
I couldn't believe how perfectly Rob had planned that evening. As I began to fill up on the home-cooked deliciousness (which was way better than takeout!) a thought occurred to me: if he was working all day, how did he have the time to make his homemade sauce?
When I asked, he blushed slightly. He showed me the empty jar of Ragu Homestyle Thick & Hearty Traditional Sauce, and I was baffled. I couldn't believe that the sauce I was eating in my Baked Ziti wasn't homemade! It tasted so bold and fresh, I could have sworn it was the same recipe that Rob had made me on our very first date.
As I shared the home-cooked meal with the love of my life, the promise of our future glittering like a diamond, I felt like I was home for the first time in a long time.
More delicious pasta recipes!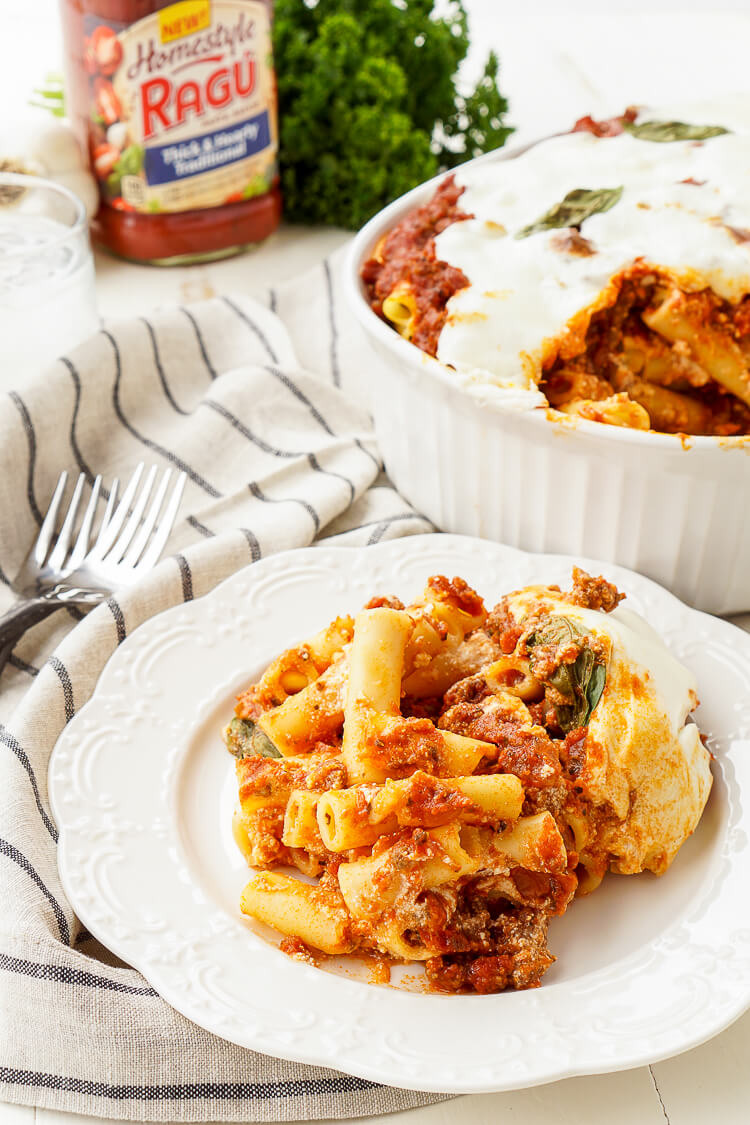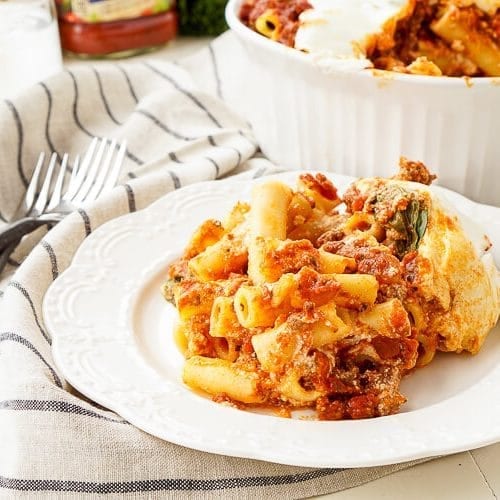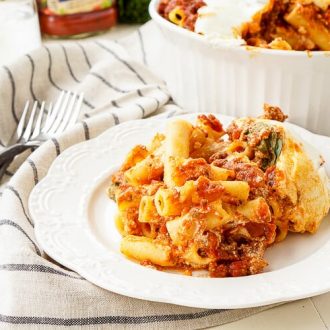 Baked Ziti Recipe
This Baked Ziti Recipe is a classic homestyle dish that's just waiting to be devoured! Tender pasta, melted cheese, meat, and a hearty sauce come together for the ultimate comfort food!
Print
Pin
Rate
Total Time:
1
hour
5
minutes
Ingredients
1

pound

ziti pasta

1

small onion

diced

1

pound

lean ground beef

8

oz.

fresh mozzarella

sliced

1 1/2

cups

ricotta cheese

Parmesan Cheese

optional

Basil for garnish
Instructions
Cook pasta according to package instructions and drain when finished.

In a large high-lipped skillet, cook onions and ground beef until browned. Add in the Ragu sauce and let simmer for 15 minutes.

Preheat the oven to 350 degrees F and spoon a little sauce into the bottom of a

9x13-inch pan

and spread it around. Layer as follows: 1/2 of the ziti, 1/2 ricotta cheese, 1/2 sauce mixture, remaining ziti, remaining ricotta cheese, remaining sauce mixture, top with mozzarella and basil.

Bake for 30 minutes or until cheese is bubbly.

Serve with grated cheese if desired.
Notes
Shredded mozzarella can be used.
Pin this Baked Ziti Recipe for Later!