Antipasti Pasta Salad recipe is loaded with veggies, cheeses, herbs, and meats and coated in a simple balsamic and olive oil dressing. Perfect for large get-togethers like BBQs and potlucks!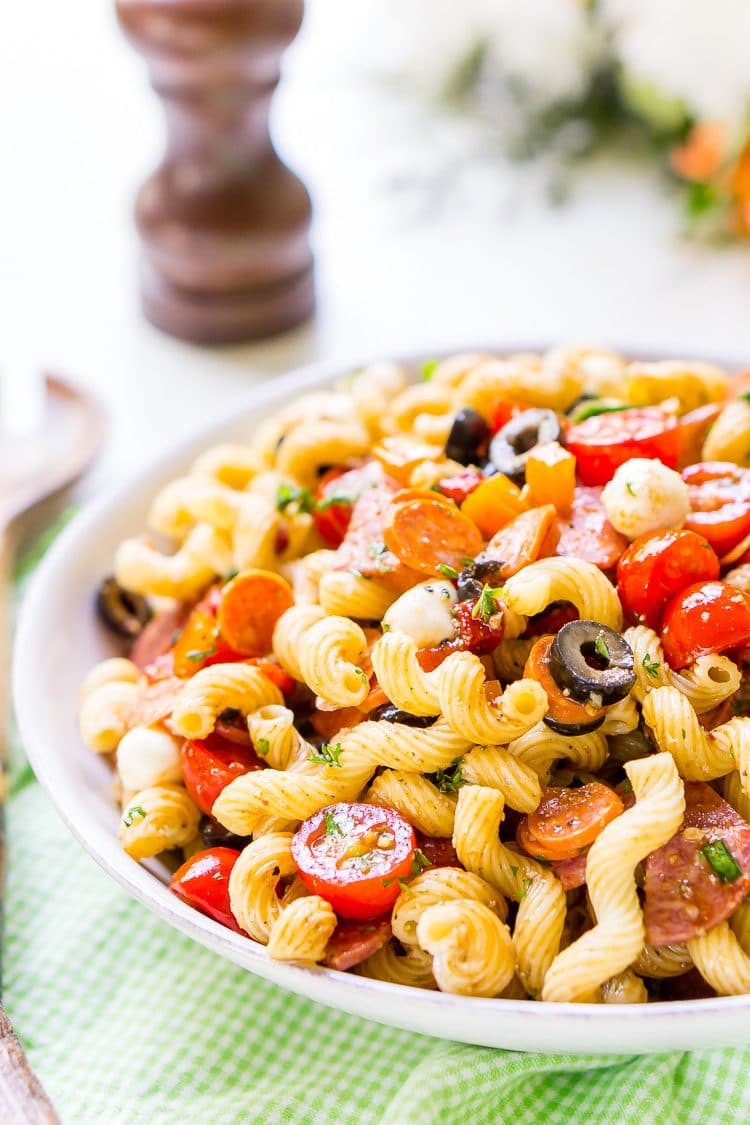 Antipasti Pasta Salad Recipe
One would think that after two weeks in Italy earlier this month I'd be pasta, oil, and salumied (<<< is that a thing?) out, but it's been quite the opposite actually and I'm craving them all more than ever! And this Antipasti Pasta Salad recipe sure hit the spot this week, checking off all the necessary components.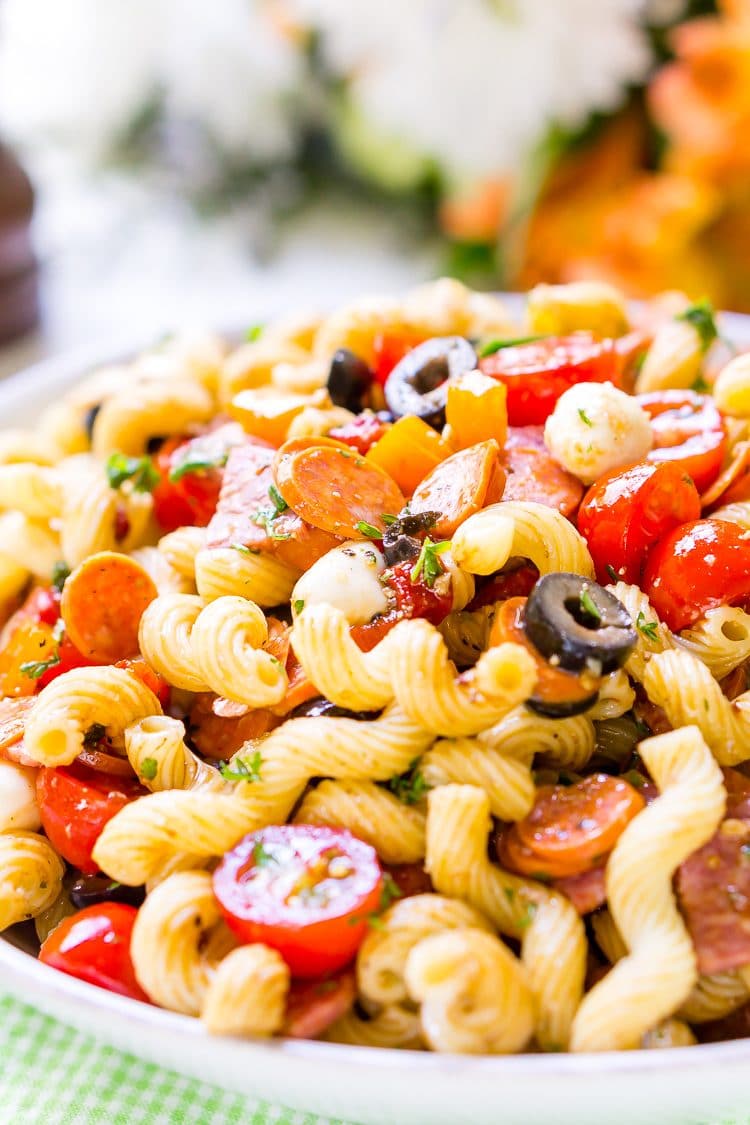 Antipasto (not antipasta – that's not really a thing, but if you combine it with pasta, it will ignite – kidding) is the appetizer course, served before the meal, in Italy.
Antipasti is the plural, and usually refers to the assortment of meats, cheeses, and veggies that are served. In this case, we're serving them all mixed together in a delicious pasta salad that's perfect for summer!
More great summertime recipes!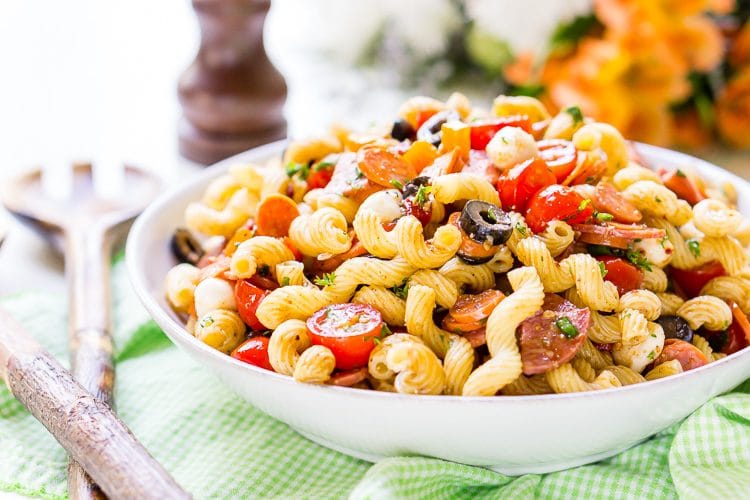 What I love most about Italian food is that the simplest of ingredients can come together to create something truly delicious and wonderful. I love the olive oils and balsamic vinegar and the way they bring the vegetables to life. And let's not forget the fresh herbs and all they add to the meats and cheeses.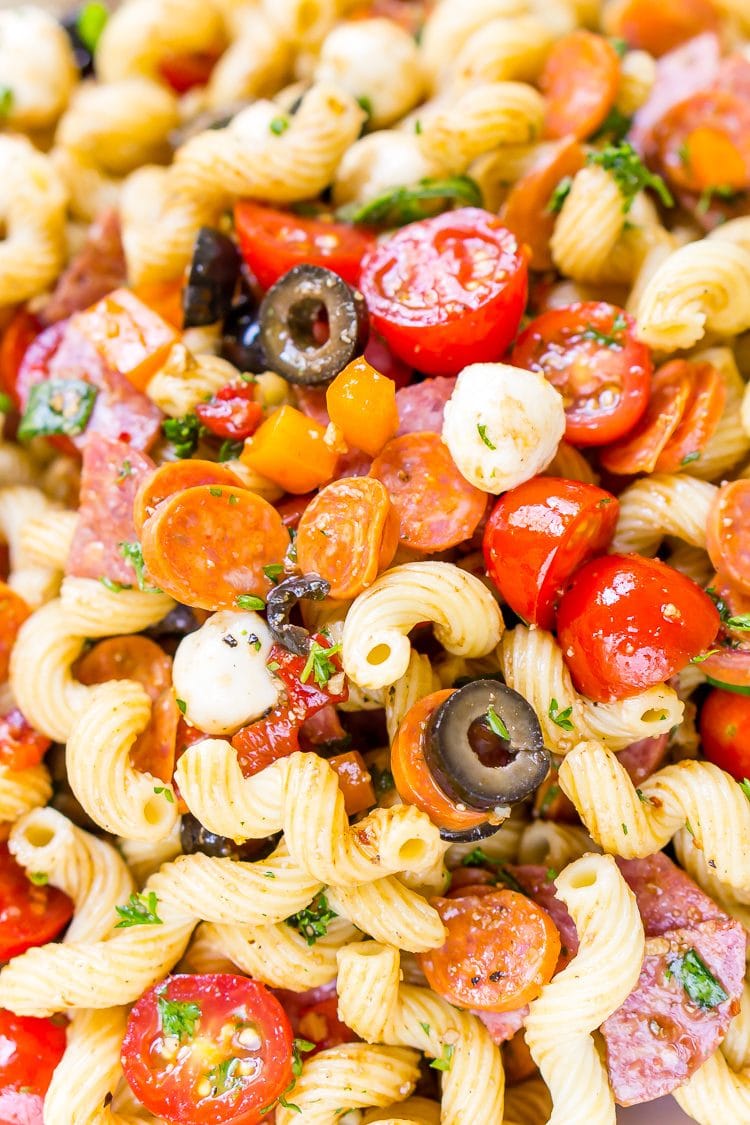 This pasta salad recipe is super easy to mix up and it makes a TON, so it's perfect for potlucks and BBQs where you know you'll have a crowd.
A few things to note about this pasta salad recipe are:
While it can be ready in just over an hour, it tastes best if you combine the salad ingredients and let them chill for an hour and then add the dressing and let it chill overnight. This gives the flavors time to meld and amplify. But it's still tasty if you serve after an hour.
While I prefer cavatappi pasta, you can use any pasta, but I recommend using something with ridges to help the dressing stick.
While I never rinse my pasta for hot dishes, it's very important that you rinse your pasta with cold water after straining to stop the cooking process.
You can roast your own peppers or use store-bought, completely up to you 🙂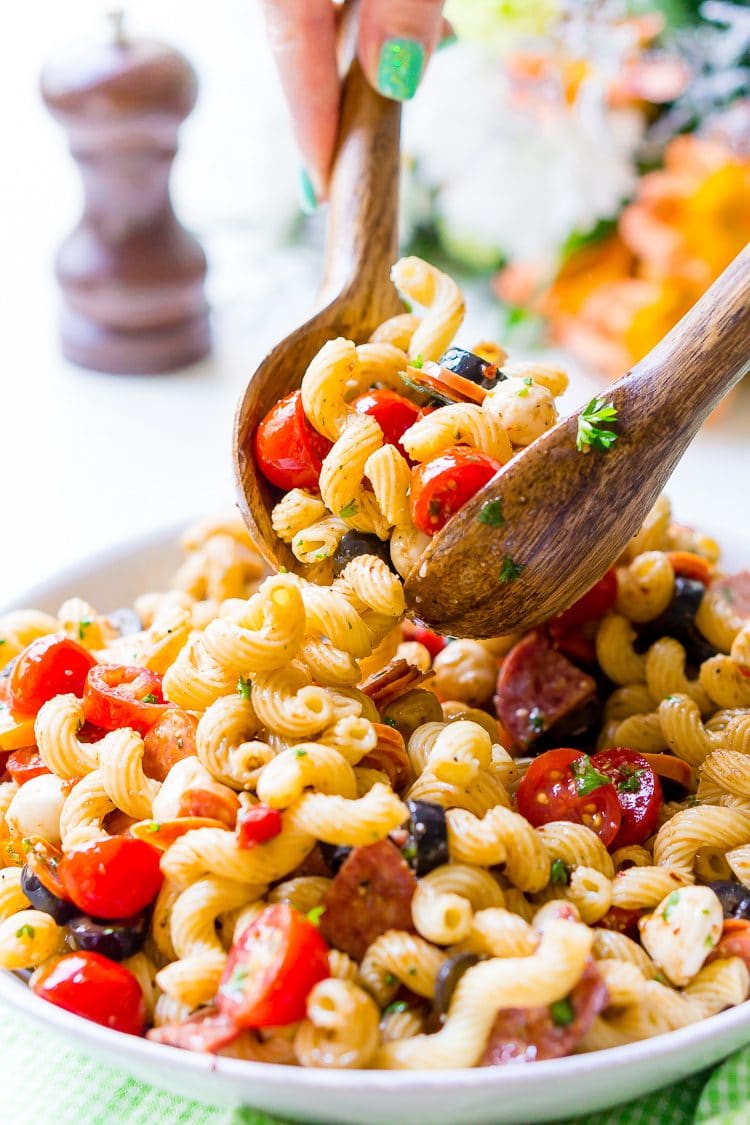 See how to make this pasta salad recipe in the video below!
Antipasti Pasta Salad
Antipasti Pasta Salad recipe is loaded with veggies, cheeses, herbs, and meats and coated in a simple balsamic and olive oil dressing.
Ingredients
Salad
1

lb

cavatappi pasta

5

ounces

pepperoni, chopped

5

ounces

salami, chopped

3

ounces

sliced black olives

8

ounces

mozzarella pearls

1/4

cup

parsley, finely chopped

1/4

cup

scallions, diced

.7

ounce

package Italian dressing seasoning

1/4

cup

roasted red pepper, chopped

1

orange bell pepper, chopped

1

pint

grape tomatoes, halved
Instructions
Salad
Cook pasta according to package directions until al dente. Strain and run cold water over it to stop the cooking process.

Combine pasta with all other salad ingredients in a large bowl and cover and refrigerate for at least one hour.
Dressing
Whisk together dressing ingredients and refrigerate for at least one hour.

After chilling, mix together salad and dressing and serve.
Recipe Notes
This salad has the most flavor after combining the salad and dressing and allowing to refrigerate overnight.
Nutrition Facts
Antipasti Pasta Salad
Amount Per Serving
Calories 415
Calories from Fat 216
% Daily Value*
Total Fat 24g 37%
Cholesterol 36mg 12%
Sodium 940mg 39%
Potassium 318mg 9%
Total Carbohydrates 33g 11%
Protein 15g 30%
* Percent Daily Values are based on a 2000 calorie diet.
Pin This Pasta Salad Recipe for Later!

I love to blend my traditional Maine roots and millennial imagination. I have a serious sweet tooth, an Audible addiction, and I'm always up for exploring new places!