This One Dish Corn Mac and Cheese has all the comfort you need. Loaded with cheese and sweet corn, it's a pasta dish that's perfect for potlucks and game days.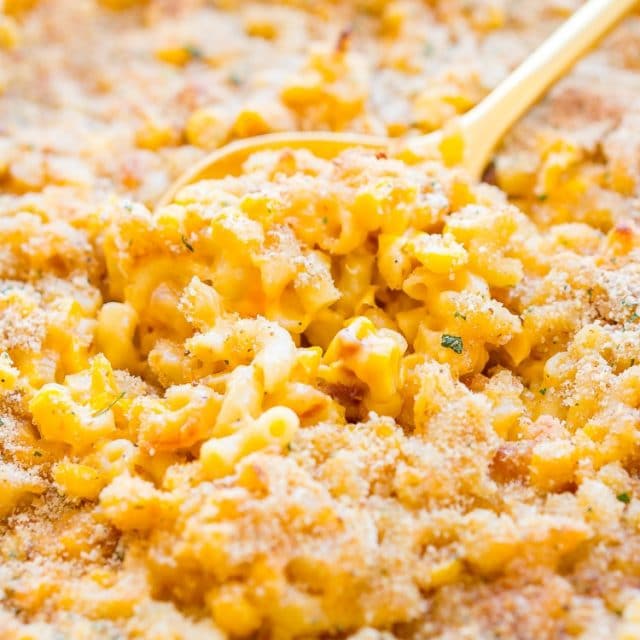 This One Dish Corn Mac and Cheese is loaded with cheese and sweet corn, an easy dump-and-bake pasta meal that everyone will devour! The perfect comfort food dish to bring to game days and potlucks!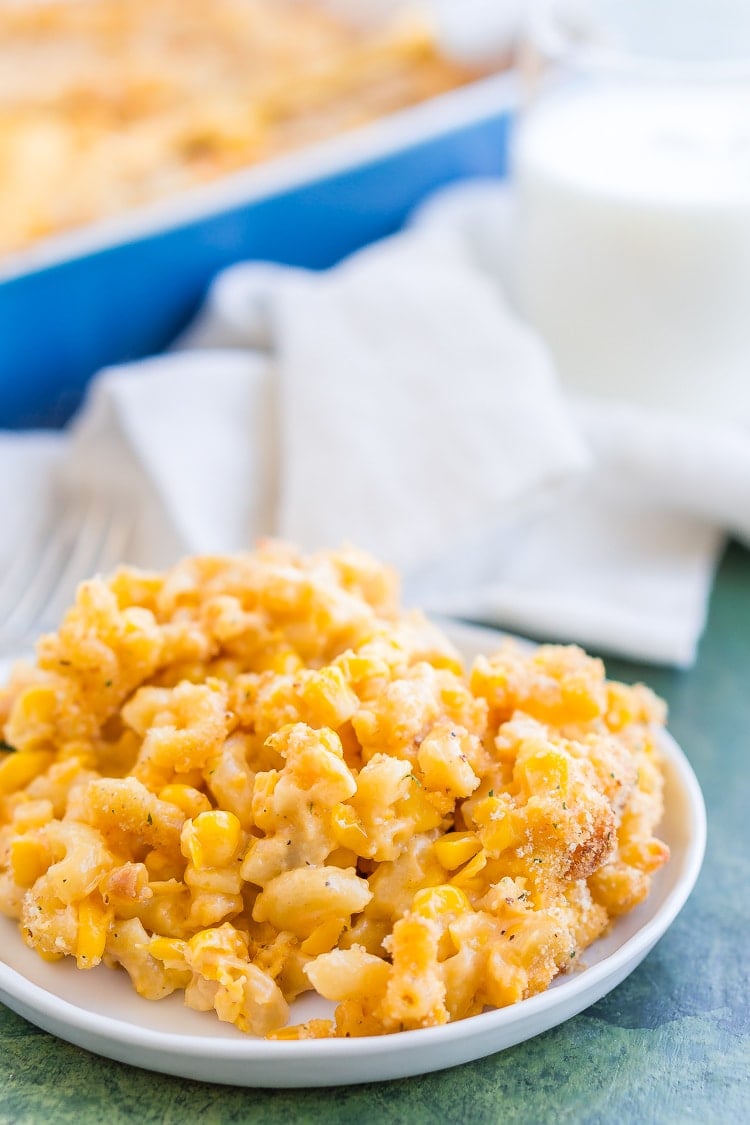 Wondering how Mac and Cheese could possibly get any better? Add corn, cream style, and whole kernel to be exact! The new cheesy, sweet mixture will instantly amaze you AND become your favorite!
Plus, it's a dump-and-bake recipe that's made in just ONE dish with minimal ingredients. So, for me, it's already a favorite!
All About This One Dish Mac And Cheese Recipe
Taste: This cheesy dish combines Velveeta with elbow macaroni, butter, and two types of corn. The end results? A cheesy, rich, and slightly sweet corn mac and cheese that's the ultimate comfort food!
Texture: Every bite of this mac and cheese is filled with perfectly cooked pasta that's coated in a thick and creamy cheese sauce! Adding even more tasty texture are the sprinkled corn kernels throughout as well as the crunchy crumbles on top from baking!
Corn Mac And Cheese Ingredients
Salted Butter
Velveeta
Whole Kernel Corn
Cream-Style Corn
Water
Uncooked Elbow Macaroni
Salt
Ground Black Pepper
This One Dish Corn Mac and Cheese Recipe takes minimal prep work. All you have to do is first cube up the butter and Velveeta.
Then dump them and the remaining ingredients straight into the baking dish to stir together. That means no mixing bowls or extra kitchen mess, just one dish to make and bake it in!
The secret to the flavor of this corn mac and cheese is that it's made with two types of corn. First, whole kernel corn and second cream-style corn.
I find that the cream-style corn adds to the creaminess of the dish while also providing that sweet flavor that mixes in with the cheesiness.
Which makes for a mouthwatering flavor combination!
How To Make One Dish Corn Mac And Cheese
Step 1: Combine the salted butter, cubed Velveeta, whole kernel corn, cream-style corn, water, uncooked macaroni, salt, and pepper in the casserole dish. Stir to thoroughly mix the ingredients together.
Step 2: Bake the Corn Macaroni and Cheese in the preheated oven for 20 minutes and then stir. Bake for another 20 minutes and stir again.
Step 3: Bake the mac and cheese until the macaroni softens and a crust forms on the top of the dish. This should take about 10 to 15 more minutes.
How To Serve Corn Mac And Cheese
Serve up this mac and cheese fresh from the oven to enjoy it at its peak cheesy, melty goodness! If you want to balance out the heaviness of the dish you could serve it with a fresh, crisp garden salad.
Make It Ahead Of Time
Make meal time even easier during the week by doing some prep work beforehand. To do so, mix all the ingredients in a bowl, cover tightly with plastic wrap or foil, and then refrigerate it.
Then when dinner time comes all you have to do is dump and bake!
Storage Instructions
Tightly wrap the casserole dish of leftovers with tin foil or plastic wrap. If there aren't many servings left, you can transfer the remaining mac and cheese into an airtight container.
Afterward, transfer the sealed leftovers into the fridge and enjoy for 2 to 3 days.
Substitutions And Variations For Corn Mac And Cheese
Bacon – To add some salty flavor, fry and crumble up 5 pieces of bacon. Stir this into the casserole dish with the other ingredients before baking.
Corn – Frozen corn can be used in place of whole-kernel corn. To do so, first, rinse the corn with warm water to soften it a bit.
Butter – Salted butter can be replaced with an equal amount of unsalted butter and add an additional ¼ teaspoon of salt to the recipe.
Pasta – I prefer to make this recipe with elbow macaroni but cavatappi or shells would also work well.
Cheese – This mac and cheese dish can be made with shredded cheddar cheese instead of Velveeta.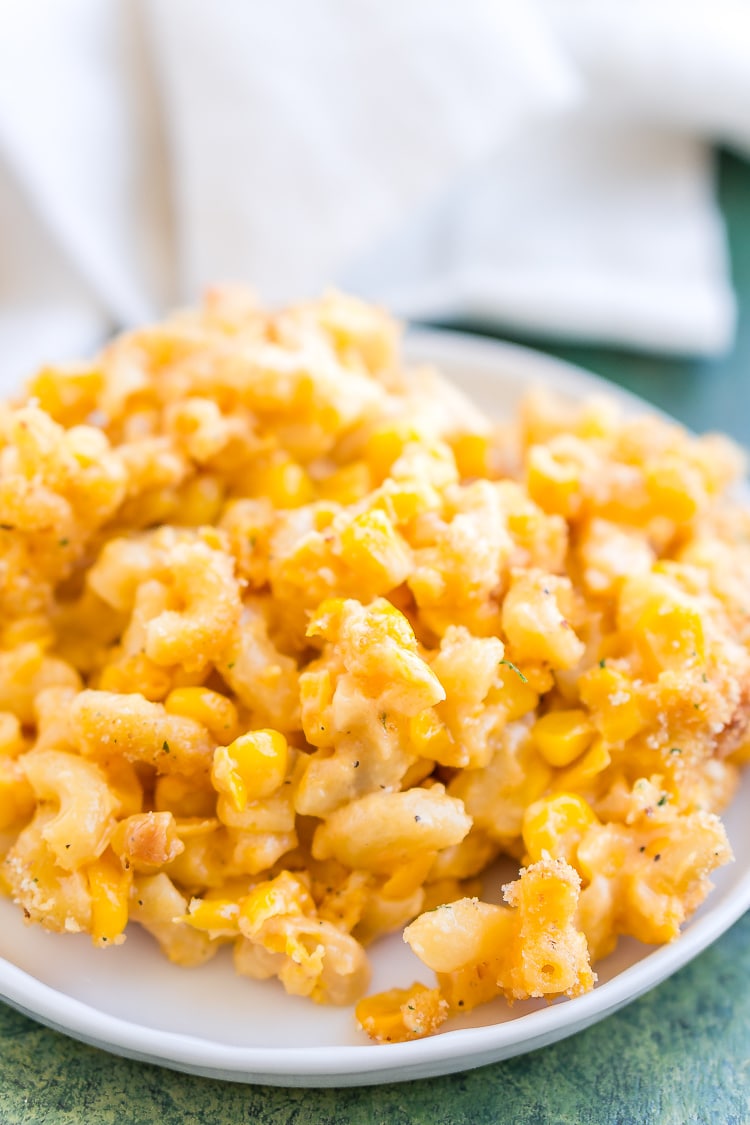 One Dish Corn Mac And Cheese FAQS
Do I Cook The Pasta Before Adding It Into This One Dish Recipe?
No, do not cook the pasta beforehand. Doing so would cause the pasta to become overcooked and soggy after it bakes in the oven.
Can I Add Bacon Bits Into This Instead Of Frying Up Bacon?
Yes, you can try adding bacon bits into this Corn Mac and Cheese if you'd rather not fry up strips of bacon to crumble up.
What Size Serving Dish Works Best In This Recipe?
I'd suggest using a 9X13 baking dish for this Corn Mac and Cheese Recipe.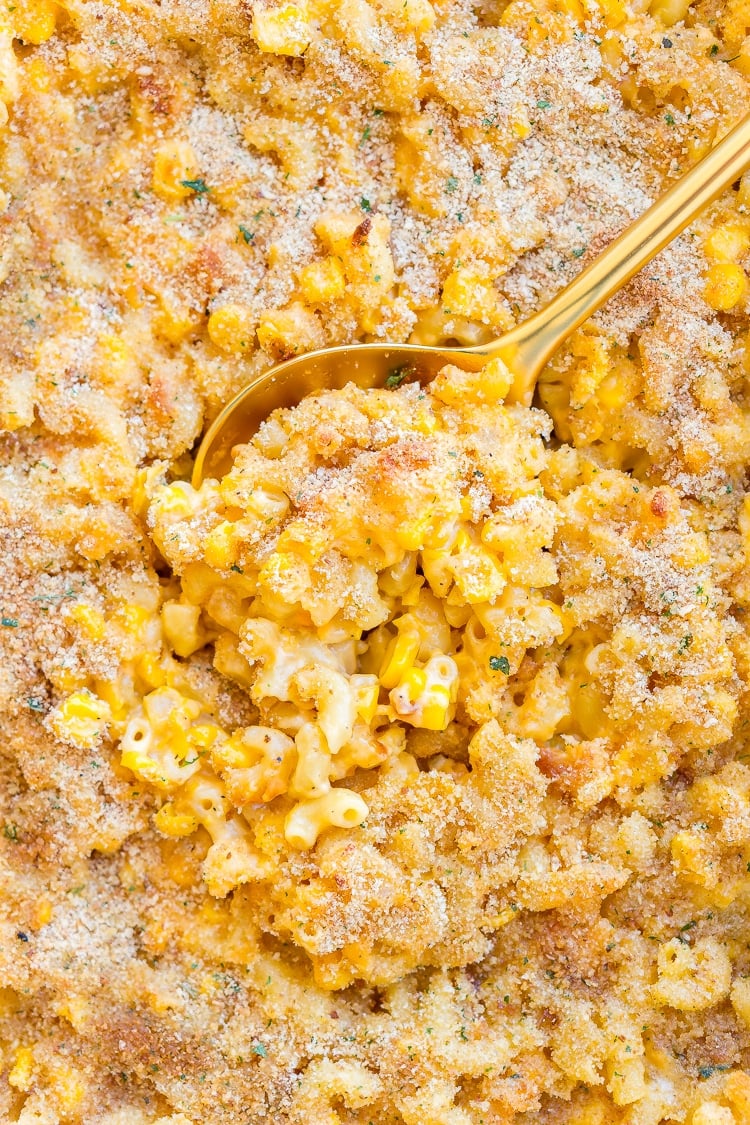 More Delicious Homemade Macaroni And Cheese Recipes!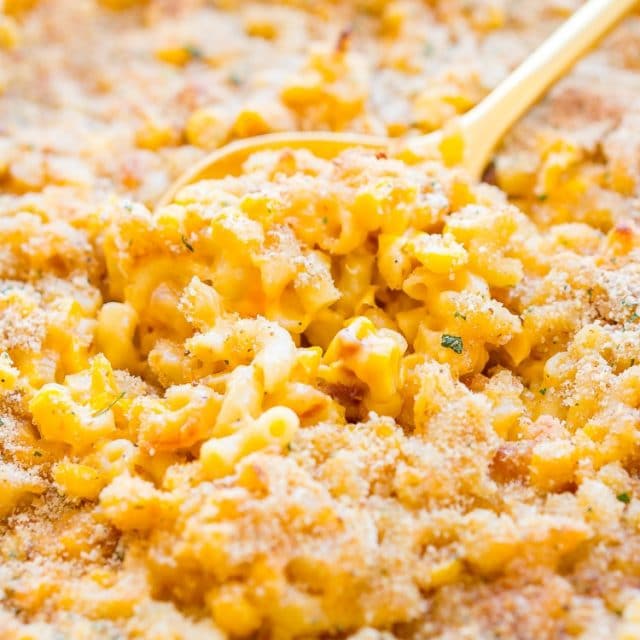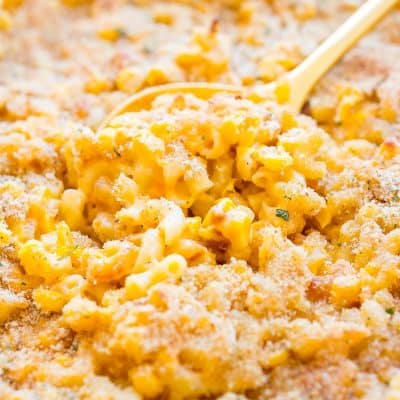 One-Dish Corn Mac and Cheese
This One Dish Corn Mac and Cheese has all the comfort you need. Loaded with cheese and sweet corn, it's a pasta dish that's perfect for potlucks and game days.
Instructions
Preheat oven to 400 degrees F.

Add all ingredients into a medium sized casserole dish and mix thoroughly.

½ cup salted butter, 16 ounces Velveeta, 14 ounces whole kernel corn, 14 ounces cream-style corn, 1¾ cups water, 16 ounces uncooked elbow macaroni, ¾ teaspoon salt, ¼ teaspoon ground black pepper

Bake for 20 minutes. Stir well and bake for another 20 minutes, then stir and bake until the macaroni is soft and a crust forms on the top of the dish, about 10 to 15 minutes more.

Remove from oven and enjoy.
Notes
You can mix everything together in a bowl and refrigerate in advance then dump and bake.
Nutrition
Calories: 380kcal | Carbohydrates: 47g | Protein: 12g | Fat: 16g | Saturated Fat: 9g | Cholesterol: 42mg | Sodium: 773mg | Potassium: 306mg | Fiber: 1g | Sugar: 5g | Vitamin A: 670IU | Vitamin C: 3.1mg | Calcium: 181mg | Iron: 1mg
Post Updated: March 24th, 2017