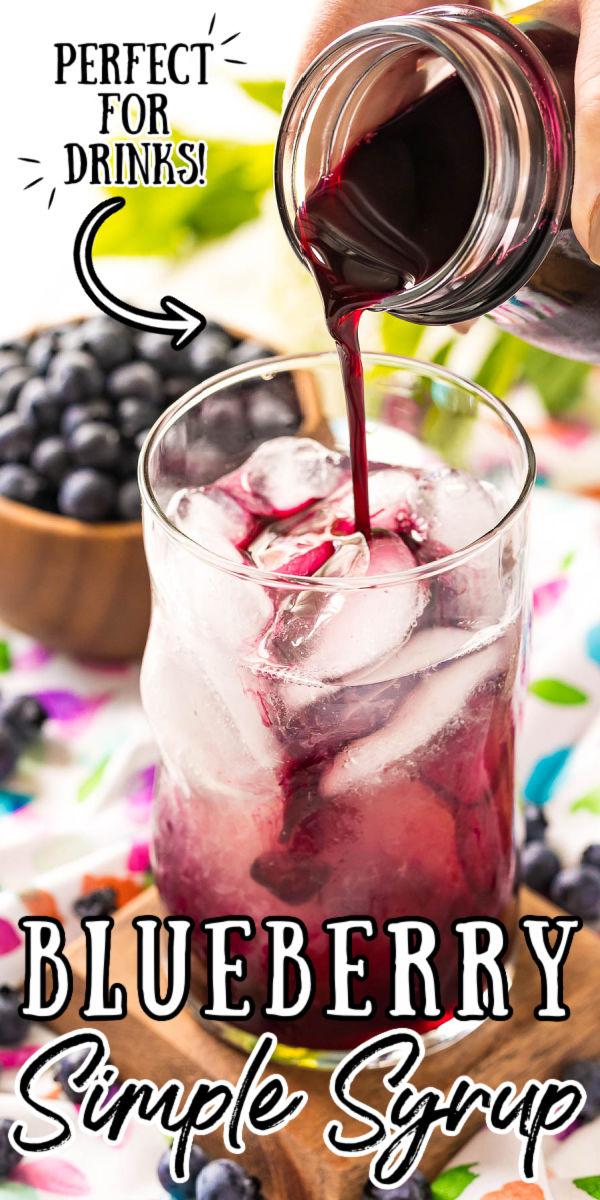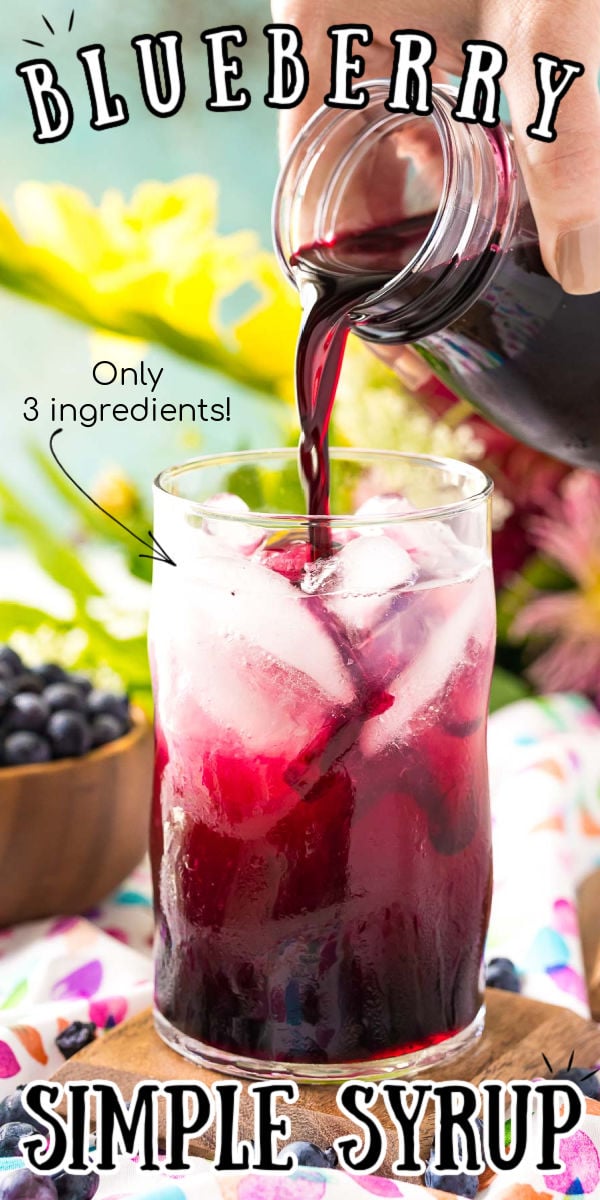 This Blueberry Simple Syrup Recipe is a tasty mix-in for your favorite drinks! Made with 3 ingredients — blueberries, sugar, and water — it's the easiest way to flavor cocktails, lemonade, iced tea, and more!
Looking to kick your favorite beverages up a notch? This recipe is the perfect solution!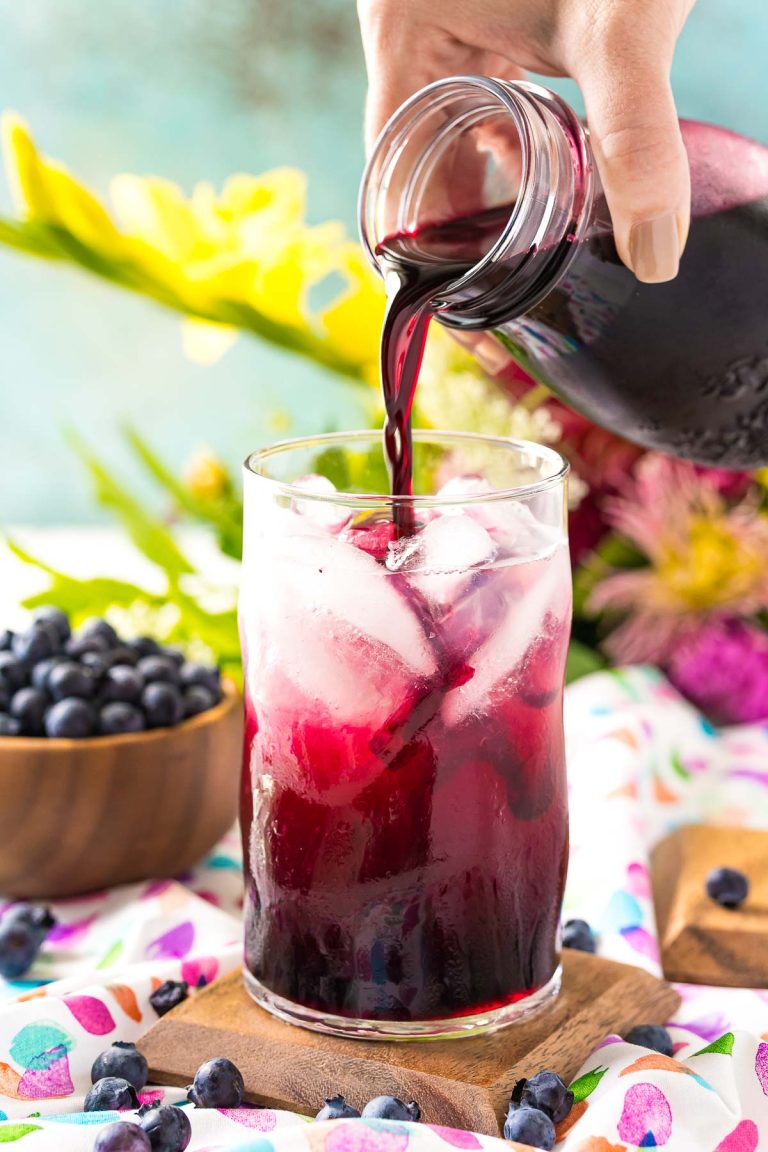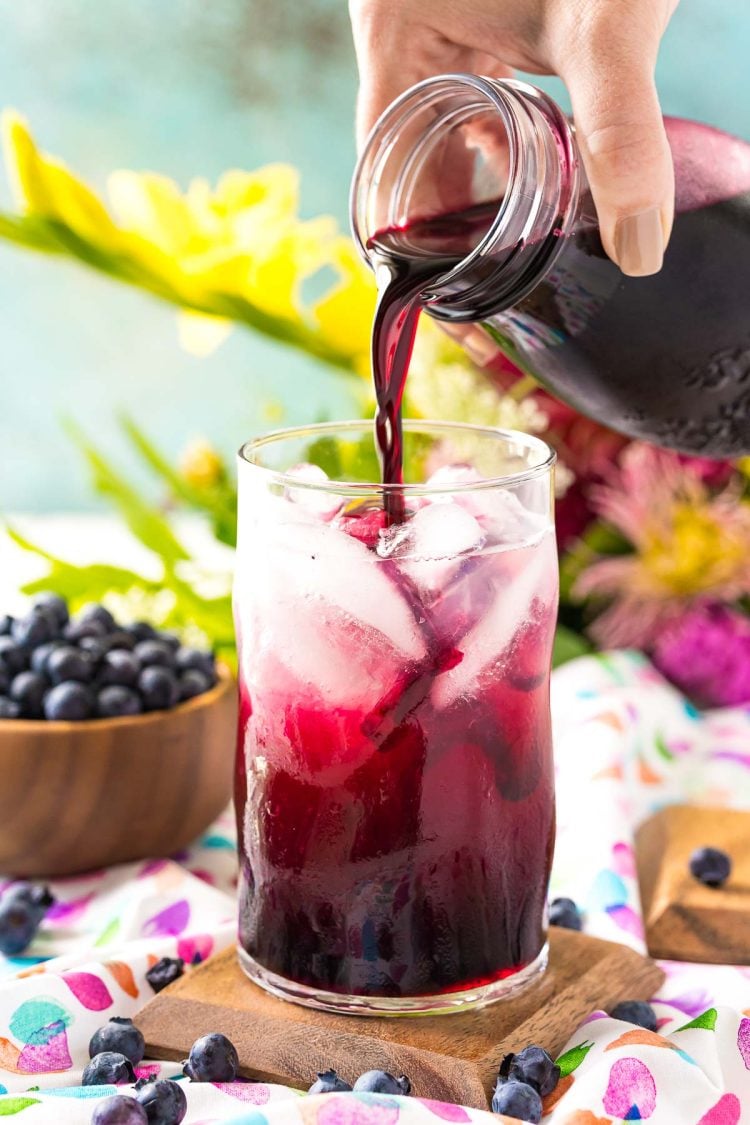 They call it Blueberry Cocktail Syrup for a reason: It can inspire endless yummy mixed drinks and mocktail recipes!
It takes less than 15 minutes to make a batch from start to finish. (And trust me, it beats any blueberry syrup you could buy at the store!)
If you're ready to stock your bar at home, be sure to try my strawberry, blackberry, raspberry, rhubarb, and regular simple syrups, too!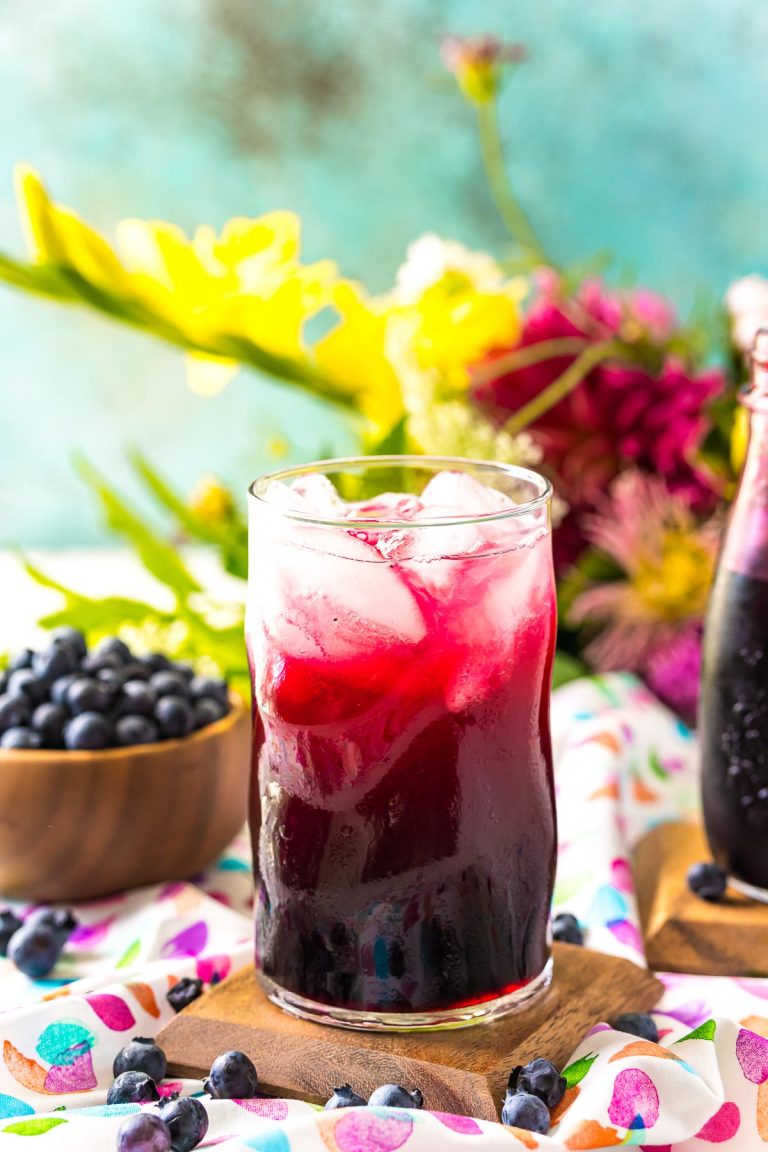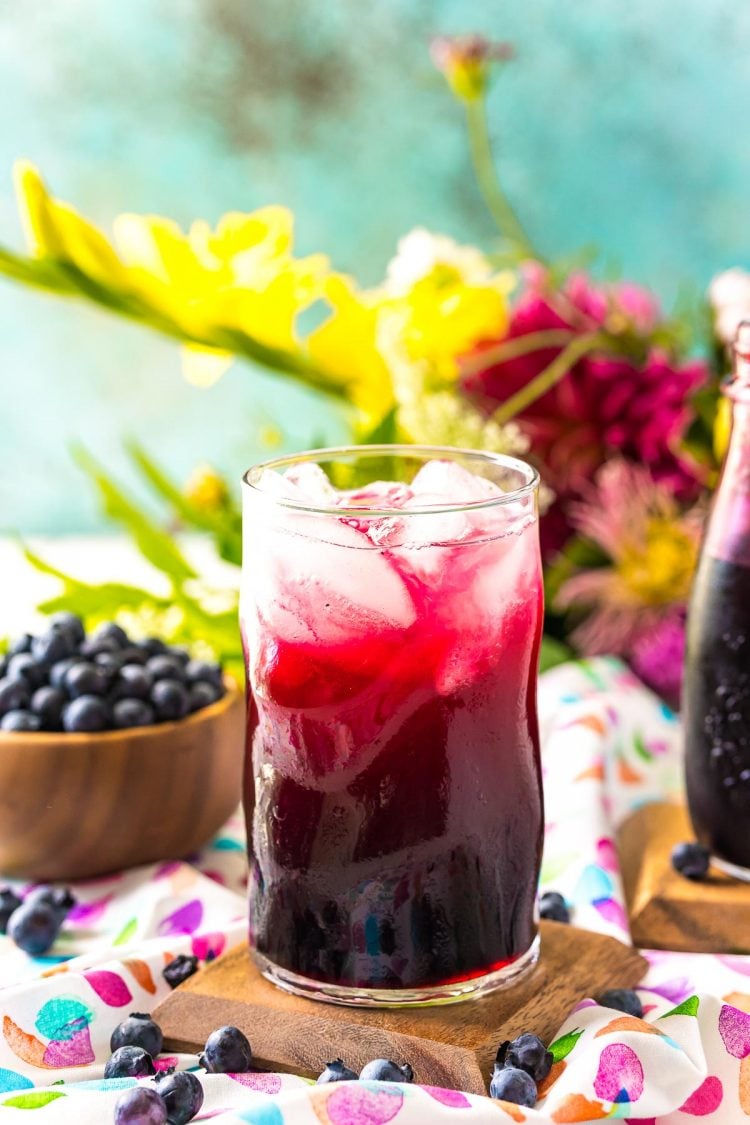 Blueberry Syrup Ingredients
Blueberries are boiled down with granulated sugar and water and strained. Fresh blueberries are best but you can use frozen, too. A squeeze of lemon juice or a touch of maple syrup also makes great additions if you want to change up the flavor of the syrup.
How To Make Blueberry Simple Syrup:
Combine the water, sugar, and blueberries in a medium saucepan and bring to a boil over medium heat.
Reduce heat to a simmer and cook for an additional 20 minutes, stirring occasionally, until the berries begin to split and sugar has dissolved.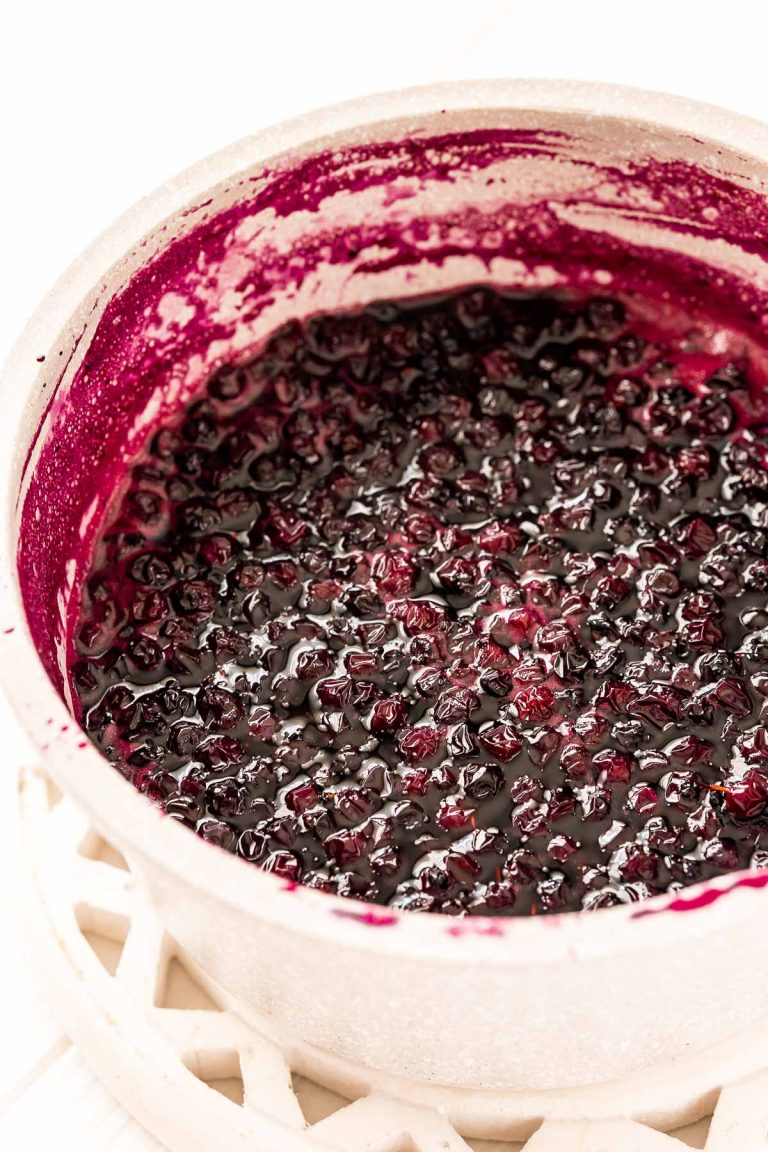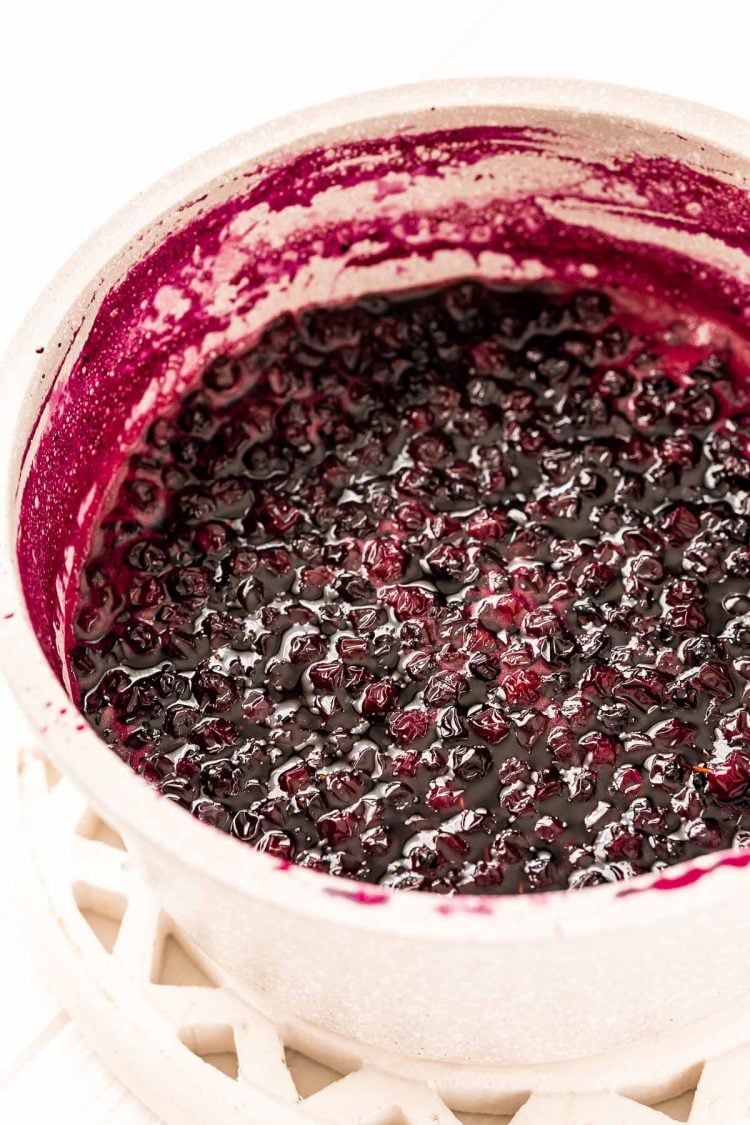 Cool in the pot for 1 hour.
Strain the syrup through a fine-mesh strainer, pressing any excess juice out of the berries. Discard the berries and bottle up the syrup.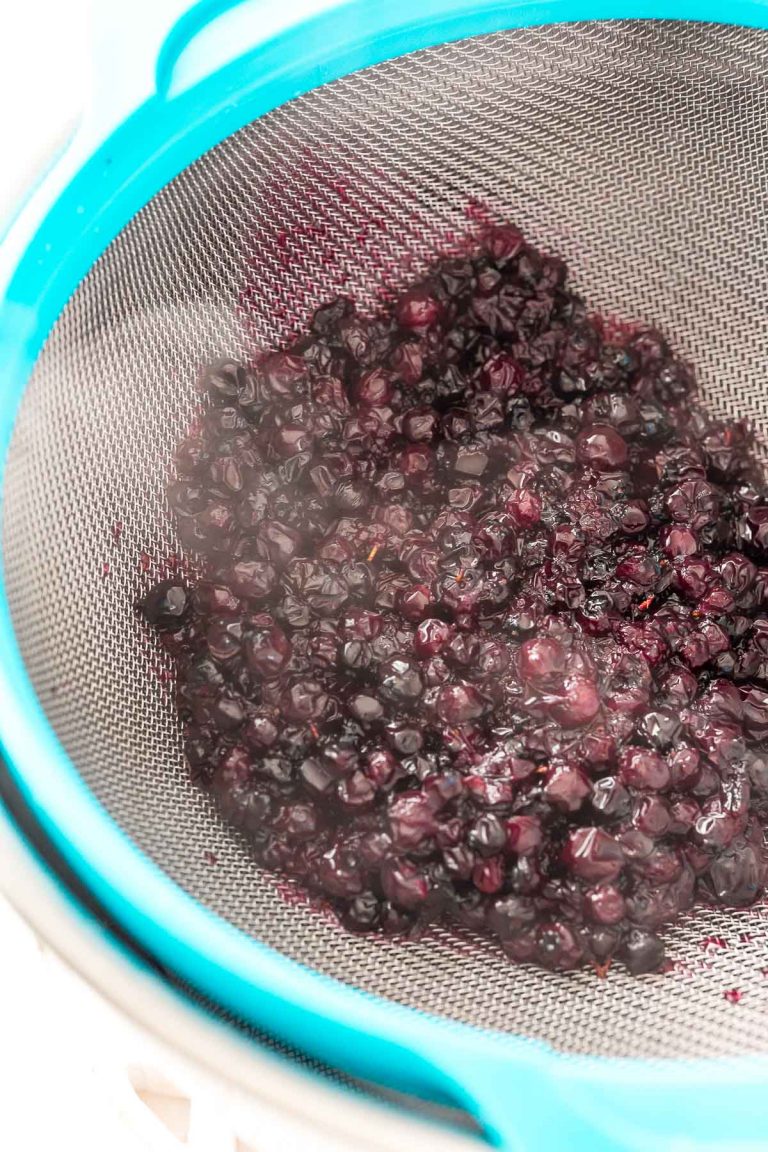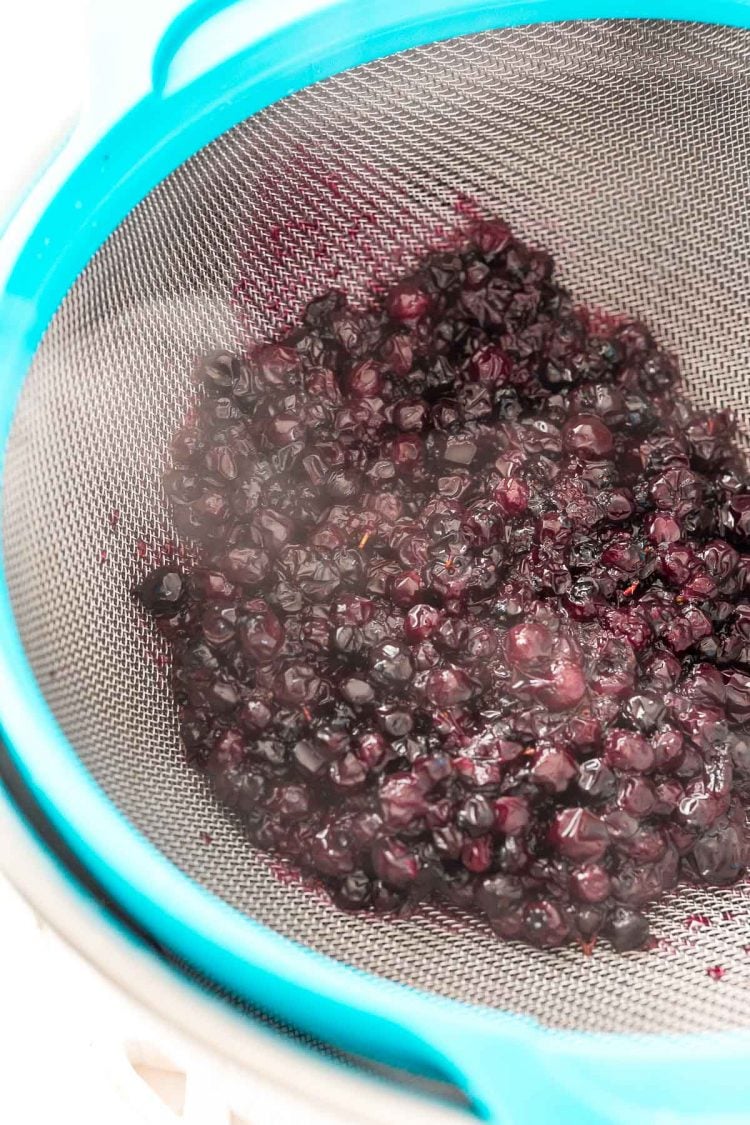 Frequently Asked Questions:
What to make with Blueberry Simple Syrup?
It's a delicious drink mix-in and blends much more easily than granulated sugar. I love it in sangria and whiskey smashes!
Try it in other cold drinks like blueberry lemonade or limeade, smoothies, milkshakes, or iced tea. It also makes a lovely addition to hot coffee!
Another use is to brush it onto blueberry cakes to keep them moist and add flavor.
Where do you buy it?
You can buy blueberry flavored syrups at grocery stores and on Amazon. However, it's so easy to make it at home with this recipe and it tastes WAY better!
How long does it last?
Keep it in the fridge for 2 weeks in an airtight container.
Can it be frozen?
Yep! Pour it in a plastic bag and freeze it for up to a year.
Note: Need an ice cream or French toast topping? Try my Strawberry Sauce recipe, which can be made with any berry you want!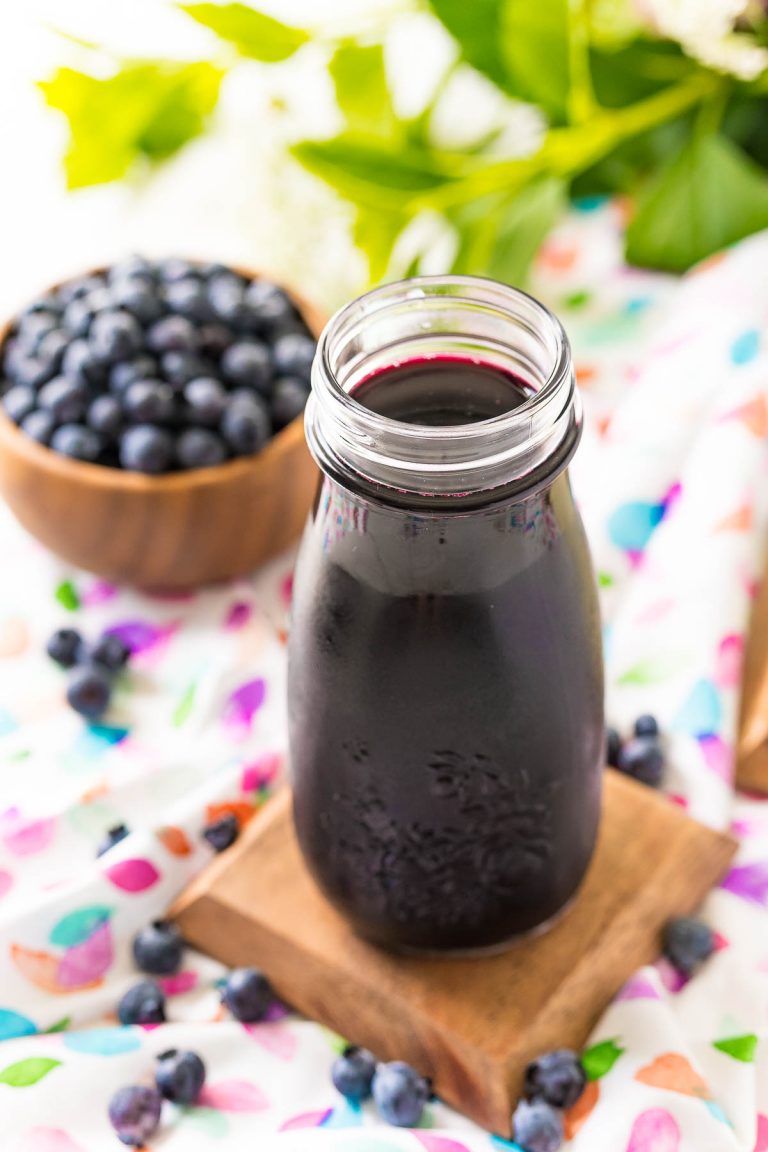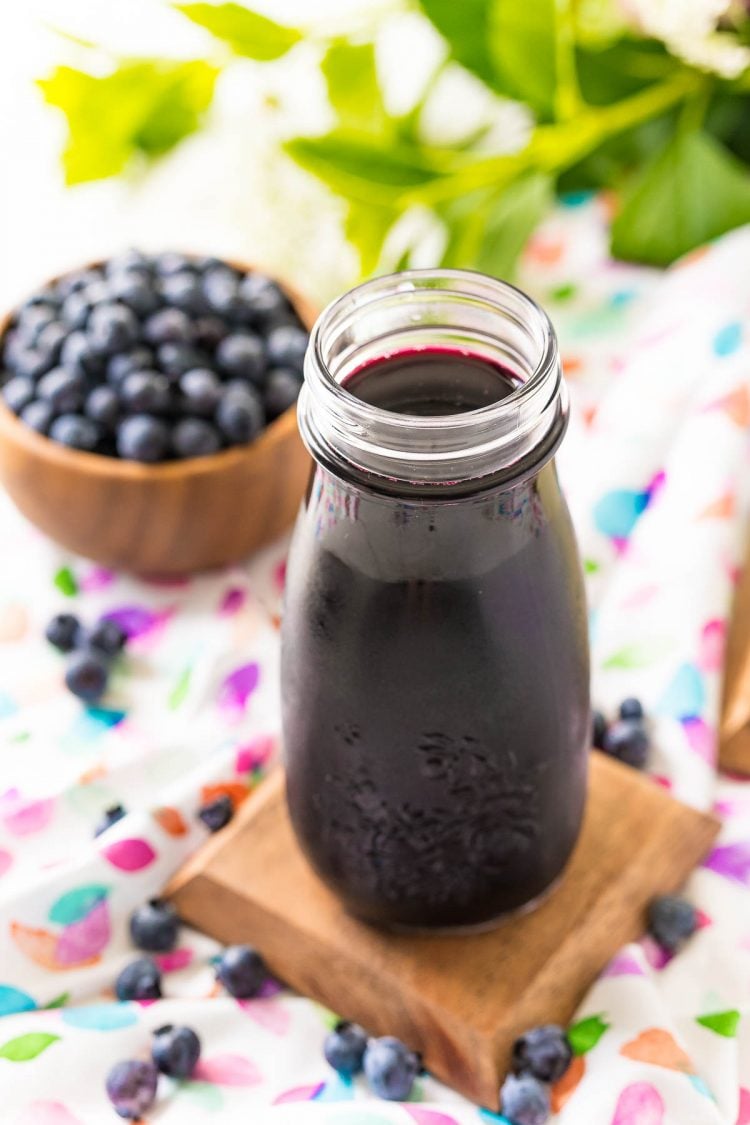 Optional Add-Ins:
Add a squeeze of lemon juice for a punch of citrus.
You can sub half the blueberries for a different kind of berry. Try combos like blueberry-blackberry or blueberry-strawberry!
A dash of vanilla will add smooth flavor.
You can also add fresh herbs and/or spices like mint, basil, lavender, or ginger for a sophisticated infusion. Just simmer with the rest of the ingredients, then strain.
More Blueberry Recipes:
Blueberry Simple Syrup
Pin It For Later
Click the button above to save this delicious recipe to your board!
👋 Let's Connect!
If you've tried this recipe, please let me know how you liked it in the comments below and leave a review; I love hearing from you! And don't forget to tag me – @sugarandsoulco – on Instagram and Pinterest with your photos or join our Busy Family Recipes Facebook Community and share them there!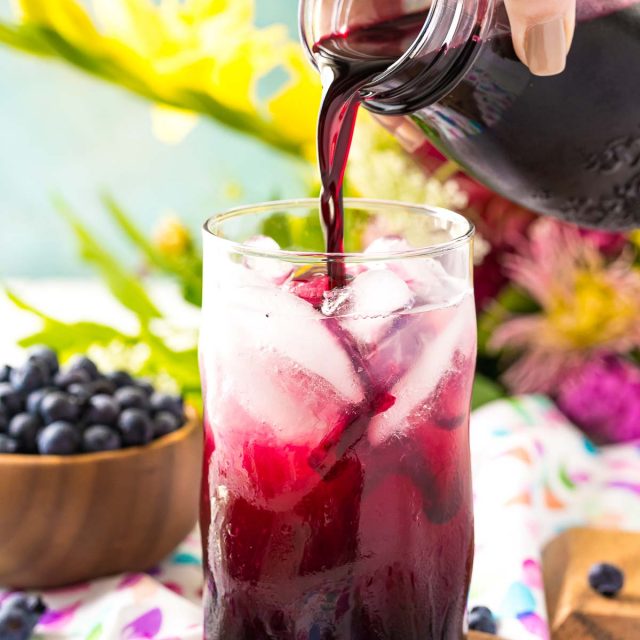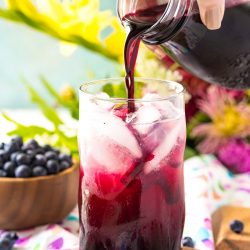 Blueberry Simple Syrup
Raspberry Simple Syrup is a tasty mix-in for all your favorite drinks! Made with raspberries, water, and sugar, this easy recipe is bursting with flavor.
Instructions
Add all of the ingredients to a medium pot and bring to a boil over medium heat. Let the blueberries simmer until the sugar has dissolved and the berries begin splitting – about 20 minutes.

Remove from heat and allow it to cool completely. About 1 hour.

Strain the mixture through a fine mesh strainer making sure to squeeze any excess juice from the berries. Transfer the syrup into a bottle or jar, using a funnel.
Notes
Store in an airtight bottle or jar in the refrigerator for up to 2 weeks.
Nutrition
Calories:
471
kcal
Carbohydrates:
121
g
Protein:
1
g
Fat:
1
g
Saturated Fat:
1
g
Sodium:
8
mg
Potassium:
114
mg
Fiber:
4
g
Sugar:
115
g
Vitamin A:
80
IU
Vitamin C:
14
mg
Calcium:
9
mg
Iron:
1
mg