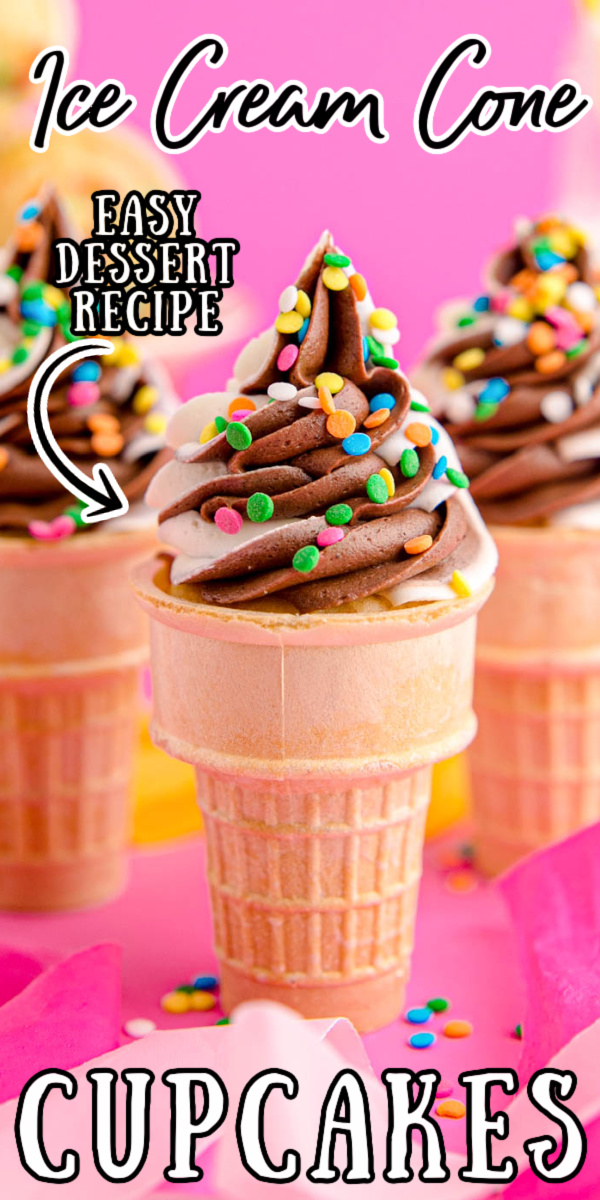 Ice Cream Cone Cupcakes are made with a boxed cake mix and homemade buttercream frosting for a fun hand-held dessert everyone will love! Guaranteed that kids will go crazy for them!
Check out more ice-cream-inspired cupcake recipes that are just as good like these Brownie Sundae Cupcakes that are actually served with a scoop of ice cream or these rich Chocolate Milkshake Cupcakes!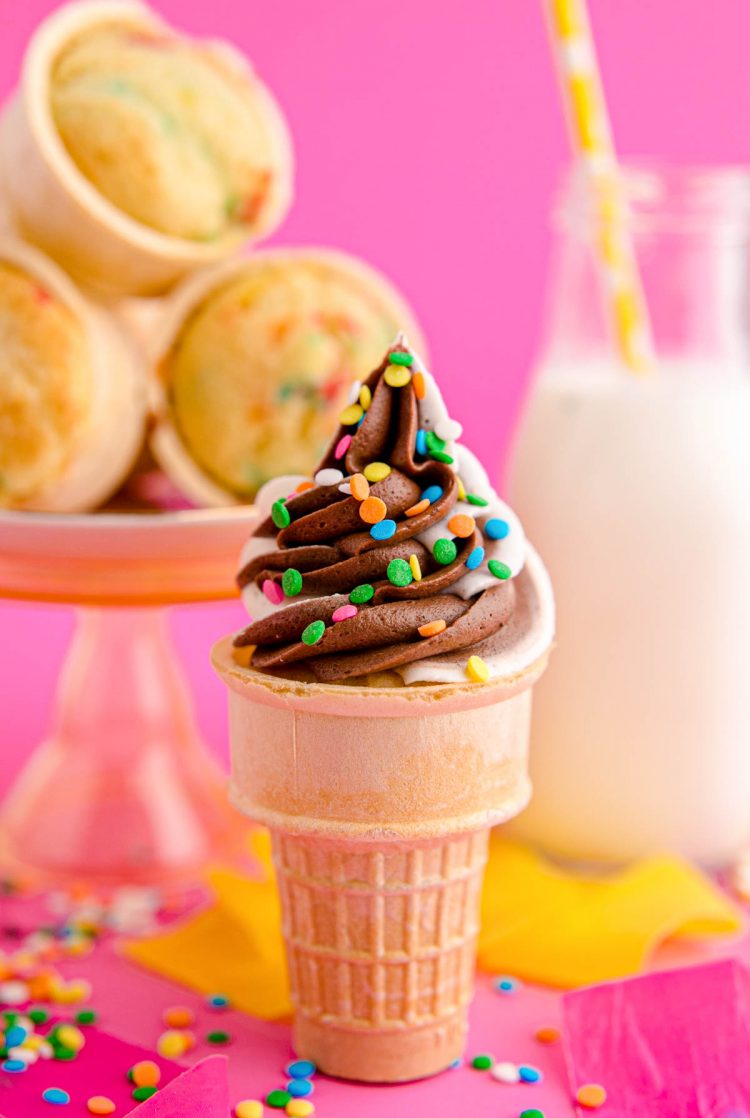 Looking for a fun treat that comes together in a cinch? Then your search is over! Ice Cream Cone Cupcakes are exactly what you're looking for with a boxed cake mix and easy-to-make frostings!
Ice cream cones are filled with moist cake and piped with sweet, silky buttercream frosting to resemble soft-serve ice cream! Cover them in fun sprinkles and ta-da! You have an exciting, delicious treat that's perfect for any get-together!
Why This Recipe Works!
Serves A Crowd! This recipe yields two dozen cupcakes in ice cream cones! More than enough for birthday parties, BBQs, or other fun get together!
Make Them Ahead! Prepping for a party can be stressful but since these can be made a day or two in advance they help cut back on prep time the day of!
Boxed Cake Mix! No need to drag any baking ingredients out of the pantry just grab a boxed cake mix from the grocery store!
Choose Your Flavors! Easily choose different flavors of cake and frosting to make delicious combinations! Chocolate cake mix, strawberry cake, or red velvet would all be super tasty variations!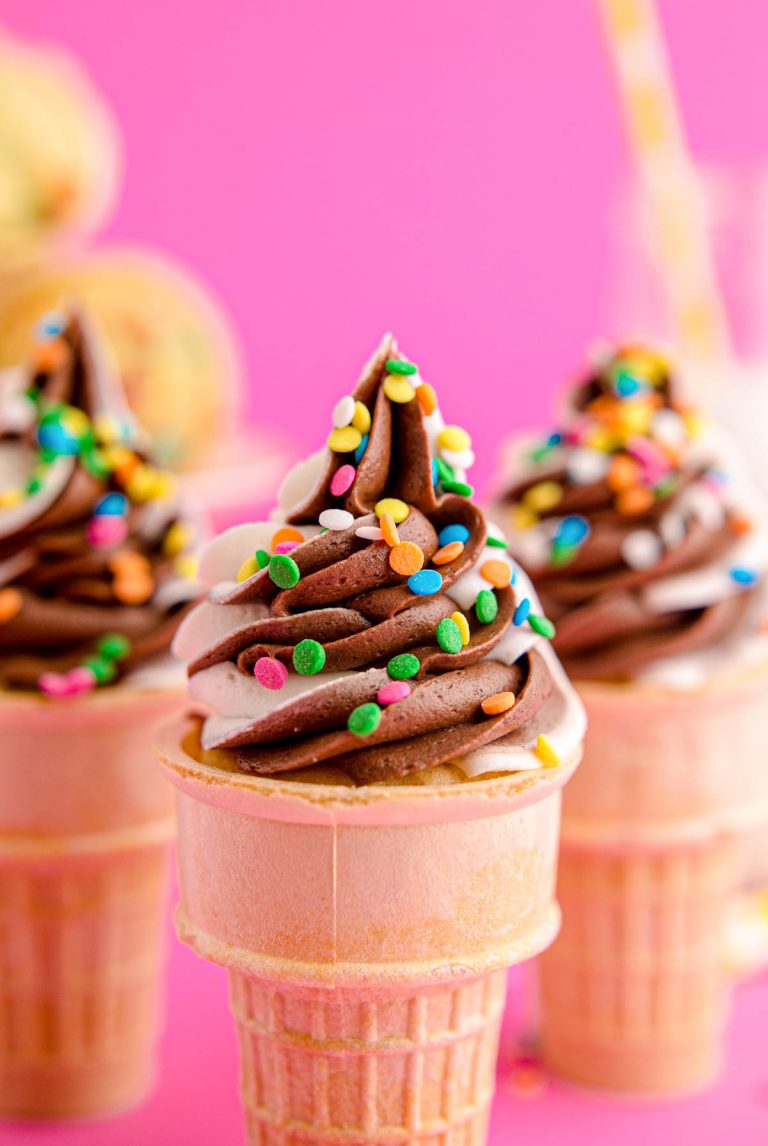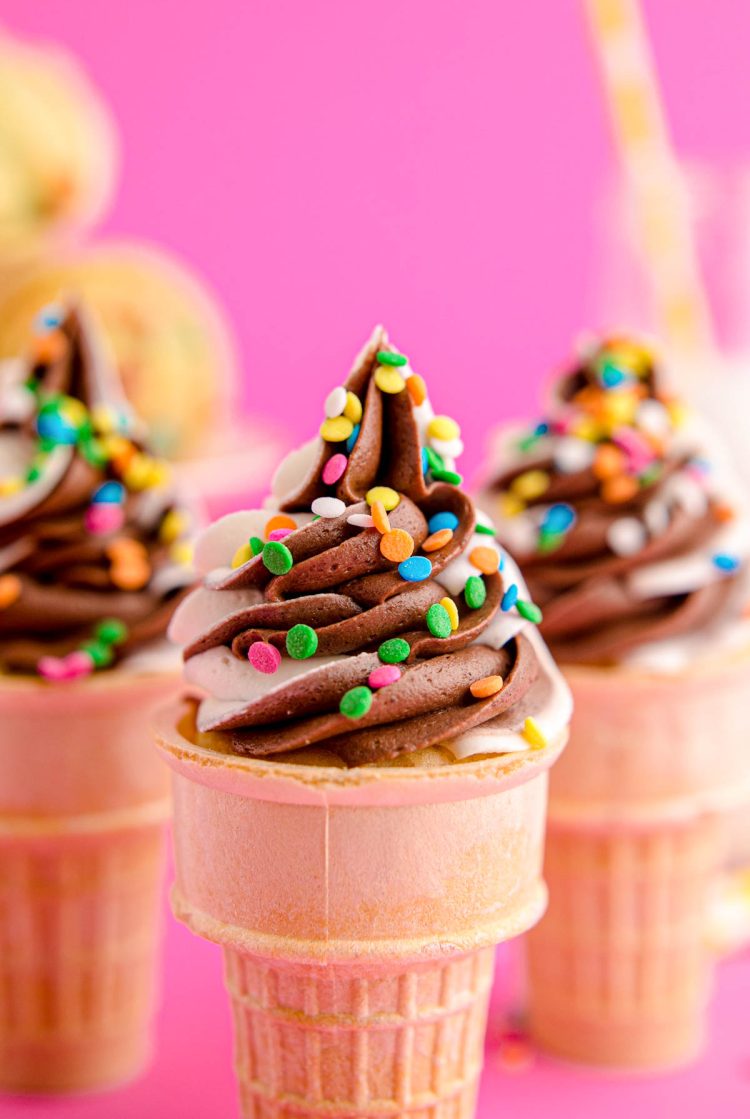 Ingredient Notes
This Cupcake In A Cone recipe skips the homemade ingredients and heads straight for a boxed funfetti cake mix! Then you just mix up the cake mix according to the instructions on its box, pour the batter into flat-bottom ice cream cones, and bake!
Incredibly easy, right? The hardest part may be deciding which frosting to make with them! Chocolate buttercream or vanilla buttercream?! Maybe even a twist!
To make the vanilla buttercream you'll need unsalted butter, powdered sugar, heavy cream, vanilla extract, and salt. If you prefer chocolate buttercream all you need to do is add in unsweetened cocoa powder!
You could also use a Peanut Butter Cream Cheese Frosting, Easy Strawberry Frosting, or even Cinnamon Frosting! After you choose the frosting just finish the cakes in cones off with sprinkles, mini chocolate chips, or even a cherry!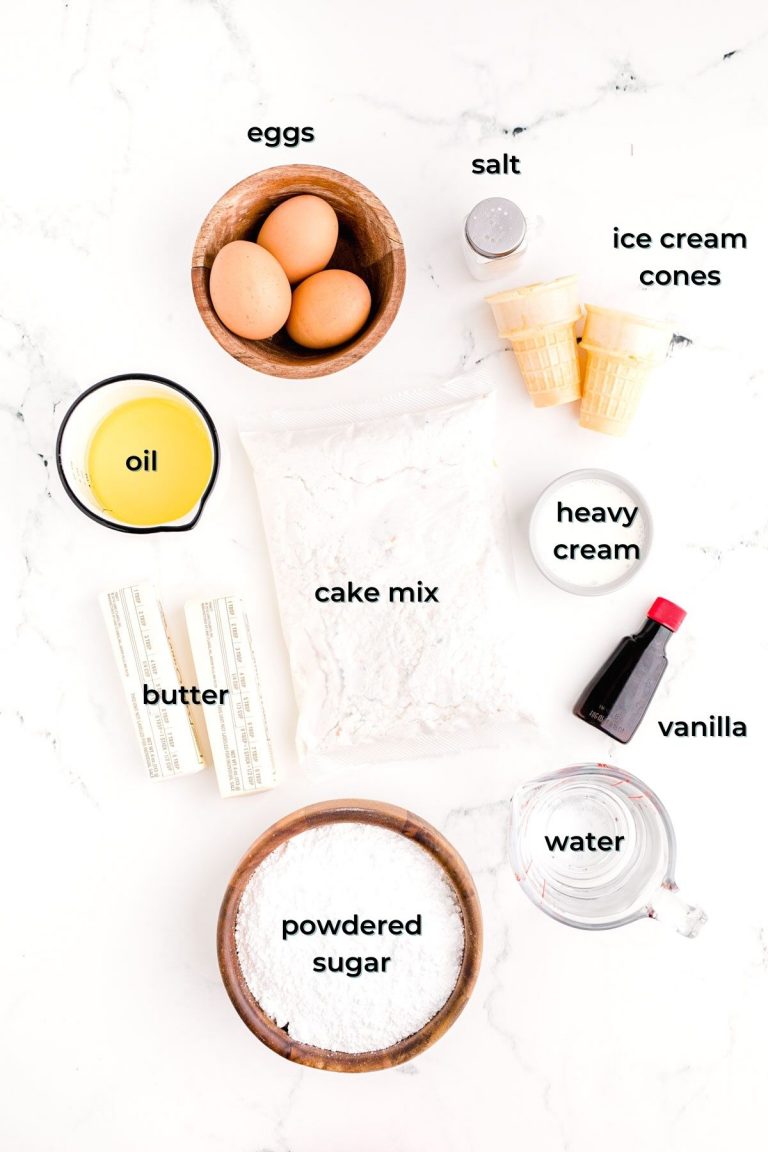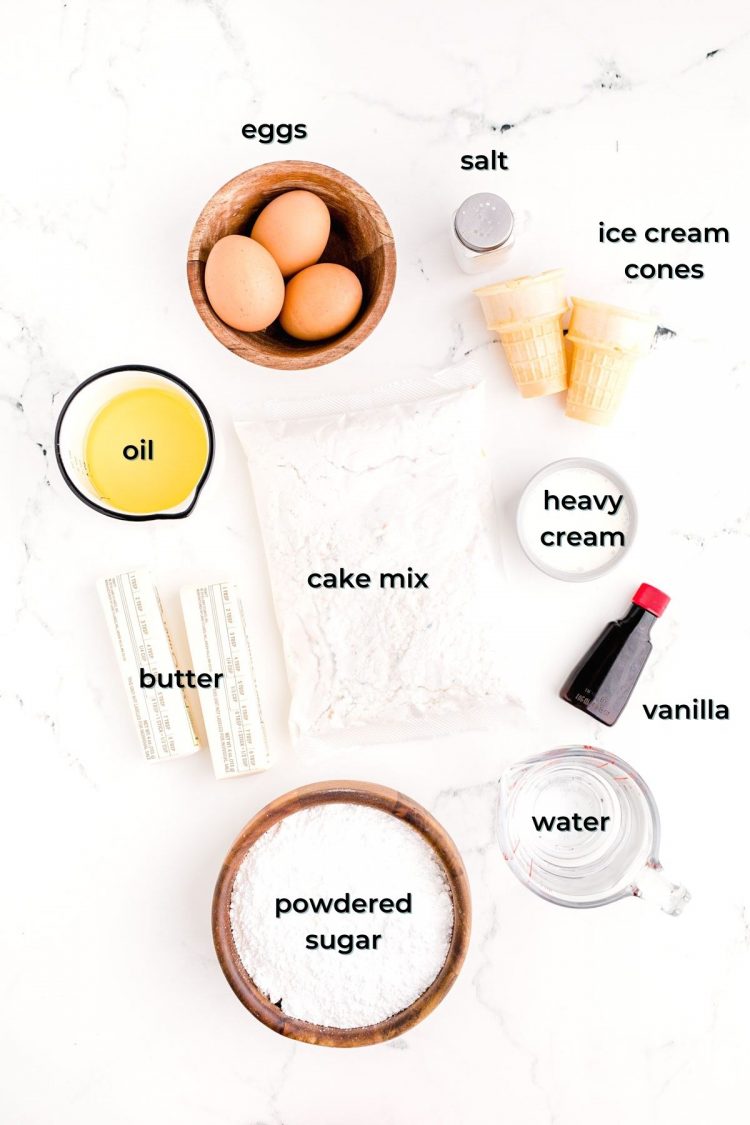 How To Make Ice Cream Cone Cupcakes
Preheat oven to 350 degrees F and place flat-bottom ice cream cones in each well of a mini muffin tin.
Prepare the cake mix according to package instructions that are on the box.
Add cake batter into each ice cream cone, filling to just below the rim.
Bake until a toothpick inserted into the center comes out clean and cool completely.
How To Make Twist Frosting
Prepare the vanilla buttercream frosting by creaming the butter in a large bowl at low speed until pale and smooth. Then add in powdered sugar and heavy cream, alternating between each while continuing to mix. Add the vanilla and salt and beat until the frosting is light and fluffy.
Remove half of the frosting from the bowl and set it aside. Add cocoa powder and additional vanilla to the mixing bowl with the remaining vanilla buttercream and mix until well blended.
Add the frosting to a pastry bag. You can pipe it into the bag or you can use 2 smaller bags inside a large one.
Pipe the frosting into a swirl or spread it onto the cupcakes using a knife. Then garnish with sprinkles!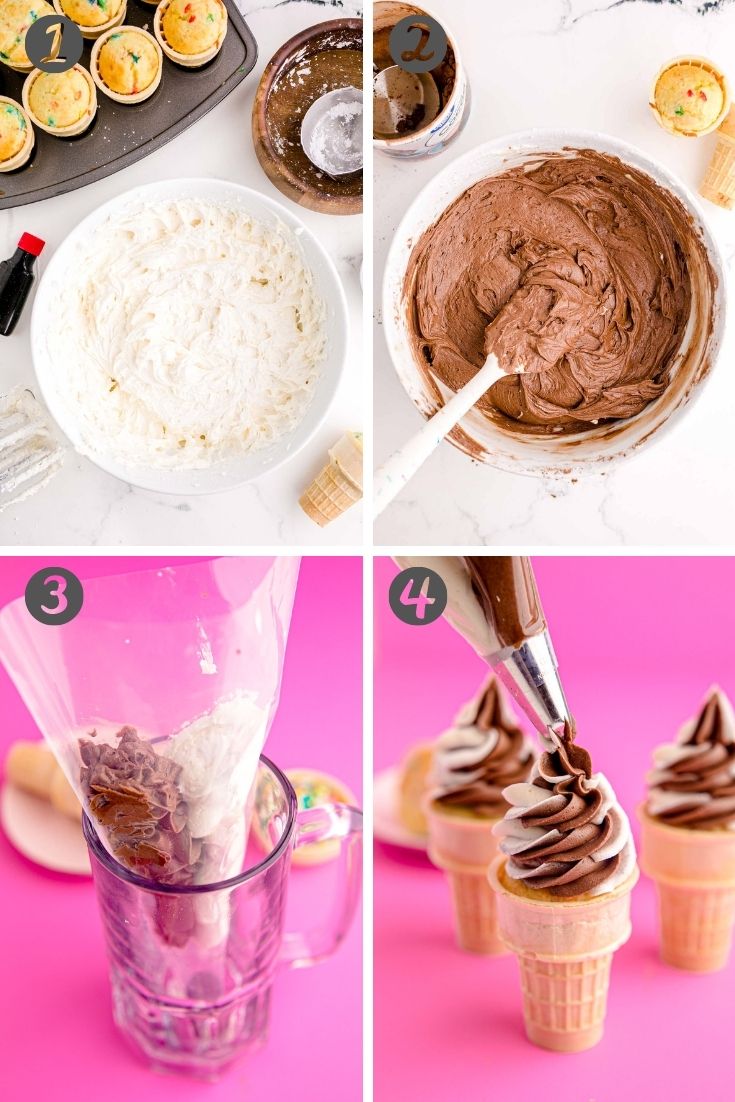 Frequently Asked Questions
How To Store
Store these uncovered at room temperature for up to 3 days. After 3 days store them in an airtight container and place them in the fridge for an additional 2 days.
Should I Secure The Cones Before Baking?
You don't need to but if you feel like your cones are a bit tipsy you can put tin foil around the bottom of your cones for a tighter fit into the muffin pan.
Can I Fill Just 12 Cones Instead of 24?
These won't bake properly if the cones are overfilled so I recommend just sticking to 3 tablespoons of batter in each cone. If you want to only make 12 cupcakes in stead of 24 that's fine you'll just have leftover batter!
How Should I Transport These Ice Cream Cone Cupcakes?
You can cut holes into a cereal box ( or any cardboard box) and then place the cupcakes into the holes.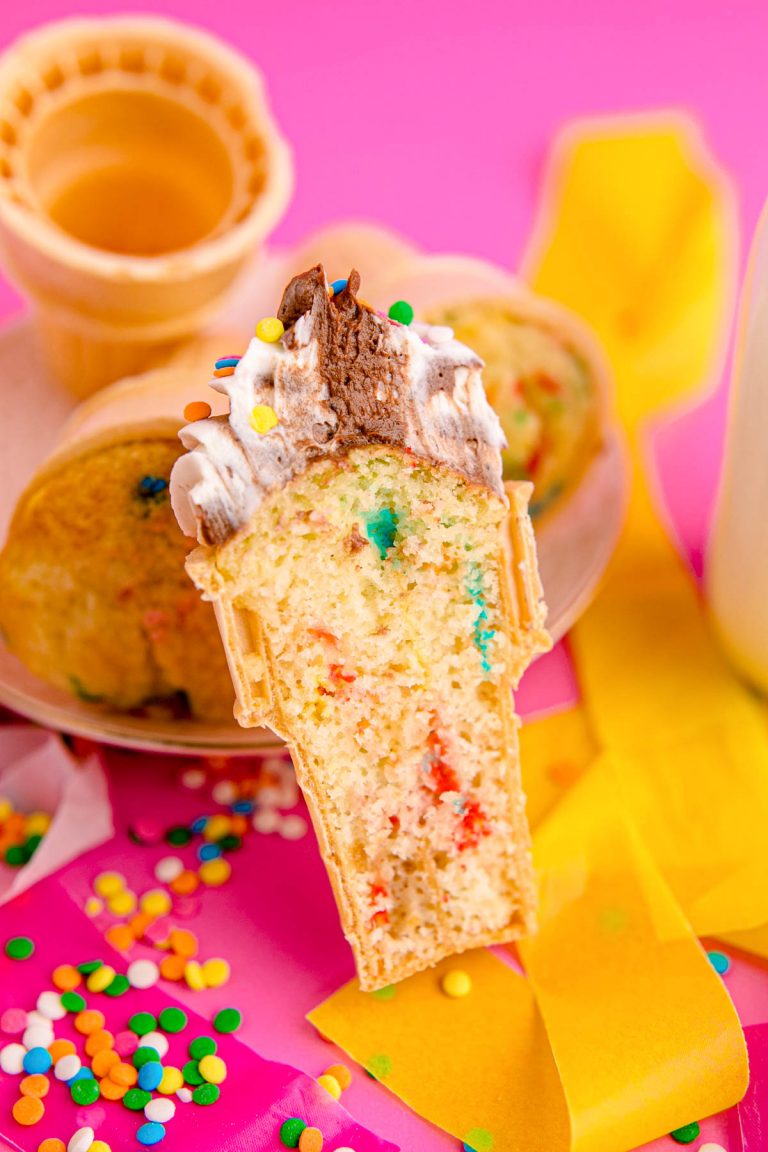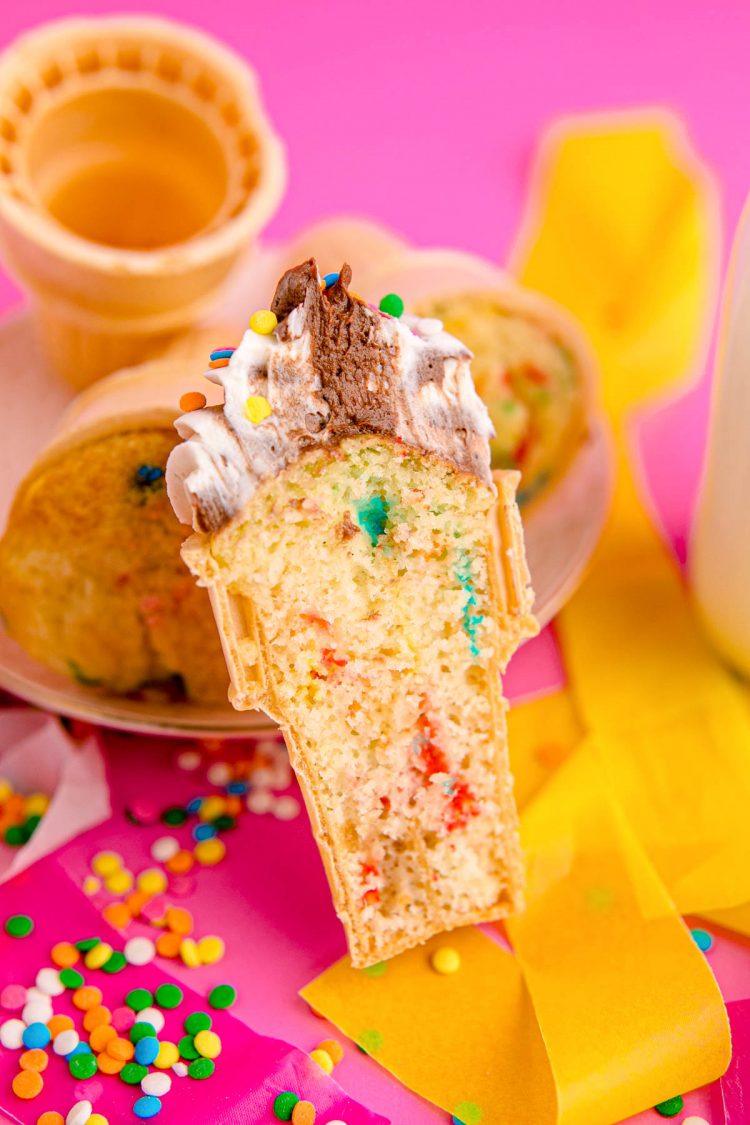 I love how fun these Ice Cream Cone Cupcakes appear yet are so easy to make while still being a super satisfying dessert! Snag another tried and true cupcake recipe that everyone will love!
Ice Cream Cone Cupcakes
Pin For Later
CLICK THE BUTTON ABOVE TO SAVE THIS DELICIOUS RECIPE TO YOUR BOARD!
👋 Let's Connect!
If you've tried this recipe please let me know how you liked it in the comments below and leave a review, I love hearing from you! And don't forget to tag me – @sugarandsoulco – on Instagram and Pinterest with your photos or join our Busy Family Recipes Facebook Community and share them there!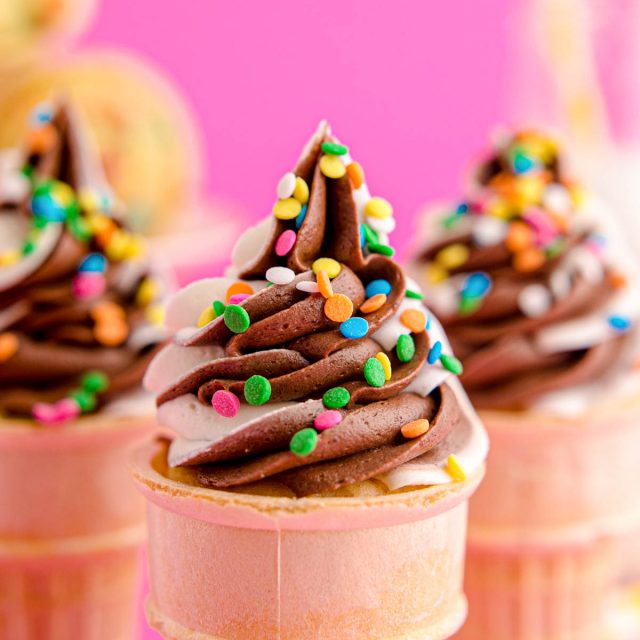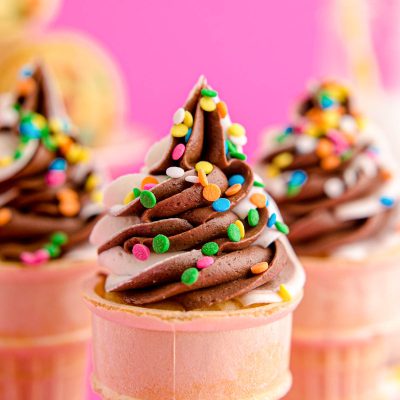 Ice Cream Cone Cupcakes
Summer is here! Birthday parties and holiday get-togethers are ramping up again and your readers are gonna love this easy, fun, unique dessert that's a cinch to make and will be a hit with parents and kiddos alike!
Ingredients
Cupcakes
1

(15oz.) box

funfetti cake mix

+ ingredients called for on box

24

ice cream cones

flat bottoms
Vanilla Buttercream Recipe
1

cup

unsalted butter

softened

3-4

cups

powdered sugar

3-4

tablespoons

heavy cream

1

tablespoon

vanilla extract

¼

teaspoon

salt
Instructions
Preheat the oven to 350°F and prepare the cake batter according to the directions on the back of the box.

Place a cone in each well of a 24-count mini cupcake pan and set aside.

Add 3 Tablespoons of cake batter into each of the cones, filling to just below the inside rim. You can spoon the batter in or use a small ice cream scoop to be more accurate. Do not overfill. If you do, the batter will spill over while cooking and make the rims of the cones soggy. Each cone may bake up a little differently in shape but they will look great as soon as you frost them!

Bake for 23 to 25 minutes or until a toothpick comes clean from the center of the cupcakes.

Allow them to cool completely, about 30 to 60 minutes.

Meanwhile, prepare the buttercream by creaming the butter in a large bowl or stand mixing fitted with a paddle attachment on loaw speed until pale and smooth.

Add in 3 cups of powdered sugar and 3 tablespoons heavy cream a little at a time, alternating between each, while mixing on low speed over the course of 3 minutes.

If your frosting needs a stiffer consistency, add the remaining sugar. If your frosting needs to be thinned out, add the remaining cream.

Add vanilla and salt and beat on medium-high speed for about 2 to 3 minutes until the frosting is light and fluffy.

If you want to make a twist frosting, remove half of the vanilla buttercream from the mixing bowl and set aside. To make the chocolate buttercream, add ½ cup of unsweetened cocoa powder and 2 tablespoons of vanilla extract to the remaining frosting and mix until incorporated.

Pipe the frosting into a swirl using a Wilton 2D tip and piping bag.

Add sprinkles on top for a fun garnish if desired!
Notes
Storage Instructions: You may store these uncovered at room temperature for up to 3 days (this should help the cones to stay crispier) but then they should be stored in an airtight container and placed in the fridge. The cones will get softer over time.
Does this work with different flavors of cake? Yes, go ahead and use your favorite flavor – chocolate and red velvet would be amazing too!
My cones feel like they are going to tip over – how can I secure them? I found as long as I moved the pan carefully, my cones stayed upright without a problem, but if yours are tipsy, you could put tin foil around the bottom of your cones to make them fit tighter into the mini muffin pan. If you don't have a mini muffin pan, you can use a regular cupcake pan with tin foil around the base of each cone to hold them steady.
I only need/have 12 cones – can I just fill the cones fuller? No, these won't bake properly if they are overfilled. Go ahead and fill your 12 cones (with just 3 Tablespoons of batter, as directed above), you will have leftover batter and could use it to make regular or mini cupcakes.
How do you recommend transporting these ice cream cone cupcakes? I find it easiest to cut the required number of holes into a couple of empty cereal boxes. Just make the holes slightly larger than the circumference of the cones. Once when I just wanted to take a few to my neighbor, I used the hole side of an egg carton and that worked well.
Can I make these ahead of time? You can make them ahead of time but they really are best used within a few days. After that, the cones may get a little soggy.
Nutrition
Calories:
160
kcal
Carbohydrates:
19
g
Protein:
1
g
Fat:
10
g
Saturated Fat:
6
g
Polyunsaturated Fat:
1
g
Monounsaturated Fat:
3
g
Trans Fat:
1
g
Cholesterol:
25
mg
Sodium:
38
mg
Potassium:
37
mg
Fiber:
1
g
Sugar:
15
g
Vitamin A:
291
IU
Vitamin C:
1
mg
Calcium:
8
mg
Iron:
1
mg