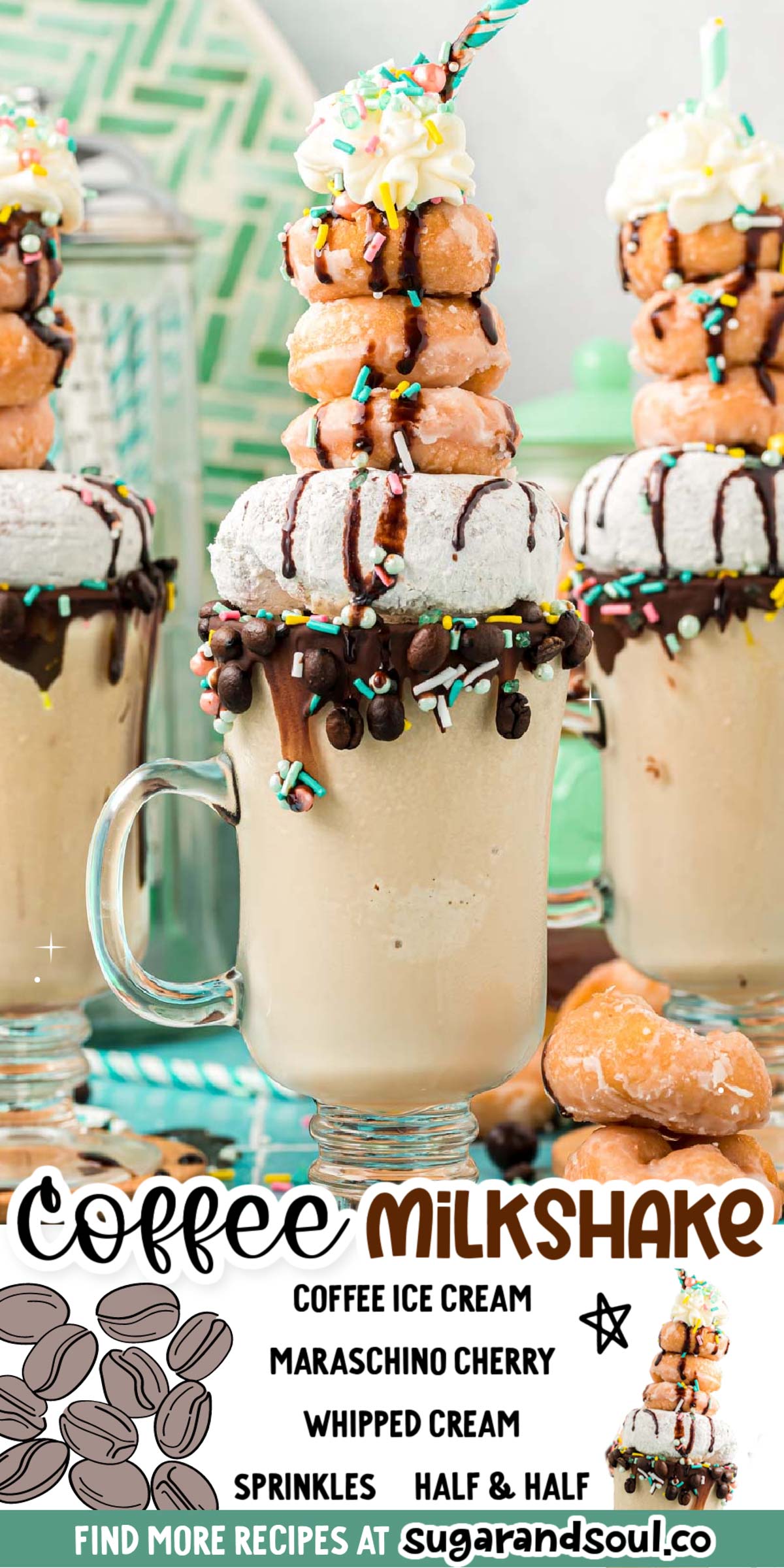 This Coffee Milkshake is a sweet, thick treat that's made with only ice cream and half & half in just 5 minutes! Garnish your shake with whipped cream, sprinkles, and even donuts to make it a freak shake!
My other go-to homemade milkshake recipes are a thick, rich Chocolate Milkshake and a 5-ingredient Birthday Cake Milkshake!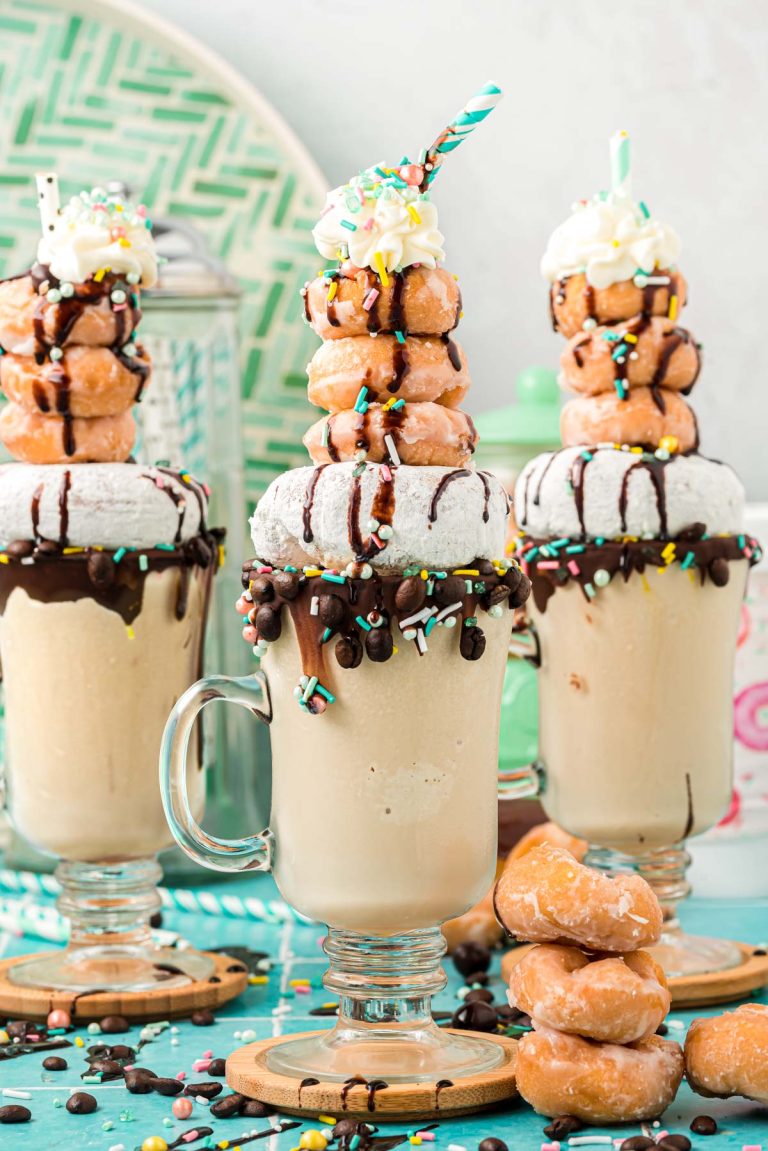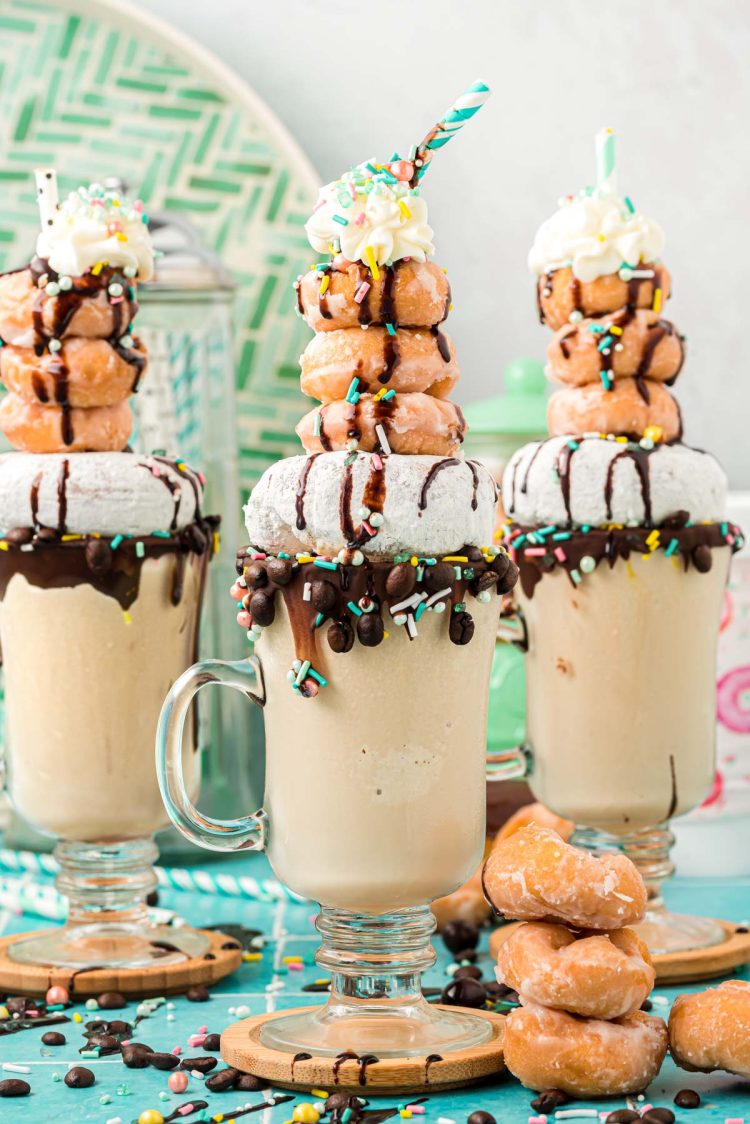 Celebrate National Coffee Milkshake Day on July 26th with this simple and delicious Coffee Milkshake Recipe! There's no better way to cool down on a hot summer day than sipping on this thick, creamy, coffee shake!
This quick and easy recipe has just 2 ingredients – coffee ice cream and half & half! Toss them in the blender and in 5 minutes or less your left with the perfect summer coffee treat!
Relax While Sipping On This Homemade Coffee Milkshake
Taste: The sweet flavor of coffee in these shakes is brought to you by rich coffee ice cream! Every sip delivers everything you love about your favorite caffeine without even having to brew up a batch of coffee!
Texture: Since these milkshakes have just 2 ingredients, they turn out perfectly thick and creamy! However, if you prefer a thinner milkshake, you can just add additional half & half.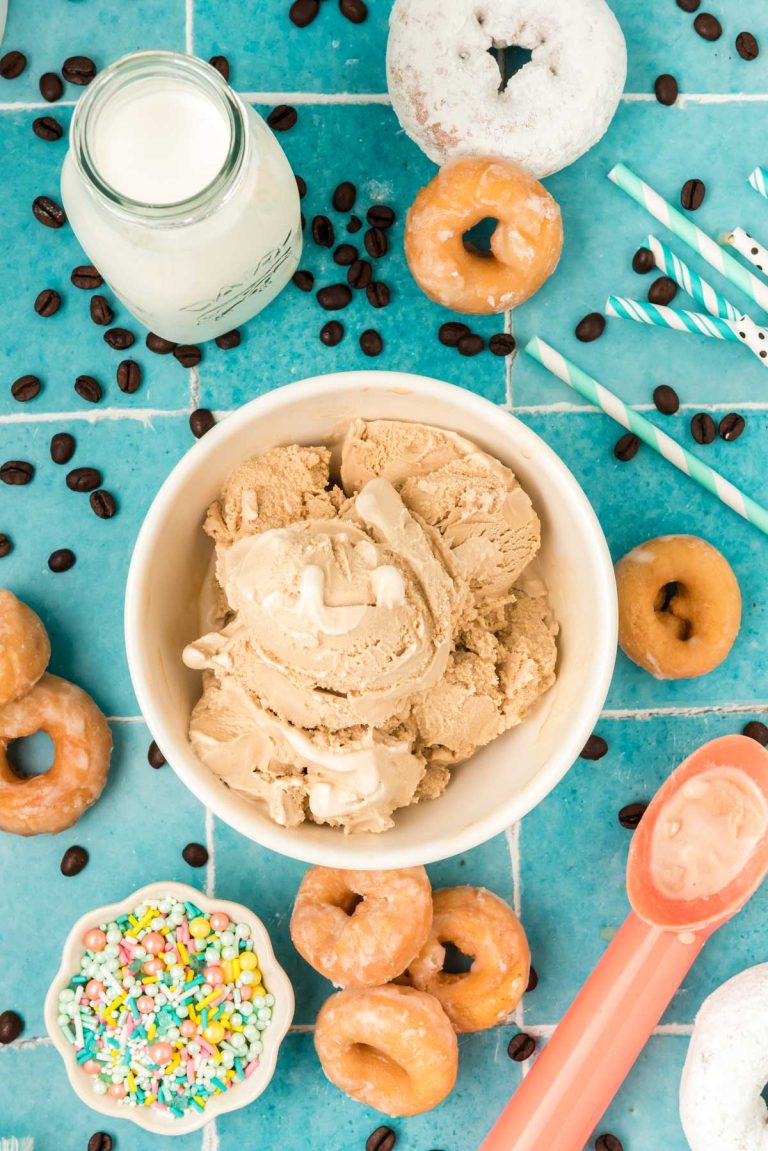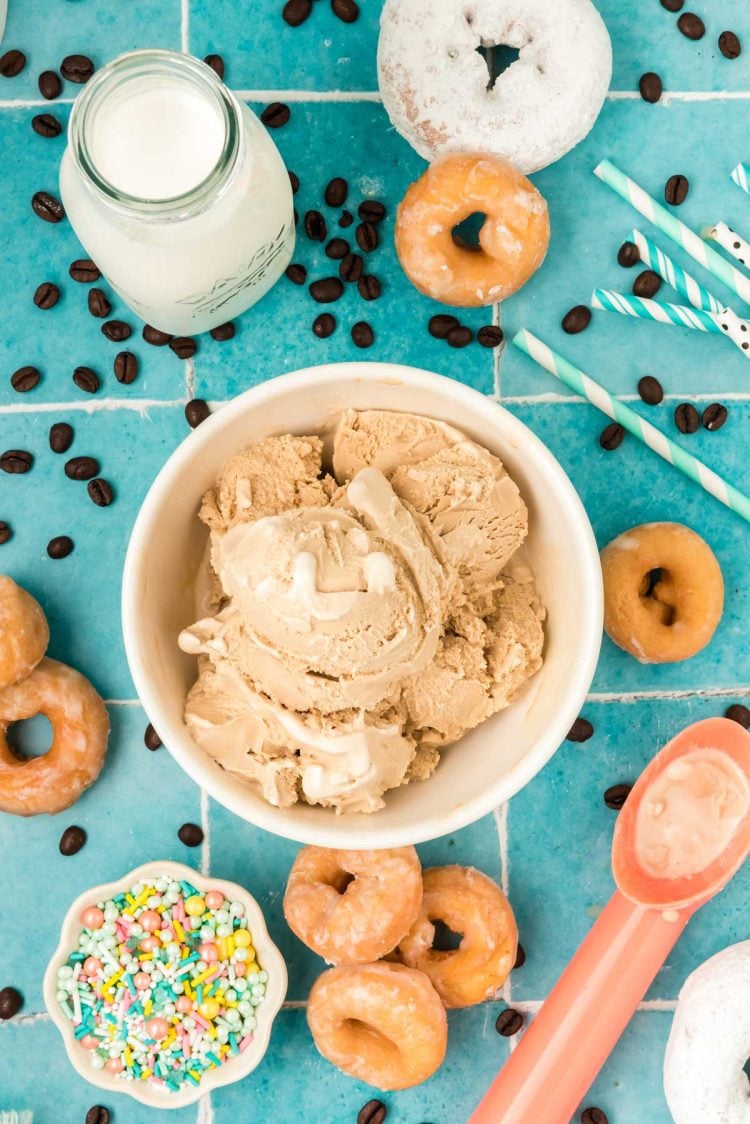 The Best Ways To Serve These Shakes!
You really can't go wrong with how you serve these Coffee Milkshakes! But you can dress them up for some added delicious fun!
I find the best way to serve these shakes is to turn them into a freak shake similar to my Peanut Butter Milkshake! For these, I drizzle the rim of the glasses with chocolate syrup and then roll them in coffee beans.
Afterward, I carefully pour the blended shake into the glasses and stick a thick straw in them. Then I slide a stack of donuts onto the straw, drizzle with more chocolate syrup, and add a dollop of whipped cream with a splash of sprinkles!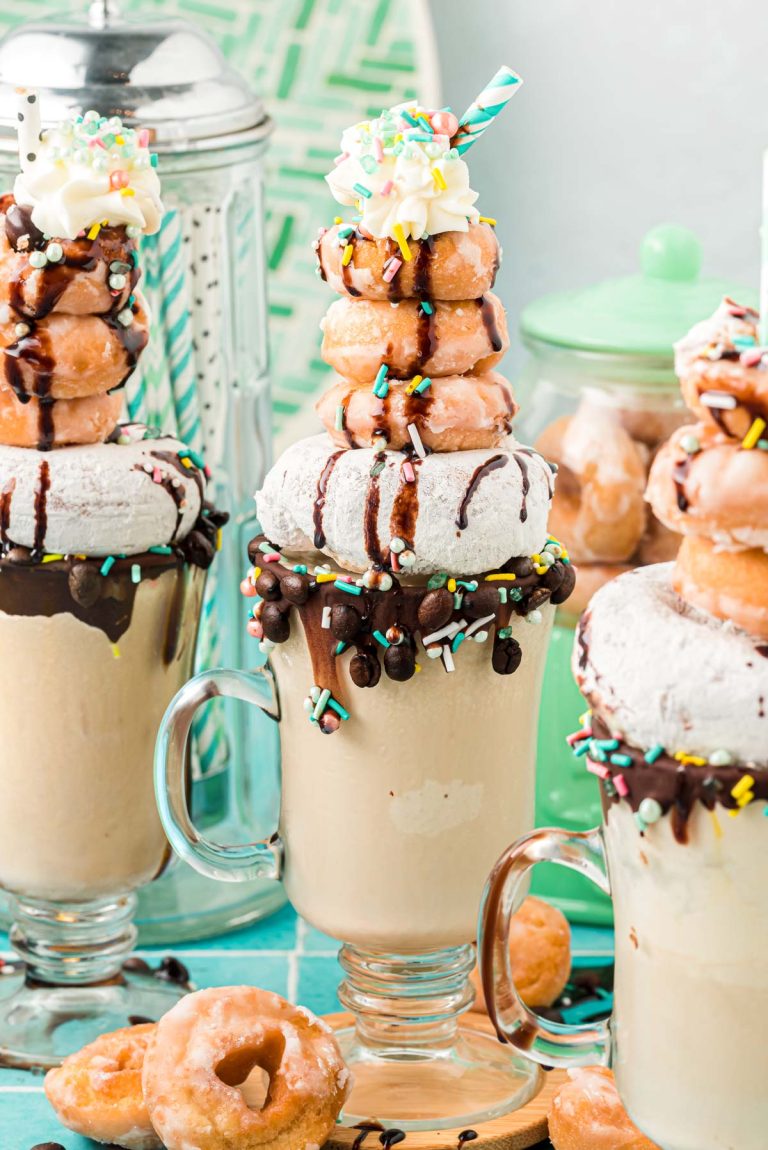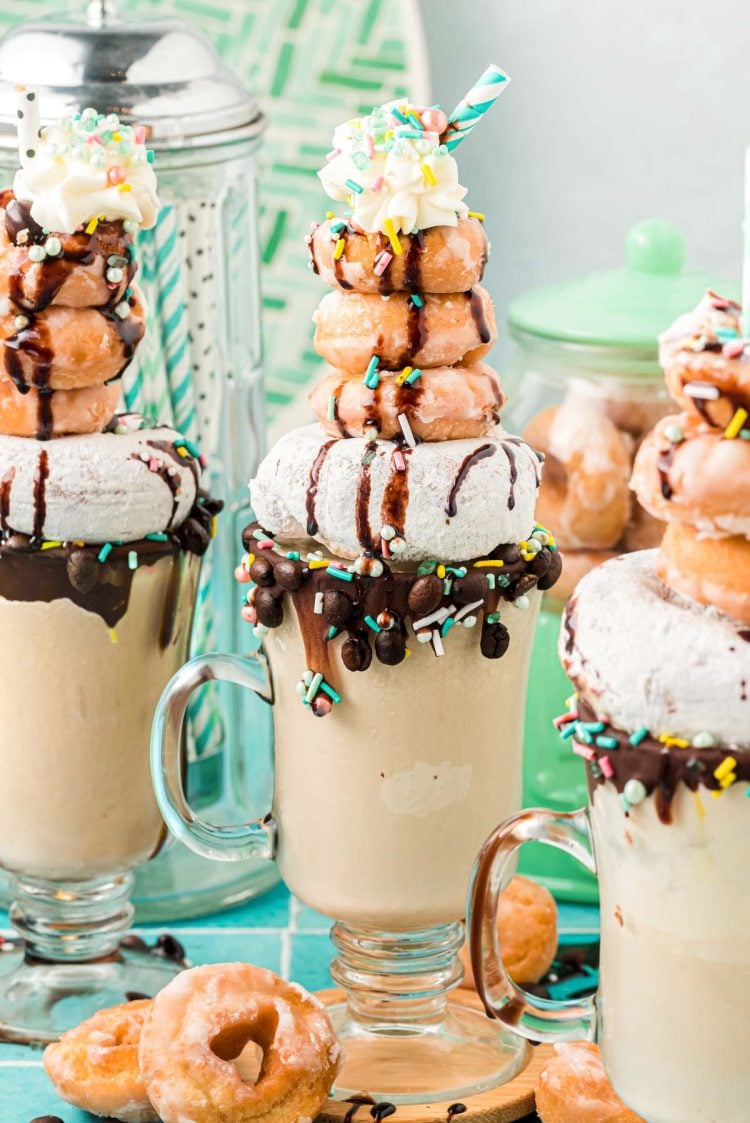 Sweet Variations Of This Coffee Milkshake Recipe
Switch up the flavor of these milkshakes by adding chocolate syrup, vanilla, or hazelnut simple syrup!
Make a caramel coffee milkshake by blending in some caramel sauce!
Trade in the half & half and use your favorite flavored coffee creamer instead! Keep it classic with vanilla coffee creamer or caramel macchiato. Or have fun by making the shakes with southern butter pecan creamer or almond joy!
Sneak a bit of protein into this frozen treat by adding some plain or coffee protein powder!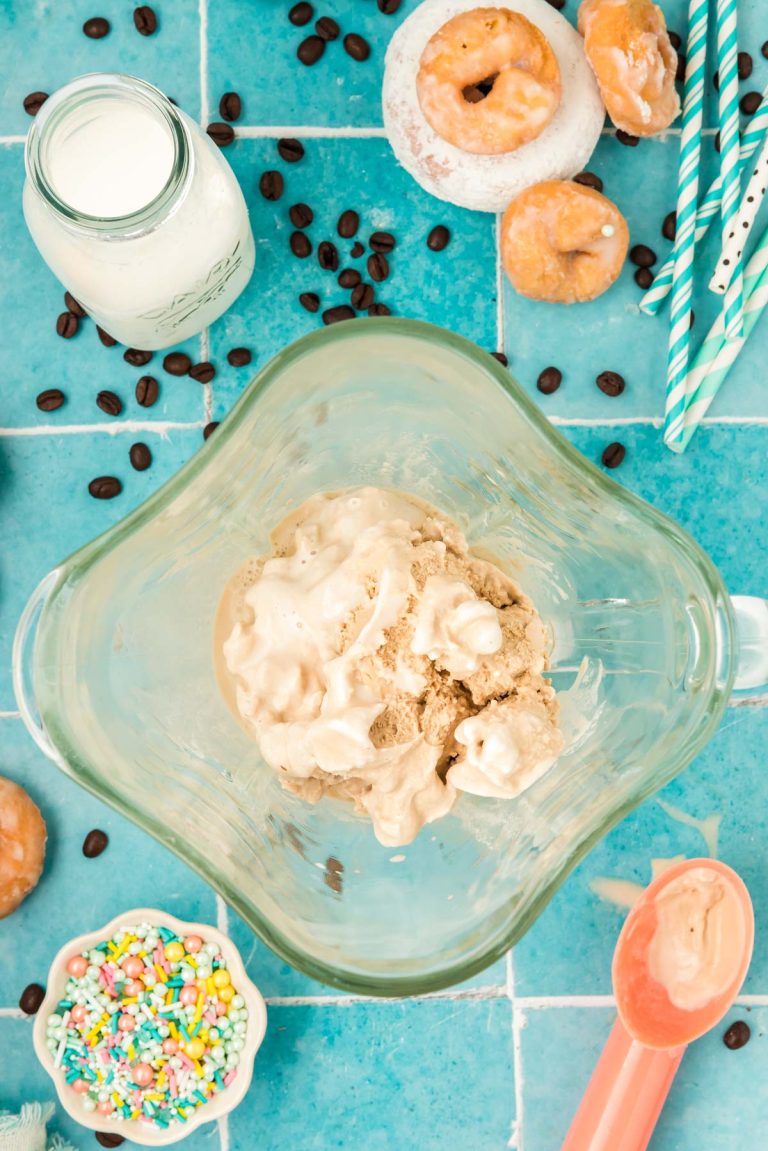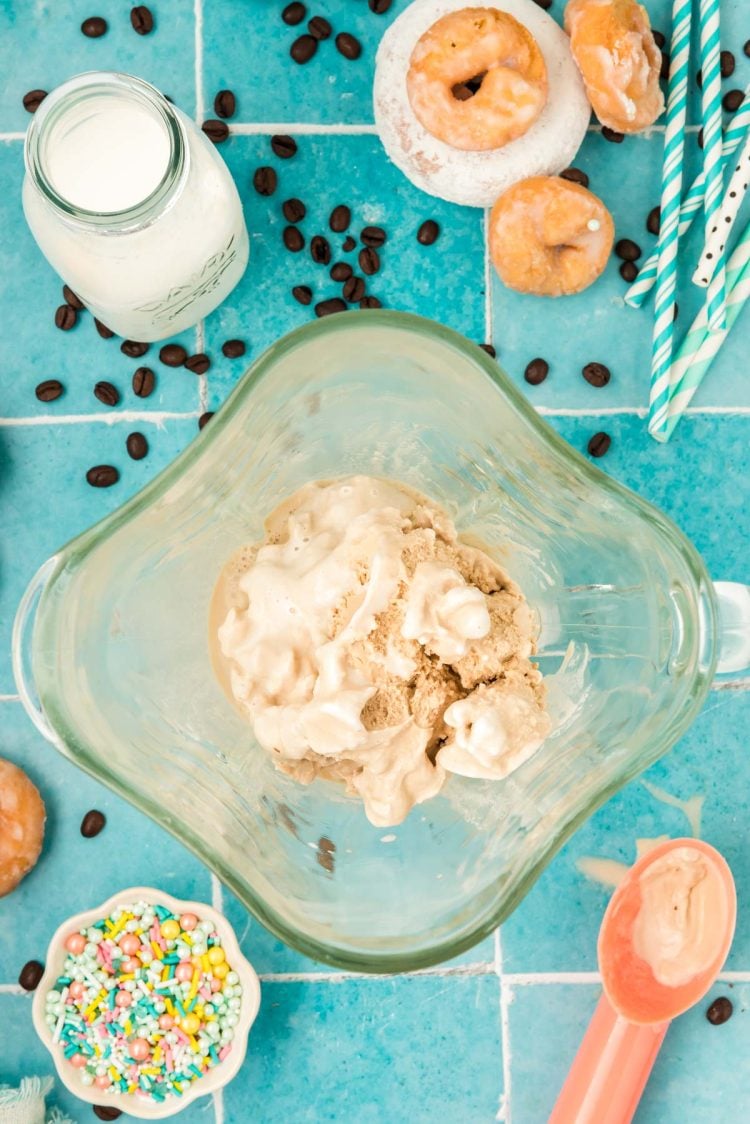 How Many Milkshakes Does This Recipe Make?
This recipe yields one milkshake. However, making more than one is super simple since you'll already have all of the ingredients out!
If you have a very large blender, you could make two by doubling the recipe!
What Can I Use As Substitutions For The Half & Half?
You can use your choice of milk instead! Whether that's almond milk, cashew, whole, or oat milk, all would be just fine.
Flavored coffee creamer can also be used as a substitute for half & half.
Why Is My Milkshake Runny?
If your coffee shake turned out runny too much liquid was added to it. Or the ice cream sat at room temperature for too long.
How Can I Increase The Coffee Flavor In These Milkshakes?
If you really love a strong coffee flavor, you could add in some espresso!
Can I Make This Recipe With Vanilla Ice Cream Instead?
Yes, but you'll have to then add in cold brew coffee or instant coffee powder to create the coffee flavor.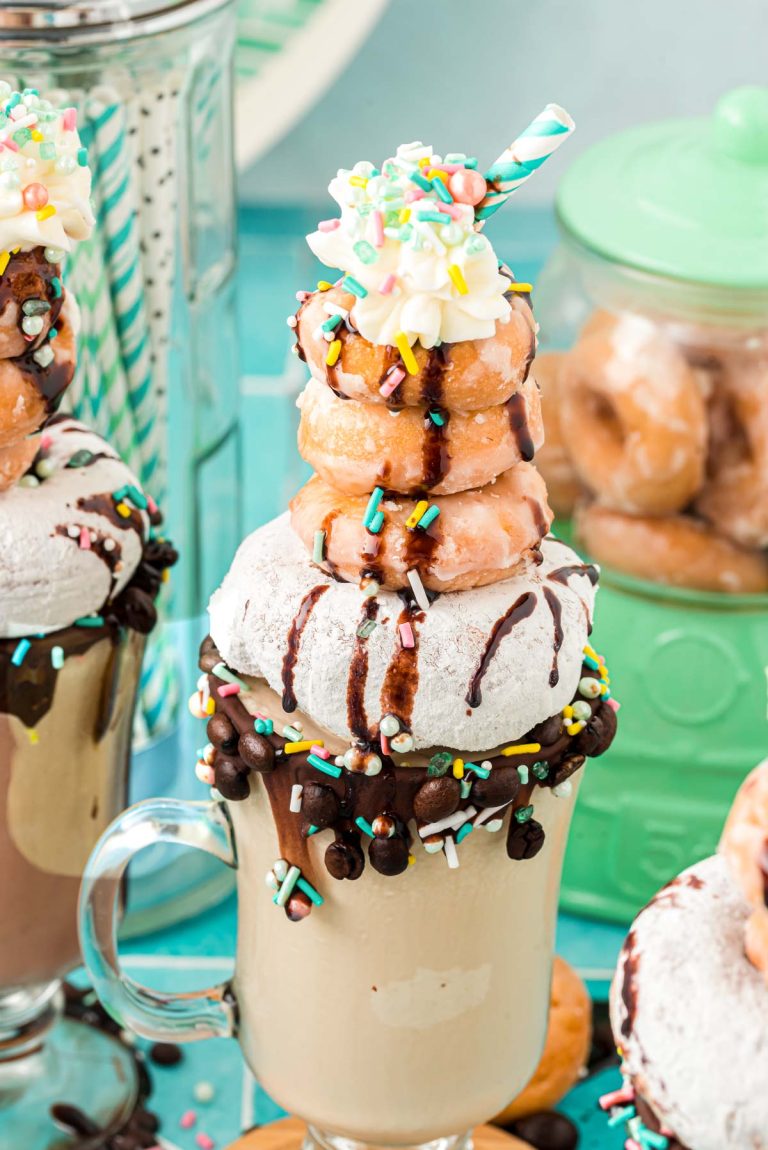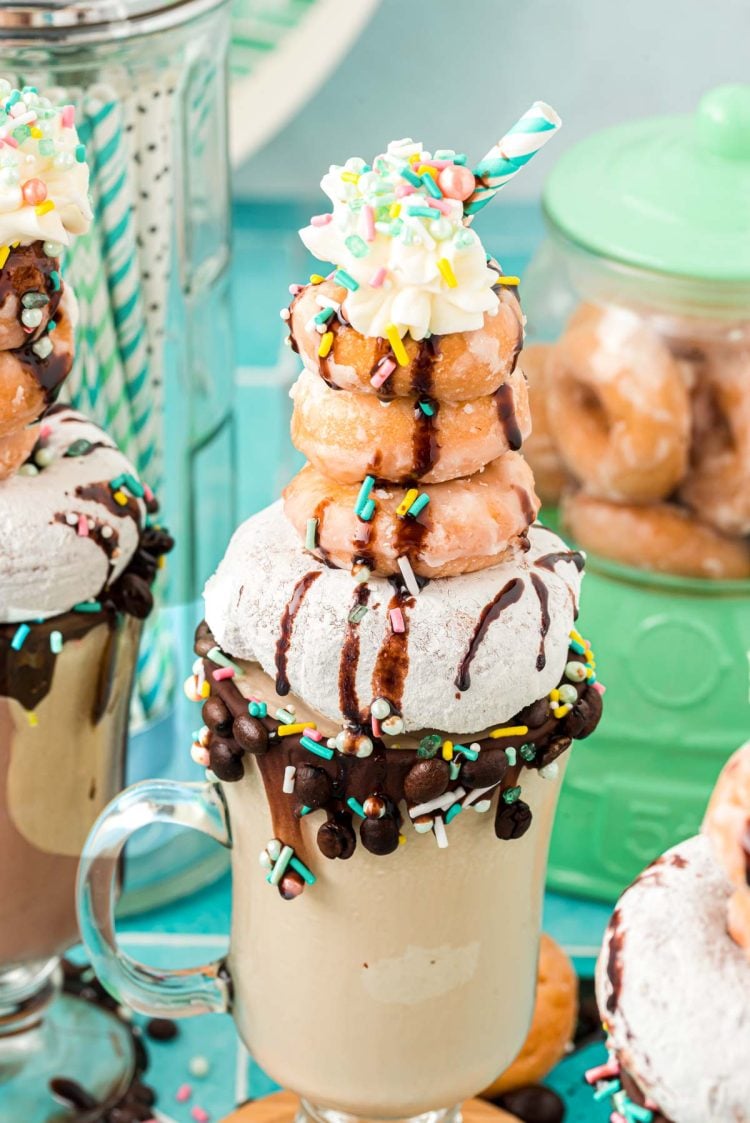 Coffee Milkshakes are a fun way to enjoy your favorite taste of caffeine! Here are more fun and delicious coffee recipes you'll love just as much!
Coffee Milkshake
Pin For Later
CLICK THE BUTTON ABOVE TO SAVE THIS DELICIOUS RECIPE TO YOUR BOARD!
👋 Let's Connect!
If you've tried this recipe, please let me know how you liked it in the comments below and leave a review; I love hearing from you! And don't forget to tag me – @sugarandsoulco – on Instagram and Pinterest with your photos or join our Busy Family Recipes Facebook Community and share them there!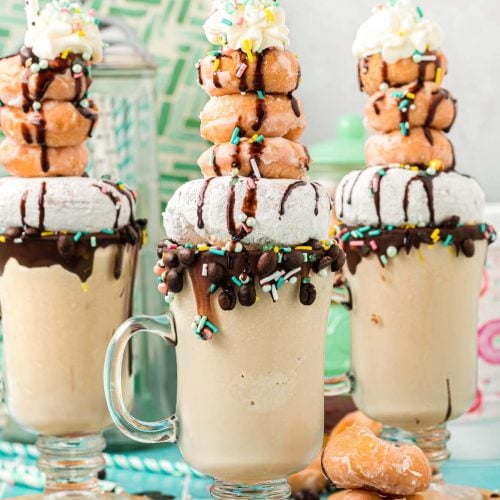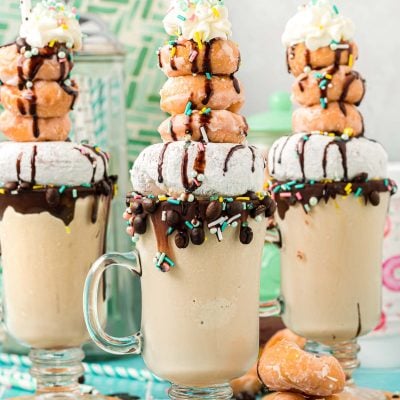 Coffee Milkshake
This Coffee Milkshake is a sweet, thick treat that's made with only ice cream and half & half in just 5 minutes! Garnish your shake with whipped cream, sprinkles, and even donuts to make it a freakshake!
Ingredients
2

cups

coffee ice cream

⅓

cup

half & half

whipped cream

for topping

sprinkles

for topping

maraschino cherry

for topping
Instructions
Add ice cream and half & half to a blender and blend until smooth.

2 cups coffee ice cream,

⅓ cup half & half

Top with whipped cream, sprinkles, and a maraschino cherry and other garnishes. If you want to turn this into a freak shake, top with over the top extras like donuts, and a chocolate rim wtih coffee beans!

whipped cream,

sprinkles,

maraschino cherry
Notes
I prefer thicker milkshakes, but additional half & half can be added for those who prefer thinner ones.
Milk or flavored coffee creamer can be used in place of half & half if desired.
Feel free to add chocolate syrup, vanilla, caramel, or hazelnut simple syrup to change the flavor.
Nutrition
Calories:
639
kcal
Carbohydrates:
83
g
Protein:
13
g
Fat:
32
g
Saturated Fat:
20
g
Cholesterol:
100
mg
Sodium:
251
mg
Potassium:
797
mg
Fiber:
4
g
Sugar:
75
g
Vitamin A:
1180
IU
Vitamin C:
3
mg
Calcium:
381
mg
Iron:
3
mg