This Coffee Mug Cake is bold and rich. It's ready to eat in less than 5 minutes and loaded with notes of coffee, chocolate, and sugar!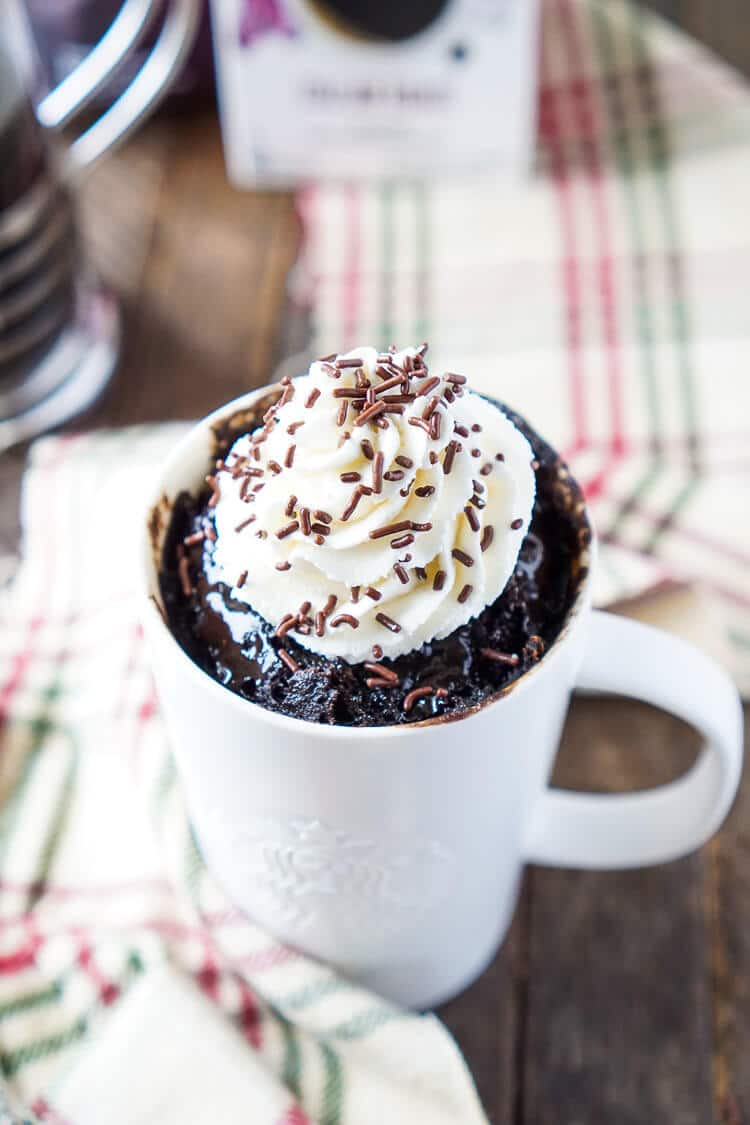 Coffee Mug Cake
This Coffee Mug Cake is a quick and easy treat when you're craving something sweet!
I was supposed to be making you a Mocha Chiffon Cake for today, but when I got ready to make it I realized I only had 3 eggs and I needed 6.
So I decided to cut the recipe in half… well sometimes we make decisions and don't act on them fully.
You know, like halving the eggs but completely forgetting to halve the rest of the recipe until it's all mixed together and you have that "oh crap" moment.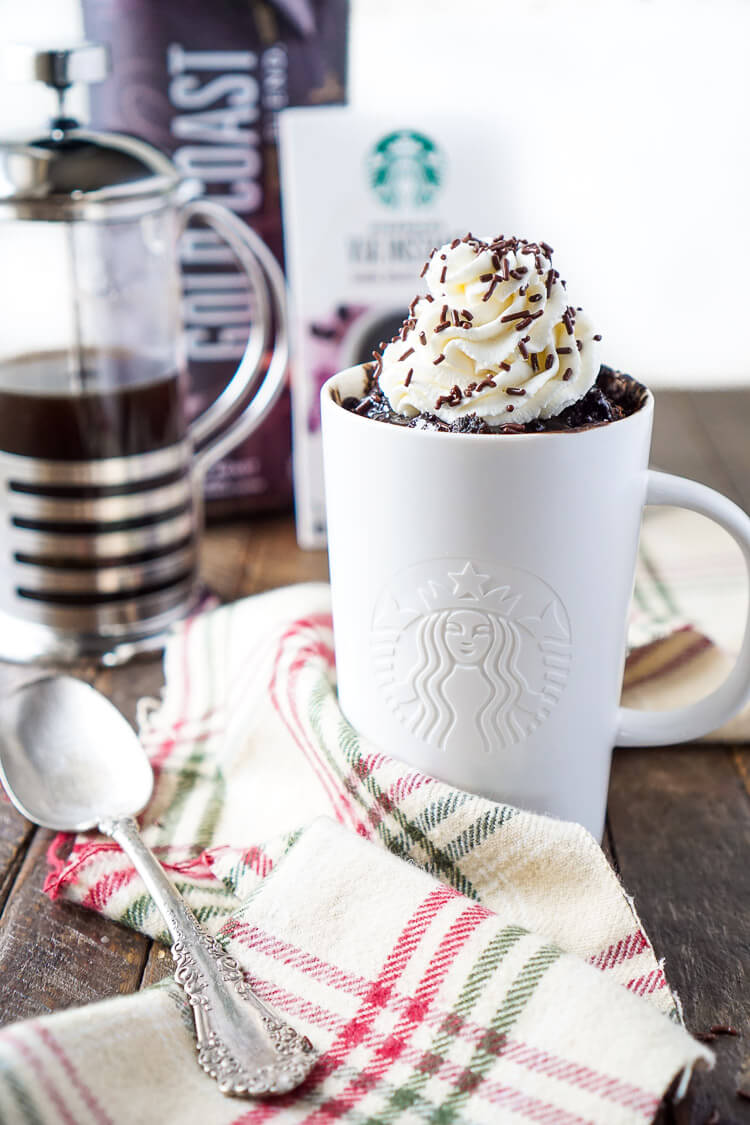 We've all had that moment, haven't we? It always seems to happen around the holidays too. You've got a million different things on your mind and you completely forget to pay attention to what's right in front of you.
It happens.
So what do you do when you don't have any more eggs in the house and you really want something sweet, but now that you've wasted 30 minutes of your life you're all about something easy? You make this Coffee Mug Cake of course!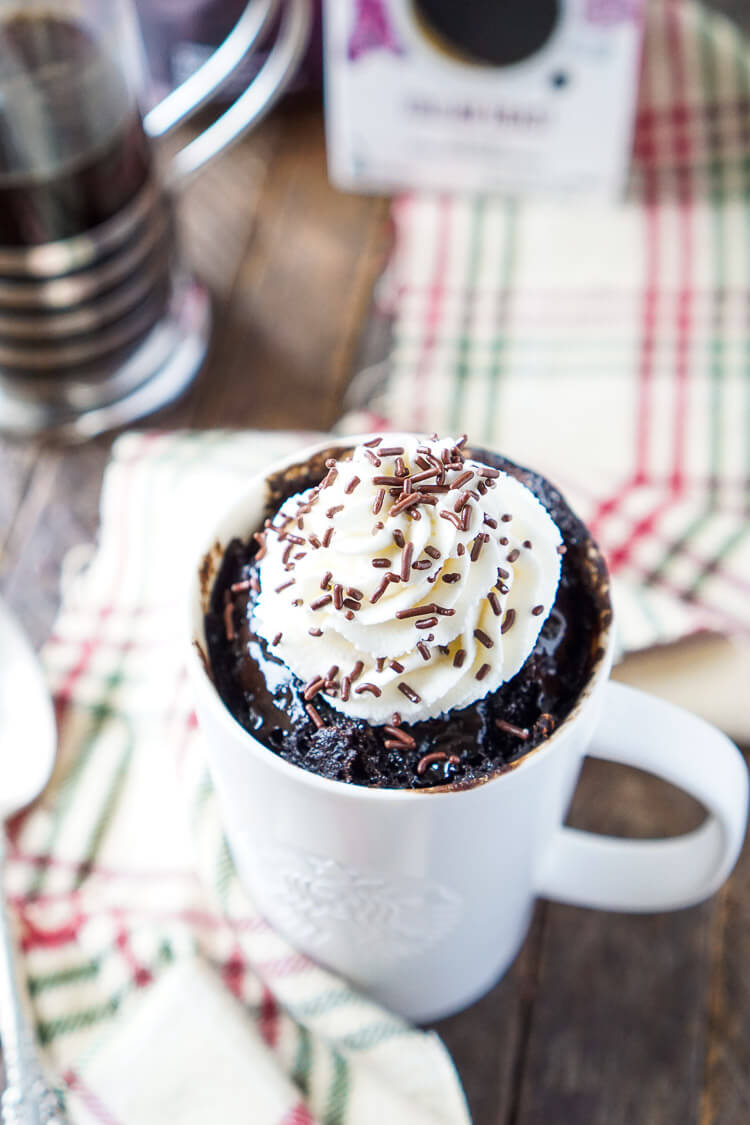 That's what I love about mug cakes, they're fast and easy, which leaves you more time to actually enjoy yourself.
Not that I don't enjoy baking, I do, but sometimes I just want to sit down with a treat and watch Christmas movies with a blanket and Shoester at my feet, you know?
I'm really making an effort not to stress over the unimportant stuff like messed up recipes, I'm going to focus on actually enjoying the moments of the season this year. I need to be present in my life and worry less about everything else.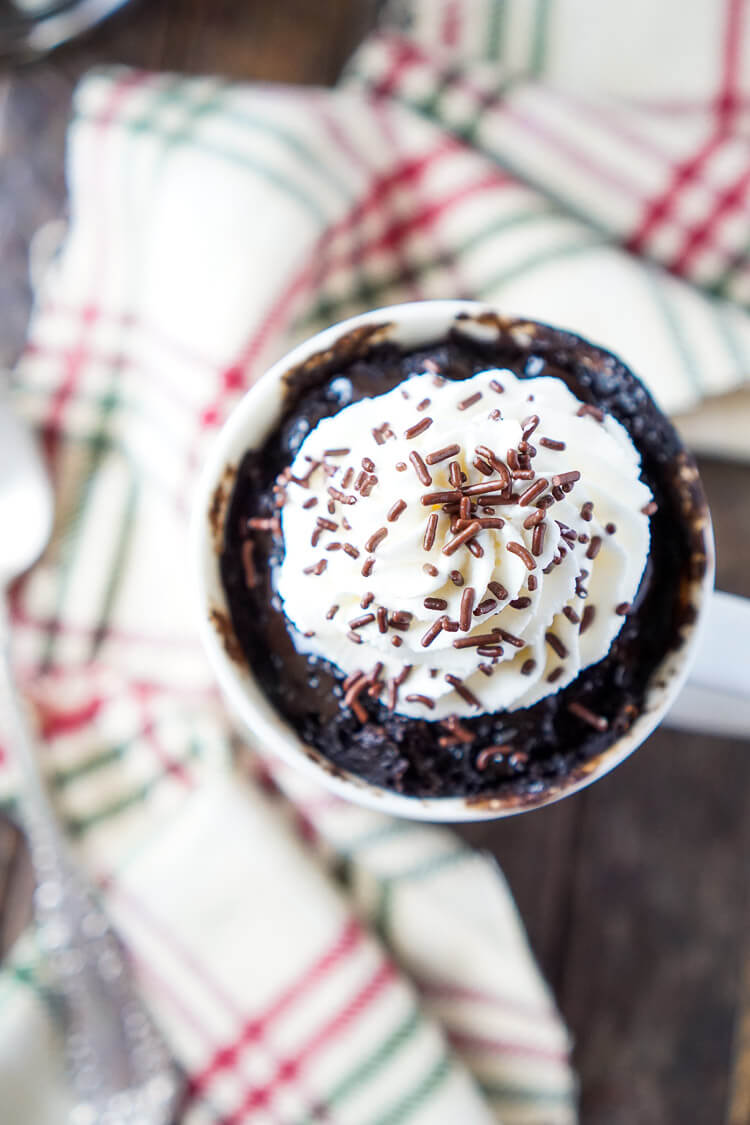 I started working at Starbucks near the end of my senior year of high school and completely fell in love. And once those holiday flavors launched for the season, it was nuts!
I remember my first Black Friday, I actually worked at a Starbucks inside a Target, so I'm sure you can imagine the chaos.
But I LOVED it! Nothing like a rush of people and the smell of freshly brewed caffeine to wake you up at 3 am!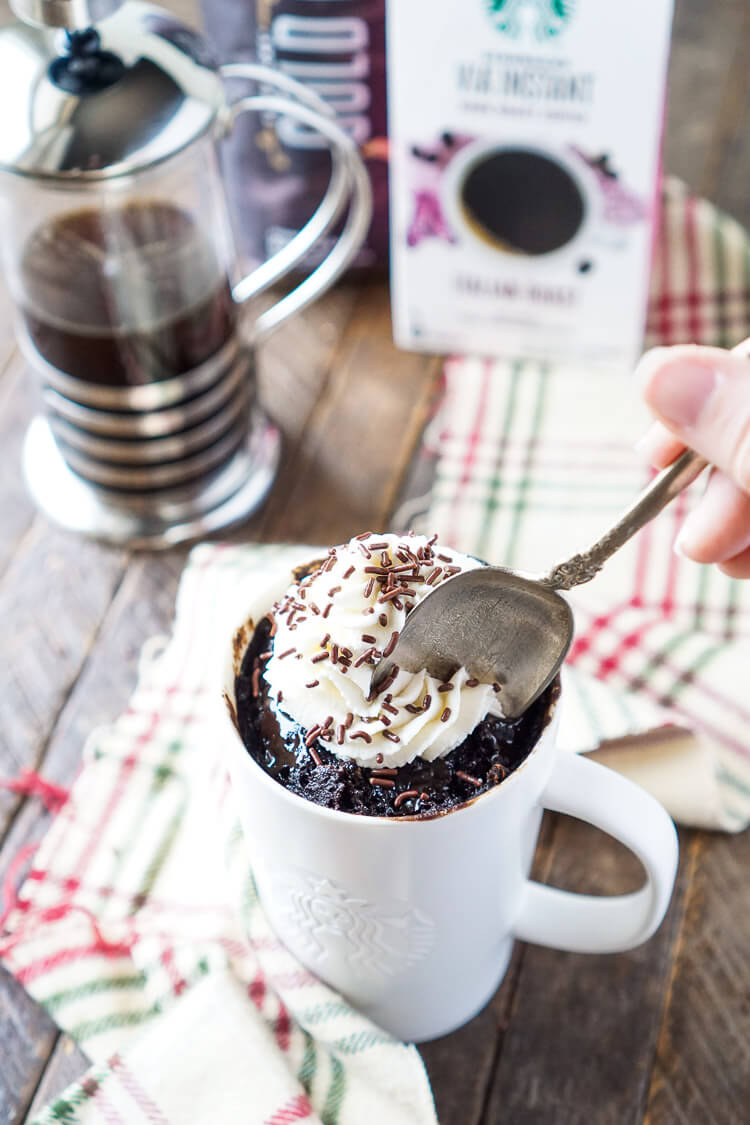 Even since I left my job as a Barista, the holidays are still marked by the release of gingerbread and eggnog at Starbucks. Once I have that first sip of my signature holiday drink, the Christmas music can ensue.
Those flavors aren't out yet, but with the cold weather officially here, there's no reason I can't begin hibernation and hibernation should always include cake.
Pin this Coffee Mug Cake for Later!


This Coffee Mug Cake is bold and rich and if you like a strong dark coffee with a hint of chocolate, then you're going to LOVE this dessert! Did I mention I created a video for you just to show you how easy it is?
What's your favorite part about the holidays, do you have a trigger of sorts that really gets you in the spirit?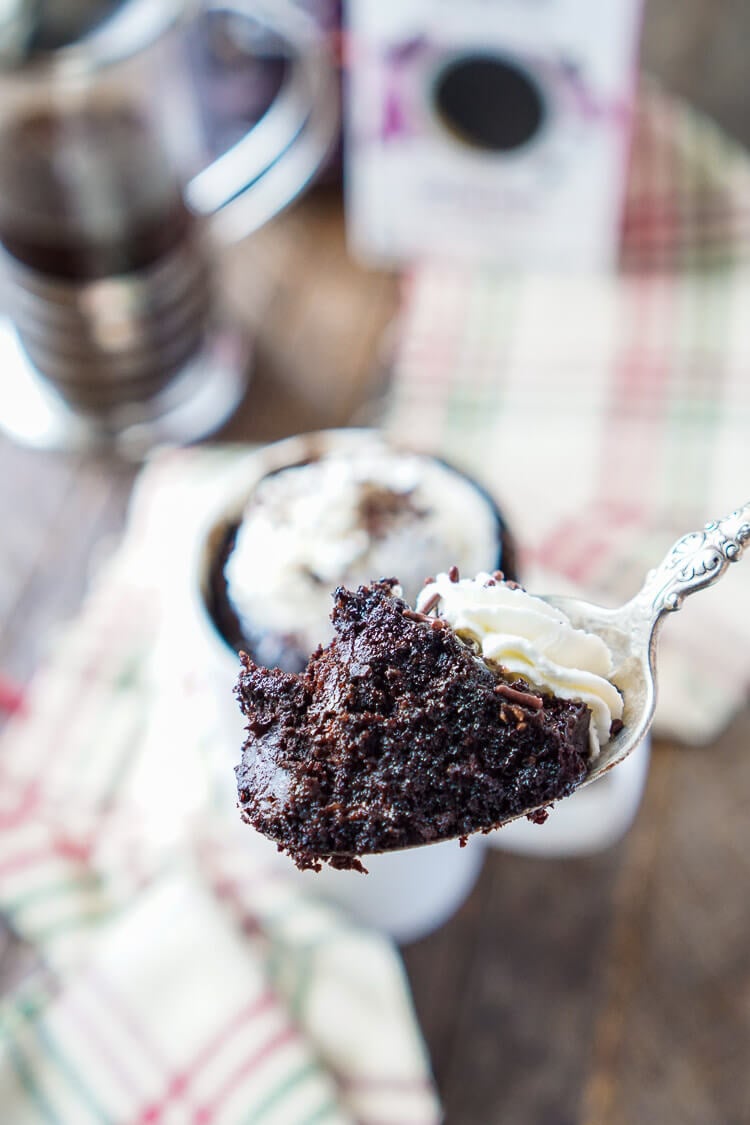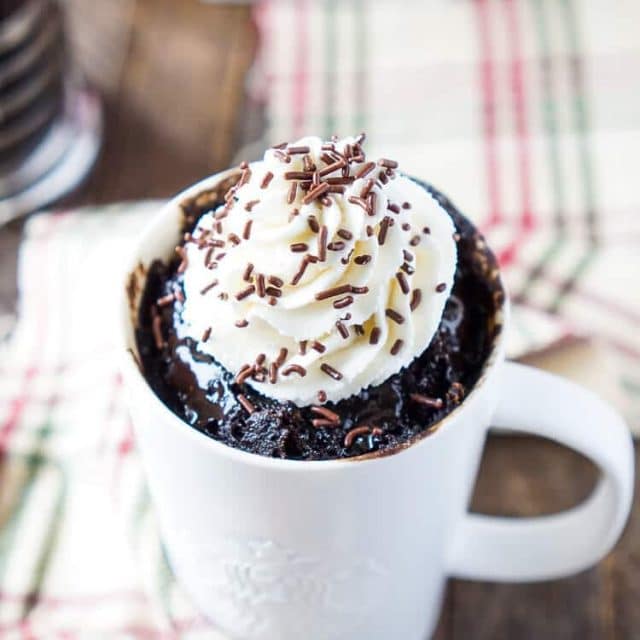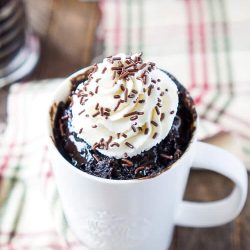 Coffee Mug Cake
This Coffee Mug Cake is bold and rich and so easy to make! It's ready to eat in less than 5 minutes and loaded with notes of coffee, chocolate, and sugar!
Instructions
Grease mug with a little vegetable oil.

Add cake ingredients to mug in the order listed, whisking together after each addition.

Microwave on high for 60 - 75 seconds, cake should spring back when touched when done, you can also test it with a cake tester to see if it comes clean.

Drizzle with chocolate syrup and top with whipped cream and sprinkles.
Notes
You need to use a porcelain/ceramic mug for mug cakes.
You might also like: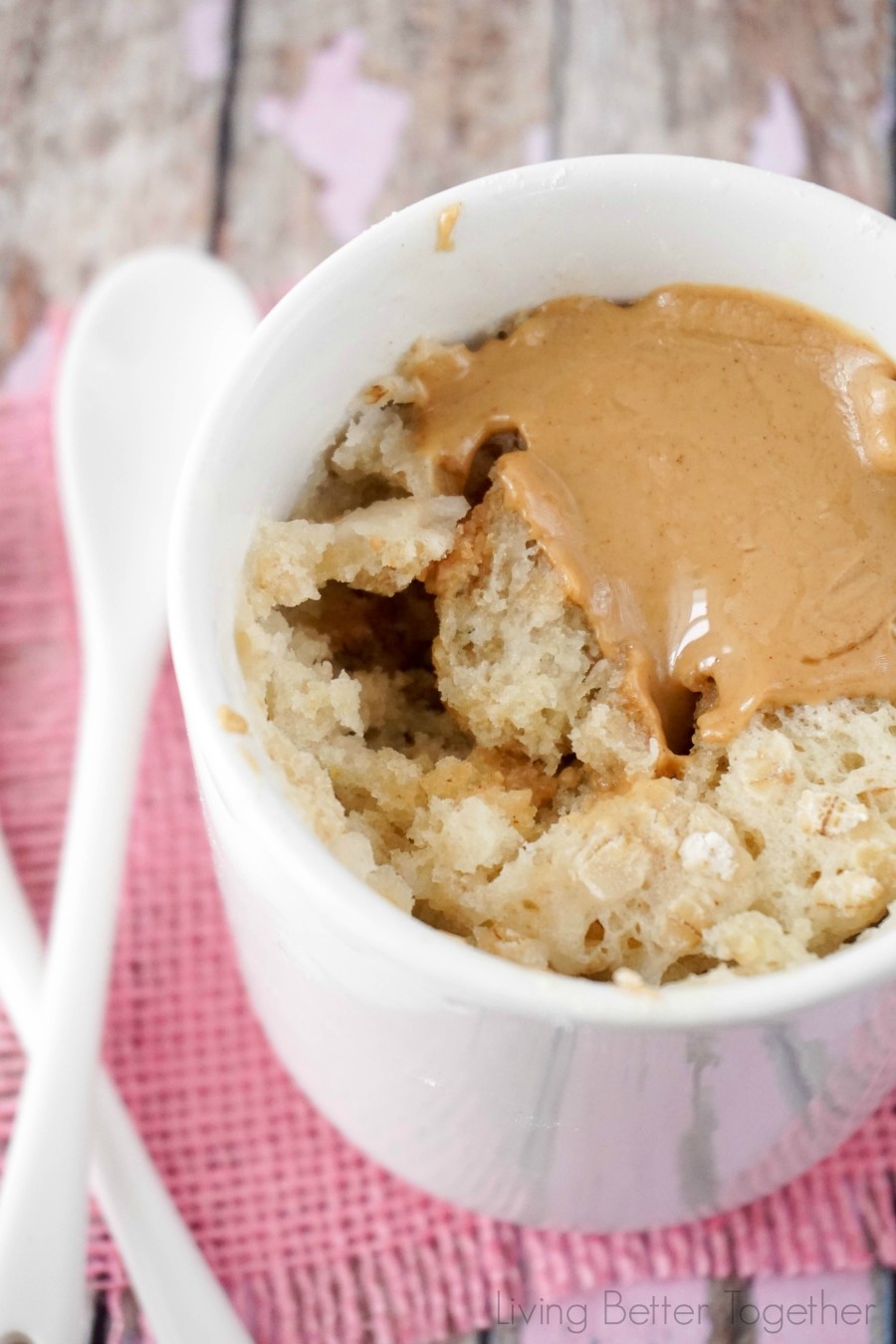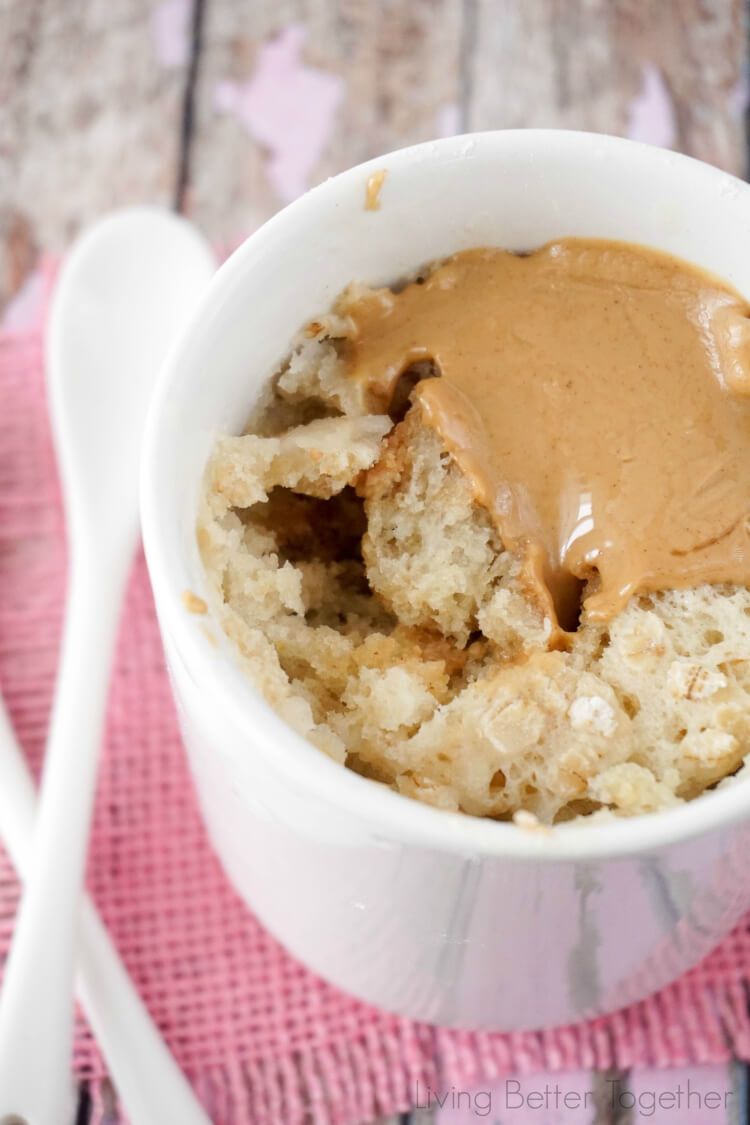 Peanut Butter & Oatmeal Mug Cake