Inspired by the popular Milk Bar recipe, these Compost Cookies have a malted brown butter cookie dough base and are loaded with coffee grounds, potato chips, oatmeal, chocolate, and pretzels for a tantilizing and chewy cookie!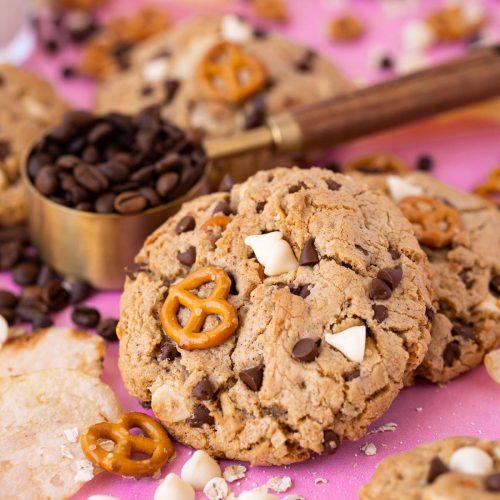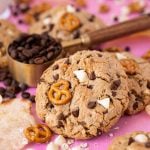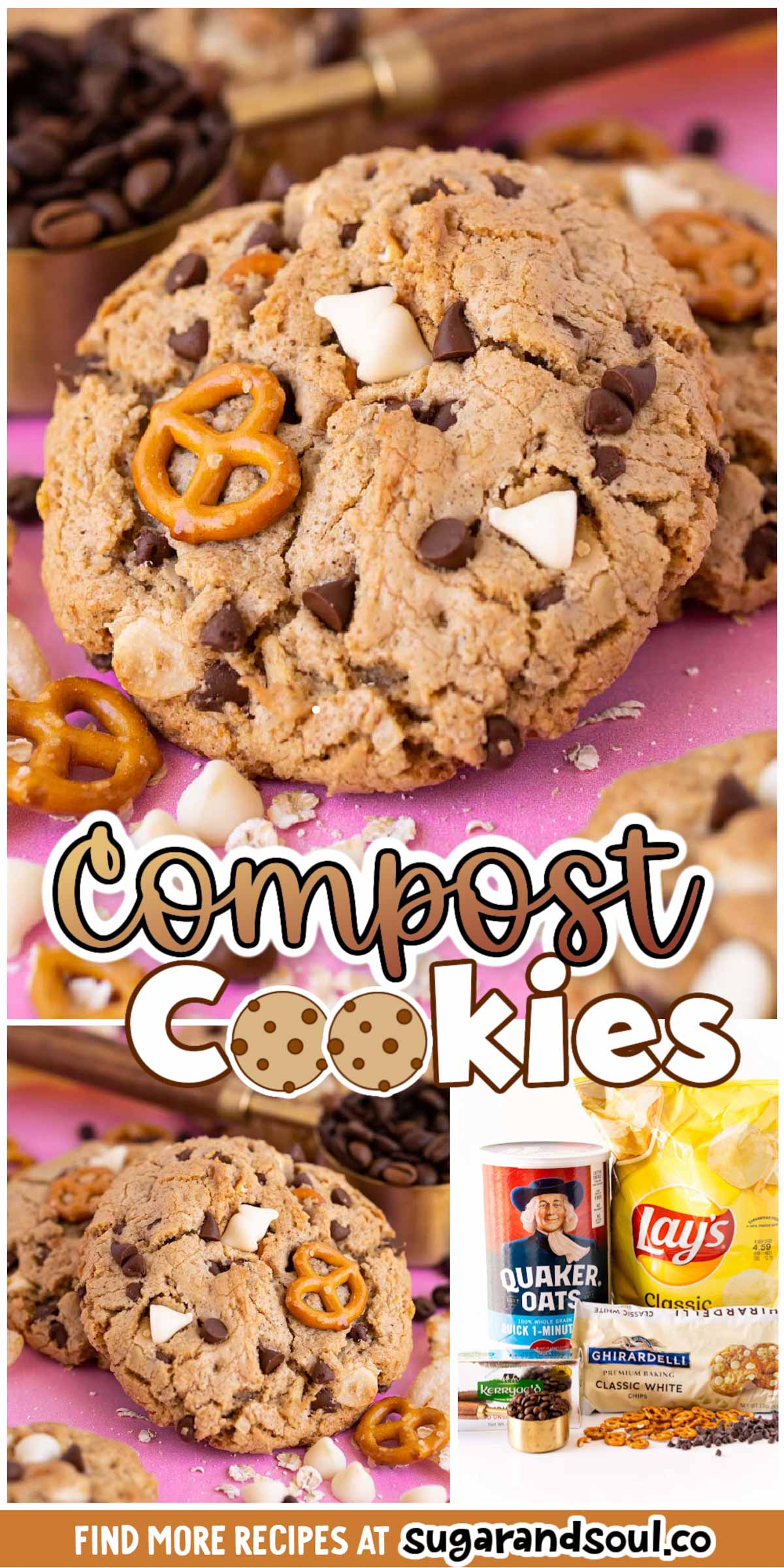 These chewy Compost Cookies are loaded with potato chips, pretzels, oats, coffee grounds, chocolate, and white chocolate chips! And YES they are better than Milk Bar!
Bake up more mouthwatering cookie recipes by also checking out Levain Bakery Copycat Cookies or these Cowboy Cookies that are also loaded with mix-ins!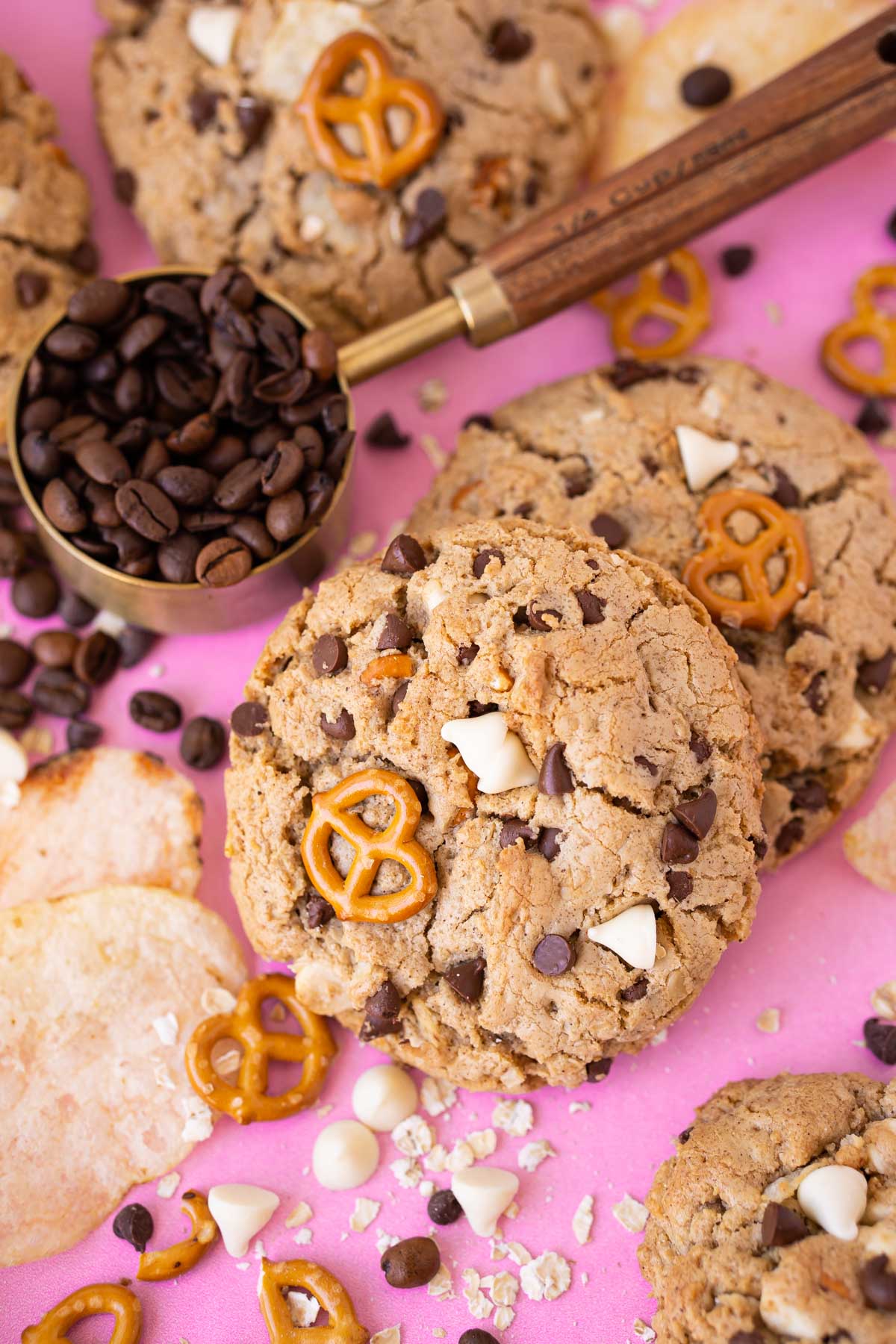 Grab a bite of these Homemade Compost Cookies, and you'll realize for yourself that they're better than Momofuku Milk Bar Cookies! These brown butter base cookies are loaded with pretzels, oats, potato chips, and two kinds of chocolate chips!
Compost cookies, also known as everything but the kitchen sink cookies and garbage cookies, get their name from adding in lots of mix-ins! Making the best-tasting cookie in just an hour's time!
All About These Tasty Compost Cookies
Taste: Since these cookies are flooded with mix-ins, there are lots of flavors to look forward to! You'll enjoy their salty side from the pretzels and potato chips while the chocolate and white chocolate chips give you a kick of sweetness. The taste of oats and coffee grounds also comes into play in every single bite!
Texture: These cookies have as much texture as they do flavor! They're tender and chewy yet have tasty crisp edges, while the pretzels and potato chips give them a nice crunch.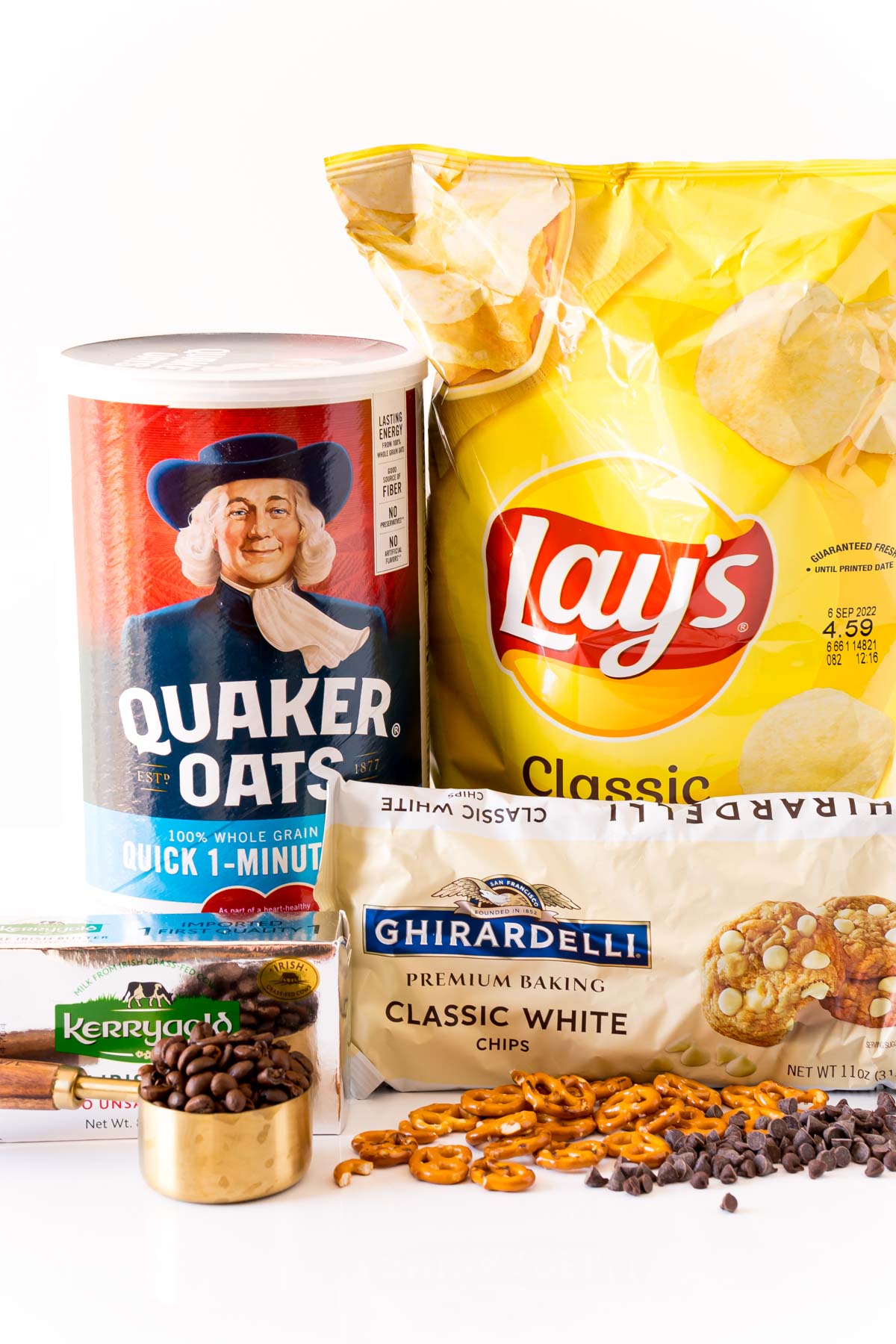 Brown Butter
Brown butter, also known as beurre noisette, is simply butter that's been cooked to turn the milk solids brown. The solids then turn into brown specks in the pan that give cookies a delicious toasty, slightly caramelized flavor.
The brown butter enhances these compost cookies, giving them a rich flavor that makes them completely irresistible!
If you've never browned butter, it's actually very quick and easy to do. It takes less than 10 minutes using only butter, a whisk, and a skillet!
In this recipe, you do not brown all of the butter, as that would alter the recipe. Instead, only 10 tablespoons are browned, and the remaining 4 are just melted and not cooked.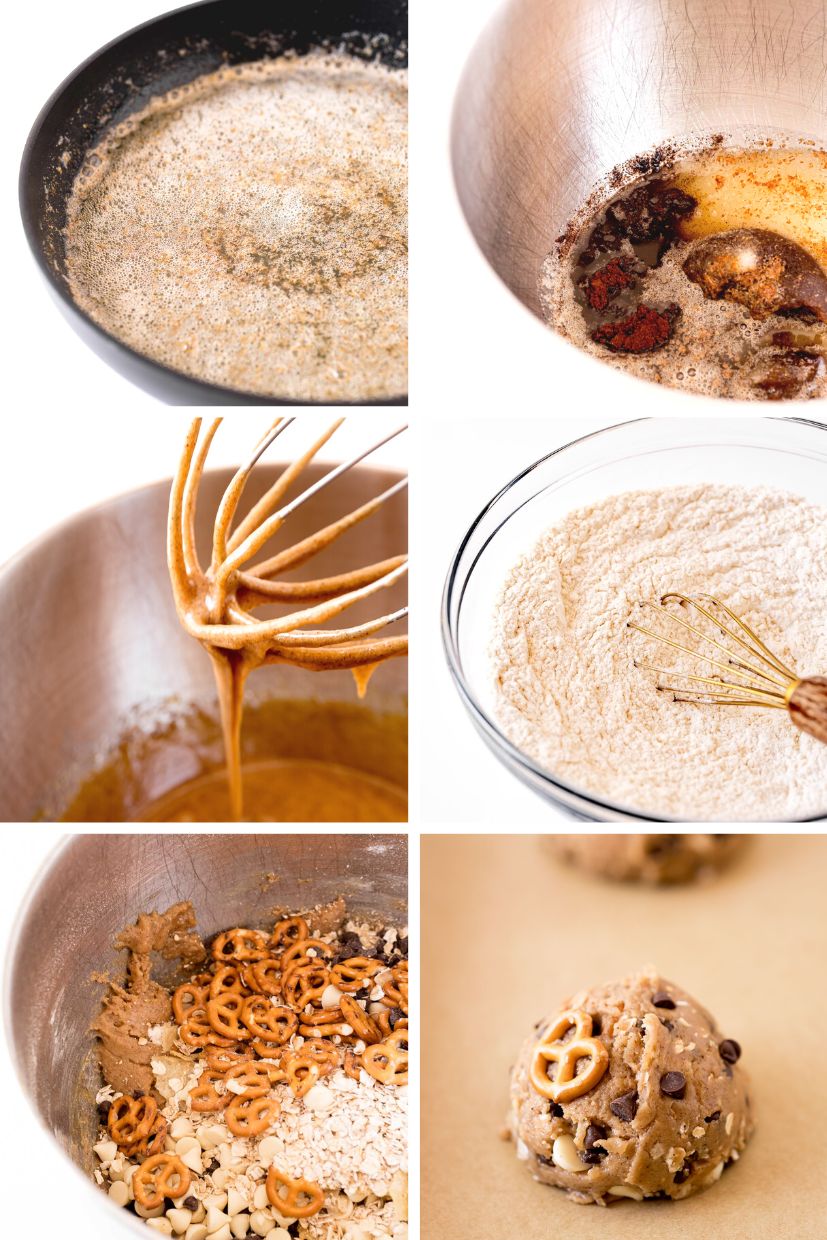 Tips For Making Delicious Compost Cookies
Prepare The Mix-Ins – Before beginning the recipe, I'd recommend preparing the mix-ins. That way, the process will flow nicely without any added mess along the way. I like to crush up the potato chips and pretzels, then measure out the chocolate and white chocolate chips as well as the oats. That way, I can just dump and move on when the recipe gets to that step!
Measuring Flour – When measuring out the flour in this cookie recipe, it's important to use caution since it's easy to add too much flour! Too much flour will alter these cookies, resulting in dry, crumbly cookies when what we really want are tender, chewy cookies! The go-to kitchen method of measuring flour is typically dunking the measuring cup needed into the container or bag and scooping while packing it in. This will result in too much flour every time! Instead, take just 2 minutes to learn how to measure flour correctly to get perfect cookies every time!
Baking Pans – In this recipe, it's best to use two baking pans and rotate them while baking. This will prevent having to drop the cookie dough onto a hot sheet pan leading to cookies with an altered structure.
Dress Them Up – You can easily give these cookies their finished Milk Bar appearance! To do so, pat additional chocolate chips, a whole pretzel, and even potato chips on top of the cookies before baking.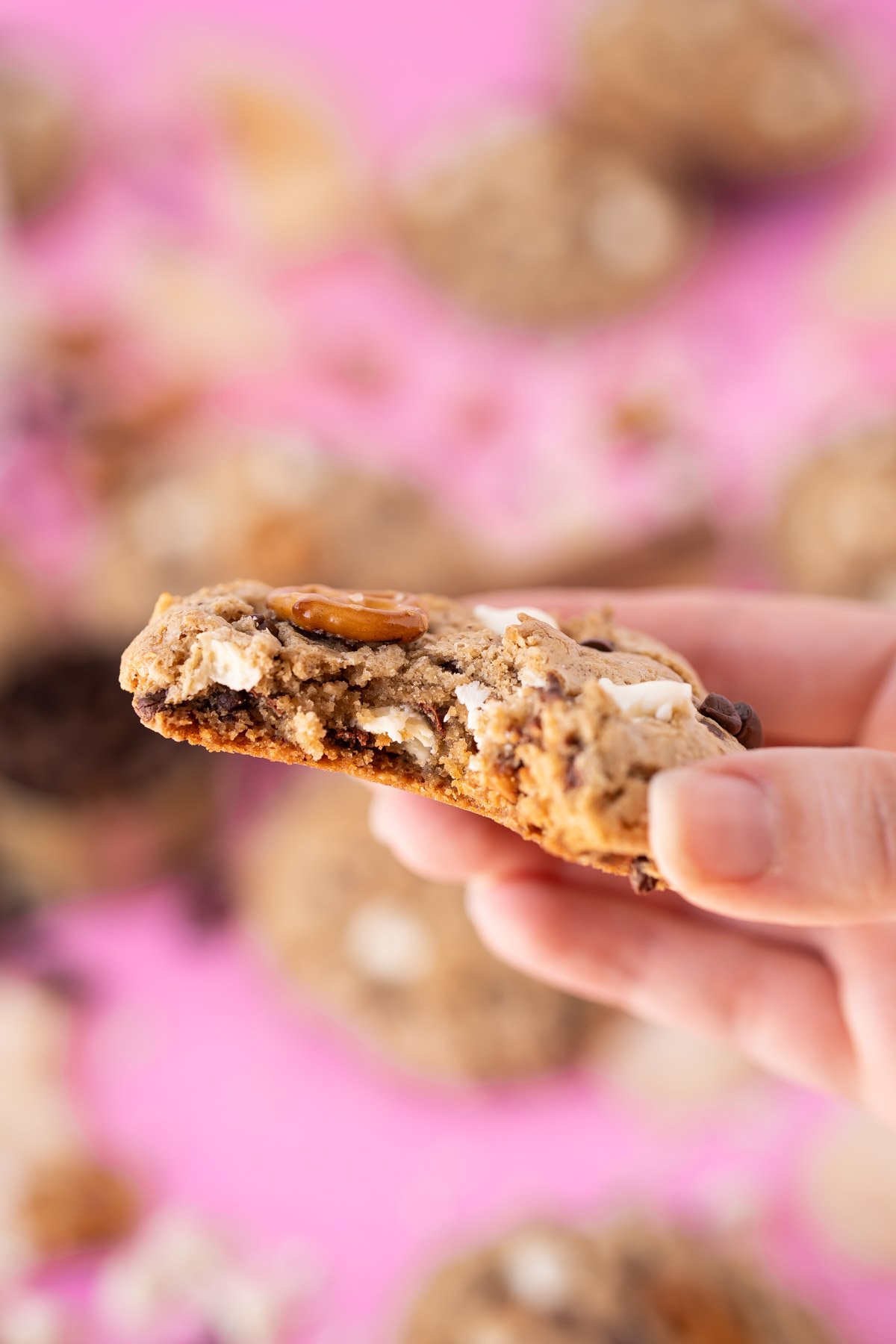 Cookies such as these that are loaded with all the mix-ins your heart desires are such a treat for when your taste buds want all the flavoring! As are these Ranger Cookies and Monster Cookies that both take just 15 minutes or less to prep!
For more of a classic cookie, check out my thick, chewy Bakery Style Chocolate Chip Cookies! Or these No Bake Cookies that are made with just 7 ingredients!
Storage Instructions For Compost Cookies
Transfer cooled cookies into an airtight container. If you dressed the cookies up with toppings before baking, you may want to separate the layers of cookies with parchment paper to prevent ruining any toppings.
Store the cookies at room temperature and enjoy them for up to 5 days.
What Other Mix Ins Can I Use In This Recipe?
You can definitely play around with the mix-ins by adding in mini butterscotch chips or 1 cup of graham cracker crumbs. Feel free to try making these with any of your favorite snacks, though!
Does This Recipe Make Large Cookies?
Yes, this recipe portions out the dough using a large cookie scoop, creating large cookies that are about 4 inches across. If you want to make smaller cookies use a medium cookie scoop and then bake them for 6 to 7 minutes.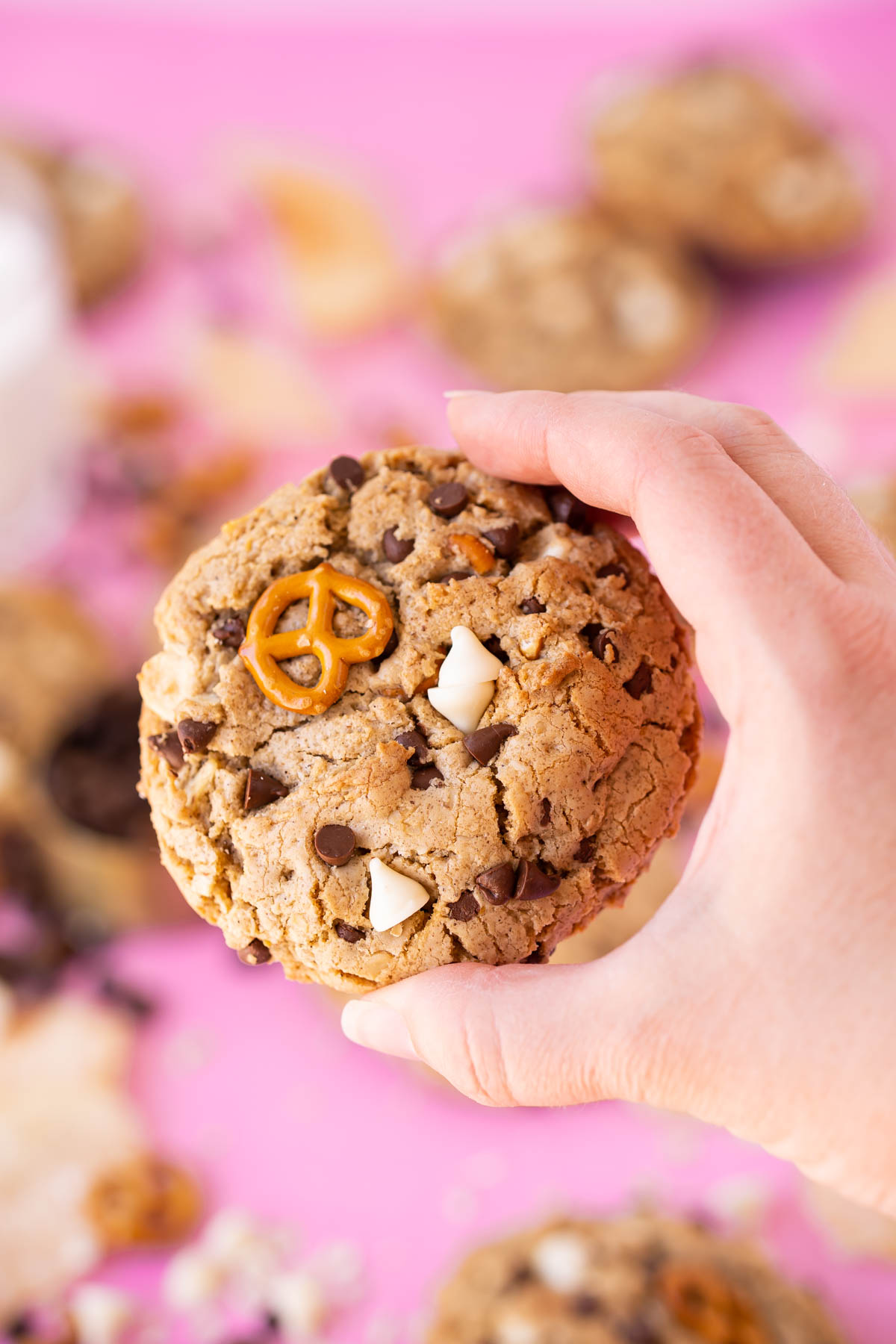 Can I Use Instant Coffee Or Espresso Powder Instead Of Coffee Grounds?
No, instant coffee and espresso powder would both just dissolve in the cookie dough. Fresh from the canister coffee grounds must be used for the best results.
What's The Best Brand Of Potato Chip To Use In This Cookie Recipe?
I prefer to use Cape Cod potato chips since they're thicker than most brands allowing them to hold up better in the cookies. However, don't be afraid to just use what you have on hand, either!
Do These Compost Cookies Freeze Well?
Yes, these cookies freeze great! To freeze them, wrap each cookie individually with plastic wrap and then again with tin foil. Afterward, place the wrapped cookies into a large Ziploc freezer bag and store them in the freezer for up to 2 months.
Allow them to thaw at room temperature overnight before enjoying them!
You can also freeze the cookie dough to bake later! To do so, portion the dough out onto a baking sheet and place it in the freezer for an hour.
This allows the dough to freeze separately before placing it into a Ziploc bag, where it would just turn into one big lump of dough. Once the frozen cookie portions are bagged, store them in the freezer and bake within 3 months.
How Come There's Malted Milk Powder In This Cookie Recipe?
While malted milk powder isn't necessary for the structure of the cookie, it does add a nice, delicious depth of flavor. If you don't have malted milk powder, powdered coffee creamer would be a great substitute.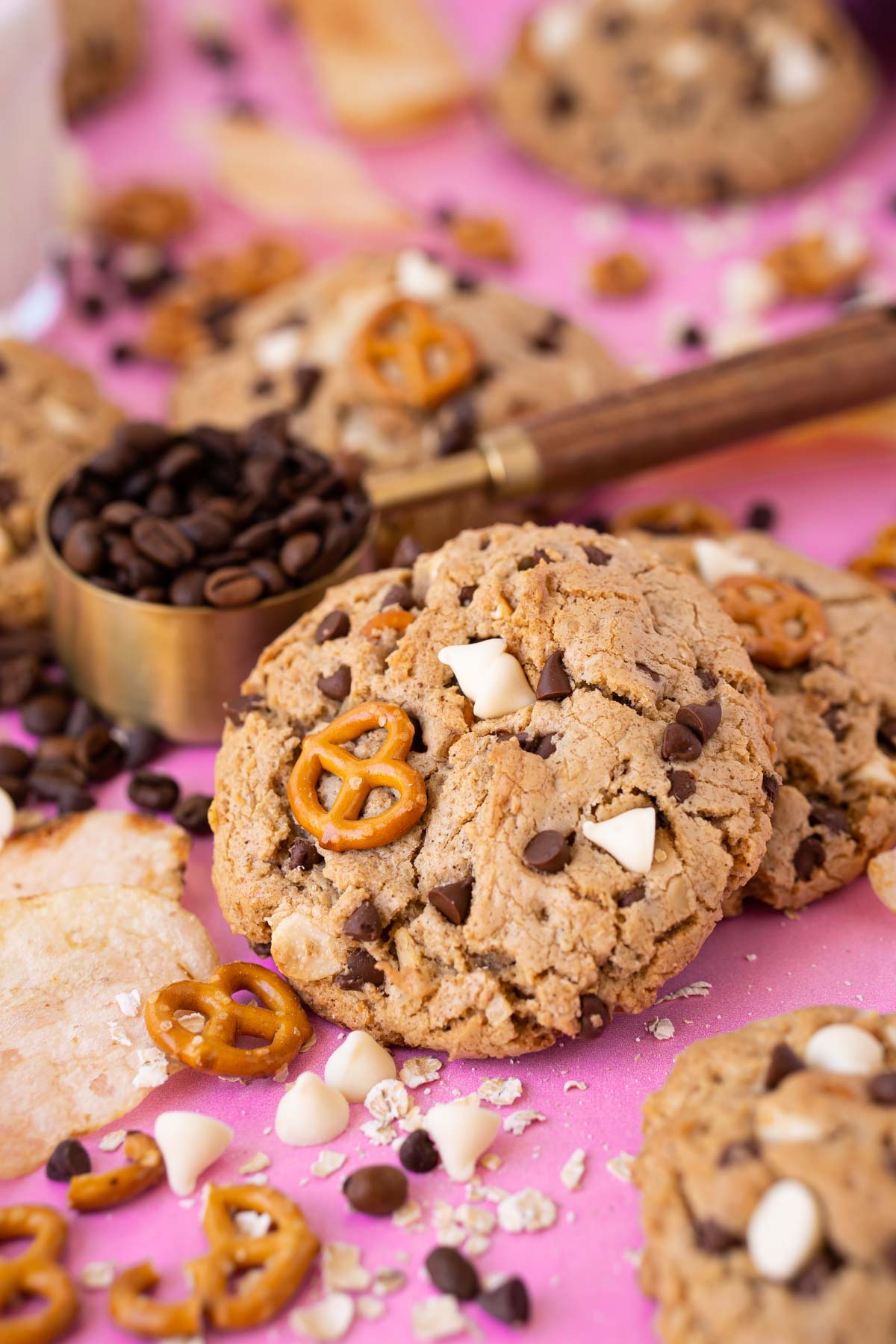 👋 Let's Connect!
If you've tried this recipe, please let me know how you liked it in the comments below and leave a review. I love hearing from you!
Don't forget to tag me – @sugarandsoulco – on Instagram and Pinterest with your photos or join our Sugar & Soul Show-offs Community and share them there, where you can join our recipe challenges!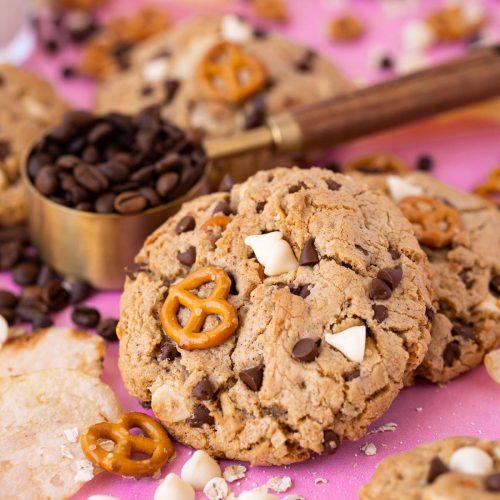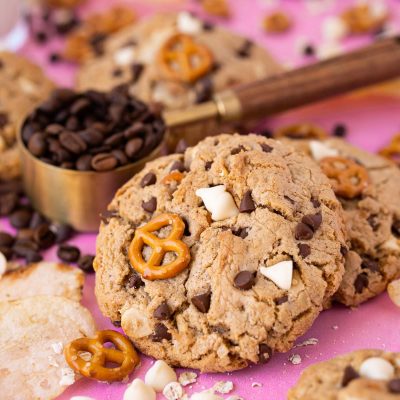 Compost Cookies
Inspired by the popular Milk Bar recipe, these Compost Cookies have a malted brown butter cookie dough base and are loaded with coffee grounds, potato chips, oatmeal, chocolate, and pretzels for a tantilizing and chewy cookie!
Instructions
Preheat oven to 375°F and line a baking sheet with parchment paper and set aside. It is best if you use two baking sheets and rotate them for the batches. Dropping the second batch of dough on the hot cookie sheet will slightly change the structure of the cookie.

Pull the butter out of the refrigerator to sit at room temperature 15 minutes before using.

14 tablespoon unsalted butter

In a medium bowl, whisk together the flour, coffee grounds, malted milk powder, salt, and baking soda, and set aside.

1¾ cup all-purpose flour, 1 tablespoon coffee grounds, 1 teaspoon salt, ½ teaspoon baking soda, 1 tablespoon malted milk powder

Add 10 tablespoons of butter to a skillet and cook over medium heat until melted. Continue cooking and stirring frequently for 2 to 3 minutes until brown bits start to form in the bottom of the pan, the top is foamy, and it has a nutty aroma. Remove from heat and stir in the remaining 4 tablespoons of butter until melted. Transfer the butter to a large heat-safe bowl or stand mixer bowl fitted with a whisk attachment.

Add the sugars and vanilla to the butter and mix to combine.

½ cup granulated sugar, ¾ cup dark brown sugar, 2 teaspoons vanilla extract

Add the egg and additional egg yolk and mix for 30 seconds. Let rest for 3 minutes, then whisk again for 30 seconds. Repeat the resting and whisking for 2 more rounds. The batter should be smooth, thick, and shiny when done – almost like caramel sauce.

1 large egg, 1 large egg yolk

Use a rubber spatula or paddle attachment to mix the dry ingredients into the wet ingredients for 1 minute. The dough will seem very soft, this is normal and you do not need to chill it.

Fold in the chocolate chips, pretzel pieces, crushed chips, and oats.

½ cup mini semi-sweet chocolate chips, ½ cup white chocolate chips, ½ cup pretzel pieces, ½ cup roughly crushed potato chips, ½ cup 1-minute oats

Portion the dough out with a large cookie scoop and drop the scoops of dough 3 inches apart on the prepared baking sheet. Top the dough with additional chocolate chips and pretzels if desired for a more finished look.

Bake for 8 to 9 minutes, rotating halfway through. Remove from oven and allow the cookies to cool for 3 minutes on the baking sheet before transferring to a wire rack.
Notes
Do not brown all of the butter, it will alter the recipe. It's important that the 4 tablespoons are only melted and not cooked to the point of clarifying or browning.
Slicing the butter before melting will give it a fast and more even melt.
This recipe makes large cookies, about 4 inches across. If you want to make small cookies, use a medium cookie scoop and bake for 6 to 7 minutes.
Malted milk powder isn't necessary for the structure of the cookie but adds a nice depth of flavor. Powdered coffee creamer would be a great substitute.
Nutrition
Calories: 362kcal | Carbohydrates: 45g | Protein: 4g | Fat: 19g | Saturated Fat: 11g | Polyunsaturated Fat: 1g | Monounsaturated Fat: 5g | Trans Fat: 0.5g | Cholesterol: 58mg | Sodium: 274mg | Potassium: 162mg | Fiber: 2g | Sugar: 26g | Vitamin A: 402IU | Vitamin C: 1mg | Calcium: 40mg | Iron: 2mg
More Delicious Cookie Recipes